This post may contain affiliate links. Please read our disclosure policy.
If you're looking for the best collection of Lebanese recipes, you've come to the right place. Here you'll find 70 authentic Lebanese recipes, from popular salads like Fattoush and Tabbouleh, to well-known grilled mains like kafta and kabobs to the best Lebanese desserts, like baklava and sfouf. Learn how to cook these authentic Middle Eastern dishes with my easy tutorials and approachable methods.
Both my parents are Lebanese, so I grew up watching them prepare these recipes over and over again. I've perfected their recipes through trial and error (since they don't measure anything!), and I've also simplified many to make them more approachable for weekday meals.
What is Lebanese Food?
Lebanese food is the culinary cuisine of Lebanon that is full of whole grains, fruits and vegetables, and meats. Lebanese cooking is known for being one of the healthiest in the world, with rich culinary traditions throughout its region, bold flavors, and notable techniques.
These Mediterranean flavors and textures combine all the best ingredients for diverse and mouthwatering recipes.
A common technique for Lebanese dining is to create a mezze which is a sample menu of Lebanese cuisine served like appetizers that everyone shares.
What are some traditional Lebanese foods?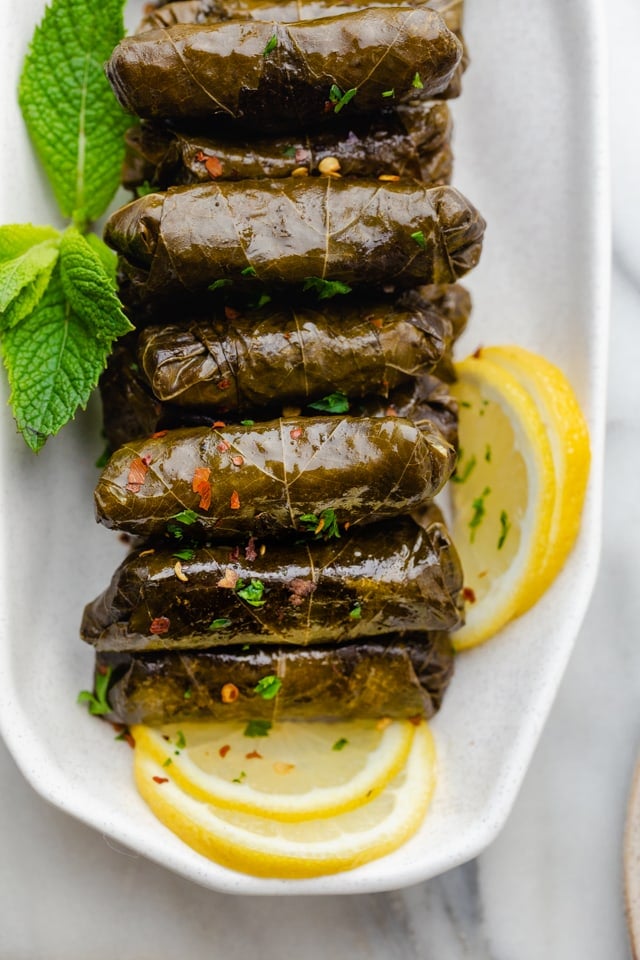 tips for cooking Lebanese recipes
Go fresh. Lebanese food is all about using fresh ingredients that are flavorful and vibrant. Use fruits and vegetables that are in season, and, if you can, buy from your local farmers' market for the best quality.
Make your own spice mix. It's so much better to make your own spice mixes as you can control exactly the flavor you want. It's easy to make your food a little spicier or more herby this way.
Make sure your spices aren't stale. Dried spices have a shelf life, so, before you use them in your dishes, rub a little between your fingers. They should release an aroma; if they don't, it's time to buy some more.
Be adventurous! It can be daunting trying new foods, but these Lebanese recipes are some of my favorites, and you know I wouldn't give you anything that wasn't delicious! Discovering new cuisines is one of my favorite things about cooking, so step out of your comfort zone and discover a new favorite!
Get Nutty. Almonds and pine nuts are commonly used in Lebanese cuisine. Hashweh is a great example of how nuts are incorporated into recipes using pine nuts. A buttery mild flavor that enhances and balances the ground beef.
Pistachios and walnuts are two popular nuts that reign over most others in Lebanese desserts.
Stock the Pantry. Enjoying Lebanese dishes is easy when you have the most common components on hand. A few ingredients to have stocked are bulgur, lentils, chickpeas, and olive oil. In the refrigerator, yogurt, beef, and lamb. And for produce, cucumber, tomato, onion, and eggplant.
how to plan A Lebanese sample menu
Pick a few different items to create a mezze. This traditional style of eating is where you share multiple small appetizers for a meal. This spread can be simple easy recipes such as hummus, olives, raw vegetables, pieces of bread, and other Mediterranean-style dips.
For a grand meal, a mezze can include cold and hot traditional Lebanese recipes such as skewered meats, seafood, and traditional dishes such as kibbeh, kafta, labneh, and tabbouleh.
It's common for a Lebanese dinner to start late in the afternoon and last for about 2 hours. The food is served as it is made, usually with the cold items first followed by the hot foods, and then desserts.
Use a large board or platter. This will give you room to spread different appetizers and dishes for a variety throughout.
Bundle ingredients for multiple dishes. You can have a lot of options and use the same products. Use ground beef in two different recipes, skewered meats, and many of the same seasonings.
Use similar cooking styles. When creating a Lebanese sample menu, choose recipes that cook the same. Rather it is a combination of stove top, grilling, oven, or no-bake cooking methods, create a menu that will make it easy to put together a few recipes with fewer steps.
Include dippable items. Pita bread and raw veggies are perfect for scooping up all the delicious dips and other Lebanese dishes.
Fill the spaces. Use a variety of nuts, fresh and dried fruits, olives, and cheeses to fill in the bare spots.
Creating the perfect Lebanese sample menu is easy to accomplish when you follow these tips. You and your company will love sharing a meal together that is not only a conversation piece but offers so much flavor and variety to be enjoyed by all.
best Lebanese recipes
Here are some classic Lebanese recipes that are very common in Lebanese restaurants and households. These do require some special ingredients like bulgur, grape leaves, or phyllo dough, but as always, I offer shortcuts and modern updates to make the recipes quicker and more approachable.
Lebanese Appetizers
Lebanese Main Dishes
A heavily vegetarian cuisine, Lebanese recipes use a plethora of whole grains, fresh vegetables, aromatic herbs, and legumes. But there is no shortage of meaty options as well, as Lebanese dishes with meat usually include chicken, beef, lamb, and fish.
Lebanese dishes with rice
Lebanese dishes with meat (Beef, Lamb, Etc)
Lebanese chicken recipes
Lebanese vegetarian recipes
Lebanese Desserts
Other Authentic Lebanese REcipe
frequently asked questions
Be adventurous and dive head into the best aromatic and full-bodied flavors of Lebanese cuisine. You'll learn how to cook with diverse flavors and traditional cooking techniques that are modernized for the average home cook. These authentic Lebanese recipes will appeal to your senses and bring together the family to enjoy a wonderous world of healthy recipes.
full list of recipes
Check out the picture cards for all the recipes listed above. You can click on any of the recipe cards to take you directly to those recipes.
For more similar roundup of recipes, be sure to check out: Recipes with Canned Chickpeas, Healthy Ramadan Recipes, Easy No Bake Desserts, Healthy Soup Recipes.
If you found this recipe roundup for Lebanese Recipes helpful or if you try any recipe on Feel Good Foodie, then don't forget to rate the recipes! It helps others who are thinking of trying out this tutorial and we would love to hear about your experience. And if you snapped some shots, share it on Instagram so we can repost on Stories!