This post may contain affiliate links. Please read our disclosure policy.
Here is how I make Lebanese 7 spice. Keep in mind, every cook puts a different spin on this traditional Levantine mix. And, while totally essential in recipes like Beef Kafta and Lebanese Stuffed Grape Leaves, it also adds depth to all sorts of grains, and pairs well with dishes like Roasted Butternut Squash Soup.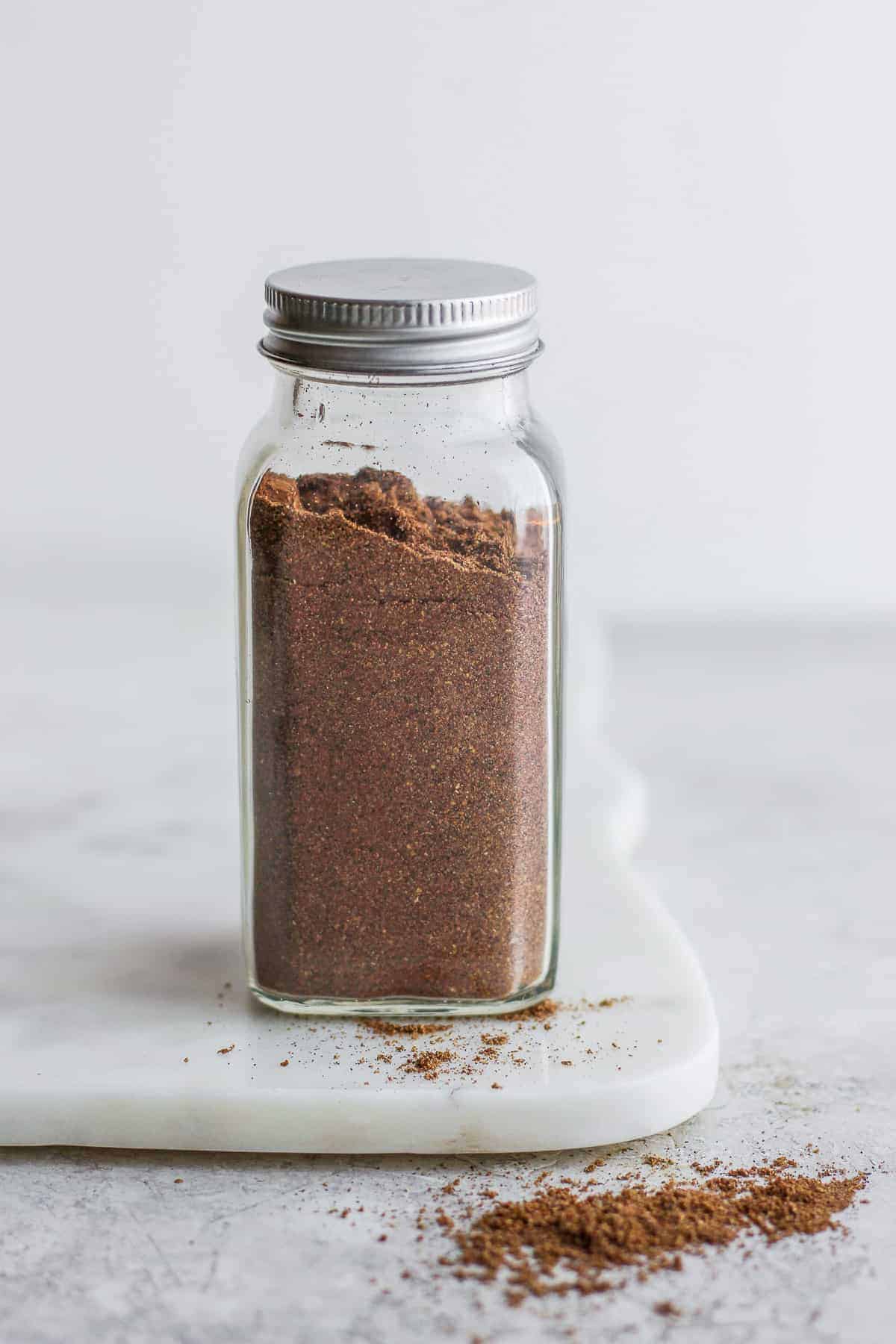 What is seven spice?
First, the Arabic word for spices is "baharat." So, we often refer to the Lebanese seven spice mix simply as baharat and use the terms interchangeably. Baharat is sort of like the Indian mix garam masala. Most importantly, 7 Spice is not to be confused with the Japanese seven spice, or shichimi, a totally different combo of spices.
What's in Lebanese 7 spice?
Even within the Lebanese community, 7 Spice variations abound between manufacturers and family recipes. Sometimes the mix includes cardamom, paprika, ginger, or fenugreek. Additionally, some cooks roast and grind whole spices. But for convenience, I go with ready-made ground versions for the following:
Allspice: Contrary to its name, allspice is not a combination of all spices, but the ground powder of the dried berry of a type of myrtle tree called pimenta dioica. It looks like a peppercorn.
Black pepper: If you have a pepper grinder, this is one spice that is really marvelous when freshly ground.
Cinnamon: Everyone's favorite. Some western palates associate it with sweet dishes, but cinnamon has many savory uses.
Ground cloves: Highly fragrant, cloves come from the flower bud of an Indonesian tree.
Coriander: Coriander comes from the ground seeds of the cilantro plant.
Cumin: A signature spice of middle eastern cuisine, cumin is the seed of a plant in the parsley family.
Nutmeg: The seed of a tropical evergreen tree, whole nutmeg is easy to powderize if you have a Microplane zester.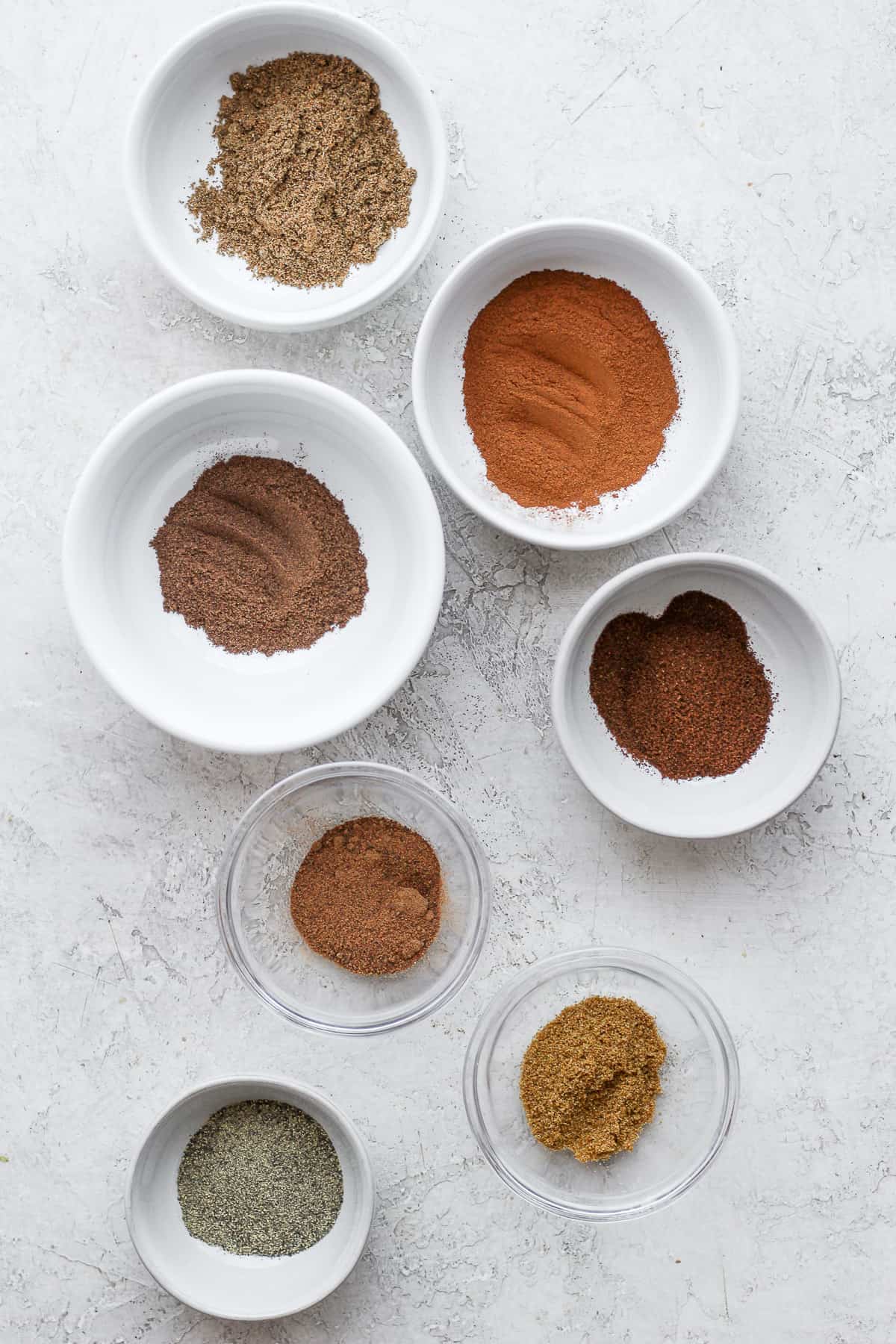 How to make seven spice mix
First, measure out your individual ingredients.
Second, mix together until well combined.
Finally, decant the mixture into a tightly lidded jar of some sort (a funnel helps) and store for up to six months in a cool, dry place.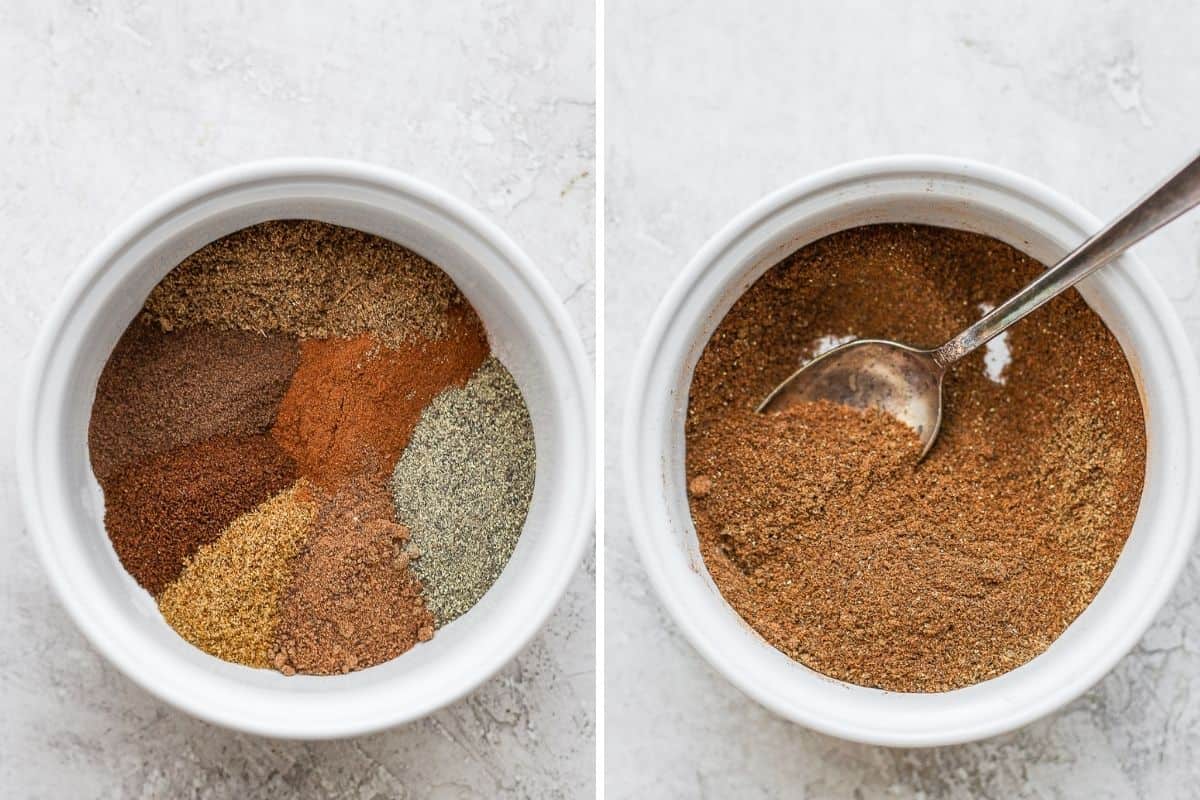 Recipes with 7 spice:
Frequently asked questions
I am missing an ingredient, can I make baharat with six spices?
Go for it! I won't tell. The great thing about this mix is you can customize it to your taste, adding a little more of one ingredient, a little less of another, or eliminating something completely.
Which spice, or spices, do you consider absolutely essential for 7 Spice?
Of course, everyone has their favorite flavor profiles! For me, allspice, cinnamon, and black pepper are the non-negotiable elements of Lebanese seven spice.
What are some other ways you use Seven Spice?
Baharat makes a great basis for a dry marinade or spice rub when grilling chicken. It enlivens rice pilaf and couscous dishes, too.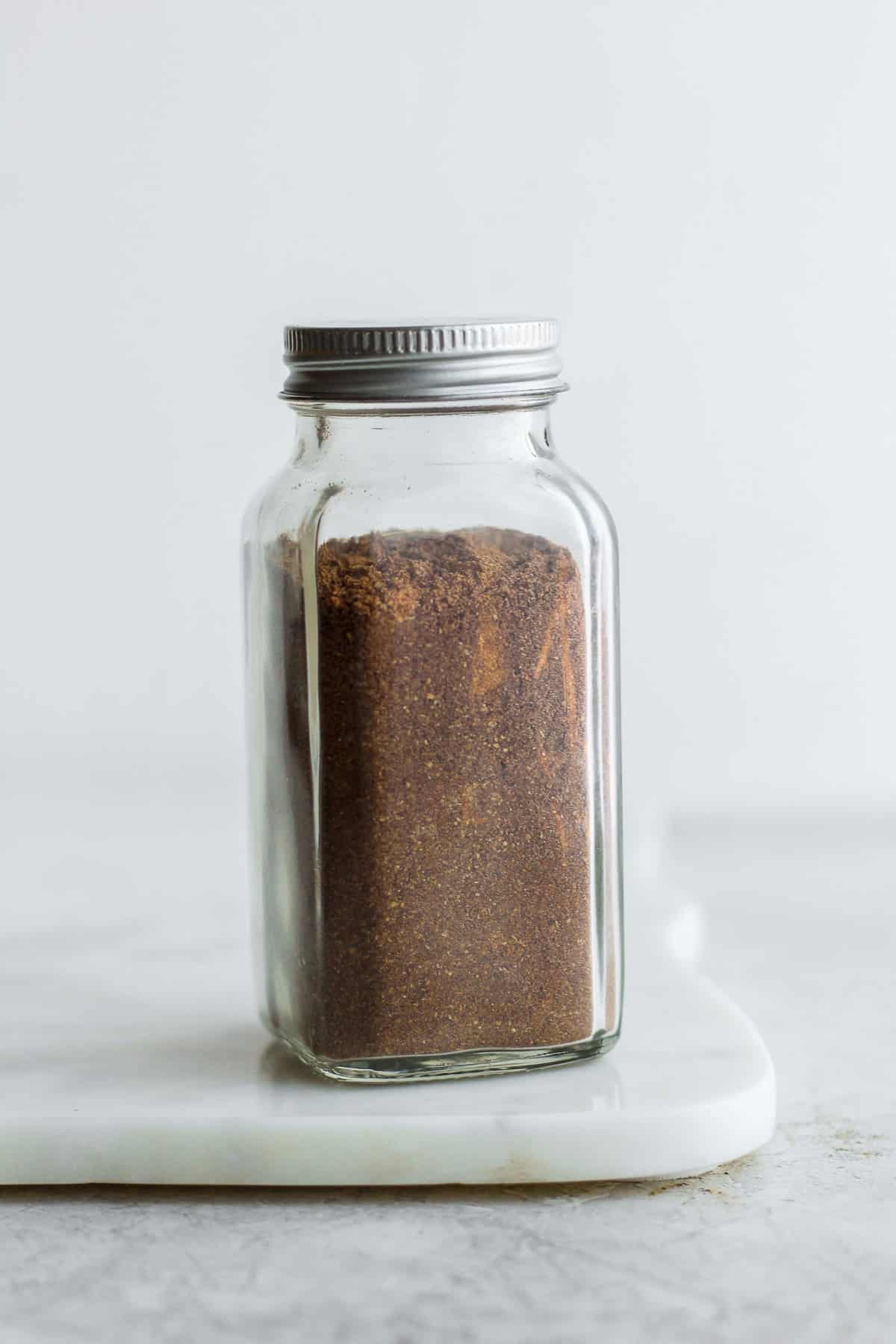 This custom, homemade 7 Spice lets me flavor my food exactly the way I like it and makes any Lebanese dish super authentic.
For more cooking tutorials:
If you've found this cooking resource for How to Make Seven Spice helpful or if you've tried any recipe on FeelGoodFoodie, then don't forget to rate the recipe and leave me a comment below! I would love to hear about your experience with this technique. And if you snapped some shots of it, share it with me on Instagram so I can repost on my stories!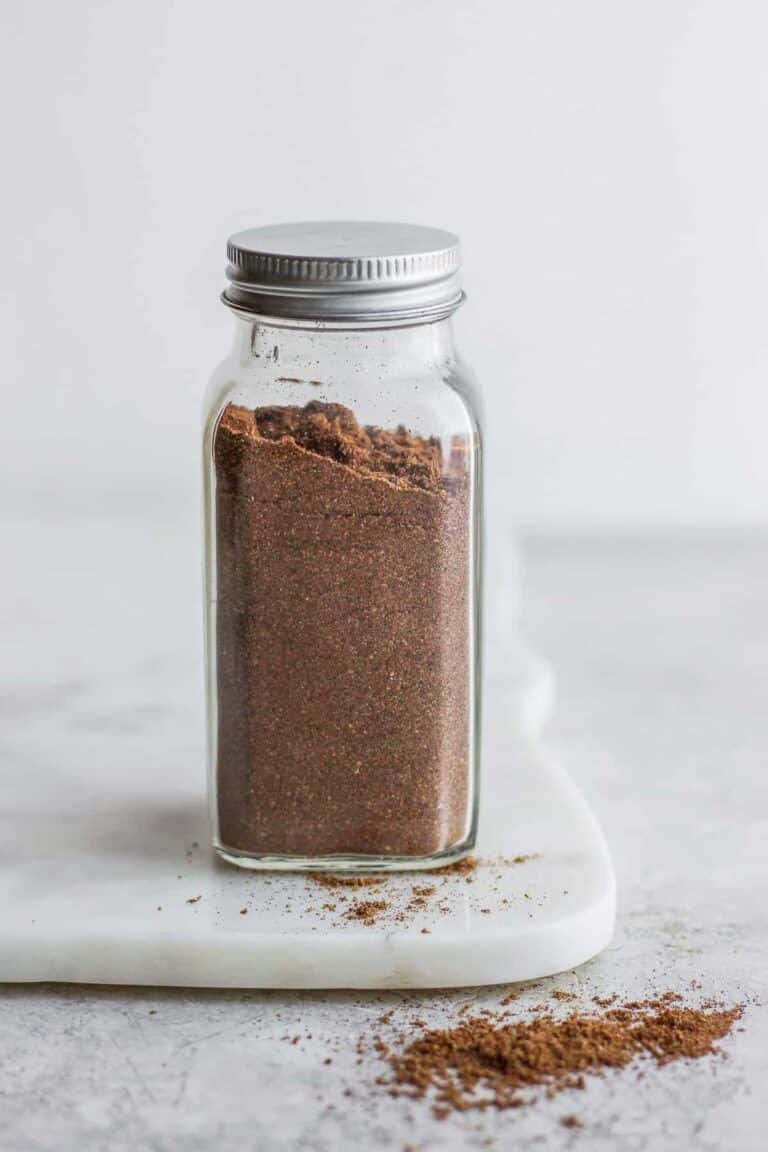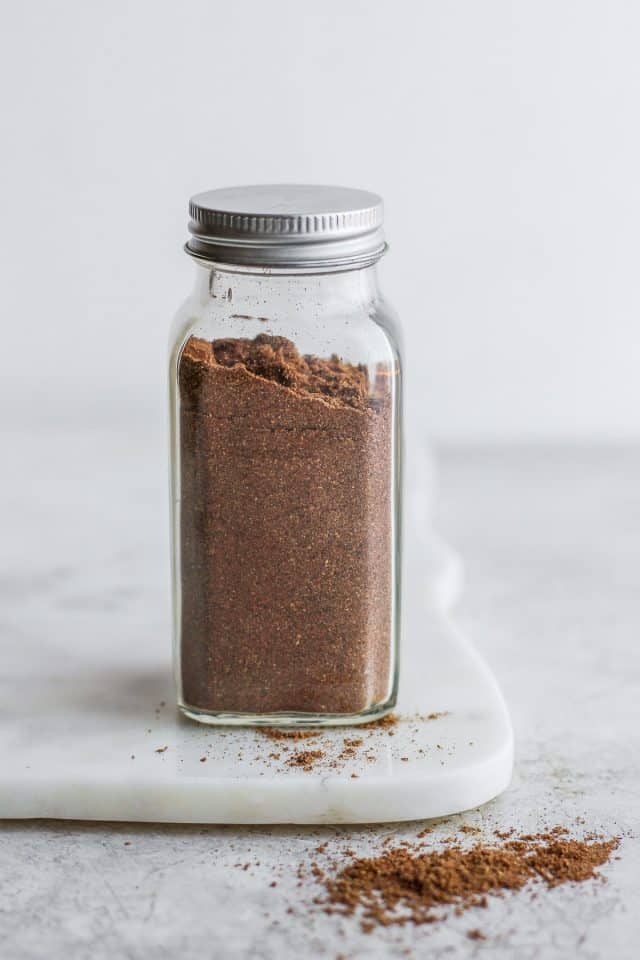 How to Make 7 Spice
This tutorial shows how to make Lebanese 7 Spice with basic pantry spices; use it in many Middle Eastern recipes for more authentic flavoring
Ingredients
1

tablespoon

Allspice

1

tablespoon

ground coriander

1

tablespoon

cinnamon

1 ½

teaspoons

black pepper

1 ½

teaspoons

ground cloves

1 ½

teaspoons

cumin

1 ½

teaspoons

ground nutmeg
Instructions
Mix all the ingredients together in a small bowl until well combined.

Store for up to 6 months in a cool dry place.
Equipment
Notes
Storage: Store the spice mix in an airtight spice container in a cool and dry pantry for up to 6 months.
Photo Credit:
Erin Jensen
Nutrition
Calories:
2
kcal
,
Carbohydrates:
1
g
,
Protein:
1
g
,
Fat:
1
g
,
Saturated Fat:
1
g
,
Sodium:
1
mg
,
Potassium:
5
mg
,
Fiber:
1
g
,
Sugar:
1
g
,
Vitamin C:
1
mg
,
Calcium:
5
mg
,
Iron:
1
mg
Nutrition information provided is an estimate. It will vary based on cooking method and specific ingredients used.