This post may contain affiliate links. Please read our disclosure policy.
If you liked my beef kafta and chicken kafta recipes, you have to try this Kafta and Potato Stew – it's a hearty, wholesome, delicious meal that my family goes crazy for! For me, it all comes together in one pot and I can serve it with everyone's favorite vermicelli rice!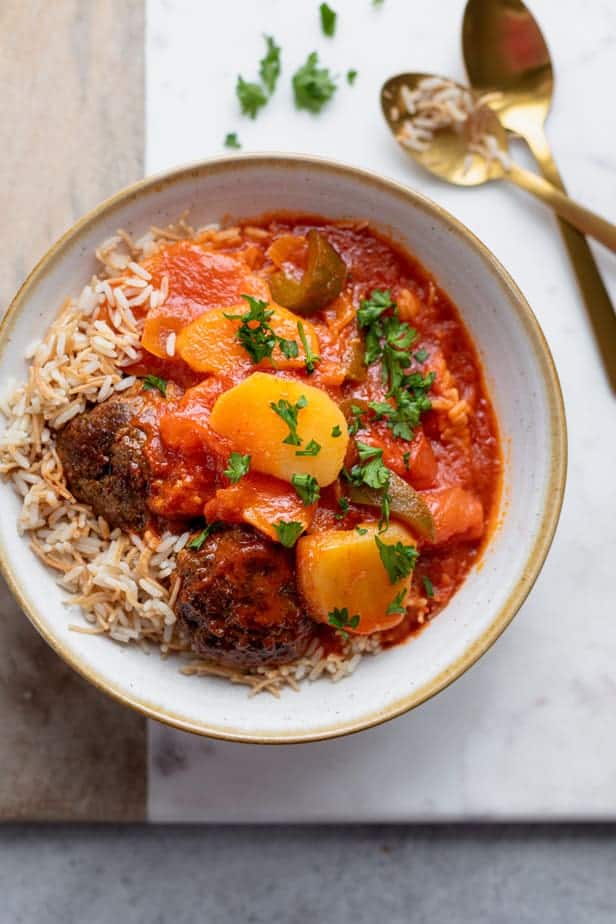 This is also commonly called Yakhnet Batata – which translates to Potato Stew. It is also more commonly called Kafta Bil Suniyeh – which translates to kafta in the pan.
Traditionally this is made like a kafta and potato casserole, where the kafta is lightly browned on the stovetop and then everything is transferred to a casserole dish and baked in the oven. I make it easier by doing it all in one pot so there's no need to transfer anything over or turn on the oven.
How do you make kafta and potato stew?
Prepare the potatoes
Peel the potatoes and slice them. You can set them aside until you're ready to fry them or start frying them while making the kafta patties.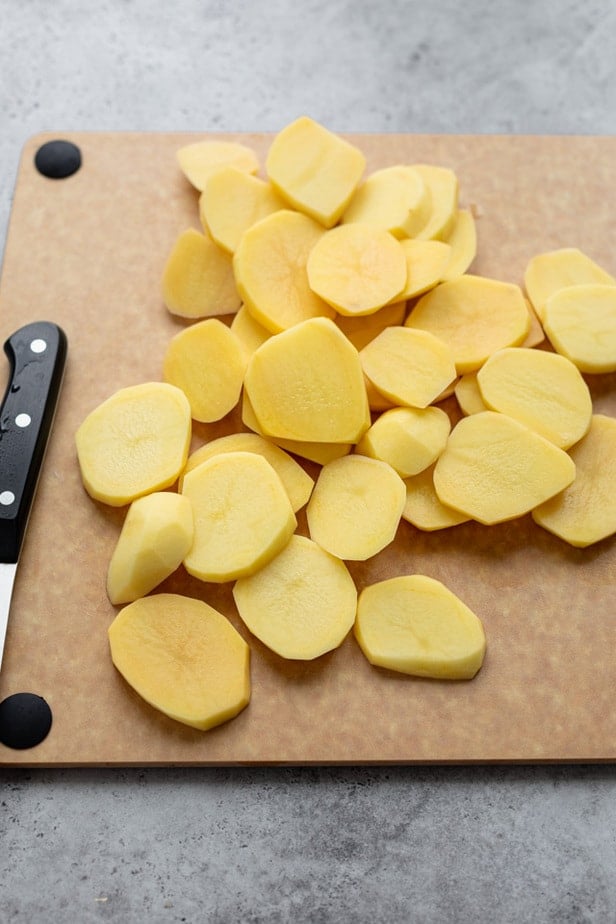 Prepare the kafta
Pulse the parsley in a food processor, remove and set to one side. Pulse the onions until finely chopped. Return the parsley back into the blender along with the beef and spices. Pulse to combine, being careful not to overblend. You can also mix together with your hands in a bowl.
Form the mixture into patties.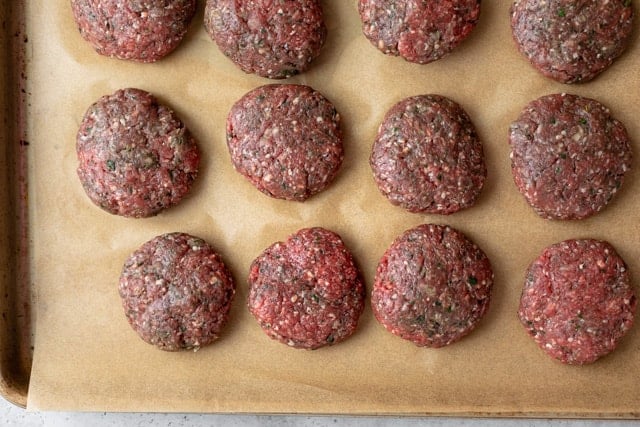 Cook the kafta and potato stew
Fry the potatoes. This step is optional and you don't want to cook them all the way, but it makes the potatoes hold their shape better when cooked and adds another dimension of flavor. Set aside.
Brown the kafta on both sides. Again, you don't want to cook them all the way, but you just want to brown them to get good color and add flavor. You will have to cook them in batches.
Return the potatoes on top of the cook kafta.
Add the vegetables on top of the kafta and potatoes to make the stew.
Add the tomato sauce.
Add the water, bring to a boil and simmer covered until the vegetables are tender and meat is cooked.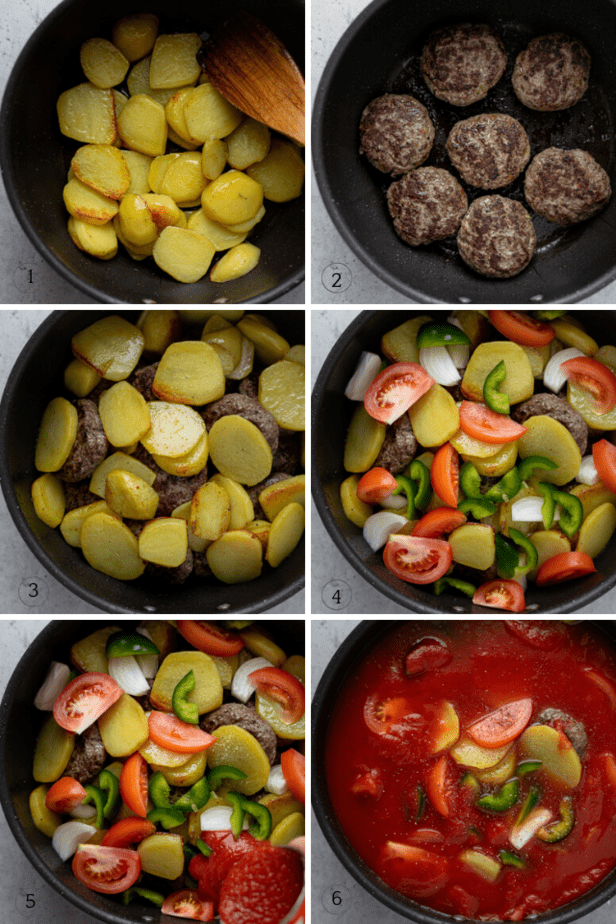 Tips for making kafta and potato stew
Bake it in the oven instead. The more traditional way to make the kafta and potato stew is in the oven. I recommend that you still cook the kafta patties on a skillet to brown them and deepen their flavor. You can also cook the potatoes if you'd like. Then transfer all the ingredients to an 9×13 oven safe pan and bake covered at 375°F for 20-25 minutes.
Adjust the sauce thickness to your liking. With two cans of tomato sauce, I prefer to add 2 cups of water which is about 6 cups of total liquid. You can check on the thickness halfway through cooking and then adjust to your liking.
Use ground beef with 10-20% fat. Although I always prefer using leaner meat, in this case, it's like cooking meatballs where the fat in the ground beef helps to really flavor the dish as it all simmers together for a period of time.
Grate onions if you don't have a food processor. It's important for the onions to have a fine texture so they mix well with the ground beef and patties. Using a grater is an excellent alternative if necessary.
Drain extra moisture in onions if necessary. If you pulse the onions in the food processor or grate them, and notice that they are very moist, you can use a paper towel to dab off extra moisture.
Frequently asked questions
Can you make it ahead of time?
I love serving this as soon as it is made, but if you have leftovers they will keep well in the fridge for 3 days. You can make the kafta patties ahead of time and keep them covered in the fridge until you are ready to make the rest of the recipe.
Can you use another meat?
I like to make beef kafta for this kafta and potato stew as it works so well with the other flavors. If you prefer, you can also make them with lamb.
What is 7 Spice?
Seven spice is a mixture of spices that differs depending on the region. I use Lebanese 7 Spice that is store bought. To make your own 7 Spice, you can follow my Seven spice recipe or just mix equal parts All Spice, coriander, cinnamon, black pepper, cloves, cumin and nutmeg.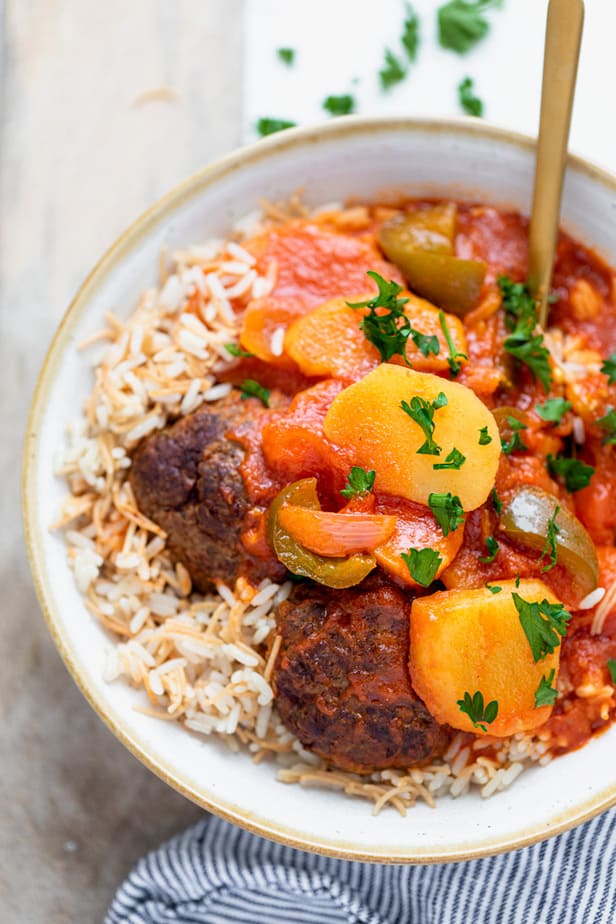 Hope you try this hearty healthy kafta and potato stew for your family. Whether it's a recipe that you remember your family making or something new you're looking forward to trying, you won't be dissapointed!
For other similar dishes:
If you try this healthy-ish feel good Kafta and Potato Stew recipe or any other recipe on FeelGoodFoodie, then please come back to rate the recipe and leave me a comment below! I would love to hear about your experience making it. And if you snapped some shots of it, share it with me on Instagram so I can repost on my stories!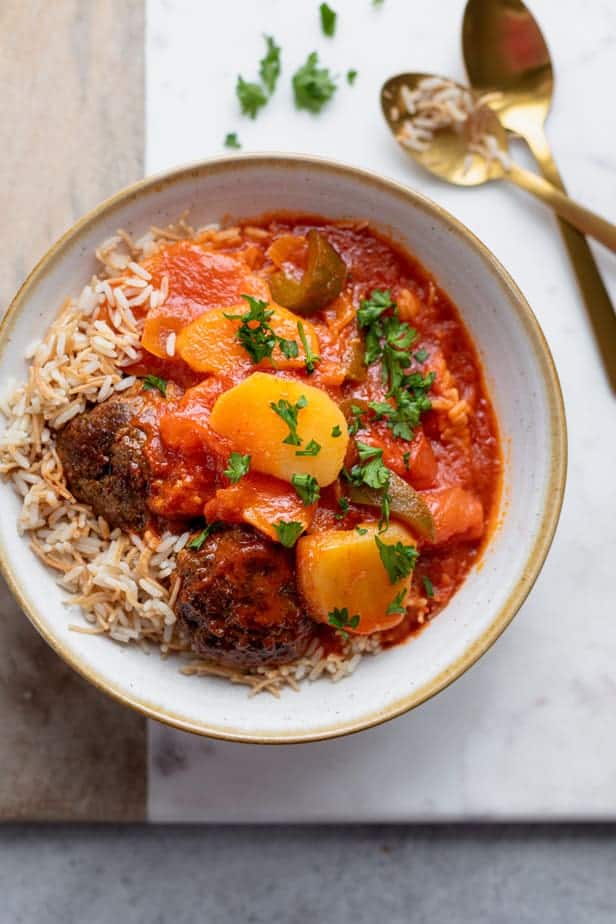 Kafta and Potato Stew
This traditional Lebanese kafta and potato stew is a hearty meal that the whole family will love! Seasoned meatballs are cooked in a rich tomato sauce for a healthy and delicious meal.
Ingredients
To make the kafta patties
To make the stew
3

tablespoons

olive oil

divided

6-8

Yukon potatoes

sliced

1

onion

sliced

2

tomatoes

sliced

½

green pepper

sliced

2 15

ounce

cans tomato sauce
Instructions
To Make the Kafta
Place the parsley in the bowl of a food processor and pulse until finely chopped, remove and set aside. In the same food processor bowl, place the quartered onion and pulse until finely chopped.

Return the parsley back to the bowl of the food processor with the onions. Add the ground beef to the food processor in addition to all the spices. Pulse once or twice until ingredients are well combined and form a pasty meat mixture.

Transfer the mixture to a large bowl and form into patties 1 inch in thickness. It will make about 12 patties.
To Assemble and Cook the Stew
In a large pot or deep skillet over medium heat, heat 2 tablespoons olive oil. Add the sliced potatoes and saute them lightly to brown the edges, about 3-4 minutes total. You may have to work in batches. Set potatoes aside.

Add 1 more tablespoon olive oil to the skillet, place half the kafta patties and cook for 1-2 minutes per side until they're lightly browned but not fully cooked. You will need to to work in batches.

Transfer the cooked potatoes on top. Add the onions, tomatoes and green peppers on top. Pour the tomato sauce along with 2 cups water and carefully stir everything together. Bring mixture to a boil, then simmer covered for 30 minutes.

Serve warm over vermicelli rice, if desired.
Notes
Storage: If you do have any leftovers, you can keep them in the fridge in an airtight container for three days.
Freezing Instructions: You can also freeze the kafta stew for up to 3 months. Freeze individual portions or the entire dish in a baking dish. Thaw in the fridge overnight and re-heat at 350°F for 10 minutes until warmed through.
You can also freeze the kafta patties alone before or after cooking them.
To freeze them prior to cooking, lay them on a flat baking dish in the freezer for at least 4 hours. When frozen, place them in an airtight bag. Thaw in the fridge overnight and cook per instructions.
To freeze them after cooking, simply store them in an airtight bag after they've cooled. To re-heat, thaw in the fridge overnight and bake in a 350°F oven until heated through.
Sourcing: You can find the 7 Spice at Middle Eastern markets, natural-foods stores or even in large supermarkets, often located with other Middle Eastern ingredients or spices.
To make your own 7 Spice, mix together 1 tablespoon each of ground black pepper, paprika, ground cumin, ground coriander, ground cloves, ground nutmeg, and ground cinnamon.
Nutrition
Calories:
471
kcal
,
Carbohydrates:
31
g
,
Protein:
24
g
,
Fat:
28
g
,
Saturated Fat:
10
g
,
Cholesterol:
81
mg
,
Sodium:
712
mg
,
Potassium:
1213
mg
,
Fiber:
5
g
,
Sugar:
6
g
,
Vitamin A:
1170
IU
,
Vitamin C:
47
mg
,
Calcium:
66
mg
,
Iron:
5
mg
Nutrition information provided is an estimate. It will vary based on cooking method and specific ingredients used.