This post may contain affiliate links. Please read our disclosure policy.
I grew up in Sierra Leone, West Africa, for 11 years and one of my favorite dishes growing up there is this Peanut Soup. This is a staple recipe where I'm from. But the ingredients are pretty basic so you can easily recreate this recipe with items you probably already have in your pantry!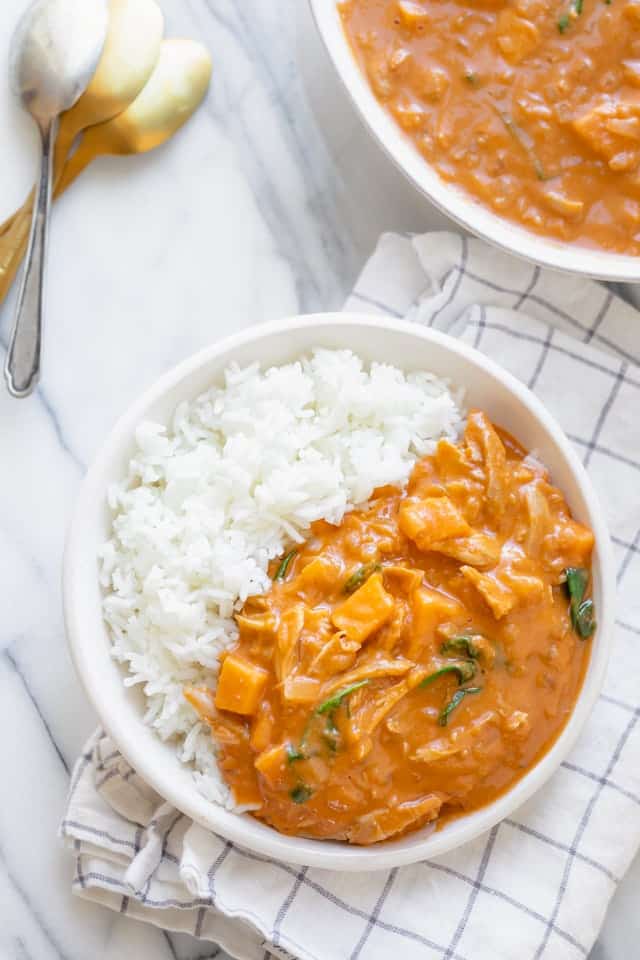 There are many variations of this recipe depending on the country of origin. My version is adapted from a recipe that I learned from my mom and grandma, who each learned it from the locals in Sierra Leone. It's also made a little healthier by using olive oil instead of palm oil and adding sweet potatoes, which many don't use.
What is peanut soup?
Peanut soup is an African recipe that's very popular in West Africa, and especially in Ghana. I grew up in Sierra Leone, so the version we used to eat may slightly vary from other regional versions. But essentially, the recipe is made up of ground peanuts (or peanut butter) with tomato paste and spices.
The authentic name for peanut soup is granat soup. Granat is the krio term for groundnut – aka peanuts. While it's common practice to grind the nuts for making the recipe, any peanut butter you buy works well here. Just make sure there's not sugar added.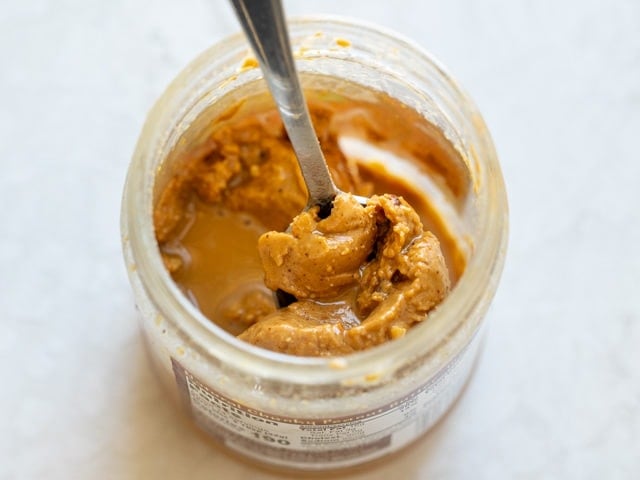 What does peanut soup taste like?
If the idea of peanut butter and tomato paste turned into soup makes you question this recipe, I strongly urge you to get past that apprehension! There's a cup of peanut butter in the recipe, so it will taste like spicy watery peanut butter. Served over warm rice, it's a creamy, spicy and comforting combination. It reminds me of Thai peanut sauce and has all the feels of a curry.
How i changed authentic peanut soup
The traditional recipe uses red palm oil as a base for the fat and flavor of the peanut soup. Because palm oil can be pretty hard to find and it's not something I cook with often, I use vegetable oil instead. The sweet potatoes is also an addition that is not always included but it's something that my mom always added to make the dish more hearty.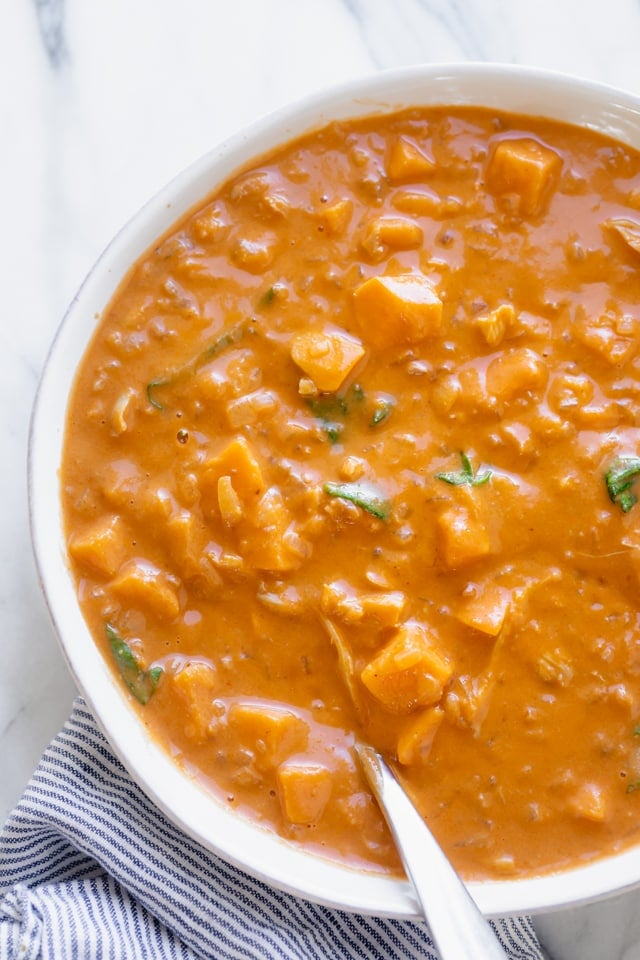 WHY YOU'LL LOVE WEST AFRICAN PEANUT SOUP
Rich and Nutty Flavor: The creamy peanut butter isn't just a star ingredient; it imparts a luxurious, nutty depth to the soup that's unparalleled.
Versatility: Whether you're vegetarian, vegan, or a meat lover, this soup adapts. With or without chicken, with spinach or another leafy green – it's tailored to your preference.
Simple Ingredients, Big Impact: The beauty lies in the combination of staple kitchen ingredients creating a unique flavor profile. Every element, from the ginger's zestiness to the sweet potato's earthy sweetness, plays a crucial role.
A Comfort Dish with a Twist: While it's a comfort food, it's also a delightful break from the usual. The fusion of sweet, savory, and spicy tones means every spoonful is an adventure.
Quick and Easy: In under an hour, you have a pot of hearty soup that tastes as if it's been simmering all day. It's perfect for busy evenings or when you crave something warm and filling.
INGREDIENTS FOR PEANUT butter SOUP
Canola Oil: A neutral oil that forms the base of our sauté. It lets the flavors of the other ingredients shine without overpowering them.
Onions: They bring a subtle sweetness and form the foundational aroma for our soup.
Ginger: A zingy touch. It's optional but adds that kick of freshness and warmth, creating layers in our soup's taste.
Tomato Paste: Gives depth, tanginess, and a lovely rich hue to our soup. The concentrated tomato flavor is a perfect match for the creaminess of the peanut butter.
Sweet Potato: Adds a mild sweetness and a beautiful consistency when cooked and mashed slightly. Its earthy taste balances the richness of the peanut butter.
Vegetable Broth or Water: Your liquid base. The vegetable broth adds more flavor, but water works well too.
Seasonings: Salt for flavor enhancement and cayenne pepper for that optional spicy kick.
Creamy Peanut Butter: The heart of this dish. It transforms the soup into a creamy, nutty delight.
Baby Spinach: An optional ingredient. If you're looking for a green touch, baby spinach wilts beautifully into the soup, adding a mild bitterness that contrasts the nuttiness.
Shredded Chicken: Another optional add-in for those who want some protein. It turns the dish from a simple soup to a full-blown meal.
RECIPE VIDEO TUTORIAL
How to make peanut butter soup
Cook the onions with fresh ginger (if you'd like) until they're soft and aromatic.
Add the tomato paste on top of the onions. I use 3 ounces (which is half a can of tomato paste).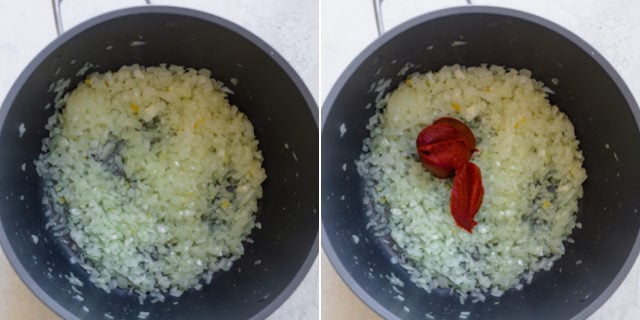 Next, mix everything well together until well combined.
Add the sweet potatoes, along with vegetable broth or water and cook for 20 minutes on low. You want the sweet potatoes to soften but not turn mushy. If you're adding cayenne pepper or chile peppers, this is the time to do it so they can incorporate into the broth.
And, if you're adding chicken to the dish, you can boil chicken in another pot and use that chicken broth for the dish. You can also use a bouillon cube along with hot water or poach the chicken in the sauce.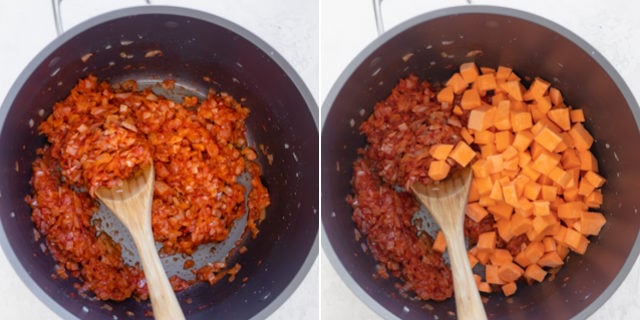 Add the peanut butter and stir everything together until the peanut butter blends into the soup.
Add some greens to bulk it up and add nutritional value. Collard greens are very popular, but I love using baby spinach since it's mild and softens quickly.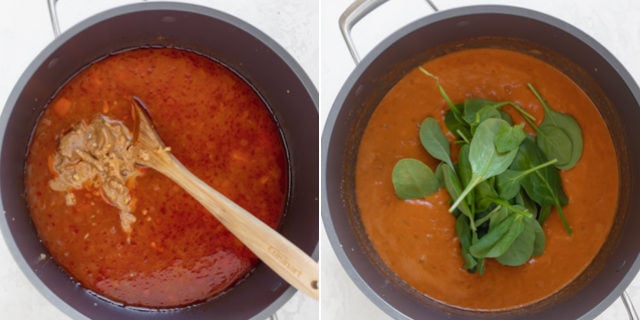 Add the shredded chicken at this point. If you're keeping it vegan, feel free to add tofu or skip this part all together. It's not mandatory to have chicken included in the dish. But it was very common for us to have it this way growing up.
Mix everything together until well incorporated and keep in mind that it will thicken as it sits.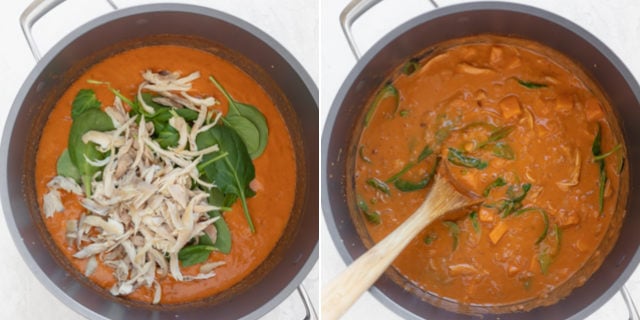 What to serve with granat soup
While it's called a soup, we actually grew up eating this soup over rice. So it's actually more like a curry than a soup. In Ghana, they eat it with fufu, which is dough made from boiled cassava. But we grew up eating it with white rice. I like to make either Jasmine rice or basmati rice and I'll make about 2 – 2 ½ cups to go along with this recipe.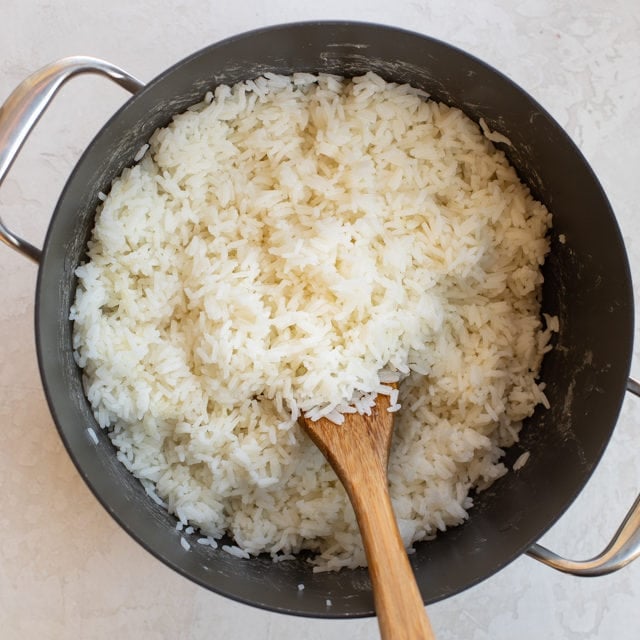 If you want, you can also serve this with brown rice or quinoa. And if you're looking to keep it low carb, you can actually just enjoy this as a peanut butter soup on its own. I love adding some crushed roasted peanuts on top. It adds a crunchy and salty topping that pairs really well with the creamy hearty bowl of peanut soup.
Tips for making the best African peanut soup
Use natural peanut butter made with only peanuts and salt. Whether you opt for chunky or creamy, that will really come down to your preference. Just make sure the peanut butter you use doesn't contain oil, sugar or any other additives. We want to maximize the peanut flavor.
Don't use tomatoes in place of tomato paste. In a lot of recipes, this would totally be acceptable, but in this case, we want to create a thick base for the peanut soup. The fresh tomatoes or even canned tomatoes will instead create a lighter broth, which is not part of the authentic recipe.
Be careful not to overcook the sweet potatoes. Sweet potatoes add bulk, nutrition and a sweet taste to the recipe. So I love adding them, especially when making it vegan. But if you overcook them, they will become soft and change the consistency of the soup entirely. So make sure to chop them small and check on them after 20 minutes of simmering.
POPULAR SUBSTITUTIONS & ADDITIONS
Oil: While canola oil is a neutral choice, you can also use coconut oil for a hint of tropical flavor or olive oil for a more Mediterranean twist.
Vegetables: Not a fan of sweet potatoes? Try regular potatoes or even butternut squash. Both blend smoothly into the soup while offering their own unique flavors.
Broth: Chicken broth can be an alternative to vegetable broth for a richer flavor. If you have a tomato base on hand, like canned tomatoes or tomato sauce, they can work in a pinch to replace the tomato paste, though the consistency might slightly change.
Spice Levels: Not a fan of Cayenne? Opt for smoked paprika for a mild kick or crushed red pepper flakes for a spicier soup.
Protein: If you're not using chicken, tofu cubes or tempeh can be a wonderful vegetarian protein alternative, absorbing the flavors beautifully.
Greens: Apart from baby spinach, you can also use kale, Swiss chard, or collard greens. Remember to adjust the cooking time to ensure they're tender.
Peanut Butter: For those with allergies or dietary preferences, almond or cashew butter can be a substitute. The taste profile will change a bit, but you'll still achieve a creamy, rich soup.
HOW TO STORE & REHEAT WEST AFRICAN PEANUT SOUP
Storing Your Soup: Once yoursoup has cooled to room temperature, transfer it into an airtight container. Ensure the container is sealed well to preserve the flavors and prevent any spillage.
Reheating: For best results, pour the desired amount of soup into a pot and warm over medium heat, stirring occasionally, until heated through. If you find the soup has thickened too much in the fridge, consider adding a splash of water or broth during reheating to reach your preferred consistency.
How long will West African Peanut Soup last in the fridge?
Your soup should remain fresh for up to 3-4 days when stored in the fridge. Always ensure you're reheating only the amount you plan to eat to maintain the soup's best quality.
Can I freeze West African Peanut Soup?
Absolutely! Once cooled, pour your soup into freezer-safe containers or bags, leaving an inch or so at the top to allow for expansion. Label with the date, and you can freeze the soup for up to 2-3 months. When ready to enjoy, thaw overnight in the fridge before reheating.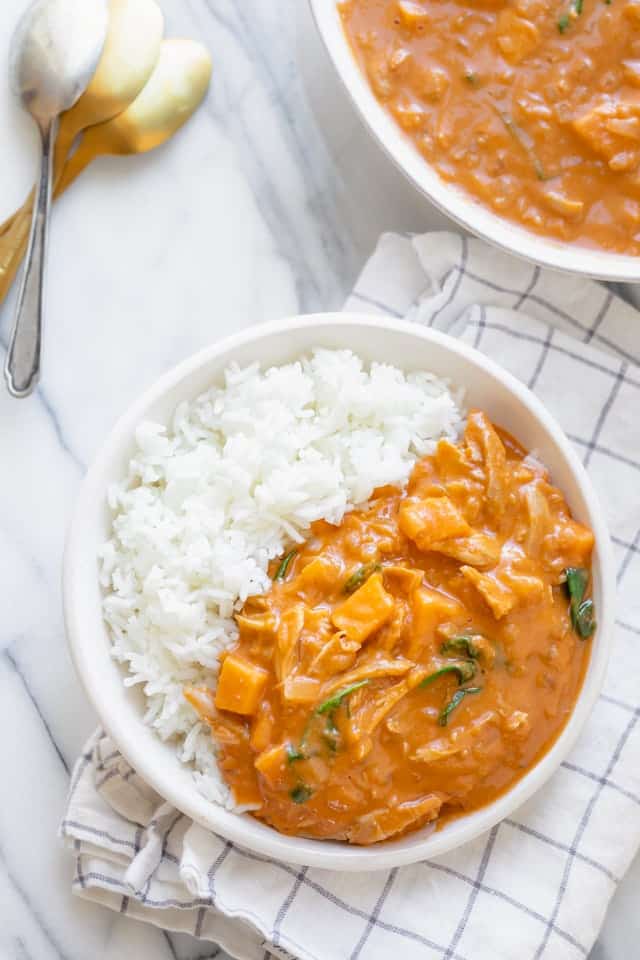 This peanut butter soup is a nostalgic recipe for me and reminds me of my childhood. There are a few West African dishes that my parents still makes now in the U.S. and this is definitely one of our favorites. What I love about it is that it's a simple combination of everyday pantry items so anyone can try it and make it without any hard-to-find ingredients. Yet the flavor is something very distinctive and delicious.
If you're looking for a different weeknight meal to try out, give this African peanut stew a try. It's savory, creamy and very flavorful!
For more dinner recipes:
If you've tried this West African Peanut Soup recipe or any other recipe on FeelGoodFoodie, then don't forget to rate the recipe and leave me a comment below! I would love to hear about your experience making it. And if you snapped some shots of it, share it with me on Instagram so I can repost on my stories!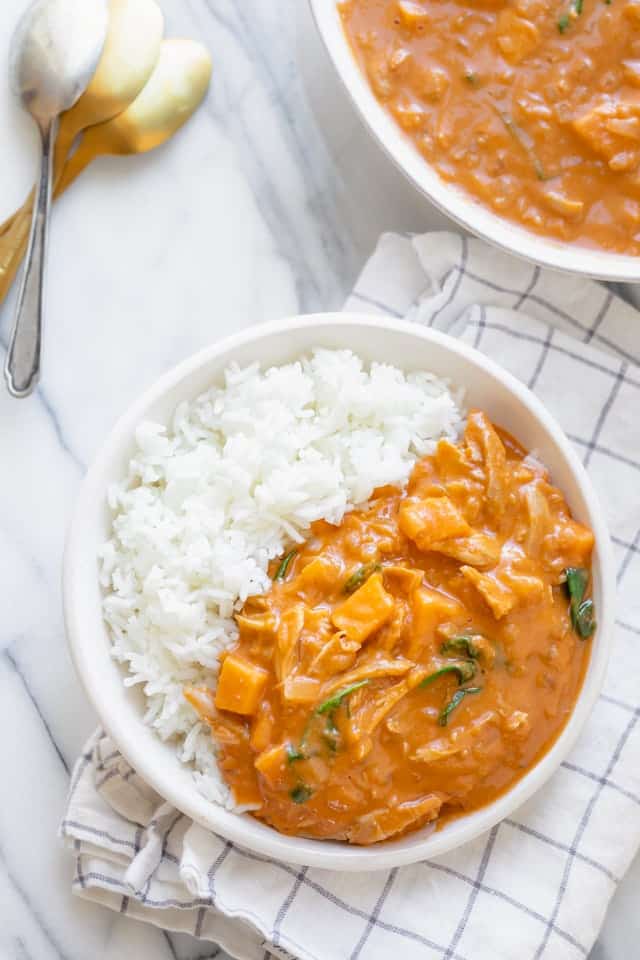 West African Peanut Soup
This West African peanut soup recipe is made with simple ingredients like peanut butter and tomato paste, but has a unique delicious flavor!
Ingredients
1

tablespoon

canola oil

2

large onions

finely chopped

1

tablespoon

fresh ginger

optional

3

oz

tomato paste

1

sweet potato

chopped

6

cups

vegetable broth or water

1

teaspoon

salt

1

teaspoon

cayenne pepper

optional

1

cup

creamy peanut butter

1

cup

baby spinach

optional

8

oz

shredded chicken

optional
Instructions
Heat the oil in a large, heavy pot. Add onions and ginger, and cook for 5-10 minutes until the onions are very soft and translucent, but not browned.

Add tomato paste and mix with the onions until they are well coated. Add the sweet potatoes to the pot, season with salt and cayenne pepper, and mix with the onion and tomato paste mixture.

Pour the vegetable broth or water into the pot and bring mixture to a boil. Lower the heat to a simmer and cover for 20 minutes, until the sweet potatoes are cooked. Stir in the peanut butter until it's well blended with the mixture. Add spinach and/or chicken, if desired, and stir to combine.

Serve over white rice with crushed peanuts, if desired.
Notes
Storage: Store any leftovers in an airtight container. It will last about 3-4 days in the fridge.
Freezing Instructions: You can also freeze peanut soup in the freezer for up to 3 months by using a sealable container or freezer bag. To re-heat, thaw in the fridge overnight and then microwave when ready to eat.
Substitutes: For best results, follow the recipe as is. However here are some common substitutes that would work well in this recipe.
If you don't have fresh ginger, substitute 1 tablespoon of fresh ginger for ¼ teaspoon ground ginger
Instead of sweet potatoes, you can use yams or white potatoes
You can substitute the spinach for any other hearty greens like kale, mustard greens or collard greens, or leave them out all together.
To make it vegan, just leave the chicken out. You can add tofu, more potatoes or leave as is without the chicken.
* Please note the nutrition label does not include the rice or the crushed peanuts on top.
Nutrition
Calories:
385
kcal
,
Carbohydrates:
19
g
,
Protein:
21
g
,
Fat:
26
g
,
Saturated Fat:
5
g
,
Cholesterol:
28
mg
,
Sodium:
755
mg
,
Potassium:
670
mg
,
Fiber:
4
g
,
Sugar:
8
g
,
Vitamin A:
3915
IU
,
Vitamin C:
8.2
mg
,
Calcium:
55
mg
,
Iron:
2
mg
Nutrition information provided is an estimate. It will vary based on cooking method and specific ingredients used.