This post may contain affiliate links. Please read our disclosure policy.
This 3-ingredient chia pudding has been a fan favorite since the launch of this website and is a recipe I've been making for over 10 years. When you need a quick pick-me-up, chia seed pudding is the way to go. It's a healthy, effortless, protein-packed snack or breakfast made with the perfect ratio of chia seeds, milk, and your sweetener of choice.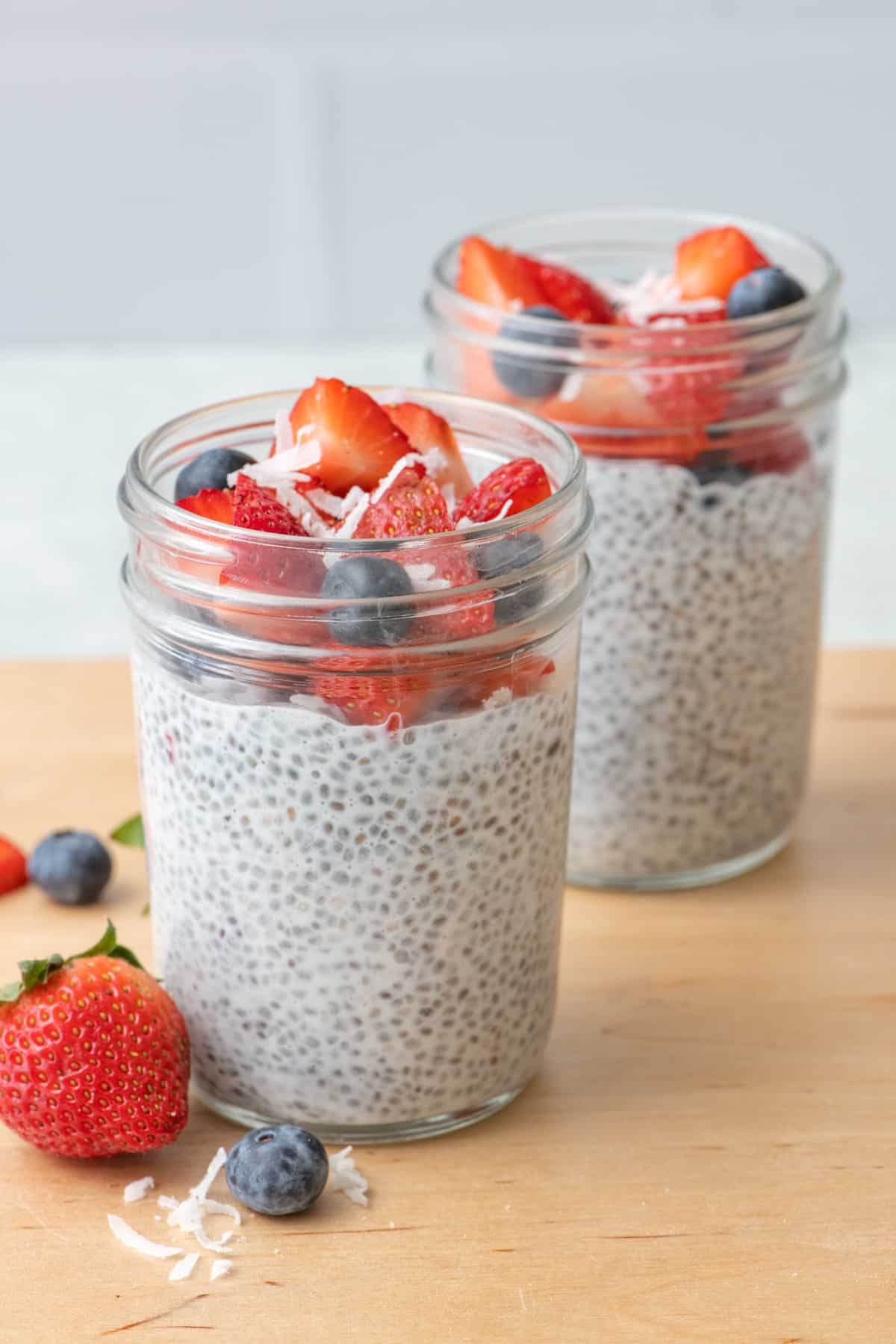 Table of Contents
Chia seed pudding resembles tapioca, with its creaminess and little pops of tender, slightly chewy seeds throughout, but it is a healthier option. When the chia seeds settle in the fridge with the almond milk, it naturally thickens, giving it a pudding-like texture and amazing flavor, lending itself to endless topping possibilities. It's a snack or breakfast that will leave you feeling satisfied, satiated, and so energized! Learn how to make chia pudding in under 5 minutes!
Why you'll love this easy chia pudding recipe
Tasty way to add chia seeds into your diet. Chia seeds have an impressive amount of fiber and protein and are considered a superfood! Adding chia seeds to your day provides numerous benefits, including brain-boosting omega-3 fatty acids, vitamins, and minerals.
Can be eaten for breakfast, as a snack, or a dessert. The possibilities are endless when you have a simple base recipe for chia pudding. Keep it healthy for a quick morning pick me up with fresh fruit and nuts; as a grab-and-go snack with shredded coconut and chocolate chips; and as a dessert with a spoonful of nut butter or cocoa powder, nuts, and bananas (or as decadent as you'd like!).
Easy overnight chia pudding recipe. Whip up a healthy breakfast to enjoy all week long! Make a few servings to store in the fridge and grab in the morning as it lasts up to a week. Alternatively, prep in the morning for a tasty dessert after dinner.
Made with almond milk & honey. This recipe hits all the marks for a delicious diet-friendly recipe. Made with nut milk and honey, this chia pudding is gluten-free, dairy-free, low-carb, and paleo. Swap out the honey for maple syrup for a vegan-friendly recipe.
Healthy, kid-friendly pudding. Kids will gobble this pudding up, especially if you add in some of their favorites, like cocoa powder, fruit jam, Nutella, or peanut butter. It's so creamy and takes on flavors easily for a satisfy snack or dessert.
3 Ingredients to make chia seed pudding
Chia seeds: Make sure to use fresh chia seeds, so they absorb the liquid and plump up. You can use black or white chia seeds to make overnight pudding.
Milk: To keep this simple chia pudding dairy-free, I love using unsweetened almond milk. Other plant-based milk and dairy milk will also work.
Honey: Honey adds a touch of sweetness. You can use any sweetener you'd like, such as maple syrup, stevia, agave nectar, and sugar. If you add in fruit preserves, you might even skip it completely to control the sweetness.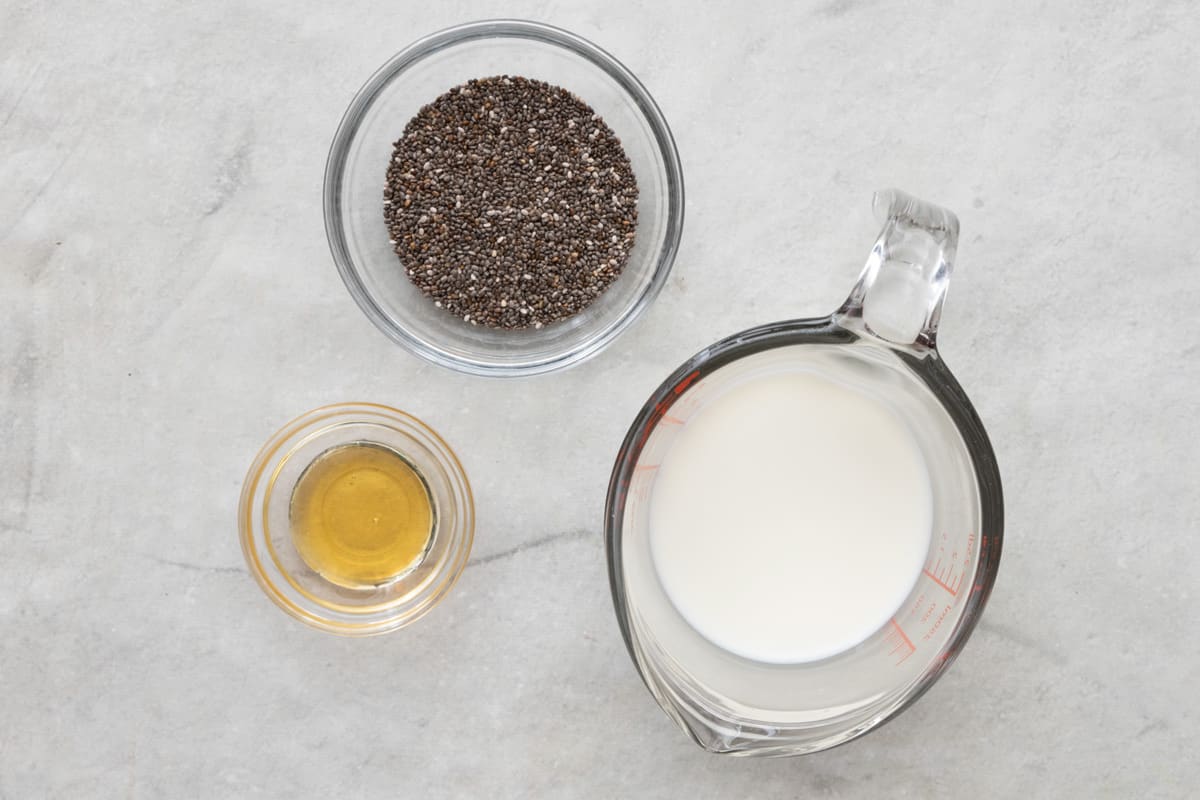 How to make chia pudding
Add your milk of choice to a jar and sprinkle in the chia seed.
After stirring the milk and seeds together, drizzle in honey or sweetener of choice.
Stir again until all the chia seeds have been distributed evenly into the milk. There shouldn't be any clumps left. Wait about 10 minutes and give it one more last stir.
Cover and refrigerate the pudding for at least 2 hours or overnight.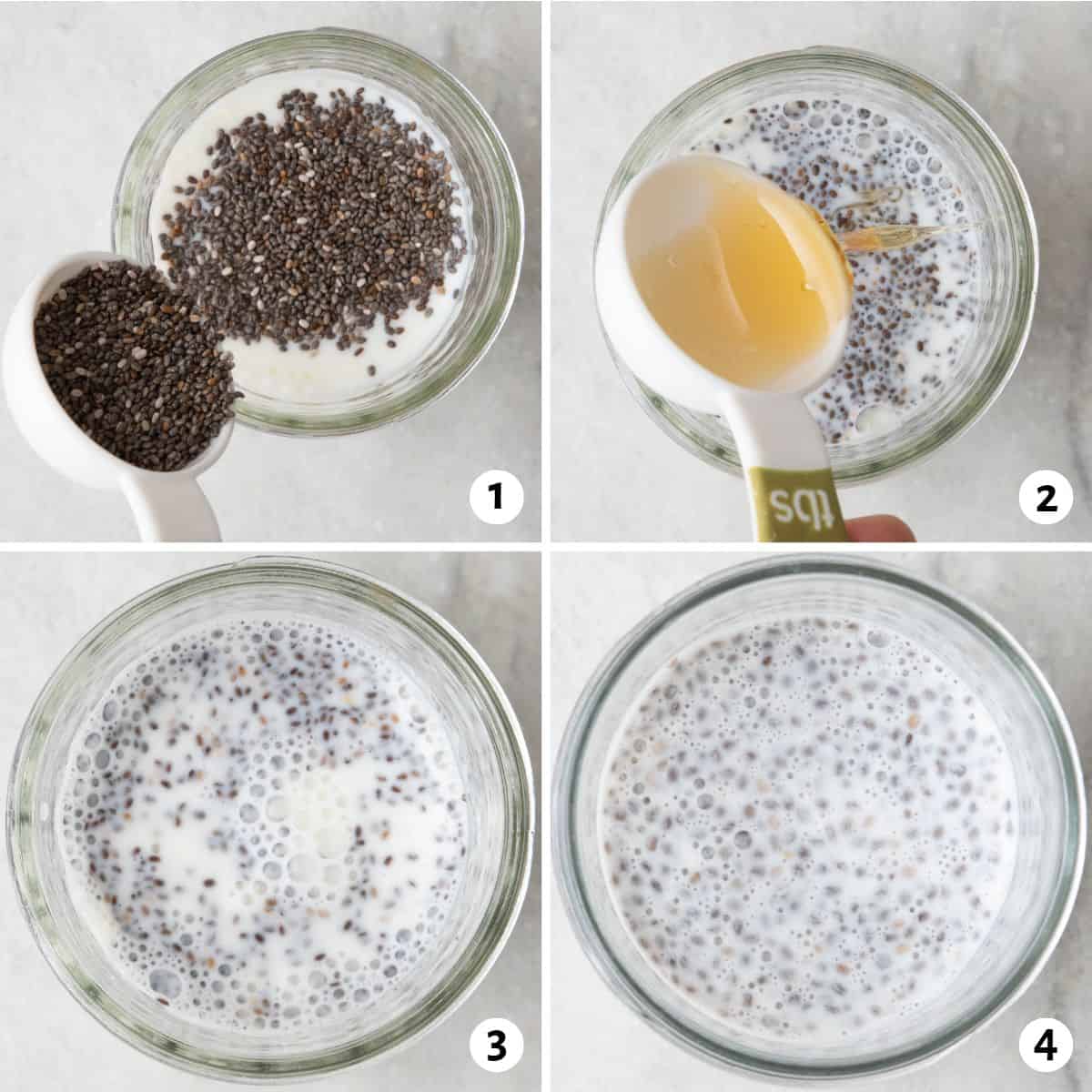 3 ingredient chia pudding video tutorial
Tips for making the best overnight chia pudding
The ratio is everything! There are different recommendations for the best chia pudding ratio out there. I've made this 100 times, and in the end, the ratio I found that works best is 1 tablespoon of chia seeds to ¼ cup of milk. To make it into a complete snack serving, though, I like to measure 2 tablespoons of chia seeds for every half cup of milk. You can play around with the measurements to find the consistency you like best.
Leave overnight for the best texture. To get that ultra-creamy pudding-like texture, let it set up in the fridge overnight.
Use fresh chia seeds. Fresh is best and is the only way to ensure your seeds plump up in the milk.
Be sure to stir it well before storing. The goal is to make sure there are no more clumps before storing. I suggest waiting about 10 minutes after initially stirring it together and then giving it another stir before placing it in the ridge.
Popular substitutions & additions
Add your own flavor. This simple recipe is a stepping stone to some delicious flavor combinations, so get creative in making your chia pudding. Add a touch of extract, like vanilla, almond, or coconut, to infuse it with flavor. You could also mix in some cocoa powder for a chocolatey chia treat or even matcha powder or any other types of powders.
Mix in fruit puree. Add a tablespoon or two of freshly blended fruit, jam or jelly, mashed bananas, or pumpkin puree for an extra pop of fruity flavor.
Change the milk. I love using unsweetened almond milk for a lightly flavored pudding that holds up to any extras I want to add. You can go right with other plant-based milk, such as cashew, oat, or coconut (perfect for extra creaminess); dairy milk will also work. As long as you have a good ratio of liquid to chia seed, the results will be the same: incredibly creamy!
Give it more texture. Before serving, stir in nuts, chocolate chips, shredded coconut, flaxseeds, or sunflower seeds for a bit of chew or crunch. Add a dollop of Greek yogurt or mix in some nut butter to take it over the top with more creaminess.
What makes Chia Pudding a Healthy snack?
One of the biggest questions I get from my readers is what to eat for a snack. And for me, I like the check off three things when it comes to snacking:
High in fiber – good for blood sugar control, cholesterol levels, and gut health
High in protein – good for building lean muscle
Contains healthy fats – good for helping you feel satiated
This is essentially what's going to satisfy your in-between meal cravings and taper your appetite until your next meal. For me, one of the best snacks that meets these snack goals is my Chia Pudding. Check this out: 1 oz (about 2 tablespoons) of chia seeds (which is only 130 calories) contains:
Fiber: 11 grams
Protein: 4 grams
Fat: 9 grams (5 of which are Omega-3s >> the stuff that's good for you!)
Not bad right? And the beauty of it is that you can store them in the fridge for a whole week, and grab one when you're hungry. I like topping mine with fresh fruit or dried fruit, nuts, shredded coconut, hemp seeds, granola, and so many more toppings. It makes such a great option for meal prepping too, because meal prepping includes planning for those in-between meals.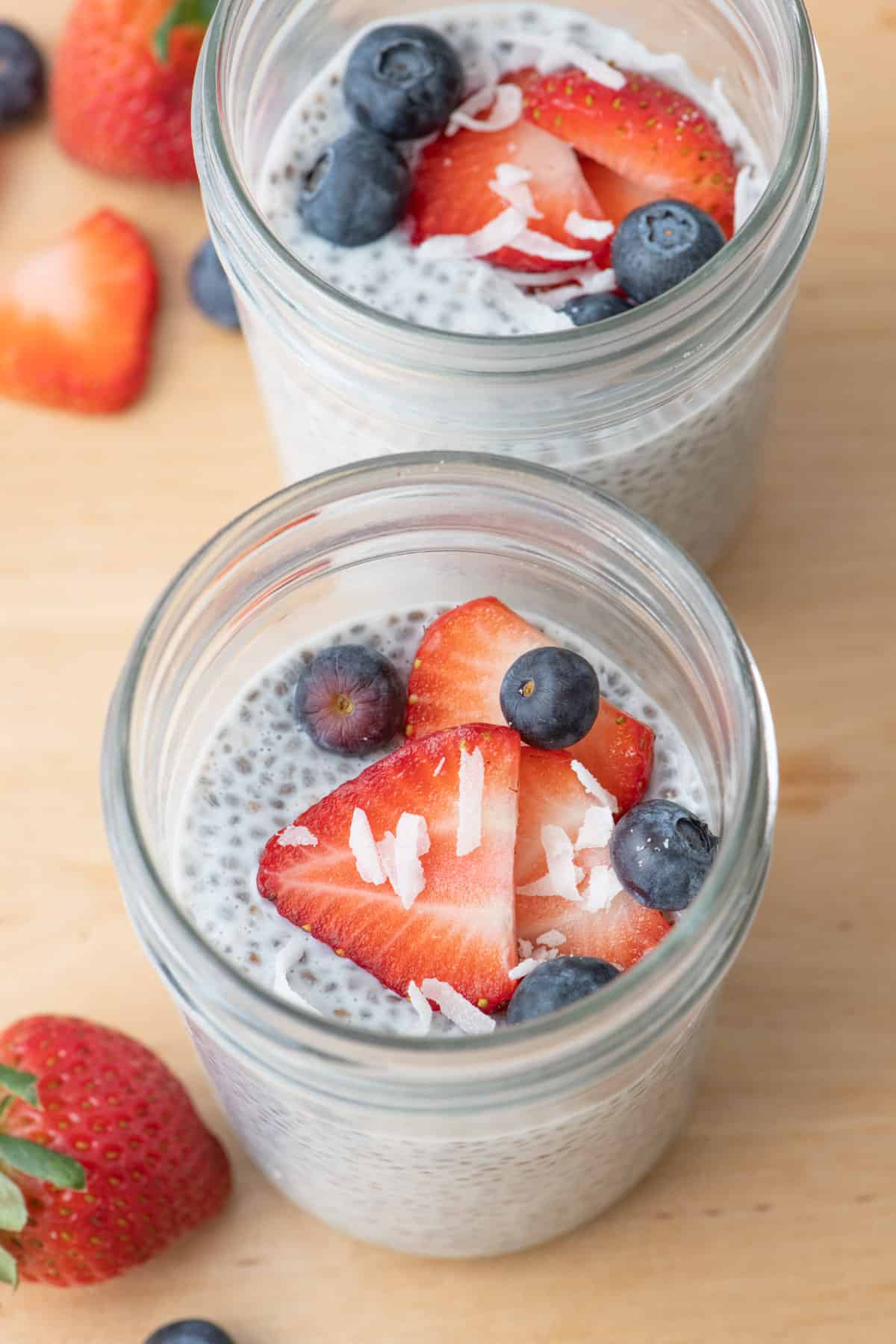 How to store Chia Pudding
Store the chia pudding in a mason jar or Tupperware in the fridge! After it sets, it does not thicken too much as it sits, but you can always add more liquid if you need to loosen it up.
How long will Chia Pudding last in the fridge?
Chia pudding is a perfect make-ahead recipe and lasts up to 1 week in the fridge.
Can i freeze Chia Pudding?
Yes, chia pudding freezes very well. Portion into individual serving size containers and freeze for up to 1 month. Thaw in the fridge for 6-7 hours or overnight for a quick snack.
Frequently asked questions
What are the benefits of eating chia pudding?
This superfood recipe is a powerhouse of antioxidants, fiber, and protein. It's chock full of vitamins and minerals. Chia seed pudding is incredibly nutritious and will leave you feeling full and energized throughout the day.
How long does the pudding take to thicken?
It will take at least 2 hours of chilling in the fridge for your chia pudding to thicken. For the best chia seed pudding, you want to let it sit overnight.
Why didn't my chia seed pudding thicken?
It's possible that you didn't stir the mixture enough. It's important to stir, wait and then stir a couple of times until there are no clumps of chia seeds before you store it in the fridge.
Can I adjust the ratio of chia seeds to milk?
I've found that 2 tablespoons chia seeds to ½ cup milk gives me the ideal pudding-like consistency. Try a different ratio if you'd like to find a consistency you love! More seeds=thicker pudding and visa versa, more milk=thinner pudding.
What brand of chia seeds do you recommend?
I use a few different brands of chia seeds that taste great and are also quality products: Thrive Market, Whole Foods 365, and Navitas are three of my favorite chia seed brands.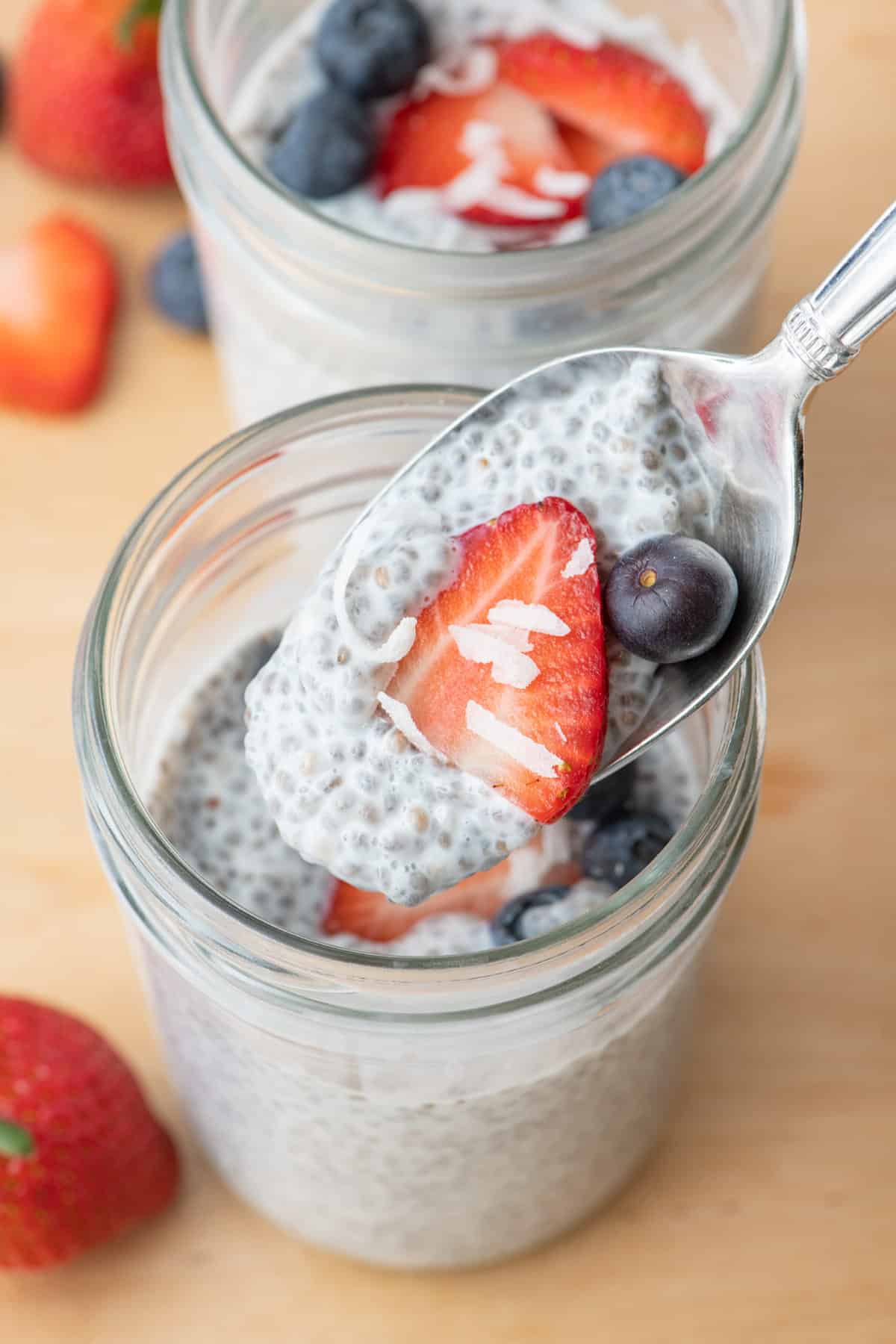 A spoonful of this fiber and protein-packed powerhouse pudding recipe will fill you up and help you stay energized throughout the day. Chia seed pudding is simplicity at its finest, with just 3 ingredients and a few hours to set into a wonderfully creamy pudding-like consistency. Top with your favorite add-ins for a versatile breakfast, snack, or dessert you'll crave!
More chia seed recipes:
This Chia Pudding recipe post was originally published on April 28, 2017, updated on June 23, 2018 with more images, details, and a VIDEO and updated again now for more details and to answer your frequently asked questions about chia seeds. The recipe has not been modified, but the post now includes updated step-by-step photos.
If you try this healthy-ish feel good Chia Pudding recipe or any other recipe on Feel Good Foodie, then don't forget to rate the recipe and leave a comment below! It helps others who are thinking of making the recipe. We would love to hear about your experience making it. And if you snapped some shots, share it on Instagram so we can repost on Stories!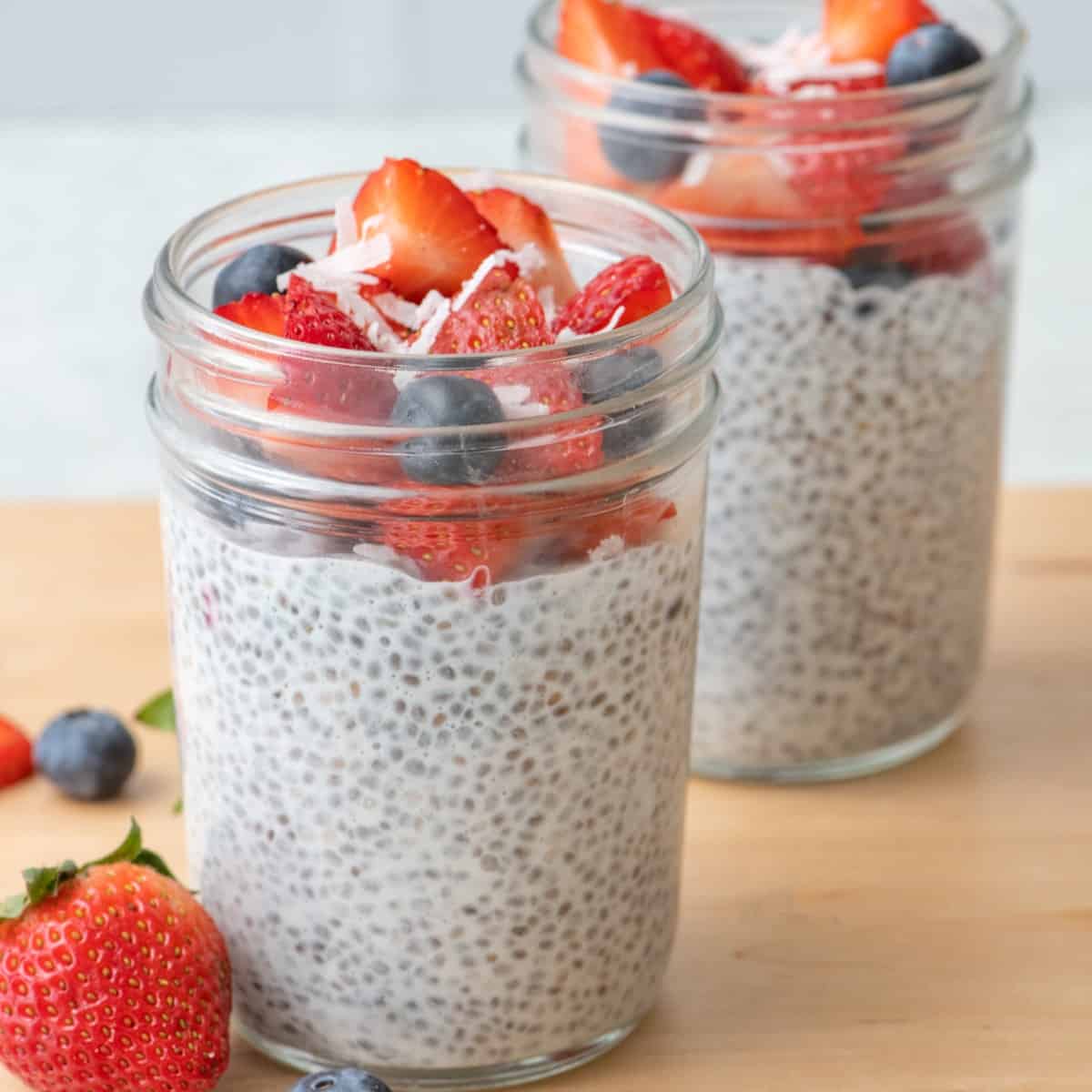 3-Ingredient Chia Pudding
This 3-Ingredient Chia Pudding is made with almond milk, chia seeds & sweetener of choice; it's a healthy snack loaded with protein, fiber and healthy fats!
Ingredients
2

tablespoon

chia seeds

1/2

cup

almond milk

or milk of choice

1

teaspoon

honey

or other sweetener, optional

Strawberries or other fruits for topping
Instructions
Pour ingredients into a jar and mix well. Let settle for 2-3 minutes then mix again very well until you see no clumping.

Cover the jar and store in fridge overnight or for at least 2 hours.

When you're ready to eat it, top with your favorite fruit and enjoy cold!
Notes
*Nutrition label only includes unsweetened almon milk, chia seeds, and honey and does not include any additional toppings.
Substitutes: You can use any milk of choice. You can also use any sweetener of choice.
Storage: Store the chia pudding in a mason jar or Tupperware for up to 1 week in the fridge.
Sourcing: You can find chia seeds at all major grocery stores. It's usually in the bulk section or with the cereal or superfoods.
Product Reference: I use these 8 ounce wide mouth mason jars when I make chia pudding. The chia pudding fills up about half the jar, leaving room for toppings.
Nutrition
Calories:
155
kcal
,
Carbohydrates:
16
g
,
Protein:
5
g
,
Fat:
9
g
,
Saturated Fat:
1
g
,
Polyunsaturated Fat:
6
g
,
Monounsaturated Fat:
1
g
,
Trans Fat:
0.03
g
,
Sodium:
167
mg
,
Potassium:
101
mg
,
Fiber:
9
g
,
Sugar:
6
g
,
Vitamin A:
13
IU
,
Vitamin C:
0.4
mg
,
Calcium:
302
mg
,
Iron:
2
mg
Nutrition information provided is an estimate. It will vary based on cooking method and specific ingredients used.