3-Ingredient Chia Pudding
Jump To Recipe
Prep:
Cook:
Serves:

1 servings
This 3-Ingredient Chia Pudding is made with almond milk, chia seeds & sweetener of choice; it's a healthy snack loaded with protein, fiber and healthy fats!
Author:

Yumna Jawad

Posted:
3-Ingredient Chia Pudding
It's 3:00pm and you're feeling drenched from the day. But you know the hard part of the day (especially if you have kids) ain't over yet. This is when you reach for that pick-me-up snack. Let's be honest, between recipe testing and photographing food, I may have a few of those said snacks in a day.
When I'm not prepared, it usually goes something like this:
Grapes and cheese
Almond milk yogurt and granola
Peanut butter on English muffin
Cottage cheese and berries
When I am prepared, it goes something like this…chia pudding waiting for me in the fridge! And then I thank my prepared self and relish in the yumminess of my pick-me-up-snack: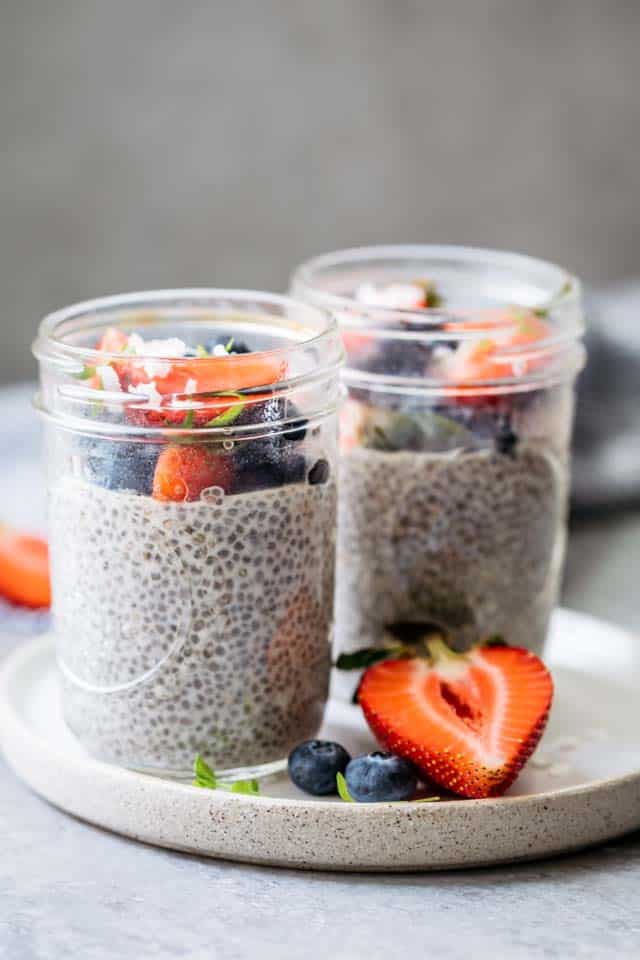 To make your hangry self proud tomorrow, try this Chia Pudding.
Start with two mason jars of almond milk (or any milk you'd like), some chia seeds and honey (or any other sweetener you'd like). You can also leave out the sweetener if you prefer to sweeten it with toppings like dried fruit or chocolate chips.
I like to measure 2 tablespoons of chia seeds for every half cup of milk. You can play around with the measurements to find the consistency you like best.
When it's time to mix in the chia seeds, I recommend mixing very well until all the chia seeds are incorporated into the milk. Then wait a few minutes for the chia pudding to settle and mix again. This will ensure it doesn't separate in the fridge.
Here comes that drizzle. Or you can skip too…it's cool. I won't be mad.
Why is Chia Pudding Healthy?
One of the biggest questions I get from my followers is what to eat for a snack. And for me, I like the check off three things when it comes to snacking:
High in fiber – good for blood sugar control, cholesterol levels and gut health
High in protein – good for building lean muscle
Contains healthy fats – good for helping you feel satiated
This is essentially what's going to satisfy your in-between meal cravings and taper your appetite until your next meal. For me, one of the best snacks that meets these snack goals is my Chia Pudding. Check this out: 1 oz (2 tablespoons) of chia seeds (which is only 130 calories) contains:
Fiber: 11 grams
Protein: 4 gram
Fat: 9 grams (5 of which are Omega-3s >> the stuff that's good for you!)
Not bad right? And the beauty of it is that you can store them in the fridge for a whole week, and grab one when you're hungry. I like topping mine with fresh fruit or dried fruit, nuts, shredded coconut, hemp seeds, granola and so many more toppings. It makes such a great option for meal prepping too, because hey, we can't forget about the snacks between our healthy meals.
Once you make this chia pudding, it will be a staple in your fridge. And then you can get fancy by blending it with fruits, like I did with my Berry Chia Pudding! Or you can mix in some cocoa powder like I did with my Chocolate Chia Pudding. And if you want another idea with chia that doesn't involve pudding, try this homemade Strawberry Chia Jam!
Easy, healthy, tasty >> can't beat that!
I hope you love this healthy-ish feelgood 3-Ingredient Chia Pudding recipe. If you make it, please leave me a comment telling me how you like it, or use hashtag #feelgoodfoodie on Instagram so I can see your recreations.
This post was originally published on April 28, 2017 and updated on June 23, 2018 with more images, details and a VIDEO!.
3-Ingredient Chia Pudding
This 3-Ingredient Chia Pudding is made with almond milk, chia seeds & sweetener of choice; it's a healthy snack loaded with protein, fiber and healthy fats!
Course: Snack
Cuisine: American
Keyword: Snacks
Servings: 1 servings
Calories: 155 kcal
Ingredients
2 tablespoon chia seeds
1/2 cup almond milk or milk of choice
1 teaspoon honey or other sweetener, optional
Strawberries or other fruits for topping
Instructions
Pour ingredients into a jar and mix well. Let settle for 2-3 minutes then mix again very well until you see no clumping.

Cover the jar and store in fridge overnight or for at least 2 hours.

When you're ready to eat it, top with your favorite fruit and enjoy cold!
Recipe Video
Recipe Notes
Substitutes: You can use any milk of choice. You can also use any sweetener for choice.
Storage: Store the chia pudding in a mason jar or Tupperware for up to 1 week in the fridge.
Sourcing: You can find chia seeds at all major grocery stores. It's usually in the bulk section or with the cereal or superfoods.
Nutrition Facts
3-Ingredient Chia Pudding
Amount Per Serving (1 bowl)
Calories 155 Calories from Fat 72
% Daily Value*
Total Fat 8g 12%
Sodium 166mg 7%
Potassium 97mg 3%
Total Carbohydrates 16g 5%
Dietary Fiber 8g 32%
Sugars 5g
Protein 4g 8%
Calcium 30.1%
Iron 10.3%
* Percent Daily Values are based on a 2000 calorie diet.