This post may contain affiliate links. Please read our disclosure policy.
This overnight oats recipe will teach you how to make a base that can be used with any toppings or add-ins you choose. It's super easy to remember and the perfect overnight oats recipe for beginners. Overnight oats are my morning lifesaver. They are a zero cooking grab-and-go breakfast that's delicious and nutritious! What I love is how customizable oats are with the toppings; you can have a different breakfast every day of the week.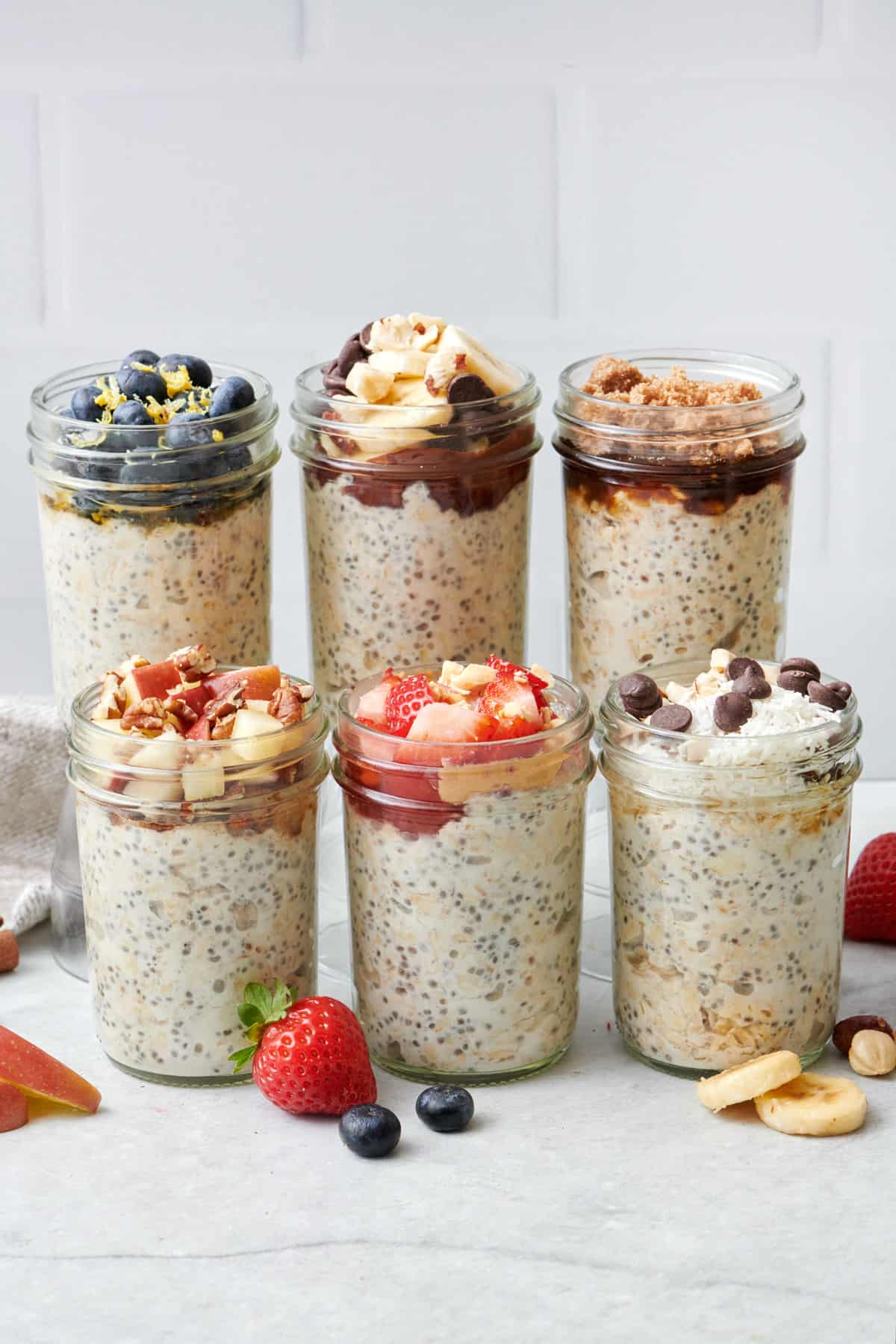 This overnight oats recipe is a great healthy breakfast that you can prepare in advance and when stored properly will last all week. So it makes it a great meal prep idea for Sunday night to prepare for the work week. I've been making this recipe for over 10 years now, multiple days a week and I have yet to get sick of it. The flexibility of flavors, toppings and add-ins makes this recipe especially awesome!

Whether you're a Peanut Butter & Jelly aficionado or an Almond Joy enthusiast, there's a flavor here for you. And while eating one of the six flavor combos below may feel like a treat, you're still nailing all those nutritional checkpoints. Greek yogurt amps up the protein, chia seeds adds in a dash of fiber, and your choice of milk keeps it all smooth.
"This is the best recipe for overnight oats I have found, even better one of the simplest and straightforward recipes too. Absolutely delicious. I need look no further for other morning recipes 😊" – Carol Trill
Below you'll find some tips for meal prepping them in batches, and some topping and add-in inspiration with six popular overnight oatmeal flavors
Table of Contents
What are overnight oats?
If you've never had overnight oatmeal, they're basically a no-cook method of making oatmeal. So, instead of cooking oatmeal on the stovetop or in the microwave, you soak the raw oats with milk. That soaking process allows the oats to absorb the liquid and soften them enough to eat uncooked. You only need to let the oats soak and rest in the fridge for 2 hours. But, it's ideal if you soak it overnight…hence the name overnight oats!
The next morning you have a ready-to-eat, delicious, creamy bowl or jar of "oatmeal." The consistency is like a porridge or pudding. It makes for an easy convenient breakfast that has a more dense and creamy texture than warm oatmeal.
Best of all, you reap all the healthy benefits of oats in a fun grab-and-go breakfast:
They contain more protein than most grains (5g per serving).
They're a rich source of fiber, which helps you feel fuller longer (4g per serving).
They are a nutrient dense food, which makes your feel more satiated.
Recipe at a glance
Cuisine Inspiration: American Breakfast
Cooking Method: No-Cook
Dietary Info: Vegetarian, Gluten-Free option available
Key Flavor: Creamy and customizable to your favorite flavors
Skill Level: Beginner-friendly
Summary
No-Cook Breakfast: This recipe takes away all morning hassle—no need to fire up the stove or oven. Just mix the night before, chill, and go.
Two Essential Ingredients: At its core, all you really need to make overnight oats are oats and milk. The Greek yogurt, chia seeds, sweetener, and vanilla extract are highly recommended additions for enhanced flavor and texture.
Nutrient-Packed: High in protein and fiber, these overnight oats keep you full for longer while offering a lot of nutrients.
Totally Customizable: Whether you're a fruit lover, chocolate devotee, or nut enthusiast, there's a flavor combo for you. You can seriously add or mix in whatever you like – it's the chef's kiss of breakfast recipes.
Perfect for Meal Prep: Prepare it on a Sunday night and wake up to a delicious and nutritious breakfast all week long.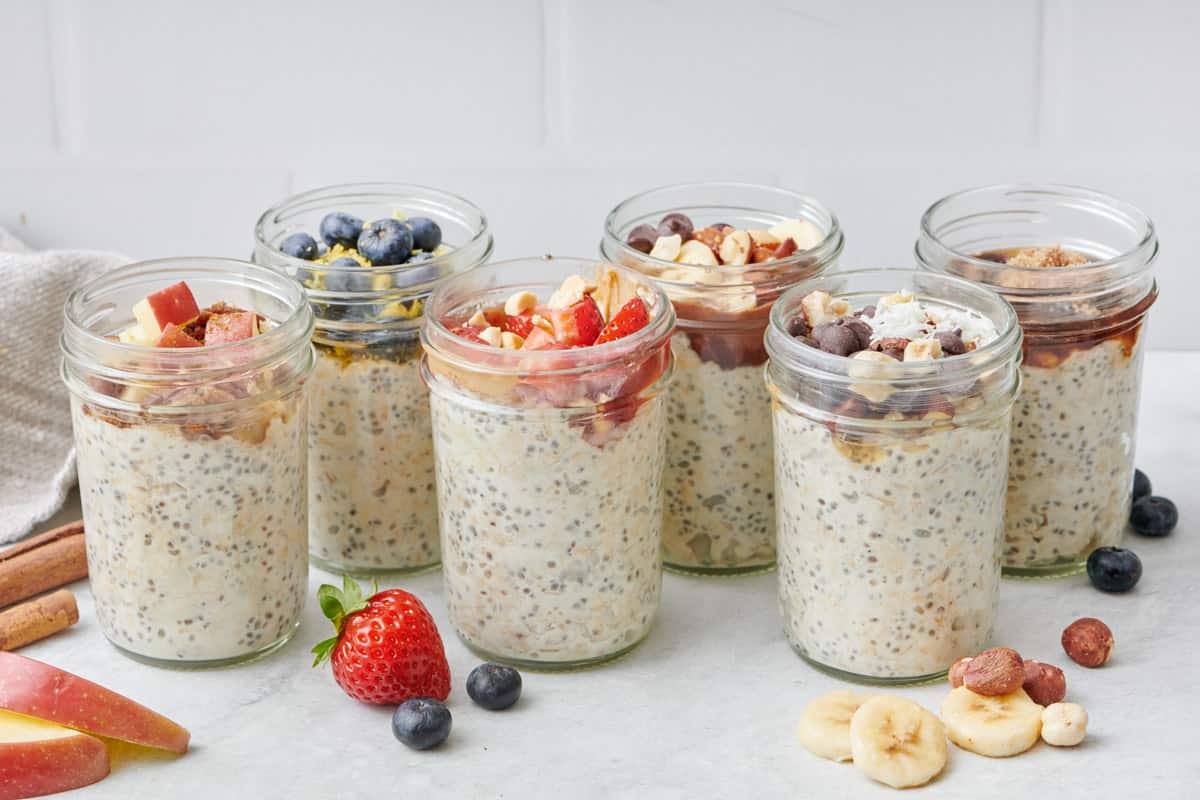 Base Ingredients You need To Make Overnight Oats
You only need two ingredients to make overnight oats, which are, of course, milk and oats. But it probably won't taste very good, and by adding in Greek yogurt, chia seeds, and a drizzle of your favorite sweetener, you're really creating a well-rounded breakfast.
Oats: This is really the only ingredient that's non-negotiable. Make sure to use plain old-fashioned oats and not quick oats because the consistency is best with rolled oats. You can also use gluten-free oats. Do not use steel cut oats.
Milk: For the liquid part, you can actually make this with water! But it's more common to use milk. You can use full fat, 2% or low-fat milk. You can also use plant-based milk like almond milk, coconut milk, cashew milk or oat milk.
Chia seeds (optional): These seeds are packed with tons of nutrition, and they help give the oats a pudding-like texture. So I always like to include them in my base recipe.
Greek or vegan yogurt (optional): This gives the oats a tangy flavor, creamy texture and boost of protein.
Vanilla extract (optional): This enhances all the flavors that go into the overnight oatmeal as well as giving it sweetness without any sweetener.
Sweetener (optional): Use honey or maple syrup to sweeten the mixture, especially because oats can be somewhat bland on their own.
Toppings: This is where you can have some fun with fresh fruit, dried fruit, nut butters, nuts, seeds and spices (like cinnamon, nutmeg or cardamom). There are so many topping ideas and combinations, and I think that's what makes this such a great versatile recipe!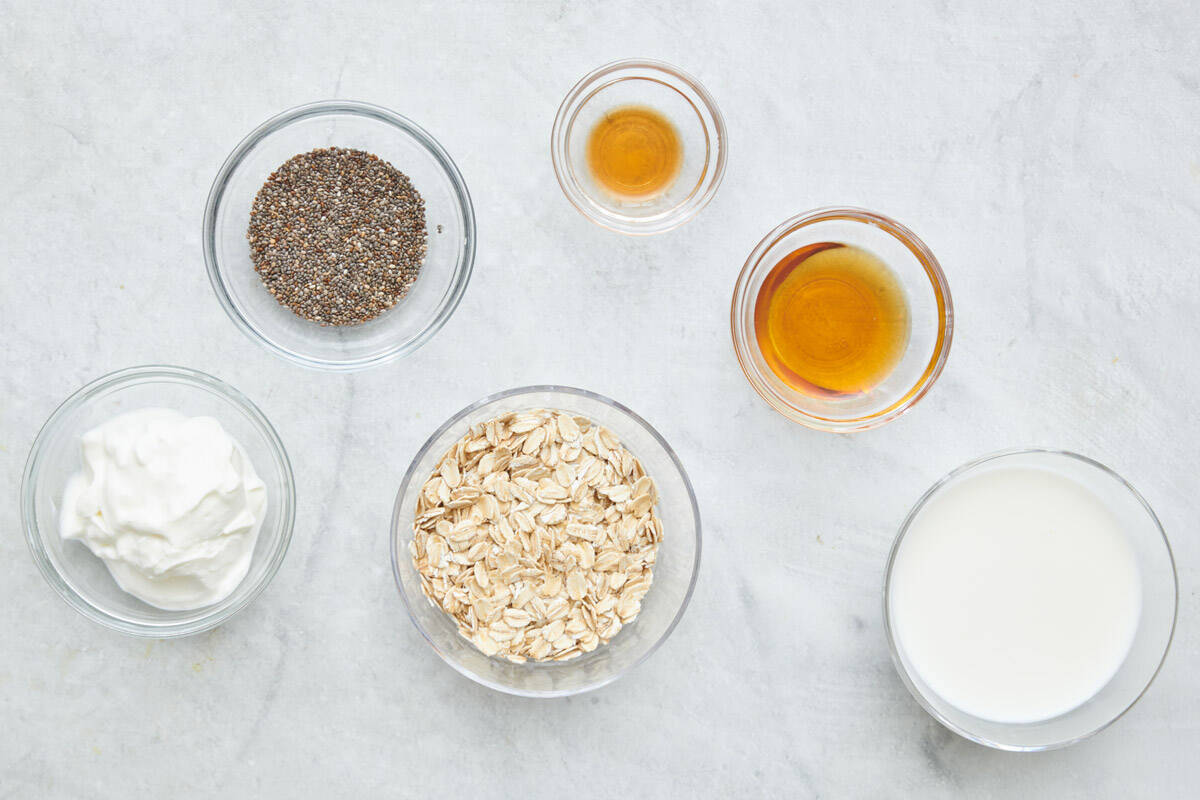 How to make a basic overnight oats recipe – the ratio
It's all about the ratios to get the consistency you like. So try the suggested ratio below and then add more milk or use less milk until you find what works perfectly for you! Once you nail down the ratio of the basic overnight oats recipe, the sky's the limit with the flavor combinations and toppings.
The ratio you want to use for just oats and a liquid:
1 part oats + 1 part milk
Here's my simple ratio when adding chia seeds:
1 part oats + 1 part milk + ⅛ part seeds
The above is really my ideal texture, it's creamy with enough liquid that it doesn't feel like soup. That being said please adjust the ratios based on your preferred texture. Sometimes it takes a little engineering to get that "just right" bite of oatmeal.
"Really good base for overnight oats. In the morning just combine the add ins. We have tried banana and peanut butter and apple and peanut butter using half a banana or half an apple per person, but staying with 1 TBSP peanut butter. Thankyou!" – Fran
How to make 2 Ingredient Overnight Oats
Add your oats to your preferred jar.
Top with your milk of choice.
Mix everything together until all the oats are submerged in milk.
Refrigerate overnight and eat!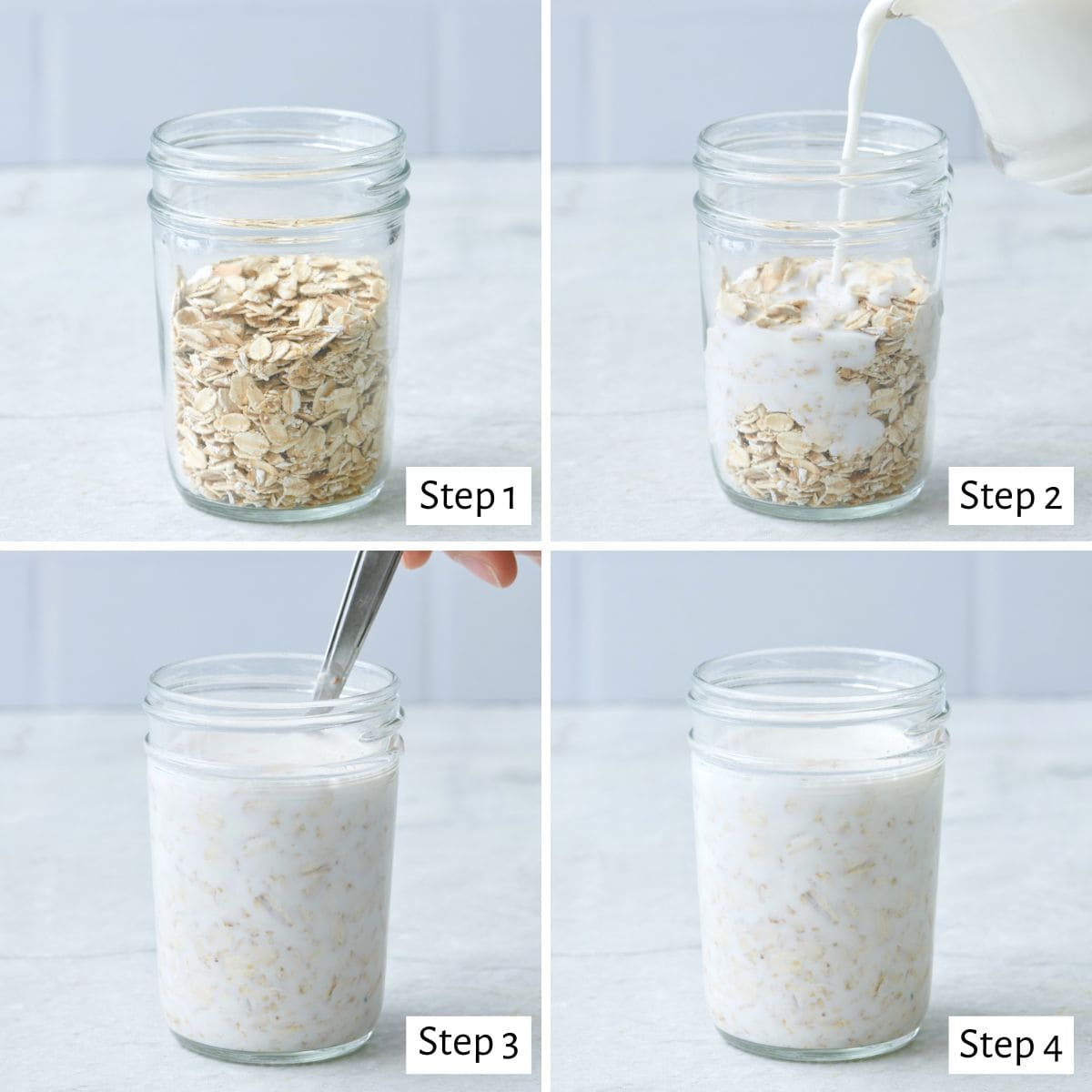 How I make my overnight oat base
To start, combine old-fashioned oats, chia seeds, Greek or vegan yogurt, and vanilla extract. If you're using a sweetener add it in now too.
Top with your choice of milk.
Mix the overnight oats together until you see no clumps.
Next, seal or cover with a lid, and chill in the fridge for at least 2 hours or overnight.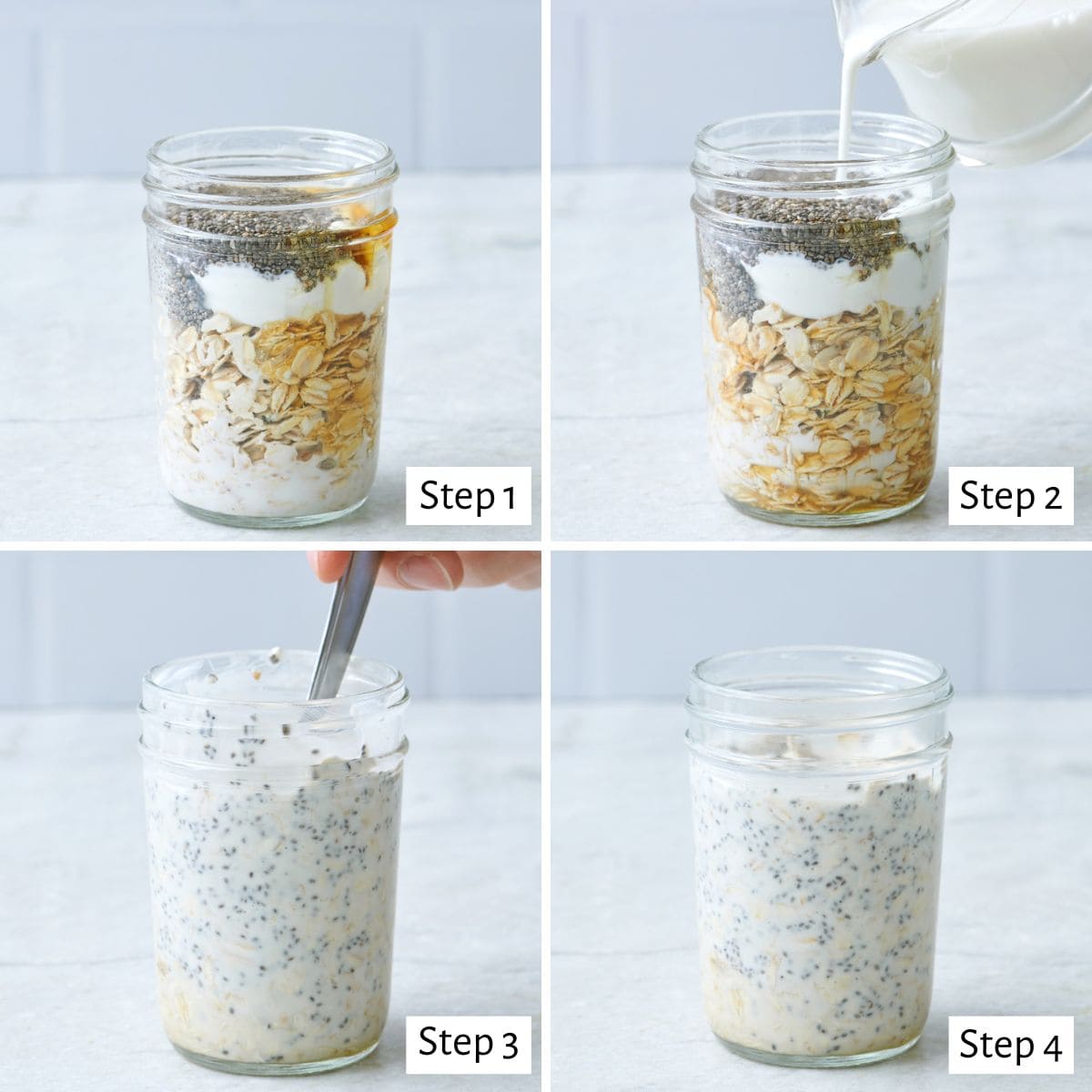 The next morning, grab a spoon, add your favorite toppings, and dig in!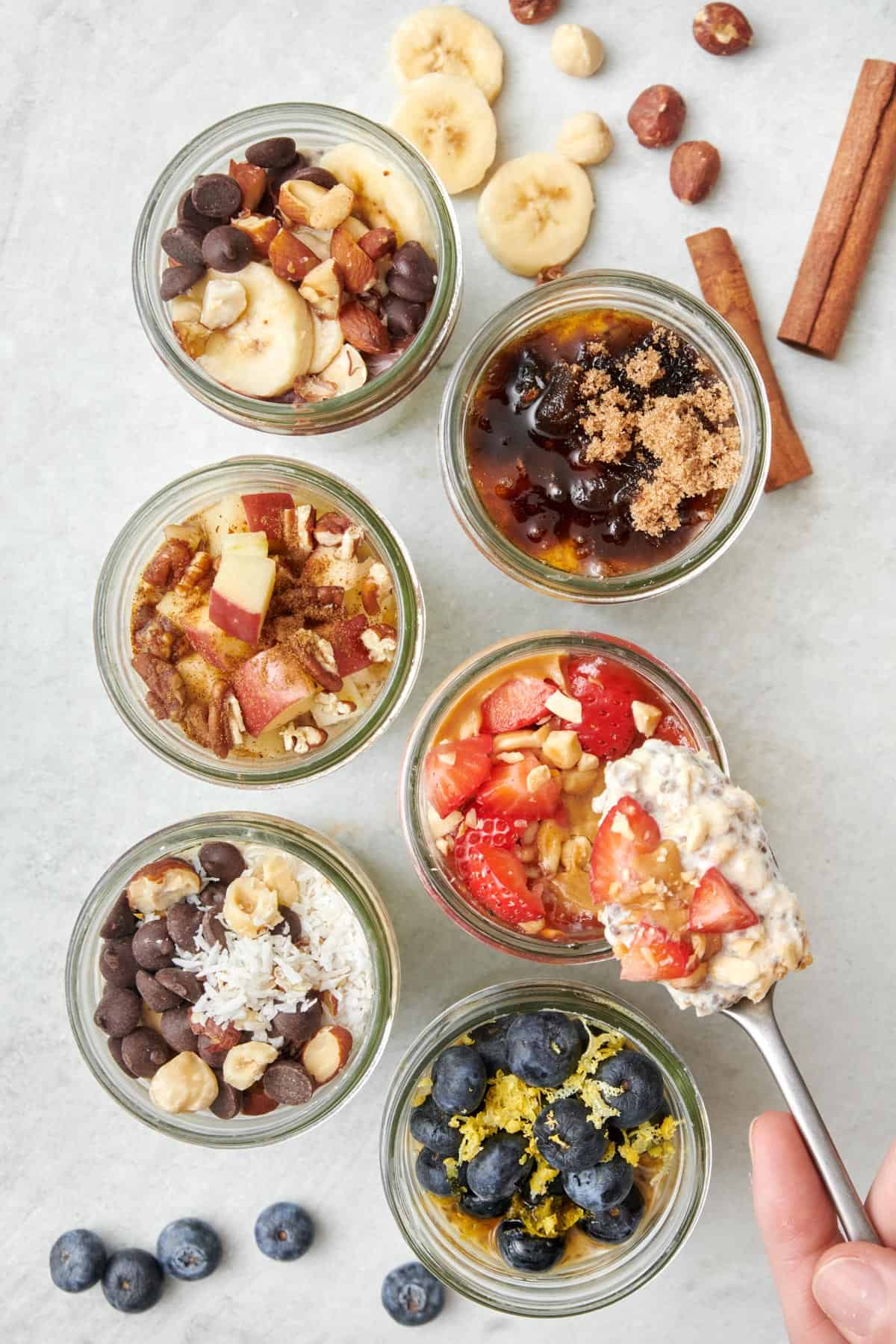 Overnight oats step-by-step video tutorial
Reader fav add-ins & flavor combos
I first put this recipe out in 2018, and it's been made over 1 million times, if not more. I get emails, comments, and DMs on social all the time with people saying how much they love this recipe, and they often include the flavors they dreamt up, which I love. Some of my favorites are below.
"This is a great recipe that I use as a blank canvas to flavor many different ways. Today I used Irish oats, oat milk, Siggi's non fat vanilla yogurt, Penzey's Pie Spice, and ¼ cup of homemade vanilla apple sauce, and a touch of maple syrup. The smell alone is making me swoon!! I can hardly wait until tomorrow morning." – Josee Marchessault
Pistachio Raspberry: Add a handful of crushed pistachios and fresh raspberries along with a drizzle of honey for a colorful, textured twist.
Mexican Hot Chocolate: Incorporate a dash of cinnamon and a pinch of cayenne pepper to chocolate oats for a spicy twist on a classic.
Pumpkin Pie: Canned pumpkin, pumpkin spice, and a dollop of whipped cream on top has made this a fall favorite among readers.
Maple Sweet Potato: A spoonful of cooked, mashed sweet potato combined with a drizzle of maple syrup, a sprinkle of cinnamon, a pinch of nutmeg, and chopped pecans.
Don't forget to send me your favorite overnight oat recipe variations so I can add it to the list!
My Top 6 Overnight Oatmeal Recipe Ideas
I literally eat overnight oats 5 days a week because the flavor combinations and recipe variations are in the millions. Once you get your base recipe to where you like it, texture and taste wise you'll be adding mix-ins and toppings. Below are six of my fav recipe variations that I make at home!
Peanut Butter Jelly:
It's like having a peanut butter jelly sandwich in overnight oats form. Layer peanut butter, strawberry jelly, fresh cut strawberries and crushed peanuts. It has a sweet and salty taste that's irresistible.
Apple Pie
With the combination of chopped apples, pecans, maple syrup and ground cinnamon, this variation is a great fall recipe that has a warm sweet taste and satisfying crunch from the fruit and nuts.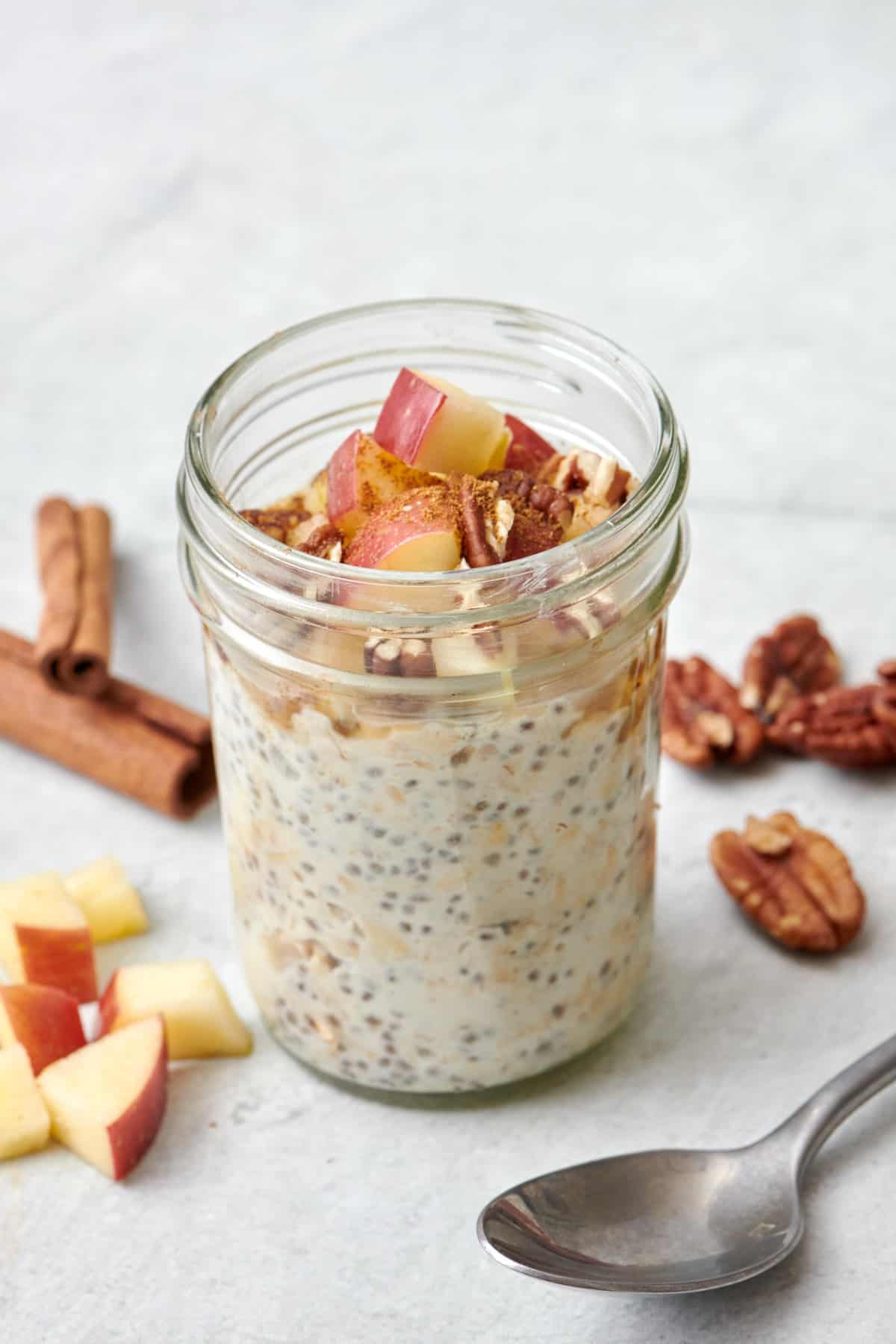 Banana Nutella
The name of this recipe says it all – bananas and Nutella – match made in heaven, and a great flavor for kids to try! The banana and Nutella together have a rich decadent taste that makes it feel like you're enjoying dessert, instead of a nutritious breakfast. Try also adding crushed hazelnuts and chocolate chips to enhance the flavor.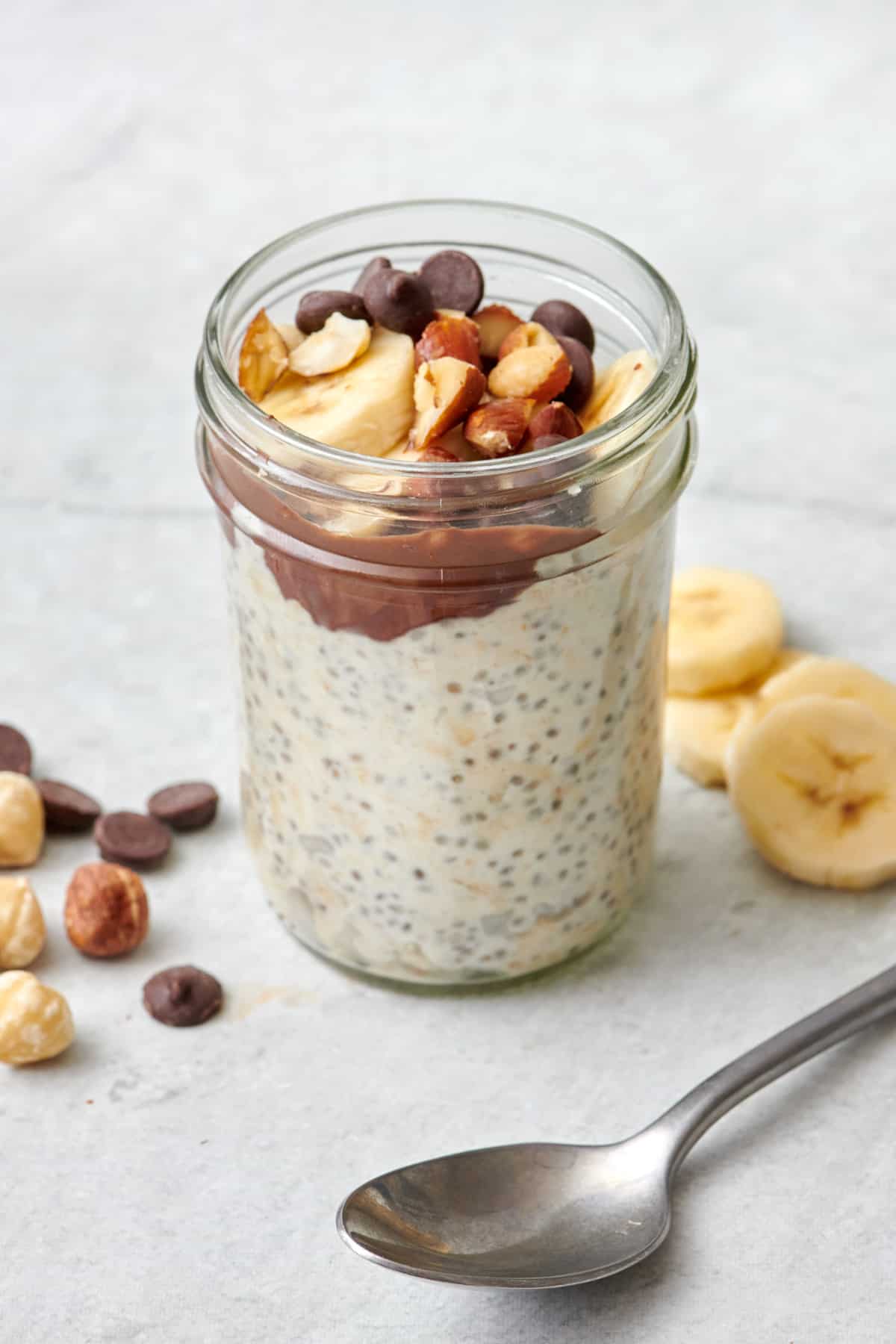 Almond Joy:
This recipe is a play on the popular chocolate bar. Use shredded coconut, crushed almonds, mini chocolate chips and maple syrup.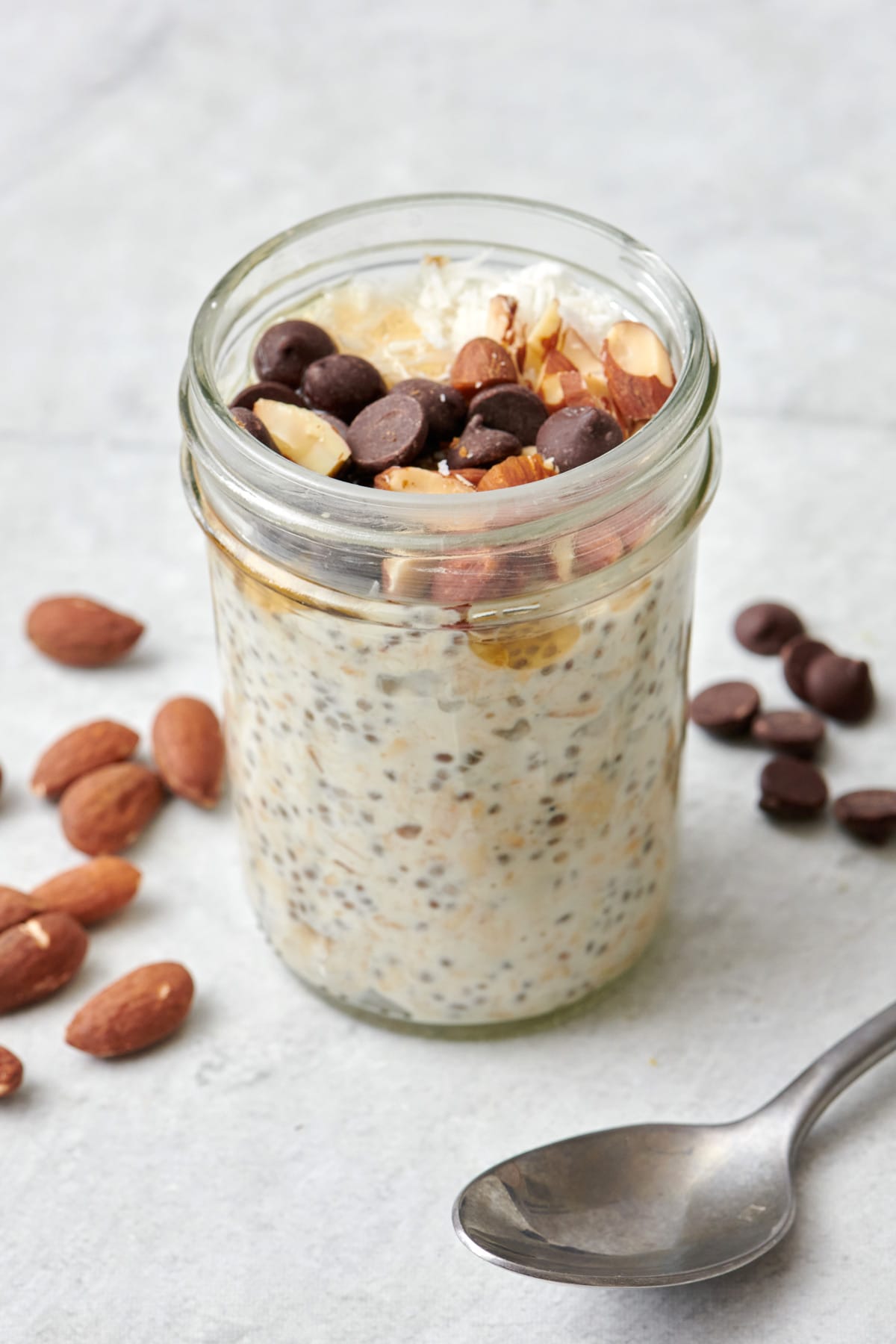 "This is by far the most delicious breakfast I've ever had never thought oatmeal would actually taste so delicious this way, especially cold. I can't wait for more easy, quick recipes. My most 2 favorites are the *Banana Nutella* and *Almond Joy*" – Zenny B.
Maple Brown Sugar
Maple brown sugar has got to be one of the most loved oatmeal flavors of all time! The hint of molasses paired with the earthy maple and cinnamon is so good! You can eat this variation hot or cold and any time of the year!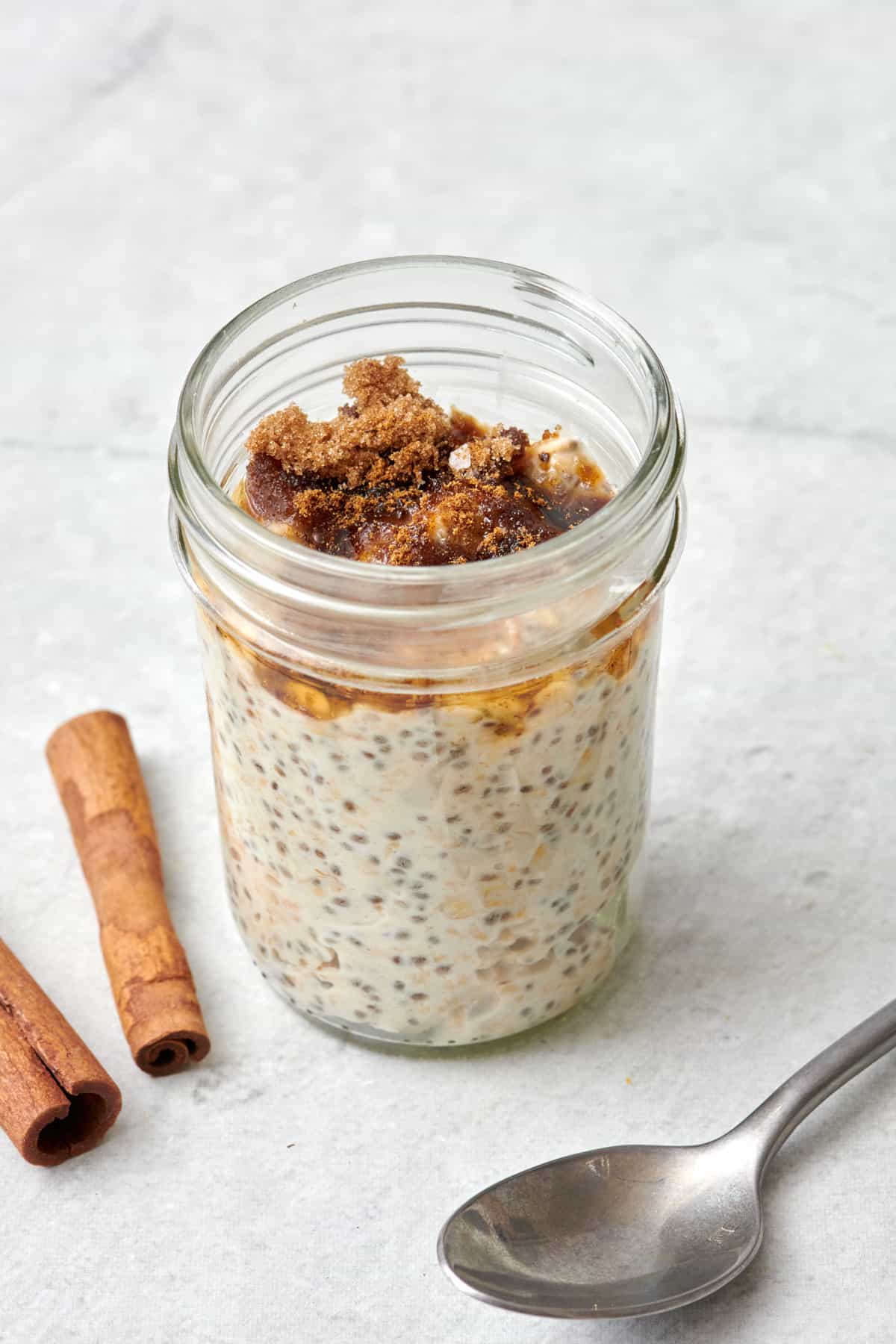 Blueberry Lemon Muffin
Fresh blueberries with tangy lemon zest and floral honey…need I say more? So good, and it just feels like Spring in a bite. I like this one cold, but you could set it out for 15-20 minutes to take some of the chill off the oats or even microwave it to let the blueberries burst.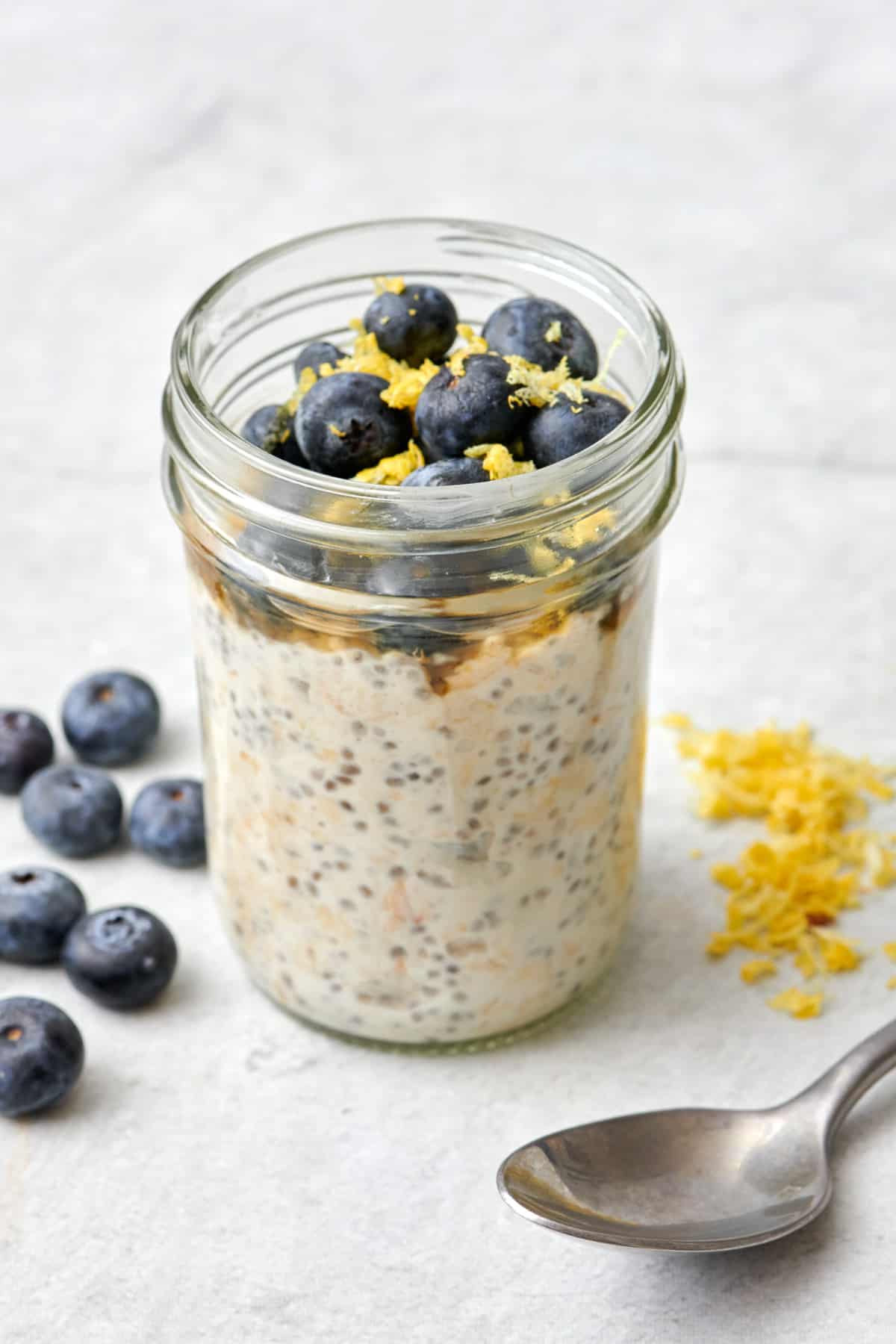 Tips for making the best overnight oats
Make it inside of a jar or a mason jar (with measurement lines on the side). This way you can measure, mix, chill, carry and eat the overnight oats all in one convenient container.
Use plain old fashioned rolled oats, not quick oats. Quick oats will get too soggy when soaked with milk. And do not use steel cut oats because they won't soften enough to eat just with milk unfortunately. Try this steel cut overnight oatmeal instead.
Warm it up if you prefer warm oats in the morning. Although overnight oatmeal is typically served cold, you can definitely eat them warm. Just place them in the microwave for one minute and be sure to use a microwave-safe jar.
Make a bunch for the week. Because overnight oats typically stay good in the fridge for up to 5 days, try making a batch on Sunday and having it on hand in the fridge for the whole week. Be careful if you're adding fruit beforehand because they will typically not remain fresh for more than a couple days.
Be mindful of the milk-to-oats ratio. Too much liquid and you'll have a runny mess; too little and it'll be too thick. The ideal ratio is usually 1:1, but you can adjust depending on your texture preference.
Layer, don't mix, add-ins. If you're using fruits, nuts, or syrups, layer them rather than mixing. This helps maintain the texture of the ingredients until you're ready to eat.
Chill for at least 4 hours. While two hours might do in a pinch, a longer soak will give the flavors time to meld together better, making for a more delicious breakfast.
Temperature matters. Cold milk will take longer to soak into the oats than room-temperature milk. If you're short on time, consider using milk that's closer to room temperature.
Popular add-ins & toppings
Fruits for Freshness:
Sliced bananas for natural sweetness
Diced apples for a bit of crunch
Fresh berries for a burst of flavor
Nuts for Crunch:
Almonds to elevate texture
Walnuts for earthy richness
Pecans for a buttery bite
Seeds for Nutrition:
Chia seeds for added fiber and omega-3s
Pumpkin seeds for a touch of zinc and magnesium
Flaxseeds for an extra dose of fiber and protein
Sweeteners for Flavor:
Maple syrup for a natural sweetness
Honey for a floral note
Agave syrup for a smooth finish
Spices for Depth:
Cinnamon for warmth
Nutmeg for a touch of spice
Vanilla extract for aroma and sweetness
Creamy Elements:
Peanut butter for a savory twist
Nutella for a luxurious treat
Coconut cream for a tropical vibe
Unexpected Twists:
Matcha powder for an antioxidant boost
Cocoa powder for a chocolaty touch
Lemon zest for a burst of citrus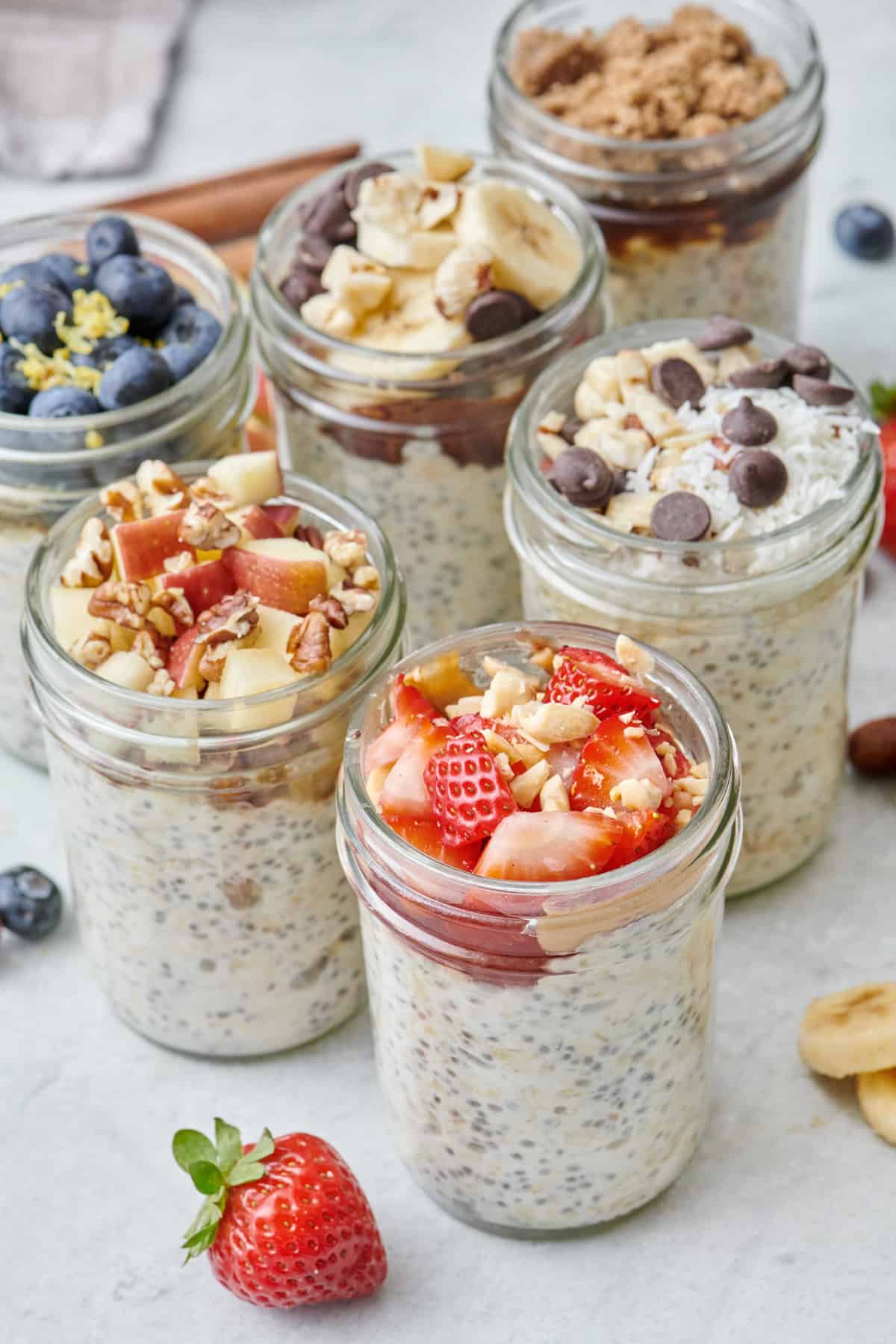 Frequently asked questions
Can I heat up my overnight oats?
Yes, you can warm them in a microwave-safe bowl for about 60-90 seconds if you prefer your oats warm. Be cautious as the jar or container itself may become very hot.
How do I make my overnight oats creamier?
For a creamier texture, you can increase the amount of Greek yogurt or try using a milk with higher fat content.
Why are my oats still hard after soaking?
If your oats haven't softened after soaking, try extending the soak time. Alternatively, the type of oats you're using may require cooking; double-check that you're using rolled oats.
Why are my overnight oats so thick?
If your oats turn out too thick, the ratio of liquid to oats may be off. Try adding a little more milk and giving it a good stir before eating.
Do we need to dry roast the oats before use?
Nope you can just throw them in as is. If you want to dry roast them you can to add a more robust flavor.
Does the yogurt have to be plain? Can I use a flavored Greek yogurt?
You can use any flavor you'd like and that is actually a great way to add some flavor without using one of the recipe ideas above.
Can I make this in one large batch instead of individual containers?
You can for sure make overnight oats in a large container. I like to portion it out to stay within the serving size, but that is really the only reason why – oh and to make the different flavors and vary the add-ins.
Do you need to wait before adding the toppings overnight or can you put the toppings immediately on after mixing the base?
Depending on what toppings you're using (if they will oxidize like bananas before the morning), you can add them in immediately after mixing your base recipe together.
If you try this healthy-ish feel good Easy Overnight Oats recipe or any other recipe on Feel Good Foodie, then don't forget to rate the recipe and leave a comment below! It helps others who are thinking of making the recipe. We would love to hear about your experience making it. And if you snapped some shots, share it on Instagram so we can repost on Stories!
For more oatmeal recipes: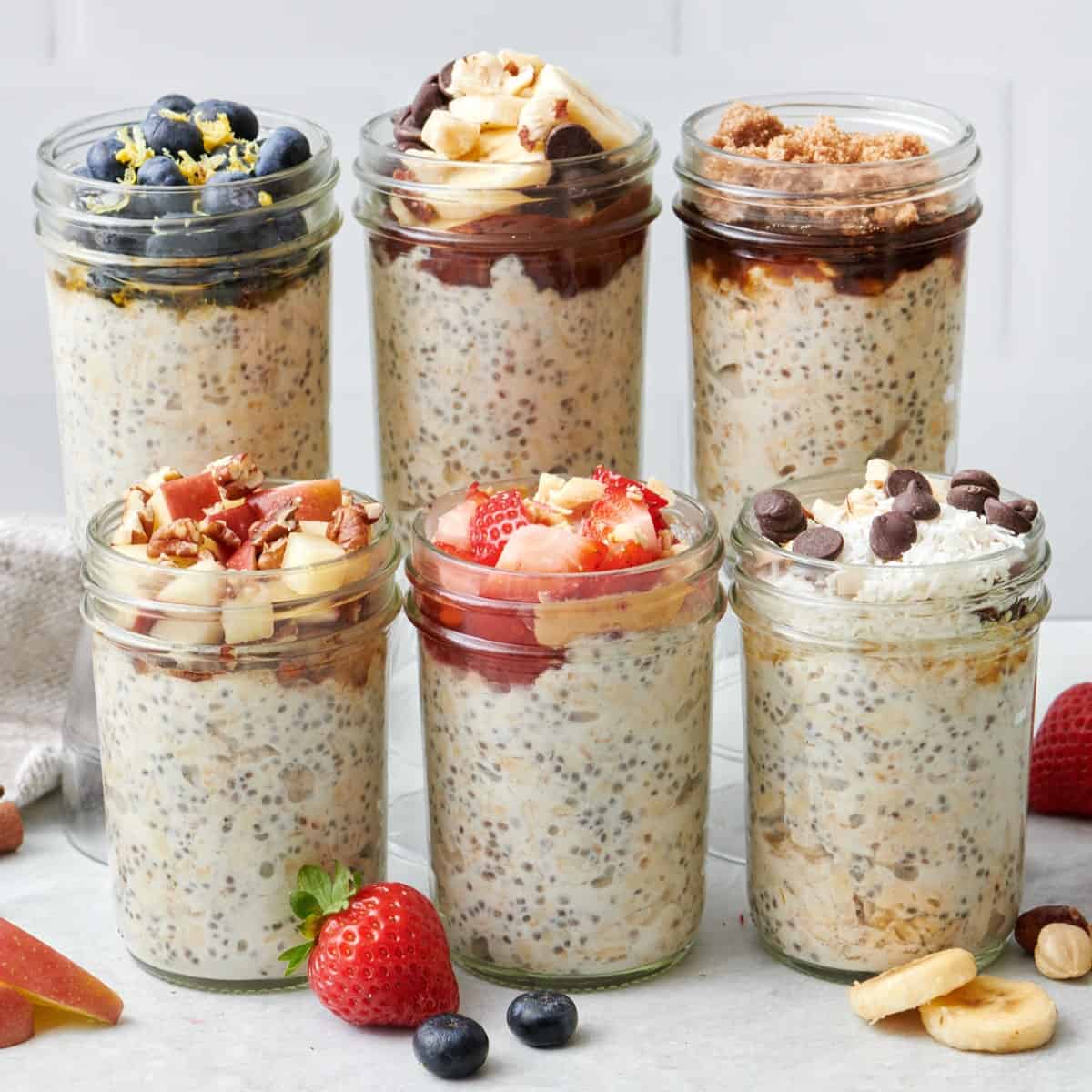 Easy Overnight Oats
This easy overnight oats recipe is a healthy simple breakfast that you can make ahead for busy mornings and customize with many add-ins and toppings!
Ingredients
Instructions
Place all ingredients into a large glass container and mix until combined.

Cover the glass container with a lid or plastic wrap. Place in the refrigerator for at least 2 hours or overnight. Toppings can be added the night before or immediately before serving.

Uncover and enjoy from the glass container the next day. Thin with a little more milk or water, if desired.
Notes
Storage: Overnight oats can be stored in the fridge for up to 5 days. This makes it an ideal breakfast meal prep to make on Sunday night for the week.
Substitutes: For best results, follow the recipe as is. However here are some common substitutes that would work well in this recipe.
Make it vegan: Use plant-based milk, plant-based yogurt, and maple syrup for sweetener
Make it gluten-free: Use certified gluten-free oats
Make it sugar-free: Omit the sweetener all together or used mashed or pureed fruit in the base recipe
* Please note the nutrition label does not include any toppings.
Nutrition
Calories:
378
kcal
,
Carbohydrates:
54
g
,
Protein:
17
g
,
Fat:
11
g
,
Saturated Fat:
3
g
,
Cholesterol:
15
mg
,
Sodium:
80
mg
,
Potassium:
485
mg
,
Fiber:
8
g
,
Sugar:
21
g
,
Vitamin A:
198
IU
,
Calcium:
322
mg
,
Iron:
3
mg
Nutrition information provided is an estimate. It will vary based on cooking method and specific ingredients used.