Shish Tawook is a popular Lebanese grilled chicken skewers recipe. It's tender juicy chicken marinated in yogurt, lemon & garlic and served with pita bread
July 10, 2018
Shish Ta what?! It's Shish Tawook! It's a very popular dish from Lebanon, where both my parents are from. Although the dish is Lebanese, the origin of the name is from Turkey. Shish means skewers and tawook means chicken. The Ottoman (Turkish) Empire ruled Lebanon for a few hundred years. That explains some of the Turkish influence on Lebanese food!
Ok, that's your quick history lesson of the day. Now, for the recipe lesson of the day! How do you feel about perfectly tender and juicy chicken that's been marinating in yogurt, lemon juice and garlic? I feel so good about this recipe, and I know you will too!
Steps to Make Shish Tawook
This recipe is all about the the marinade!I've played around with different options and this combination was my favorite!
Essentially the three most important ingredients in the marinade are yogurt, lemon juice and garlic (6 whole garlic cloves!). But I also like to add tomato paste to give it that rich red color, and some other middle-eastern spices including 7 spice, paprika, cinnamon, oregano and ginger.
Mix it all together and you'll get this orangey creamy color ready for you to coat the chicken with
Next, I add the large cubes of chicken breast to the marinade and make sure that everything is well coated. While the yogurt and lemon are crucial parts of the flavor of this dish, they also act as a tenderizer for the chicken. That's what makes the chicken come out so juicy and tender. Double action duty for the yogurt and lemon! Time to cover it up and forget about it for 4 hours, or even overnight if you can! That's the hard part…I know…
Skewer the chicken right before you're ready to cook it. I like adding chunks of white onions on each skewer to eat with the sandwich. I love how onions get sweeter when they're grilled…the perfect vegetable with this shish tawook.
Traditionally, these chicken skewers are meant to be grilled outdoors. You can also use an indoor grill pan or regular pan if you don't have a grill pan. Either way, you'd be surprised how quickly the shish tawook cooks, all thanks to the yogurt and lemon juice in the base that helped tenderize the chicken!
When it's cooked, I love making sandwiches with fresh lettuce, pickles (not pictured here) and lots of store-bought or homemade Lebanese garlic sauce.
Now you're ready to pile on that garlic sauce you guys! It's dairy-free, rich in flavor and totally takes takes the shish tawook sandwich to another level!
Tips & Tricks for Shish Tawook
Marinade the chicken for at least 4 hours, but preferably overnight in the fridge to allow the chicken to tenderize. Trust me, it'll make the chicken more juicy and flavorful!
When you take the chicken off the grill, immediately cover up the chicken in pita bread and close tightly. I never understood why my parents always did this when I was younger. Recently I learned that the pita bread helps trap the vapors and moisture to make the chicken even more juicy!
I recommend using plain yogurt if possible and avoid Greek yogurt. The water content from the regular yogurt helps to keep the chicken moist.
 If you're using bamboo sticks for grilling, it is best to soak it for at least 30-45 minutes. Let's avoid a fire on the grill 😉
It's really hard to mess up this recipe. It comes out moist and flavorful, and makes a great addition to salads, rice, grain bowls or just plain pita bread with garlic sauce.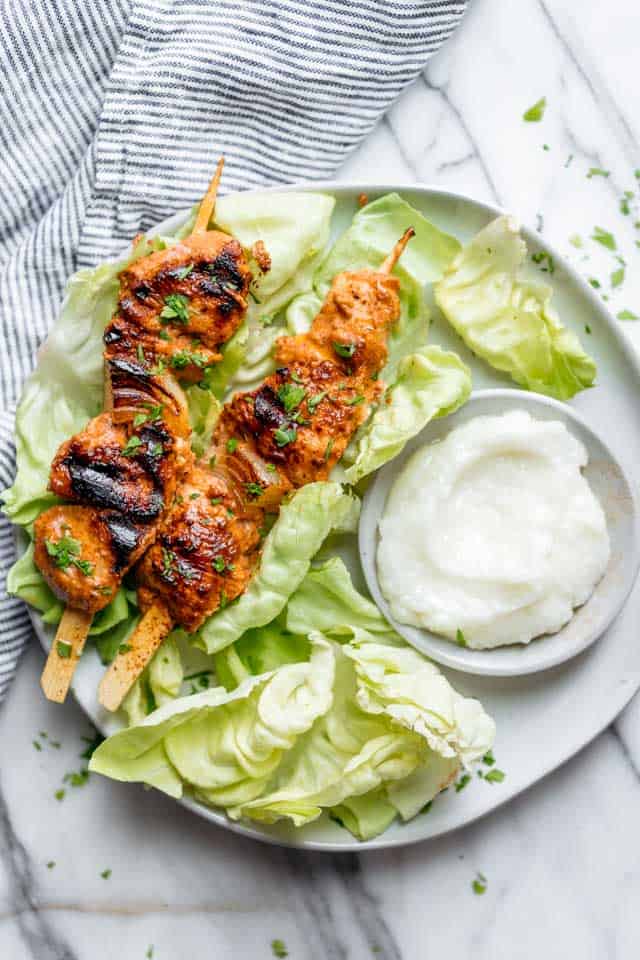 For more chicken recipes, try these:
If you make this healthy-ish feel good Shish Tawook recipe, please be sure to leave a comment and/or give this recipe a rating! I would love to hear about your experience making it. And if you snapped some shots of it, share it with me on Instagram so I can repost on my stories!
Shish Tawook
Shish Tawook is a popular Lebanese grilled chicken skewers recipe. It's tender juicy chicken marinated in yogurt, lemon & garlic and served with pita bread
Print
Pin
Rate
Ingredients
2

pounds

boneless

skinless chicken breast, cut into large chunks

1/2

cup

plain whole milk yogurt

​1/4 cup lemon juice

1/4

cup

olive oil

6

garlic cloves

minced

1

tablespoon

tomato paste

1

teaspoon

7 spice

1/2

teaspoon

paprika

1/2

teaspoon

cinnamon

1/2

teaspoon

oregano

1/4

teaspoon

ground ginger

1

teaspoon

salt

1/4

teaspoon

black pepper

1

onion cut into about 16 chunks
Instructions
In a large bowl, add the ingredients for the marinade (yogurt, lemon juice, olive oil, garlic, tomato paste, all the seasoning and salt/pepper) and whisk or stir to combine.

Place the chicken cubes in the same bowl, and coat the chicken in the marinade. Cover, and let rest/marinate in the fridge for at least 4 hours.


Thread the chicken on skewers right before grilling (it should fit about 16 6 inch bamboo skewers). Add one chunk of onions to each skewer, if desired.

Grill on medium heat for 5-8 minutes per side.

Place the chicken inside pita bread to help keep the chicken moist before serving.

Serve with pita bread, butter lettuce and garlic sauce, if desired.
Notes
Store any leftovers in an airtight container for up to 3 days.
The nutritional information does not include the garlic sauce or the pita bread.
Nutrition
Serving:
2
g
|
Calories:
115
kcal
|
Carbohydrates:
1
g
|
Protein:
13
g
|
Fat:
5
g
|
Saturated Fat:
1
g
|
Cholesterol:
36
mg
|
Sodium:
185
mg
|
Potassium:
248
mg
|
Vitamin A:
55
IU
|
Vitamin C:
1.1
mg
|
Calcium:
18
mg
|
Iron:
0.4
mg