This post may contain affiliate links. Please read our disclosure policy.
These Mediterranean chicken shish kabobs are so tender, juicy, and flavorful that you'll never want to make them any other way! The chicken is marinated with a combination of classic Middle Eastern spices, olive oil, lemon juice, and garlic. It's then grilled over an open flame until the chicken, and the vegetables are slightly charred. The result is a chicken kabob that is bursting with flavor and is sure to be a hit at your next cookout.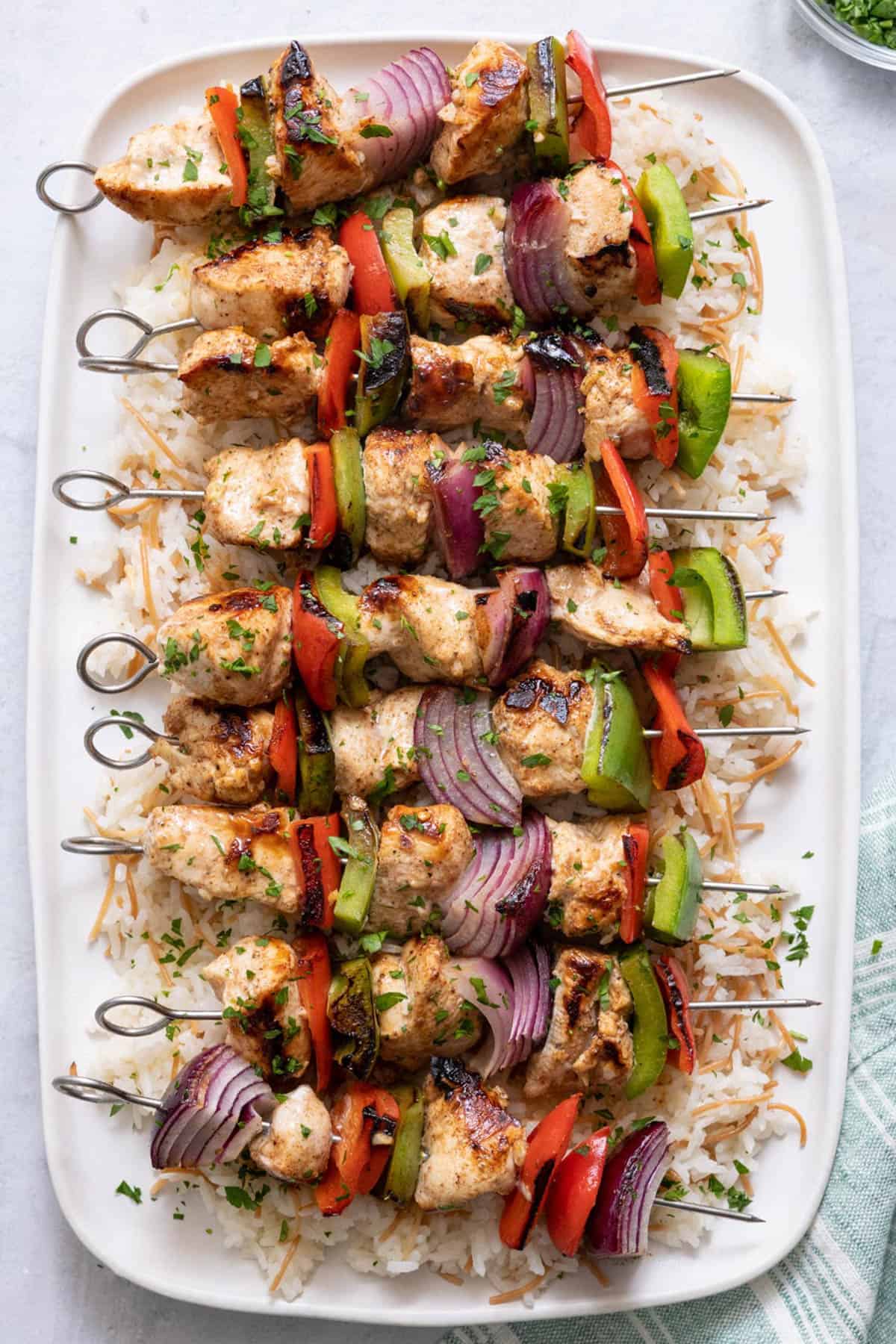 There's something just irresistible about grilled chicken on skewers, especially when the weather gets warmer. These juicy, tender grilled chicken kabobs, often referred to as chicken shish kabobs, are no exception, and they are a big part of Lebanese-style barbecues. These kabobs are made with juicy chicken breasts that are marinated in a delicious Mediterranean seasoning blend.
The result is a chicken kabob that is absolutely bursting with flavor! The combination of the juicy, tender chicken with the slightly charred vegetables makes for a truly irresistible dish. And because this recipe is so easy to make, it's perfect for any occasion – from a casual backyard barbecue to a more formal dinner party. So, fire up the grill and get ready to enjoy the best chicken kabobs you've ever had!
What is chicken shish kabob?
Chicken shish kabob is a dish that originates from the Middle East, Turkey, to be exact. It typically consists of chicken breasts or thighs that have been cubed and marinated in a combination of spices.
The chicken is usually marinated for at least a few hours, but overnight is best. This allows the flavors of the spices to really permeate the chicken and results in a juicier, more flavorful kabob.
Once the chicken has been marinated, it is threaded onto skewers with vegetables such as bell peppers, onions, and mushrooms. The vegetables not only add flavor and color to the kabobs, but they also help to keep the chicken moist as it cooks.
The kabobs are then grilled over an open flame until the chicken is cooked through and the vegetables are slightly charred. This gives the kabobs a beautiful smoky flavor that is simply irresistible.
There are many variations of chicken shish kabob, but the basic ingredients remain the same. The most common spices used in the marinade include paprika, cumin, coriander, and garlic powder. Other popular additions to the marinade include onion powder, turmeric, and black pepper.
why you'll love Grilled Mediterranean Chicken Kabobs
Easy to make. Chicken Kabobs are incredibly easy to make. The marinade takes less than five minutes to prepare, and the chicken only needs to marinate for a few hours. This makes them perfect for last-minute get-togethers.
Healthy. Chicken Kabobs are a great way to get your daily dose of protein without all the fat. And, because they are packed with veggies, they are an excellent source of vitamins and minerals.
Perfect for a crowd. Chicken Kabobs are the perfect dish to serve at your next cookout or potluck. They can be served as an appetizer or main course, and they are sure to please even the pickiest of eaters!
Packed with flavor. These kabobs are packed with flavor thanks to the Mediterranean spices in the marinade. The lemon juice and garlic add a bright, fresh flavor, while the olive oil helps to keep the chicken moist and juicy.
Ingredients to make Marinated Grilled Chicken Kabobs
Chicken breast: I like to use boneless, skinless chicken breasts for this recipe. They are easy to work with and cook evenly on the grill.
Vegetables: I typically use bell peppers and onions but feel free to mix it up and use your favorite vegetables.
Mediterranean spice blend: I like to use paprika, cumin, a touch of cinnamon, and salt and pepper, of course. The combination of these spices creates a wonderfully flavorful kabob.
Garlic: I always use fresh garlic in this recipe. It really adds a lot of flavor to the chicken. If you don't have any fresh garlic, you can use 1 ½ tablespoons of garlic powder instead.
Lemon juice: This helps to tenderize the chicken and adds a nice brightness to the kabobs. Lime will also work, but I prefer the flavor of lemon.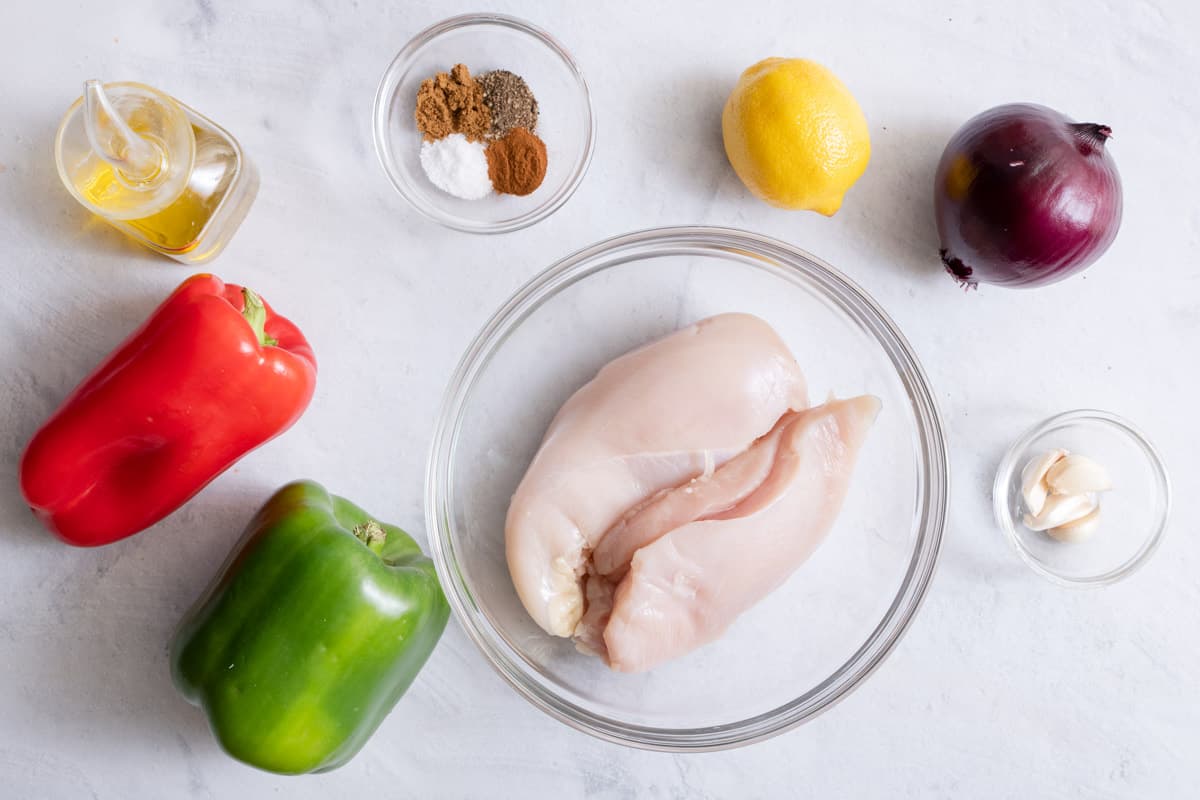 How to make grilled chicken kabob
Place all the marinade ingredients in a large bowl big enough to fit the chicken.
Whisk the marinade together until well combined.
Add the cubed chicken on top of the marinade.
Toss the chicken well to combine, and then allow it to rest in the fridge to soak up the marinade for at least half an hour.
Skewer the chicken with the vegetables in between and place them on a preheated grill. If you don't have a grill or want to make these when it's cold outside, you can use a grill pan or griddle pan.
Cook, turning frequently, until the chicken is completely cooked through and the veggies soften.
Tips for making the best chicken kabobs
Don't skip the marinate time. The key to juicy chicken is marinating it for at least half an hour or even overnight if you have time. The longer you marinate it for, the stronger the flavors will become. You can marinate the chicken in a bowl or tupperware.
Soak wooden skewers. To avoid burning wooden or bamboo skewers, if you're using, make sure to soak them in water for at least 20 minutes. This keeps them moist and typically reduces the chance of them burning on the grill.
Check for splits on skewers. If you're using wooden or bamboo skewers, make sure to check for splinters on the skewers. If you see any, you can remove them by rolling two of them together in your hands or rubbing them over each other, as if you are sharpening a knife.
Use large chunks of chicken and vegetables. These work best for grilling. Just be sure to secure everything well, so they don't fall through the grill grates. This is especially important if you're using chicken thighs that may have long, thin pieces.
Marinate the chicken on the skewers. If you want to save time right before grilling, this is a helpful trick. Make sure to pour any leftover marinade on top of the skewers, so the chicken really soaks up the juices as it marinates. Also if you're doing that, there's no need to soak the skewers before grilling. All those juices will soak up the skewers and keep them moist.
popular substitutions & additions
Switch out the veggies. If you're not a fan of peppers, you can use zucchini, squash, mushrooms, tomatoes, or even parboiled potatoes!
Try it with chicken thighs. They are juicier than boneless skinless chicken breast and perfect for grilling. However, I prefer chicken breasts because of their thickness and overall presentation for this grilled kabob recipe.
Add yogurt. I'm always a fan of marinating my chicken in yogurt for extra juicy chicken that won't dry out on the grill.
what to serve/pair with your shish kabob
Serve these grilled chicken kabobs with a dollop of yogurt or tzatziki sauce, and a side of rice or pita bread. You can also add some pickled turnips or chopped fresh herbs, like parsley or mint, for extra flavor. You can serve them straight off of the grill on the stick, or you can serve them with a number of popular sides like the ones below: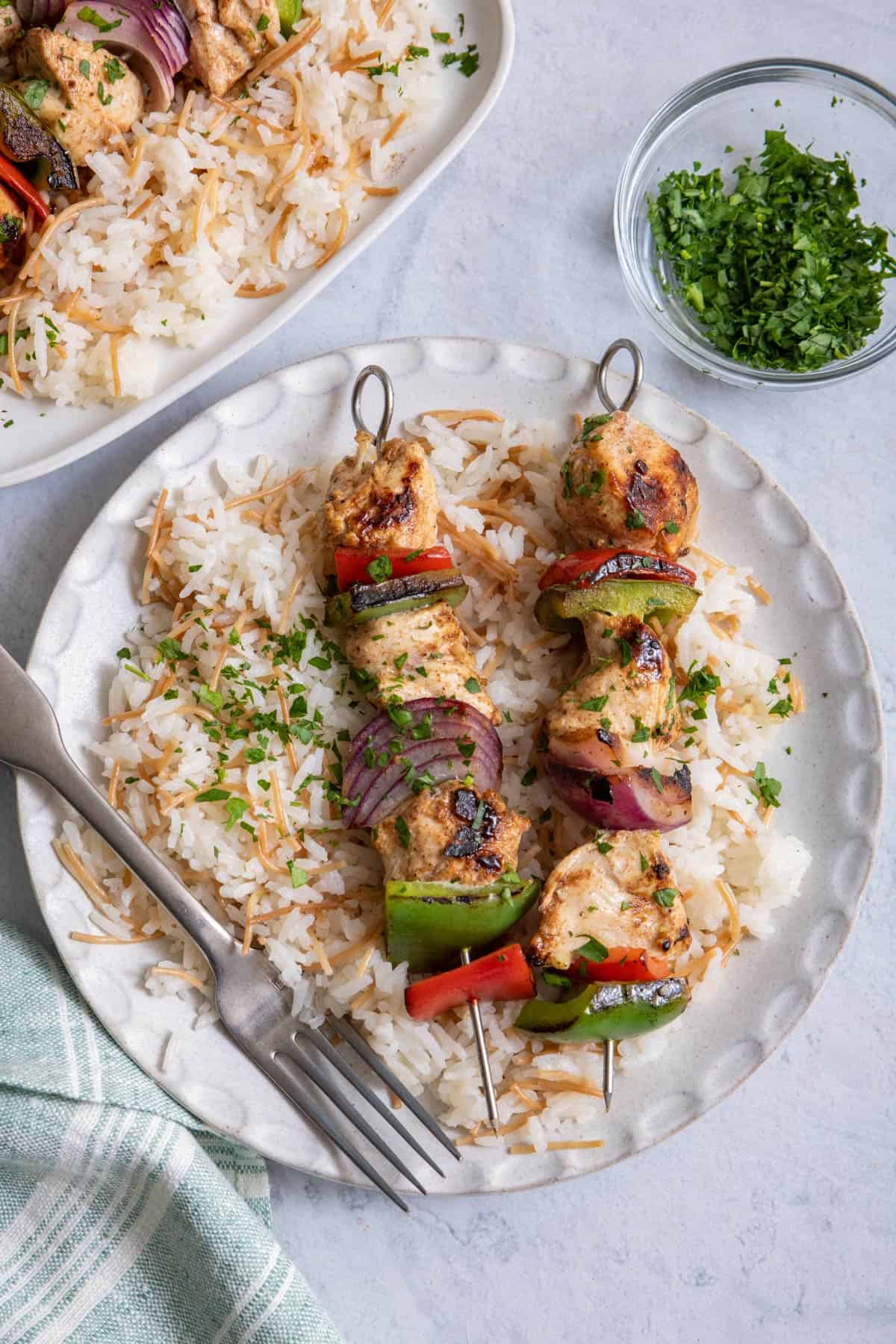 how to store & reheat Grilled shish kabobs
Chicken kabobs keep wonderfully in the fridge. Store them in an airtight container or wrap them tightly with foil or plastic wrap.
When ready to eat, remove the chicken from the skewers and heat it up in a skillet over medium-high heat until warmed through. You can also use the oven to reheat your kabobs, preheat to 350°F, and heat on the skewer until just warmed through, about 10-15 minutes.
How long will chicken kabobs last in the fridge?
If stored properly, your chicken kabobs will last in the fridge for up to four days.
Can i freeze cooked chicken kabobs?
You can freeze these chicken kabobs! Just make sure to remove them from the skewers and place them in a freezer-safe bag or container.
Frequently asked questions
How long do you grill chicken kabobs?
These chicken kabobs only take around 15 minutes to cook on the grill.
What temperature do you use for grilling chicken kabobs?
If you're using an outdoor grill, you want to heat the grill to 350-400°F. Be sure to flip them halfway through. The chicken is cooked when the internal temperature reaches 160-165°F.
How do you grill chicken kabobs without burning them?
The best way to prevent your chicken kabobs from burning is to use a meat thermometer. Insert the thermometer into the thickest part of the chicken and grill until it reaches an internal temperature of 160-165°F. Another tip is to make sure you cut the chicken in uniform pieces to avoid unevenly cooked meat.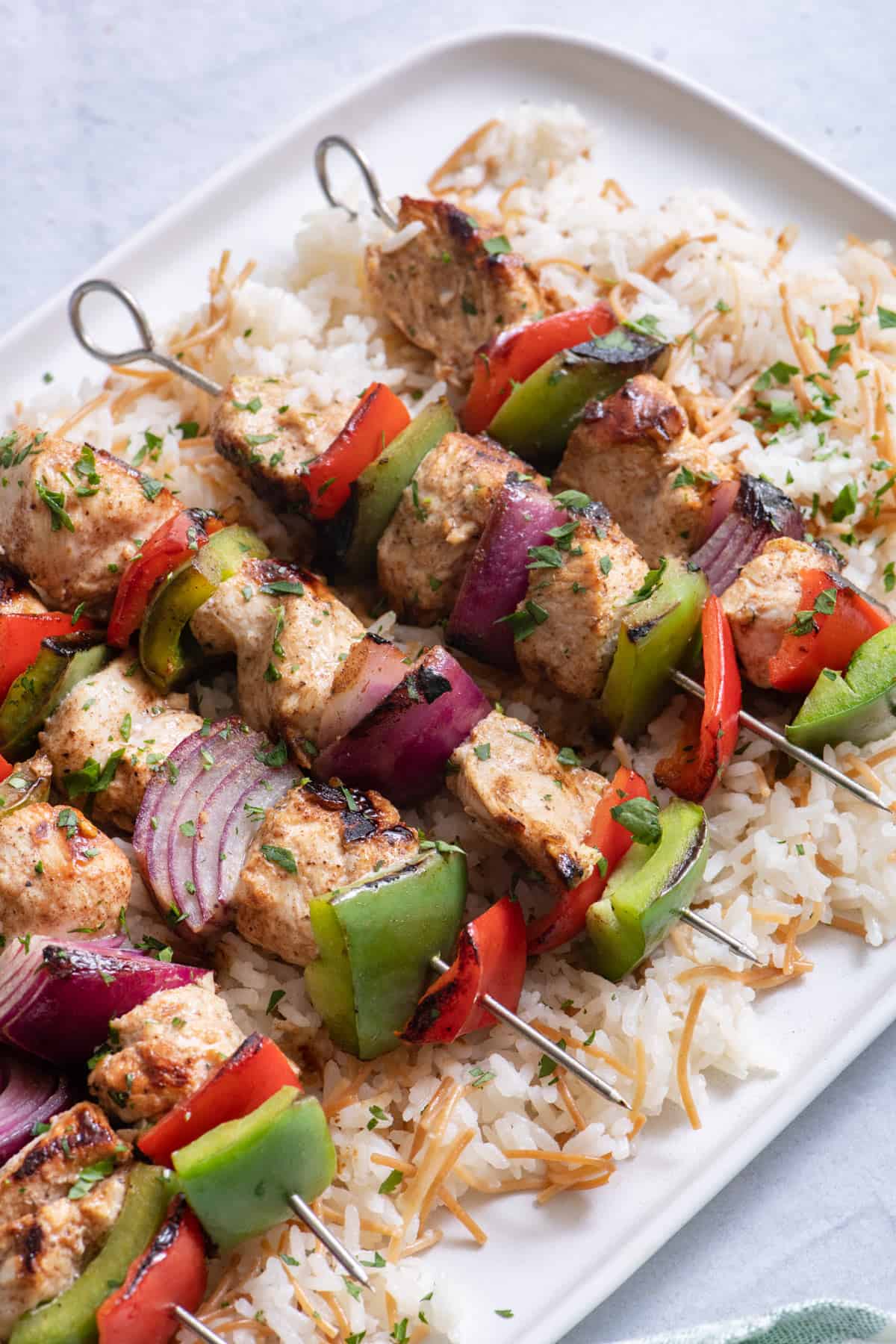 I love how easy these grilled chicken kabobs are to make and how delicious and flavorful the Mediterranean marinade is! They are the perfect accompaniment for any cookout!
For more chicken recipes, try these:
If you try this feel good Grilled Chicken Kabobs recipe or any other recipe on Feel Good Foodie, then don't forget to rate the recipe and leave a comment below! It helps others who are thinking of making the recipe. We would love to hear about your experience making it. And if you snapped some shots, share it on Instagram so we can repost on Stories!
This Grilled Chicken Kabobs recipe was originally published on August 29, 2018. The recipe has been slightly modified, and the post now includes new step-by-step photos for how to make the chicken recipe.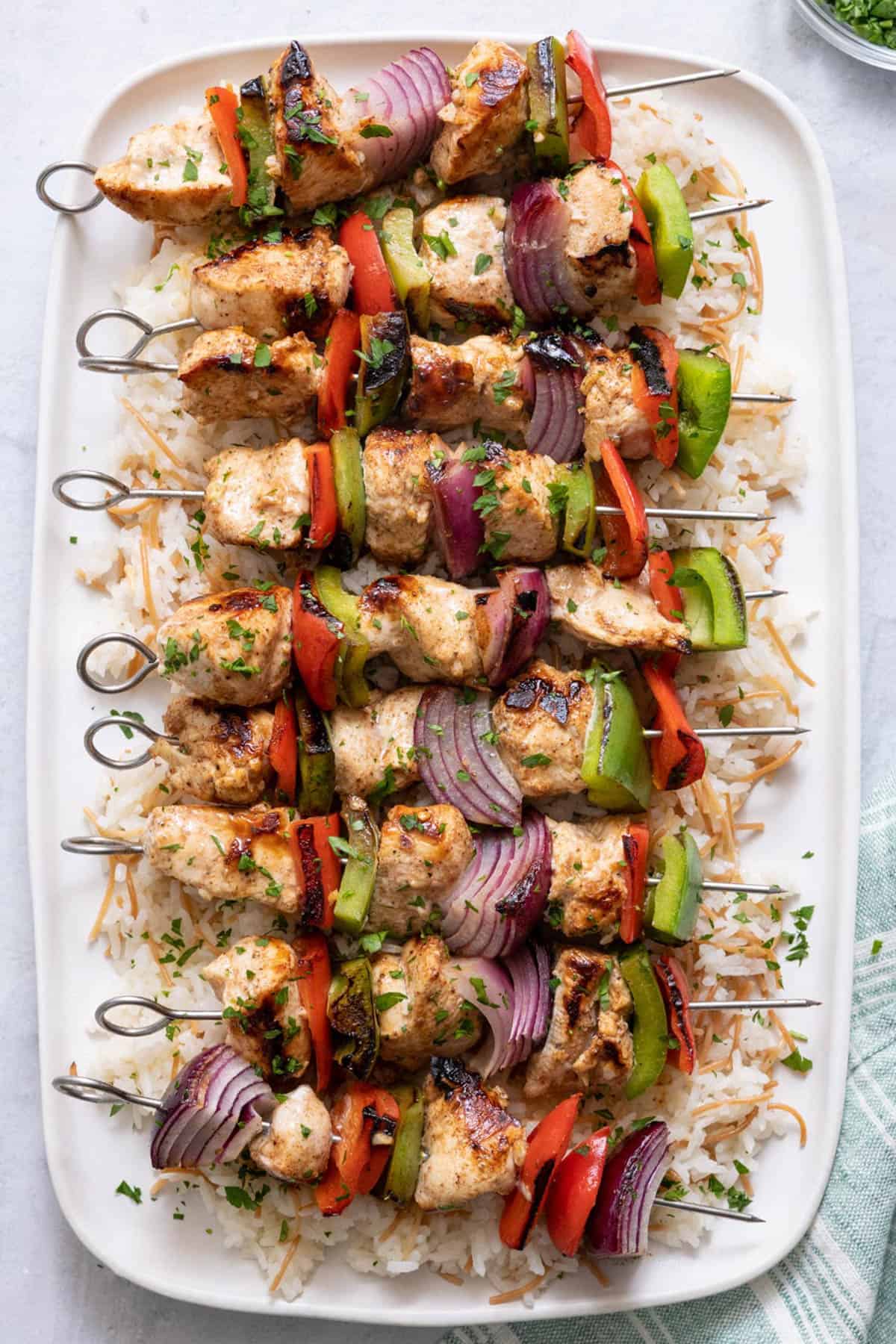 Grilled Chicken Kabobs
These Grilled Chicken Shish Kabobs are flavorful & easy to make! The chicken is marinated with bright Mediterranean spices on a skewer with fresh veggies.
Ingredients
1 ½

pound

boneless skinless chicken breasts

cut into large bite-sized pieces

2

tablespoons

olive oil

1

lemon

juiced

4

garlic cloves

minced

1

teaspoon

paprika

½

teaspoon

cumin

¼

teaspoon

cinnamon

½

teaspoon

salt

½

teaspoon

black pepper

1

large

red onion

cut into thick slices

2

bell peppers

cut into squares

vegetable oil

for greasing the grill

Chopped parsley

for serving
Instructions
In a medium bowl, combine the olive oil, lemon juice, garlic, paprika, cumin, cinnamon, salt and pepper. Add the chicken pieces to the mixture and mix well to combine. Allow the chicken to marinate in the fridge for at least 30 minutes, or up to 8 hours.

Preheat the grill to medium-high heat, and grease the grill with vegetable oil.

When ready to grill, thread the chicken onto the skewers, with the vegetables in between the chicken kabobs. Pour any leftover marinade on top of the chicken kabobs. Makes 6-9 skewers.

Grill the chicken kabobs until fully cooked and golden brown, about 10-15 minutes, turning the skewers every couple minutes to allow for even cooking.

Remove the chicken from the grill and serve with Lebanese rice or any other sides, if desired.
Notes
Storage: Store any leftovers in an airtight container for 4 days. Make Ahead: You can marinate the chicken up to 24 hours ahead of time. This will save you time if you're preparing many other dishes at once for a barbecue. Nutrition Facts: Please note that the nutrition label is for the chicken with vegetables and does not include the rice it is served with. 
Nutrition
Calories:
199
kcal
,
Carbohydrates:
7
g
,
Protein:
25
g
,
Fat:
8
g
,
Saturated Fat:
1
g
,
Polyunsaturated Fat:
1
g
,
Monounsaturated Fat:
4
g
,
Trans Fat:
0.01
g
,
Cholesterol:
73
mg
,
Sodium:
329
mg
,
Potassium:
576
mg
,
Fiber:
2
g
,
Sugar:
3
g
,
Vitamin A:
1448
IU
,
Vitamin C:
64
mg
,
Calcium:
25
mg
,
Iron:
1
mg
Nutrition information provided is an estimate. It will vary based on cooking method and specific ingredients used.