This post may contain affiliate links. Please read our disclosure policy.
While many claim to have the best hummus recipe, I have to respectfully say they don't. My hummus recipe really is the best! How do I know this? Well, I was the very first site to include the ice cube trick. I really can't take all the credit for it, though, as it was passed down to me by my Lebanese father and mother – this recipe is old, over 100 years at that. Much like a viral recipe that gets picked up and people start to lose the origin, that happened here. As they say biggest form of flattery is imitation, and I wholeheartedly agree! Let's just say my trick for adding ice cubes caught on, and if you're looking for the smoothest, creamiest, most authentic hummus recipe online – you've found it!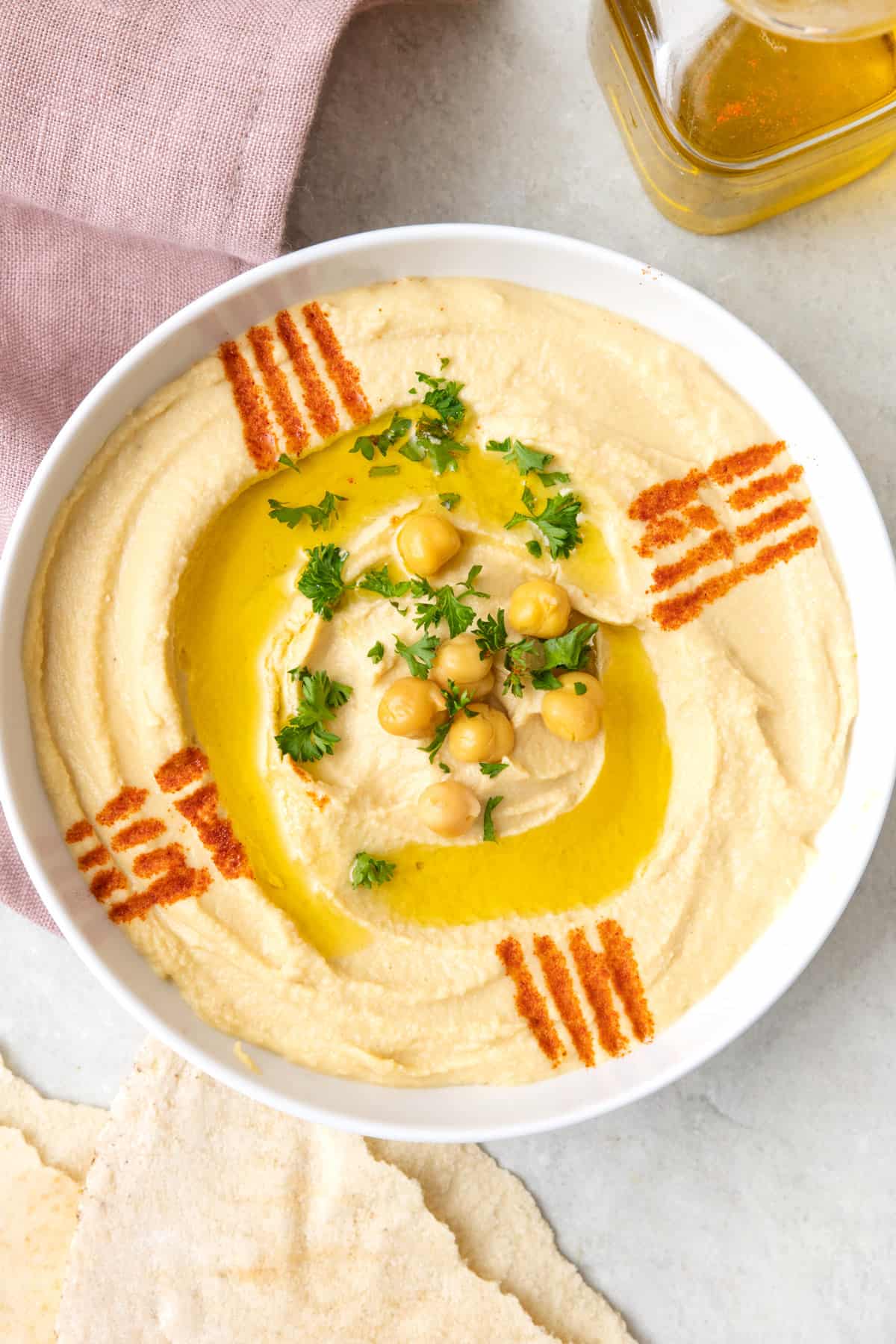 I've gotta admit, I've only been blogging for quite some time (over a decade!), and I've never titled any of my recipes "Best [blank] Recipe" ever. But, that's how much confidence I have in this hummus recipe. I'm going to sound overly confident, but you guys, this is seriously the best hummus recipe. Ever. It's thick, smooth, rich, and ultra creamy – just the way hummus should be! I use a secret ingredient to make my homemade hummus, and once you try it, you'll never go back!
I have tried several hummus recipes but yesterday I tried yours, haven't had hummus taste so good. I guess having ice cubes in there, makes them blend well and give that creamy texture makes the difference. Thank you! –Ruchika
What is hummus?
By now, hummus has become pretty mainstream and is sold in all grocery stores. It's essentially a Middle Eastern dip or spread that's made by blending chickpeas, tahini (sesame paste), lemon juice, garlic, and salt. Then, it's served with extra virgin olive oil and traditionally eaten with Arabic bread (pita). It's a very healthy snack that you can eat as a dip or add to grain bowls, sandwiches, or salads.
This hummus recipe is the classic traditional Lebanese hummus that I grew up eating. I learned it from both my parents, one who likes it extra lemony, and the other who likes it extra garlicky. I think I've found the right balance between both my parents' recipes to make my version and classify it as the best hummus recipe.
Why You'll Love This Hummus Recipe
Authentic taste and texture: This hummus recipe delivers a truly authentic Lebanese experience with its perfect balance of lemon and garlic flavors. The optional step of peeling the chickpeas ensures an incredibly smooth and creamy texture that's unparalleled by store-bought varieties.
Easy and quick to make: With just a handful of ingredients and a food processor, you can whip up this amazing hummus in no time. The simplicity of the recipe makes it perfect for both beginners in the kitchen and busy cooks who want a delicious, homemade dip without spending hours in the kitchen.
Healthy and nutritious: Made with nutrient-rich chickpeas and tahini, this hummus recipe is high in protein, fiber, and healthy fats. It's a great option for those looking for a healthy snack or appetizer that's both tasty and nourishing.
Perfect for gatherings and parties: This hummus recipe is sure to be a hit at any gathering, from casual get-togethers to more formal events. The beautiful presentation, complete with a drizzle of olive oil, a sprinkle of paprika, and fresh parsley, makes it an attractive and delicious addition to any party spread.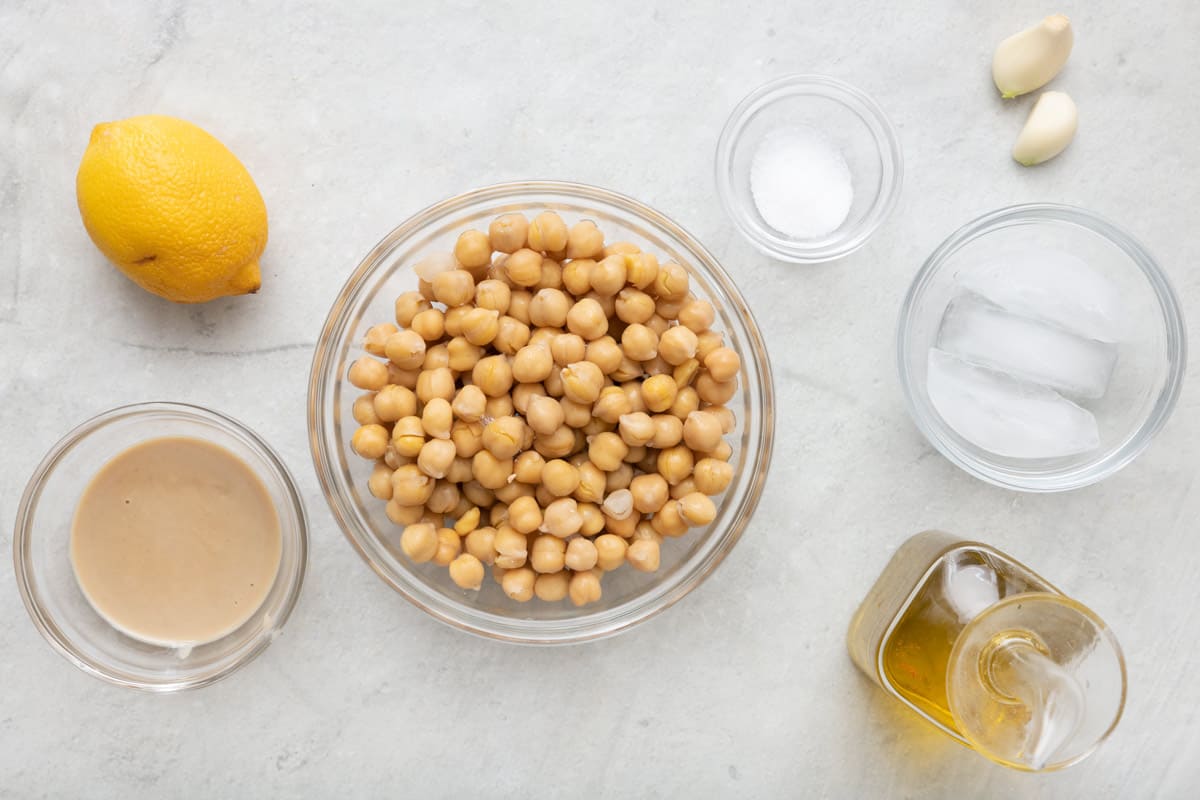 Ingredients To make homemade hummus
There are only 4 main ingredients in this homemade hummus recipe. Because of the small amount of stuff that goes into this recipe, it's important that each of those ingredients is high quality! That's what separates it from store-bought hummus.
Chickpeas: There are three basic options for chickpeas. First, you can start with dry chickpeas and pressure cook them. Second, you can use canned chickpeas and boil them for 10 minutes to allow them to soften. Or third, you can use canned chickpeas, soak them in warm water and baking soda and peel off the skin. I usually opt for either of the last two methods. If you're soaking with baking soda, you'll need 1.5 teaspoons for every 15 oz can of chickpeas. It takes about 5 minutes, and creates the best texture! This is the chickpeas before and after peeling off the skin.
Tahini: Not all tahini is created equal. Look for high-quality brands that only have one ingredient – mechanically hulled sesame seeds. And make sure the tahini is not separated. If it does get separated in the jar, give it a good stir before adding it to the food processor.
Lemon: Freshly squeezed. Always.
Garlic: Use fresh garlic for the best taste. Don't use pre-peeled garlic, as it won't have the same robust flavor as the ones in the bulb. And if there are any green sprouts growing in the middle, it's best to remove those before adding them to the food processor.
Confession: the first time I made this recipe I didn't peel the chickpeas nor did I use ice. Flavor was good but my husband wasn't a fan of the texture Today I peeled the chickpeas and I used ice cubes and it came out so creamy!! And so yummy!! Great recipe 😊 – Zainab
RECIPE VIDEO TUTORIAL
How to make this authentic hummus recipe
Place the chickpeas in a large bowl of warm water.
Rub them with your fingers to release the skins, which will easily float to the surface of the water. Skim the skins from the water with a slotted spoon and discard.
Transfer the chickpeas to a food processor.
Pulse into a fine, breadcrumb-like texture, scraping down the sides as needed, about 15 seconds total.
Add the lemon juice, tahini, garlic, salt, and ice cubes.
Blend until completely smooth. Taste the hummus and adjust the flavor as needed by adding more lemon juice or salt.
Yumna, I've just discovered your Lebanese hummus recipe. Wow this is absolutely delicious. I've been making hummus for years & thought it was quite good, but this is on a whole different level. I found skinning the chickpeas a bit tedious, but as you say, so worth it. From now on this is how I make hummus. Thank you! – Alison
Tips for making the best hummus
Soak chickpeas in baking soda. Whether you are boiling the chickpeas, soaking them briefly in a bowl, or cooking them in the pressure cooker, the baking soda softens the skin. The softer skin helps them peel off easily or blend more easily. And here's a bonus benefit: baking soda can also help reduce gas and bloating!
Peel the chickpeas. I mentioned this earlier as one of the options for creating a smooth and creamy homemade hummus texture. But I found that peeling the chickpeas, although a little tedious, can create such a difference in the texture.
Add ice cubes to the blender. This sounds a bit crazy, but it's a tip I learned from my dad, and it totally works. I never understood it until I tried it. But basically, it gives it a freshly churned ice cream-like texture. I would recommend adding at the step with the tahini, lemon, and garlic, especially if the hummus is looking grainy.
Use a strong blender or food processor and blend for at least 4-5 minutes. I've seen a difference in the texture by testing two levels of blenders, and the blender definitely matters. The truth is, it will most likely never be as creamy as the store-bought and restaurant ones because of the actual machine they use for blending. So one way to remedy that is to blend longer.
I love how popular hummus has become, and I love that it's so easy to find it everywhere these days from grocery stores to airports to school lunch menus. But don't forget how easy it is to make homemade hummus. I haven't found one store-bought brand that beats my hummus recipe. It's just more fresh and delicious!
Popular Hummus Variations
Roasted red pepper hummus: For a colorful twist on the classic recipe, add roasted red peppers to the food processor along with the other ingredients. The peppers lend a sweet, smoky flavor and vibrant hue that's both visually appealing and delicious.
Spicy hummus: Give your hummus an extra kick by adding a pinch of cayenne pepper or a spoonful of your favorite hot sauce. This spicy variation is perfect for those who enjoy a bit of heat in their dips, and it pairs well with crunchy vegetables or pita chips.
Avocado hummus: Combine the creaminess of ripe avocados with the classic hummus recipe for a delicious and nutritious twist. Simply add ripe avocado to the food processor along with the other ingredients. This version is perfect for avocado lovers and adds a buttery smoothness and mild flavor that pairs well with a variety of dippers.
Sun-dried tomato hummus: Blend in sun-dried tomatoes (oil-packed or rehydrated) for a delicious Mediterranean-inspired variation. The sun-dried tomatoes provide a tangy, savory taste that complements the smooth, creamy texture of the hummus.
Roasted garlic hummus: Swap out the raw garlic cloves for roasted garlic to create a rich, mellow, and slightly sweet garlic flavor in your hummus. To prepare the roasted garlic, simply wrap a whole head of garlic in aluminum foil and roast it in the oven until tender. Squeeze out the softened cloves and add them to the food processor with the other ingredients. This variation is great for those who love the taste of garlic but prefer a mellower, less pungent flavor in their dips.
What do you eat hummus with?
HOW TO STORE HOMEMADE Hummus
Store any leftover hummus in a airtight glass conatiner for the best results.
HOW LONG WILL hummus last in the fridge?
If you have any leftovers, or are making a large batch, you can store it in an air tight container in the fridge for about a week. It tastes even better the next day.
CAN I FREEZE hummus?
Yes, you can freeze hummus for up to 3 months. Just make sure to put it in an airtight container and don't fill it all the way up because it will expand as it freezes.
Frequently asked questions
Can I make hummus without a food processor?
Yes, you can make hummus without a food processor by using a blender, immersion blender, or even by hand with a potato masher or fork. While using a food processor yields the smoothest results, these other methods can still produce a delicious and creamy hummus, though the texture may be slightly less uniform.
What can I use instead of tahini?
Tahini is a paste made from sesame seeds, and it is essential in this authentic hummus recipe. Most stores will carry it. If you are having real trouble finding it or have allergies to sesame seeds, you can use olive oil sunflower seed butter in its place.
How can I make my hummus even smoother and creamier?
For an ultra-smooth and creamy hummus, consider peeling the chickpeas before blending them. This removes the outer skins, which can contribute to a grainy texture. Additionally, blend the hummus for a longer period, and add a bit of cold water or ice cubes to the mixture while blending. This helps to break down the chickpeas and create a smoother consistency
Delicious! Every other hummus recipe I've tried has required me to adjust the ingredients at the end to make it taste just right. I didn't have to do that with this recipe, except for the addition of a tiny bit of salt. It was perfect! The only suggestion I have (for your readers, not you), is to heed the advice and use SMALL garlic cloves. Mine were a bit big, and let's just say I'll be able to ward off any vampires tonight. Thanks for the wonderful recipe! –Rebecca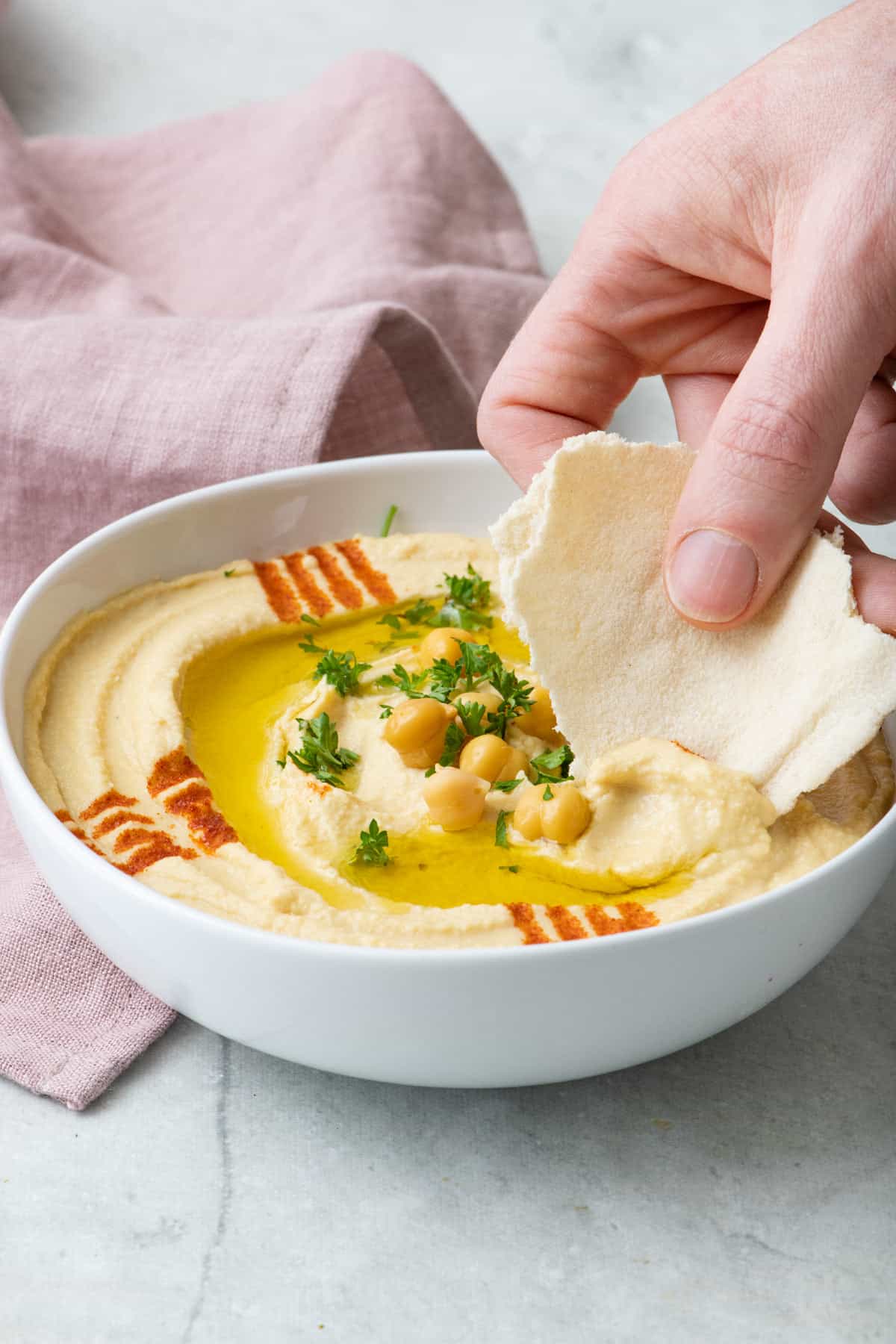 This authentic Lebanese hummus recipe truly lives up to its claim as the best hummus recipe ever. Its perfect balance of flavors, creamy texture, and easy preparation make it a go-to choice for snacking, parties, or adding a nutritious and delicious touch to your meals.
With various substitutions and additions available, you can customize this hummus to suit your taste preferences and dietary needs. Homemade hummus not only tastes better than store-bought, but it also allows you to control the quality of ingredients used, ensuring a healthier and more satisfying experience.
So go ahead and give this incredible hummus recipe a try – you won't be disappointed!
More Middle Eastern dips:
This authentic hummus is one of my favorite Lebanese recipes and it's truly a recipe that I've perfected after making it a couple times a month for many years. It really is the best hummus I've had and I can't wait for you all to try it!
If you've tried this healthy-ish feel good best hummus recipe or any other recipe on FeelGoodFoodie, then don't forget to rate the recipe and leave me a comment below! I would love to hear about your experience making it. And if you snapped some shots of it, share it with me on Instagram so I can repost on my stories!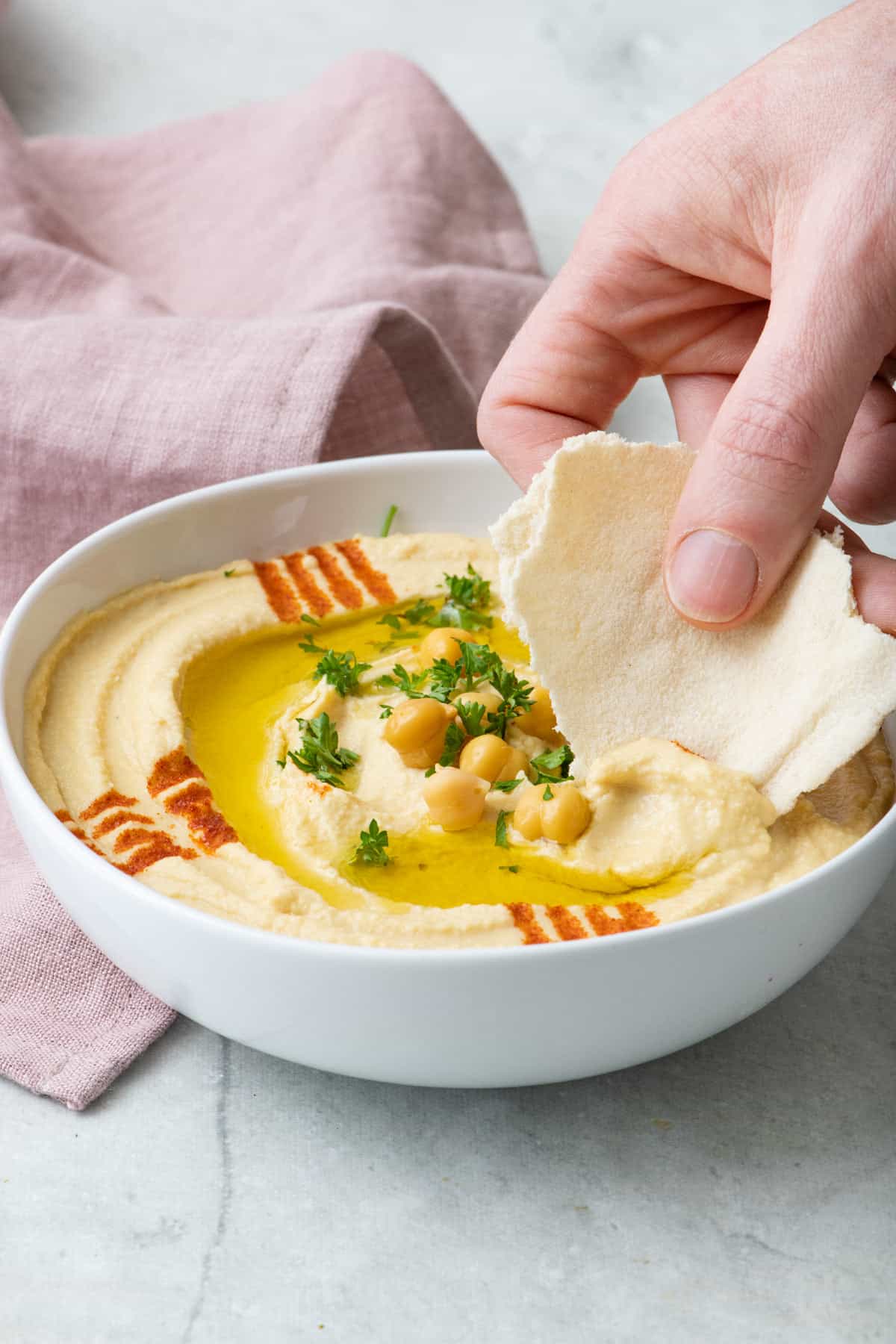 Best Hummus Recipe
This is the best hummus recipe based on the authentic Lebanese methods. Hummus is a healthy snack that's made with a few ingredients and perfect for parties
Instructions
Place the chickpeas in a large bowl of warm water. Rub them with your fingers to release the skins, which will easily float to the surface of the water. Skim the skins from the water with a slotted spoon and discard. This is an optional step, but peeling the chickpeas is what yields a super creamy texture.

Drain and dry the chickpeas as thoroughly as possible. Transfer the chickpeas to a food processor and pulse into a fine, breadcrumb-like texture, scraping down the sides as needed, about 15 seconds total.

Add the lemon juice, tahini, garlic, salt, and ice cubes. Blend until completely smooth, about 5 minutes. Taste the hummus and adjust the flavor as needed by adding more lemon juice or salt.

Spread the hummus onto a plate or into a bowl, sweeping the hummus with the back of a spoon to create swirls for catching the olive oil. Drizzle the hummus with olive oil and then sprinkle it with paprika and fresh parsley. Serve cool or at room temperature.
Notes
*Nutrition label does not include optional toppings: oil, paprika, or parsley.
Storage: Store any leftovers in an airtight container. They will last about one week in the fridge.
Sourcing: You can find the tahini at Middle Eastern markets, natural-food stores or even in large supermarkets, often located with other Middle Eastern ingredients.
Substitutes: For best results, follow the recipe as is. However if you are allergic to tahini, I would recommend using olive oil in its place. If you have other questions about any substitutions, please feel free to ask.
Equipment: I use the Kitchen Aid food processor to make the hummus. It is super efficient and blends at an incredible speed to create a smooth and creamy consistency.
Nutrition
Calories:
33
kcal
,
Carbohydrates:
2
g
,
Protein:
1
g
,
Fat:
3
g
,
Saturated Fat:
0.4
g
,
Polyunsaturated Fat:
1
g
,
Monounsaturated Fat:
1
g
,
Sodium:
293
mg
,
Potassium:
35
mg
,
Fiber:
0.3
g
,
Sugar:
0.2
g
,
Vitamin A:
4
IU
,
Vitamin C:
3
mg
,
Calcium:
10
mg
,
Iron:
0.2
mg
Nutrition information provided is an estimate. It will vary based on cooking method and specific ingredients used.