This post may contain affiliate links. Please read our disclosure policy.
Do you love flavorful food? If so, you'll love harissa paste! This condiment is made with chili peppers, garlic, and spices, and it packs a punch of flavor. It's perfect for adding light heat to any dish. In this post, I will show you how to make your own homemade harissa paste. It's easy to do, and the results are delicious!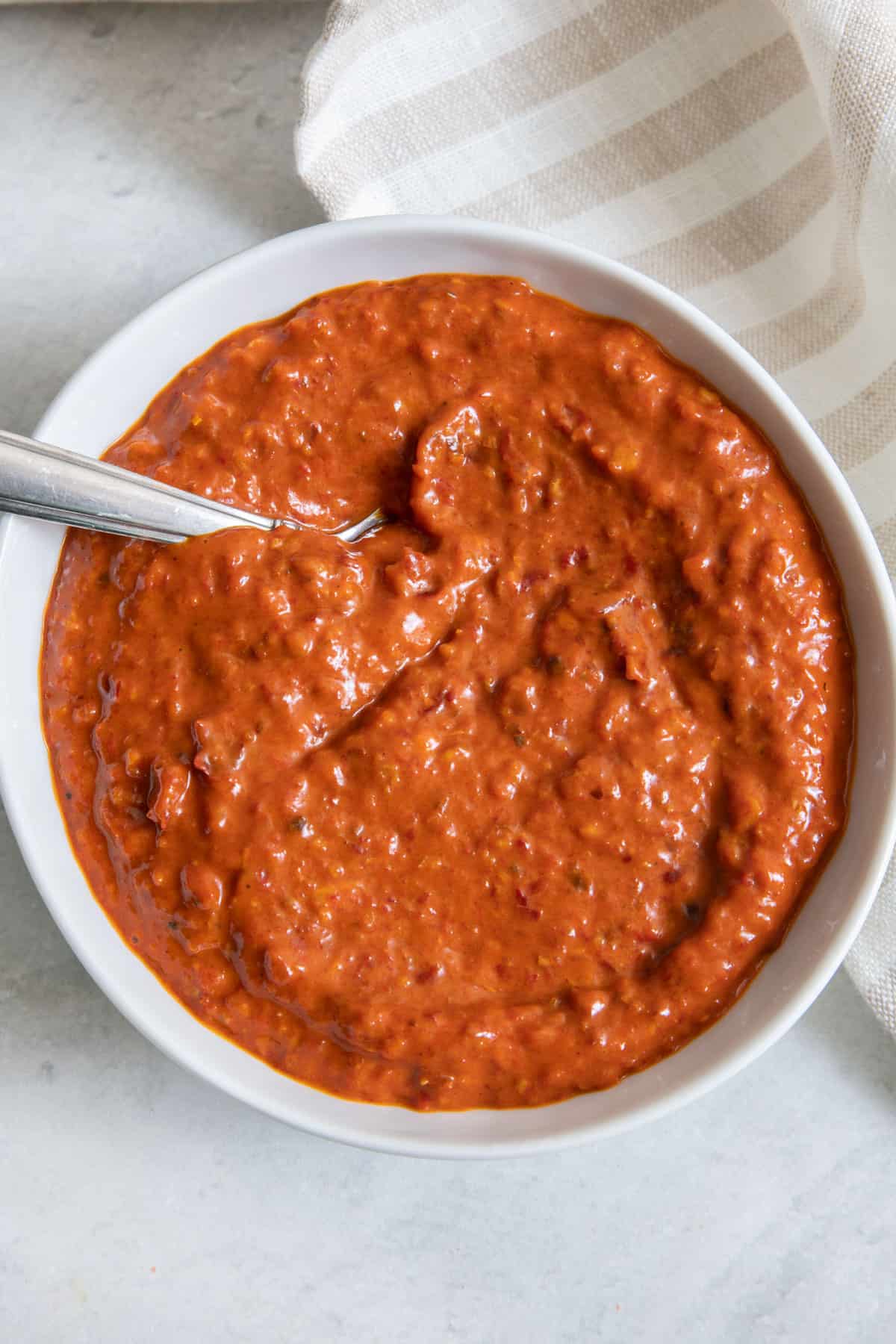 For those of you who aren't familiar with harissa paste (or sauce, depending on the recipe), it's a North African condiment that is typically made with chili peppers, garlic, and spices. The paste can range in heat from mild to spicy, so it's perfect for those who like their food with a little bit of heat.
Harissa paste is often used as a condiment on chicken or fish, but it can also be used in stews and soups. It's even great on chickpeas! If you've never tried harissa paste before, I urge you to give it a try. You'll be surprised at how much flavor it adds to your food.
why you'll love this traditional harissa paste recipe
Flavor, flavor, and did I say flavor? Harissa paste is loaded with it! No one is going to complain that a dish is bland when using this condiment!
Versatile. Common uses of harissa paste are as a condiment on grilled chicken or fish. But don't limit yourself! Try it on roasted veggies, as a dip for fries, or even in a soup. Be creative and find other ways to use this flavorful paste.
Adjustable heat level. By making this paste at home, you can control how spicy or mild it is. Simply use more or less chili peppers to achieve the desired heat level.
Great gift for a foodie. Know someone who loves to cook? This homemade harissa paste would make a great gift! It's unique, flavorful, and sure to be a hit with any food lover.
Ingredients to make homemade harissa paste
Dried peppers: Dried peppers make up most of the base of the harissa. You're going to need two different kinds, chipotle (for a hotter paste) or ancho chiles (for a milder paste) and guajillo/New Mexico chile peppers (medium heat level).
Red bell pepper: Once roasted, the red bell pepper will add sweetness and a touch of smokiness to the paste.
Garlic: Fresh garlic is a must in this recipe! It adds so much flavor.
Spices: Ground coriander and caraway with just a bit of salt is all you need to round out the flavor of this paste.
Neutral oil: This is an oil that has very little flavor to it, like avocado oil or extra virgin olive oil. You want the fat content without the heavy taste.
Water: Last but not least, water! Water is going to help rehydrated your dried chiles and bring them back to a soft consistency.
How to make Harissa paste
Heat oil in a non-stick medium skillet. Add the dried chiles and dried chipotle peppers. Toast until fragrant.
Rehydrate the peppers using water until they are plump and soft again.
Transfer rehydrated peppers to a food processor. Add the remaining oil, roasted red pepper, garlic, coriander, caraway, and salt.
Pulse until smooth and pureed.
Tips for making harissa paste
Try it in a blender. While I used a mini food processor to make mine, it works perfectly with a blender or even an immersion blender (which might just take more time)
Adjust for color. The darker the New Mexico chilies and chipotle peppers, the darker the color of the harissa. The more roasted bell peppers, the lighter it will look. Keep in mind this will affect the spiciness of it as well.
Taste test. You don't have to add all the dried peppers to the mixture at once. If you find that it's getting too spicy for your liking, just omit the few remaining peppers.
popular substitutions & additions
Switch up the peppers. There are three types of peppers here to help develop the complex flavor of the harissa. You can adjust them based on your spice preferences. Keep in mind the color of the final paste will change as well.
Add water to adjust the thickness. If you prefer a more sauce-like consistency, you can add a little water. I recommend adding a few tablespoons at a time until you reach your desired consistency.
what to cook with harissa
how to store harissa paste
This paste can be stored in a glass jar or container with a tight-fitting lid. A pint-sized mason jar works great!
how long will harissa paste last in the fridge?
If stored correctly, you can get 2-3 weeks out of this paste. After that, it will start to lose flavor, and it will go bad.
can i freeze harissa paste?
Yes! This paste freezes well. I like to portion it out into small freezer bags or ice cube trays for easy use later on. Harissa paste can last up to six months in the freezer.
Frequently asked questions
How can I tell if my harissa paste has gone bad?
The easiest way to tell if your harissa paste has gone bad is by the smell. If it smells sour, almost vinegary, or if you taste it and it's off-putting, it's time to toss it.
My harissa paste is too spicy. What can I do?
There are a few things you can do to tone down the heat level of your harissa paste. The first is to add more roasted bell peppers to the mixture. This will help to balance out the heat from the dried peppers. The second is to add more water when you're blending everything together. This will help to thin it out and make it less spicy. Lastly, if you find that it's still too spicy, add a bit of honey or sugar to help offset the heat.
I don't have a food processor/blender, can I still make this recipe?
You can, but you may find it too tedious. The best way to do it is to finely chop everything by hand. Mashing and mixing along the way. This will take some time, but it is possible. Another option would be to use a mortar and pestle to grind everything down into a paste. This will also take some time and elbow grease, but it can be done.
This easy homemade harissa paste recipe is perfect for adding a flavorful kick to your favorite recipes. With just a few simple ingredients, you can have this spicy paste ready to use in no time. Whether you're cooking chicken, salmon, or chickpeas, harissa paste will take your dish to the next level.
And don't forget about all the delicious possibilities of using harissa sauce in place of ketchup or sriracha! So, next time you're looking to spice things up in the kitchen, give this recipe a try. You won't be disappointed.
More condiment recipes:
If you try this feel good Harissa Paste recipe or any other recipe on Feel Good Foodie, then don't forget to rate the recipe and leave a comment below! It helps others who are thinking of making the recipe. We would love to hear about your experience making it. And if you snapped some shots, share it on Instagram so we can repost on Stories!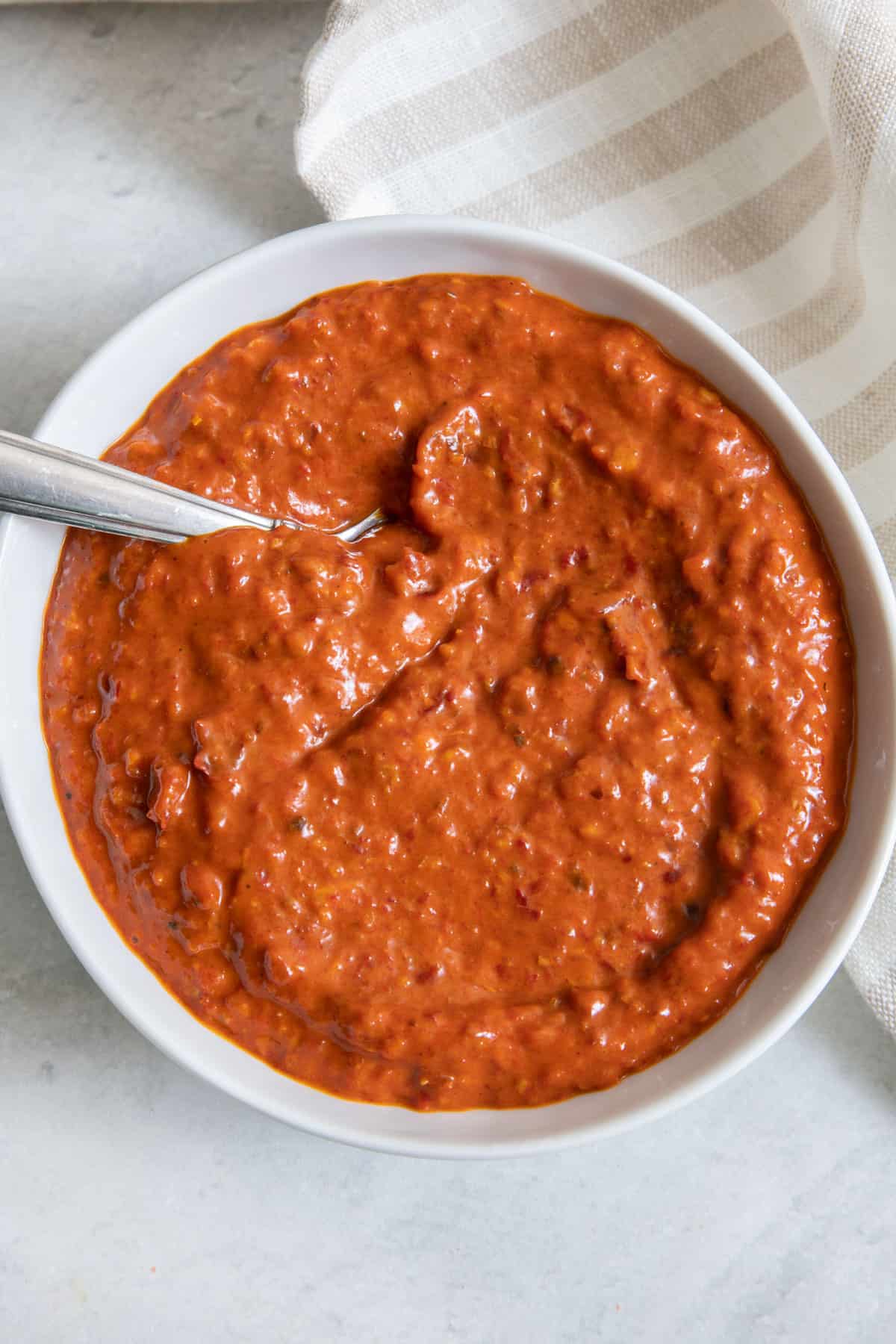 Harissa Paste
Love harissa paste? Learn how to make homemade, traditional harissa with a few simple ingredients. Adjust the heat level to your liking with this recipe!
Ingredients
8

dried guajillo/New Mexico chile peppers

2

dried chipotle or Ancho chile peppers

⅔

cup

neutral oil

divided

1

cup

water

2

whole roasted red bell peppers

2

garlic cloves

3

teaspoons

ground coriander

2

teaspoons

ground caraway

1

teaspoon

salt
Instructions
Heat 1 tablespoon oil in a non-stick medium skillet over medium heat. Add the dried chiles and dried chipotle peppers and toast until fragrant, about 5 minutes.

Pour the water over the peppers and deglaze the skillet. Bring to a boil, then cover the skillet and simmer for 30 minutes.

Transfer the rehydrated peppers to a food processor. Add the remaining oil, roasted red pepper, garlic, coriander, caraway and salt. Pulse until smooth and pureed, but it's fine if it looks slightly broken.

Transfer the mixture to an airtight glass container and place in the refrigerator for 24 hours before using for best taste.
Notes
Tip: Adjust the peppers as you to keep better control of the heat level or your harissa paste. 
Nutrition
Calories:
807
kcal
,
Carbohydrates:
31
g
,
Protein:
5
g
,
Fat:
78
g
,
Saturated Fat:
6
g
,
Polyunsaturated Fat:
22
g
,
Monounsaturated Fat:
48
g
,
Trans Fat:
0.3
g
,
Sodium:
1711
mg
,
Potassium:
823
mg
,
Fiber:
13
g
,
Sugar:
15
g
,
Vitamin A:
10000
IU
,
Vitamin C:
31
mg
,
Calcium:
77
mg
,
Iron:
3
mg
Nutrition information provided is an estimate. It will vary based on cooking method and specific ingredients used.