This post may contain affiliate links. Please read our disclosure policy.
Making your own Tahini sauce is not only simple, but it's also a great way to get that delicious, nutty flavor into all sorts of dishes. It can be used as a dip, a spread, or even a dressing. This recipe uses tahini paste, lemon juice, garlic, and just enough water to give it the perfect consistency. I like to serve my Tahini sauce with shawarma or grilled chicken, but it would be great on any type of meat or vegetable dish.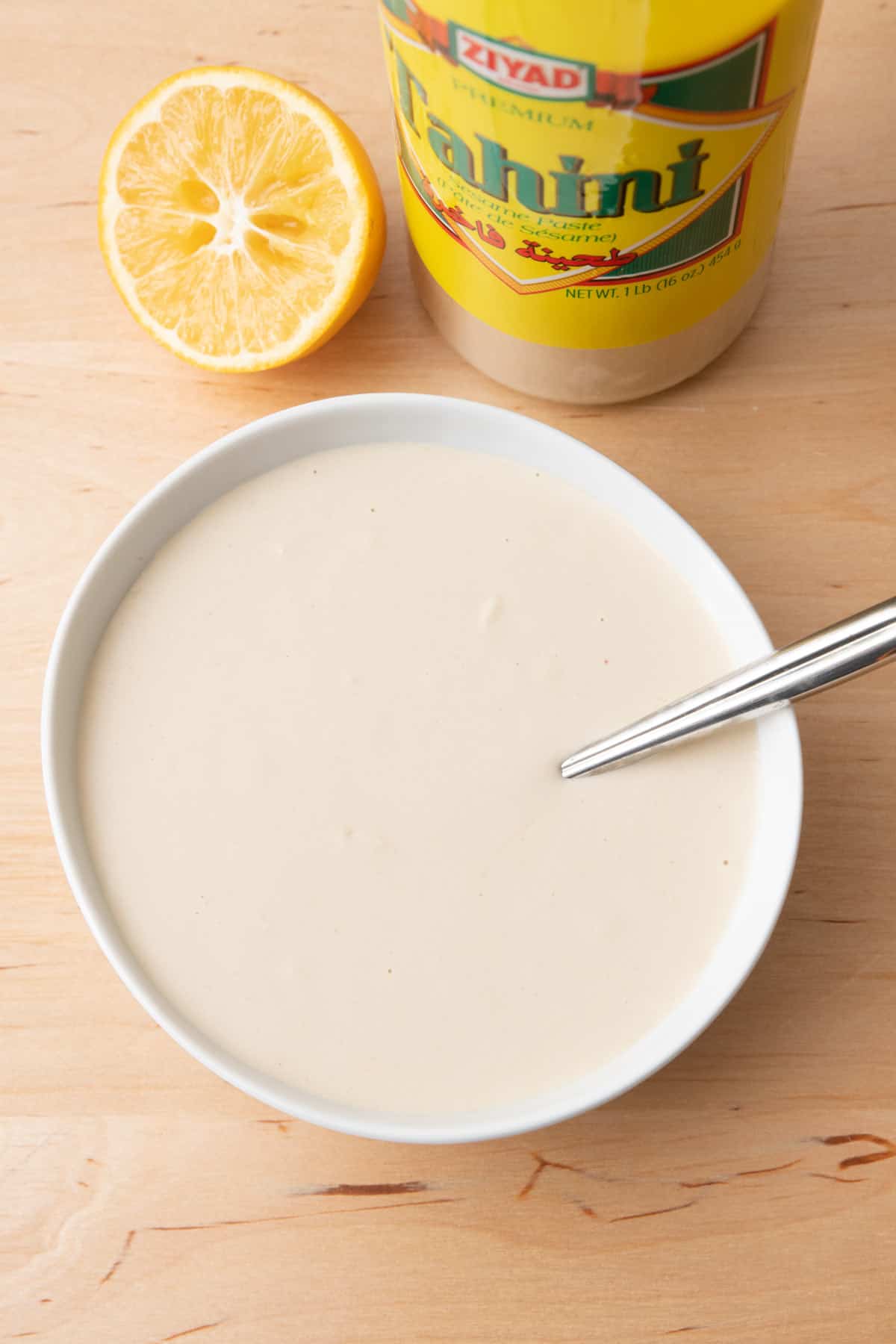 Table of Contents
Tahini Sauce is a versatile Middle Eastern condiment, also commonly referred to as Tarator in Arabic. It's vegan, very flavorful, and takes only a few minutes to make. If you've ever had falafel or beef shawarma sandwiches in restaurants, you may have noticed this tahini sauce is often served with them. The flavor is garlicky, tangy, and nutty and makes the perfect accompaniment to many Mediterranean salads, sandwiches, and finger foods.
What is tahini sauce?
Tahini sauce is a Middle Eastern condiment that is served with many dishes from the region. It's made with only 3 main ingredients: tahini paste, which is crushed sesame seeds, lemon juice, and garlic. Tahini is made by grinding toasted, hulled sesame seeds to create a creamy, smooth spread. It's similar to the process of making peanut butter, actually. Once it's in paste form, it has a savory and nutty flavor.
Why you'll love this Tahini Sauce Recipe
No complicated ingredients. This recipe is simple and only requires three basic ingredients that you probably already have in your kitchen, making it quick and easy to make.
Perfect balance of flavors. A creamy tahini paste mixed with just enough garlic and lemon juice provides the perfect balance of flavors that will elevate any dish.
Health benefits. Tahini is a rich source of vitamins, minerals, and other essential nutrients. It contains healthy fats that boost your immune system.
Lasts 2 weeks. I usually double the recipe to use it as a condiment with different Lebanese recipes throughout the week or even as a salad dressing.
Ingredients to make The Best Tahini Sauce
Tahini Paste: This sesame seed paste is wonderfully earthy and nutty. You can find it usually in the condiments section of your local store, or in the ethnic foods aisle.
Lemon Juice: Lemon juice adds a great fresh and zingy flavor. Use fresh lemon juice rather than bottled. It makes all the difference.
Garlic Cloves: Finely crush the garlic cloves for the boldest flavor.
Salt: A little salt helps to bring out the natural flavors of the tahini. I like to use kosher salt so that it's not too harsh of a flavor.
Water: Add more or less depending on how thick or thin you want the sauce. Add more for a dressing, or less for a thick dip.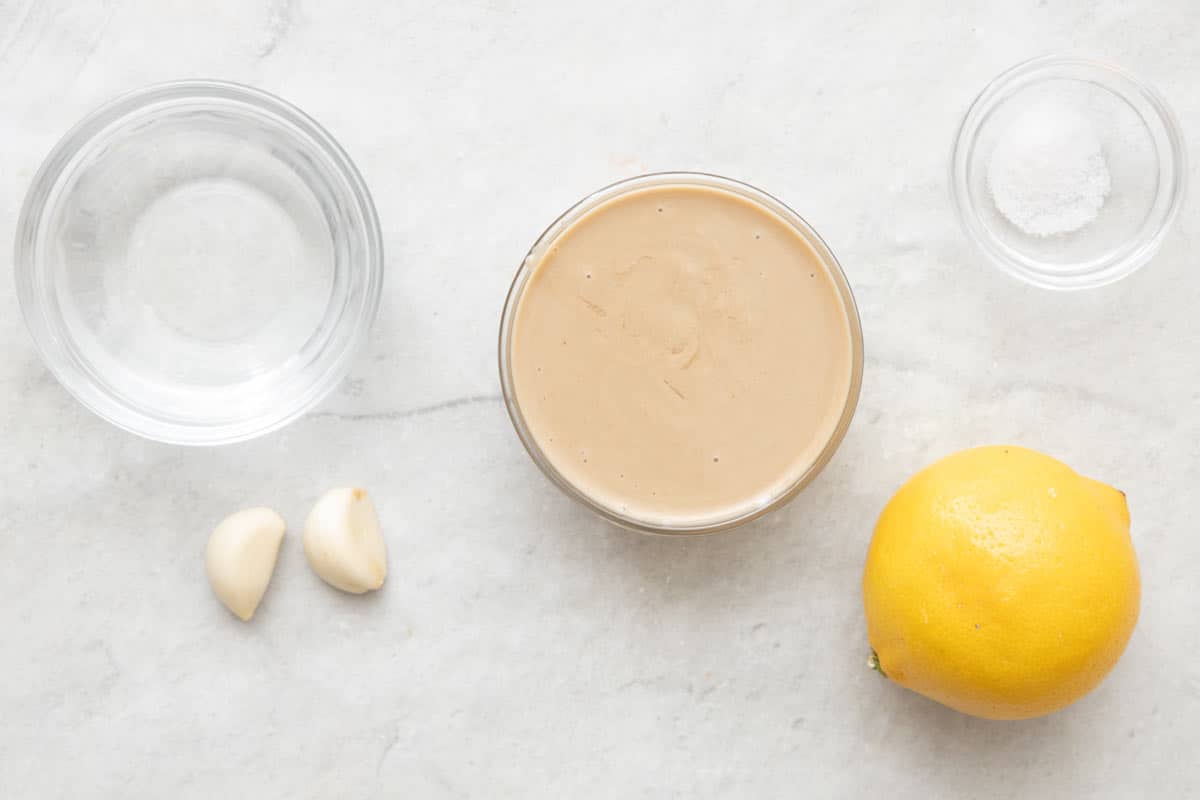 How to make authentic tahini sauce
To start, place the tahini paste in a small bowl.
Add lemon juice, crushed garlic, and salt.
Using a fork or a whisk, start whisking vigorously. After a couple of minutes, it will become thick, homogenized, and lighter in color.
Start whisking in the water. I like to add ¼ cup, but you can start with as little as a tablespoon and adjust as necessary.
Continue whisking until the mixture is smooth and creamy.
Finally, taste and adjust the lemon juice and salt.
RECIPE VIDEO TUTORIAL
Tips for making the best tahini sauce
Use high-quality tahini paste. You want to make sure the only ingredient is hulled sesame seeds because that's tahini paste in its purest form, which will give you the best flavor and consistency here.
Make sure to crush, then mince, the garlic. It allows the garlic to mellow out evenly into the lemon juice and eliminates any harsh lingering taste.
Adjust consistency depending on how you're using the tahini sauce. If you're using it as a dip with fries or vegetables, keep it thick and creamy. If you're using it as a sauce to add to sandwiches or salads, add more water for a more liquid sauce.
Use a food processor to make it faster. The traditional way of making tahini sauce is by manually whisking in a bowl, which takes a couple of minutes, and some elbow grease. However, using a food processor eliminates the need to crush the garlic in advance and creates quicker emulsification.
Add seasoning or herbs to switch it up. I usually just add chopped parsley to keep it traditional. But you can add cumin, paprika, coriander, or cayenne pepper. You can also switch up the herbs by using cilantro, mint, or dill.
Taste and adjust. As with many Lebanese condiments and recipes, I recommend starting with the recipe below and adjusting to your taste by adding more lemon juice or more salt. That's because every jar of tahini will be different, and the acidity of lemon juice can also vary.
What to eat with tahini sauce
Tahini sauce is vegan, gluten-free, and versatile, especially with Mediterranean recipes. You can use it in salads, in sandwiches, or as a dip. You can thin it out with more water when using it as a salad dressing versus a dip or sandwich sauce. Here are my favorite tahini sauce uses: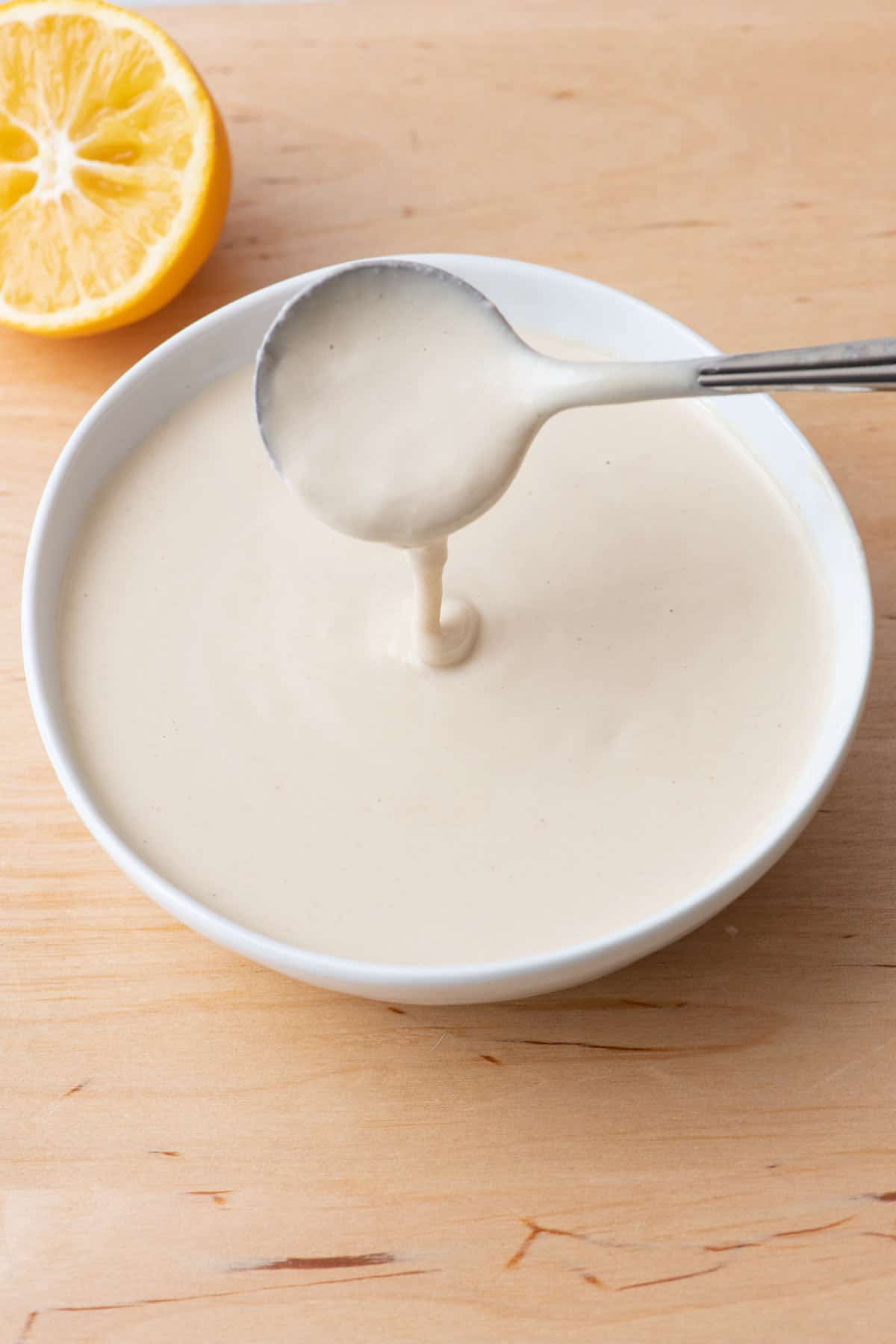 How to store tahini sauce
This recipe makes about 8-10oz of tahini sauce, depending on how much water you add to it. I like to store mine in a mason jar in the fridge. You can store it in any container you have on hand, though.
How long will tahini sauce last in the fridge?
You can expect your tahini sauce to last for up to 14 days in the fridge (if you can keep from eating it that long!)
Can i freeze tahini sauce?
Yes, you can freeze the tahini sauce. Just place it in a freezer-safe container, and it's good for up to 3 months!
Frequently asked questions
What is the best tahini brand for tahini sauce?
I recommend the Ziyad brand on Amazon. Not all tahini is created equal. Look for high-quality brands that only have one ingredient – mechanically hulled sesame seeds. And make sure the tahini is not separated. If you notice separation, give it a good stir before adding it to the food processor. Bad tahini paste will be bitter and chalky, so you want to avoid that.
What is the closest thing to tahini?

If you can't find tahini, there are a few alternatives that will help make this recipe come together. The closest substitute is almond butter, which has a similar nutty flavor and creamy texture. You could also try peanut butter or cashew butter as substitutes for tahini. It won't taste the same, but it is still good.
What do you do if the sauce comes out bitter?
This could be due to the type of tahini paste you're using since there are so many different varieties. I would recommend trying another brand to see if you have a similar issue. To remedy the current batch, try adding some olive oil to the mixture.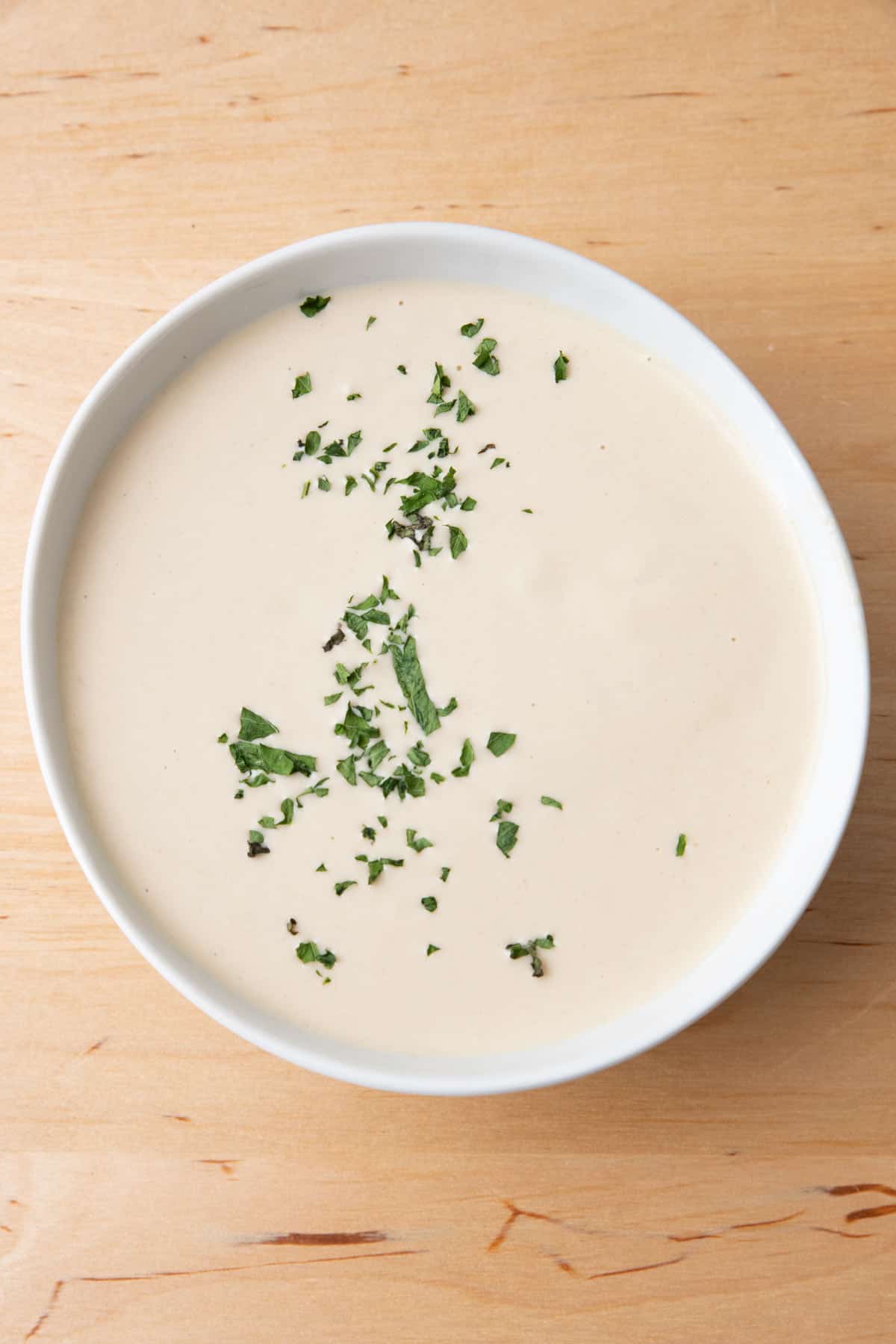 Tahini sauce is a smooth and creamy condiment that enhances many Middle Eastern dishes. It's vegan, gluten-free, and made with only 3 ingredients in a few minutes. I love how versatile it is and how the flavors of the nutty tahini, lemon juice, and garlic all combine so well for a rich taste and texture. Growing up in a Lebanese house, this has always been my go-to-sauce!
More Sauces and Dips:
If you try this feel good Tahini Sauce recipe or any other recipe on Feel Good Foodie, then don't forget to rate the recipe and leave a comment below! It helps others who are thinking of making the recipe. We would love to hear about your experience making it. And if you snapped some shots, share it on Instagram so we can repost on Stories!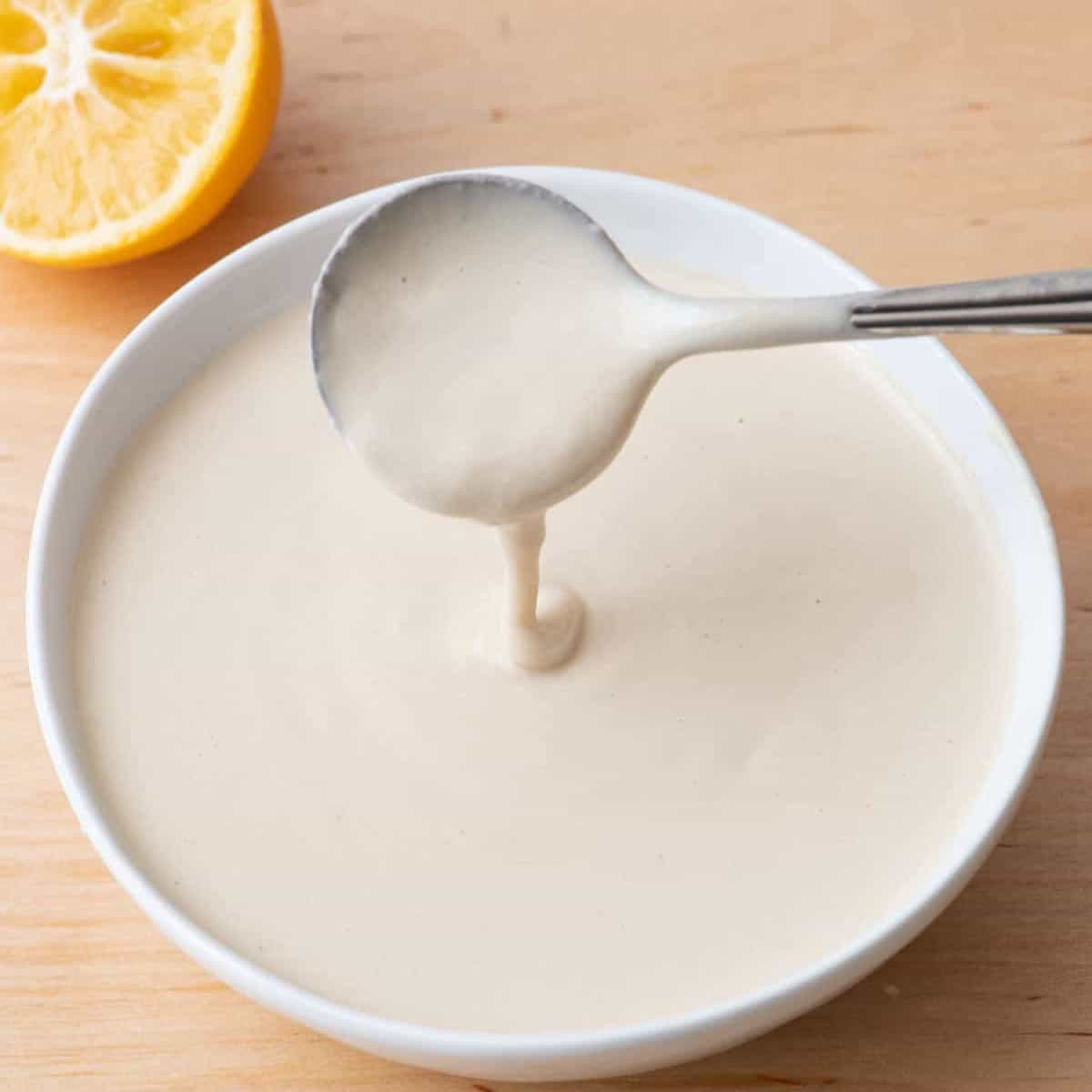 Lebanese Tahini Sauce
This is an authentic Lebanese Tahini Sauce recipe you can make with only three ingredients and no special equipment – includes step-by-step tutorial & video!
Ingredients
1/2

cup

tahini paste

1/3

cup

lemon juice

2

garlic cloves

pressed or grated

1/4

teaspoon

salt

1/4

cup

water
Instructions
Place the tahini paste in a small bowl. Add the lemon juice, garlic and salt. Use a fork or whisk to combine the ingredients until completely combined and they form a thick paste.

Slowly add water to the mixture and whisk until completely combined, smooth with a pourable texture.

Taste and adjust by adding more lemon juice, salt or water.
Notes
Storage: Store any leftovers in an airtight container. The sauce will last up to 2 weeks in the fridge or 3 months in the freezer.
Nutrition
Calories:
92
kcal
,
Carbohydrates:
4
g
,
Protein:
3
g
,
Fat:
8
g
,
Saturated Fat:
1
g
,
Polyunsaturated Fat:
3
g
,
Monounsaturated Fat:
3
g
,
Sodium:
79
mg
,
Potassium:
82
mg
,
Fiber:
1
g
,
Sugar:
0.3
g
,
Vitamin A:
11
IU
,
Vitamin C:
5
mg
,
Calcium:
23
mg
,
Iron:
1
mg
Nutrition information provided is an estimate. It will vary based on cooking method and specific ingredients used.