This post may contain affiliate links. Please read our disclosure policy.
This avocado hummus dip is quick and easy to make, and is a tasty twist on a classic hummus recipe. Based on my authentic Lebanese hummus recipe, this creamy dip is perfect for snacking and for entertaining. It has a vibrant green color that's festive and fitting anytime of the year!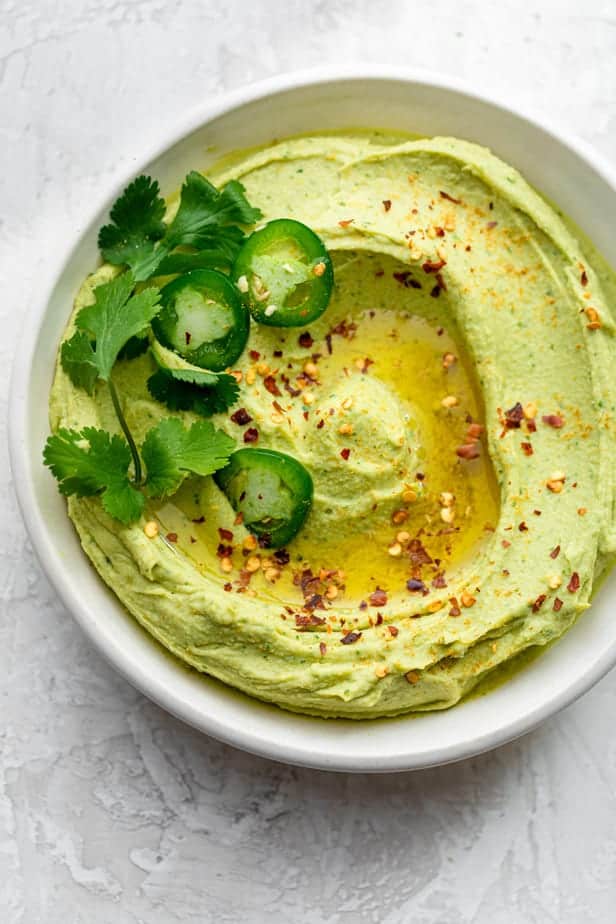 What happens when hummus and guacamole get married and have a baby? You get this vibrant green avocado hummus dip – it's a modern twist on two of my favorite dips (I think pretty much everyone's favorite dips)! Easy and quick to make, you'll love this creamy dreamy dip!
How to make avocado hummus
Place washed, drained and dried canned chickpeas in a food processor on their own.
Process the chickpeas until they become ground and powder-like. You may need to scrape down the food processor a couple times.
Next, add all the ingredients that go into the basic hummus recipe: tahini, lemon or lime juice, garlic and salt. I also like to throw in a couple ice cubes because it really makes the hummus extra thick and creamy.
Blend everything together for 5 minutes. It takes time, but that really helps to create an extra smooth consistency, so just be patient with this step.
Add the avocado and cilantro once the hummus is smooth. The more of these that you add, the more vibrant the color will be. You can also add spices here like cumin or peppers like jalapeños.
Blend for just a minute until you don't see any more chunks of avocado or cilantro and you'll have a beautiful green avocado hummus!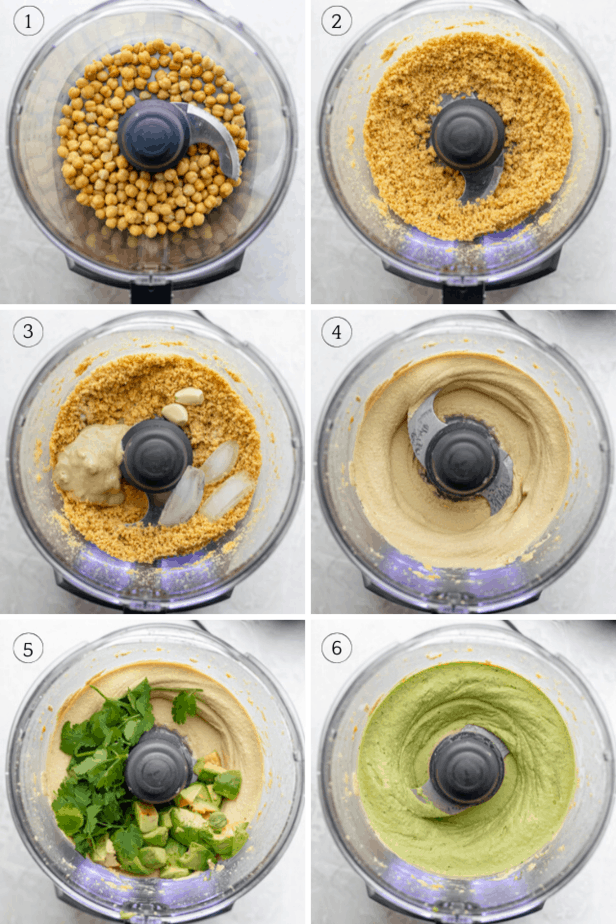 What to serve with avocado hummus
Grab some veggies or pita chips and take a dip. This will be your new favorite snack!
Perfect for healthy munching
Perfect for game day snacking
Perfect for burger or sandwich complimenting
Perfect however you dip it, spread it, devour it!
It's great to serve with a Crudite Platter Wreath or Christmas Tree Vegetable Platter during the holidays. It's also really wonderful to serve with my homemade pita chips or just store-bought tortilla chips even.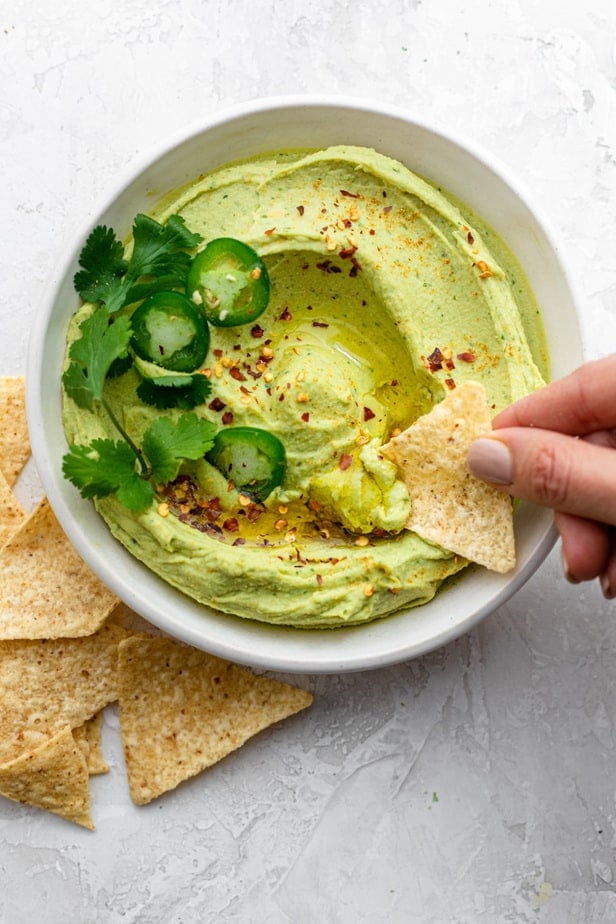 Tips for making avocado hummus
Peel the skin from the chickpeas for the smoothest texture. It helps if you soak them in hot water with a teaspoon of baking soda and then use both hands to rub the skins off and remove them. This is not necessary, but it does create a very smooth avocado hummus.
Use a ripe avocado so that it blends well. It should give a little when you squeeze it and not be rock hard. This will also help to brighten the color of the dip.
Press plastic directly on top of the avocado hummus so it is touching the dip all over. Then cover it with a storage container lid to minimize oxidation. This especially helps if you are prepping for guests in advance.
Use store-bought hummus to make the recipe faster. While you can prep the hummus a few days in advance, you can also use store bought hummus and simply add the avocado and cilantro to it in a blender or food processor.
Frequently asked questions
Does avocado hummus turn brown?
Yes, it does. Even with all the lime and lemon juice, it will eventually turn brown. You can prolong the oxidation process from starting by sealing it properly to limit the air contact as much as possible. Usually it's best within 2-3 days.
Can I freeze avocado hummus?
I've never frozen my avocado hummus because there's so many ways to enjoy it fresh! But you can freeze hummus and you can freeze guacamole, so putting them together definitely makes them freezer safe. Just make sure not to fill the container all the way to the top because it will expand as it freezes.
Is avocado hummus dip healthy?
This dip is high in protein, high in fiber, dairy-free and gluten free. When paired with some fresh veggies, it's a great lunch or appetizer that's high in vitamins and minerals. This recipe makes enough for 4 hearty servings and each serving is around 300 calories. It contains a good amount of protein and is low in saturated fat.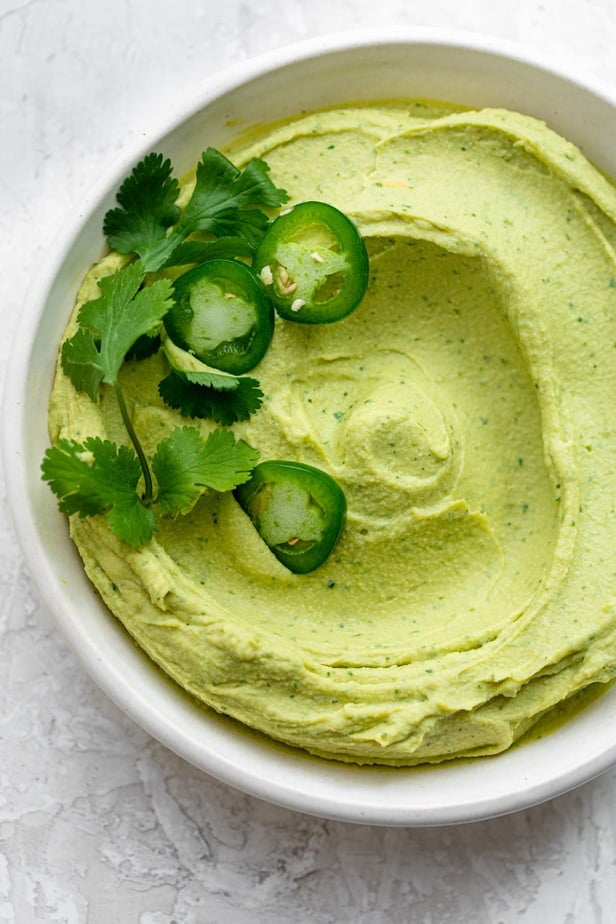 For more mediterranean dips:
This is one of our favorite dips. I love it's vibrant color and you can pair it with so much.
If you've tried this healthy-ish feel good Avocado Hummus Dip recipe or any other recipe on FeelGoodFoodie, then don't forget to rate the recipe and leave me a comment below! I would love to hear about your experience making it. And if you snapped some shots of it, share it with me on Instagram so I can repost on my stories!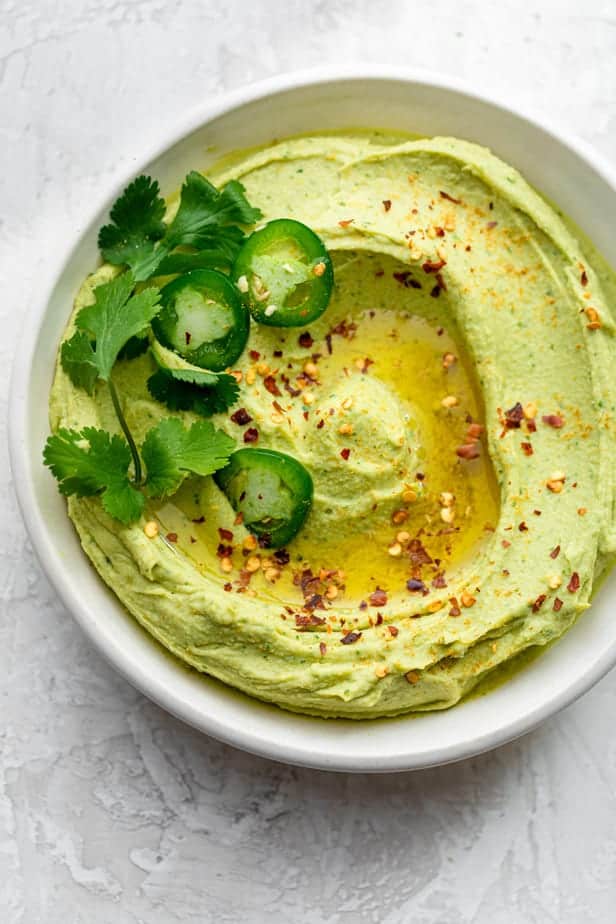 Avocado Hummus
This avocado hummus is a modern twist on plain hummus and guacamole – a healthy, vegan, easy snack or appetizer with pita or veggie chips!
Ingredients
1 15

ounce

can chickpeas

2-3

ice cubes

¼

cup

lemon juice

2

tablespoons

tahini

2

garlic cloves

¾

teaspoon

salt

2

small avocados halved

pitted, peeled

2

tablespoons

fresh cilantro

for more for serving

Sliced jalapeños

for serving

Extra virgin olive oil for serving
Instructions
Place chickpeas in a bowl of water and rub them together to peel the skin (optional step, but helps create a creamy texture).

Drain the garbanzo beans and transfer them to a food processor. Blend them alone until they become powder-like, scraping down the sides as needed.

While the food processor is running, add the ice cubes, lemon juice, tahini, garlic clove and salt, and blend for about 5 minutes until smooth.

Finally, add the avocados and cilantro and blend until smooth and creamy. Taste and adjust as needed by adding more lemon juice or salt.

Spoon the hummus onto a plate or bowl, and spread the hummus with the back of a spoon. Garnish with

Drizzle with olive oil, and garnish with cilantro and jalapeño peppers, if desired. Serve cold or at room temperature.
Notes
Storage: Store any leftovers in an airtight container. They will last about 2-3 days in the fridge. Make sure to place plastic directly on top of the dip touching it to help slow down the browning.
Sourcing: You can find the tahini at Middle Eastern markets, natural-food stores or even in large supermarkets, often located with other Middle Eastern ingredients.
Substitutes: For best results, follow the recipe as is. However if you are allergic to tahini, you can use olive oil.
Equipment: I use the Kitchen Aid food processor to make the hummus. It is super efficient and blends at an incredible speed to create a smooth and creamy consistency.
Nutrition
Calories:
310
kcal
,
Carbohydrates:
26
g
,
Protein:
9
g
,
Fat:
20
g
,
Saturated Fat:
2
g
,
Sodium:
616
mg
,
Potassium:
696
mg
,
Fiber:
12
g
,
Vitamin A:
175
IU
,
Vitamin C:
15.2
mg
,
Calcium:
65
mg
,
Iron:
2.4
mg
Nutrition information provided is an estimate. It will vary based on cooking method and specific ingredients used.