This post may contain affiliate links. Please read our disclosure policy.
This homemade Chicken Shawarma brings all the authentic flavors you love right to your own home. Growing up in a Lebanese household, the smell of chicken shawarma roasting in the oven after marinating in a mix of spices and herbs was a frequent and welcomed scent in our kitchen. It was often our go-to dish for weekend meals or when we just wanted something flavorful and comforting.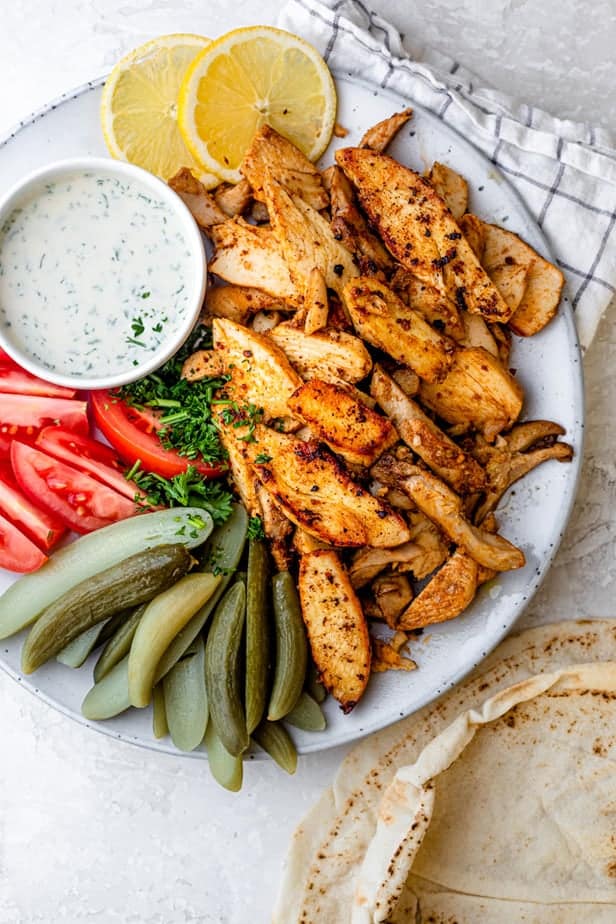 Table of Contents
Chicken Shawarma, typically slow-cooked on a vertical rotisserie, is a beloved street food in many parts of the world. My oven-baked version captures the essence of this classic dish, eliminating the need for specialized equipment. The shawarma marinade, rich with garlic, lemon, and warm spices, soaks into the chicken, ensuring every bite is so good! You can pair your chicken shawarma with some rice or stuff it in a pita with fresh veggies and creamy sauces.
All I can say is…MAKE THIS!!! So yummy and now a family favorite along with the garlic sauce! Thank you for this recipe!!! –Carol
Recipe At A Glance
Cuisine Inspiration: Middle Eastern
Primary Cooking Method: Oven-Roasting
Dietary Info: Gluten-Free, Low-Carb
Key Flavor: Spicy and Citrusy
Skill Level: Intermediate
Summary
Flexible Marination Time: Whether you have an hour or a whole day, the chicken benefits from the flavorful marinade.
Efficient Cooking: The oven does most of the work, roasting the chicken to perfection in about 15 minutes.
Bold Flavor Profile: The blend of spices like paprika, cardamom, and cumin ensures every bite is packed with Middle Eastern flavors.
Versatility in Serving: Enjoy it with rice or stuffed in a pita, complete with pickles, veggies, and your choice of sauce.
Meal Prep Friendly: The marinade can be made up to a week in advance, and the cooked chicken stores well for up to 2-3 days in the fridge.
Ingredients To Make Chicken shawarma
Chicken: I use both chicken thighs and chicken breasts in this recipe for the best flavor and texture.
Oil: For marinating. I prefer to use olive oil, but a neutral oil like avocado or canola will work too.
Lemon juice: Use fresh lemon juice rather than bottled for the best flavor.
Seasonings: Garlic, salt, cardamom, paprika, cumin, crushed red pepper, cinnamon.
Step by step VIDEO TUTORIAL
I am happy I found this on my first try to make shawarma. It is hard to find great shawarma at the restaurants I have been to. My sister & I loves this, its pretty easy & it is so yummy. I will be making this again & again. I made sure to bookmark this after trying it. – Celeste
How to make chicken shawarma in the oven
The homemade version is different than the restaurant version, which is roasted on a spit. But this is the closest you can get to that version at home. This shawarma is roasted in the oven for ease and convenience, and it comes out tasting great!
Because it's made by alternating strips of fat and pieces of seasoned meat on a vertical spit, we try to emulate that at home by using two types of chicken types for best results: chicken breast and chicken thighs.
Whisk together the marinade ingredients in a bowl, add the chicken, and coat it. Cover and place in the fridge to marinate.
When ready to cook, place the chicken pieces on a lined baking sheet and roast in a preheated oven, turning halfway through cooking.
Let the chicken rest before slicing. This helps to make them extra juicy.
You can then transfer the slices to a skillet, with its juices to brown the chicken and give it extra flavor. This is an optional step, but I highly recommend it if you have the time.
What to Serve with Chicken Shawarma
I like to serve the oven-roasted chicken shawarma street style, in pita with pickles, tomatoes, lettuce, and garlic sauce or tahini sauce. It's also great by itself served with a rice dish like Lebanese Rice, or try Cilantro Lime Cauliflower Rice for a low-carb meal. And you can even just serve it as a Chicken Shawarma Salad. Add an extra pop of flavor with pickled turnips!
I literally just finished eating this and I must say every single bite I took made me really happy. The chicken is so tender and flavorful and the recipe doesn't take a lot of difficulty to make! Will definitely keep this for future gatherings and dinner nights!! Thank you for sharing!! – Aide Farias
Tips for making the best chicken shawarma
Marinate the chicken for at least one hour before cooking it. This not only helps to add flavor, but it also helps to break down the fibers so you have the most tender meat.
Let the chicken breasts come to room temperature before putting them in the oven. Cold chicken breasts take longer to cook and you can risk them becoming too dry that way.
Don't overcook the chicken. If it overcooks, it will dry out. If you have an instant-read thermometer, the chicken should register at 160F. Alternatively, if you pierce the breast with a fork, the juices should run clear.
Cut the chicken against the grain when you slice it. This way, you cut through the fibers so the chicken is tender. Be sure to let it rest before slicing it, too so that the juices redistribute and the chicken is wonderfully juicy.
Popular substitutions & additions
Make it in a loaf pan: Tightly pack the chicken in a loaf pan. Nestle the loaf pan in a shallow pan (to catch any juices that may drip during roasting) and roast at 400°F until an instant-read thermometer inserted into the middle of the chicken registers 165°F, about 45 minutes. Check out the full recipe variation that I shared with the Food Network.
Swap the Protein: Not in the mood for chicken? Try this marinade with turkey slices or tofu for vegetarians. Lamb or beef are also popular Shawarma alternatives.
Spice Variations: If you want to try different spices, replace cardamom with coriander for a different flavor note. For a spicier kick, increase the amount of crushed red pepper.
Add Veggies: When roasting, add bell peppers, red onions, or zucchini slices to the pan. They'll soak up the delicious marinade and complement the chicken beautifully.
Yogurt Marinade: For an even tenderer chicken, add a couple of tablespoons of plain Greek yogurt to the marinade. It acts as a tenderizer and gives a creamier texture.
Toss in some Fresh Herbs: Stir in some freshly chopped cilantro, mint, or parsley to the marinade for an added layer of flavor.
Add Nuts: Toasted pine nuts or slivered almonds can be sprinkled on top for a delightful crunch and nutty flavor.
How to Store and Reheat Chicken Shawarma:
Storing: Once cooled, transfer the chicken shawarma pieces into an airtight container, ensuring all juices are also saved as they help to keep the chicken moist. Store it in the refrigerator.
Reheating: The best method to reheat chicken shawarma is in a skillet over medium heat. Heat the chicken pieces with a little bit of the saved juices or a dash of olive oil until they're warmed through. This method helps retain the chicken's moisture and can reintroduce some of the crispy edges. Alternatively, you can use a microwave, but ensure it's covered and heated in short intervals to prevent it from drying out.
How Long Will Chicken Shawarma Last in the Fridge?
Chicken shawarma, when stored properly in an airtight container, will last for 3-4 days in the refrigerator.
Can I Freeze Chicken Shawarma?
Yes, you can freeze chicken shawarma. Once it has completely cooled, place it in a freezer-safe bag or container, removing as much air as possible. Properly stored, it can last in the freezer for up to 2-3 months. When you're ready to enjoy it, thaw the chicken in the refrigerator overnight and then reheat using the above methods. Remember to label the container with the date and description to keep track of freshness.
Frequently asked questions
What is shawarma?
You know, whenever someone asks me about shawarma, I light up. It's such a staple in Middle Eastern kitchens, including my own. Shawarma is all about stacking seasoned meat—think chicken, beef, or even lamb—on this tall vertical spit. Then, we slow-roast it, letting all those flavors meld and intensify. As the outer layer gets perfectly crispy and cooked, it's shaved off.

Most of us love wrapping this succulent meat in flatbread-like pita, and jazzing it up with veggies, a drizzle of tahini, or even some garlic sauce. The name "shawarma" actually comes from the Arabic term meaning "turning", which totally makes sense given how it's cooked. It reminds me a bit of Turkish döner kebab or Greek gyro. Different places, different names, but all so delicious in their own right.

If you like this recipe, be sure to try my Beef Shawarma recipe too!
What does chicken shawarma taste like?
Eating chicken shawarma is like taking a mini journey to the Middle East. The chicken, marinated with spices like cumin, cardamom, and paprika, carries warm, earthy flavors with hints of citrus and a subtle smokiness. When this seasoned meat pairs with the crispness of tomatoes and the tangy bite of pickles, the layers of taste come alive.
Is shawarma spicy?
Chicken shawarma, in its traditional form, isn't inherently spicy in the sense of heat. Instead, it boasts a depth of warm, aromatic spices. However, many vendors or home chefs do add a kick with spices or accompanying sauces based on personal preference or regional variations.

If you're sensitive to heat, always inquire or adjust recipes accordingly. And remember, with any dish, the level of spiciness can always be tailored to your liking. My recipe below isn't spicy in the sense of heat, but if you are worried or don't like spicy, you can remove the crushed red pepper, or if you want it spicy, you can increase the crushed red pepper.
Is there a vegetarian version of shawarma?
Yes, many people use tofu, tempeh, or even jackfruit as a base for a vegetarian shawarma variant. Adjust the marination time and cooking process accordingly.
Can you use frozen chicken?
Yes, you can use either fresh or frozen chicken in this recipe. If you use frozen, ensure that it is fully defrosted before marinating it.
Why is my chicken shawarma dry?
If your chicken turns out dry, it could be due to overcooking or not marinating it long enough. To retain its juiciness, ensure the chicken is marinated for at least an hour (or more!) and monitor the cooking time. Remember, chicken thighs tend to be juicier than breasts.
Can I use chicken wings or drumsticks instead?
Sure thing! Just remember to adjust the cooking time accordingly. Wings and drumsticks might take a bit longer to cook through due to the bone.
How do I get the signature char on the chicken like the street vendors?
After roasting, you can sear the chicken slices on a hot skillet or pan for a few minutes until they get those crispy, charred edges. Another way is to broil the chicken for a couple of minutes, watching closely so it doesn't burn. Just a warning that this may cause the chicken to get overcooked, so make sure you add the chicken to a very hot pan and only for a few minutes.
Can I just say how good this turned out? I stayed faithful to the recipe and wow this will definitely be a recipe I come back to! Simple ingredients but such a tasty result. Thank you! – Elle
I am totally in love with this homemade version of one of my favorite Middle Eastern street foods! It's so easy to make in the oven and comes together so quickly! I can't wait to hear what you all think of this!
More chicken recipes
If you try this healthy-ish feel good Chicken Shawarma recipe or any other recipe on FeelGoodFoodie, then please come back to rate the recipe and leave me a comment below! I would love to hear about your experience making it. And if you snapped some shots of it, share it with me on Instagram so I can repost on my stories!
Chicken Shawarma
Make this oven-roasted Chicken Shawarma easily and quickly at home with my easy and authentic marinade recipe – it's perfectly spiced, tender & so flavorful
Ingredients
Instructions
Place the marinade ingredients in a large bowl: ¼ cup olive oil, lemon juice, garlic, salt, cardamom, paprika, cumin, crushed red pepper and cinnamon; and whisk to blend.

Add the chicken into the large bowl with the marinade and stir with a spoon to evenly coat the chicken with the marinade. Cover the bowl and place in the refrigerator to marinate for at least an hour or up to 24 hours.

Preheat the oven to 400°F. Place the chicken on a rimmed baking sheet, lined with parchment paper. Roast the chicken until cooked through, about 15 minutes, turning halfway through.

Remove the chicken from the oven and use a sharp knife to thinly slice the chicken into thinly sliced pieces. If you'd like to give the chicken shawarma seared edges, you can transfer it to a skillet with its juice and saute until they start to brown, about 5 minutes. Be careful not to overcrowd the skillet though.

Serve with rice or in a pita with pickles, tomatoes, lettuce and garlic sauce or tahini sauce.
Notes
Storage: Store any leftovers in an airtight container. They will last about 2-3 days in the fridge. Make Ahead Tips: You can make the marinade up to a week in advance, and you can marinate the chicken for up to 24 hours in advance.
Nutrition
Calories:
265
kcal
,
Carbohydrates:
2
g
,
Protein:
31
g
,
Fat:
14
g
,
Saturated Fat:
2
g
,
Cholesterol:
120
mg
,
Sodium:
933
mg
,
Potassium:
492
mg
,
Fiber:
1
g
,
Sugar:
1
g
,
Vitamin A:
230
IU
,
Vitamin C:
5
mg
,
Calcium:
16
mg
,
Iron:
1
mg
Nutrition information provided is an estimate. It will vary based on cooking method and specific ingredients used.