This Lebanese Garlic Sauce (Toum) is a popular condiment in Lebanese restaurants served often with chicken - it's dairy free & made with only 4 ingredients
July 11, 2018
Whenever I make Shish Tawook, everyone asks me, but wait…tell me about that sauce! That sauce is Toum, which translates to garlic in Arabic! Toum is a Lebanese garlic sauce, that's actually more like a spread because of its thickness. It's super popular to spread it over grilled chicken, shawarma, rotisserie chicken and many other dishes. It's basically a slow and steady emulsion process of garlic and oil.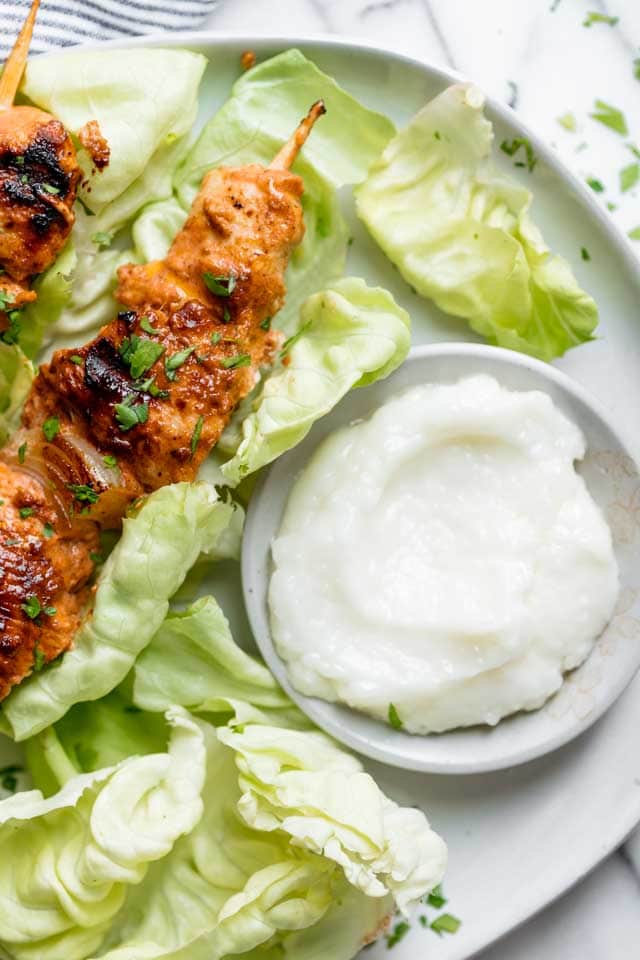 What is garlic sauce made of?
I've always enjoyed eating toum at restaurants but I've never dared make it myself! I always thought the proper way to make toum involved mayonnaise or egg whites. To me, it sounded like such a high-calorie sauce to be making at home. "No thank you", I thought "I'll just keep it as a treat when I'm out."
But then I discovered Maureen Abood's recipe for Lebanese garlic sauce and it only needed 4 ingredients: garlic, oil, lemon juice and salt, I was sold! I said I would try it out and tweak the recipe as I saw fit. But really the recipe came out so perfect the first time I made it that I made no tweaks. It's flavor-packed, dairy-free, and most importantly easy-to-make!
How to make garlic sauce
The trick about making homemade toum is the emulsifying process. So in order to emulsify properly, use a large amount of garlic! I started with 1 cup of peeled garlic cloves. I removed the sprout from the inside of the garlic to make sure that I'm only using the freshest whitest part of the garlic. This step is not necessary.
However after making this recipe both ways, I found that it makes a slight difference that toum connoisseurs (aka my brother-in-law who will detect).
It results in a less bitter sauce.
Now, you don't need a food processor to make toum, but it definitely makes the process faster so that you don't have to mince the garlic and whisk. It also creates a more light and airy texture, typical of toum found in many restaurants. I'm sure back in Lebanon my grandmothers used to just use a mortar and pestle to make their garlic. But nonetheless, the food processor makes it quicker for us these days. I start by mincing the garlic with kosher salt.
In order to emulsify, just like making pesto, it's important to run the oil very slowly and small batches at a time. When you first introduce the oil, start with only one tablespoon or a drop of oil. This gives the oil ample time to blend well into the salted garlic. You can't really rush the process.
When you first introduce the oil, make sure to scrape down the sides so that all the minced salted garlic gets well incorporated into the oil. Maureen says that "The initial introduction of oil into the garlic is the most critical step in making toum" and I totally agree after trying this a couple times!
My food processor has a small hole that makes this possible. But even if you don't have that, you can still slowly drizzle the oil in a thin slows stream. You will immediately start to see the garlic turn into a white creamy texture and you'll know something magical is happening in your food processor! But be patient in slowly drizzling the oil and it will turn out even more magical!
The lemon plays a supporting role in the Lebanese garlic sauce and helps to combine and emulsify so the oil doesn't overpower the garlic. I use 1/2 a cup but you can decrease according to your taste preference. While some recipes advise to add the lemon juice at the end, I have tested it and it makes a big difference in helping to keep the emulsification if you alternate it with the oil throughout the process. The lemon juice acts as a binder, so don't leave it out.
To let the garlic set, I cover it with a paper towel and store in the fridge, and let the flavors set in overnight before enjoying it. The paper towel allows some of the moisture to wick away while setting in the flavors.
The end result is a light, airy, totally garlickly and beautifully creamy Lebanese garlic sauce. Its smooth texture and aromatic taste makes it so addictive to enjoy in so many ways!
What to eat with garlic sauce
The possibilities of how to serve toum are endless. It really depends on your love for toum. I mostly enjoy it with grilled meat and chicken. But it works really well with grilled fish, in sandwiches, in pasta. It also works as a dip with pita bread and crackers. Or you can use it as a base for a garlickly salad dressing. Here are some great recipes that work with the garlic sauce.
Frequently asked questions
How long does toum last?
If you keep it in an airtight container, this garlic sauce will last 2-3 months in the fridge!
What type of oil is best to use?
You want to use a neutral oil like canola, vegetable, grapeseed or safflower oil. Olive oil will make it more dense and the color won't be as bright and white.
What if the mixture breaks?
This has happened to make a couple times when I left the lemon juice at the end or when I added the oil too quickly. So it's important to alternate the oil and lemon juice and don't rush the process. If the mixture didn't get fluffy and looks more liquid, it's possibly that it didn't emulsify.
I would recommend adding 1-2 boiled potatoes to the food processor and allowing cooked potato to help emulsify it. In that case though, be sure to only store the garlic sauce no more than 7-10 days.
If you've tried this healthy-ish feel good Lebanese Garlic Sauce recipe or any other recipe on FeelGoodFoodie, then don't forget to rate the recipe and leave me a comment below! I would love to hear about your experience making it. And if you snapped some shots of it, share it with me on Instagram so I can repost on my stories!
Lebanese Garlic Sauce (Toum)
This Lebanese Garlic Sauce (Toum) is a popular condiment in Lebanese restaurants served often with chicken - it's dairy free & made with only 4 ingredients
Print
Pin
Rate
Ingredients
1

cup

garlic cloves

peeled

2

teaspoons

kosher salt

3

cups

canola oil

such as canola or safflower

1/2

cup

lemon juice

to taste
Instructions
Slice the garlic cloves in half lengthwise and remove any green sprouts.

Transfer the sliced garlic cloves into a food processor and add the kosher salt to the garlic cloves. Process for a minute until the garlic becomes finely minced. Make sure to scrape down the sides of the food processor afterwards.

With the food processor is running, slowly pour one to two tablespoons of oil, then stop and scrape down the bowl. Continue adding another tablespoon or two until the garlic starts looking creamy.

Once the garlic looks emulsified by the few tablespoons of oil, increase the speed of pouring the oil and alternate with the 1/2 cup of lemon juice until all the oil and lemon juice is incorporated. This will take about 15 minutes to complete.

Transfer the sauce into a glass container and cover with a paper towel in the fridge overnight.

The next day, replace the paper towel with an airtight lid and keep in the fridge for up to 3 months.
Notes
Recipe: This recipe was adapted from Maureen Abood
Storage: Store the Lebanese Garlic Sauce in an airtight container in the fridge for up to 4-5 weeks. Over time, the flavor of the garlic will become more subtle but it will stay fresh and tasty.
Process Tip: One quick way to peel a lot of garlic is to place them in a large empty jar and shake it vigorously. It helps to release most of the cloves from the peel.
Substitutes: For best results, follow the recipe as is and do not substitute anything.
Equipment: I used the Kitchen Aid food processor to to make the garlic sauce. It emulsifies as it breaks down the garlic and creates the light and airy texture that is associated with the sauce.
Nutrition: Please note that the nutrition label provided is an estimate based on an online nutrition calculator. It will vary based on the specific ingredients you use.  This information should not be considered a substitute for a professional nutritionist's advice. The nutrition value assumes that the garlic is divided into 12 servings, but this may vary.
Nutrition
Calories:
330
kcal
|
Carbohydrates:
2
g
|
Fat:
3
g
|
Sodium:
259
mg
|
Potassium:
33
mg
|
Vitamin C:
3.6
mg
|
Calcium:
14
mg
|
Iron:
0.1
mg