This post may contain affiliate links. Please read our disclosure policy.
Falafel is an iconic popular street food in the Middle East that's vegan, protein-rich and surprisingly easy to make! My authentic Lebanese recipe is one that I watched my mom make since I was a kid. You can make crispy falafel at home and have it taste just like it's from the streets of Lebanon, and I'm going to show you how with only a handful of ingredients.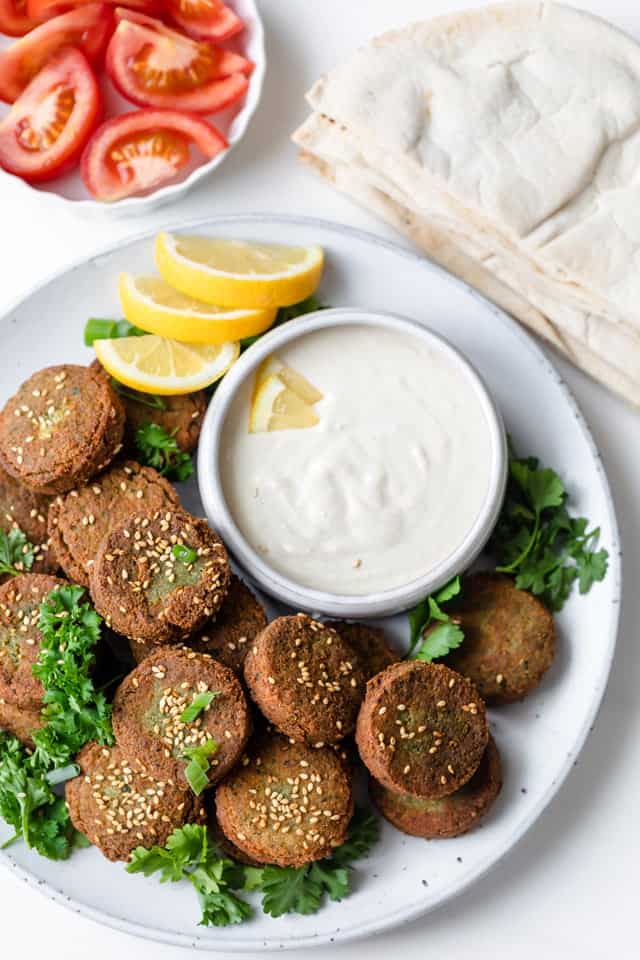 What is falafel?
Falafel is a Middle Eastern recipe that is basically mashed chickpeas with herbs and seasonings formed into patties and fried. It's a traditional food in Lebanon that's made with only a few ingredients and served plain with tahini sauce, hummus, or garlic sauce for dipping, or as a falafel sandwich or falafel wrap. The patties have an irresistible crispy exterior and soft bright green interior.
While it originated in the Middle East, falafel is now a very popular street food recipe that's made all over the world. There are loads of recipe variations, but at its core is soaked chickpeas, parsley and/or cilantro and Middle Eastern seasoning. In many regions, it's also made with fava beans. Traditionally, falafel is fried, which is the way I would recommend making them, but below I share the baked falafel and fried falafel instructions.
What is falafal made of?
There are many variations of the falafel recipe. The one I'm sharing is one I learned from my Lebanese parents and enjoyed while growing up. I kept the recipe authentic the way it's traditionally prepared in Lebanon. Here are the ingredients you'll need:
Chickpeas: Use high quality dry chickpeas that come in a bag. Check the expiration date to make sure they are fresh. Do not substitute with canned chickpeas.
Fresh herbs: Parsley and cilantro are a must in any falafel recipe. You can do equal parts of both or add more of one kind if you prefer. Make sure the herbs are washed and thoroughly dried.
Onion: 1 small onion is all you need. Don't substitute onion powder because the fresh onions add texture, a touch of moisture and extra flavor to the patties.
Garlic: Surprisingly, the garlic is not mandatory in this Lebanese recipe, but one garlic does help add flavor. You can substitute garlic powder here if you'd like, but I recommend fresh.
Baking powder: This is optional, but I recommend adding it right before baking or frying the falafel. It's a raising agent that helps to give it a light and fluffy texture.
Seasonings: Salt and pepper, cumin and coriander.
RECIPE VIDEO TUTORIAL
How to make falafel
Soak chickpeas
The first step of making this falafel recipe happens in advance of actually cooking the recipe. You need to soak dry chickpeas with enough water to cover them completely at room temperature. After a few hours (or ideally 12 hours overnight), the chickpeas will absorb most of the water and double in size. Don't cook the chickpeas. They will stay raw, but soaking them will soften them enough to use in this recipe.
Make falafel patties
Start by grinding the chickpeas until they're powder-like. I prefer to do this step first before adding the other ingredients. It limits the amount of time you'll need to blend everything else, which makes it less likely that the mixture will become too mushy.
Next, add the herbs, onions, garlic, and seasoning. It works well if you can blend on low or pulse at this point. You want the mixture to get blended but not overly soft and mushy. You're looking for a coarse paste, ideally.
Now the mixture is ready, but it's best to refrigerate it for a couple hours to allow the chickpeas to properly absorb the flavors and set. Transfer to a bowl, cover and refrigerate. Alternatively, you can freeze the falafel mixture in a freezer-safe bag or container. It will keep well for up to 3 months.
When you're ready to fry or bake the falafel, remove from the fridge, mix in some baking powder and form the patties. There is a special falafel scoop that I use to make the shapes perfectly round and even. This scoop makes about 36 patties, each 1.5 inches in diameter. You can also use a meat baller, ice cream scooper, two spoons or your hands. While you're forming the patties, you can lay them on parchment paper or wax paper.
Then fry or bake the falafel depending on your preference. My preference? 100% fry!
Fried falafel instructions
You can do traditional deep frying or skillet shallow frying. I opt for the latter because it's easier, uses less oil and still results in a wonderfully crispy falafel patty and deliciously soft interior. Heat the oil slowly over medium heat for a couple minutes until it's hot. Then slowly fry the patties small batches at a time about 2-3 minutes per side.
The color will turn golden brown, and that's how you'll know they're ready. Rest them on a paper towel to absorb the excess oil and then serve warm!
Baked falafel instructions
Alternatively, you can make baked falafel with the patties. Spray the falafel lightly with some cooking spray and bake at 350°F for 20-25 minutes. This is a healthier option because you'll use less oil in the process, but result is a more dense and dry patty. Instead of getting a crispy brown exterior, the falafel will brown in the middle mostly and form small cracks. It will still taste great, but the texture is just more appetizing when fried.
How do you eat falafel?
Alone with falafel sauce
Because falafel basically is a chickpea patty that can be dry on its own, it's always served with a falafel sauce, which is also known as tahini sauce. It's simply made with tahini paste, lemon juice, garlic and salt; and has a tangy nutty flavor that really complements the taste of the falafel. You can also serve it with hummus or garlic sauce.
In a sandwich or wrap
The most popular way is to eat it as a falafel sandwich or falafel wrap, generally stuffed in pita with vegetables like tomatoes, pickles, onions, pickled turnips, and parsley and of course the falafel sauce.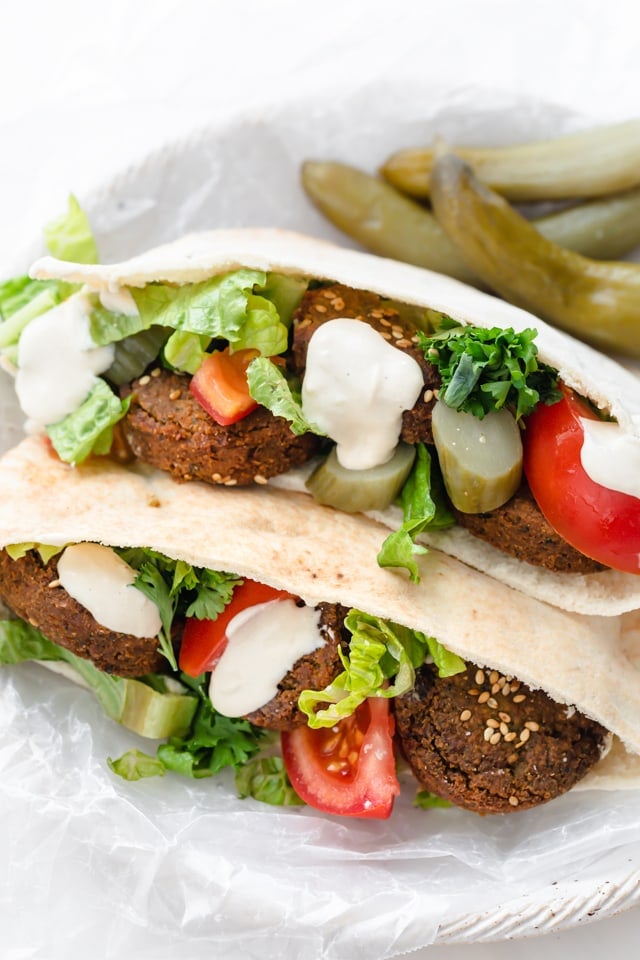 In a salad
Because it's an excellent source of plant-based protein, it's also very common, especially in the U.S., to eat falafel on top of salads to make a complete meal. I would highly recommend it with these salads:
Tips for making homemade falafel
Do not use canned chickpeas! Use dried chickpeas and soak them. This is the most important tip when making your own falafel. The problem with canned chickpeas is they are too soft and moist to yield a crispy exterior falafel texture. If you do use canned chickpeas, you'll have to compensate for the moisture by adding flour, which changes the essence of the recipe.
Allow time for the mixture to set in the fridge. This time helps the ingredients bind well together and also helps the flavor develop in the mixture; so don't skip the resting time in the fridge.
Make sure the patties hold well together before frying. The mixture should feel moist and paste-like, but not too wet. It should feel compact before dropping it in the oil. If it's not, you may need to pulse it more in the food processor until it comes together.
Use a high smoke point oil for frying. Some olive oils may work for this depending on their smoke point. But to be safe, use an oil meant for deep frying like grapeseed oil, sunflower oil or canola oil.
Frequently asked questions
Is falafel a healthy food?
Falafels are fried, so they aren't healthy in that term, but, they are made from all natural ingredients, are high in protein and fiber, and one comes in at around 75 calories.They are perfect to enjoy as part of a well balanced diet, and homemade is for sure healthier than store bought!
Is falafel generally vegan?
My falafel recipe, like most recipes, is dairy-free and vegan.
Can I use dried herbs to make falafel?
Because there are minimal ingredients in this homemade falafel recipe, the herbs make up a big roll in the texture and flavor. I do not recommend substituting with dried herbs.
How long do falafels keep?
Once you have made the falafels, let them cool to room temperature, and you can store in an airtight container in the fridge for 4 to 5 days. You can also freeze them and then reheat in the oven. Falafel can be eaten hot or cold.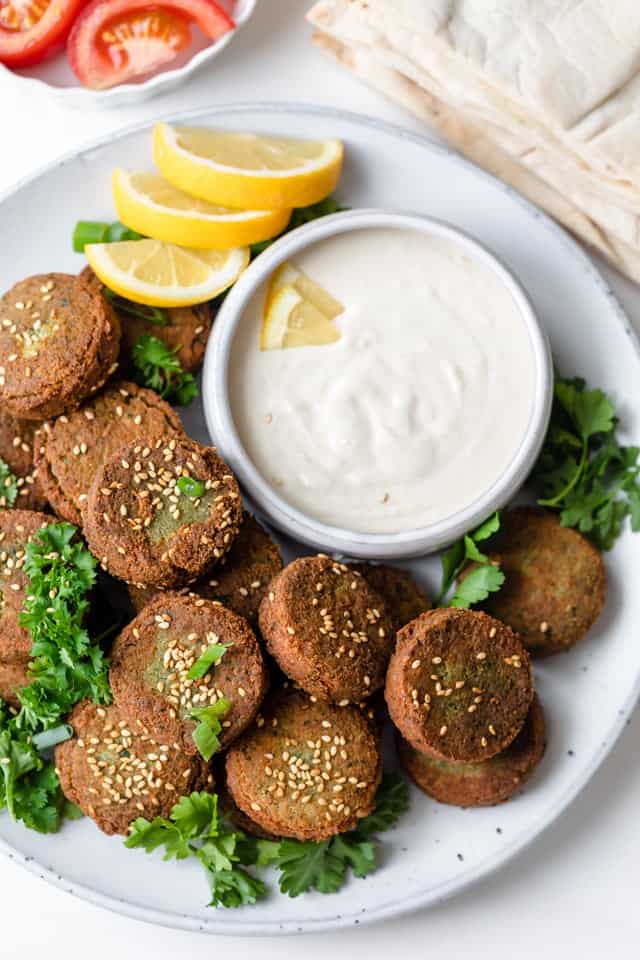 Forget the powdered falafel mixes and store-bought greasy falafel, and try my homemade falafel recipe. My recipe makes a double batch of the mixture because it's a great make-ahead recipe. Hope you try this authentic version I learned from my family, and share it with your family!
If you've tried this healthy-ish feel good Lebanese Falafel recipe or any other recipe on FeelGoodFoodie, then don't forget to rate the recipe and leave me a comment below! I would love to hear about your experience making it. And if you snapped some shots of it, share it with me on Instagram so I can repost on my stories!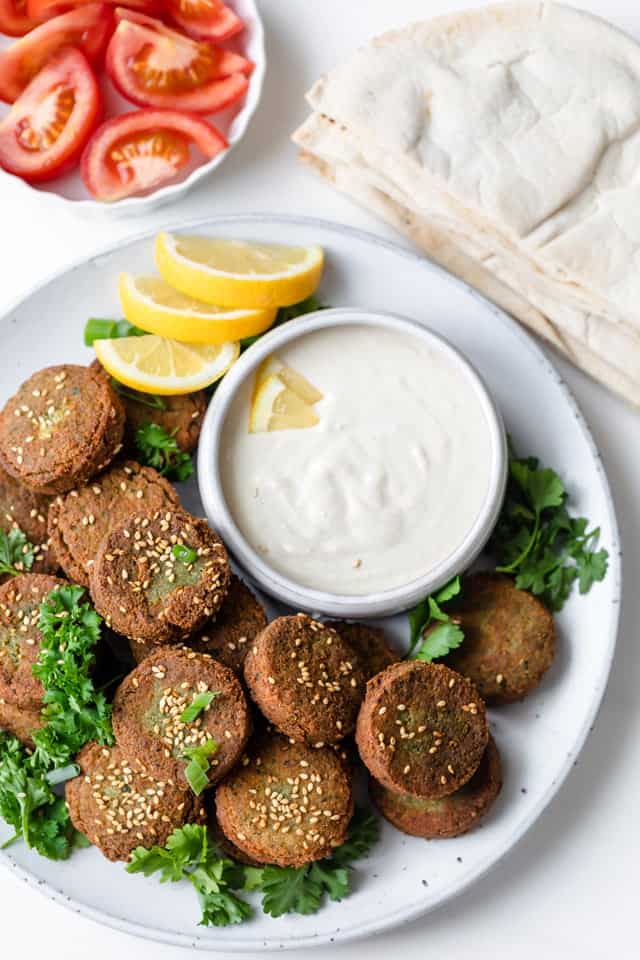 Lebanese Crispy Falafel Recipe
This authentic crispy Lebanese falafel recipe is a popular Middle Eastern dish made with chickpeas, herbs, onion & spices – vegan, gluten-free, protein-rich
Ingredients
1

pound

dry chickpeas

¾

cup

parsley

stems removed

½

cup

cilantro

stems removed

1

large onion

quartered

4

garlic cloves

1

tablespoon

salt

2

teaspoons

cumin

2

teaspoons

coriander

1

teaspoon

black pepper

1

teaspoon

baking powder

Oil for frying

grapeseed, sunflower or canola work well

Sesame seeds

optional, for sprinkling
Instructions
24 hours in advance, soak chickpeas in enough water to cover them. The next day, they will double in size. Drain, rinse and dry the chickpeas thoroughly.

Place the chickpeas in the bowl of a food processor and blend until they're powder-like. Add the parsley, cilantro, onion, garlic, salt, cumin, coriander, and black pepper and blend until the mixture turns to paste, scraping down the sides as needed. Cover the bowl and refrigerate for 1 hour to set. When ready to make, sprinkle baking powder on the falafel mix, and fold in gently.

Scoop the falafel using a falafel scoop, an ice cream scoop, meat baller or your hands. Form a round ball with the falafel, each with about 1-2 tablespoons of the mixture. The balls may feel loose at first but they will bind once they fry. Makes roughly 36 falafel patties. Sprinkle sesame seeds on the patties, if desired
Frying Instructions
Heat 1 inch deep of cooking oil in a frying pan on medium heat. Gently place in the frying pan until the color turns brown, about 2-3 minutes per side. Be careful not to overcrowd the pan and fry in batches as needed.

Remove the falafel from the oil with a slotted spoon, and set on a plate lined with paper towel to dry out the excess oil.
Baking Instructions
Place the falafel balls on a baking sheet lined with parchment paper. Bake in the preheated oven at 350°F for 20-25 minutes, flipping halfway through.
Notes
Storage: Store any leftovers in an airtight container. They will last about 4-5 days in the fridge. To reheat, just place in the microwave for 30 seconds.
Freezing Instructions: You can also freeze the cooked falafel for up to 3 months. Place the cooled falafel on a baking sheet in the freezer until they are completely frozen. Then transfer them to freezer bags or an airtight container. To reheat the frozen falafel, bake in a 350°F oven for 5 minutes, or until until warmed through and crispy.
You can freeze the mixture as a whole. Transfer it to a freezer-safe bag or container. When ready to cook, allow the mixture to thaw in the fridge, then form into patties and follow the frying or baking instructions.
Sourcing: You can find dried chickpeas at Middle Eastern markets, natural-foods stores or even in large supermarkets, often located with other Middle Eastern ingredients or other legumes.
Substitutes: For best results, follow the recipe as is. However here are some common substitutes that would work well in this recipe.
Instead of using only chickpeas, you can add some soaked fava beans as well to the mixture. I don't recommend completely substituting with only fava beans though.
You can use only parsley or only cilantro if you prefer, but it's best made with both types of fresh herbs.
Equipment: I use the Kitchen Aid food processor to make the falafel mixture. The 11 cup bowl is large enough to fit half the recipe, and grinds the chickpeas very efficiently.
To shape the falafel patties, I use this falafel scoop.  It's stainless steel and works not only for falafel but also meatballs, patties, etc. It makes each patty about 1.5 inches in diameter.
Nutrition
Calories:
116
kcal
,
Carbohydrates:
15
g
,
Protein:
5
g
,
Fat:
5
g
,
Saturated Fat:
0.5
g
,
Polyunsaturated Fat:
3
g
,
Monounsaturated Fat:
1
g
,
Sodium:
419
mg
,
Potassium:
234
mg
,
Fiber:
4
g
,
Sugar:
3
g
,
Vitamin A:
259
IU
,
Vitamin C:
5
mg
,
Calcium:
48
mg
,
Iron:
2
mg
Nutrition information provided is an estimate. It will vary based on cooking method and specific ingredients used.