This post may contain affiliate links. Please read our disclosure policy.
Zaatar Manakeesh is a Mediterranean flatbread that is made with a simple dough recipe and topped with an olive-oil based zaatar spread. You've probably tried this at Lebanese restaurants, Mediterranean bakeries or if you're lucky, from a relative's kitchen! This zaatar bread is truly delicious!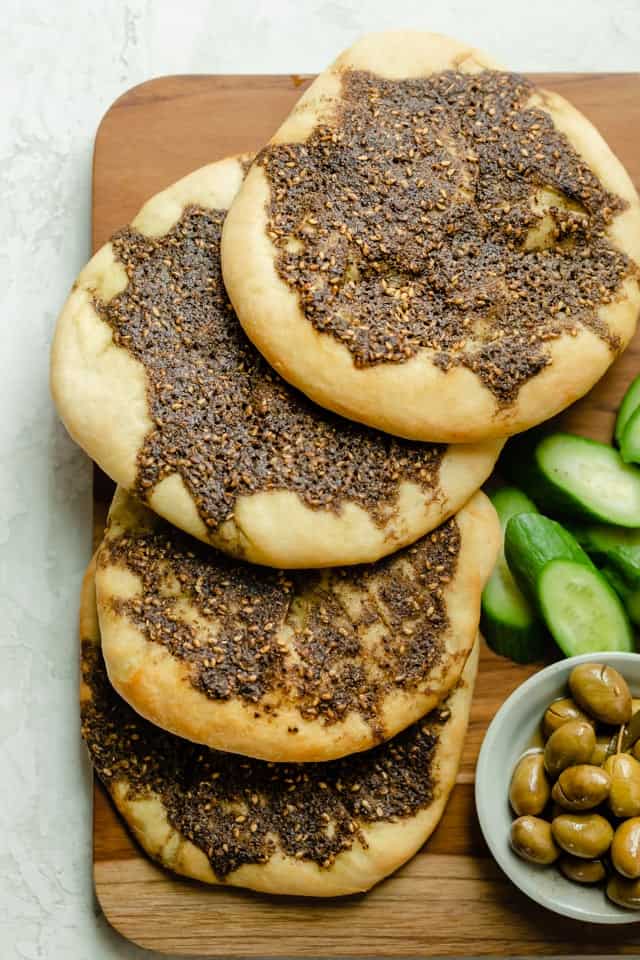 While it's often as cheap at $1 to buy one pie, I love the smell of freshly baked manakeesh from my own oven in the mornings. And I don't live by any bakeries that make it unfortunately. So, if you've ever thought it was difficult to make, I'm about to show you how easy it is!
What is zaatar
Zaatar is a middle eastern spice blend that's primarily made with sumac, thyme and sesame seeds. This is essentially what Lebanese zaatar is composed of, which is what I'm mostly familiar with.
In other regions in the Middle East, zaatar spice blends also include cumin, oregano and marjoram. While you can make zaatar on your own, I've actually never made it because it's easy to find it in Middle Eastern stores or health stores like Whole Foods or Sprouts. And I'm lucky to get it from my family in Lebanon.
What is manakeesh
Manakeesh (also known as manakish, manaeesh and manaqish; or manousheh in singular) is a Middle Eastern flatbread that is often served for breakfast or lunch. There are three popular types of manakish: this zaatar manakeesh that I'm sharing below, cheese manakeesh and lamb manakeesh. They're are all essentially the same base flatbread recipe but with different toppings.
To make manakeesh, you'll make dough similar to flatbread or pizza dough. Then you'll make smaller round pieces of bread that you'll press with your fingertips to make small dips in the dough for the topping of choice. The most popular of these Lebanese flatbreads is the zaatar bread. Just like pizza, you can slice or fold them when you eat.
Ingredients
Yeast: Use instant yeast to start to create the dough for a light and spongy texture. We activate it in warm water and add a little salt and sugar. You can use a temperature controlled kettle to get you the right temp, or warm in the microwave for just a few seconds.
Flour: Use all-purpose flour for the best results. If you have a gluten intolerance, you can use a 1:1 GF flour.
Oil: Oil helps to add moisture to the dough as well as being used in the zaatar spread. Olive oil is first choice, but a vegetable oil will work well.
Zaatar: The bread dough is spread with a mix of zaatar and olive oil for one delicious bite.
How to make zaatar manakeesh
Making the dough
Start by activating the yeast with warm water. Give it about 10 minutes and you'll notice the yeast slowly dissolving into the warm water to become integrated. Then add salt and sugar, mix and wait a few minutes.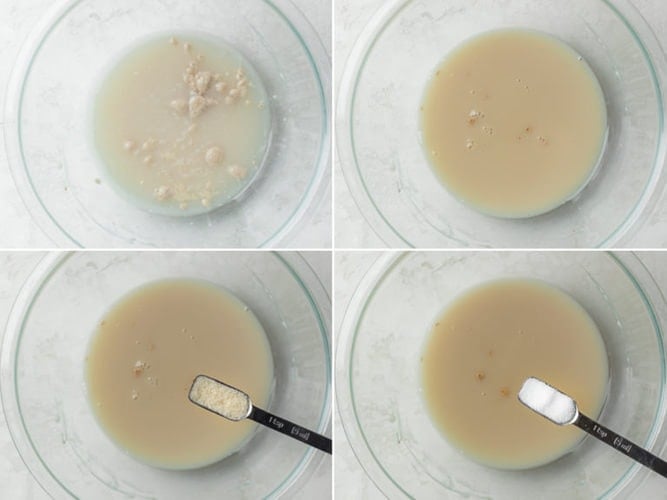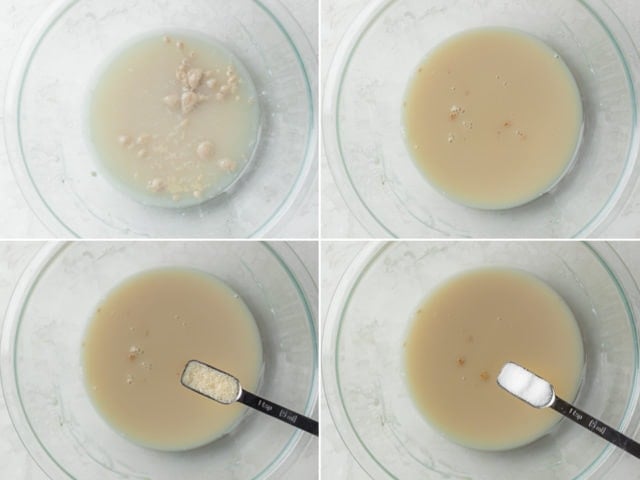 Next you'll add olive oil and mix to combine. You'll notice some beads of olive oil, but that's completely normal. Now you're ready to add the flour. Mix it in the bowl until it becomes shaggy and you can't mix with a wooden spoon anymore.
Then transfer to a flat floured surface and knead with your hands. This step will take a few minutes, but it's honestly so therapeutic that I don't mind it one bit. You're looking for a smooth surface dough ball with as little bumps as possible.
Finally, return the dough to the same bowl you used to mix the ingredients and add a little olive oil. Now's the waiting part. Cover the dough with a plastic wrap or towel to allow it to rise.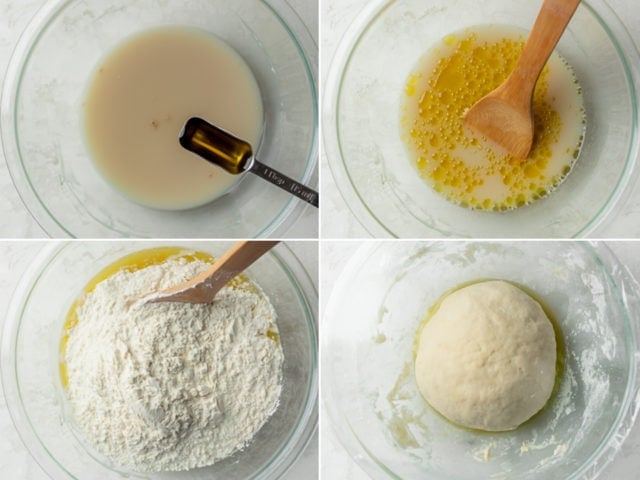 It will triple in size after 45-60 minutes. And that's when you're officially ready to make zaatar manakeesh.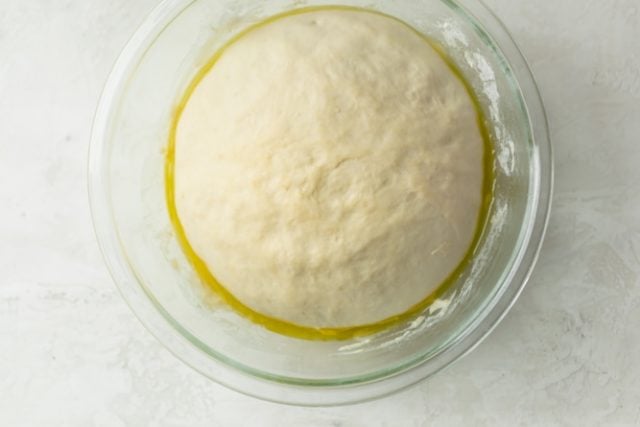 Making the zaatar spread
This is the easiest step of making zaatar manakeesh and only requires two ingredients: zaatar spice and extra virgin olive oil. You want to mix the two ingredients in a bowl until they form a spread similar to the consistency of pesto.
You don't want too much olive oil because then the spread will leak while baking. And you don't want too much zaatar where it looks like a paste because the taste becomes overpowering for the amount of flatbread it's spread on. A good ratio I found for a pound of dough is about ⅓ cup of zaatar to ¼ cup olive oil. You can also start pouring olive oil slowly over the zaatar, and find the consistency that works for you.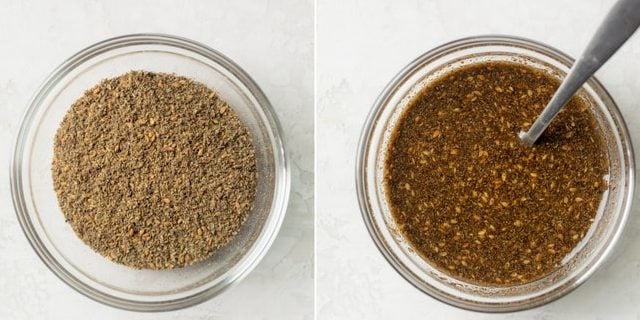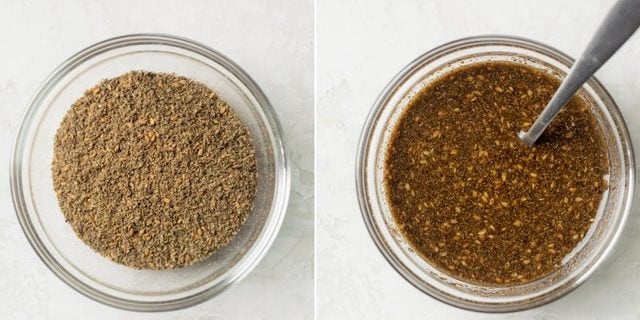 Assembling and baking the manakeesh
When the dough rises, you will to divide it into 6-8 equal parts. This makes large single serve portions that you can eat as a whole meal for breakfast or lunch. If you prefer to make smaller manakish to serve as an appetizer, you can even cut the dough into 12 equal parts. I think it's much faster to make larger ones, and you can always use a pizza cutter to cut each one into triangle slices.
Then you'll spread the zaatar mix on the round small flatbread. Spread in a circular motion evenly throughout the center of the dough, leaving the edges dry.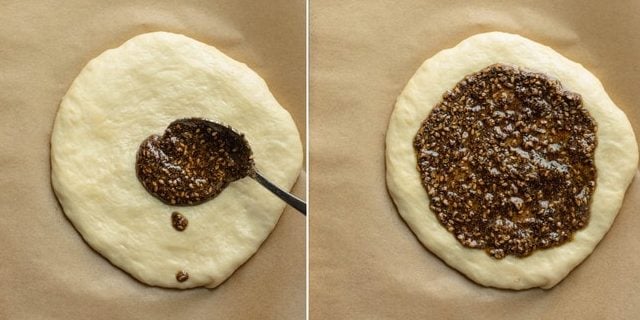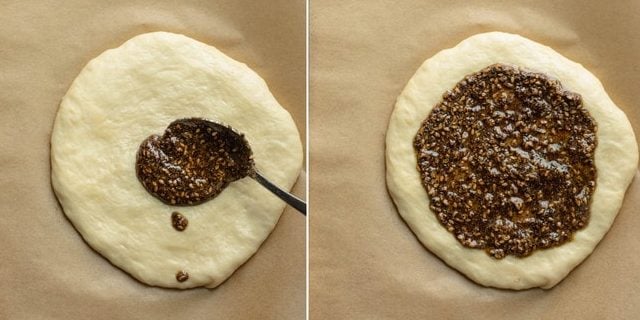 Bake them in a preheated oven until they're lightly golden on the edges and underneath. They will puff up and spread slightly while baking in the oven. The result is a chewy and crisp zaatar bread that is full of warm spices and amazing flavor.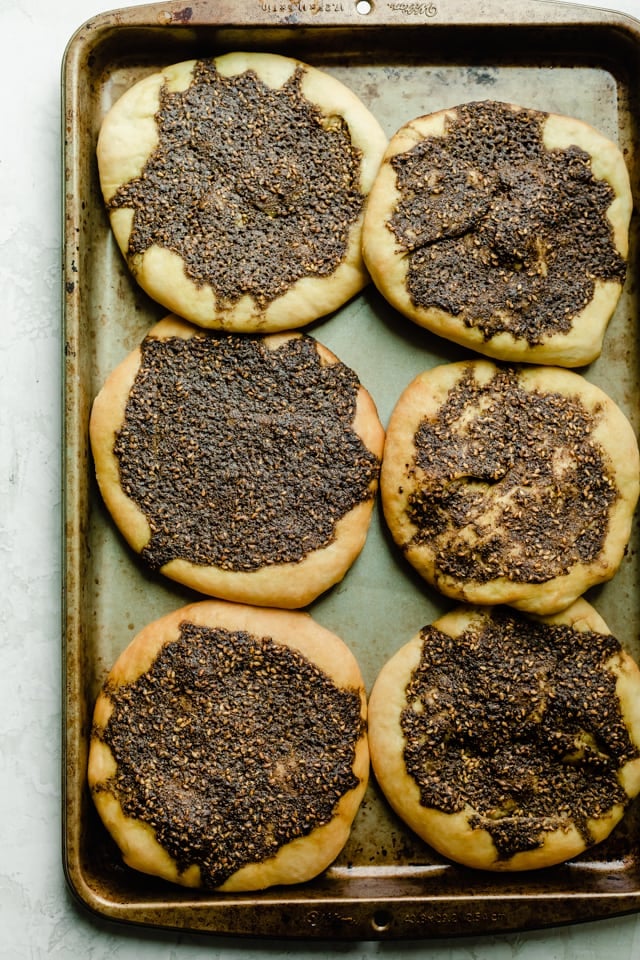 Tips To Make This Recipe
Use an instant yeast to make this zaatar bread quickly. Active yeast can also be used but it will take a little bit longer to activate.
Don't skip the rising time. The beauty of these flat breads is their light and fluffy texture. If you make them to soon, they will be tougher and chewier in texture.
Bake in a preheated oven. This allows them to cook evenly through. If you put them in a cold oven, the outsides will be cooked before the middles.
Enjoy them plain. These zaatar manakeesh are so delicious with the spread, but you can easily enjoy them plain if you prefer.
Frequently Asked Questions
How long do they keep?
Once cooled, place your zaatar manakeesh in an airtight contianer or wrap. They will keep at room temperature for 2 to 3 days, or up to a week in the fridge.
Can you freeze them?
You can freeze these once they are baked and cooled and will keep well for up to 3 months. You can thaw them in the fridge to reheat, or reheat in the oven from frozen at 350F til warmed through.
What do you serve it with?
Now that you have these delicious golden crusted zaatar bread, how should you serve them? Typically, you'll want to eat them for breakfast or brunch along with cheese like halloumi, akawi and especially labneh. We enjoy it as part of a savory warm breakfast with lots of fresh vegetables like tomatoes, cucumbers, green onions and olives, along with cheese and arabic tea.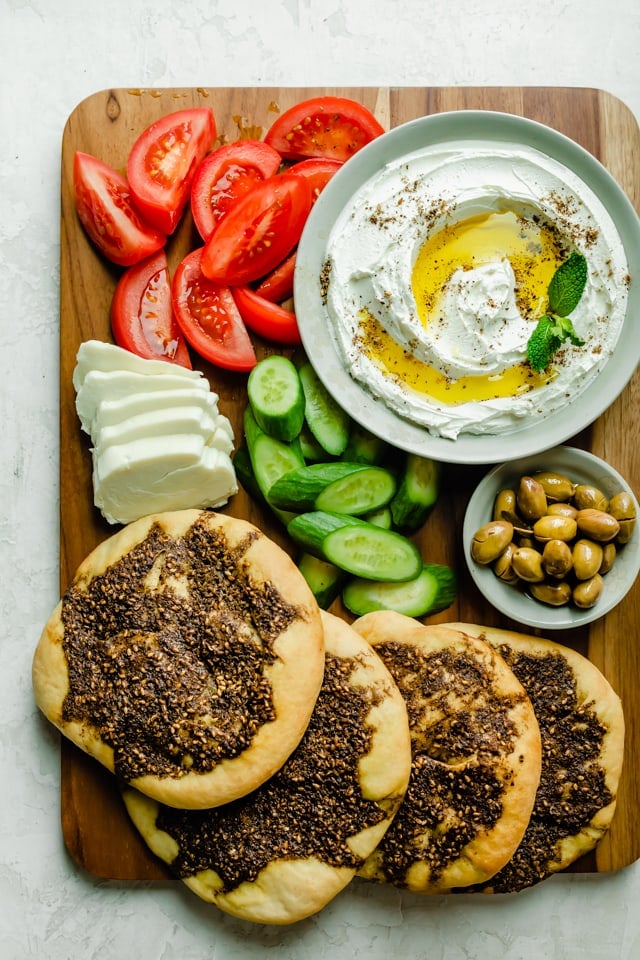 There really is nothing like some freshly baked manakeesh, and the zaatar spread really does wonders. Simple to make and so yummy!
For more mediterranean brunch recipes:
I love the simplicity, authenticity and deliciousness of this zaatar manakeesh recipe. If you're not fortunate to live next to Middle Eastern bakeries that churn out hundreds of these a day, you can still enjoy them with my homemade zaatar bread recipe. It's so easy to make the dough from scratch and the reward of having warm savory manakeesh for breakfast is so worth it!
If you've tried this healthy-ish feel good Zaatar Manakeesh recipe or any other recipe on FeelGoodFoodie, then don't forget to rate the recipe and leave me a comment below! I would love to hear about your experience making it. And if you snapped some shots of it, share it with me on Instagram so I can repost on my stories!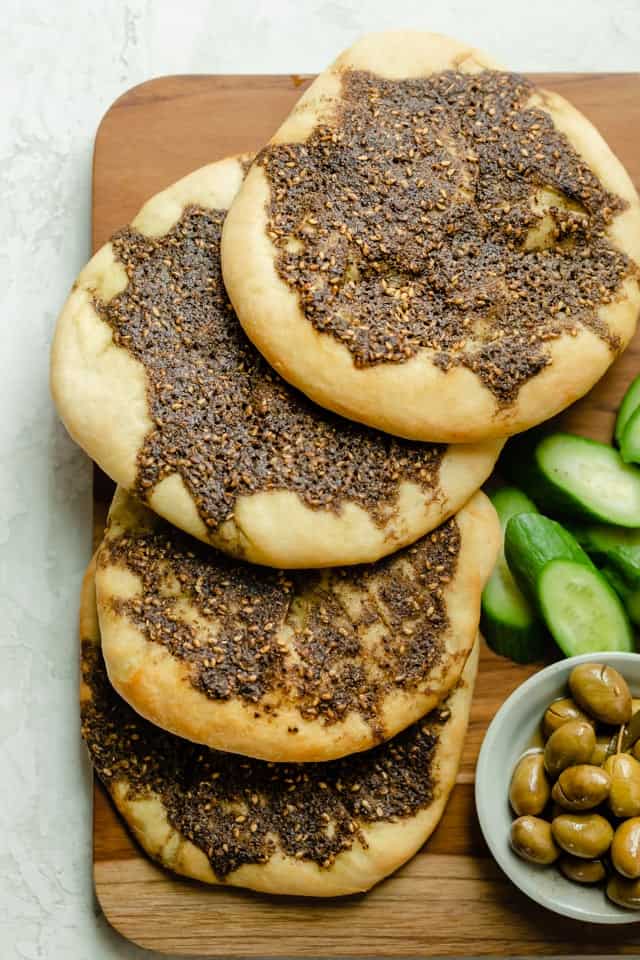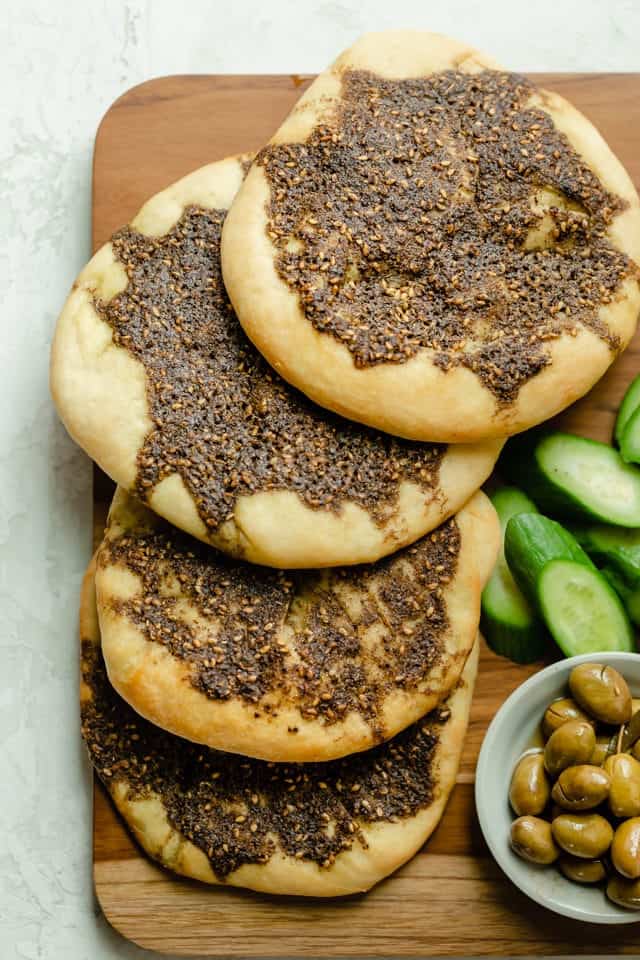 Zaatar Manakeesh
Zaatar Manakeesh is a Mediterranean flatbread that's made with dough and zaatar spice. It's an easy recipe to make from scratch using very few ingredients!
Instructions
Make the Dough
In a large bowl, activate the yeast in warm water; allow 10 minutes for it to proof.

Add the salt, sugar and olive oil to bowl and use a wooden spoon to mix until combined. Wait a few minutes, then add the flour into the wet ingredients and mix with a spoon until the dough becomes shaggy and you're no longer able to mix.

Transfer to a floured surface and knead the dough by hand to form a tight ball.

Place the dough back into the same oil-coated bowl. Cover with a plastic wrap or towel and set aside at room temperature to rise for 45-60 minutes.
Make the Zaatar Spread
Mix the zaatar with olive oil in small bowl until it forms a consistent and spreadable mixture.
Assemble and Bake
Preheat the oven to 450° F and line a baking sheet with parchment paper.

Divide the dough into 6-8 equal parts, depending on how large you'd like them. Use your fingers to spread each piece into a round flat disc, about ¼ inch thickness.

Place 1-2 tablespoons of zaatar spread on each dough and use the back of the spoon to spread evenly. Place on the prepared baking sheet.

Bake in the preheated oven for 10-12 minutes, until the dough becomes light golden in color and puffs slightly.

Enjoy warm with cheese and vegetables, if desired.
Notes
Storage: Store any leftovers in an airtight container. They will last about 7-10 days in the fridge. Freezing Instructions: You can also freeze the zaatar manakeesh after they're baked. To re-heat, thaw in the fridge overnight and then warm or toast when ready to eat. Or you can also bake them while frozen at 350°F until heated through, about 5-10 minutes. Sourcing: You can find the zaatar spice at Middle Eastern markets, natural-foods stores or even in large supermarkets, often located with other Middle Eastern ingredients. Substitutes: For best results, follow the recipe as is. If you have any questions about substitutes, please feel free to ask in the comments below. * Please note the nutrition label does not include any toppings.
Nutrition
Calories:
353
kcal
,
Carbohydrates:
48
g
,
Protein:
6
g
,
Fat:
14
g
,
Saturated Fat:
1
g
,
Sodium:
389
mg
,
Potassium:
73
mg
,
Fiber:
1
g
,
Calcium:
9
mg
,
Iron:
3
mg
Nutrition information provided is an estimate. It will vary based on cooking method and specific ingredients used.