This post may contain affiliate links. Please read our disclosure policy.
These Halloumi Fries make for a great appetizer or finger food to serve guests. Easy to make and super fun to eat! My fries are baked in the oven for maximum crunch and a healthier version of the fried cheese sticks you get at restaurants. Serve it with a marinara sauce for dipping. It's the perfect vegetarian finger food for entertaining.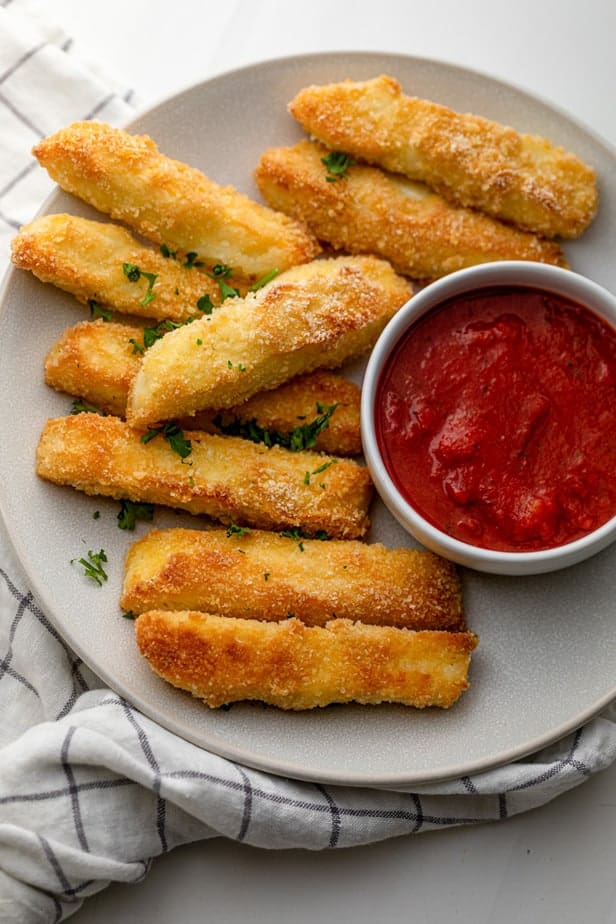 When it comes to entertaining, a cheesy finger food is never a bad idea! These halloumi fries (or halloumi sticks) are crispy and full of flavor for an addictive bite, I promise you, you won't stop at one! Serve it up with marinara or ranch, and you are in for a real treat!
What is halloumi?
It's basically a white firm cheese made from sheep's milk. It has a salty taste (which usually fades when cooked) and a rubbery texture, and it's often referred to as the "grilling cheese" because it doesn't melt when grilled! I grew up eating halloumi and love seeing it become more mainstream nowadays.
It has a unique flavor and texture.
It doesn't melt, making it so versatile for recipes.
And it adds a meaty texture to otherwise plain salads or meals.
How to make halloumi fries
This recipe is inspired by traditional mozzarella sticks, but with a mediterranean twist by using halloumi cheese instead of mozzarella cheese. To make the halloumi fries, just set up a dredging station of flour, egg wash and panko bread crumbs.
Next, cut the halloumi cheese block into long rectangular shapes to mimic fries. Now, dip the halloumi in the flour, then the egg wash, and finally the panko breadcrumbs.
Set them on a tray lined with parchment paper. They will spread a tiny bit but definitely won't ooze out so don't worry about using a super large tray. Then bake in the oven until the halloumi fries are golden and crispy.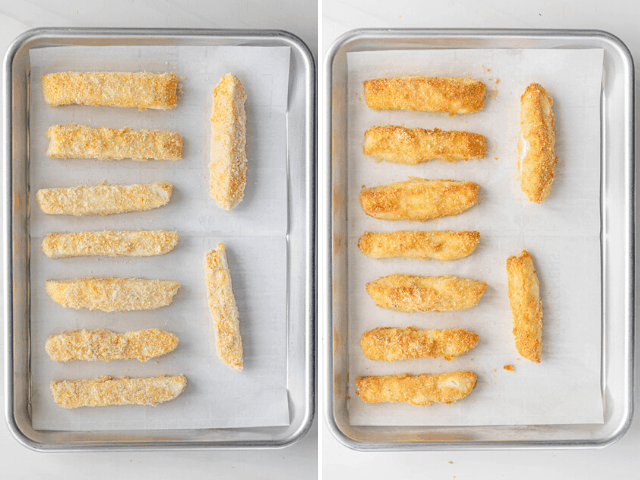 You can eat these halloumi fries alone, but they're even better with some type of sauce, marinara, ranch or even garlic sauce.
Tips for making halloumi fries
Keep one hand wet and one dry when you are dredging the halloumi so that you don't get into a sticky mess.
Don't let the fries touch when you place them on the baking sheet or they won't get as crispy. Although they won't spread, the distance helps avoid unnecessary steam nearby so the panko becomes crisp on the outside.
Make it gluten-free by coating in almond flour instead of all-purpose flour. I haven't tried other flour substitutes aside from almond flour. But you should be able also use an general gluten-free flour substitute.
Use paneer or other firm white cheese if you can't find halloumi. The beauty of halloumi is its non melting aspect, but you may be able to fin other similar cheese like paneer to use.
Frequently asked questions
How many calories are in halloumi fries?
This recipe makes nine servings, and each serving, is about 125 calories so they make a great party food. They aren't exactly a health food, but they are delicious and cheesy and perfect for a treat!
Can you make halloumi fries ahead of time?
These fries are best served straight out of the oven so that they are super crispy and the cheese is perfectly soft. You can dredge the cheese ahead of time though, place them on the baking tray and keep the covered in the fridge and then pop them in the oven when you are ready to serve.
Can you eat halloumi fries cold?
If you do have any leftovers, you can keep them in the fridge in an airtight container for two or three days. To have them cold, I prefer to chop them up and add to a salad – YUM!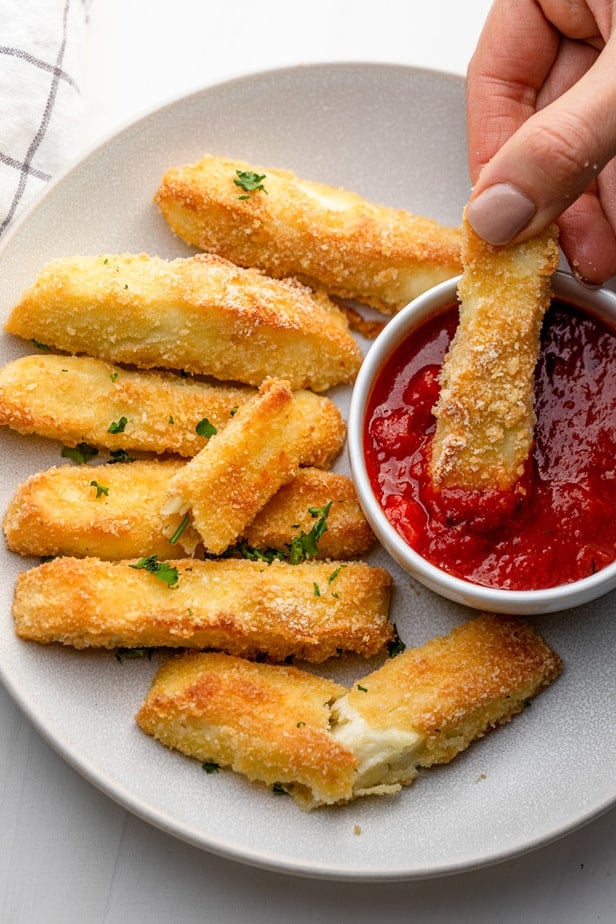 There's so many fun recipes using halloumi. After you finish making these fries, head over the my Zaatar Spring Rolls – they are basically spring roll wraps stuffed with halloumi cheese and then rolled in zaatar. My family is obsessed with them and pretty much anything that has the word halloumi in it.
More fries recipes
If you make this healthy-ish feelgood Halloumi Fries recipe, please be sure to leave a comment and/or give this recipe a rating! I would love to hear about your experience making it. And if you snapped some shots of it, share it with me on Instagram so I can repost on my stories!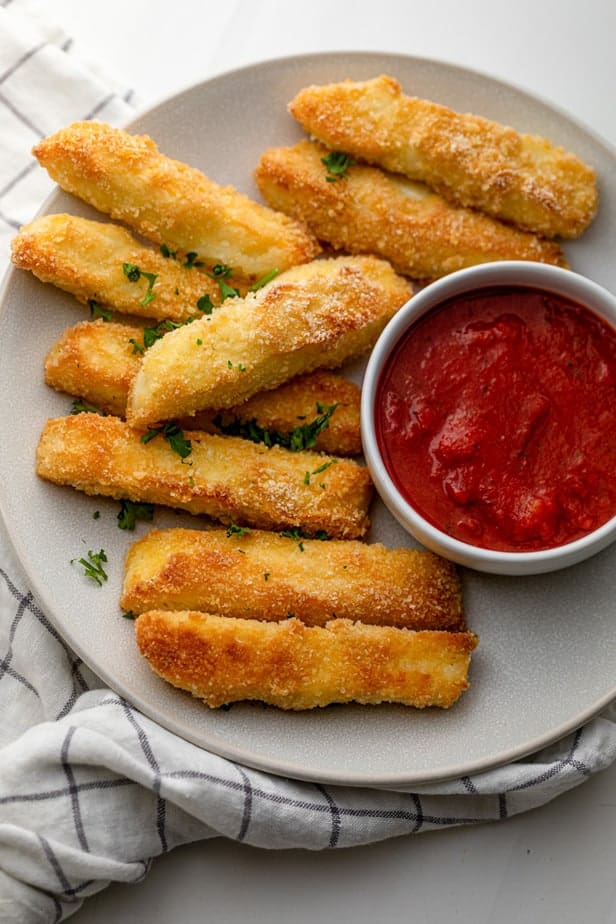 Halloumi Fries
These halloumi fries are Middle Eastern style mozzarella sticks made with only 4 ingredients – flour, eggs, panko and non-melting halloumi!
Instructions
Preheat the oven to 350°F and line a baking sheet with parchment paper.

Place the flour in one small bowl, the eggs in another bowl and the panko breadcrumbs in a third bowl.

Dredge the halloumi sticks in the flour, shake off excess, then into the eggs, and finally into the panko breadcrumbs

Place the halloumi sticks on the prepared baking sheet and bake until the panko breadcrumbs become golden, about 20-25 minutes.
Notes
Storage: If you do have any leftovers, you can keep them in the fridge in an airtight container for two or three days. Sourcing: You can find the halloumi cheese in the dairy section of health stores or Middle Eastern grocery stories. It's slowly starting to become more popular in major grocery stories as well.
Nutrition
Calories:
126
kcal
,
Carbohydrates:
6
g
,
Protein:
8
g
,
Fat:
8
g
,
Saturated Fat:
5
g
,
Cholesterol:
18
mg
,
Sodium:
372
mg
,
Potassium:
18
mg
,
Fiber:
1
g
,
Sugar:
1
g
,
Vitamin A:
26
IU
,
Calcium:
292
mg
,
Iron:
1
mg
Nutrition information provided is an estimate. It will vary based on cooking method and specific ingredients used.