This post may contain affiliate links. Please read our disclosure policy.
I first discovered rutabaga at the farmers market in Florida and I read about it and learned how to roast it like french fries. When I first made this recipe everyone was amazed at how the shape and consistency of the cut rutabaga was just like that of a potato! Honestly I was amazed too. And although these rutabaga fries can't replace potato fries, they're a wonderful substitute with way less carbs!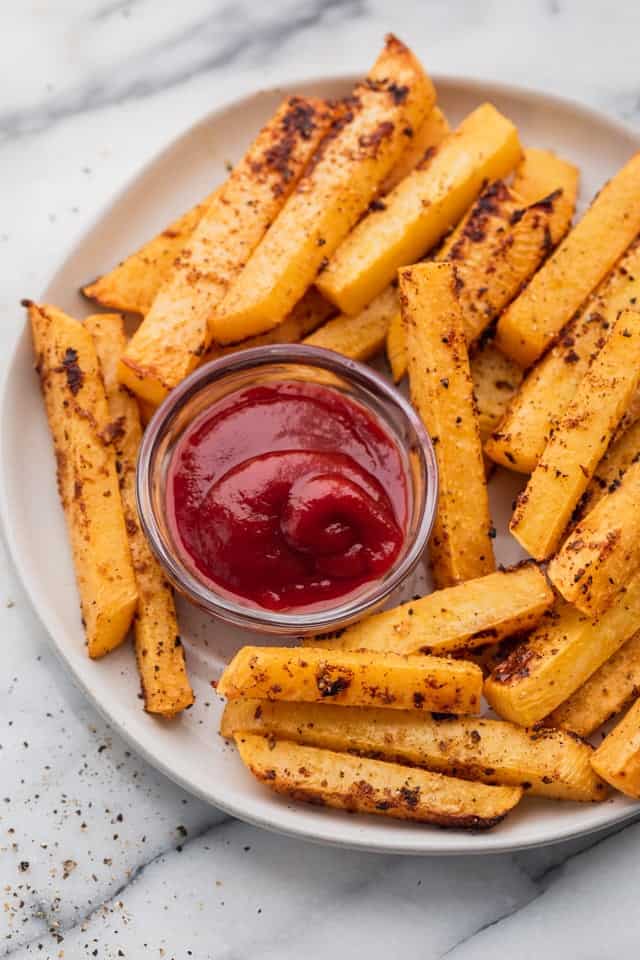 What is rutabaga?
Rutabaga is a root vegetable that is a cross between a cabbage and a turnip. It looks similar to a turnip but there are some slight differences. Rutabaga is larger in size than turnips, their color is more yellow-ish/brown-ish instead of white and purple, and they actually taste sweeter than turnips. That's a good thing since turnips can be somewhat bitter.
They are usually in season between October and March. So you know they're perfect to add to autumn and winter recipes. Are rutabagas better than potatoes? That depends because each vegetable has unique health benefits and nutrients.
However if you're looking at it from a weight loss perspective, rutabagas are lower in both calories and carbs. A 1-cup serving of boiled cubed rutabaga has 51 calories and 12 grams of carbs, compared to 136 calories and 31 grams of carbs in the same amount of potatoes. For that reason, I would highly recommend introducing rutabaga to your diet if you're looking for low carb options.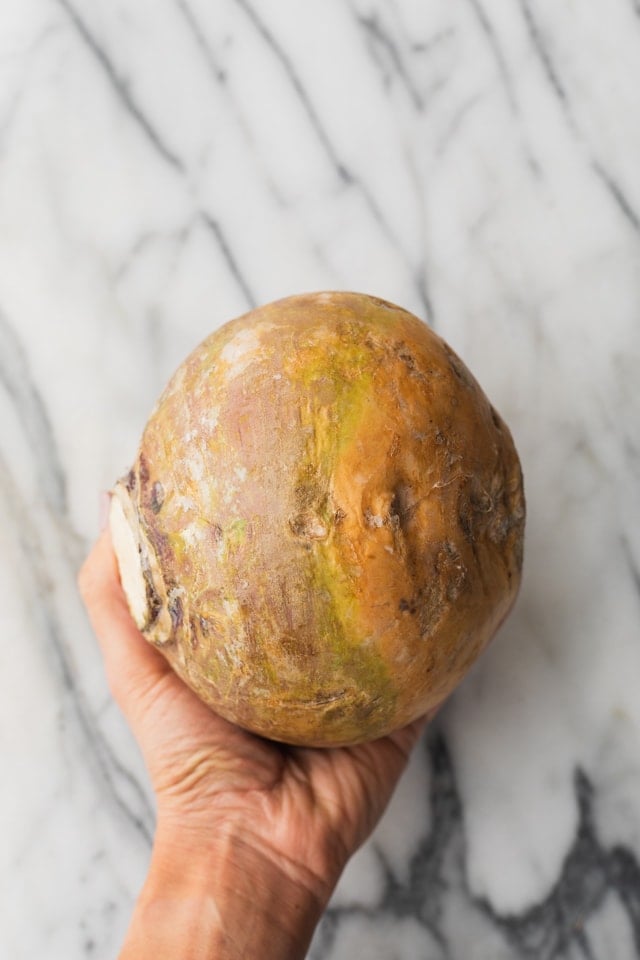 How to cut rutabaga?
Don't be intimidated by this giant under-served unpopular root vegetable. Not only does it have great health benefits and a great taste, but it's also quite easy to cut and prepare.
Step 1: Place the rutabaga on a cutting board and use a sharp knife to cut it vertically down the middle through the stalk. This creates two equal halves that can rest flat on the cutting board and make it easier to continue prepping.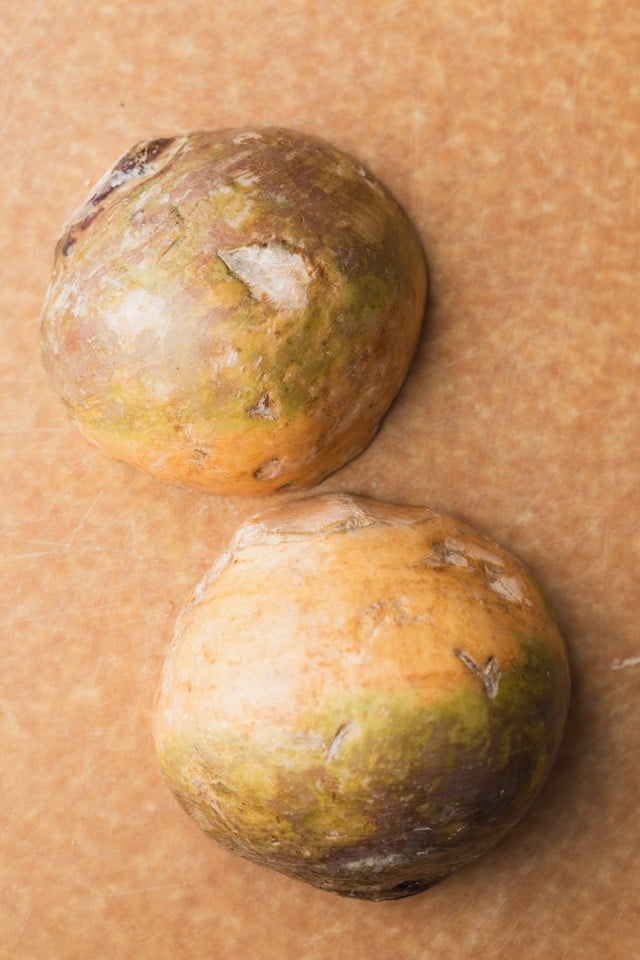 Step 2: With each rutabaga half on its flat side, slice each half into semi-circles. You can cut them into ½ inch thickness. And you'll notice that the end pieces usually have rough skin, so you can discard those.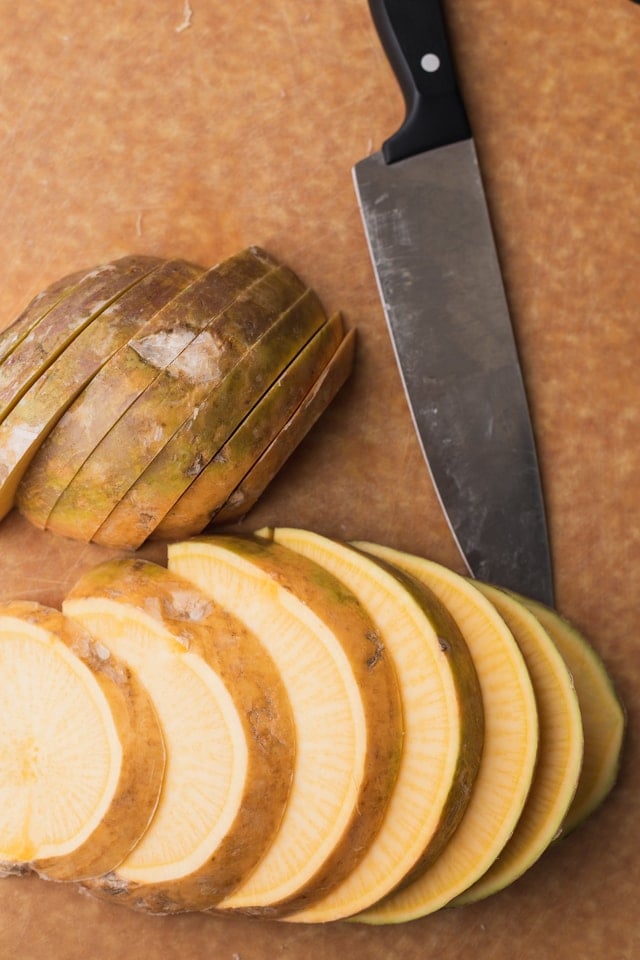 Step 3: Remove the outer skin of the semi-circle pieces using a small knife. You'll find that since the outer peel is usually waxed to keep it fresh in grocery stores, it's very easy to peel the skin. You can use a paring knife or a small vegetable peeler.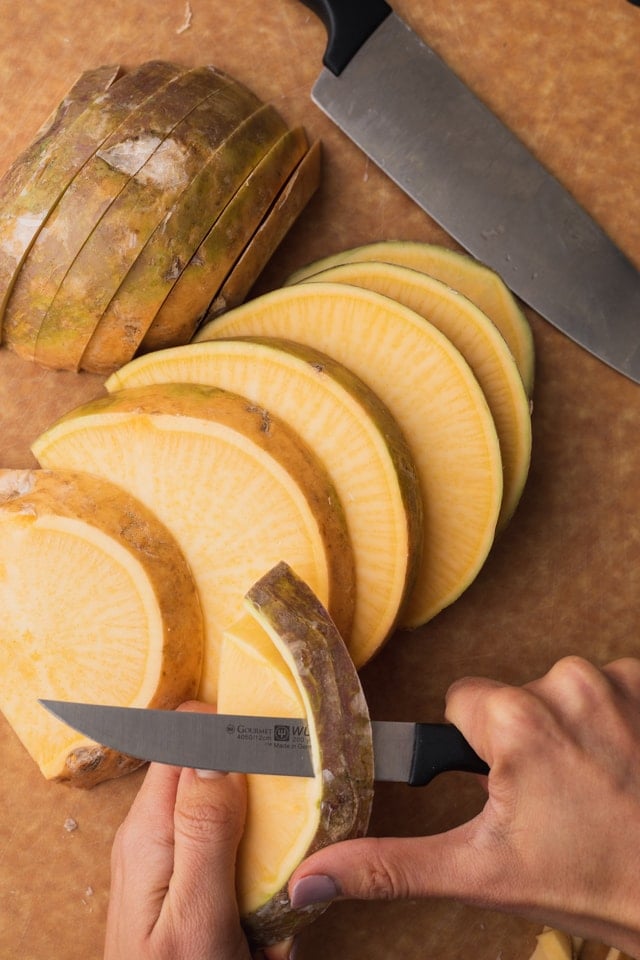 Step 4: Now that you've removed the skin, lay the pieces on a cutting board and slice them into spears or sticks to mimic the shape of french fries. The image on the right shows what two semi circles look like when cut. And now you're ready to bake them!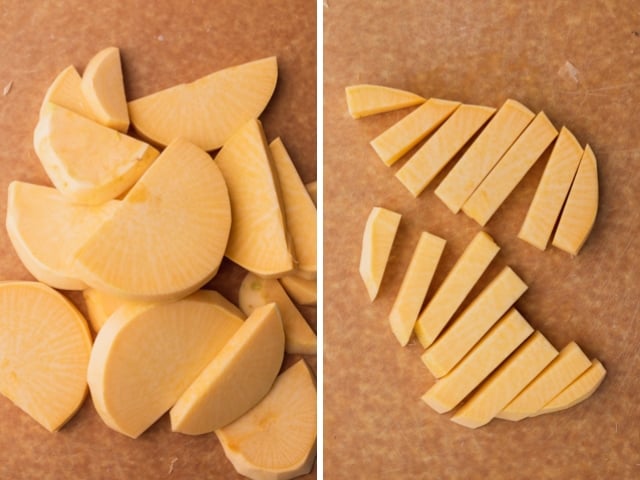 How to cook rutabaga
There are so rutabaga recipes and ways to prepare them, just like potatoes. The most common ways are boiling them and roasting them. We're going to go over how to roast them today. Once the rutabaga fries are cut, you can season them how you'd like. You can go simple with salt and pepper or jazz it up with whatever seasoning you like. I use salt, pepper, paprika and garlic powder, which is my favorite combination for potato fries too!
Then drizzle some olive oil all over the fries and rub them together so they're all well coated by the oil and seasoning. When it comes to baking, I would recommend using two or even three baking dishes depending on the size of the rutabaga you started with.
You want to line up the rutabaga spears with enough room between them so they're not touching. This helps to create a more crispy factor so the rutabaga fries don't turn out mushy.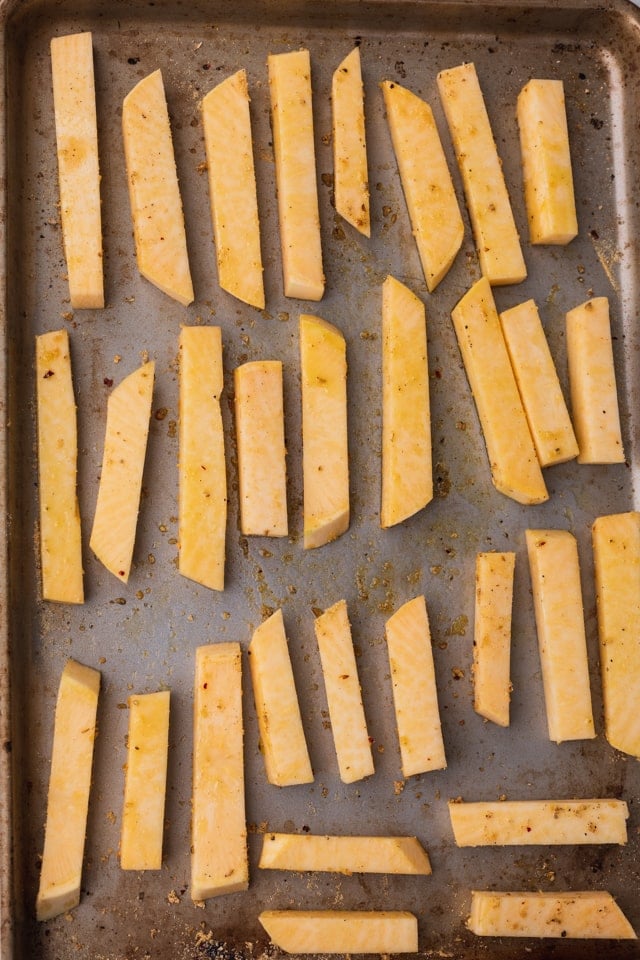 Once they come out of the oven, you'll notice their yellowish color is actually richer and darker, and they truly look like french fries! With the right seasoning and enough crisp factor, you can really fool a lot of people. Plus the calorie and carb comparison to potatoes makes them feel like a sneaky indulgence. This is a great ketogenic recipe that helps you stay on track with your macros and keep carbs under control if you're monitoring that.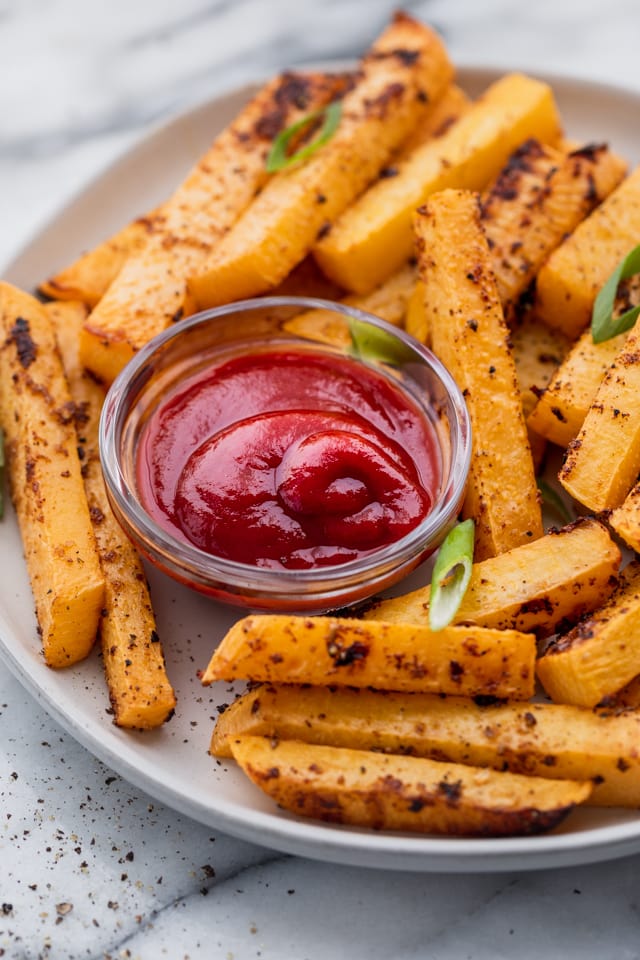 More low-carb fries recipes
Even if you don't care about carbs, calories or macros, I still urge you to try out rutabaga sometime. Roast them in the oven with your favoriting seasoning. That will make these rutabaga fries a great way for you try this less popular root vegetable. And it's one of the most popular rutabaga recipes out there. I hope you give it a try and share your experience with me!
If you've tried this healthy-ish feelgood Rutabaga Fries recipe or any other recipe on FeelGoodFoodie, then don't forget to rate the recipe and leave me a comment below! I would love to hear about your experience making it. And if you snapped some shots of it, share it with me on Instagram so I can repost on my stories!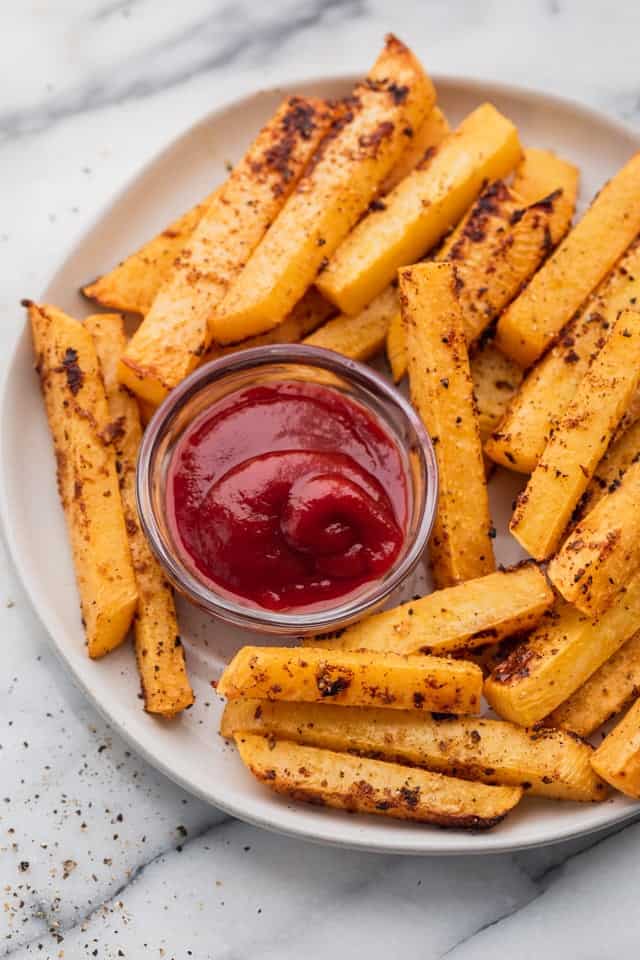 Rutabaga Fries
Rutabaga is an under-served root vegetable that can be cut up, seasoned and oven-baked to make this keto friendly low carb low calorie Rutabaga Fries recipe
Instructions
Pre-heat oven to 425°F. Line a baking sheet with parchment paper.

Combine rutabaga spears with oil and spices, and toss until evenly coated.

Lay rutabaga spears onto a baking sheet, leaving space between

Bake for 30 minutes, flipping the rutabaga spears halfway through; they should be cooked through and crisped on the outside
Notes
Storage: Store any leftovers in an airtight container. They will last about 3-4 days in the fridge. To reheat, I would recommend popping them in the toaster oven or regular oven so they can crisp up again. Freezing Instructions: You can freeze them for up to 6 months. I would recommend blanching them before freezing them. Then you can cook them straight from frozen either by roasting them or boiling them. Make Ahead Tips: You can wash, peel and cut the rutabaga vegetable up to 2 days in advance. Store it in the fridge in some water until you're ready to use. Then just drain and dab with a paper towel until dry. Nutrition: Please note that the nutrition label provided is an estimate only. It will vary based on the specific ingredients used.
Nutrition
Calories:
102
kcal
,
Carbohydrates:
9
g
,
Protein:
1
g
,
Fat:
7
g
,
Saturated Fat:
1
g
,
Sodium:
12
mg
,
Potassium:
326
mg
,
Fiber:
2
g
,
Sugar:
4
g
,
Vitamin A:
490
IU
,
Vitamin C:
24.1
mg
,
Calcium:
42
mg
,
Iron:
0.6
mg