This post may contain affiliate links. Please read our disclosure policy.
Mediterranean couscous salad is a light, healthy and simple salad that's perfect for summer barbecues, potlucks and picnics. You can throw it together with either type of couscous and add popular Mediterranean add-ins like tomatoes, cucumbers, pine nuts and feta cheese. It's packed with protein and has a bright lemony taste that will leave you feeling fresh and fabulous.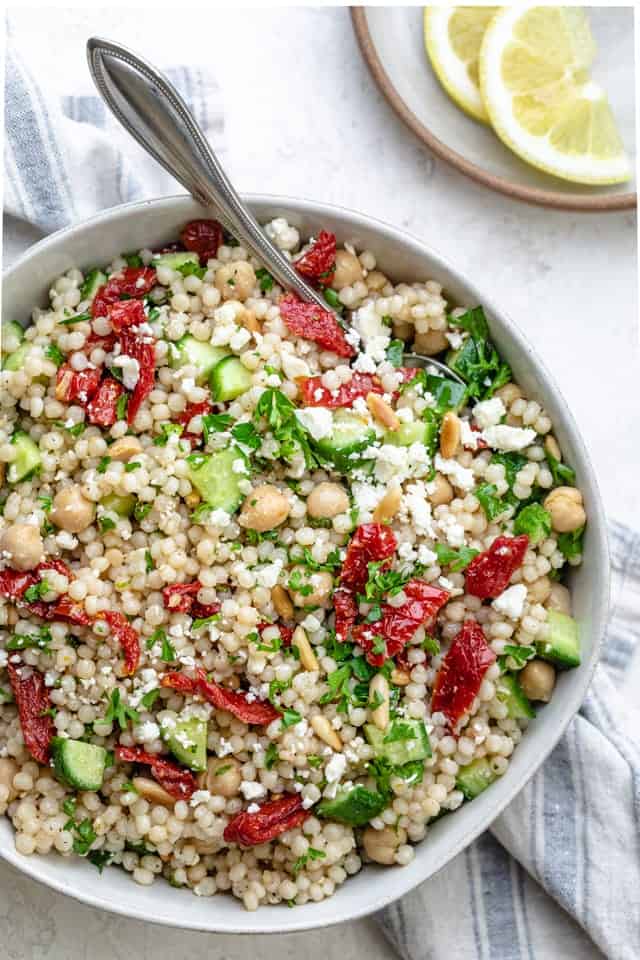 What is couscous?
Is it the same thing as pasta?
Yes, couscous is basically tiny ground pasta. It's made from crushed durum wheat semolina flour that's dried and toasted into small spheres. It's much smaller compared to traditional Italian pasta, and has a naturally nutty flavor from the toasting process. Couscous is very popular in the Middle East, so I grew up eating more couscous than pasta. And now, I love incorporating it into recipes like this Mediterranean couscous salad. You can easily use it in the place of rice or pasta in a lot of recipes.
What's the difference between regular couscous and Israeli couscous?
The difference comes down to size and texture. While regular couscous is small, Israeli couscous looks like small pearls. Regular couscous is pre-steamed and softer. So you only have to soak it in water before consuming. However, pearl couscous is only toasted, so it needs to be cooked like pasta.
How do you cook couscous?
You'll generally find pre-steamed regular couscous in grocery stores. You just have to let is sit in hot water for a few minutes to absorb the liquid. Then you can fluff with a fork, and use in the recipe. Just follow the package directions for the amount of water to use and the time to set the couscous in the water.
For pearl couscous however, cook it like pasta by letting it boil in hot water and then draining out the liquid. Alternatively, I find it quicker to cook it like rice (but shorter). I add about 1 ¼ cup of water for every cup of couscous and the liquid will absorb in 8-10 minutes without the need to strain it.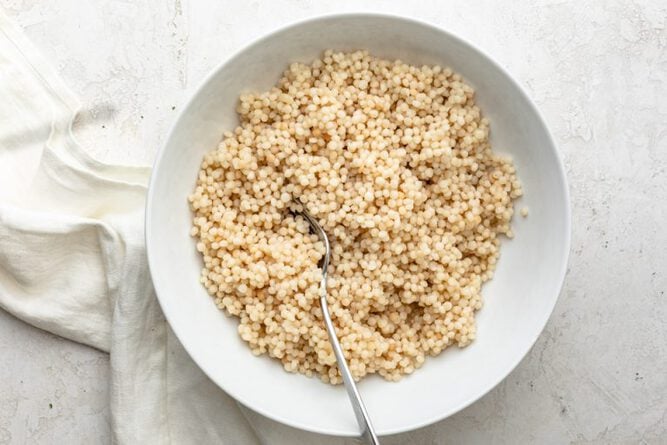 Ingredients for Mediterranean couscous salad
Salad ingredients
Couscous: This is the base for the recipe. I like using the pearl couscous, but you can also use regular.
Chickpeas: Since this is a vegetarian recipe, the chickpeas add a great source of plant-based protein, and complement the nutty flavor of the couscous.
Vegetables: I use cucumbers and sun-dried tomatoes only. But you can also use fresh tomatoes, red peppers, green peppers, red onions and olives. I've seen some this done with raisins at restaurants.
Feta cheese: It's a must in a Mediterranean salad! And the saltiness of the feta cheese is a great balance with the sweet sun-dried tomatoes.
Herbs: Fresh parsley and mint are perfect for this salad. You can also use cilantro, dill and/or basil.
Pine nuts: Add pine nuts to this couscous salad for a great crunch and nutty flavor. You can substitute with almonds, walnuts, macadamia nuts or leave out.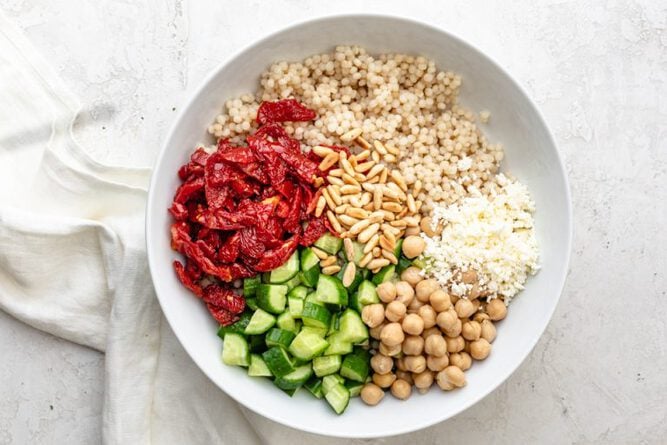 Dressing ingredients
The dressing is basically 4 pantry items plus salt and pepper. Make sure to whisk it together in a bowl to emulsify it and really infuse the flavor, as opposed to just adding the ingredients individually on top of the dressing. It makes a difference in the taste and in how much you'll need to coat the salad.
Olive oil: Go with extra virgin olive oil whenever you're making a salad. You'll taste the difference!
Lemon juice: This is what gives the dressing the fresh citrus flavor. Opt for freshly squeezed lemon juice.
Dijon mustard: It's my favorite emulsifier because it allows two liquids that don't normally blend, like oil and vinegar, to properly blend and become homogenized. Plus it adds a rich flavor to dressings.
Garlic: Use fresh, and a little goes a long way!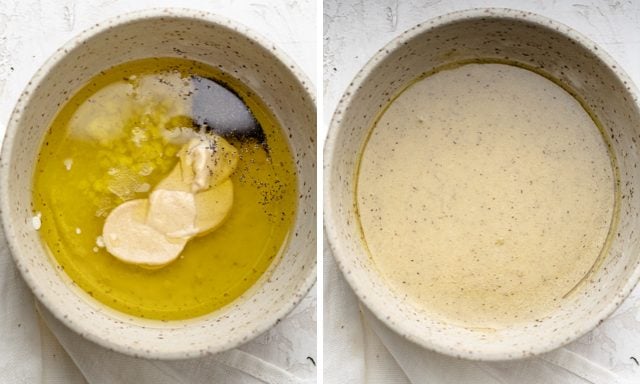 Pour the dressing over the couscous salad, and gently give everything a toss to combine the flavors.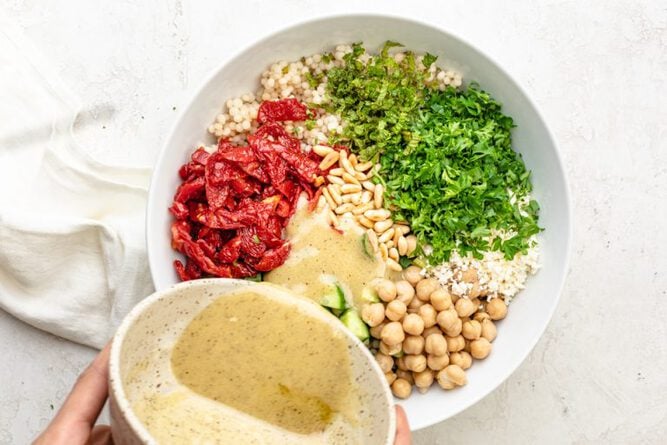 You can enjoy the salad as is at room temperature or you can cool in the fridge for at least one hour. The salad keeps well in the fridge for up to 5 days, especially if you don't use any delicate vegetables like tomatoes.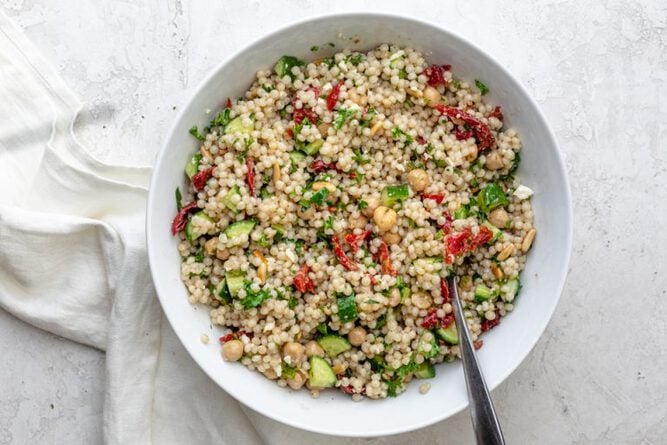 Tips for making Mediterranean couscous salad:
Toast the couscous before cooking it. If you have time, try to toast the couscous with olive oil or butter before adding the boiling water. It makes the taste more nutty.
Cook the couscous al dente. Just like cooking pasta to use in salads, you want to cook the couscous al dente when using in a salad so it doesn't turn too soft and mushy.
Flavor the couscous while cooking it. You can do this by adding some olive oil or butter after you toast it, or you can use vegetable broth or chicken broth instead of water. You can also add some dry seasoning when you toast it, like garlic powder, cumin or coriander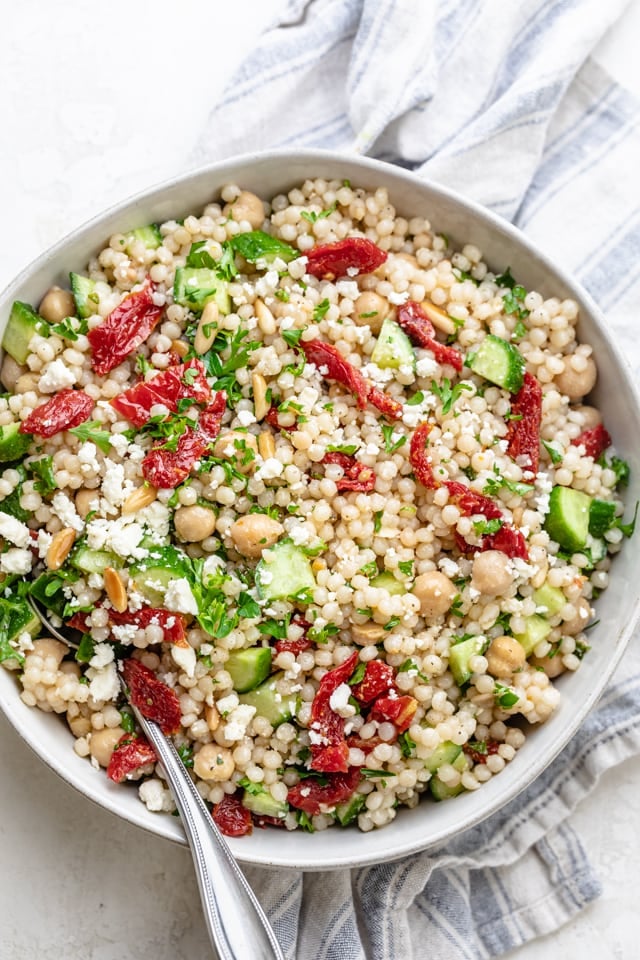 For more couscous recipes:
For more Mediterranean recipes: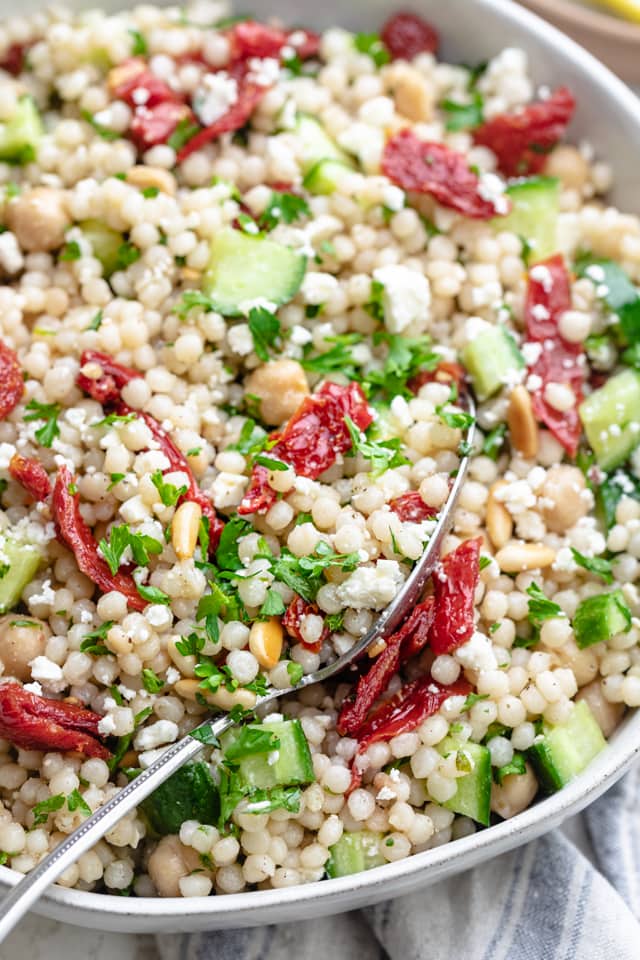 This Mediterranean couscous salad is a healthy appetizer or side dish to incorporate into your meals this summer. It can even work as a lunch or dinner salad since its packed with chickpeas, which is a great source of plant-based protein. It's a light salad that comes together in 15 minutes, and works well for meal prepping or make-ahead lunches. Switch up the vegetables, add lots of fresh herbs and enjoy the fresh bright taste!
If you've tried this healthy-ish feel good Mediterranean Couscous Salad recipe or any other recipe on FeelGoodFoodie, then don't forget to rate the recipe and leave me a comment below! I would love to hear about your experience making it. And if you snapped some shots of it, share it with me on Instagram so I can repost on my stories!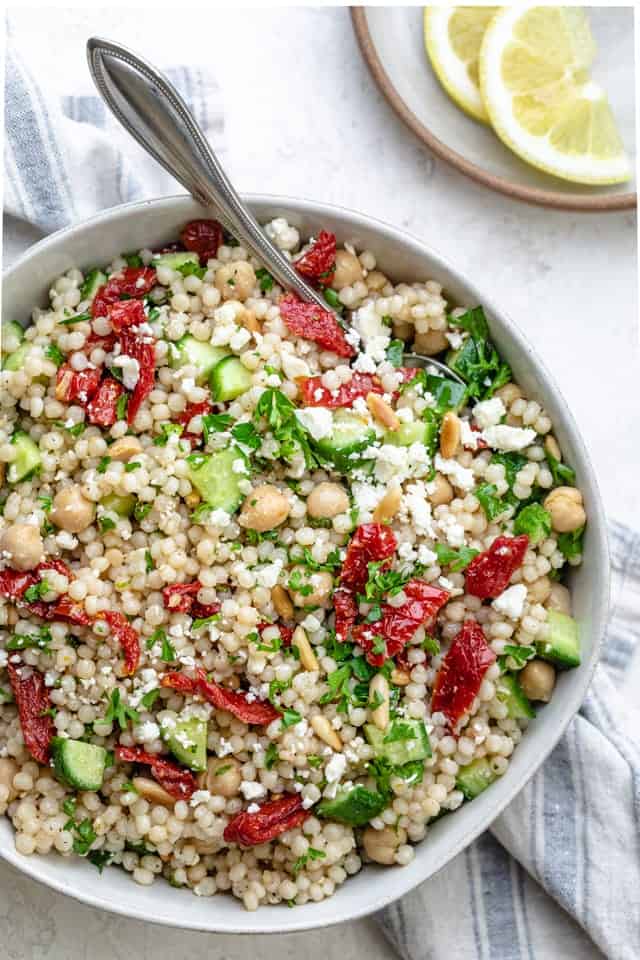 Mediterranean Couscous Salad
Mediterranean Couscous Salad is a fresh and healthy vegetarian summer recipe that is loaded with protein from the chickpeas and full of colorful vegetables.
Ingredients
Salad
1 ½

cup

pearl couscous

2

cucumbers

Persian, diced

½

cup

sun-dried tomatoes

diced or julienned

½

cup

can chickpeas

rinsed/drained

2

tablespoons

feta cheese

crumbled

2

tablespoons

pine nuts

toasted

¼

cup

parsley

chopped

2

tablespoons

mint

chopped
Instructions
Bring a large saucepan of 2 cups salted water to boil. Add couscous, stir, cover and reduce the heat to medium. Cook until all the liquid is absorbed, about 8-10 minutes. Fluff with a fork and transfer to a large shallow bowl to cool.

Prepare the dressing for the salad by whisking together the extra virgin olive oil, lemon juice, garlic clove and Dijon mustard. Stir to combine, then pour over the cooled couscous.

Add the cucumbers, tomatoes, chickpeas, feta cheese, pine nuts, parsley and mint on top, and toss gently to combine.

Enjoy at room temperature, or cover and refrigerate until cool, about 1 hour.
Notes
Storage: Store any leftovers in an airtight container. They will last about up to 5 days in the fridge. If you're using tomatoes though, they may soften by the 5th day. Make Ahead Tips: You can make the dressing up to 3 weeks in advance and double or triple the recipe to have it on hand for other salads or even as a marinade. Sourcing: You can find the pearl couscous at Middle Eastern markets, natural-foods stores or even in large supermarkets, often located with other Middle Eastern ingredients or with other grains like quinoa. Substitutes: For best results, follow the recipe as is. However the salad itself is very adaptable so feel free to add or change any of the ingredients. If you can't find Israeli Couscous, you can substitute regular couscous or with a small pasta shape like orzo.
Nutrition
Calories:
330
kcal
,
Carbohydrates:
44
g
,
Protein:
10
g
,
Fat:
14
g
,
Saturated Fat:
2
g
,
Cholesterol:
5
mg
,
Sodium:
336
mg
,
Potassium:
584
mg
,
Fiber:
5
g
,
Sugar:
5
g
,
Vitamin A:
457
IU
,
Vitamin C:
13
mg
,
Calcium:
75
mg
,
Iron:
2
mg
Nutrition information provided is an estimate. It will vary based on cooking method and specific ingredients used.