This post may contain affiliate links. Please read our disclosure policy.
This traditional Lebanese Tabbouleh (or tabouli) Salad is a healthy vegan Mediterranean appetizer made with bulgur, parsley, mint and chopped vegetables. Easy to make with just a handful of ingredients, this fresh salad is a real treat for the tastebuds!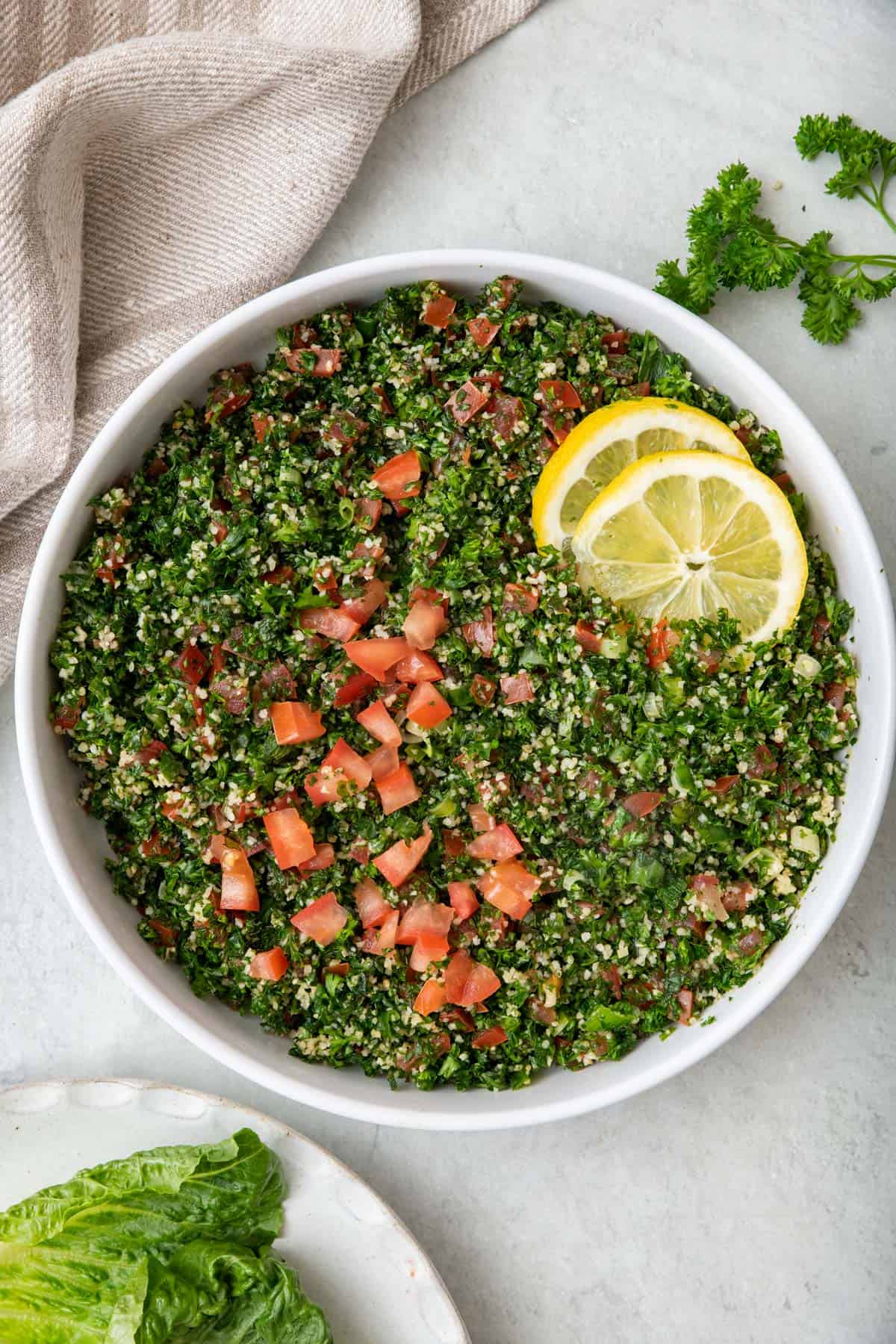 Table of Contents
You say tabouli salad, I say tabbouleh salad. Who actually knows the real way to spell it in English haha! But anyone who's tried Tabbouleh Salad knows what a fresh, delightful and tasty salad it is! Along with fattoush salad, it's the top salad served in Lebanon, where my parents are from. So, as you can imagine, I've grown up eating a lot of tabbouleh in my life. And I've grown to learn how to make the best tabbouleh recipe!
What is tabbouleh salad?
Tabbouleh is basically parsley salad. There's technically no lettuce in it. It's a salad made up of parsley, tomatoes, bulgur wheat, and green onions – all finely chopped and tossed with olive oil and lemon juice!
Tabbouleh salad (tabouli salad) is probably the most popular Mediterranean salad, and is becoming mainstream in American grocery stores all over the country and the world, which is super cool! One thing that I've noticed though is that in the states, tabbouleh tends to have more bulgur than the traditional recipe calls for. The way we prepare it in Lebanon, the salad should be all about the parsley, with a hint of bulgur thrown in there.
Why you'll love this Lebanese Tabbouleh salad
Bursting with Freshness: This Lebanese Tabbouleh salad will win the hearts of anyone who loves fresh, vibrant flavors. Made with a combination of finely chopped herbs, vegetables, and #1 fine bulgur, it offers a delightful mix of textures and tastes that come together in a refreshing and satisfying dish. Perfect for warm days, it makes an excellent accompaniment to grilled meats or as a stand-alone light meal.
Nutrient-Rich and Wholesome: Packed with a variety of healthful ingredients, this salad offers a wealth of nutrients, making it a great choice for those looking to maintain a balanced diet. The parsley and mint are rich in vitamins and antioxidants, while the bulgur provides a source of fiber and complex carbohydrates. Combined with the healthy fats from olive oil and the vitamins in tomatoes, this salad is both delicious and nutritious.
Easy to Prepare: One of the best things about this Tabbouleh salad recipe is its simplicity. With only a handful of ingredients and a straightforward preparation process, even novice cooks can create this scrumptious dish in no time. The recipe calls for no cooking, so you'll have more time to enjoy the company of your friends and family as you share a taste of Lebanon in your own home.
What do you need to make a tabbouleh salad
Parsley – It's a parsley salad, so this is the star of the recipe. Make sure to wash the parsley with cold water so it doesn't wilt, and dry it thoroughly with a salad spinner. If you prep the parsley a day in advance, it allows the herb to fully dry well for the salad. I prefer to use curly parsley, but flat-leaf parsley works well too.
Tomatoes – Get some fresh and ripe tomatoes, and if they are too juicy, you can remove their core before dicing.
Green onions – You'll use the entire green onion parts from the white to the green. This will give it a subtle taste of onions while blending well with the parsley.
Bulgur – Use fine bulgur – the smallest you can find! Bulgur is sold in four numbered grind sizes. You want to look for #1, which is the smallest grind. It will resemble couscous, and it's what we use in traditional tabbouleh. There is no need to cook this bulgur. It simply needs to be soaked in liquid to become tender.
Lemon Juice – Freshly squeezed please. 🙂
Olive Oil – Go for high-quality extra virgin olive oil. You'll notice the taste difference!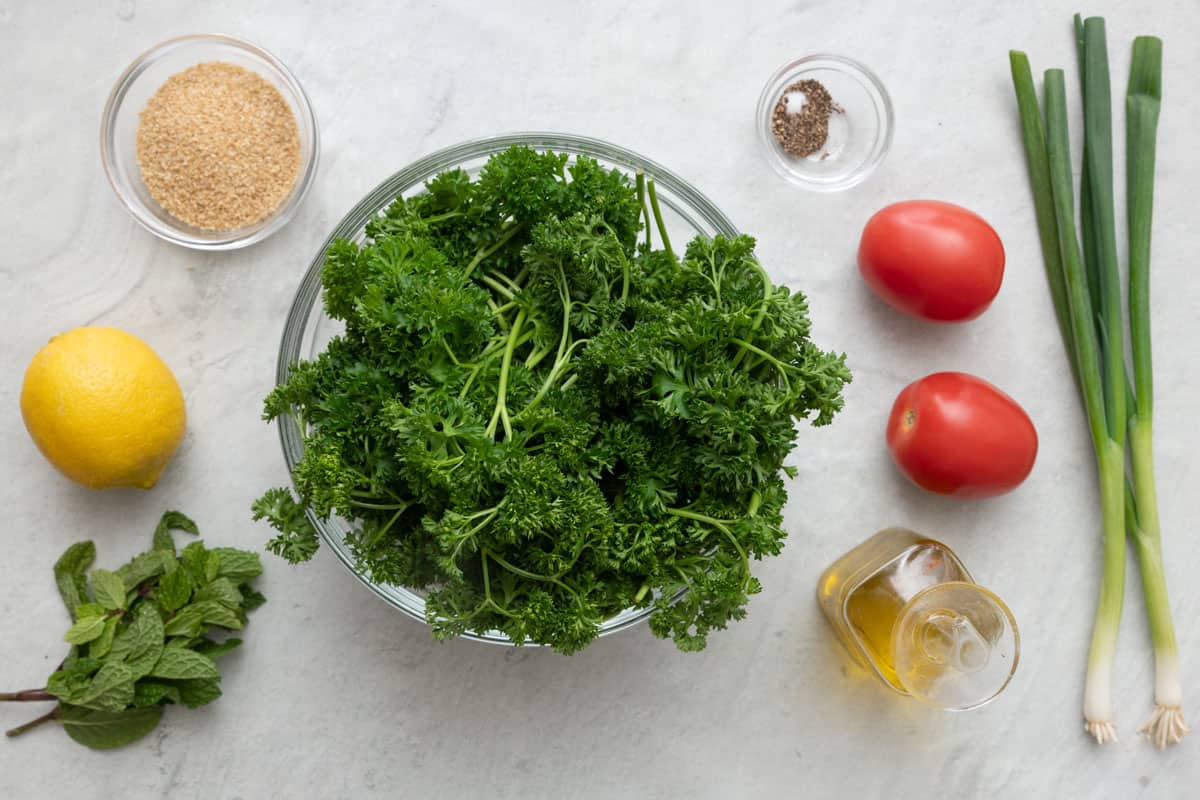 VIDEO TUTORIAL
How do you make tabbouleh
I like to start making the tabouleh by mixing the dressing. It's made up of two ingredients: olive oil and lemon juice – easy enough! I whisk those together until well blended, and then let the flavor settle while I chop the vegetables.
One important tip I learned though from my mother-in-law is to add the bulgur to the dressing while preparing the vegetables. This allows the bulgur to absorb some of the liquid and soften – making it easier to chew it in the salad. I used to soak it in water, but I prefer this method because there's no risk of watering down the flavor. You'll slowly start to see the bulgur get plump.
While the bulgur is soaking, prepare yourself for some mad chopping. Tabbouleh requires a lot of chopping – it's really a labor of love.
That includes a bunch (well, technically 2 bunches) of parsley, tomatoes, and green onions. Some people use a food processor to chop the parsley. But I find that it can sometimes lead to wilted chopped parsley. So I always use a large chef's knife, and it does the trick.
When you're done chopping, transfer the bulgur and dressing mixture over the chopped vegetables and gently mix everything together.
And that's basically the tabbouleh salad recipe! And it might be the best tabbouleh recipe you'll ever have!
Tips to make the best tabbouleh salad recipe
Fine Chopping: Show off your chopping skills here by finely chopping all the vegetables. It's tedious, but the presentation is everything, and you'll get better at it with practice. Avoid using a food processor, especially for the parsley, which can wilt the parsley and ruin the texture of the salad.
Fine Bulgur: In fact, it should be extra fine bulgur to be precise. The focus of the salad is on the parsley, not the bulgur, so you want fine bulgur that incorporates easily into the salad without standing out. The bulgur should require no cooking.
Fine Tomatoes: You want them to be ripe for flavor's sake, but firm so they don't release too much juice. What I like doing is coring the tomatoes to remove the juicy interior and use that for another salad recipe. You can also just use a mesh colander to drain the liquids from chopped tomatoes.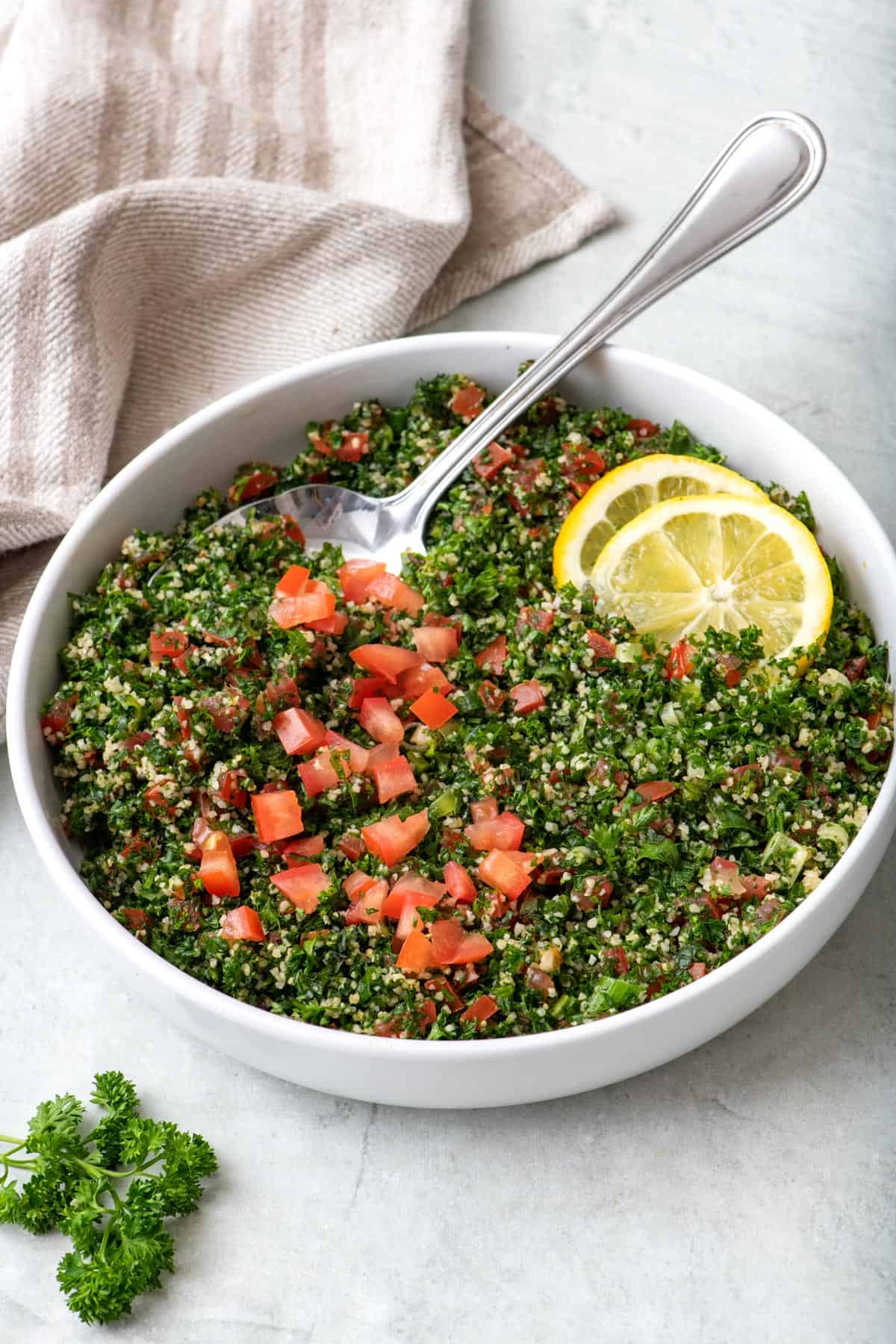 Popular Substitutions & additions
Quinoa for Bulgur: For a gluten-free alternative or a different twist on texture, try substituting cooked quinoa for Bulgur. Quinoa is a versatile, protein-rich seed that complements the fresh herbs and vegetables in the salad while maintaining a similar light and fluffy consistency.
Cucumber for a Crunch: If you're looking to add a refreshing crunch to your Tabbouleh salad, try incorporating finely chopped cucumber. This addition not only provides an extra layer of texture, but it also contributes additional hydration, making the salad even more perfect for warm-weather gatherings.
Pomegranate for a Touch of Sweetness: For a pop of color and a hint of natural sweetness, sprinkle a handful of pomegranate arils over your Tabbouleh salad. The juicy, ruby-red seeds not only brighten the dish visually but also add a burst of flavor that complements the savory and tangy elements of the salad.
Chickpeas for Protein: To transform your Tabbouleh salad into a more filling and protein-packed meal, consider adding cooked chickpeas. These legumes, also known as garbanzo beans, blend seamlessly with the other ingredients, while offering a boost of fiber and plant-based protein to keep you feeling satisfied longer.
Feta Cheese for Creaminess: For those who enjoy a touch of creaminess in their salads, try sprinkling some crumbled feta cheese over the Tabbouleh. The mild tang of the feta pairs wonderfully with the vibrant flavors of the dish, adding an extra layer of depth and richness that's sure to please.
How do you serve tabbouleh salad?
You can enjoy this on its own with a side of protein as a meal, or eat it as an appetizer. We usually serve this with lettuce in Lebanon. And we like to add a large scoop of the salad into a lettuce leaf and eat it with our hands. So sometimes, when I'm serving this for a crowd, I'll leave out the lettuce leaves ready for serving.
And other times, I just stuff the tabbouleh salad right in the lettuce because I love the presentation of a hand-held salad. It's fresh, flavorful, and very healthy. And even though this looks like a very summery salad, it's very popular around the holidays in the winter because it's such a crowd-pleasing appetizer.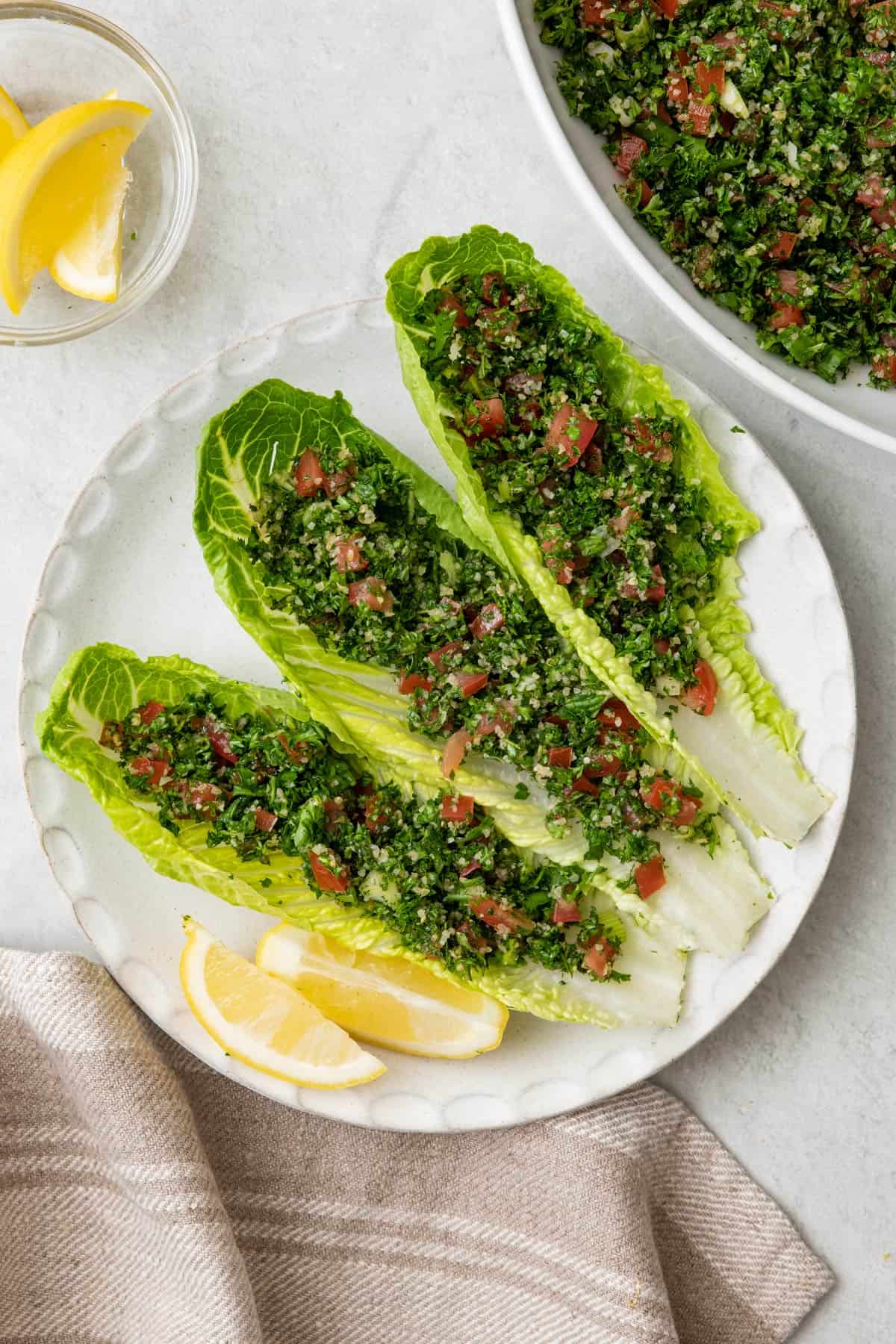 How to store Tabbouleh salad
To store Tabbouleh salad, place it in an airtight container and refrigerate. Keep in mind that the freshness of the herbs may diminish over time, so it is best to consume the salad within the first day for optimal taste and texture.
How long will Tabbouleh last in the fridge
Properly stored, Tabbouleh can last for up to 3 to 4 days in the fridge.
Frequently asked questions
Can I use flat-leaf parsley instead of curly parsley?
Yes, you can use flat-leaf (Italian) parsley in place of curly parsley. Both varieties offer a similar taste, so choose the one you prefer or have available.
Can you make a tabbouleh salad ahead of time?
The good news is, is that you can make this salad a day or two before you serve it in an air-tight container in the fridge. By making it ahead of time, you will give the flavors time to really develop.
Is Tabbouleh grain free?
Because authentic tabbouleh is made with bulgur, it is not grain free. If you want to make this grain-free, you can substitute the bulgur for quinoa or even riced cauliflower.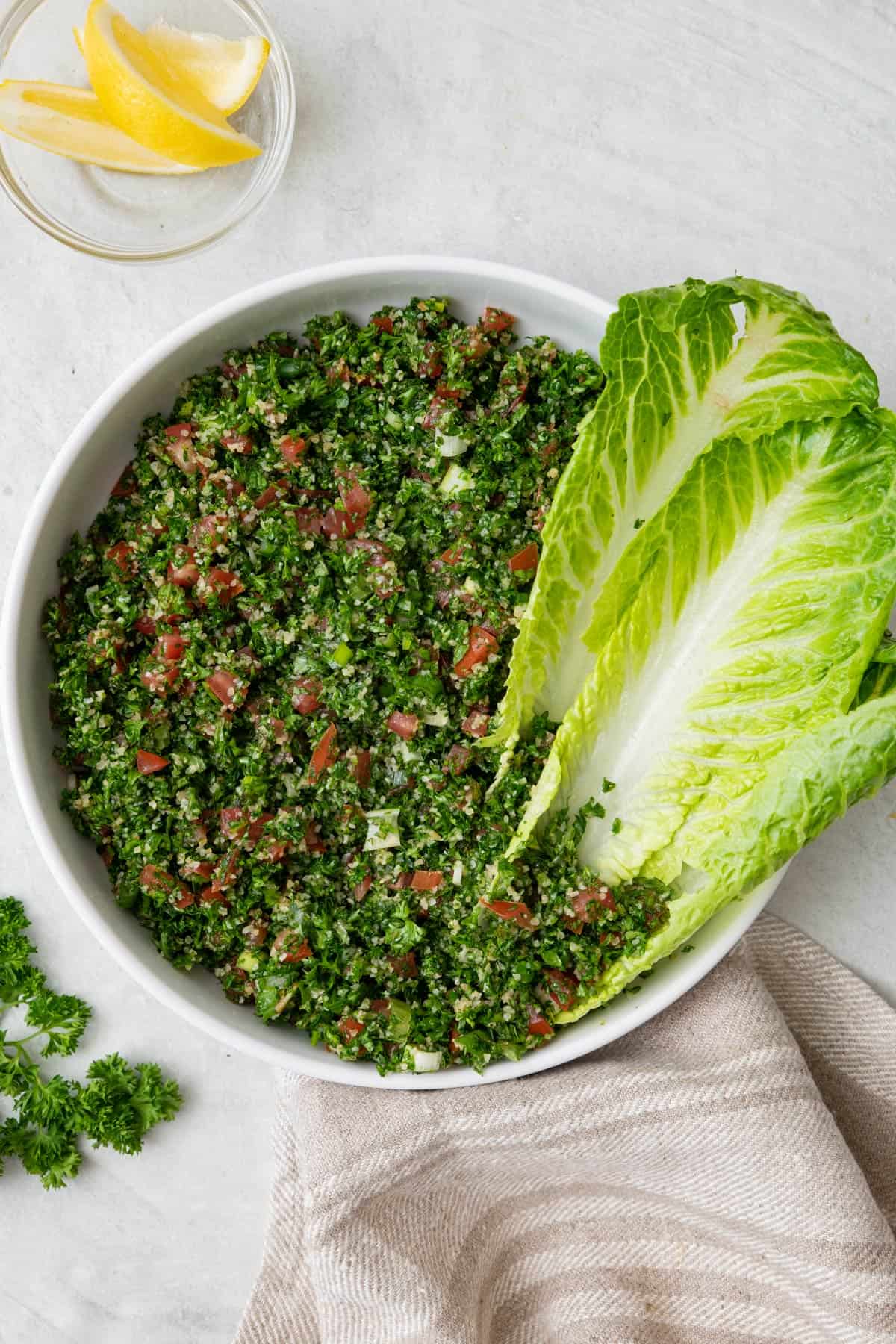 I love making this tabbouleh salad once a month with a bunch of other Lebanese appetizers like grape leaves, hummus, and falafel. That's how it's traditionally served in Lebanon – as part of a "Mezza" (aka appetizer galore!) that literally includes dozens of different hot and cold appetizers all served at once. It's a foodie's true dream!
My other tabbouleh recipes:
More Lebanese salads:
If you've tried this healthy-ish feelgood Lebanese Tabbouleh Salad recipe or any other recipe on FeelGoodFoodie, then don't forget to rate the recipe and leave me a comment below! I would love to hear about your experience making it. And if you snapped some shots of it, share it with me on Instagram so I can repost on my stories!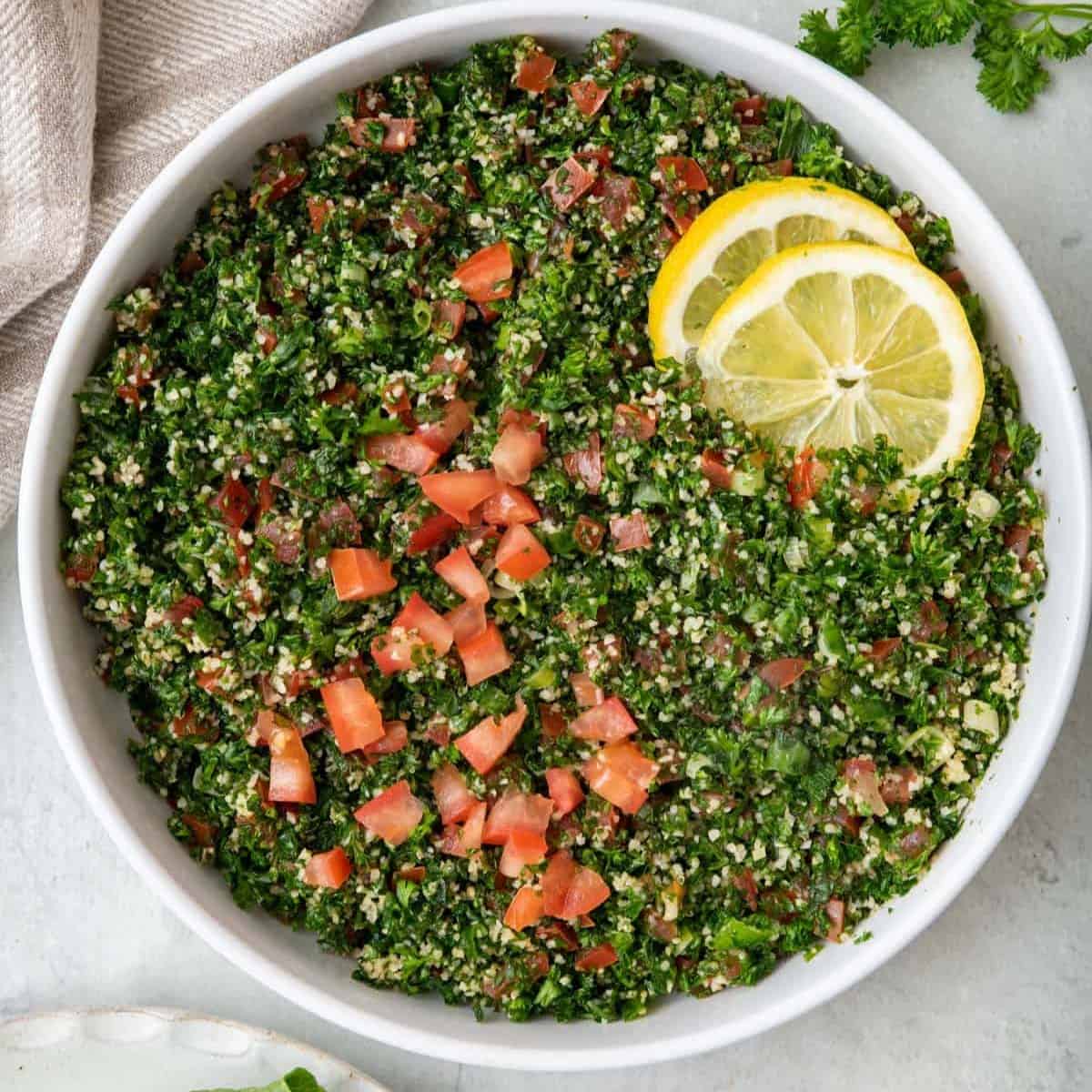 Lebanese Tabbouleh Salad
This traditional Lebanese Tabbouleh Salad recipe is a healthy vegan Mediterranean appetizer made with bulgur, parsley, mint and chopped vegetables.
Ingredients
⅓

cup

extra-virgin olive oil

3

tablespoons

lemon juice

¼

teaspoon

salt

¼

teaspoon

black pepper

¼

cup

fine #1 bulgur

2

bunches

fresh curly parsley

finely chopped (about 3 cups)

2

firm tomatoes

finely chopped

2

green onions

finely chopped

¼

cup

fresh mint leaves

finely chopped
Instructions
Whisk the olive oil, lemon juice, salt, and pepper in a large bowl until well combined. Stir in the bulgur. Let the grains soak up the dressing until they are plump and most of the moisture is absorbed for about 20 to 30 minutes.

Meanwhile, add the parsley, tomatoes, green onions, and mint to one side of the large bowl with the bulgur, but don't mix yet.

When the bulgur is plump, and the lemon-olive oil mixture is mostly absorbed, stir everything together until well combined. Serve at room temperature or chilled from the fridge.
Notes
Storage: Store any leftovers in an airtight container. They will last about 3-4 days in the fridge. Make Ahead Tips: I would highly recommend washing and drying the parsley a day or two days in advance of chopping it. This gives the parsley time to dry properly so that when you chop it, it doesn't turn into a wet mess. Sourcing: You can find the fine bulgur at Middle Eastern markets, natural-foods stores or even in large supermarkets, often located with other Middle Eastern ingredients. Make sure it does not require cooking for this recipe. Substitutes: For best results, follow the recipe as is. If you want to make this grain-free, you can substitute the bulgur for quinoa or even riced cauliflower.
Nutrition
Calories:
141
kcal
,
Carbohydrates:
8
g
,
Protein:
2
g
,
Fat:
12
g
,
Saturated Fat:
2
g
,
Polyunsaturated Fat:
1
g
,
Monounsaturated Fat:
9
g
,
Sodium:
111
mg
,
Potassium:
209
mg
,
Fiber:
2
g
,
Sugar:
1
g
,
Vitamin A:
1894
IU
,
Vitamin C:
32
mg
,
Calcium:
39
mg
,
Iron:
2
mg
Nutrition information provided is an estimate. It will vary based on cooking method and specific ingredients used.