This post may contain affiliate links. Please read our disclosure policy.
Follow this step-by-step guide and learn to cook quinoa (pronounced KEEN-Wah). Is it in your recipe repertoire? I love it and use it so often! This quick-cooking, mild-tasting superfood makes an easy stand-in for rice and a nice addition to salads, soups, or wraps. You can even serve as a hot breakfast cereal or use as an ingredient in baking.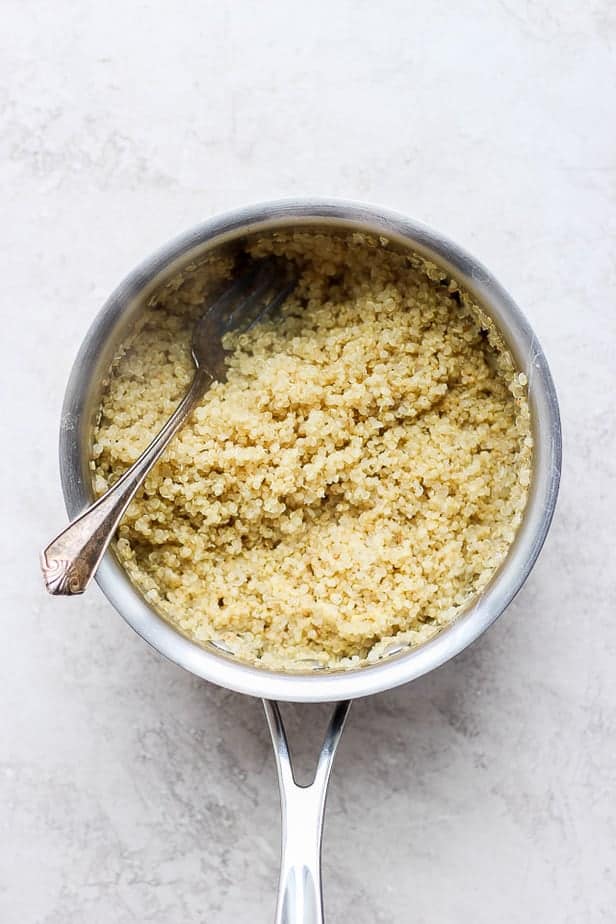 Quinoa is crazy good for you. For vegans, especially, quinoa is the only grain that has complete protein, meaning it contains all nine essential amino acids – which our bodies need for basic functioning. Plus, quinoa offers hunger-quenching fiber and a slew of minerals like folate, iron, magnesium, and zinc.
But, don't let its incredible nutritional profile make you feel like you are eating medicine: quinoa is absolutely delicious! The ancient Incas named it the mother grain. And although we now classify it as a grain, it's actually a seed. I love using it to make my Quinoa Avocado Salad or Quinoa Stuffed Peppers.
Different types of quinoa
There are three different types of quinoa that you can basically differentiate by their color. Aside from the color, the differences among the three major types are subtle.
White quinoa: This is the most mild-tasting variety and has a light, fluffy texture. Use it in baking or as you would rice – especially if you don't want the quinoa to compete with other flavors on your plate. Bonus: it boasts loads more fiber than even brown rice.
Red quinoa: Red quinoa has a more assertive, earthier taste. Plus, it is sturdier with a firmer texture. Its chewiness and brighter color make it an excellent addition to salads, where softer white quinoa might be lost.
Black quinoa: Like red quinoa, black quinoa is also heartier than white and a little sweeter. Also great in salads.
Tri-color quinoa: Just like the name says, it is red, white, and black quinoa mixed together.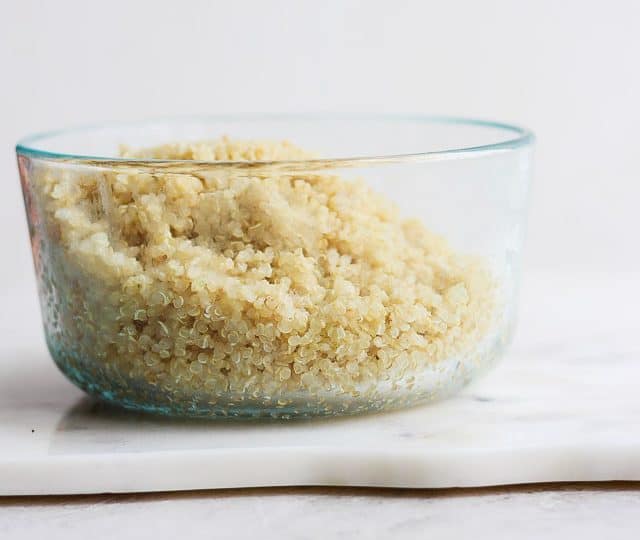 How to cook quinoa – step-by-step
I am using white (some call it beige) quinoa here but this method works for any color.
The first step is to measure your dry quinoa. Then pour into a fine-mesh sieve and rinse thoroughly under cold running water until it runs clear. Don't be afraid to shake it around a little. Quinoa is covered with saponin, a naturally occurring compound (and natural pesticide) that tastes bitter. Rinsing washes it away. Let the quinoa drain.
Check your quinoa's label to see if it says "prewashed." If so, you can skip this step. If in doubt, a wash won't hurt.
Transfer the drained quinoa to a small saucepan and add water or broth and salt. Bring the mixture to a boil over medium-high heat. Reduce heat to a simmer. Then, cover and cook for 15 minutes.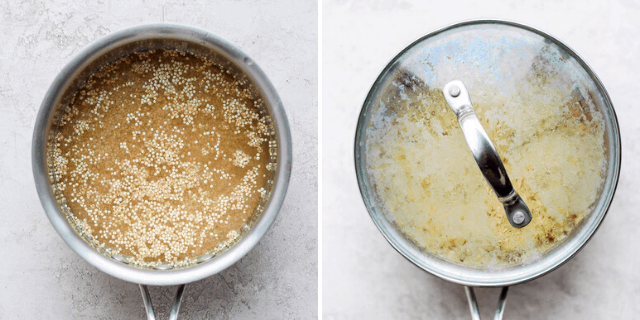 Now, remove the pot from the heat. Allow the quinoa to rest in the saucepan for about five minutes without opening the lid, letting the quinoa absorb all the liquid and steam. Finally, uncover and fluff with a fork to separate the grains. Use in a recipe or store tightly covered for up to five days in the fridge.
Cooked quinoa recipes
Frequently asked questions
How do you cook quinoa in the microwave?
Mix the same proportion of water and quinoa in a microwave-safe bowl, cover then start by microwaving for five minutes. Check for doneness. Water should be absorbed and the quinoa should be plumped. If not, keep adding 30 seconds at a time until the water is absorbed.
How long does it take to cook quinoa?
If you're cooking on a stovetop, it will only take 15 minutes to cook quinoa. Keep in mind that you should let it rest and steam for 5 minutes before fluffing and using.
How do you make quinoa more flavorful
To amp up quinoa's naturally nutty flavor, try toasting it. Start by heating a tablespoon or two of butter or oil in your saucepan on medium-high heat. Add the quinoa, stir around for as long as it takes to smell toasty and take on a slightly darker color.Then add water and proceed as noted in the recipe.
How long does cooked quinoa last?
Cooked quinoa will keep in the fridge for five days and up to a year in the freezer. Uncooked quinoa , stored in a sealed container in cool dry place, can last up to two years!
How do I know when my quinoa is cooked?
There's actually a little hole around each seed and that will pop open when it's done cooking. Make sure to allow time for the quinoa to steam for 5 minutes after it's done cooking. That's what gives the quinoa time to pop open and become fluffy.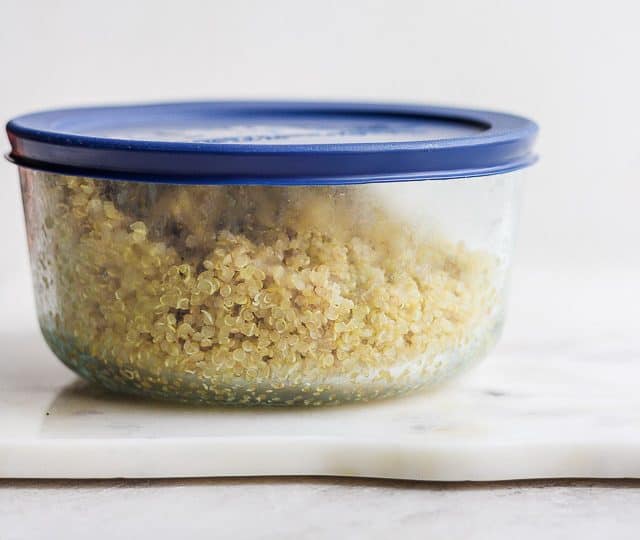 For more cooking resources, check out:
This superfood is so easy, so good for you, and most of all so tasty, it is worth seeking out, and now you know how to cook quinoa perfectly. Look for it in the grain section of the grocery store. Some groceries may also stock it in their bulk sections.
If you've found this cooking resource for How to Cook Quinoa helpful or if you've tried any recipe on FeelGoodFoodie, then don't forget to rate the recipe and leave me a comment below! I would love to hear about your experience with this technique. And if you snapped some shots of it, share it with me on Instagram so I can repost on my stories!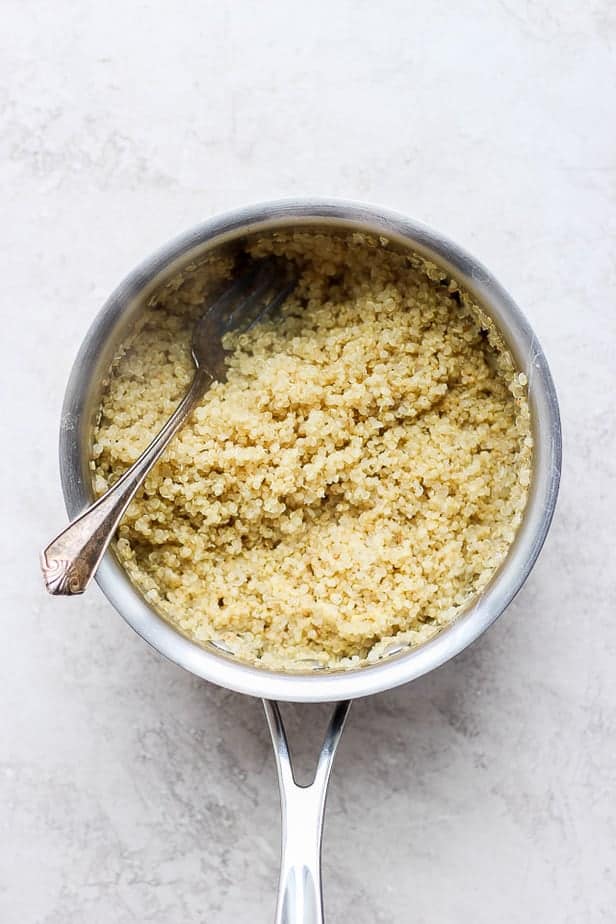 How to Cook Quinoa
Learn how to cook quinoa easily. Follow my step-by-step tutorial to make perfect quinoa on your stovetop. It's a quick and staple recipe with fluffy texture
Instructions
Place the quinoa in a fine mesh sieve; Rinse thoroughly in cold water until the water runs clear to remove any residue off the quinoa; drain.

Transfer the drained quinoa to a small saucepan and add water or broth and salt. Bring the mixture to a boil over medium-high heat.

Lower heat to a simmer, cover the saucepan with a lid and cook covered for 15 minutes.

Remove the pot from the heat. Allow the quinoa to rest in the saucepan for about 5 minutes, without opening the lid, to absorb all the liquid and steam. Uncover and fluff with a fork to separate the quinoa.

Use in a recipe or transfer to a storage container for up to 5 days.
Notes
Storage: Store any leftovers in an airtight container. They will last up to 5 days in the fridge.
Photo Credit:
Erin Jensen
Nutrition
Calories:
156
kcal
,
Carbohydrates:
27
g
,
Protein:
6
g
,
Fat:
3
g
,
Saturated Fat:
1
g
,
Sodium:
153
mg
,
Potassium:
239
mg
,
Fiber:
3
g
,
Calcium:
23
mg
,
Iron:
2
mg
Nutrition information provided is an estimate. It will vary based on cooking method and specific ingredients used.