This post may contain affiliate links. Please read our disclosure policy.
Beef shawarma is the ultimate mediterranean street food like falafel and hummus, that is widely popular even outside of the Middle East. But what you may not know is that beef shawarma is surprisingly really easy to make at home with very minimal ingredients and effort. I grew up eating my mom's homemade shawarma and I'm going to show you how to make it too!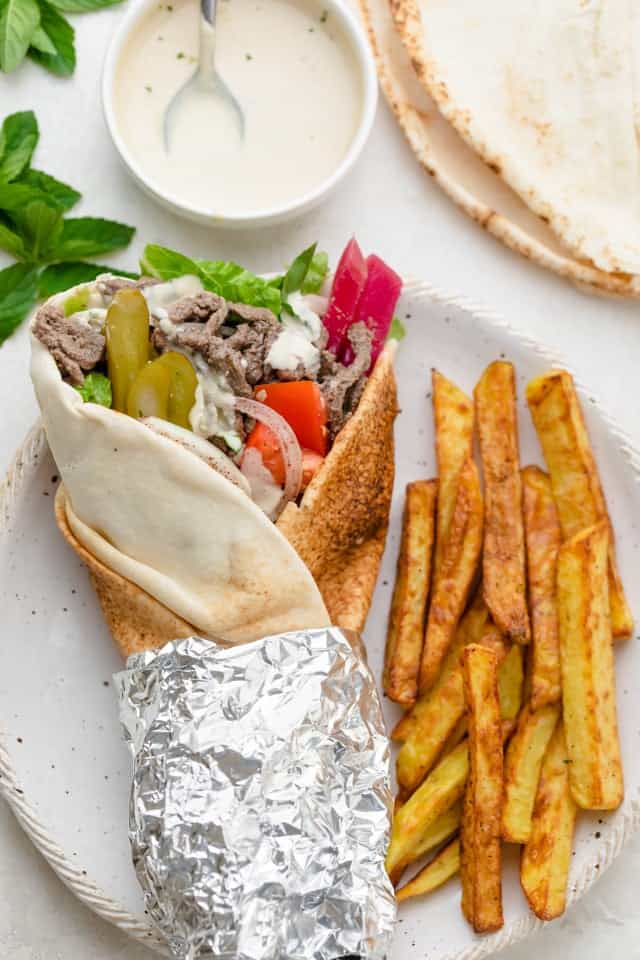 What is shawarma?
It's a street-food classic that's basically grilled beef or chicken heavily marinated in olive oil, vinegar, lemon juice and warm spices, cooked on a revolving pit and then shaved off for sandwiches. Shawarma is one of the world's most popular street foods, but especially popular in the Middle East. It can be served on a plate with accompaniments or in a sandwich or wrap, which is more common.
The spices I use for my Chicken Shawarma can also be used for Beef Shawarma, but at the Mediterranean grocery store I shop at, they have different pre-mixed Shawarma spices so I buy one of of each. Specifically, the beef shawarma spices included all spice, black pepper, coriander, cinnamon, nutmeg, and sumac.
How to make beef shawarma wrap
Well, I definitely don't have a revolving pit in my home kitchen! But all you need to do is buy sirloin beef, cut into strips against the grain, marinate the beef and then cook.
RECIPE VIDEO TUTORIAL
Make shawarma seasoning
I'm lucky to find this seasoning pre-made from Middle Eastern stores near me. However, it's really easy to make your own. For the 2 tablespoons of shawarma seasoning I use in this recipe, you can substitute with the following:
1 teaspoon salt
1 teaspoon All Spice
1 teaspoon ground cloves
1 teaspoon cumin
½ teaspoon cardamom
½ teaspoon cinnamon
½ teaspoon oregano
½ teaspoon paprika
Marinate beef shawarma
The goal with this dish is to tenderize the beef with the olive oil, vinegar, lemon juice, fresh garlic, and the spice combination and let it marinate for 1-2 hours. Don't marinate for longer than two hours since the acidity may toughen the meat. You can also toss some sliced onions and lemon zest on top, but this part is optional.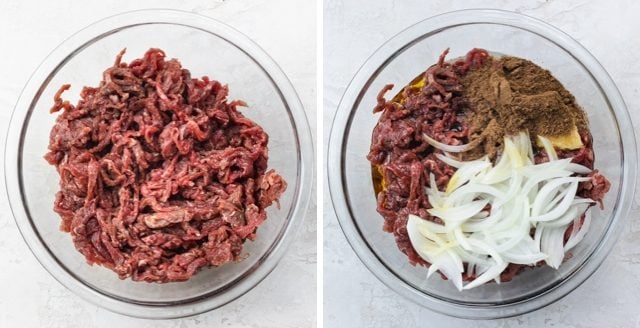 And this is what it looks like when it marinates for about an hour. You can see that the the beef gets coated in the spices and the sauce.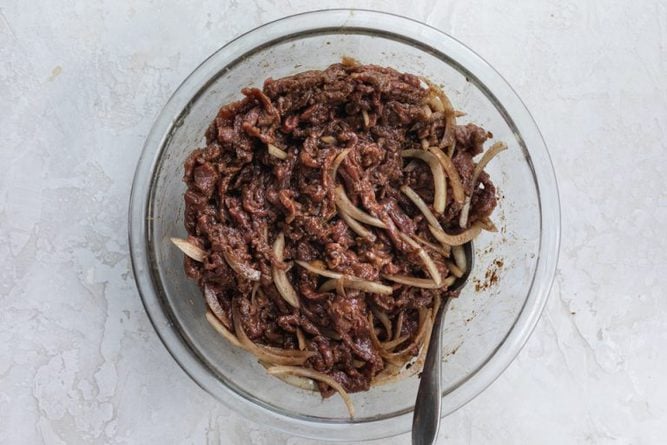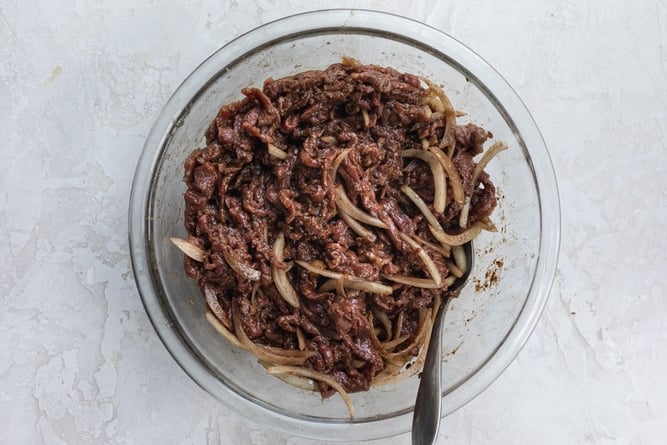 Cook the beef shawarma
When you're ready to cook the beef shawarma, transfer it to a saucepan or pot large enough, and cook on medium heat for 8-10 minutes, or until the beef is cooked through. You'll notice that the meat will look very tender and almost cooked, so it really doesn't need a long time to fully cook.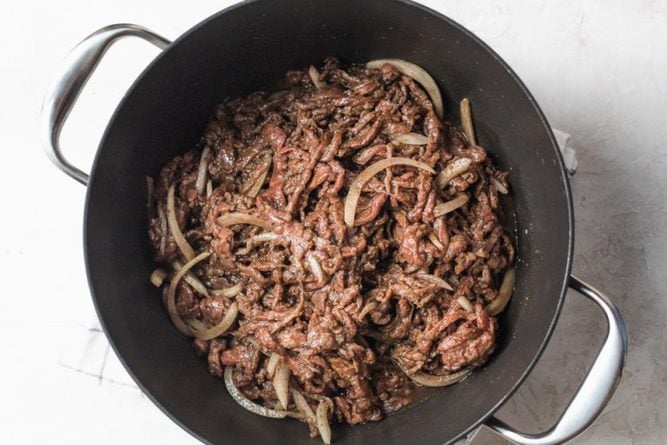 Serving Suggestions
Then it's up to you how you serve it, roll it, wrap it or top it. We like to serve it on a large plate surrounded by colorful vegetables including tomatoes, onions, pickles, turnips and parsley.
A lot of people will agree that the most important part of a beef shawarma wrap or sandwich is the tahini sauce that it goes with it. I make mine super simple by whisking freshly minced garlic with lemon juice and tahini paste and once it's all blended, I add the water to get it to the consistency I like. It is EVERYTHING in this recipe!!
For the toppings and/or accompaniments if you've having this over rice or as a salad, use whatever you like! Traditionally, there's tomatoes, pickles and red onions in addition to parsley and pickled turnips. But you can also added shredded lettuce, banana peppers, roasted red peppers, olives, lemon zest and really make it your own way!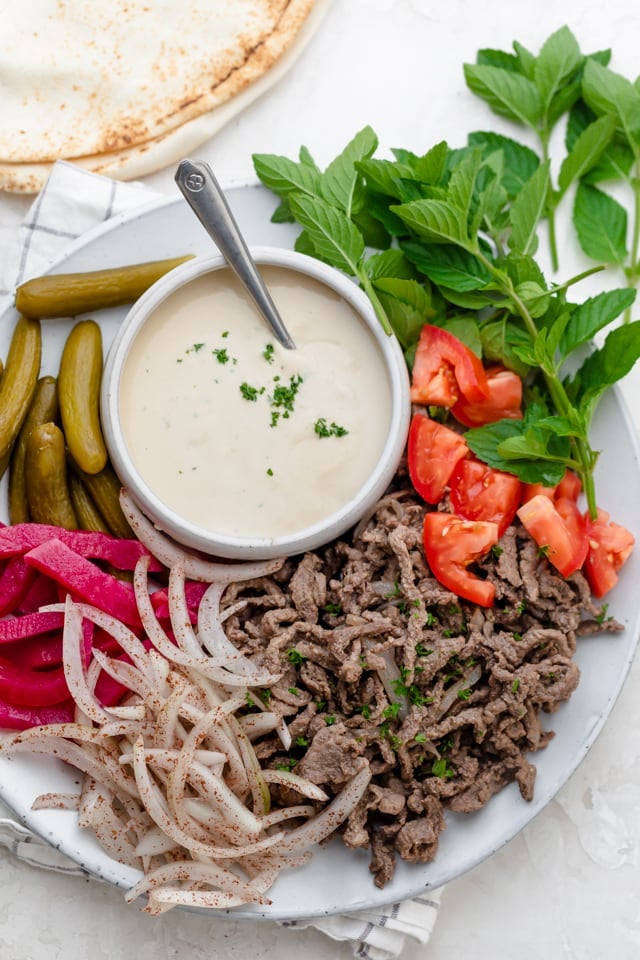 Tips for making this recipe
Pick beef with some fat included. The fat in the beef will enhance the flavor of the shawarma when cooked. You can use flank steak, strip steak, ribeye or any other cut of steak you like.
Don't cut the beef too small. Keeping the strips about 3-4 inches in length and at least ½ inch in thickness will allow for the beef to stay juicy when you cook it. Otherwise it may dry out too quickly.
Marinate the beef for at least an hour but no more than 2 hours. Marinating allows the fat to break up and tenderize the meat properly for juicy and moist results. But if it's too long, the acidity may toughen the beef too much.
Don't use very tender or very tough beef. Don't go for something tough like chuck meat or something tender like the tenderloin. You want something that can handle being marinated without softening too much. I recommend flank or sirloin steak.
Frequently asked questions
What kind of meat is shawarma?
All kinds of meat can be used to make shawarma, generally it is chicken or beef, but goat, lamb and turkey are also used. They are all prepared and served in a similar way to this beef recipe.
Is gyro the same as shawarma?
Shawarma and gyro are similar in many ways, but the main difference is that shawarma is marinated in herbs and spices for a more flavorful meat. Gyros originated from Greece and shawarma from the Middle East.
Is this beef shawarma recipe healthy?
Homemade shawarma is a lot healthier than a takeout one as it's not cooked in a lot of fat. You can also load it up with tons of veggies!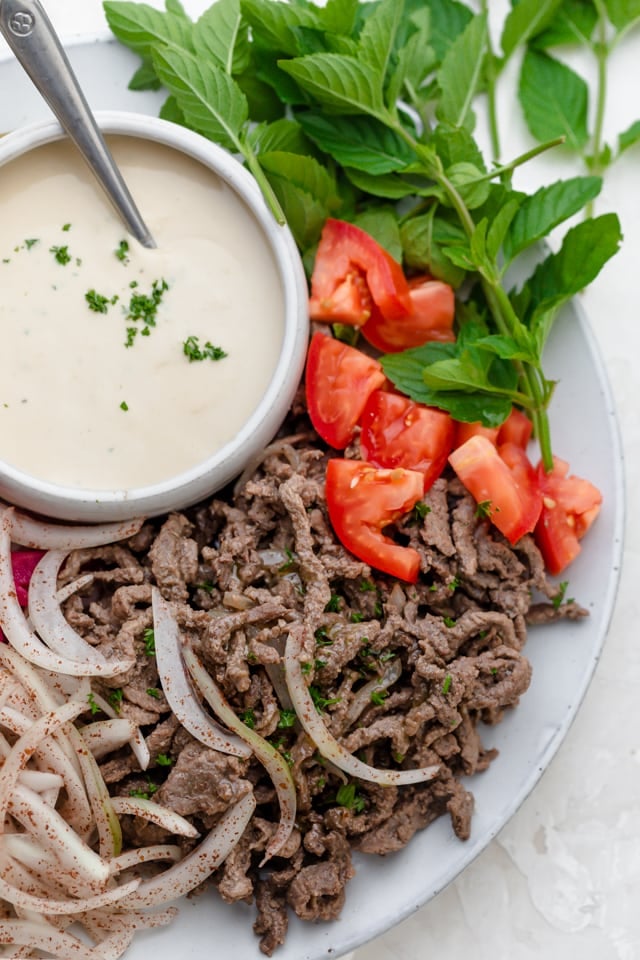 Now you can emulate your favorite beef shawarma wrap at home with this easy homemade recipe. All you need is the right cut of beef, some spices and time to allow the beef to marinate. It's makes for tender juicy meat that is perfect when wrapped in a warm pita with tahini sauce and vegetables.
More Lebanese recipes
If you've tried this healthy-ish feel good Beef Shawarma Wrap recipe or any other recipe on FeelGoodFoodie, then don't forget to rate the recipe and leave me a comment below! I would love to hear about your experience making it. And if you snapped some shots of it, share it with me on Instagram so I can repost on my stories!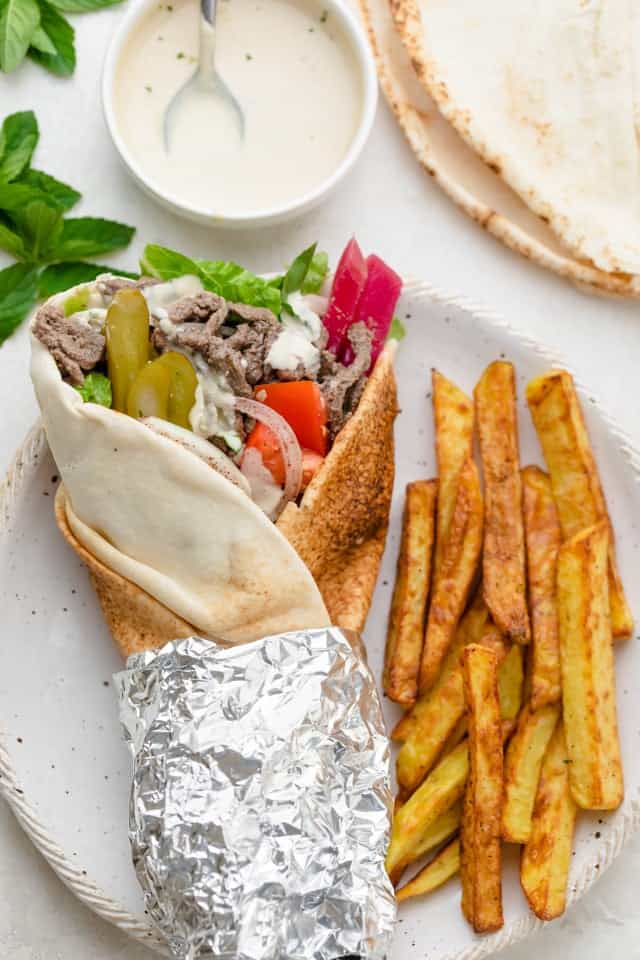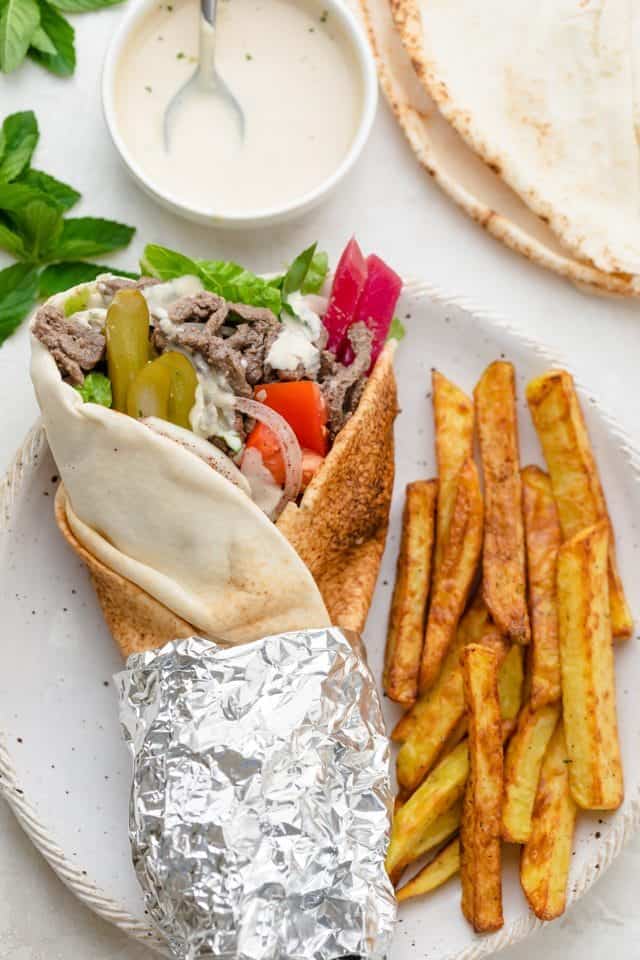 Beef Shawarma Wrap
Beef Shawarma Wrap is a popular street food especially in the Middle East. Its made with flank steak, wrapped in pita bread with vegetables & tahini sauce
Ingredients
Beef Shawarma
2

pounds

flank steak

cut into strips

1/4

cup

olive oil

1/4

cup

vinegar

Juice one lemons

plus zest

2

tablespoons

Shawarma seasoning*

4

garlic cloves

minced

1

onion

sliced
Tahini Sauce
½

cup

Tahini paste

⅓

cup

lemon juice

2

garlic cloves

crushed

½

teaspoon

salt

¼

cup

water
Instructions
To make the marinade, whisk the olive oil, vinegar, lemon juice, shawarma seasoning and garlic until well combined in a large bowl.


Add steak strips to the bowl, sliced onions, and bay leaves, and toss to fully coat the beef with the marinade. Let it sit in the fridge for 1-2 hours

When ready to cook, transfer to a bottom-heavy saucepan and cook until beef is cooked though, about 8-10 minutes


To make the tahini sauce, place all the ingredients except for the water, together in a food processor or bowl and blend until well combine. Slowly add the water to reach desired consistency.


Assemble the beef shawarma with pita, tahini sauce and vegetables of choice.
Notes
Storage: Store any leftovers in an airtight container. They will last about 2-3 days in the fridge.
Make Ahead Tips: You can make the marinade up to a week in advance, and you can marinate the beef in the sauce up to 24 hours in advance.
*Sourcing: You can find the shawarma spices at Middle Eastern markets, natural-foods stores or even in large supermarkets, often located with other Middle Eastern ingredients or in the spice isle. If you wish to mix your own, use the following as a substitute with the following combination:
1 teaspoon salt
1 teaspoon All Spice
1 teaspoon ground cloves
1 teaspoon cumin
½ teaspoon cardamom
½ teaspoon cinnamon
½ teaspoon oregano
 ½ teaspoon paprika
Nutrition
Serving:
1
g
,
Calories:
427
kcal
,
Carbohydrates:
28
g
,
Protein:
31
g
,
Fat:
20
g
,
Saturated Fat:
4
g
,
Cholesterol:
69
mg
,
Sodium:
369
mg
,
Potassium:
533
mg
,
Fiber:
1
g
,
Vitamin A:
10
IU
,
Vitamin C:
2.3
mg
,
Calcium:
96
mg
,
Iron:
3.2
mg
Nutrition information provided is an estimate. It will vary based on cooking method and specific ingredients used.
This beef shawarma wrap post was originally created on May 17, 2018. It has been updated to include improved new step-by-step images. Here's the original image!