This is a Lebanese style beef kafta recipe that's made with ground beef, parsley, onions and a blend of Middle Eastern spices - an easy yummy grilled recipe!
September 2, 2018
When it comes to grilling, we love our burgers and hot dogs, but we are definitely more partial to Lebanese style grilling, which includes grilled chicken kabobs, shish tawook and this beef kafta recipe. It's perfect for grilling outdoors or on a grill pan and is so full of flavor, but only requires four basic ingredients: ground beef, onions, parsley and spices,
What is kafta?
We call it Kafta in Lebanon and it's also widely known as Kofta in other Middle Eastern countries. It's basically a meatball using either beef, chicken or lamb, mixed with herbs, Middle Eastern spices and onions. The way we make it we use only 4 ingredients: ground beef, onions, parsley and a spice blend similar to all spice.
Traditionally it's served on pita with hummus, or you can also serve it with rice and a salad as I have here.
How do you make beef kafta?
I do all the prep in a food processor. It makes everything super fine and that way when it's all mixed together, the flavors are more robust! I start with about 1/2 bunch of parsley, remove the stems, wash and dry them, and pulse in the food processor. You should get about 1/4 cup chopped parsley.
Then I remove the parsley and set aside in a small bowl. No worries if some remain in the bowl of the food processor. Next, I throw in one yellow onion in the food processor and pulse it until it's also finely chopped.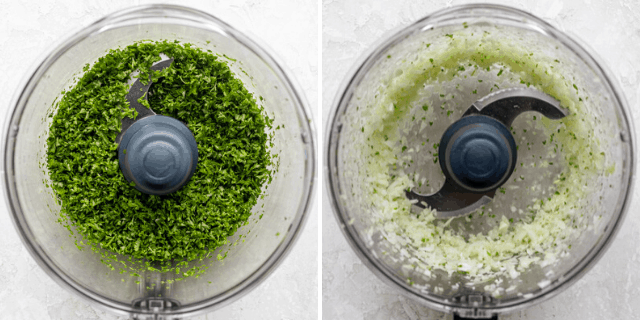 Now, we put everything together. The parsley comes back to the food processor with the onions and I add in the ground beef and the Kafta spices. I'll run the food processor for probably 30 to 45 seconds until everything is well combined and forms a pasty meat mixture like this.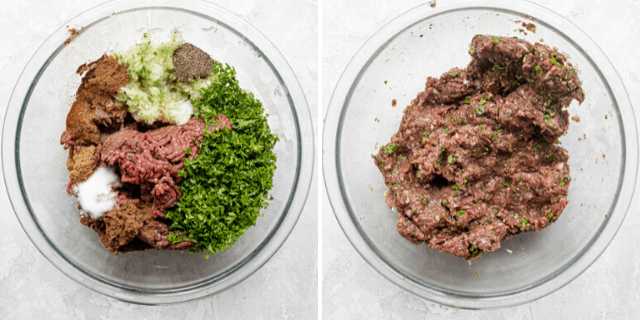 Time to form the patties! Well they're not really patties. They have a unique beef kafta shape that's oblong. But I don't think they have an official name.
When you shape the kafta, you can shape them around a wooden skewer to make grilling easier or just shape them with your hands if you're grilling indoors. Either way, the result is a juicy, flavorful protein packed beef kafta that is the hero to so many wonderful Lebanese side dishes.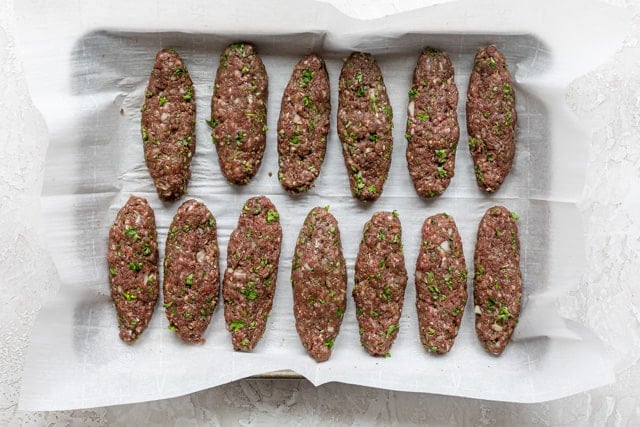 What do you eat with beef kafta?
But as you can see, plain white rice works so well with this. I love pairing mine with rice and a simple salad with lemon and olive oil – one of my favorite meals!
Top tips to make beef kafta
Use a good quality beef for this recipe, from your butcher if you can, it will be much richer in flavor.
Use an outdoor grill or a grill pan to cook the meat, grilling gives in the best flavor. If you are in a spot, you can bake them in the oven, but they will need a slightly longer cooking time and take care not to over cook them or they can dry out.
Do not overcook the kaftas. They should be cooked to medium, this way they are more flavorful and aren't dry.
Frequently Asked Questions
Can you make beef kafta ahead of time?
Cooked kaftas will keep in an airtight container in the fridge for about 3 to 4 days. They can be reheated or eaten cold. They also freeze well and will last for up to 3 months.
Can you use other meats instead of beef?
I love making kaftas with beef, but you can also use a ground lamb or ground chicken if you prefer. A lot of kaftas are made with a mix of beef and lamb mince for a really rich flavor.
What's the difference between a kabob and a kafta?
Kaftas and kabobs are very similar, the main difference is that kabobs are cooked on a skewer and kaftas are formed by hand. They are very similar in flavor and texture, so if you love kabobs, you will love these!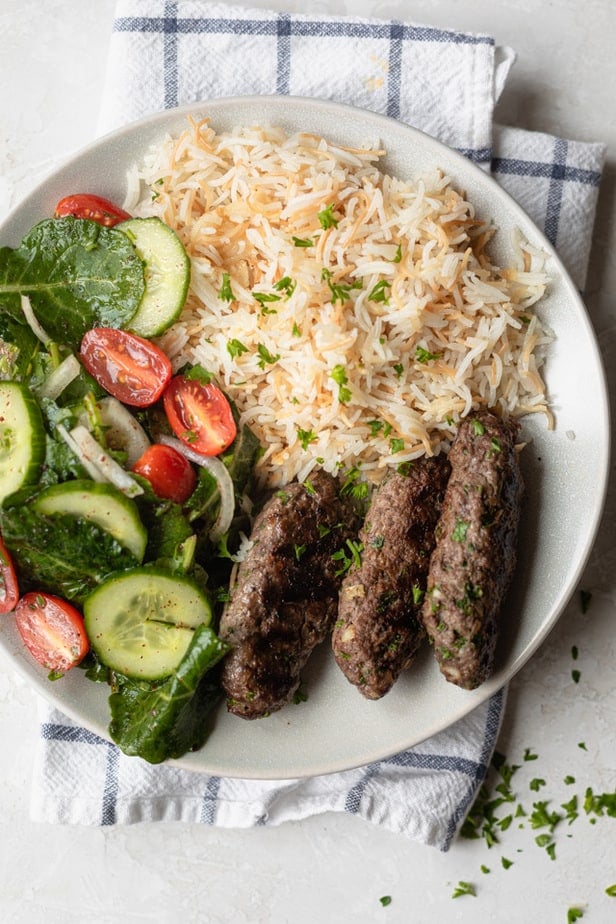 If you've tried this healthy-ish feel good Beef Kafta recipe or any other recipe on FeelGoodFoodie, then don't forget to rate the recipe and leave me a comment below! I would love to hear about your experience making it. And if you snapped some shots of it, share it with me on Instagram so I can repost on my stories!
This Beef Kafta recipe was originally published on September 2, 2018. I'm re-sharing it with more step-by-step photos and a recipe video. Here's the original photo!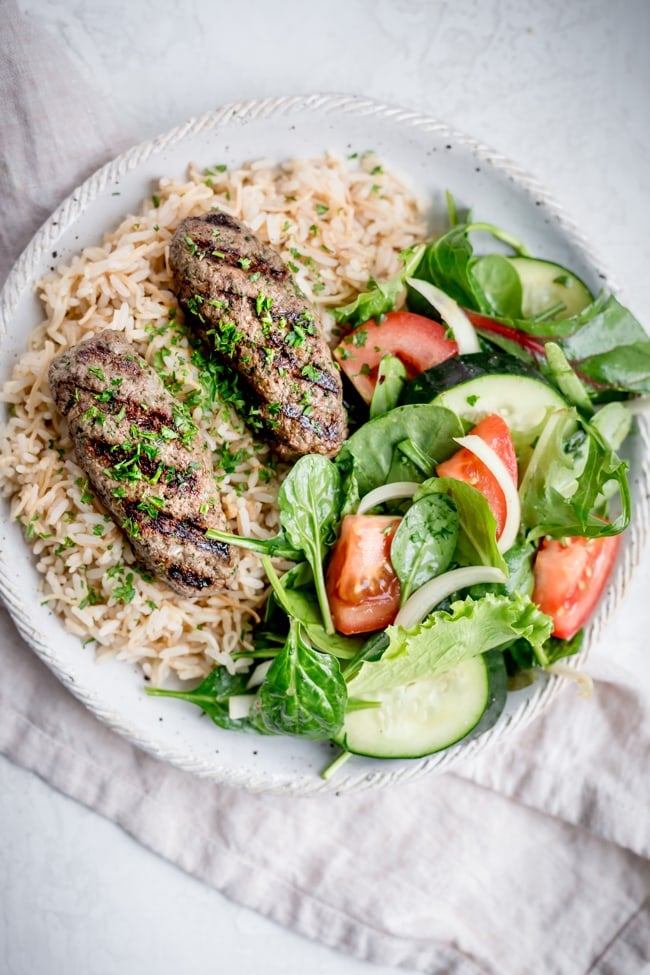 Beef Kafta
This is a Lebanese style beef kafta recipe that's made with ground beef, parsley, onions and a blend of Middle Eastern spices - an easy yummy grilled recipe!
Print
Pin
Rate
Ingredients
1/4

cup

chopped parsley

1

small yellow onion

quartered

1

lb

ground beef

2

tsp

7 spice or all spice

1/2

tsp

cayenne pepper

1/2

tsp

cumin

1/2

tsp

cinnamon

1/2

tsp

coriander

Salt and pepper

to taste
Instructions
Place the parsley in the bowl of a food processor and pulse until finely chopped, remove and set aside.

In the same food processor bowl used to chop the parsley, place the quartered onion and pulse until finely chopped. Drain the onions slightly to release excess moisture.

Return the parsley back to the bowl of the food processor with the onions. Add the ground beef to the food processor in addition to all the spices. Run the food processor on pulse once or twice until ingredients are well combined and form a pasty meat mixture.

Transfer the mixture from the food processor to a large bowl and form the Kafta into an oblong shape about 1 inch in thickness. You can form them on a wooden skewer or without.

Grease the grates of a gas grill or indoor grill pan, and preheat it to medium high heat. When heated through, transfer the kafta to the grill. Grill for 4-5 minutes per side, depending on your preferred level of doneness.

Serve hot off the grill with your choice of side.
Notes
Storage: Store any leftovers in an airtight container. They will last about 3-4 days in the fridge.
Make Ahead: You can make the patties ahead of time and freeze for up to 3 months. When ready to grill them, thaw in the fridge overnight or for at least 6-8 hours.
Sourcing: You can find the the spices mentioned at Middle Eastern markets, natural-foods stores or even in large supermarkets, often located with other Middle Eastern ingredients. Sometimes you might even just find "Kafta" spices which has the spices all combined. In that case, you can use 1 1/2 tablespoon of the kafta spice in place of all the other spices.
Nutrition
Calories:
202
kcal
|
Carbohydrates:
2
g
|
Protein:
13
g
|
Fat:
15
g
|
Saturated Fat:
5
g
|
Cholesterol:
53
mg
|
Sodium:
52
mg
|
Potassium:
237
mg
|
Vitamin A:
75
IU
|
Vitamin C:
2.1
mg
|
Calcium:
24
mg
|
Iron:
1.7
mg