Beef Kafta
Jump To Recipe
Prep:
Cook:
Serves:

6 servings
This is a Lebanese style beef kafta recipe that's made with ground beef, parsley, onions and a blend of Middle Eastern spices - an easy yummy grilled recipe!
Author:

Yumna Jawad

Posted:
Beef Kafta
It's Labor Day weekend! And although this is an American holiday, most of the time we grill up some Lebanese food! So on our grill this weekend we'll most likely have burgers, but also grilled chicken kabobs, shish tawook and this beef kafta recipe – a little something for everyone!
What's Kafta?
We call it Kafta in Lebanon and it's also widely known as Kofta in other Middle Eastern countries. It's basically a meatball using either beef, chicken or lamb, mixed with herbs, Middle Eastern spices and onions. The way we make it we use only 4 ingredients: ground beef, onions, parsley and a spice blend similar to all spice.
MY LATEST VIDEOS
Traditionally it's served on pita with hummus, or you can also serve it with rice and a salad as I have here.
How Do you Make Beef Kafta?
I do all the prep in a food processor. It makes everything super fine and that way when it's all mixed together, the flavors are more robust! I start with a whole bunch of parsley, remove the stems, wash and dry them, and pulse in the food processor. Then I remove the parsley and set aside in a small bowl. No worries if some remain in the bowl of the food processor.
Next, I throw in one yellow onion in the food processor and pulse it until it's also finely chopped.
Now, we put everything together. The parsley comes back to the food processor with the onions and I add in the ground beef and the Kafta spices. I'll run the food processor for probably 30 to 45 seconds until everything is well combined and forms a pasty meat mixture like this.
Time to form the patties! Well they're not really patties. They have a unique beef kafta shape that's oblong. But I don't think they have an official name.
When you shape the kafta, you can shape them around a wooden skewer to make grilling easier or just shape them with your hands if you're grilling indoors. Either way, the result is a juicy, flavorful protein packed beef kafta that is the hero to so many wonderful Lebanese side dishes.
What to Pair with Beef Kafta?
Fattoush Salad – Great option if you're doing low-carb or keto
Hummus – Classic, can't really go wrong here
Bulgur Pilaf – When you want some grains but not plain white rice
But as you can see, plain white rice works so well with this. I love pairing mine with rice and a simple salad with lemon and olive oil – one of my favorite meals!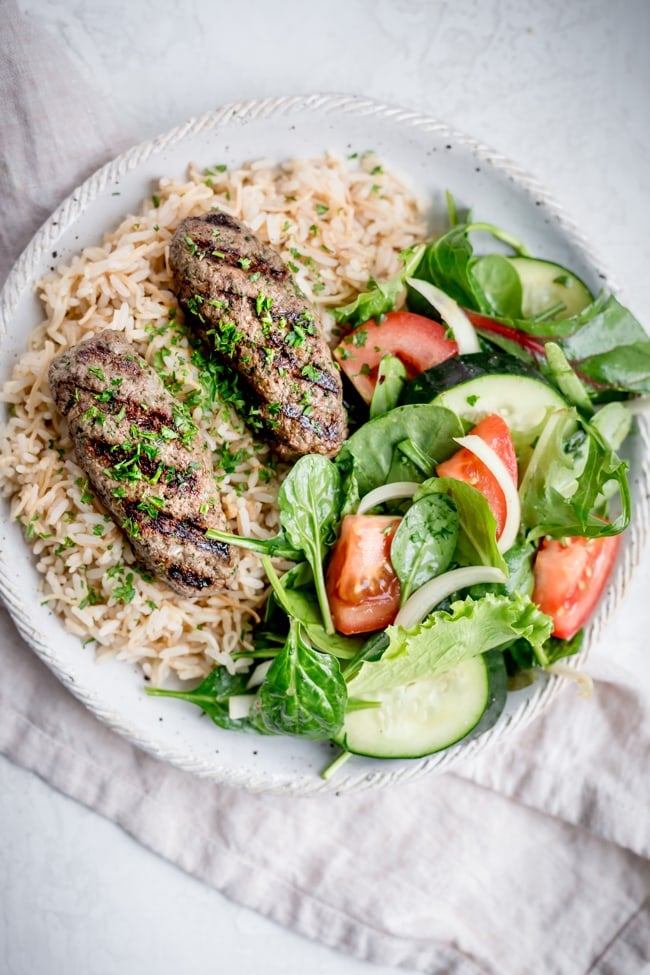 I hope you love this healthy-ish feelgood Beef Kafta recipe. If you make it, please leave me a comment telling me how you like it, or use hashtag #feelgoodfoodie on Instagram so I can see your recreations.
Beef Kafta
This is a Lebanese style beef kafta recipe that's made with ground beef, parsley, onions and a blend of Middle Eastern spices - an easy yummy grilled recipe!
Course: Main Course
Cuisine: Mediterranean
Keyword: beef kabob, grilled beef
Servings: 6 servings
Calories: 202 kcal
Ingredients
1 whole bunch parsley stems removed
1 medium yellow onion quartered
1 lb ground beef
2 tsp 7 spice or all spice
1/2 tsp cayenne pepper
1/2 tsp cumin
1/2 tsp cinnamon
1/2 tsp coriander
Salt and pepper to taste
Instructions
Place the parsley in the bowl of a food processor and pulse until finely chopped, remove and set aside.

In the same food processor bowl used to chop the parsley, place the quartered onion and pulse until finely chopped.

Return the parsley back to the bowl of the food processor with the onions. Add the ground beef to the food processor in addition to all the spices. Run the food processor until the ingredients are well combined and form a pasty meat mixture.

Transfer the mixture from the food processor to a large bowl and form the Kafta into an oblong shape about 1 inch in thickness. You can form them on a wooden skewer or without.

Grease the grates of a gas grill or indoor grill pan, and preheat it to medium high heat. When heated through, transfer the kafta to the grill. Grill for 4-5 minutes per side, depending on your preferred level of doneness.

Serve hot off the grill with your choice of side.
Recipe Notes
Storage: Store any leftovers in an airtight container. They will last about 3-4 days in the fridge.
Make Ahead: You can make the patties ahead of time and freeze for up to 3 months. When ready to grill them, thaw in the fridge overnight or for at least 6-8 hours.
Sourcing: You can find the the spices mentioned at Middle Eastern markets, natural-foods stores or even in large supermarkets, often located with other Middle Eastern ingredients. Sometimes you might even just find "Kafta" spices which has the spices all combined. In that case, you can use 1 1/2 tablespoon of the kafta spice in place of all the other spices.
Nutrition Facts
Beef Kafta
Amount Per Serving
Calories 202 Calories from Fat 135
% Daily Value*
Total Fat 15g 23%
Saturated Fat 5g 25%
Cholesterol 53mg 18%
Sodium 52mg 2%
Potassium 237mg 7%
Total Carbohydrates 2g 1%
Protein 13g 26%
Vitamin A 1.5%
Vitamin C 2.6%
Calcium 2.4%
Iron 9.2%
* Percent Daily Values are based on a 2000 calorie diet.