Bulgur Pilaf
Jump To Recipe
Prep:
Cook:
Serves:

6 servings
This Lebanese style bulgur pilaf recipe is hearty, healthy and delicious; it is full of fiber & infinitely customizable – a meal the whole family will love!
Author:

Yumna Jawad

Posted:
Bulgur Pilaf
Today, I want to share with you a popular grain that I eat a lot of of – after rice and couscous, it's all about bulgur in my family! And one of my favorite ways of eating bulgur growing up is this way – as a bulgur pilaf!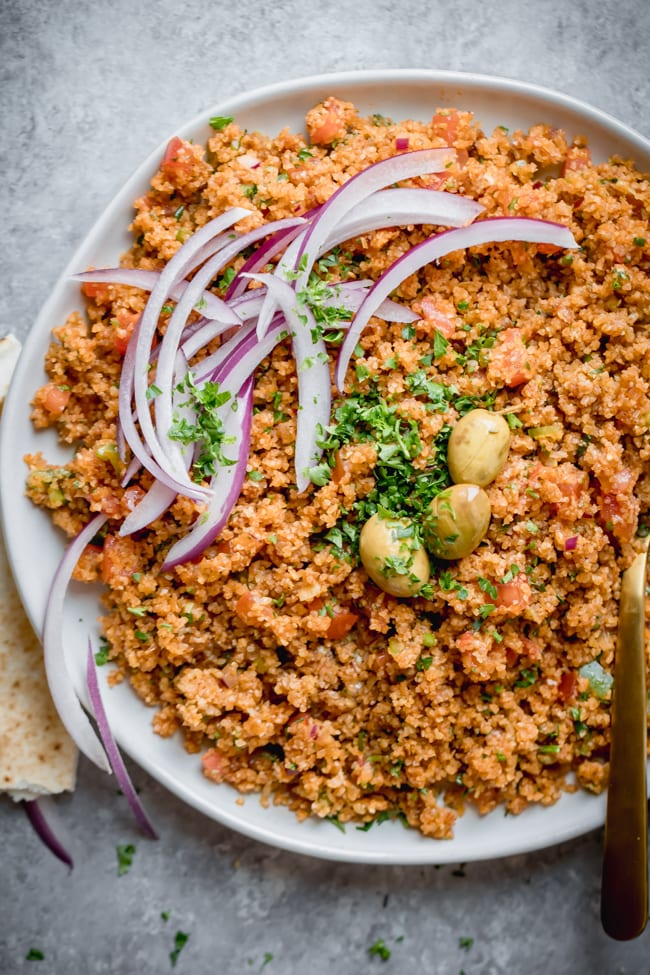 This Lebanese style bulgur pilaf recipe is a hearty, healthy and delicious recipe that is full of fiber and infinitely customizable – a meal my hubby and kids are obsessed with! We eat it on its own with a spoon, with pita bread and olive oil like a dip, or as a starchy side with chicken or beef.
MY LATEST VIDEOS
What's Bulgur?
You've probably heard of bulgur wheat used to make tabbouleh and other Mediterranean dishes.
It's a nutty Middle Eastern grain, with a chewy texture that comes in a few different sizes. Traditionally, you would use the super fine variety in tabbouleh, and the more coarse variety in a pilaf or rice-type dishes. They are actually labeled in stores from #1 which is super fine, to #4 which is more coarse. I typically use #2 or #3 in this bulgur pilaf recipe.
Compared to processed and refined carbohydrates, whole grains like bulgur wheat contain more filling fiber, in addition to more vitamins and minerals that support weight loss, according to many weight loss experts.
I would love for you to try it for your family! If nothing else, just try using bulgur wheat instead of rice in your favorite rice pilaf dish. Even when you compare bulgur to brown rice, it still has twice the fiber and on average more minerals/nutrients and all that good stuff our body craves. Now, that's what mean when they say good carbs!
How to Make Bulgur Pilaf
To start, I soak the bulgur in some water, which makes it softer and easier to chew on. While that's soaking for 15 minutes, I chop up the vegetables super fine and heat up the tomato paste with olive oil. The bulgur will get its red color from the two tablespoons of tomato paste that I mix into the bulgur. One trick I learned from my husband's mom is fry the tomato paste with the olive oil which gives it a more robust flavor.
Once the bulgur absorbs all the liquid it was soaking in, I fluff it up and add it to the plate/bowl of vegetables.
And then I mix it all together until all the bulgur is coated with the tomato paste. At this point, the recipe is pretty much done, but you can also add some cumin spice to it to enhance the flavors. I always add powdered cumin…it's pretty much my favorite spice!
Now you can eat the bulgur pilaf as is, or we love adding condiments like olive, pickled peppers and extra olive oil and eating with with pita bread. You can also serve this on the side of protein like grilled chicken or beef shawarma.
I hope you love this healthy-ish feelgood Bulgur Pilaf recipe. If you make it, please leave me a comment telling me how you like it, or use hashtag #feelgoodfoodie on Instagram so I can see your recreations.
This recipe was originally shared on the blog on November 3, 2016 and has been updated now to include new photos.
Bulgur Pilaf
This Lebanese style bulgur pilaf recipe is hearty, healthy and delicious; it is full of fiber & infinitely customizable – a meal the whole family will love!
Course: Appetizer
Cuisine: Mediterranean
Keyword: Bulgar Pilaf, Vegetable Pilaf
Servings: 6 servings
Calories: 176 kcal
Ingredients
2 tablespoons extra virgin olive oil
3 tablespoons tomato paste 1/2 the small 6oz can
1 vine ripe tomato finely chopped
1/4 green pepper finely chopped
1 green onion finely chopped
1/4 small red onion finely chopped
1 tablespoon parsley finely chopped
1 ½ cups fine bulgur wheat
1 teaspoon ground cumin
Instructions
Heat olive oil in a small pot. Add the tomato paste and lightly fry until the tomato paste becomes fully incorporated with the olive oil and becomes fragrant.

Soak the bulgur with 1 cup of water for 10-15 minutes, occasionally fluffing until the water is fully absorbed

Combine the soaked bulgur, tomato paste, fresh tomatoes, green pepper, green onions, red onions, parsley and ground cumin. Mix well until the bulgur is well coated by the tomato paste and remaining ingredients

Serve hot or cold, on its own with pita bread or as a a side dish
Recipe Notes
Storage: Store any leftovers in an airtight container. This will last about 7  in the fridge.
Sourcing: You can find the bulgur at Middle Eastern markets, natural-foods stores or even in large supermarkets, often located with other Middle Eastern ingredients.
Nutrition Facts
Bulgur Pilaf
Amount Per Serving (1 bowl)
Calories 176 Calories from Fat 45
% Daily Value*
Total Fat 5g 8%
Sodium 71mg 3%
Potassium 294mg 8%
Total Carbohydrates 29g 10%
Dietary Fiber 7g 28%
Sugars 2g
Protein 5g 10%
Vitamin A 7.7%
Vitamin C 12.3%
Calcium 2%
Iron 7.9%
* Percent Daily Values are based on a 2000 calorie diet.