This post may contain affiliate links. Please read our disclosure policy.
Follow my easy guide on how to cut garlic. Thinly sliced, minced, or crushed, these directions show how to prep this pantry powerhouse so every recipe gets the flavor it deserves. I'll also share tips for storing the garlic, whether peeled or cut and how to use all the garlic in my many garlic-infused recipes!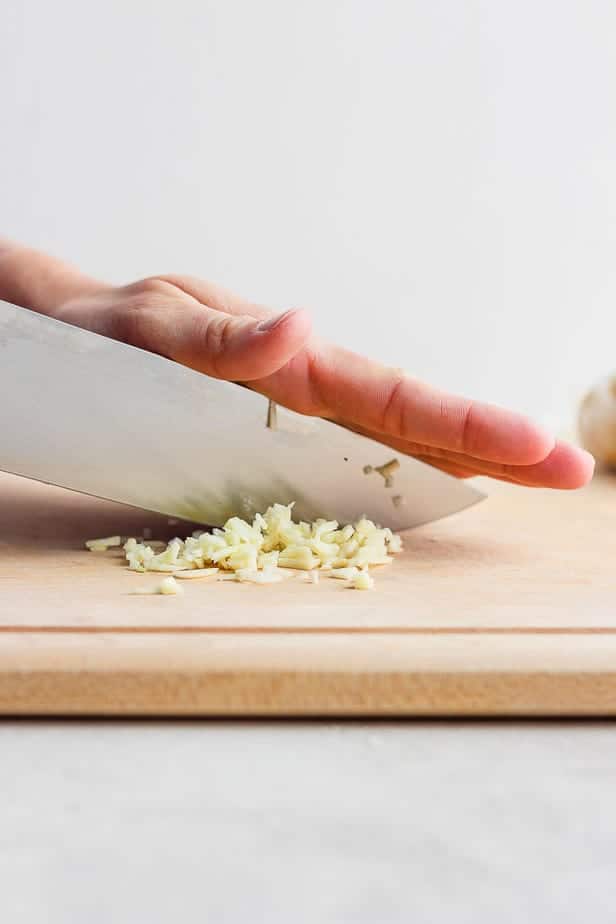 Sizes and uses for garlic
Pressed garlic: This is garlic pressed using a mortar and pestle or using a garlic clove press are great making salad dressings or sauces (like my tahini sauce) without using a blender or food processor. They distribute more easily into the other ingredients and give the most flavor.
Small minced garlic: The tinier the mince, the bigger the garlic taste, because more flavor-packed juices are released. For instance, raw, minced garlic adds a big punch to salads, pestos, and salsas.
Large chopped garlic: Slightly larger pieces of chopped garlic heat up and evenly season a batch of chili, pasta sauce, or soup when they are sautéed then long-simmered.
Slices of garlic: Large slices of garlic that are cut thinly add a softer garlic flavor.
Whole garlic cloves: Especially when roasted, whole cloves add a sweet complexity to purées of roasted vegetables. They are also often used to flavor butter or olive oil.
How to peel garlic
The first step in chopping garlic is selecting a good, firm bulb. Always avoid brown spots, soft spots, indentations, or visible sprouts (bitter!) on past-their-prime bulbs. To begin, grasp the garlic with two hands and using your fingers, pull off and dig through the papery skin.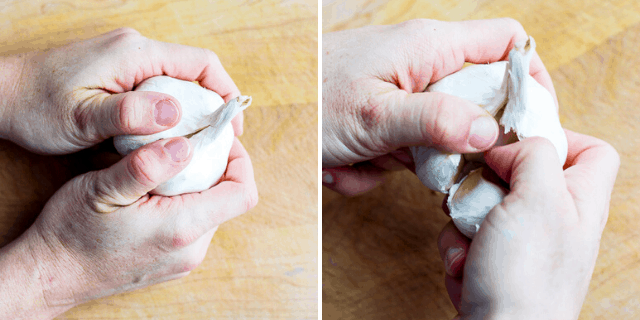 Each section is called a clove. Now pluck out the clove (or cloves) needed for your recipe. You can store the remaining whole garlic outside until the next use.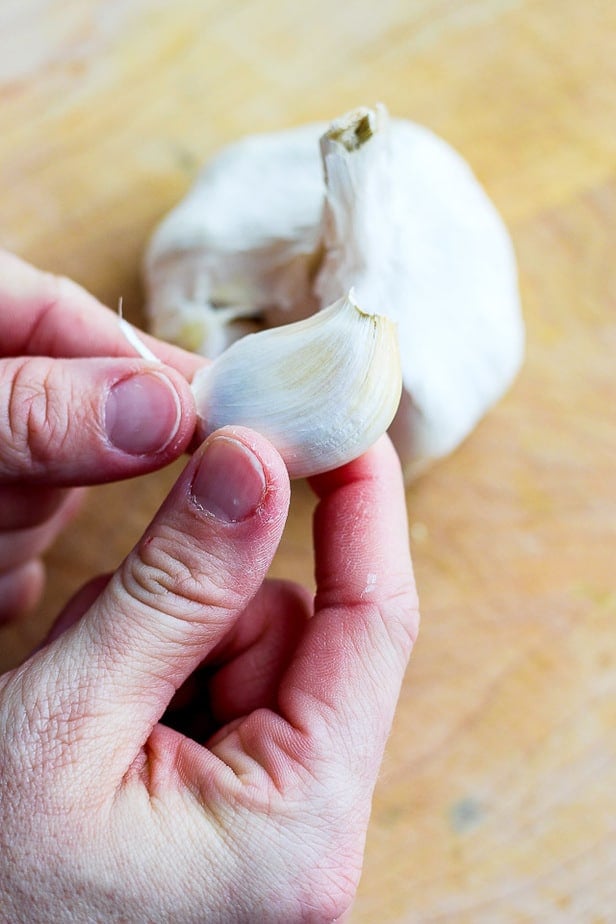 Only want one? Store the rest of the bulb at room temperature in a wire or mesh basket or bowl, or even a paper bag, because garlic is happiest when it is in a ventilated container and in the dark.
Next, to easily remove garlic's papery skin, place the garlic clove flat on a cutting board, put the flat side of a chef's knife over it and lightly press with the palm of your hand until you feel the squish and hear the slight crushing sound.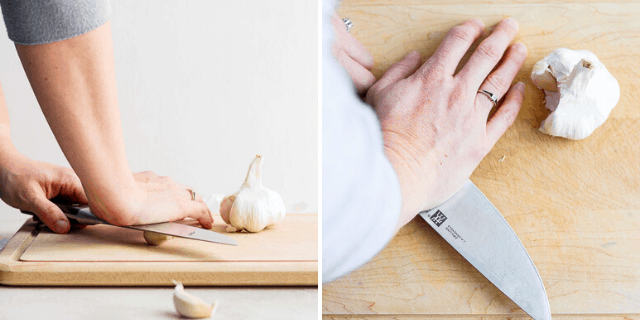 Release the knife. Loosened, the papery skin is easily peeled off.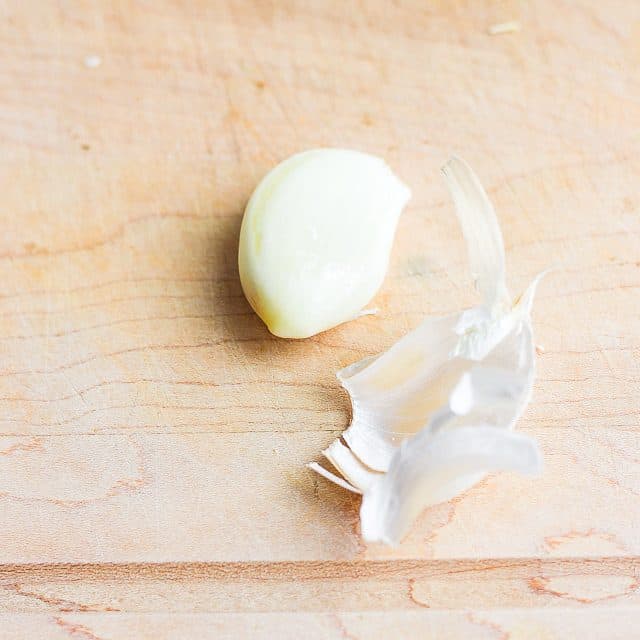 Now that you've peeled the garlic, you're ready to cut the garlic. I'm going to share the three most popular ways to cut the garlic and I'm sure there are other methods and ways to cut garlic. These are three I use most often in my recipes that should be most helpful to you.
How to cut garlic
Slicing garlic
Position the peeled garlic clove flatter side down. Keeping the knife in one hand and the other on top of the blade, run the knife slowly over the clove from left to right, slicing to your desired thickness.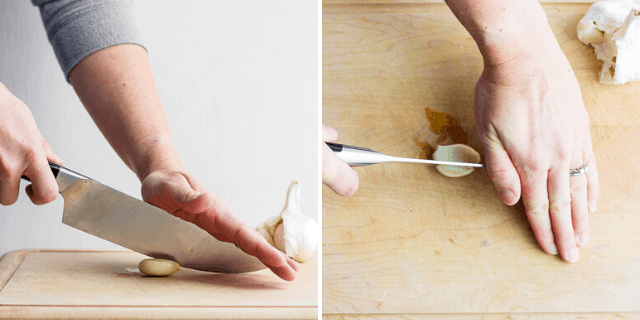 These thin slices of garlic may play a gently supporting role in cooked dishes or pickle brines.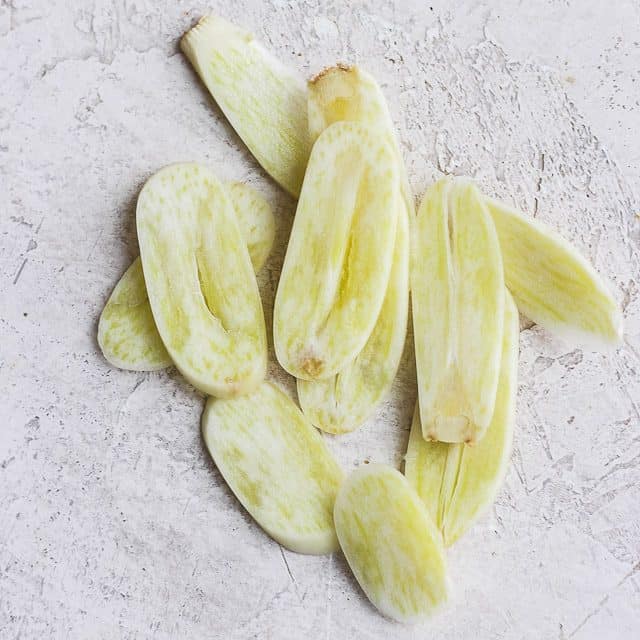 Mincing garlic
If you want tiny pieces, start the same way. First, position your clove on the cutting board. Then, grasp the knife in one hand with the other hand on top of the blade. Now run the knife repeatedly over the cloves, from left to right and back again, mincing the garlic into your desired size.
Crushing garlic
For this preparation, place the flat side of a chef's knife over the whole peeled garlic on the cutting board and press firmly to crush.
Now, you are ready to throw a crushed garlic clove into a pot of soup or chili to add flavor while the dish is cooking. You can fish it out before it's time to eat so there are no garlic surprises.
How to store unused garlic
Whole bulbs can last for months if placed in a dry, ventilated container – a mesh basket, for instance – in a cool, dark location like a pantry shelf.
However, once a clove has been removed, the rest of the bulb is only optimal for seven to ten days. Tightly wrapped peeled cloves can last a week in the fridge and tightly wrapped cut garlic a day or two. Remember, though, don't refrigerate whole bulbs of garlic. The refrigerator's humidity makes the bulbs mushy and can cause sprouting. If you're rather freeze garlic, check out my post for my favorite way to freeze it to use in recipes.
Recipes with garlic
Frequently asked questions
How long does peeled garlic last?

If tightly covered peeled garlic will last one week in the refrigerator
When tightly packaged in a freezer-safe container peeled garlic can be frozen for 12 months.
Some even say that you can store chopped garlic in vinegar in the refrigerator to extend its life up to four months.
How do you remove garlic smell from a wooden cutting board?
Sprinkle the cutting board with kosher salt, then rub all over with a half a cut lemon squeezing juice as you go.  Let sit a few minutes, then scrub, and rinse.
OR make a paste of baking soda and water. Then, spread on board, let soak for five to ten minutes and then scrub.
How do you remove the garlic smell from your hands?
Wash your hand with the baking soda or lemon juice and salt you already have out to clean your cutting board!
Under running water, rub your hands over something stainless steel – like a big spoon. 
Garlic is so fundamental in the kitchen that cookbook author Mark Bittman calls it "the most important vegetable in recorded history (really!) because of its universal value as a seasoning." Hopefully, this post on how to cut garlic helps you learn the different ways to cut and use garlic.
For more cooking resources, check out:
If you've found this cooking resource for How to Cut Garlic helpful or if you've tried any recipe on FeelGoodFoodie, then don't forget to rate the recipe and leave me a comment below! I would love to hear about your experience with this technique. And if you snapped some shots of it, share it with me on Instagram so I can repost on my stories!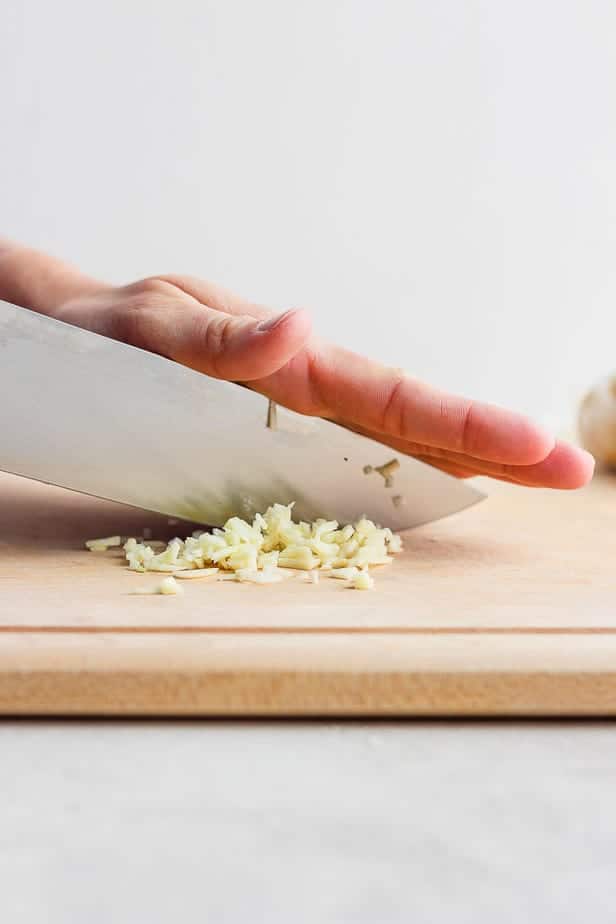 How to cut garlic
How do you cut garlic? Here I show you the easiest and best way to crush, cut, chop, slice, and mince garlic cloves to flavor your recipes plus storage tips
Instructions
Using your fingers, open and separate the cloves from the garlic root.

Take one clove and lay it flat on a chopping board. Place the flat side of a chef's knife over it and lightly press to crush and loosen the skin from the clove.

Peel the skin away from the clove and discard.

For Crushed Garlic: Place the flat side of a chef's knife over the garlic and press to crush again.

For Sliced Garlic: Keeping the knife in one hand and the other on top of the blade, run the knife slowly over the clove, from left to right, to slice them to your desired thickness.

For Minced Garlic: Keeping the knife in one hand and the other on top of the blade, run the knife repeatedly over the cloves, from left to right, to mince them to your desired size.
Notes
Storage: Store any peeled garlic cloves, whether sliced, minced or crushed in a small airtight container in the refrigerator for 5-10 days.
Photo Credit:
Erin Jensen
Nutrition
Calories:
1
kcal
,
Carbohydrates:
1
g
,
Protein:
1
g
,
Fat:
1
g
,
Sodium:
1
mg
,
Sugar:
1
g
,
Vitamin C:
1
mg
Nutrition information provided is an estimate. It will vary based on cooking method and specific ingredients used.