This post may contain affiliate links. Please read our disclosure policy.
If you're searching for a vegan replacement creamy Alfredo sauce, you will love this Cauliflower Alfredo sauce! It comes in at just 70 calories a serving and 5 grams of fat. What you serve it with, on the other hand is all up to you! 😉
What is cauliflower Alfredo?
Here's the gist of the recipe, instead of butter, cream and flour, we're basically blending cauliflower in a blender to make a creamy puree that truly resembles Alfredo sauce! You'll still use some of the good stuff in there like garlic, olive oil and even some non-dairy milk if you'd like. But the result is a naturally gluten-free and vegan Alfredo sauce that you can use in a wide variety of dishes!
Health benefits of cauliflower
By now, you know that cauliflower is truly one magic vegetable than can be substituted in so many creative ways to reduce carbs, whether it's Cauliflower Rice, Cauliflower Crust Pizza, Cauliflower Mashed Potatoes or even Cauliflower Mac and Cheese!
It's a great swap if you're looking for more fibrous foods with low calories. In fact, it only has 25 calories per cup, but 3 grams of fiber and with all kinds of nutrients and vitamins! Add to that the fact that cauliflower is like 90% water, and you can see why it can actually help with weight loss.
How to make cauliflower Alfredo sauce
To start, steam about 1 medium head of cauliflower cut into florets. You can use fresh or frozen. You want to cook it until the cauliflower is very tender, at least 8-10 minutes. But don't worry about over-cooking it, because that will just make for a smoother sauce. Set the cauliflower in a blender and pour 1 cup of the cooking water into the blender too.
Next you'll lightly sauté minced garlic and add that to the blender. Finally, you can add some dairy-free milk, some olive oil or just more liquid to get the cauliflower Alfredo to your desired consistency.
The key to the creamy velvety sauce is having a strong and efficient blender that does all the work. It should take 30-60 seconds to get a smooth and creamy sauce. Be patient though if your blender needs more time. Make sure there are no chunks of cauliflower left over and that the sauce is homogenous.
And what you'll get is a naturally gluten-free, paleo-friendly vegan Alfredo sauce. Now, I love mixing mine with fettuccine to make a healthy fettuccine Alfredo. Straight from the blender to a big pan of pasta – family style!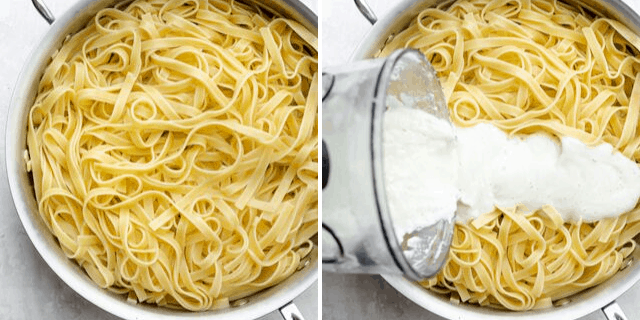 But you can use the sauce in many other ways that don't involve pasta at all! It's rich, creamy, garlicky and really is a great stand-in for the original Alfredo sauce!
Tips for making Cauliflower Alfredo
Use frozen cauliflower if you prefer. This recipe works just the same with frozen cauliflower as it does with fresh cauliflower. And that even cuts the prep time.
Don't over-cook the garlic. You want to cook the garlic on medium heat only for a couple minutes until it softens and becomes fragrant. It can become lightly brown in color, but don't let the color deepen too much since burnt garlic will lend a bitter taste to the cauliflower Alfredo.
Replace the non-dairy milk with vegetable broth, olive oil or even more cooking water. The 5-6 cups of cauliflower florets will need about 1 and half cups of liquid. Feel free to add more based on your preference.
Add nutritional yeast for a cheesy flavor. Just place it in the blender with the other ingredients and it will give it a cheesy flavor while still keeping the recipe vegan. You can also use any normal cheese you'd like. I recommend about ¼ cup.
Frequently asked questions
How long can you store the cauliflower Alfredo sauce?
If there are any leftover cauliflower sauce, make sure to allow it cool completely, then store it in the fridge for up to 3 days.
Can you freeze cauliflower Alfredo?
Yes, you can freeze the cauliflower Alfredo as long as you don't use any dairy in it. The dairy may separate when frozen with the sauce, which will make it unappealing.
This vegan Alfredo sauce is a low-fat, low-calorie replacement for traditional homemade Alfredo sauce. Since it's naturally gluten-free, diary-free and nut-free, it's a great swap for many different dietary restrictions. Use it with pasta, chicken, vegetables or even pizza to add a rich creamy sauce without all the fat and calories!
More vegan pasta recipes:
If you've tried this healthy-ish feel good Cauliflower Alfredo recipe or any other recipe on FeelGoodFoodie, then don't forget to rate the recipe and leave me a comment below! I would love to hear about your experience making it. And if you snapped some shots of it, share it with me on Instagram so I can repost on my stories!
Cauliflower Alfredo
Cauliflower Alfredo sauce is a creamy vegan, gluten-free, nut-free homemade Alfredo sauce with less fat & less calories as compared with the original recipe
Ingredients
Instructions
Bring a large pot of boiling water to a boil. Add the cauliflower and cook, covered, for 8-10 minutes or until cauliflower is fork tender. Reserve 1 cup of the boiling water.

Heat the olive oil a large skillet over medium heat, sauté the minced garlic until soft and fragrant, but not browned, about 1-2 minutes.

Use a slotted spoon to transfer the cooked cauliflower to a blender. Add the sautéed garlic, reserved 1 cup cooking liquid, milk, salt and pepper. Cover the vent in your blender lid with a thin kitchen towel to allow venting and puree until the sauce is smooth and creamy, about 1 minute. If the sauce starts to look dry, add a few drops of water, milk, or olive oil.

Serve with cooked fettuccine
Notes
Storage: Store any leftovers in an airtight container. They will last about 4-5 days in the fridge. 
Substitutes: For best results, follow the recipe as is. However here are some common substitutes that would work well in this recipe.
To make it gluten-free, you can use any gluten-free pasta of your choice.
To make the sauce more creamy, you can use more milk and olive oil instead of the cauliflower cooking water.
Feel free to substitute the fresh garlic for garlic powder, although I definitely prefer the slightly sautéed garlic in here.
Nutrition
Calories:
360
kcal
,
Carbohydrates:
59
g
,
Protein:
13
g
,
Fat:
9
g
,
Saturated Fat:
2
g
,
Cholesterol:
64
mg
,
Sodium:
456
mg
,
Potassium:
446
mg
,
Fiber:
4
g
,
Sugar:
3
g
,
Vitamin A:
47
IU
,
Vitamin C:
41
mg
,
Calcium:
75
mg
,
Iron:
2
mg
Nutrition information provided is an estimate. It will vary based on cooking method and specific ingredients used.