This post may contain affiliate links. Please read our disclosure policy.
Learn how to bake tofu in a few easy steps. This protein-rich, low-cholesterol food, made from solidified soy milk, is a top meat substitute. Plus, it brings fiber, calcium, and vitamin D to your plate. Follow my simple tutorial for how to cook tofu in the oven, and you'll never feel intimidated by it again.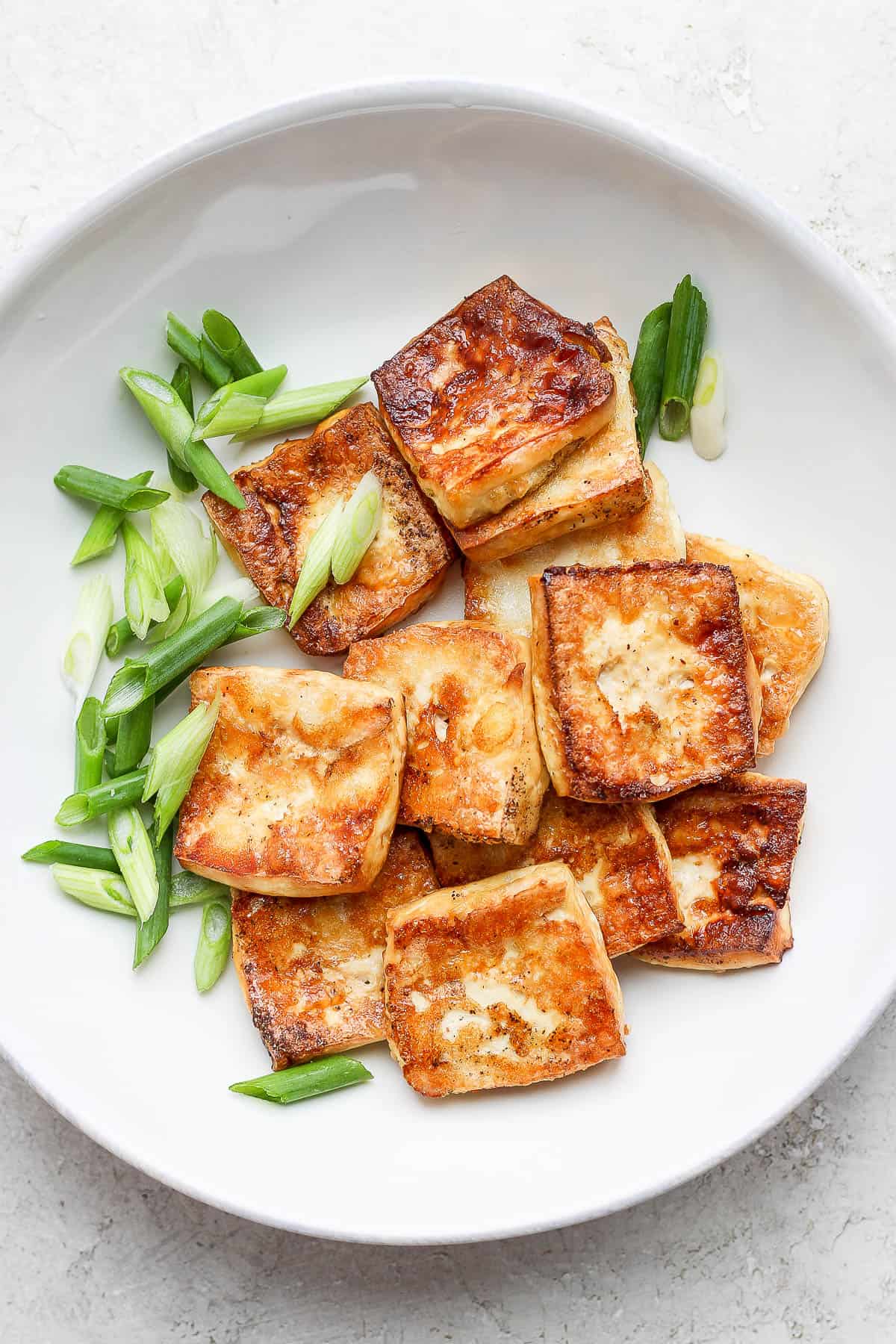 Ingredients & substitutions
Extra firm tofu: Tofu comes in different textures from silky to extra firm. Extra firm works here because it holds its shape and stands up to baking. And, because it is more compressed, it is more nutritionally dense, the way Greek yogurt has more protein than regular.
Canola or grapeseed oil: While many types of of cooking oil will work here, canola or grapeseed both have a high flash point so they will not burn in the oven and a neutral taste that does not fight the soy sauce.
Soy sauce: Soy sauce and tofu are natural partners, but many flavor-rich marinades you might use for say, chicken, could also work for baked tofu
Black pepper: This pairs well with the soy sauce and tofu.
Cornstarch: Is routinely used to help give baked tofu a crust but in a pinch you can use all- purpose flour or other flours like rice or potato.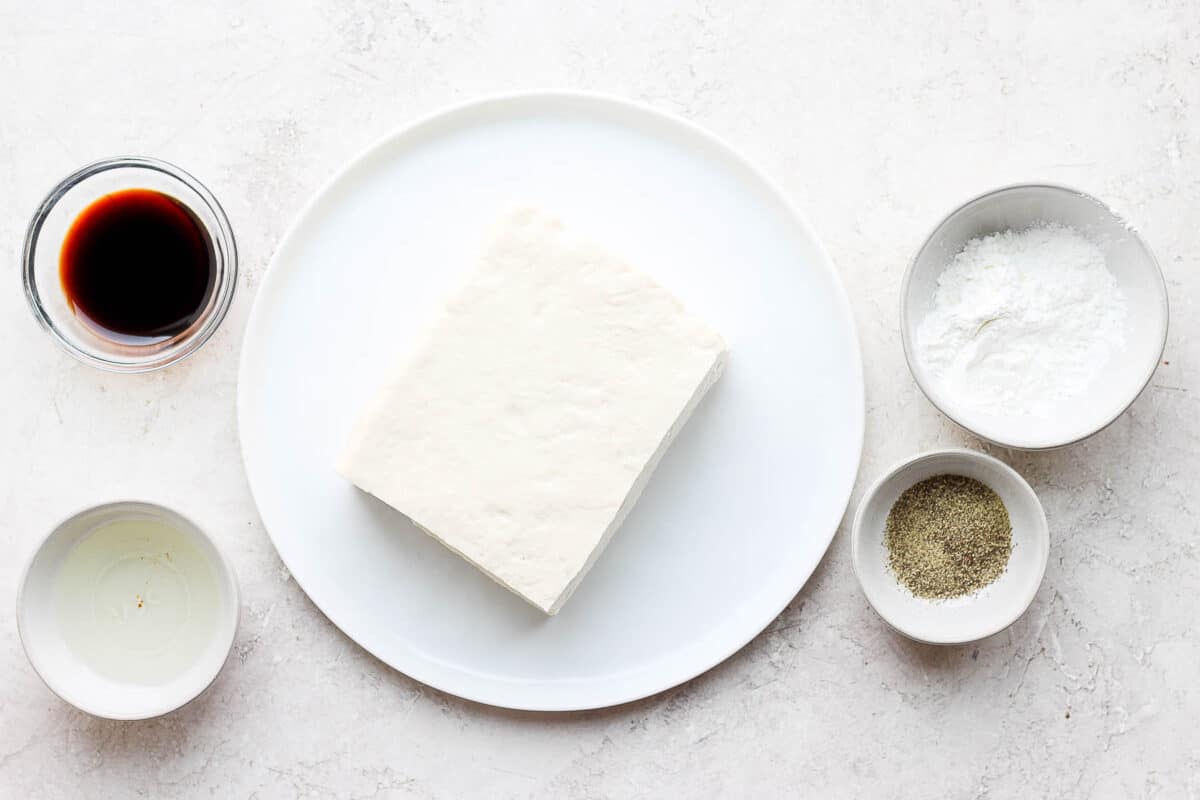 How to bake tofu
press & prepare tofu
Preheat the oven with the baking tray inside. Open and drain the tofu. Now the tofu needs to be pressed to get the extra liquid out. Sandwich the tofu between paper towels.
Next put a cast-iron skillet or filled-tea kettle or other heavy object on top. Let stand to squeeze the extra liquid out. (You can even invest in a tofu press if you find yourself eating it often enough.)
Cut the tofu in half lengthwise and then cross-section into smaller cubes about 2″ long.
Move the tofu cubes to a bowl for seasoning.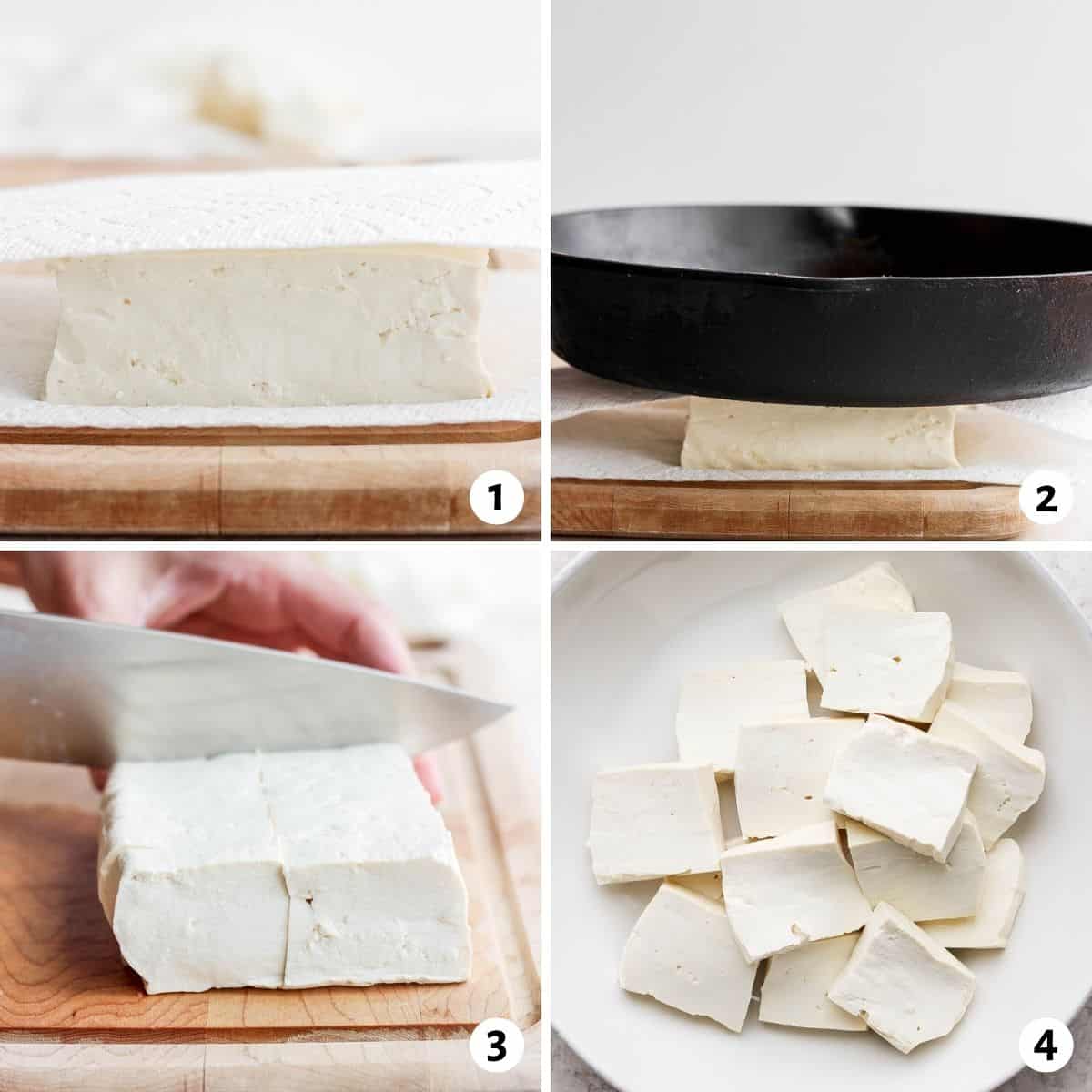 season & bake tofu
Add the oil, soy sauce, and black pepper to the bowl and toss.
Put in the cornstarch and toss again until coated. Let sit for a minute, then toss again.
Carefully lift the tofu cubes out of the bowl, leaving the excess starch in the bowl. Place on the hot baking tray.
Bake the tofu in the oven and use a spatula to flip each cube of tofu halfway through the cooking until the tofu is gold brown.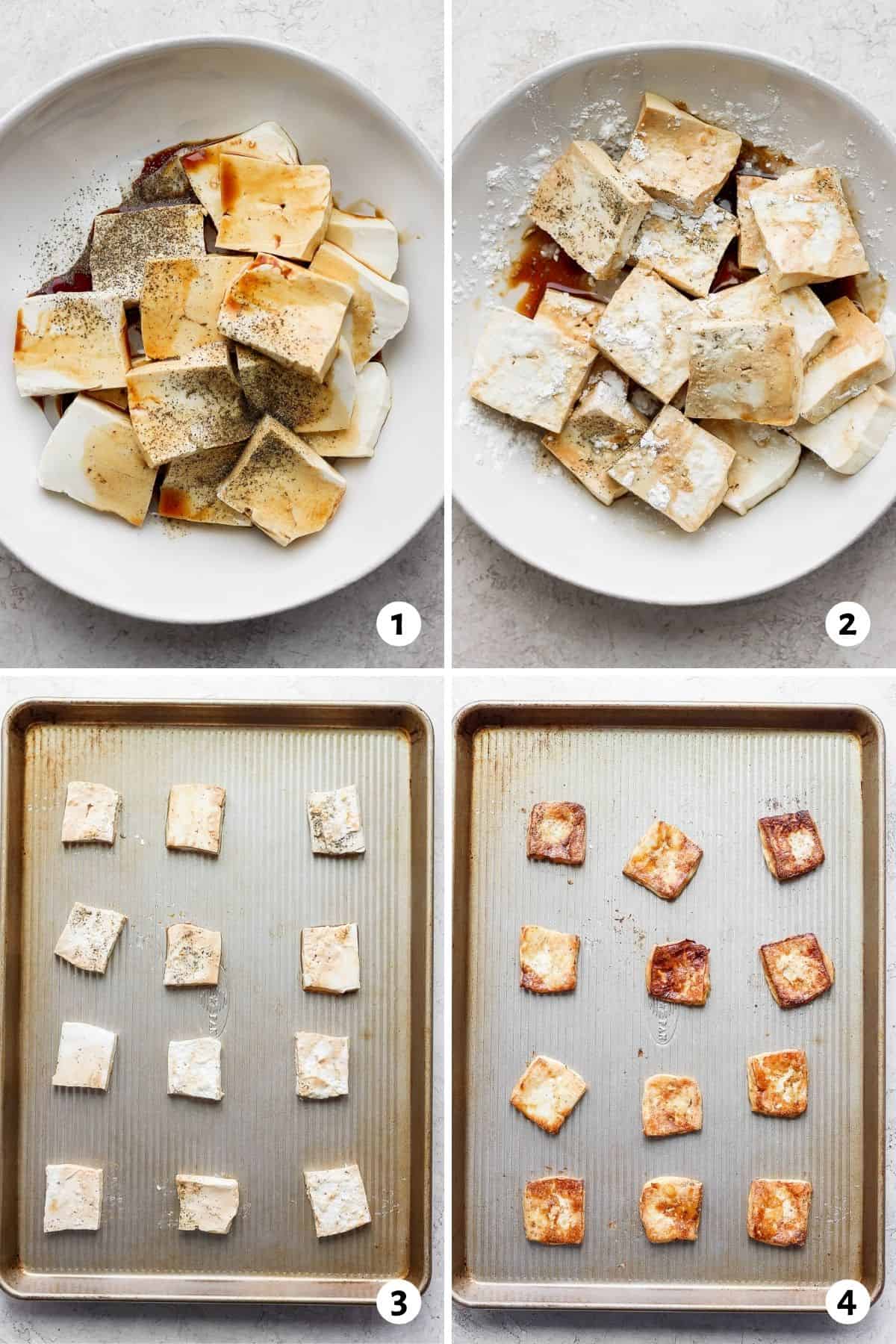 Tips for baking tofu
Shop carefully and buy the extra firm tofu. The softer types will not yield similar results.
Do not skip the draining. This is key for making crispy tofu in the oven. If you skip this step, your cubes may be too soft to crisp up nicely.
Cut into larger or smaller cubes as you prefer. You can also cut them into thin triangles so have fun with the shape of the tofu based on what you're cooking to go with it.
Use a bare baking pan to ensure a good crunch on the tofu. However, if you want to use parchment paper, it's totally fine and makes for an easier cleanup.
Frequently asked questions
Why won't my tofu get crisp?
This could likely be a result of not drying out the tofu enough to drain out the extra moisture. It's also possible that your oven temperature is not hot enough. Make sure it's preheated and heat the pan in the oven for extra crispness.
How long does baked tofu last in the refrigerator?
It can be refrigerated for up to five days. Just make sure to place it in an airtight container.
Can you freeze tofu?
Yes. However, be aware that freezing changes the texture of tofu into something chewier and denser.
what do you serve with roasted tofu
Baked tofu makes a great main dish with some steamed rice (or any grain) and a green vegetable or some baked squash. It also goes great on top of noodles or replacing other proteins in a sandwich. Since you're already using the oven to bake the tofu, try to pair it with roasted vegetables or oven baked casseroles for an easy meal completed in the oven. Try it with:
This crispy baked tofu is a great way to add vegan protein to your diet. Use any of your favorite flavors to spice it up and enjoy it for dinner.
More plant-based recipes :
If you find this tutorial for How to Bake Tofu helpful or if you try any recipe on Feel Good Foodie, then don't forget to rate the recipe and leave a comment below! It helps others who are thinking of trying out this tutorial and we would love to hear about your experience. And if you snapped some shots, share it on Instagram so we can repost on Stories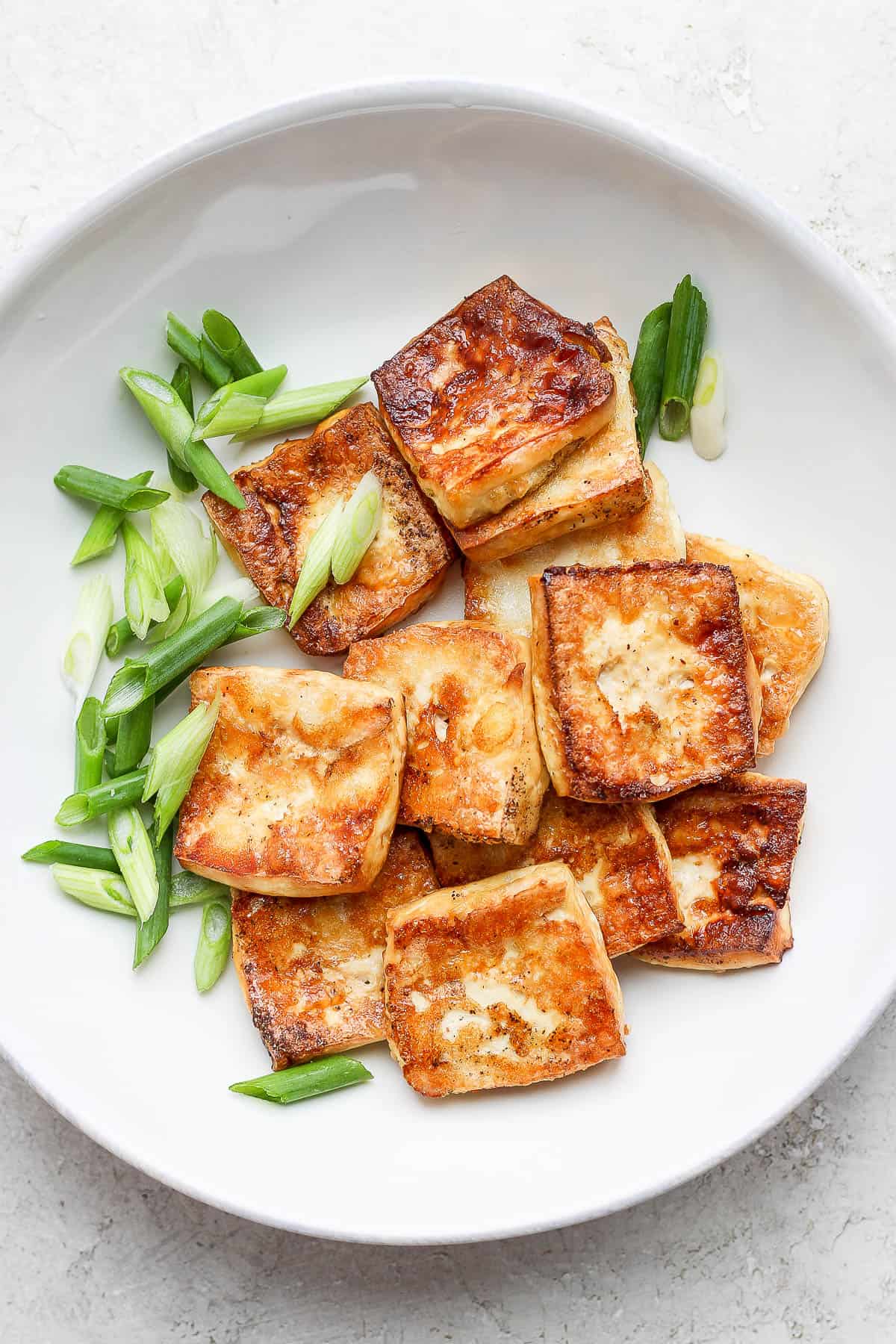 How to Bake Tofu
Learn how to make crispy baked tofu that's not mushy or bland. Grab the easy tutorial for how to press tofu, dry it properly and oven-bake!
Instructions
Preheat oven to 400°F with a baking tray inside.

Open the tofu and drain, press the tofu between two pieces of paper towels or kitchen towel. Place a cast iron pan or something heavy on top. Let stand for 20 minutes to drain the excess liquid.

Cut the tofu into cubes and toss with oil, soy sauce, and black pepper. Add cornstarch and toss until coated, let sit for a minute, toss again.

Carefully lift the tofu cubes out of the bowl, leaving the excess starch in the bowl. Place on the hot baking tray.

Bake for 15 minutes, then use a spatula to flip each cube of tofu. Bake for an additional 15-20 minutes until the tofu is golden brown. Serve as desired.
Notes
Storage: Store any leftover baked tofu in an airtight container for up to 5 days.
Nutrition
Calories:
123
kcal
,
Carbohydrates:
6
g
,
Protein:
8
g
,
Fat:
7
g
,
Saturated Fat:
1
g
,
Polyunsaturated Fat:
3
g
,
Monounsaturated Fat:
3
g
,
Sodium:
381
mg
,
Potassium:
21
mg
,
Fiber:
1
g
,
Sugar:
1
g
,
Vitamin A:
3
IU
,
Calcium:
110
mg
,
Iron:
1
mg
Nutrition information provided is an estimate. It will vary based on cooking method and specific ingredients used.
Photo Credit: Erin Jensen