This post may contain affiliate links. Please read our disclosure policy.
If you want to learn how to press tofu, this tutorial will show you an easy method that uses everyday items in your kitchen. Pressing tofu is such a critical part of preparing almost any tofu recipe that there is even a gadget specifically made for pressing tofu.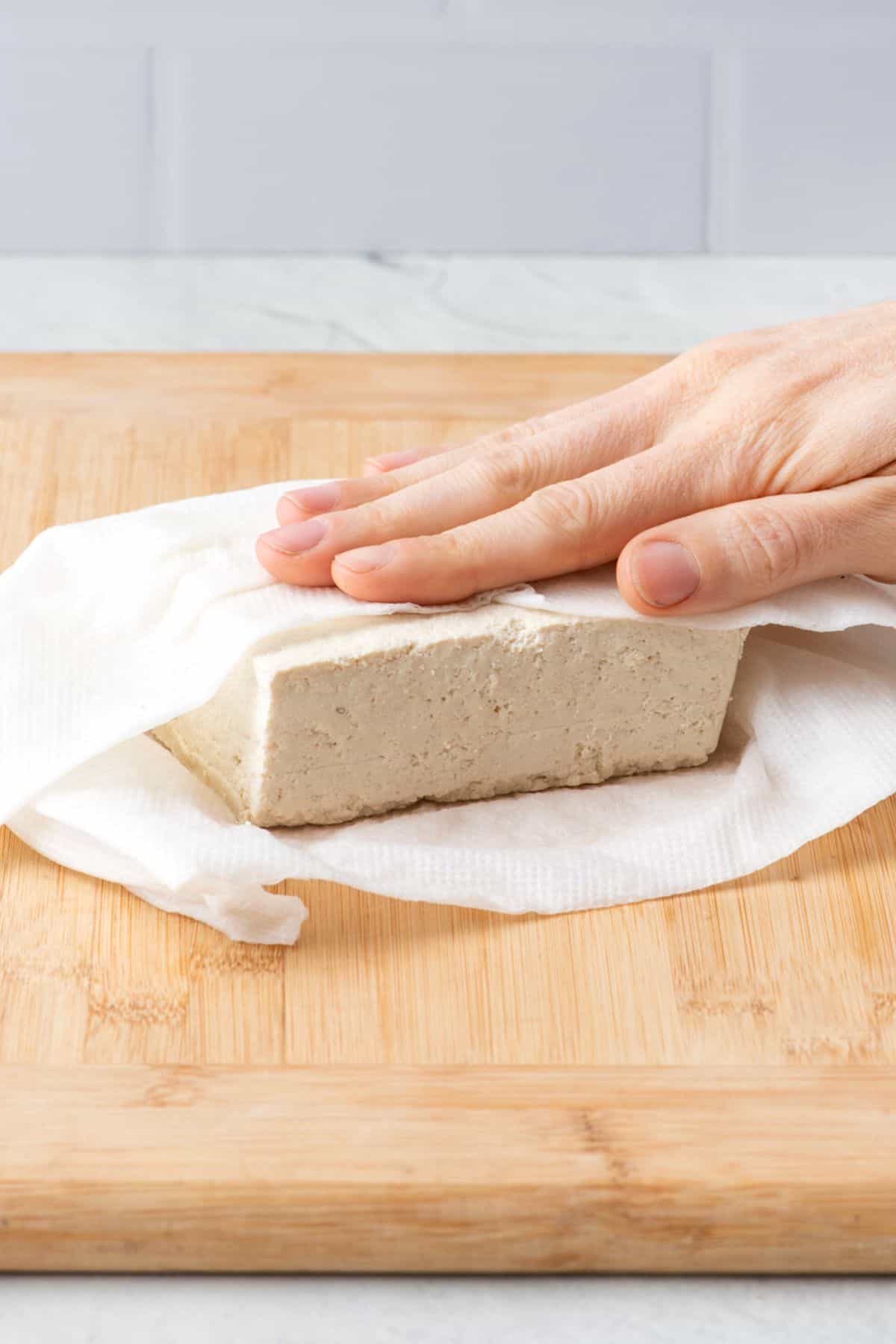 Tofu can be intimidating when first starting to learn how to cook with it, but once you understand how to prepare it and the steps to take to get it recipe ready, it's a great ingredient to cook with, especially if you're vegan or plant-based. Use pressed tofu to make taco 'meat', air-fry for a crispy appetizer, or bake to serve with some tasty sides.
This tutorial on how to press tofu quickly without a press is easy to follow and is basically hands-off. Find a flat surface, wrap the tofu, and layer on the weight to squeeze out all the extra water for a versatile ingredient ready for marinades and frying.
Table of Contents
Why learn how to press tofu
Easy way to remove excess water. Packaged tofu is stored in excess water to maintain its freshness on the shelf. But, when it comes to cooking the tofu, you remove as much of this liquid as possible. This is easy to do with the help of a heavy pan, a few canned goods, and some paper towels.
Make more tofu recipes. Once you've pressed as much moisture out of tofu, it's time to start making recipes! Not all recipes require pressing tofu, but it is important for pan-fried, air-fried, and sauteeing to get the best texture for your recipe.
Save money by pressing it yourself. A tofu press is a really great gadget to invest in, but if you don't eat tofu often or just stepping into the world of meat alternatives, then it may not be the time to invest in one. Learning to press tofu without a press is easy to do and only requires a few heavy items to set on top. Cast irons a perfect for this!
Pressed tofu absorbs more flavor. This technique of squeezing water out of tofu is necessary to take on new flavors. So if you're marinating tofu, you remove water to basically replace it with the marinade to add flavor to a commonly bland ingredient.
A more shapely end result. When you start with a firm or extra firm tofu block, you're already off to a good start to cutting it into cubes or slices for your recipe. Pressing the tofu will condense it into a more densely grained block that holds its shape when preparing and throughout cooking.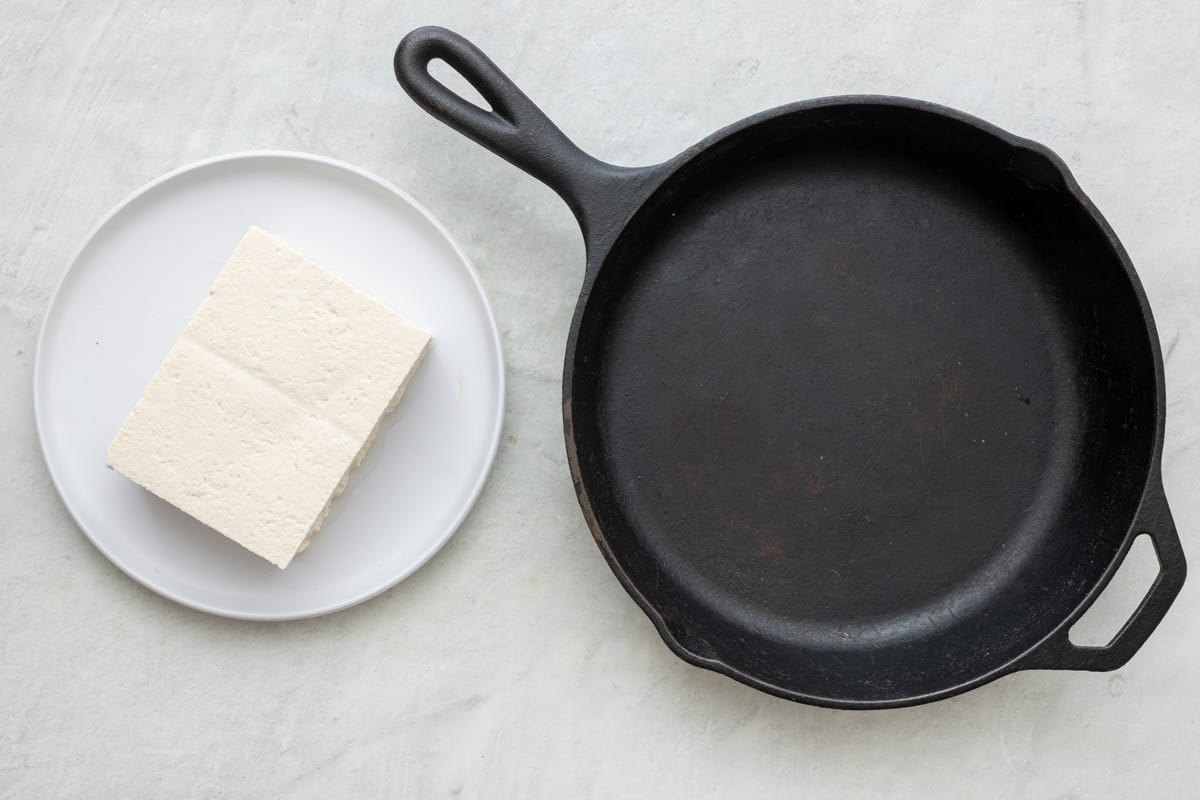 How to press tofu without a press
Wrap the tofu block in paper towels and place it on a shallow plate.
Grab a heavy pan like a cast iron and place it on top of the wrapped tofu. Place a few cans inside the pan and gently press down with your hands. Be careful not to press too hard where the block splits or breaks.
Allow the tofu to sit until the liquid is mostly pressed out. You can switch out the paper towels as needed to absorb more moisture.
Remove the weight and unwrap the tofu. It should be firm and near dry. Cut into your desired shape, and it's ready to add to recipes.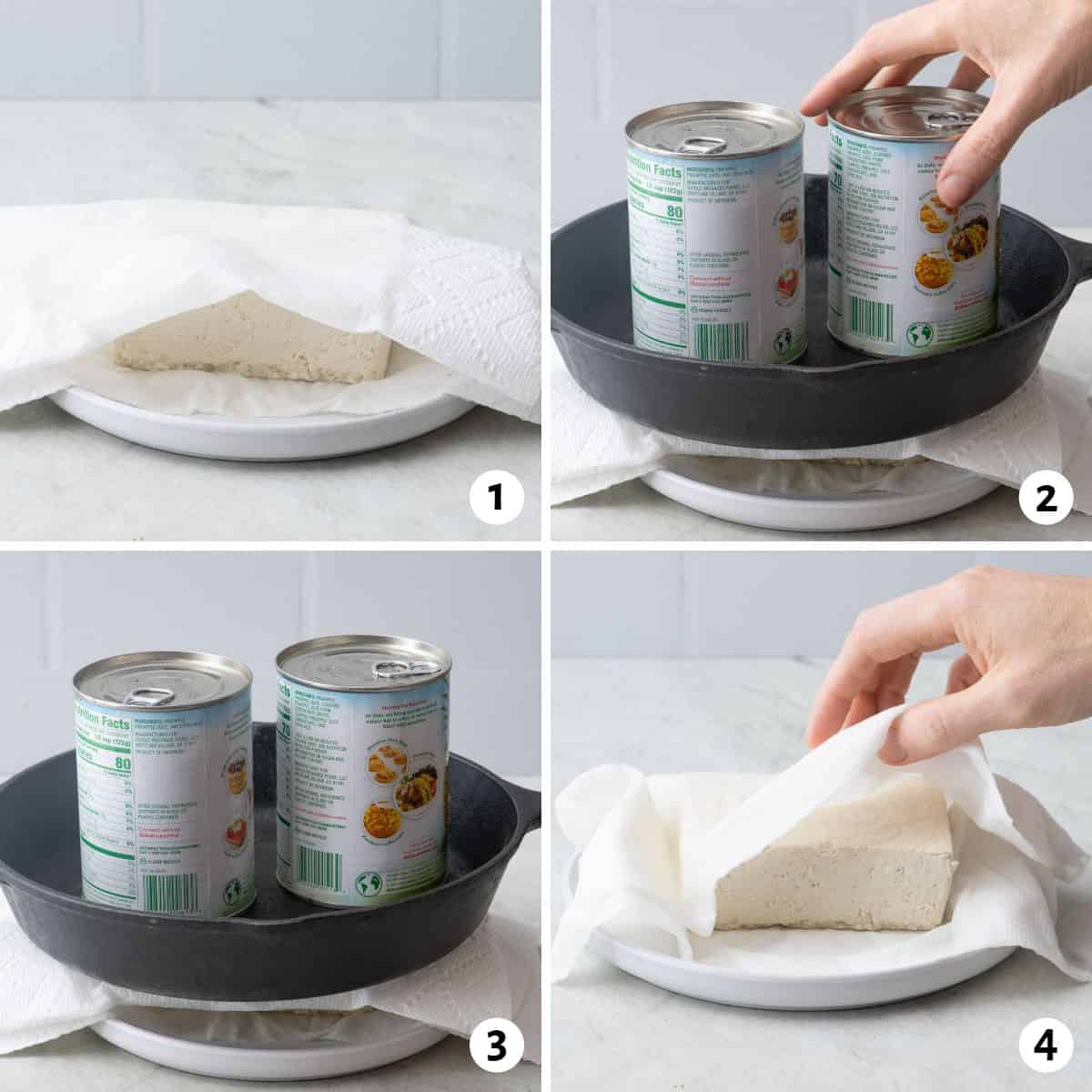 Tips for Pressing tofu
Add on the weight. I love using a cast iron pan because it already has some hefty weight. Plus, adding a few canned goods gives it a bit more and squeezes the water easily.
Let it sit long enough. Really, you can let this press for up to an hour and get great results. The more water excreted, the more crispy and chewier it will be when cooked.
Replace paper towels as needed. Some tofu can have more water than you'd expect. Check it occasionally and swap out the paper towels if you notice they become fully absorbed in the tofu liquid.
Use a flat surface and center the pan. I like to place the tofu block on a shallow plate to help catch any water that the paper towels don't, but it should be set on a flat surface. This ensures that the block's structure isn't affected while being pressed. Too much weight can cause it to split or break, and the pan and cans could fall off if it's not centered.
Recipes to make with tofu
How to store pressed tofu
After pressing the tofu, store it in an air-tight container in the fridge. This is a great option for preparing your tofu recipes for the week. Meal prep the pressed tofu by dividing it into individual or meal-sized portions.
How long will tofu last in the fridge after being pressed?
Once you've prepared tofu by removing excess water, it will last in the fridge when stored correctly for 3-5 days.
Can I freeze tofu?
Freezing tofu is actually a great trick for changing the texture into a meatier consistency, like chicken. While tofu freezes in water, the ice forms and expands, creating little pockets inside the block. When thawing, these pockets remain and make the tofu a little chewier. You can also freeze tofu after pressing. Place cubes on a baking sheet and freeze until solid, then transfer to a sealable container.
Frequently asked questions
How long should tofu be pressed?
Tofu should be pressed at a minimum of 10 minutes, but 30 minutes to an hour is best. The longer tofu is pressed, the firmer and drier it becomes.
Do I really need to press tofu? What if it's the extra firm kind?
Even firm and extra-firm tofu may need to be pressed to remove water. Depending on the recipe, taking this extra step to prepare tofu will affect your end result and give you firmer, chewier, and crispy cooked tofu.
Why is my tofu mushy even after pressing it well?
The usual culprit for mushy pressed tofu after cooking is overcrowding the pan. Just like meats and vegetables, to get a crispy texture on the outside, it needs room. This is true for pan-fried, air-fried, and even baked tofu. When too much is added, the pan cools down instead of instantly forming a caramelized crust on the outside, or while it heats up, it creates steam, which causes it to become soft instead of crispy.
Now that you know how to press and drain tofu and the reasons for doing so, it's time to start making all the tasty recipes you can muster! It's a game changer, and if you don't mind extra equipment in the kitchen, eventually investing in a tofu press may be right for you.
More cooking tutorials:
If you found this tutorial for How to Press Tofu helpful or if you try any recipe on Feel Good Foodie, then don't forget to rate the recipe and leave a comment below! It helps others who are thinking of trying out this tutorial and we would love to hear about your experience. And if you snapped some shots, share it on Instagram so we can repost on Stories!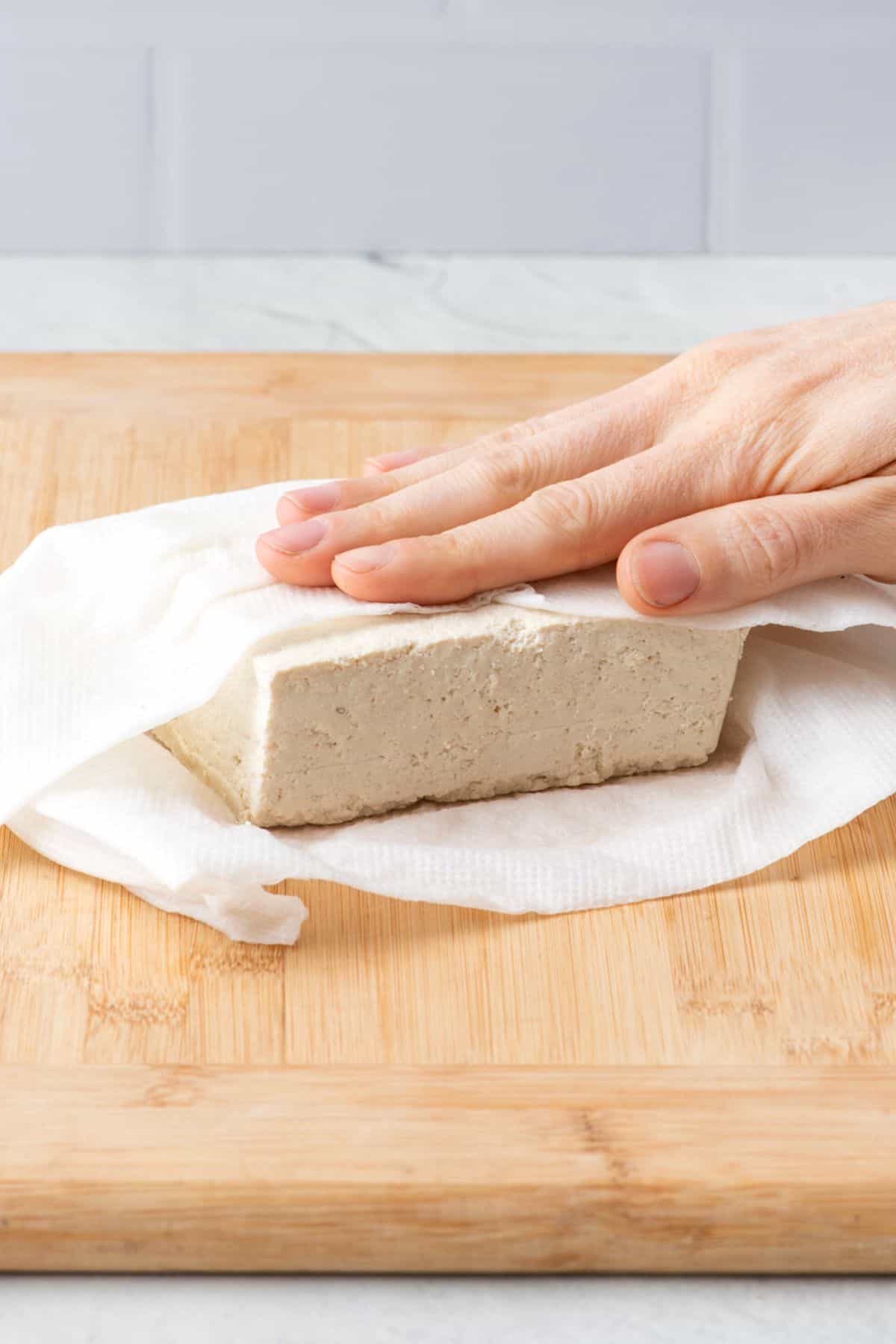 How to Press Tofu
This tutorial teaches you how to press tofu without a press at home in 30 minutes! It is super easy and only requires a heavy pan and some paper towels.
Ingredients
12

ounces

extra firm tofu
Instructions
Wrap the tofu in two paper towels and place it inside a shallow plate.

Place a heavy pan on top of the tofu and add two canned items in the pan to apply weight to the tofu. Make sure that the weight is balanced to press down evenly on the top of the tofu without being too heavy to break the tofu. This will help to squeeze out the moisture from the tofu block.

Allow the tofu to sit for 30 minutes and notice the moisture drawing out of the block of tofu. You can replace the paper towels if you notice they become fully absorbed in the tofu liquid.

Remove the weights and unwrap the tofu. Cut and cook the tofu as desired.
Notes
Tip: For chewy tofu, press for longer. The more water extruded the chewier it will be.
Nutrition
Calories:
62
kcal
,
Carbohydrates:
2
g
,
Protein:
8
g
,
Fat:
2
g
,
Saturated Fat:
0.3
g
,
Polyunsaturated Fat:
1
g
,
Monounsaturated Fat:
0.4
g
,
Sodium:
71
mg
,
Potassium:
175
mg
,
Fiber:
0.1
g
,
Sugar:
1
g
,
Calcium:
35
mg
,
Iron:
1
mg
Nutrition information provided is an estimate. It will vary based on cooking method and specific ingredients used.