This post may contain affiliate links. Please read our disclosure policy.
Learn how to make shredded chicken and you've got the main ingredient for some really nice recipes like Asian chicken salad, chicken tacos, and Lebanese Fatteh. All that is required is a tiny bit of time, the most basic of equipment (a pot and two forks), and, of course, chicken!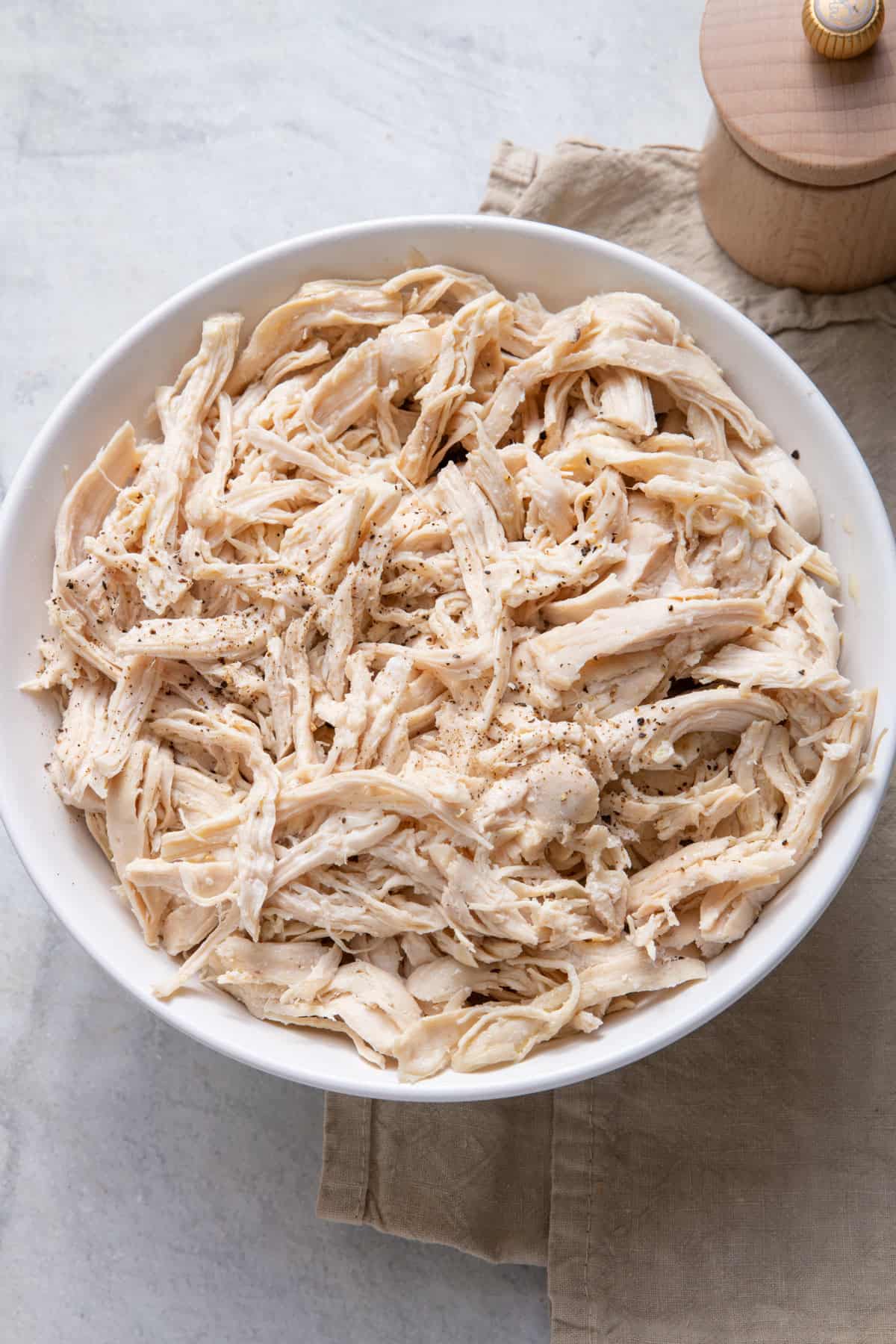 WHY learn to make shredded chicken
Use it for meal prep. Preppers know that chicken breast is a versatile blank canvas for so many meals. Plus, it lasts three to four days in the fridge. So, Sunday's shredded chicken becomes that day's chicken pot pie, Monday's burritos, and Tuesday's quick chicken soup!
Add protein to meals. Because shredded chicken is so versatile for soups, salads, sandwiches and one-pot meals, you can use it to bulk up a simple lunch sandwich or carton of soup easily
Check off a basic cooking technique. Learning how to boil a chicken breast and then shred it is a foundational skill for many recipes – nachos, chicken curries, Chinese lettuce cups, etc.
Swap it as a healthier choice for rotisserie chicken. That bargain supermarket time saver may have unwanted ingredients – like lots of extra salt and sometimes even sugar and additives. Making shredded chicken at home is easy because you can control the ingredients.
ingredients for boiling chicken breast
Chicken breasts: This recipes uses boneless skinless. But skin and/or bone-in breasts also work, and some prefer for the extra flavor imparted. They will take longer to cook. Discard the skin and bones before shredding.
Herbs: Here a bay leaf and some parsley add a herbaceousness base that plays well with a variety of cuisines. But they are optional or can be switched out for spices of your preference.
Seasonings: Salt is the most vital of these. Pepper (here in the form of whole peppercorns) and garlic are optional.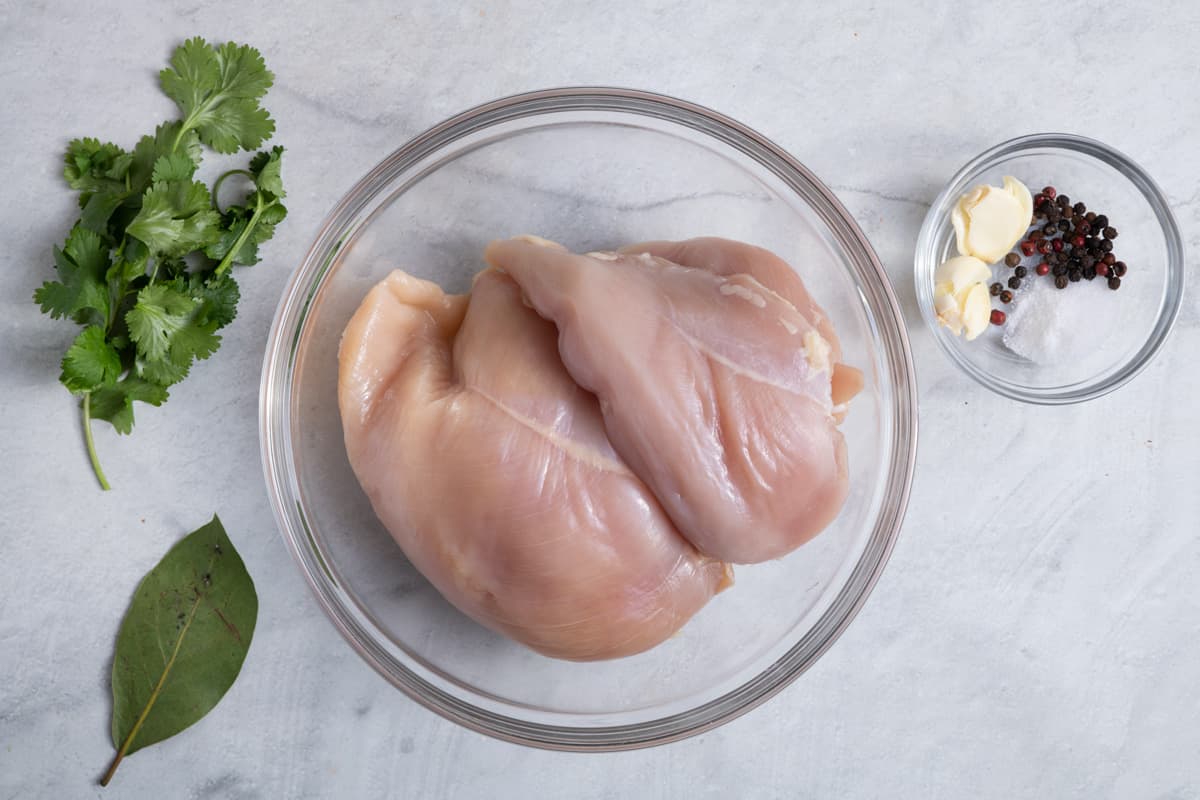 HOW TO MAKE shredded chicken
Making shredded chicken is a simple two-step process. First, the chicken is cooked through in a bath of seasoned water held at a very low simmer. Then it is rested briefly and shredded apart using two forks.
how to boil chicken breast
First, place the chicken in a large stock pot or dutch oven. Make sure there is enough room for all the breasts, water to cover them and a little bobbing room for each piece of chicken.
Then, add in the garlic, salt, peppercorns, parsley and bay leaves or the spices of choice.
Next, turn to high and bring to a boil and then immediately lower the heat down to achieve a simmer.
Cook until the chicken turns opaque and white throughout (you don't want to see any pink) or a thermometer reads 165°F. Finally, remove from the pot and allow to cool briefly.
how to shred chicken breasts
Start by placing the still-warm chicken on a cutting board and grabbing two forks.
Use one fork to anchor the piece of meat and then pull out with both forks, shredding the meat into the desired size.
TIPS FOR making shredded chicken
Watch the pot. Low and slow is the way to go. Cooking chicken at a very low simmer means that the protein in the chicken will cook in a relaxed way, staying tender. You may have adjust the heat while you cook the chicken to maintain a slow simmer with just a few tiny bubbles.
Check the temperature a few minutes into cooking. Cooking on low makes it harder to over cook chicken breasts but it doesn't hurt to be proactive and keep a watch for the most tender results.
Pair poaching spices with intended shredded chicken recipes. Layer a recipe's flavors into the poaching water. For instance, when making Chinese Chicken salad, try some ginger and teaspoon of soy sauce. For even more flavor, poach in chicken stock.
Shred while still warm for finer pieces. Allow the chicken to cool enough to handle but know that cold, refrigerated chicken will be harder to shred. Warm shredded chicken comes apart easier.
Add some of the cooking liquid on top of the chicken. The cooking liquid helps to keep the chicken moist and flavorful, especially if you're using in a couple days.
Shred chicken with a hand mixer. While you can use your hands or forks, it's much faster and easier if you use a hand mixer. Make sure to press the mixers into the middle of the chicken breast and start at low speed. I recommend this if you are shredding a lot of chicken or already using the bowl or hand mixer for other parts of a recipe. You can even use a blender!
recipes with SHREDDED CHICKEN
HOW TO STORE & REHEAT shredded chicken
Store shredded chicken in a ziplock bag or a tightly lidded airtight container. Reheat shredded chicken in the microwave or in a skillet. For any reheating method, you can prevent dryness by adding water or chicken stock and covering will warming. Heat to 165°F.
HOW LONG WILL boiled shredded chicken LAST IN THE FRIDGE?
All cooked poultry, including shredded chicken, lasts three to four days in the refrigerator.
CAN I FREEZE shredded chicken?
Yes, you can freez shredded chicken. Shredded chicken keeps in the freezer for 4 months. Package it into freezer-safe ziptop bags. Pack the bags tightly and squeeze out any excess air to prevent freezer burn. Alternately, it can be wrapped very tightly first in plastic wrap, then in two layers of foil.
FREQUENTLY ASKED QUESTIONS
Why is shredding a chicken different than cutting it into pieces?
Shredding chicken is all about creating thin, succulent pieces that meld right into other ingredients – think about cheesy, saucy chicken enchiladas or chicken in a creamy pasta. Chunker pieces will not have the right mouthfeel or work in recipes the same way.
Is shredded chicken and pulled chicken the same?
Yes, shredded chicken and pulled chicken are the same idea of boiling chicken and then using your hands or forks to pull the chicken apart as opposed to cutting the chicken.
Is it better to shred chicken hot or cold?
It's best to shred chicken when it's hot or warm and not when it's cold. It's much easier to pull the chicken apart with your hands or forks when it's warm. However, if you are cutting or slicing chicken, it's easier to do so with a knife when it's cold.
Is it better to make shredded chicken with chicken breast or chicken thighs?
Both work great and will depending on your recipe. Just keep in mind that chicken thighs will take longer to cook.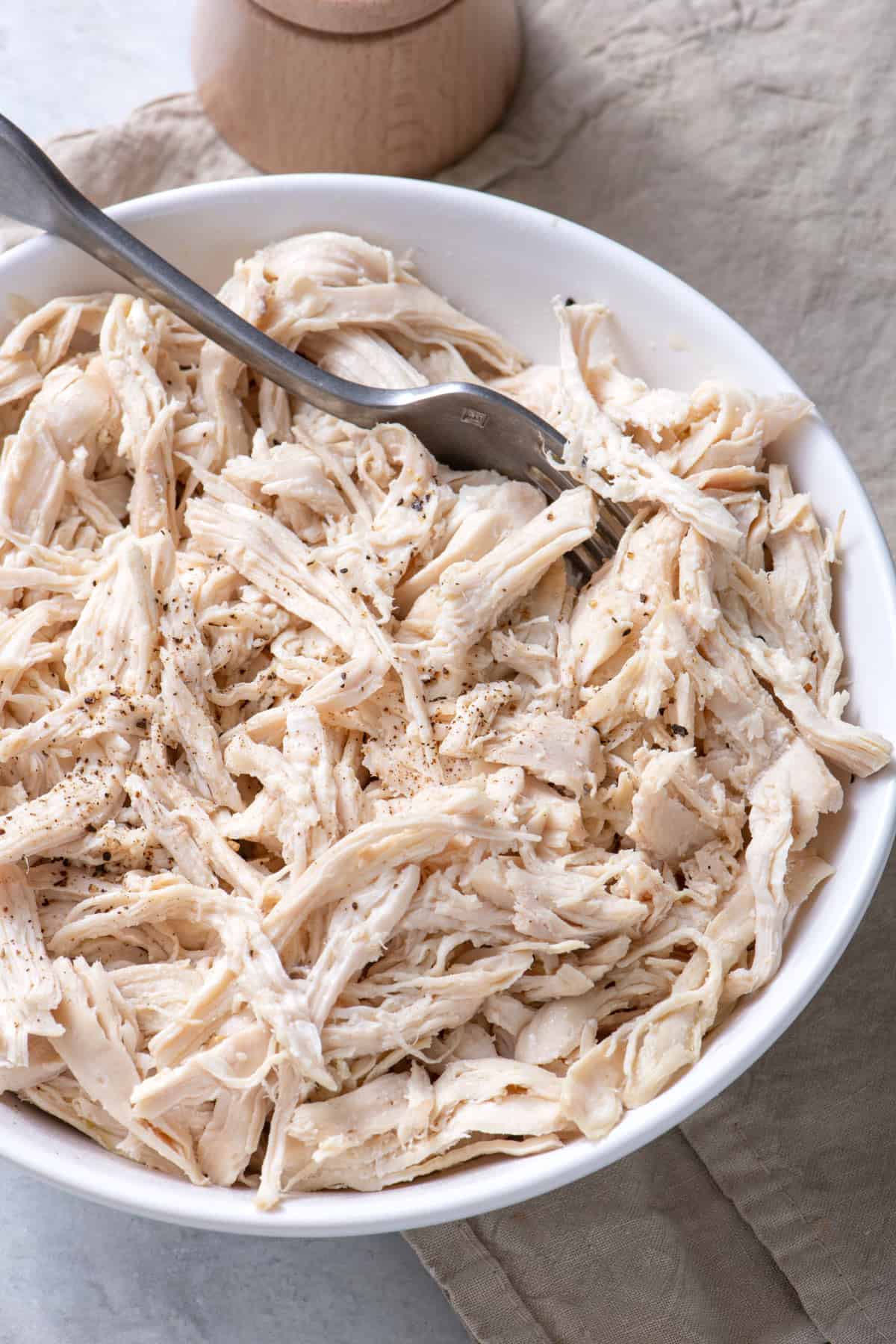 Shredded chicken is a total MVP in the kitchen and a great team player for meal prep, too. It's an important skill to master to learn how to shred chicken from a wide range of recipes and meal types. If you've found a recipe that includes "shredded chicken" as a the first ingredients, I hope this tutorial will help in learning how to properly cook and shred chicken.
MORE chicken cooking tutorials:
If you found this tutorial for How to Make Shredded Chicken helpful or if you try any recipe on Feel Good Foodie, then don't forget to rate the recipe and leave a comment below! It helps others who are thinking of trying out this tutorial and we would love to hear about your experience. And if you snapped some shots, share it on Instagram so we can repost on Stories!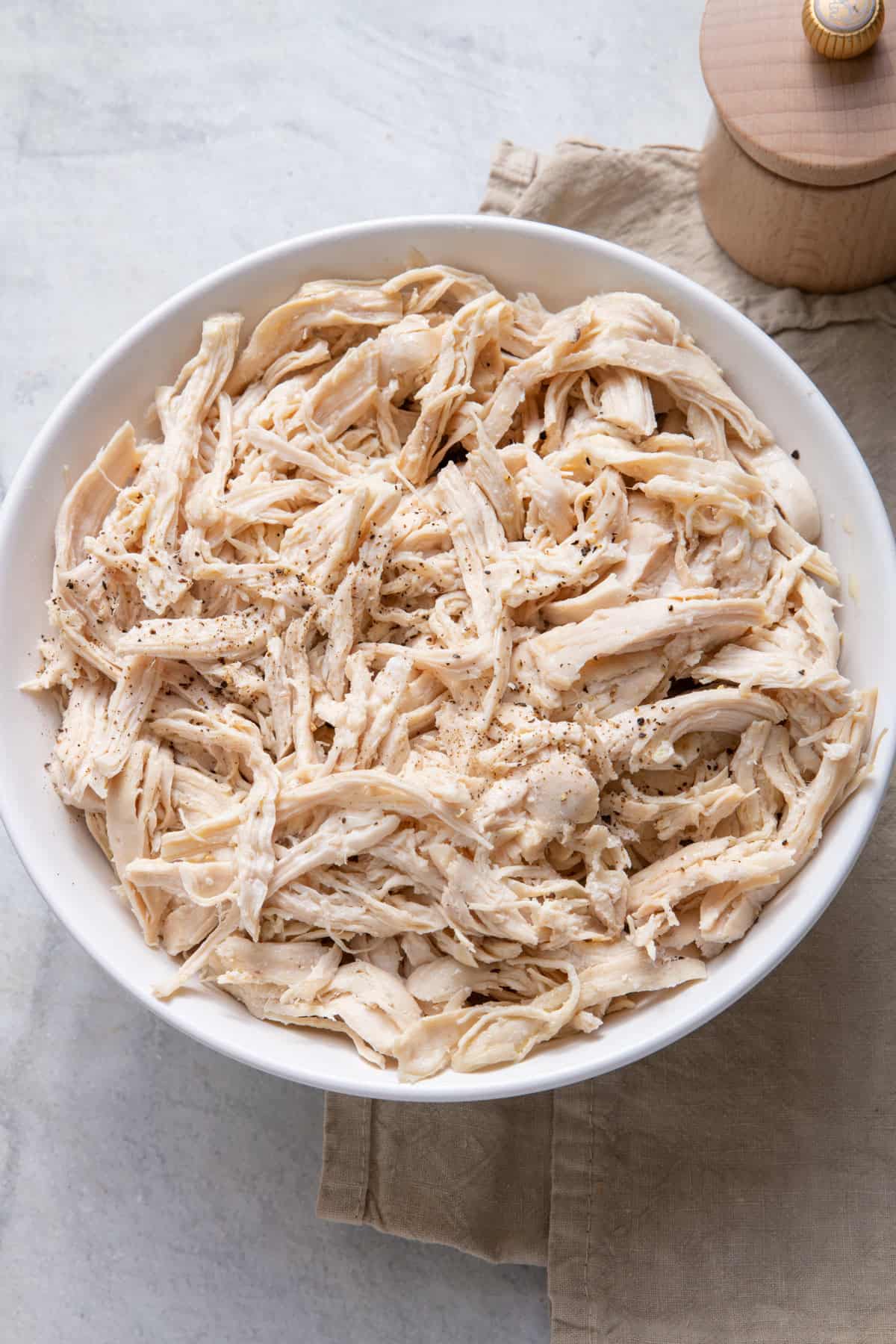 How to Make Shredded Chicken
Learn how boil chicken breast and how to make shredded chicken to use in a wide variety of recipes – easy tutorial with step-by-step photos!
Ingredients
1

pound

boneless skinless chicken breasts

2

garlic cloves

peeled smashed

1

teaspoon

salt

1

teaspoon

whole peppercorn

Few parsley sprigs

1-2

bay leaves

6

cups

water
Instructions
Place the chicken in a large pot or dutch oven with a lid. Add the garlic, salt, pepper, parsley and bay leaves. Pour the water on top of the chicken, making sure it is covered.

Bring the liquid to a boil, then reduce the heat and let simmer until the chicken reaches an internal temperature of 165°F or is no longer pink in the center, about 8-15 minutes, depending on the thickness of the chicken breast.

Remove the chicken from the liquid and allow it to rest. Drain the liquid and store for another use.

Allow the chicken to rest for 5 minutes. Then use two forks to shred the chicken, and use as desired.
Notes
Storage: Store shredded chicken in a ziplock bag or a tightly lidded airtight container. Reheat shredded chicken in the microwave or in a skillet. For any reheating method, you can prevent dryness by adding water or chicken stock and covering will warming. Heat to 165°F.
Nutrition
Calories:
134
kcal
,
Carbohydrates:
1
g
,
Protein:
24
g
,
Fat:
3
g
,
Saturated Fat:
1
g
,
Polyunsaturated Fat:
1
g
,
Monounsaturated Fat:
1
g
,
Trans Fat:
1
g
,
Cholesterol:
73
mg
,
Sodium:
731
mg
,
Potassium:
440
mg
,
Fiber:
1
g
,
Sugar:
1
g
,
Vitamin A:
42
IU
,
Vitamin C:
2
mg
,
Calcium:
24
mg
,
Iron:
1
mg
Nutrition information provided is an estimate. It will vary based on cooking method and specific ingredients used.