This post may contain affiliate links. Please read our disclosure policy.
If you want to learn how to cook butter squash, there are many different ways to do so depending on your preference. In this tutorial, I will show you how to cook butternut squash cubes three different ways – in the oven, on the stovetop, and even in the microwave! I will also walk you through how to peel and cut butternut squash into cubes, as well as how to deseed the butternut squash. So whether you are a beginner or an experienced cook, this guide has got you covered!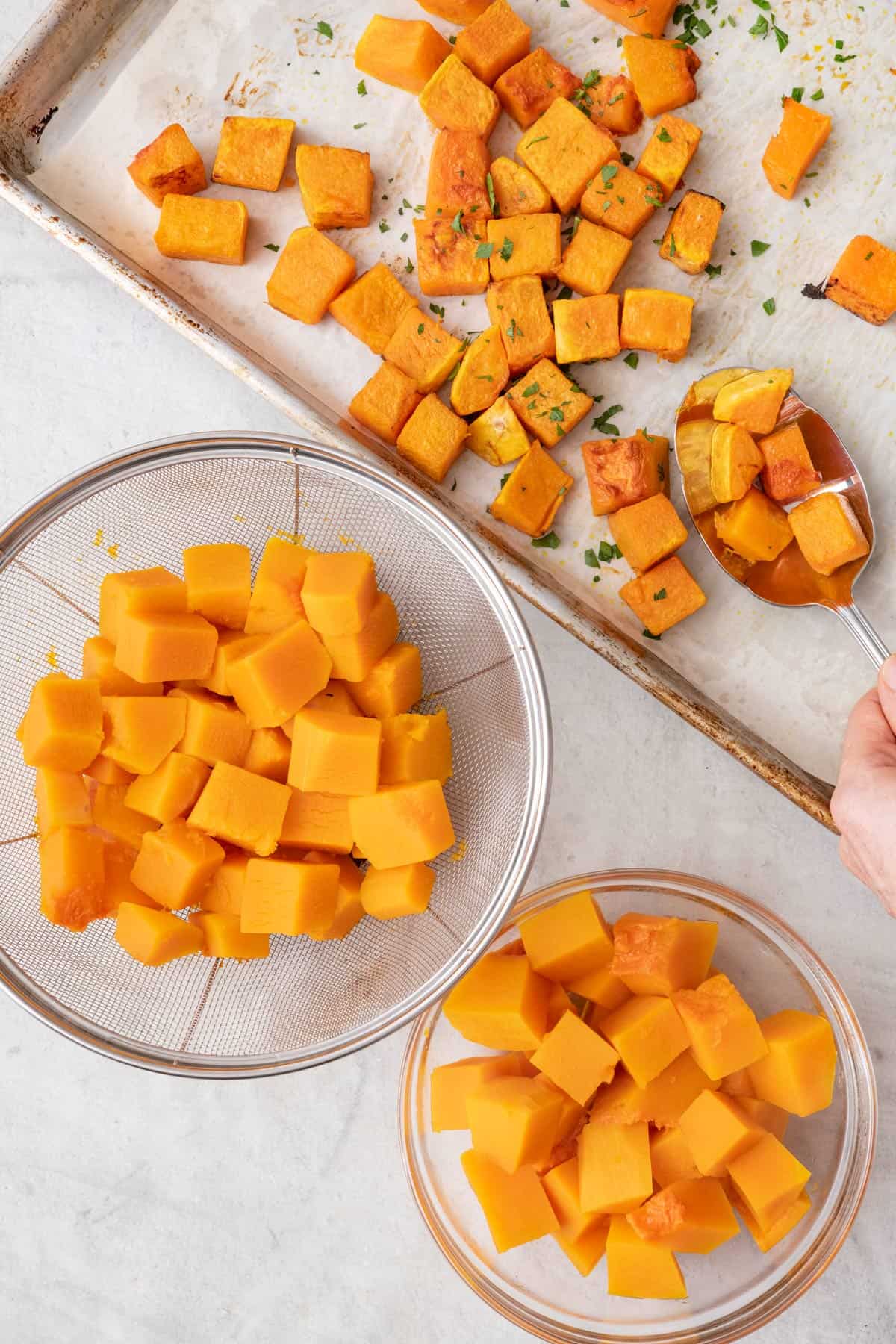 Butternut squash is a great option for a side dish or even a main course. It is everywhere during the fall and winter months (also at its cheapest during this time, too!), but you can find it year-round. So, if you have a craving for butternut squash fries, mac and cheese, or even risotto, you can find it during even the warmest of seasons! Cutting and cooking this gourd into cubes can seem intimidating, but with a few simple steps, you can easily tackle this winter vegetable!
why you Should Learn How To Cook butternut squash
3 simple cooking methods. After cutting butternut squash into cubes, you can cook them in the oven, on the stovetop, or in the microwave. Each cooking method results in tender squash and prepares your veggie for eating right away or starting another recipe.
The start of another recipe. As mentioned above, cooking butternut squash cubes may be the first step to preparing another recipe. Microwave or boil them as a base for vegan butternut squash mac and cheese or creamy risotto. You can enjoy roasted butternut squash cubes as a savory or sweet side dish, add to a hearty salad or grain bowl, or in a rich and creamy soup.
You'll learn an impressive knife skill. Butternut squash is a challenging vegetable to prepare, but learning to peel and cut butternut squash is very rewarding. And once you do, you can cook all the recipes! You can also skip cutting it yourself and buy precut butternut squash which is perfect for busy weeknight dinners.
Ingredients to make Simple Butternut squash cubes
Butternut squash – Depending on the size, whole butternut squash can yield between 1 ½ cups for a small squash to 3 cups or so for a medium to a larger one. Take this into account when choosing a butternut squash for your recipe.
Oil – Olive oil is perfect for roasting, but you could also use avocado oil.
Salt – Use salt to taste for roasting, and in the cooking water for boiling and microwaving butternut squash.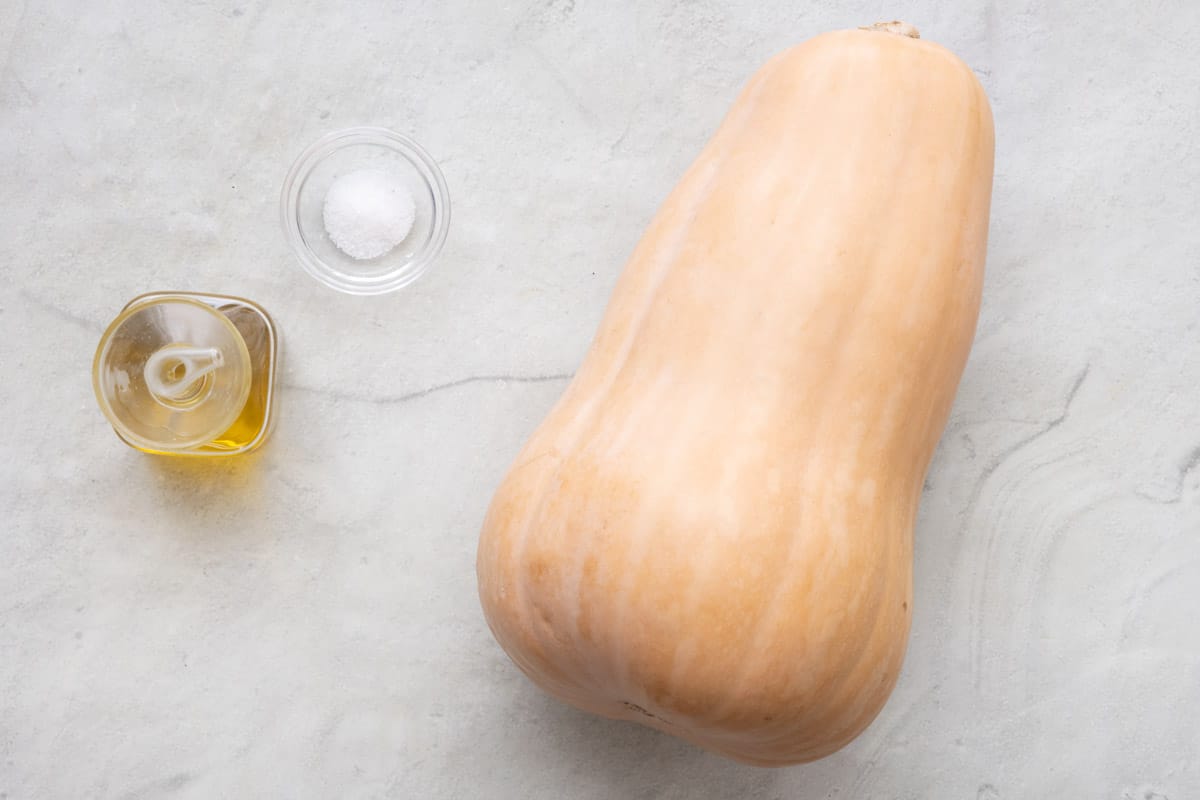 How to Cut Butternut Squash Cubes
Cutting this gourd into cubes is easier than you'd think. It may seem intimidating due to butternut squash's odd shape, but that's really easy to adapt to. If you find that you do need a little more advice on handling the squash, I have a full tutorial on cutting butternut squash you can read through.
Trim the end off of the squash.
Using a sturdy Y-peeler, peel the squash.
Cut the peeled squash in half, then scoop and discard the seeds.
Slice the squash halves and cut them into 1-inch cubes.
Different ways to cook butternut squash cubes
First, let's talk about the different ways to cook butternut squash cubes. You can use the oven, stovetop, or even the microwave. Each cooking method has its advantages and disadvantages, which we will discuss below. Let's get started!
Cooking/Roasting butternut squash in the oven
One of the most popular ways to cook butternut squash cubes is in the oven. This method is great for cooking large quantities or a big sheet pan full at once! It will also give your butternut squash cubes a nice golden color, as they are cooked uniformly on all sides.
Advantages: The oven is typically a very reliable (and temperate!) cooking method- You can easily cook in large quantities all at once since the butternut squash cubes are on one big sheet pan- The butternut squash cubes come out with a beautiful golden brown color and texture, which makes them especially good for roasting- The oven can be used to cook other vegetables or meats, so you can get a full meal cooking at the same time.
Disadvantages: If you're not paying attention when roasting, the natural sugars in the squash can easily turn from a golden brown to a burnt black- It's also easy to overcrowd that pan and end up with steamed butternut squash cubes than roasted ones. Both of these disadvantages can be easily overcome just by being aware that these things can happen without proper cooking techniques.
How to Roast Butternut Squash Cubes
Scatter the cubed squash on a baking sheet and toss them in olive oil and salt. You can add any additional spices you'd like.
Roast in the oven, stirring halfway through the cooking time. They will be fork-tender and caramelized on the outside.
Boiling butternut squash cubes on the stovetop
The second way is to cook butternut squash cubes is on the stovetop. This method is great for softening the natural sugars in the squash, also it develops a rich and flavorful "broth" when you boil it that you can save for later. It's optimal for both small and large quantities of butternut squash cubes.
Advantages: The squash comes out with a soft texture that is perfect for purees, mashed butternut squash, or just tossing the cubes in butter. You can control the doneness better than with the microwave, as it is easy to just pull out a test piece and pierce it with a fork.
Disadvantages: Boiling does not yield that yummy carmelized flavor that you get from roasting. It's also easy to overcook the squash cubes if you aren't careful. It requires a little more babysitting than roasting in the oven.
How to Cook Butternut Squash on a Stove
Bring a large pot of water to a boil. Add the squash cubes and salt, reducing the heat to a gentle boil.
Once tender, drain the cubes, and they're ready to use or serve as you like.
Cooking Butternut squash cubes in the microwave
Another way to cook butternut squash cubes is in the microwave. This method is great for cooking smaller, individual portions that you want to have a soft, steamed/boiled texture.
Advantages: The microwave is easy, and quick- You can easily cook a cup of butternut squash cubes for recipes that call for just a little, or even for a quick side for a solo serving- Also, it's very easy to control how soft you would like your squash by how long you cook it.
Disadvantages: The texture of the butternut squash cubes cooked in the microwave can come out soft and mushy, which is not ideal for some recipes. It also doesn't get the caramelized flavor that you would get from roasting – Also, it can be very easy to overcook the butternut squash cubes in the microwave if you don't pay close attention to the timing.
How to Cook Butternut Squash in Microwave
Place the squash cubes in a microwave-safe bowl with water and cover the bowl tightly with plastic wrap. Poke a few vent holes into the plastic with a fork.
Cook until tender, and carefully remove the bowl and plastic wrap from the microwave. Drain and serve or use in another recipe.
Tips for Cooking Butternut Squash Cubes
Peel the squash first to make it easier to cut it. When you peel the squash. Sometimes the skin is coated in wax which makes it tricky to sink your knife into, so peeling it off will make it easier to work with.
Use a sharp knife and a sturdy cutting board. A large chef's knife is perfect for cutting through this large gourd. You'll be able to hold firmly onto the handle and use your other hand to grip the top side of the blade to cut through the butternut squash and then into cubes. Use a large enough cutting board to give you room to work with a damp kitchen towel underneath the board to prevent it from slipping.
Cut the cubes in uniform sizes. To get an even cook, no matter the method you choose, you want to make sure your cubes are about the same size. While you aren't going to get perfectly square cubes (which is totally fine), you will need to adjust how big the pieces are based on the area of the squash you are cutting.
Check your squash firmness. The size of your squash and its ripeness can affect the cooking time especially in the microwave, where the cooking range is wide. If you start out with a very tender squash that is as easy to cut through as a pear, for example, you will need less cooking time that a squash that is more difficult to cut through like a sweet potato.
Skip the oil for roasting. If you want to eliminate oil for roasting and like a sweet bite, use maple syrup instead. It will cover the squash cubes, prevent them from drying out while roasting, and add a sweet sticky coating.
Save the seeds! Yes, you can eat butternut squash seeds, and they are so good! Add a separate pan of seeds to the oven for a tasty, toasty snack. They're great as a topping for soups and salads, too! To make, rinse and dry the seeds and toss in oil. Roast at 300°F for 40-45 minutes, tossing halfway through.
Jazz it up. For an easy holiday side dish, add a little butter, brown sugar and cinnamon to the stove top or microwaved squash and mash until somewhat smooth.
Butternut Squash recipes
how to store & reheat Cooked Butternut Squash Cubes
Store butternut squash in a sealed container in the fridge.
To reheat butternut squash, microwave them in a covered dish for 2 minutes or until warm. Reheat roasted squash cubes to their original crispy glory in a few different ways: place in an air fryer basket at 350 for 4-5 minutes, in the oven for about 8 minutes, or in a skillet on the stove.
how long will Butternut Squash Cubes last in the fridge?
Cooked butternut squash cubes can be refrigerated in a sealed container for up to 3 days.
can I freeze Butternut Squash Cubes?
Yes, you can freeze butternut squash after cooking by allowing them to cool completely. Once cooled, spread them on a baking sheet lined with parchment paper and place them in the freezer. After about an hour, or when frozen through, transfer the cubes to a freezer-safe bag or container and freeze for up to 3 months.
Frequently asked questions
Do you have to peel butternut squash before cooking?
If roasting butternut squash, it isn't necessary to peel it first because the skin is edible! But, if you are adding the squash to a recipe where you don't first roast it, then remove the skin first.
What flavors go with butternut squash?


Butternut squash is incredibly versatile and can boast a holiday feast or a weeknight meal.
Savory: chicken, beef, turkey, rice, and pasta.
Seasonings: cinnamon, ginger, clove, thyme, rosemary, sage, red pepper flakes.
Sweet: maple syrup, brown sugar, honey, candied.
Grains and produce: farro, quinoa, kale, Brussels sprouts
How do you know when butternut squash is ready?


Much like pasta, there are varying degrees of "doneness" when it comes to cooking squash. You'll want to test your squash cubes along the way, no matter the cooking process, to make sure you get the constancy you want. The best way to measure if it's ready is to pull a couple of cubes, use a fork and if they are tender, do a bite test to gauge if it's your ideal texture based on what you're cooking.
So which method is right for you? There are pros and cons to all of these ways to cook butternut squash cubes. Ultimately, it comes down to what recipes you will be using the squash in, and how much time you have available. If you're looking for quick, soft textures or just a side dish, the microwave and stovetop work great. If you're looking for rich flavor and large quantities, the oven is the way to go! Whichever method you choose, just make sure you follow all of the proper cooking techniques to avoid any potential issues along the way. And most importantly, enjoy your delicious butternut squash cubes!
More Vegetable Cooking Tutorials
If you try this feel good Recipe Name recipe or any other recipe on Feel Good Foodie, then don't forget to rate the recipe and leave a comment below! It helps others who are thinking of making the recipe. We would love to hear about your experience making it. And if you snapped some shots, share it on Instagram so we can repost on Stories!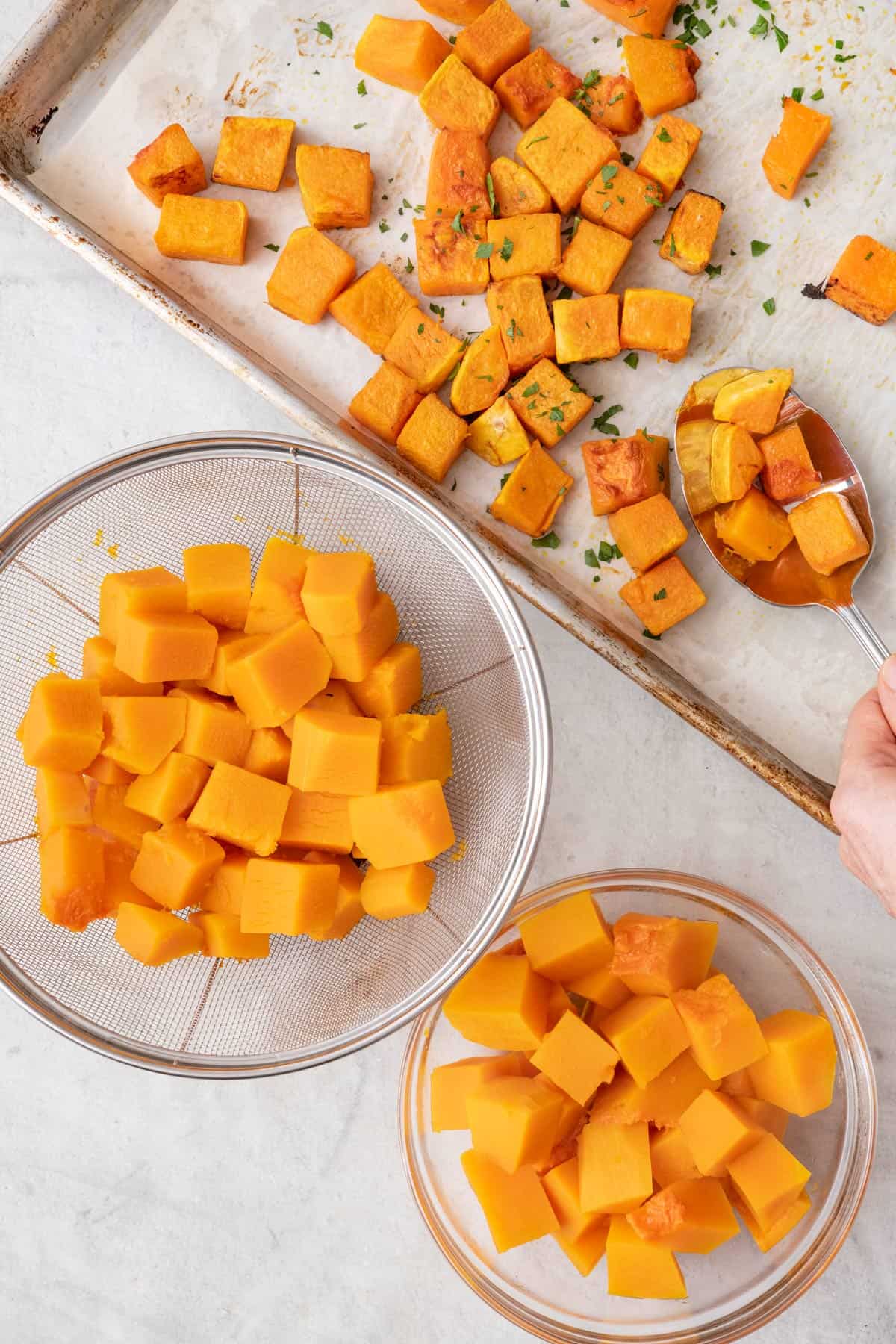 How to Cook Butternut Squash Cubes
Learn how to cook butternut squash cubes (including how to peel, cut and deseed) 3 ways! Via the oven, stovetop and microwave!
Instructions
Trim each end off of the squash. Using a sturdy Y-peeler, peel the squash. Cut the peeled squash in half, then scoop and discard the seeds. Cut the squash into 1-inch cubes.
To Roast in Oven:
Preheat the oven to 425˚F. Scatter the cubed squash on a rimmed baking sheet and drizzle lightly with olive oil. Season to taste with salt, then toss with your hands so the oil is evenly distributed. Roast for 30 to 40 minutes, stirring the squash halfway through cooking time, or until caramelized on the outside and tender on the inside.
To Cook on the Stovetop:
Bring a large pot of water to a boil. Add a small pinch of salt, then add squash cubes. Reduce heat to maintain a gentle boil and cook for 8 to 10 minutes, or until the squash is tender. Drain and serve as desired.
To Cook Squash Cubes in the Microwave:
Add squash cubes to a large microwave safe bowl and add two cups of water. Cover tightly with plastic wrap, and make a few vent holes in the plastic with a fork. Cook for 12 to 14 minutes, or until the squash is tender. Drain and serve as desired.
Notes
*Nutrition label is for butternut squash only, not oil or salt.
Nutrition
Calories:
84
kcal
,
Carbohydrates:
22
g
,
Protein:
2
g
,
Fat:
0.2
g
,
Saturated Fat:
0.04
g
,
Polyunsaturated Fat:
0.1
g
,
Monounsaturated Fat:
0.01
g
,
Sodium:
8
mg
,
Potassium:
660
mg
,
Fiber:
4
g
,
Sugar:
4
g
,
Vitamin A:
19931
IU
,
Vitamin C:
39
mg
,
Calcium:
90
mg
,
Iron:
1
mg
Nutrition information provided is an estimate. It will vary based on cooking method and specific ingredients used.