This post may contain affiliate links. Please read our disclosure policy.
Learn how to roast vegetables and turn the contents of your produce drawer into cozy, cold-weather fare. Roasting vegetables is easy and mainly hands-off and it's a way to elevate most vegetables to make them more delicious and appetizing!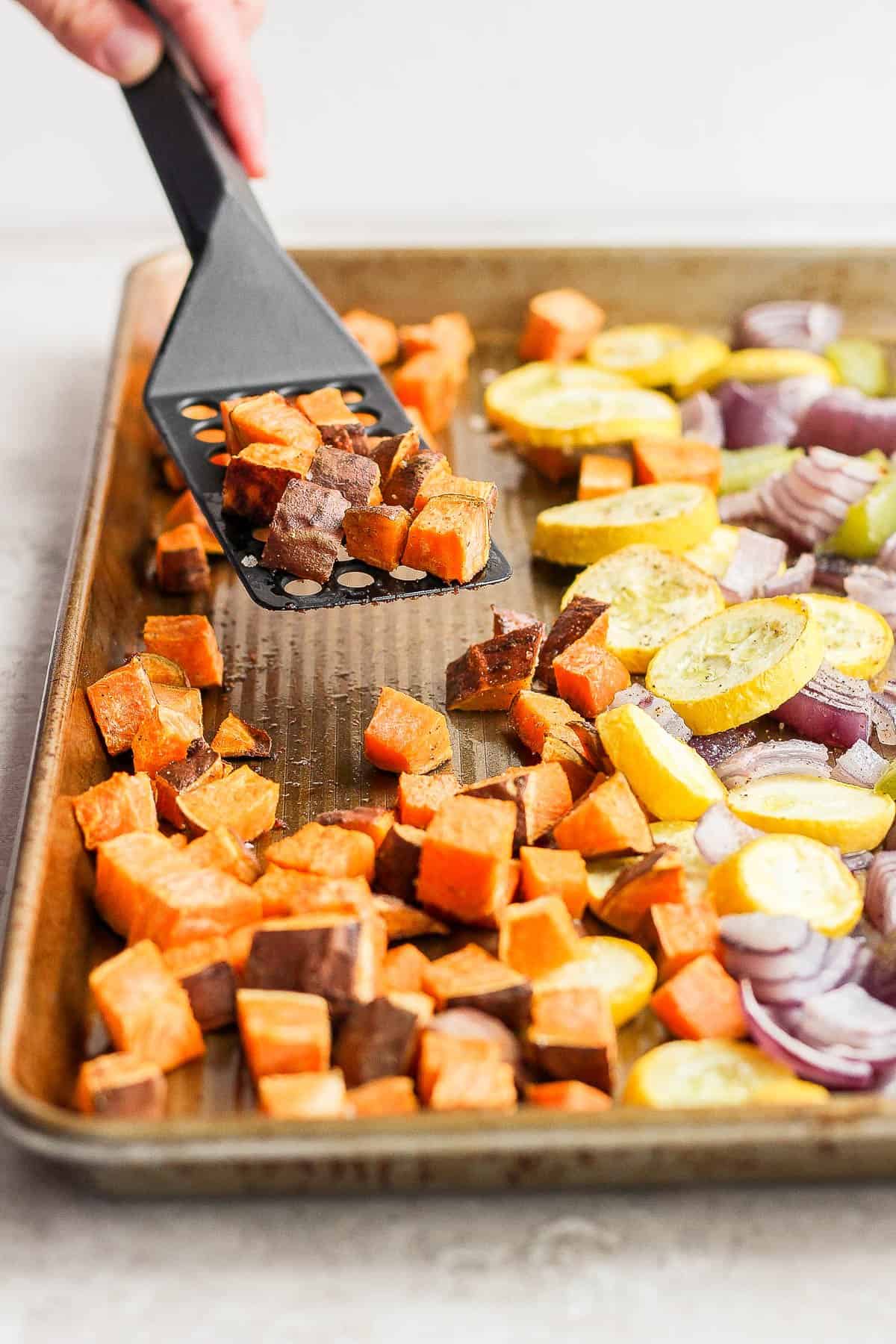 There's a rough recipe outlined below. But this is more of a simple method you can follow with some guidelines to help along the way so you can practically roast any vegetable easily!
what type of vegetables are best for roasting
You can pretty much roast almost all vegetables.
Root vegetables like potatoes, sweet potatoes, carrots and parsnips are very popular.
Cruciferous vegetables like broccoli, cauliflower and brussel sprouts get wonderfully flavorful when roasted.
Squashes like butternut squash, spaghetti squash and summer squash are also great choices.
Alliums: Vegetables in the allium family include onions (red, white, yellow, sweet), shallots and garlic and they are all wonderful when roasted in the oven.
Delicate vegetables like kale, eggplant, tomatoes and peppers that also roast very well!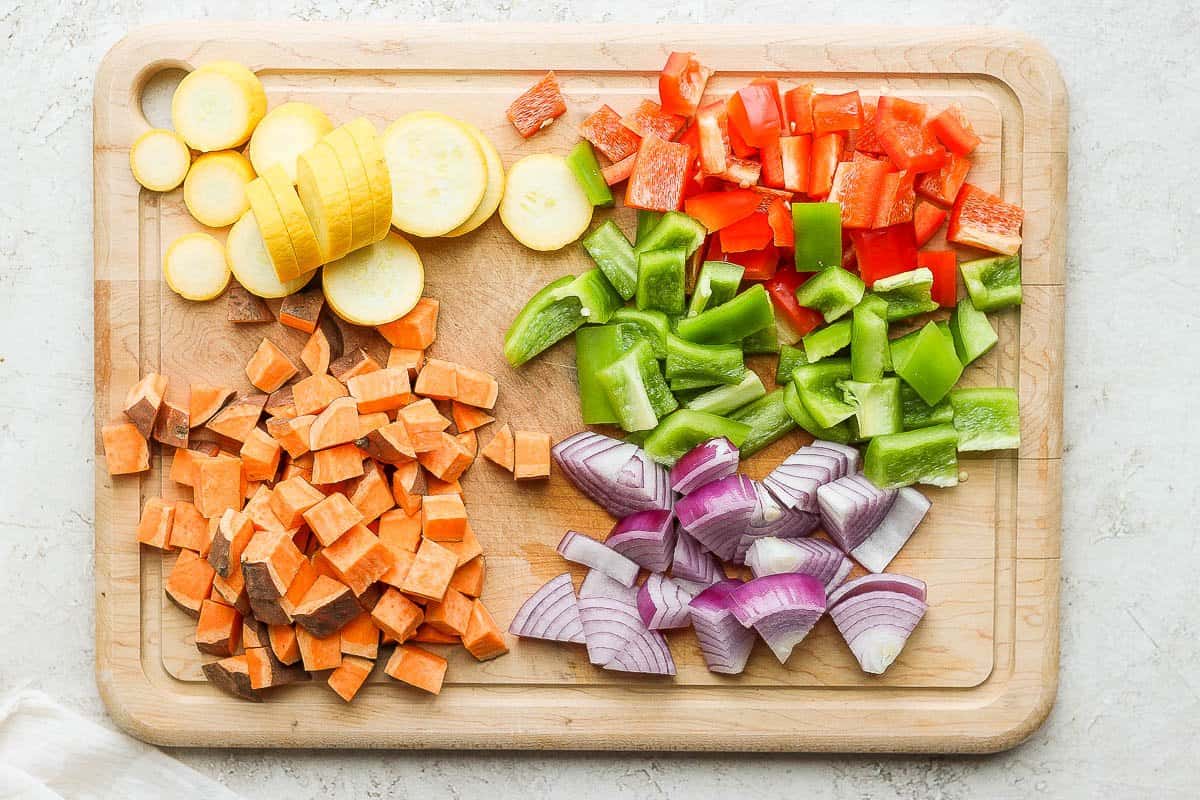 How to roast vegetables
Preheat the oven and chop your chosen vegetables into uniform chunks – smaller cooks faster. Place the veggies on the sheet pan in one layer with little space in between each nugget.
Toss with olive oil or avocado oil or any oil of your choice. You don't need that much. In How to Cook Everything, Mark Bittman recommends three tablespoons of oil for up to 2 pounds of vegetables. I've used even less. Season with salt and pepper and spices of choice.
Roast until the veggies are fork tender and have some browned spots on them.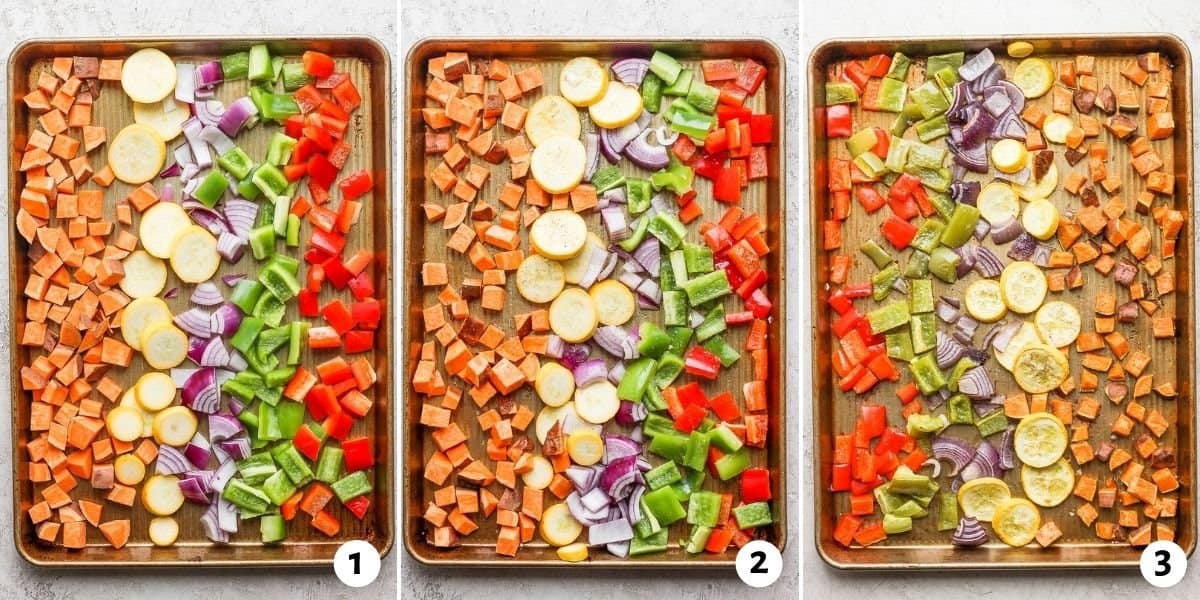 Tips for roasting the crispiest vegetables
Do not crowd. This is vital. Every piece should be a tiny island on the baking sheet, with at least a little room in between for correct browning. The water in the veggies needs to escape for browning to occur. Overlapping or multiple layers of food will trap the water and result in soggy, not browned veggies.
Cut into uniform pieces. Same-size pieces will cook at the same rate and be done at the same time. You have have any overly cooked or undercooked bits.
Roast like with like. While string beans and potatoes go together great on a plate, beans take far less time in the oven. However, fairly hefty pieces of onion would pair perfectly with potatoes.
Stagger the cooking times. For vegetables that have different cooking times, start one veggie (like potatoes) and add another (like broccoli) halfway through cooking.
Don't use parchment paper or foil for best browning. In my own kitchen, I have found roasting with oil on the bare sheet pan (no liners) results in the best browning. For easy clean up though, I don't blame you if you want to use parchment paper or foil.
Watch the pan. Roasting veggies is more akin to roasting a piece of meat versus baking a cake. They are done when nicely browned and tender inside. Think of times as a guide. Check often and realize yours may take longer or shorter time than any guide or recipe stipulates.
How to long to roast vegetables
The New York Times Cooking published this nifty chart on its Instagram page. Note their recommended oven temp is 400°F. Some of their suggested cooking times are:
Asparagus: 8-15 minutes depending on thickness
Beets: 24-40 minutes
Broccoli: 10-15 minutes
Brussels sprouts halved: 20-30 minutes
Butternut and other winter squashes: 25-40 minutes
Carrots: 30-40 minutes
Cherry tomatoes: 25-50 minutes, dependent on degree of caramelization
Eggplant: 25-45 minutes
Potatoes: 25-35 minutes
Sweet potatoes: 30-40 minutes
How to roast frozen vegetables
Use the same method to roasted vegetables. However, expect them to take longer and not come out quite as crisp and fresh. Get more details and tips for roasting frozen vegetables using this tutorial.
Great Roasting Combinations:
Let your vegetables and palate be your guide.
Add garlic to anything: Add minced garlic or garlic powder in with the salt and pepper at the beginning of cooking. Oven baked french fries are a fantastic addition to burger night – without the fat of frying. You can even use whole cloves of garlic and add to anything you're roasting.
Bring the warmth: Winter squashes and sweet potatoes pair well with warm spices like cinnamon, smoked paprika, or Lebanese seven spice. Roasted wintery squashes go with all types of chicken and meat.
Turn up the heat: Broccoli, cauliflower, and cabbage can take a lot of heat from pepper flakes. Roasted broccoli and cauliflower are fantastic tossed with pasta and some more olive oil or pasta water.
Emphasize the green: Broccoli and green beans love celery salt and a squeeze of lemon upon exiting the oven. Roasted green beans and roasted broccoli pair well with salmon and other fish dishes. Or add them to couscous or brown rice.
Pump up the flavor with a shower of sauce: During the last few minutes of cooking add flavor by dousing veggies with balsamic vinegar (great on Brussel sprouts) or try soy sauce (tasty with green beans). Mix and cook for a scant few more minutes.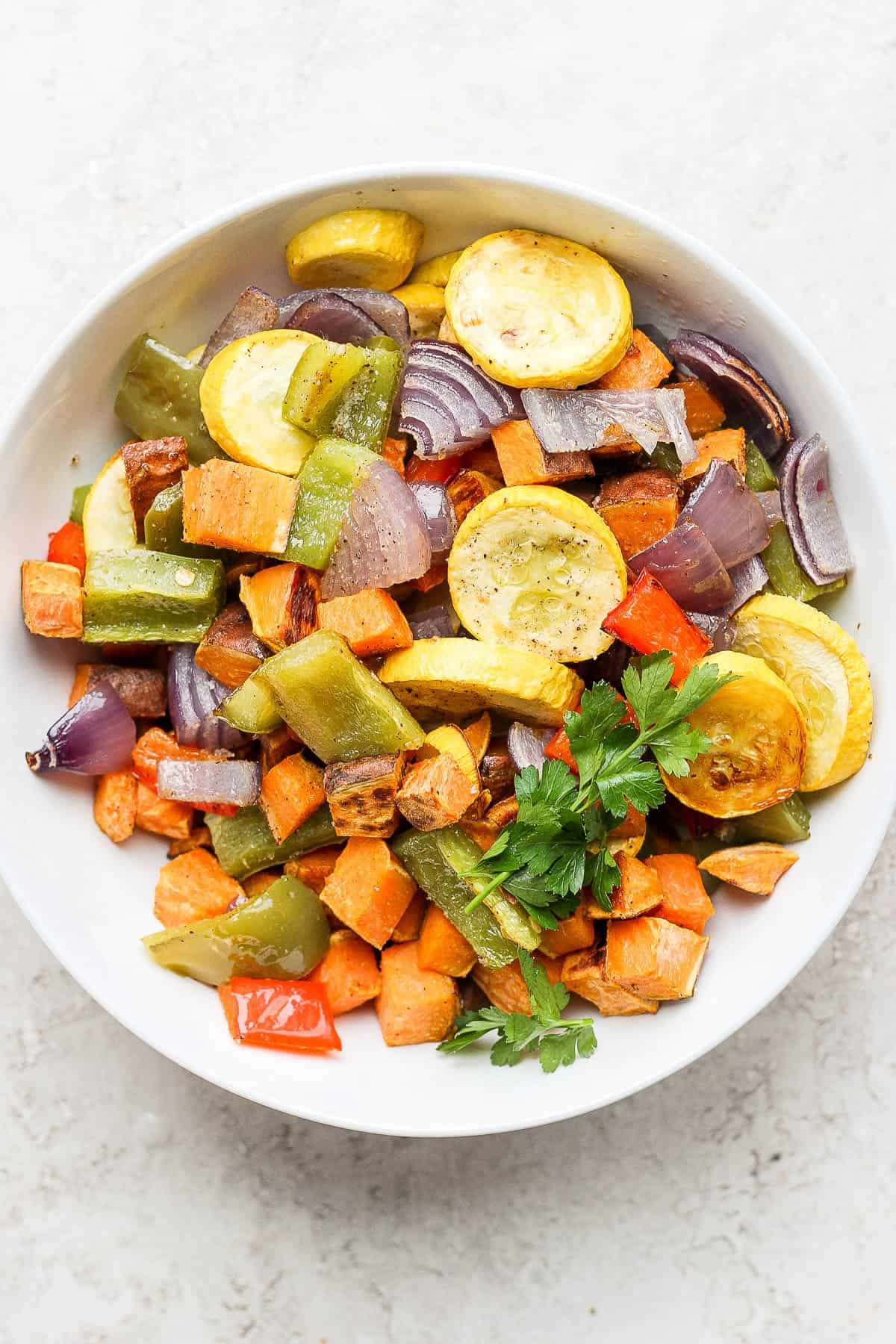 Frequently asked questions
How do you roast vegetables without oil?
Season well and use parchment paper to prevent sticking. Expect to add to cooking time. Some cooks recommend par-boiling starchy vegetables like potatoes or squash.
How should I reheat roasted vegetables?
To maintain crispness, reheat in a 350° oven. Start checking after 10 minutes.
Can you freeze roasted vegetables?
No, it is not recommended. The texture will change.
When do I season roasted vegetables?
Always season with salt and pepper before putting it into the oven. This helps the veggies develop flavor. After cooking, adjust seasonings. It is better to be conservative with salt at the beginning rather than oversalting.
How can I use roasted vegetables besides as a side dish?

There are so many ways to use roasted vegetables. You can fold them into omelets or frittatas, put in grain bowls, tacos, or lasagna, or use them on salads, or toss with a simple vinaigrette for a simple, second-day salad.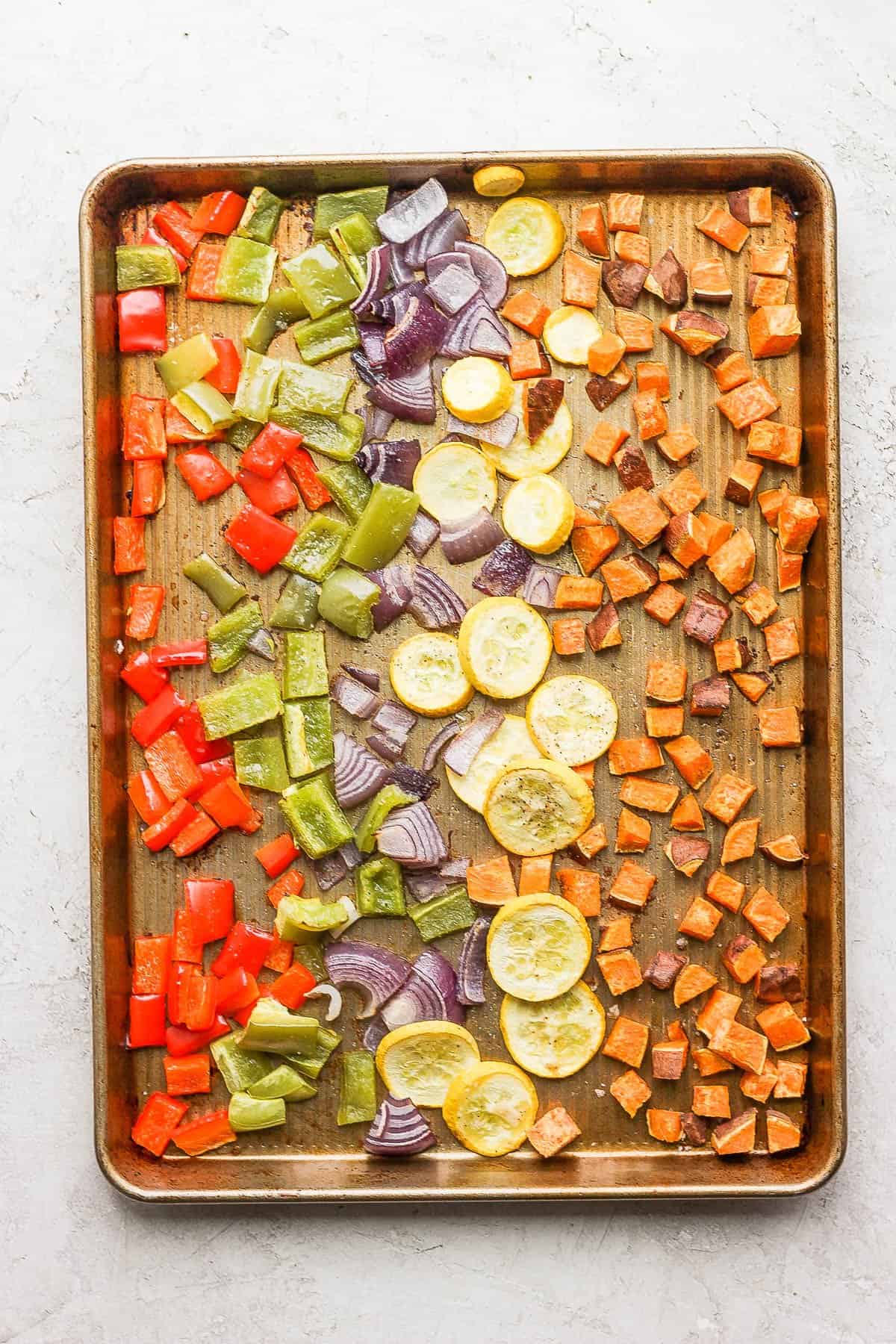 I am huge fan of roasting vegetables. Veggies my kids barely touch in other forms gobbled up without complaint when roasted.
recipes with roasted vegetables:
If you find this tutorial for How to Roast Vegetables helpful or if you try any recipe on Feel Good Foodie, then don't forget to rate the recipe and leave a comment below! It helps others who are thinking of trying out this tutorial and we would love to hear about your experience. And if you snapped some shots, share it on Instagram so we can repost on Stories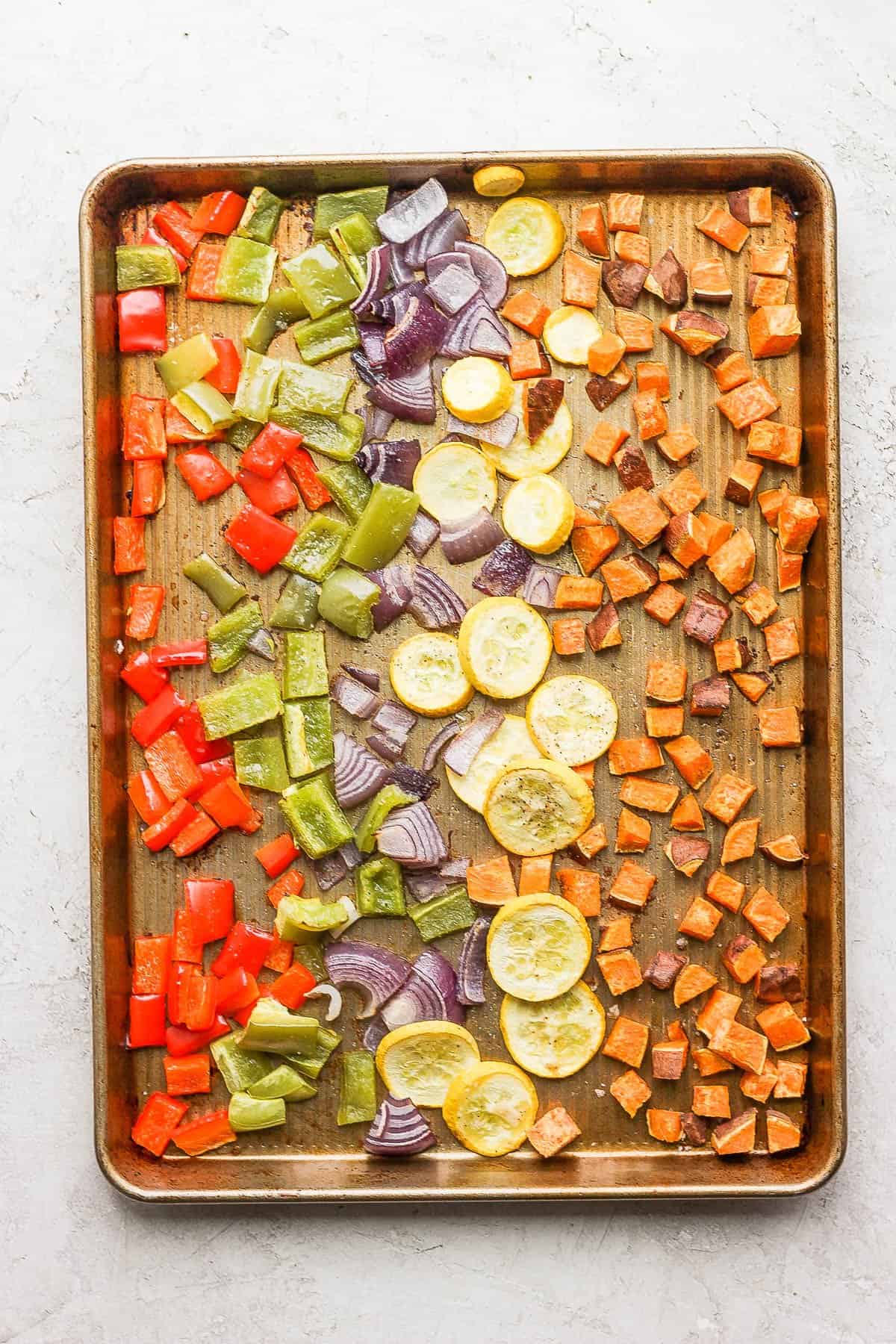 How to Roast Vegetables
This is a complete guide for how to roast vegetables with suggestions for times and temperature along with tips for roasting any vegetable!
Instructions
Preheat oven to 425°F.

Place the vegetables on a rimmed 18 x 13-inch baking sheet. Drizzle olive oil and season with salt, pepper and garlic powder.

Use your hands to toss the vegetables. Then spread out into an even layer, making sure the vegetables are not overlapping.

Roast for 15 to 30 minutes depending on the vegetable.
Equipment
Notes
Storage: Store any leftover vegetables in an airtight container for up to 5 days. Reheat: To maintain crispness, reheat in a 350° oven. Start checking after 10 minutes.
Nutrition
Calories:
146
kcal
,
Carbohydrates:
19
g
,
Protein:
2
g
,
Fat:
7
g
,
Saturated Fat:
1
g
,
Polyunsaturated Fat:
1
g
,
Monounsaturated Fat:
5
g
,
Sodium:
617
mg
,
Potassium:
482
mg
,
Fiber:
4
g
,
Sugar:
7
g
,
Vitamin A:
9157
IU
,
Vitamin C:
74
mg
,
Calcium:
38
mg
,
Iron:
1
mg
Nutrition information provided is an estimate. It will vary based on cooking method and specific ingredients used.