This post may contain affiliate links. Please read our disclosure policy.
Learn how to blanch vegetables with this easy tutorial. You have undoubtedly seen the term in recipes and maybe been tempted to skip it? Below is an explanation of this basic cooking technique and some reasons not to breeze by the instruction.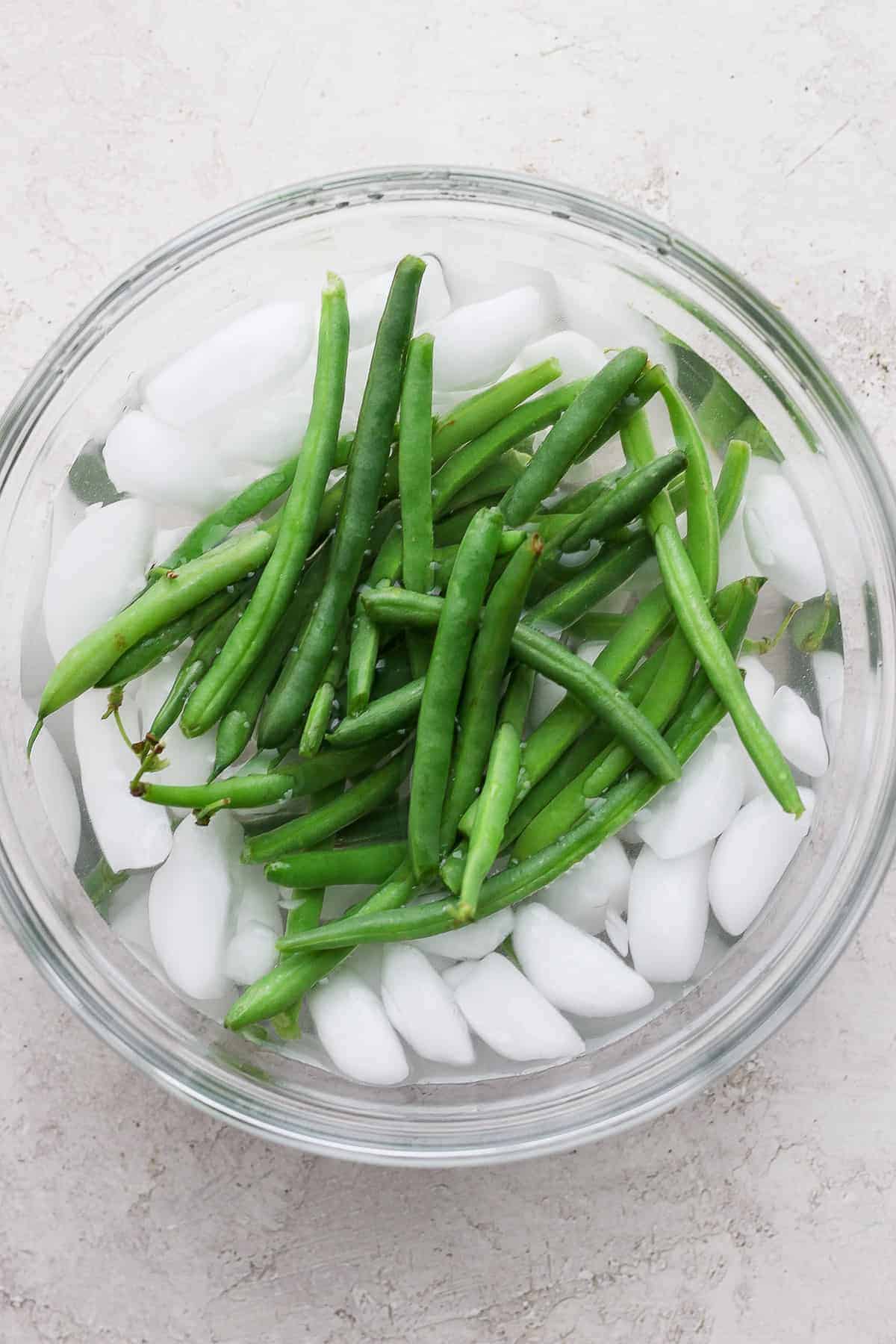 What is blanching?
Blanching is a two-step technique of plunging something into a big pot of boiling water for a very short amount of time – sometimes seconds, sometimes minutes – then quickly moving it to an ice water bath (a bowl filled with water and ice).
Why bother blanching vegetables?
Blanching accomplishes a few different things. It can:
Lessen bitterness in veggies, especially cruciferous vegetables like kale or cabbage.
Stop an enzyme action in plants that causes aging, i.e. discoloration and tastelessness. This is why vegetables are routinely blanched before freezing.
Enhance color and lock in fresh flavor. This is especially true for green vegetables, like green beans or broccoli destined for a crudité platter.
Remove skins of fresh peaches, tomatoes, or almonds.
Pre-cooks vegetables that are going into a quick-cooking situation like the grill or sauté pan.
How to blanch green beans
Bring a large pot of salted water to boil, a big, rolling boil. (At the same time prepare an ice bath.) Carefully place the vegetables in the pot of boiling water. Use a spoon to push down and submerge the vegetables.
Cook until the green beans become crisp-tender but are still bright green. Remove from pot with a slotted spoon or pour into a colander.
Immediately transfer the vegetables into the ice water bath. This stops the cooking. Keep the beans in the ice water for the same amount of time they were in the hot water.
How to blanch broccoli
Cut broccoli into same size pieces for even blanching and plunge into boiling salted water.
Remove quickly from boiling water with a slotted spoon or empty into a colander.
Immediately plunge into ice water and keep the broccoli there for a time equal to its hot water bath. Stir once or twice during the soak for even cooling. Drain, dry, and proceed.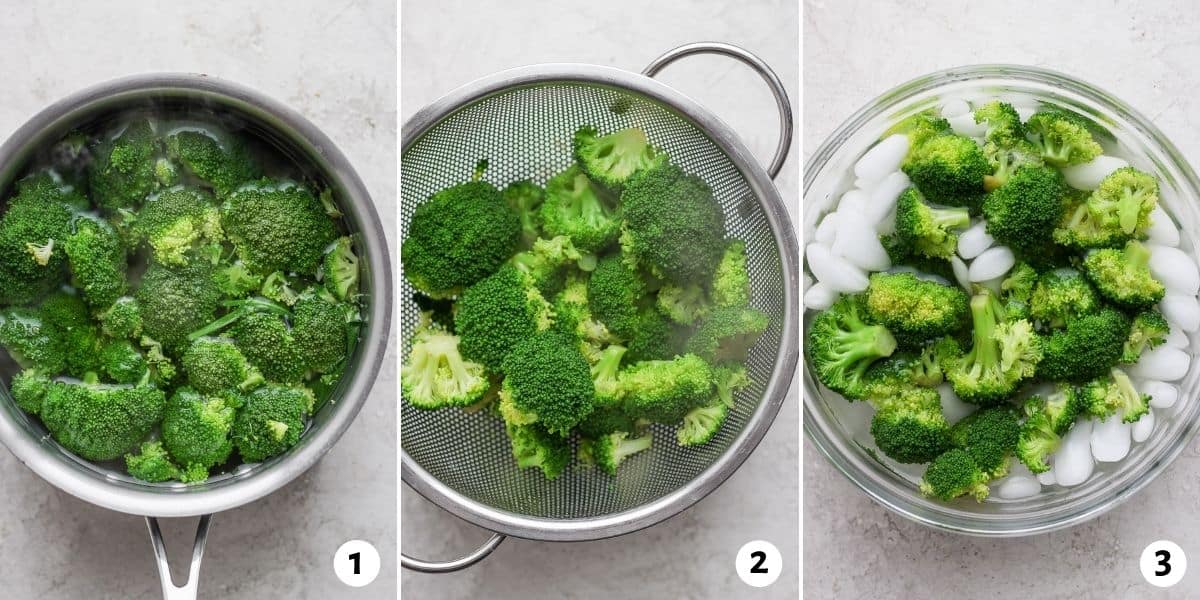 Tips for blanching any vegetable
Always cut into uniformly sized pieces for even cooking. Otherwise, some pieces either undercook or overcook.
Pull out your big pot and use lots of water. You want your vegetables luxuriating in lots of hot water for quick even cooking. No crowding!
Salt your water. While most chefs recommend a few tablespoons of salt, Bon Appetite suggests even 1 ½ cups of kosher salt per gallon of water!! This is supposed to lock in flavor and prevent natural sugars and nutrients from leaching into the water.
Ensure that there is enough water in the pot for the amount of vegetable being blanched and maintain the salt ratio. The salt will keep vegetables green and season them.
Use less blanching time for vegetables that will be stored and cooked later. Likewise, use use max blanching times for veggies that are headed right for the grill or saute pan.
Watch the pot. Blanching is good, but over-boiling will leave you with soggy, tasteless veggies.
Stir the vegetables around once or twice during their ice water soak to ensure even cooling.
Test the the vegetable in the pot by squeezing a piece between your fingers. They should begin to give but not fall apart
Recipes with blanched veggies
Frequently asked questions
How do I store blanched vegetables?
After you black your vegetables, you can store them in an airtight container with a damp paper towel on top. They will keep for two days.
How do I know how long leave my veggies in the boiling water?
Often, a recipe will give a time. Freestyling? Consult this chart.
Which vegetables do not benefit from blanching?
Some vegetables are better frozen fully cooked and/or processed. These include potatoes, tomatoes, sweet potatoes, and most winter squash.
After blanching, how do I proceed to freezing vegetables?

You will want to drain and dry the vegetables. Place on sheet pans or trays in the freezer until firmly frozen and then place in airtight, freezer-safe bags or containers.
Now, the next time you see the word "blanch" in a recipe, you know what to do. You'll notice that blanching green beans and broccoli makes them look so pretty on crudite trays. It adds tenderness, too!
More cooking tutorials:
If you've found this cooking resource for How to Blanch Vegetables helpful or if you've tried any recipe on FeelGoodFoodie, then don't forget to rate the recipe and leave me a comment below! I would love to hear about your experience with this technique. And if you snapped some shots of it, share it with me on Instagram so I can repost on my stories!
How to Blanch Vegetables
Learn how to blanch vegetables with my easy technique for broccoli, green beans or any other vegetable – perfect for meal prep or freezing!
Ingredients
4

quarts

water

2

tablespoons

salt

As needed vegetables

cleaned and trimmed

As needed ice water
Instructions
Bring a large pot of salted water to a boil.

Prepare a large bowl of ice water readily accessibly next to the stove.

Carefully place the vegetables in the pot of boiling water, and using a spoon, help submerge the vegetables.

Cook until the vegetables become crisp tender, but still bright green, about 3-5 minutes. You can test them by squeezing a piece between your fingers, they should begin to give but not fall apart. Remove from the pot with a slotted spoon or pour into a colander.

Immediately transfer the vegetables into the ice water bath to stop the cooking.
Notes
Storage: Store blanched vegetables in an airtight container with a damp paper towel on top, and they will keep well for 2 days.
Freezing: Blanched vegetables can be frozen for up to 6 months. Let the cool completely and pat them dry before freezing on a sheet pan and then transferring to an airtight container of freezer bag.
Photo Credit:
Erin Jensen
Nutrition
Calories:
17
kcal
,
Carbohydrates:
4
g
,
Protein:
1
g
,
Fat:
1
g
,
Saturated Fat:
1
g
,
Sodium:
3545
mg
,
Potassium:
117
mg
,
Fiber:
1
g
,
Sugar:
2
g
,
Vitamin A:
380
IU
,
Vitamin C:
7
mg
,
Calcium:
54
mg
,
Iron:
1
mg
Nutrition information provided is an estimate. It will vary based on cooking method and specific ingredients used.