This post may contain affiliate links. Please read our disclosure policy.
Here is how I make a traditional basil pesto sauce that is perfect for pasta, fab on pizzas, spread like mayo on a sandwich, or brushed over grilled chicken. If you think of pesto as a method and not a strict recipe, then many combinations are possible. For instance, try subbing in different greens for the basil or various nuts for pine nuts.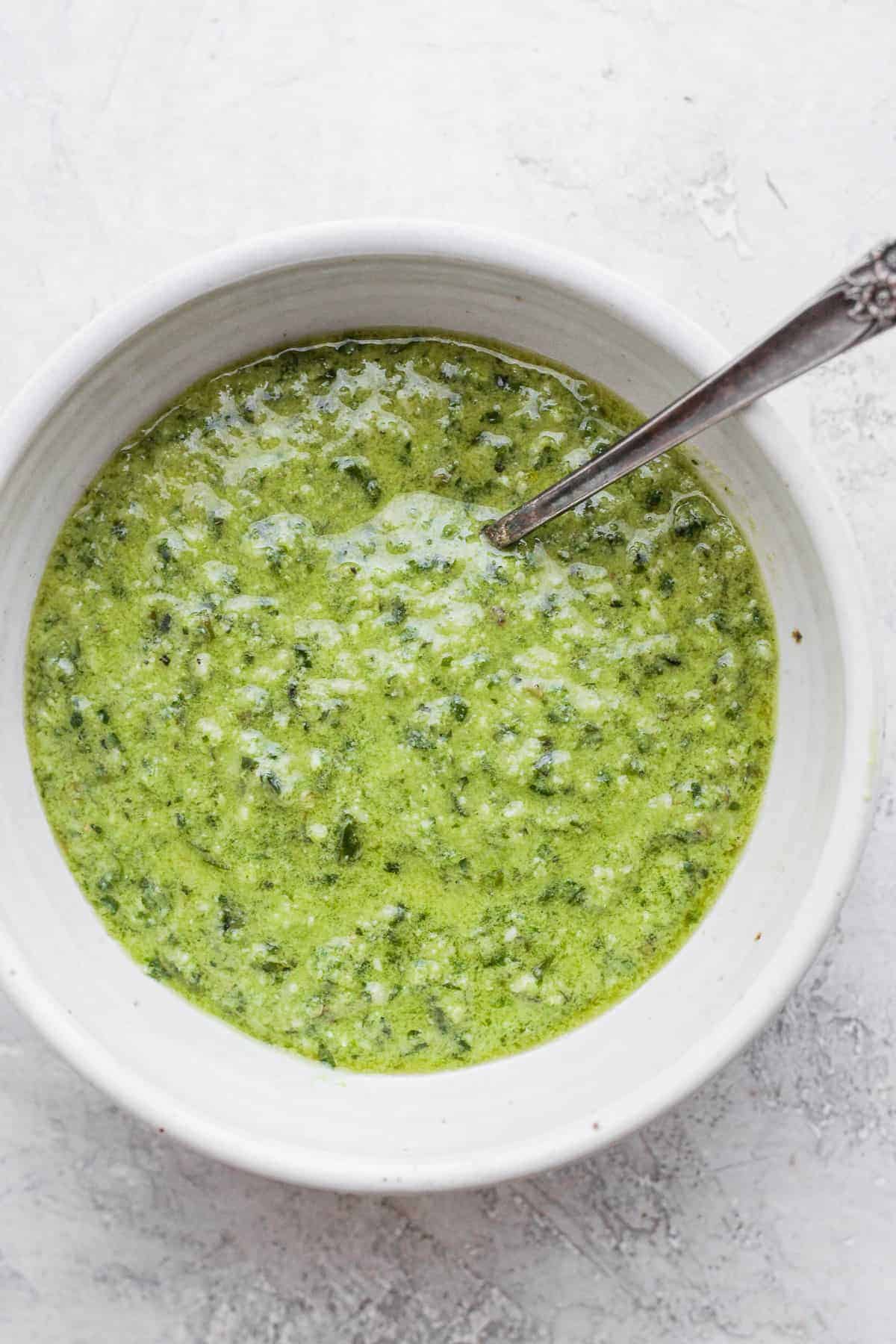 Traditional Italian pesto is made with heart-healthy olive oil; basil, which has vitamin K; pine nuts which are loaded with iron – over 10 percent of the recommended daily requirement in one serving of pesto; plus a dose of calcium from the cheese. Of course, if you use alternate ingredients, your nutrition will vary accordingly.
Ingredients to make pesto from scratch
Basil: Traditional calls for sweet basil, leaves only since the stems can be bitter.
Garlic: Absolutely necessary and nonnegotiable – especially for garlic lovers
Pine nuts: Naturally, Italian pine nuts, pignoli, are traditional but are very expensive. (They really are pine tree seeds!) However, stores like Trader Joe's tend to stock the less expensive Chinese imports. Either works.
Parmesan cheese: Pecorino is a very good sub and close in taste. Some traditional recipes combine these two Italian cheeses.
Lemon juice: Adds that bit of acid to cut the richness of the olive oil and cheese.
Salt: Necessary to bring out other flavors.
Extra virgin olive oil: You do not need the highest quality here, and it's best to stream it in after the other ingredients are blended.
How to make homemade pesto
First, combine basil leaves, pinenuts, and garlic in a food processor.
Then, process until very finely minced. Next, add the lemon juice and parmesan cheese and process until well mixed.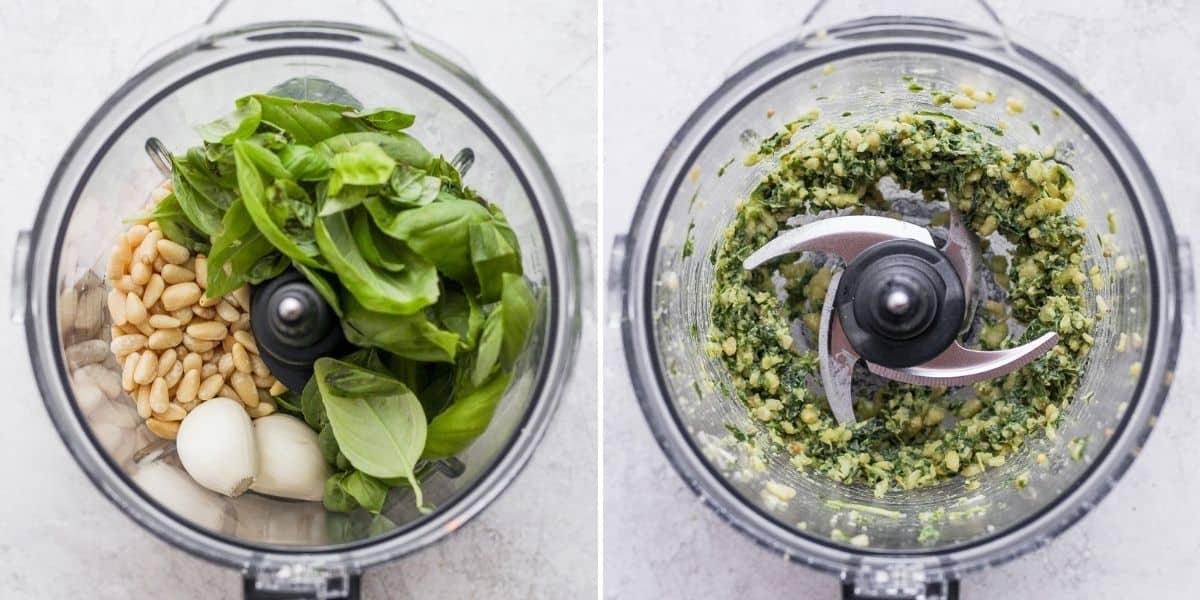 At this point, with the machine running, slowly steam in the oil and process until the mixture is smooth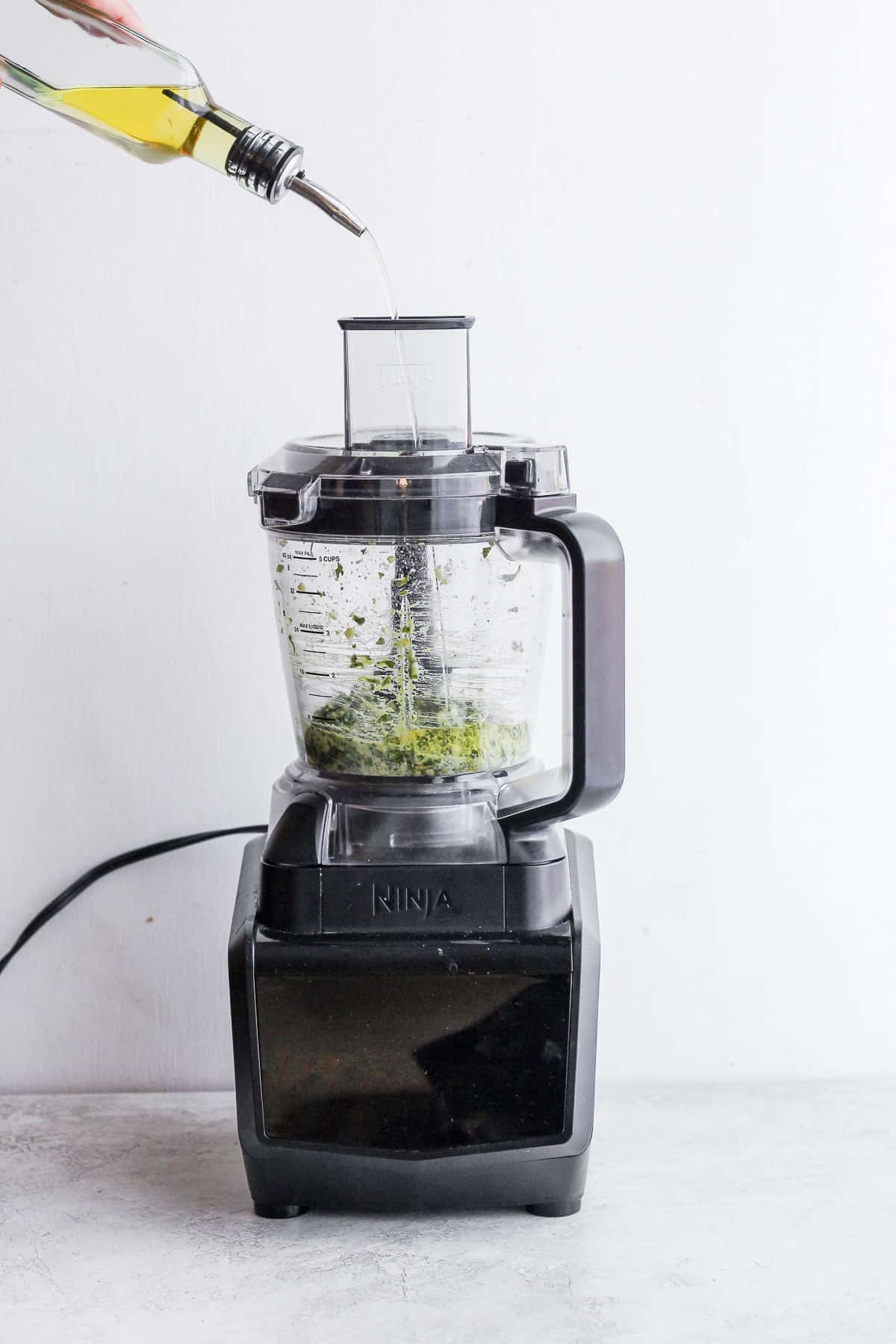 Finally, the ingredients will form a loose, textured paste with a smooth base and some bits of basil and nuts visible. You can leave it as chunky or smooth as you like.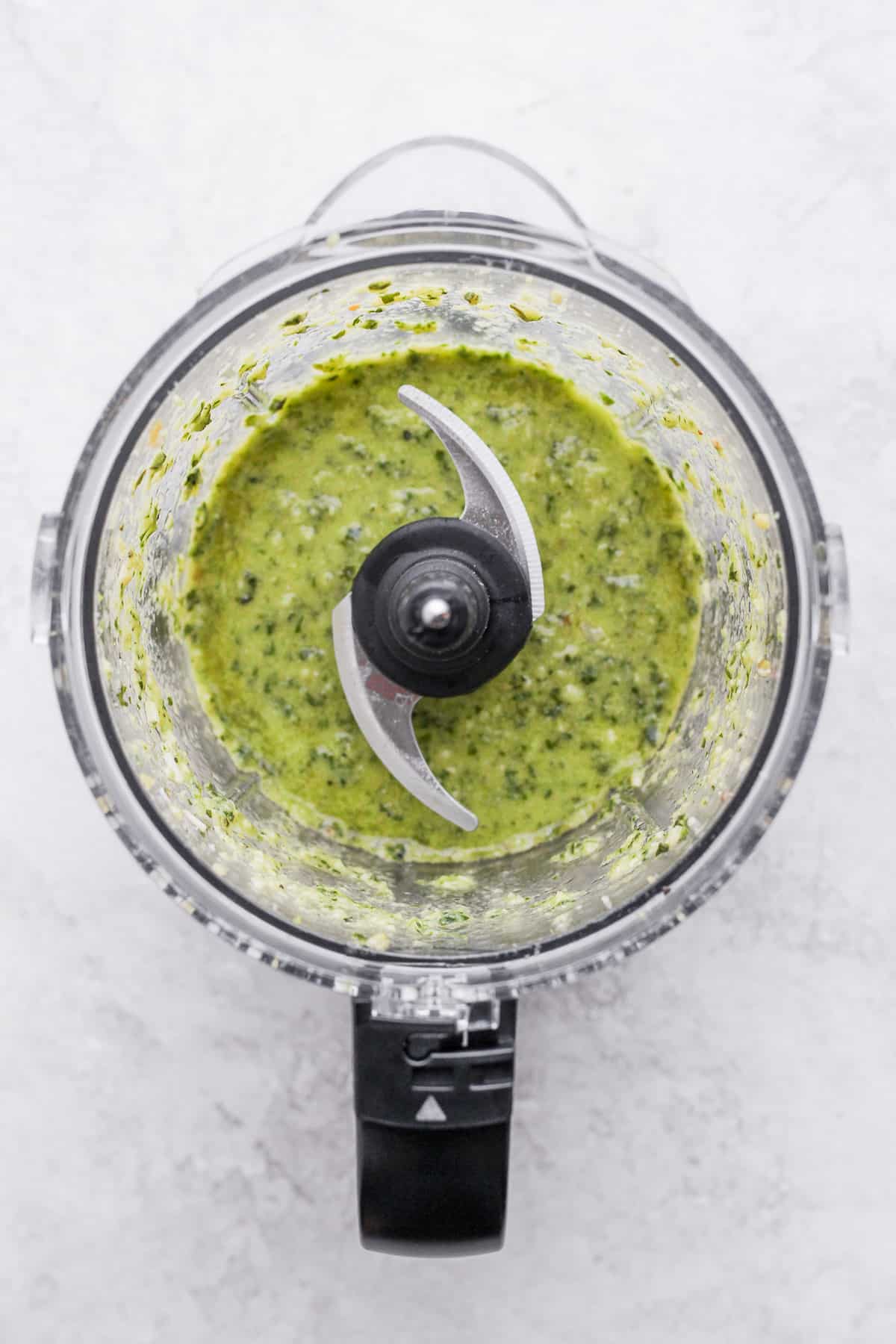 Pesto sauce recipe variations
This is my go-to homemade recipe that I love making during the summer. But here are ways to mix it up.
Switch the herbs: Substitute the same amount of any other fresh herb such as parsley or greens like arugula, kale, or even carrot tops. Know the taste will be different but let your imagination and refrigerator contents be your guide. Combine greens, too. For instance, if you are short on basil, round out with some arugula.
Add more heat: Add regular black pepper, hot red pepper flakes, or whatever type of heat you like. Additionally, upping the garlic will make it taste spicier.
Substitute different nuts: Pistachios (my preferred sub because their texture matches pinenuts so well,) walnuts, and almonds are also good in pesto. I've heard of cooks using pecans or hazelnuts, too, although I have not experimented with these.
Try a different cheese: Pecorino is a very good sub and close in taste. Still, another hard cheese to try (taste will vary) is Manchego.
Swap out the acid: If you don't have any lemons, either try white vinegar or white wine vinegar as an acid to balance the richness of the cheese and olive oil.
Tips for making homemade pesto
Always check your nuts for freshness. Rancid nuts can really spoil the recipe and ruin the taste. I keep my pine nuts in the freezer since they are so expensive and they last longer in the freezer.
Add more olive oil to remedy any dry pesto. Make sure to do this while the food processor is running to allow the olive oil to emulsify and create a looser texture. Just blend until you reach your desired consistency.
Thin out pesto with pasta water if you're using it as a sauce. I usually keep my pesto thicker so that it's more versatile as a spread. But when adding to pasta, the starchy pasta water is a great way to thin out the pesto sauce.
Toast the pine nuts for enhanced flavor. While this is not necessary to make pesto, toasting helps release the oil in the pine nuts to take the pesto to the next level.
Recipes with basil pesto sauce
Frequently asked questions
How long can pesto be refrigerated?
Tightly covered in the refrigerator, pesto will last up to one week. It helps to place a plastic wrap directly on the pesto touching it before adding the storage lid. If you want to keep longer, freeze it.
How long can pesto last in the freezer?
It will probably taste best if used by six months, but stored consistently at zero degrees it can go longer.
Can I use basil that has turned black in pesto?
I would not. It is a sign that basil is oxidizing, going bad and may have a bitter taste.
Can I make pesto without a food processor?
Old-school cooks used a mortar and pestle to grind the ingredients together, so you don't need a food processor. You can also use a blender.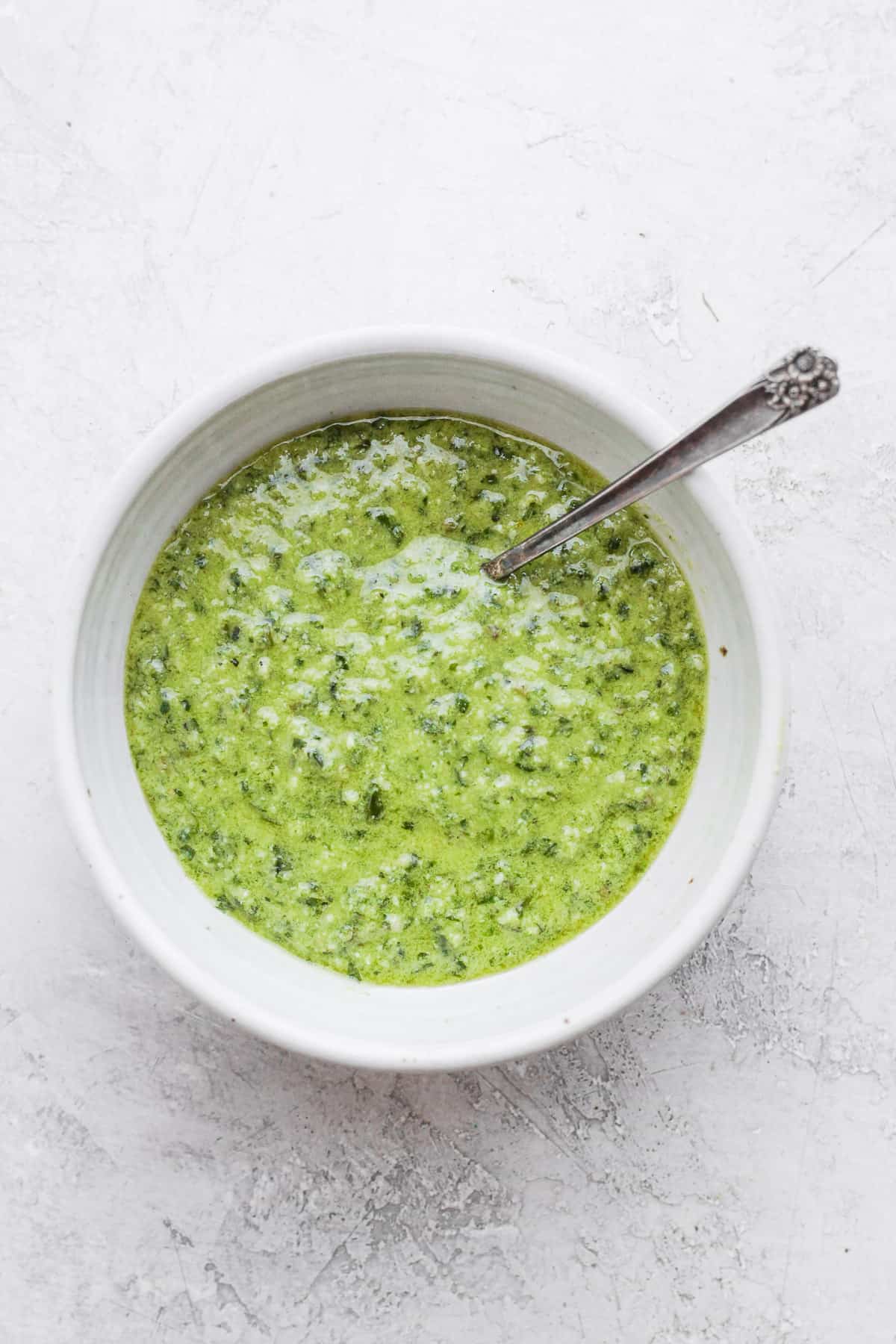 Homemade pesto tastes like summer to me! It brings Italian-flavored sunshine to dish no matter how dark the day. Check out my post on how to cook pasta. This basil pesto is perfect with a bowl of pasta for the ultimate bowl of pasta.
For more cooking resources, check out:
If you've found this cooking resource for How to Make Pesto Sauce helpful or if you've tried any recipe on FeelGoodFoodie, then don't forget to rate the recipe and leave me a comment below! I would love to hear about your experience with this technique. And if you snapped some shots of it, share it with me on Instagram so I can repost on my stories!
How to Make Pesto
Learn how to make Basil Pesto Sauce in this easy tutorial. I share tips for how to customize your homemade pesto with different herbs!
Instructions
Combine basil leaves, pine nuts and garlic in a food processor and process until very finely minced. Add the lemon juice and parmesan cheese.

With the machine running, slowly stream in the oil and process until the mixture is smooth.
Notes
Storage: Store the pesto in an airtight container in the fridge for up to 7 days. You can place a plastic wrap directly on the pesto to help slow down oxidation.
Photo Credit:
Erin Jensen
Nutrition
Calories:
221
kcal
,
Carbohydrates:
2
g
,
Protein:
2
g
,
Fat:
24
g
,
Saturated Fat:
3
g
,
Cholesterol:
1
mg
,
Sodium:
123
mg
,
Potassium:
68
mg
,
Fiber:
1
g
,
Sugar:
1
g
,
Vitamin A:
436
IU
,
Vitamin C:
3
mg
,
Calcium:
34
mg
,
Iron:
1
mg
Nutrition information provided is an estimate. It will vary based on cooking method and specific ingredients used.