This post may contain affiliate links. Please read our disclosure policy.
This refreshing Caprese Pasta Salad features pasta, tomatoes, and mozzarella balls – tossed in a delicious tangy balsamic vinaigrette for that perfect summer salad! It's a delicious and refreshing summer dish that combines the classic flavors of caprese with the satisfying texture of cooked pasta. This effortless pasta salad is perfect for light lunch or a side for dinner.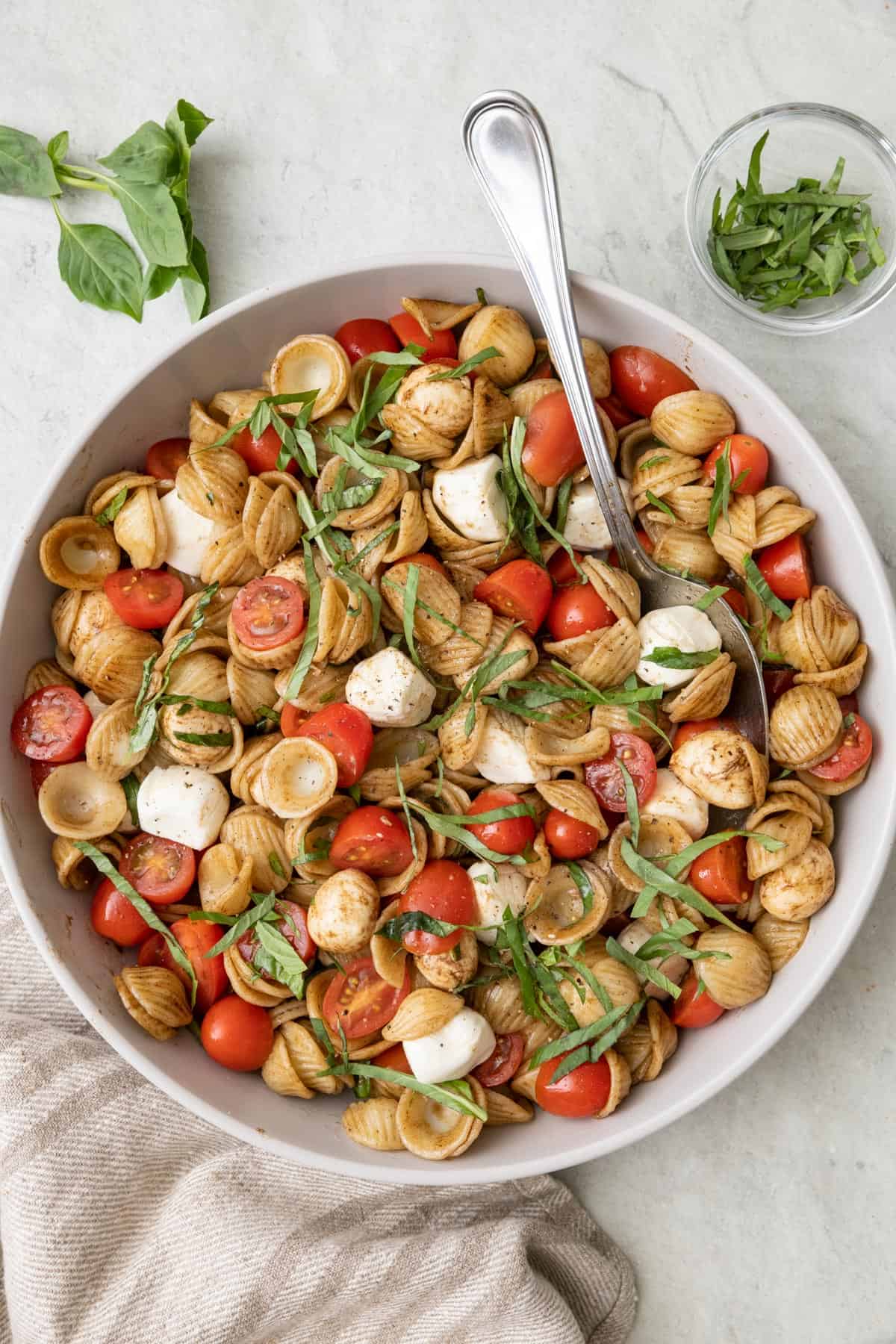 Table of Contents
This pasta salad with mozzarella balls is quick and easy to make and is a must-have for your summer table. After all, summertime is all about easy and refreshing recipes, and this Caprese pasta salad certainly fits the bill. In fact, you can even serve it deconstructed – just add all the ingredients to a large bowl and drizzle the dressing. It's that easy!
What is Caprese?
It's a type of salad (no lettuce here!) made with fresh mozzarella, tomatoes, and basil. It's a common dish that you will find at many Italian restaurants. Super basic in ingredients but super not-basic in flavor! In my Caprese pasta salad, I used those common ingredients and basically tossed them with pasta and balsamic vinaigrette. Does that scream summer or what?!
Why you'll love this EASY CAPRESE PASTA SALAD
Bright and fresh. This pasta salad is made with fresh and simple ingredients that come together quickly for a burst of flavor.
Easy to make. It requires minimal cooking skills and can be whipped up in under 20 minutes, making it a great salad for last-minute gatherings.
Make-ahead friendly. Make this up to 24 hours beforehand and store it in the fridge. In fact, it tastes even better after flavors have some time to meld together. You can even make this last longer if you keep the salad components separately, making it an excellent option for summer barbecues, potlucks, and parties.
Versatile serving suggestions. Serve it as a side salad with your favorite protein like roasted chicken or grilled salmon, or bring it to the next neighborhood party. It's delicious warm, or chilled. You can even toss in some leftover chicken to make it a complete meal – excellent for a picnic lunch!
Ingredients to make caprese pasta salad
Pasta: My favorite pasta to use in this recipe is orecchiette pasta. The shape is small and round, with a slightly concave center, resembling "little ears." Because of this shape, orecchiette pasta holds onto the dressing well, and the small size is perfect for scooping it up with a fork. Plus, my kids love learning about different kinds of pasta, and it adds fantastic variety to the salad.
Mozzarella pearls: These small balls of fresh mozzarella cheese are typically the size of cherries, making them perfect for this salad. They are sold in containers filled with brine to keep the cheese fresh and moist. You can find them in the deli section of most grocery stores.
Grape tomatoes: This classic caprese ingredient adds sweetness and juiciness to the salad. They also complement the mozzarella's creaminess and the dressing's bold flavors. Small tomatoes like grape or cherry tomatoes hold their shape well, maintaining the salad's overall presentation.
Fresh basil: This herb brightens the salad, adding a refreshing aroma and flavor. Fresh basil is an essential ingredient in any caprese dish; therefore, I do not recommend using dried basil for this recipe.
Dressing: A simple balsamic vinaigrette made with extra-virgin olive oil, balsamic vinegar, and salt and pepper is enough for all the flavors to shine.
How to make CAPRESE PASTA SALAD
Add olive oil, vinegar, salt, and pepper to a small bowl.
Whisk well until emulsified.
Cook pasta in a pot of heavily salted water until al dente. Drain and cool.
Add the cooled pasta, tomatoes, mozzarella pearls, and basil to a large bowl.
Pour the balsamic vinaigrette over the salad ingredients.
Toss gently to combine.
Tips for the Best Caprese Pasta Salad
Use high-quality ingredients. As much as possible, try using peak seasonal tomatoes, good quality mozzarella (the kind packed in water, not the kind you can shred), fresh basil, and cold-pressed extra virgin olive oil. That is really going to make a difference in bringing out the bright, fresh flavor of this summer pasta salad.
Cook pasta al dente. This will ensure that the pasta doesn't get mushy when you toss it with the balsamic dressing and will give you the best results for storing this pasta for days and days!
Rinse the pasta. I know this is not recommended for warm pasta dishes. But when it comes to pasta salads, rinsing with cold water helps stop the cooking process immediately. You can also toss it in olive oil, but sometimes that adds unnecessary dressing (and calories)
Add fresh basil leaves before serving. This will give this make-ahead pasta salad a fresh and bright taste.
Popular substitutions & additions
Use any small pasta. You can make this summer pasta salad with whatever short pasta you have on hand. Fusilli, farfalle, or elbows will all work, but it's best to use pasta with texture so the dressing sticks to it.
Mix up the tomatoes. Use small grape tomatoes for best results, but mixing with different colored tomatoes can add variety. You can also use larger tomatoes, but they may cause the salad to become watery due to their higher water content.
Make it gluten-free. This pasta salad recipe will work just as well with your favorite gluten-free pasta.
Add a protein. Make it a complete meal and add leftover cooked chicken directly into the salad and toss to combine for an easy summer lunch.
What to serve with MOZZARELLA PASTA SALAD
How to store CAPRESE PASTA SALAD
Leftover caprese pasta salad can be stored in an airtight container in the refrigerator. I recommend using a glass container to avoid the acidity in the vinaigrette reacting to plastic containers.
How long will CAPRESE PASTA SALAD last in the fridge?
This pasta salad with mozzarella balls will last up to 5 days in the fridge. Remember that the tomatoes will continue to release liquid with time, and the basil may oxidize and turn black if exposed to air for too long. It is still safe to eat but may not be visually appealing.
Can i freeze TOMATO MOZZARELLA PASTA?
This salad recipe is best enjoyed fresh; the tomatoes and cheese will not freeze and thaw well.
Frequently asked questions
Can I make this salad ahead of time?
Yes, you can make this salad up to 24 hours ahead of time. Just add the fresh basil leaves immediately before serving for the best taste and visual appeal. You can also extend that shelf life if you keep the salad components separately and then toss them to combine before serving.
How can I prevent the pasta from sticking together?
To ensure the pasta doesn't stick together, rinse the cooked pasta under cold water and drain well to remove excess starch. You can also toss the pasta with a little bit of olive oil to coat it.
Can I serve this caprese pasta salad at room temperature?
The good news is that this classic pasta salad can be served at room temperature or chilled. It's delicious either way and holds up well for hours.
If you're looking for a new pasta salad recipe, I strongly recommend giving this refreshing caprese pasta salad a try. It is a crowd-pleaser boasting all the classic caprese flavors plus pasta. What is not to love?
More pasta salad recipes
This Caprese Salad recipe was originally posted on July 9, 2018. It has recently been updated with new photos and step-by-step instructions! The recipe has been slightly modified to remove the pesto dressing and use a light balsamic vinaigrette instead. See my homemade pesto sauce and substitute the pine nuts for walnuts to try the original recipe!
If you try this feel good Caprese Pasta Salad recipe or any other recipe on Feel Good Foodie, then don't forget to rate the recipe and leave a comment below! It helps others who are thinking of making the recipe. We would love to hear about your experience making it. And if you snapped some shots, share it on Instagram so we can repost on Stories!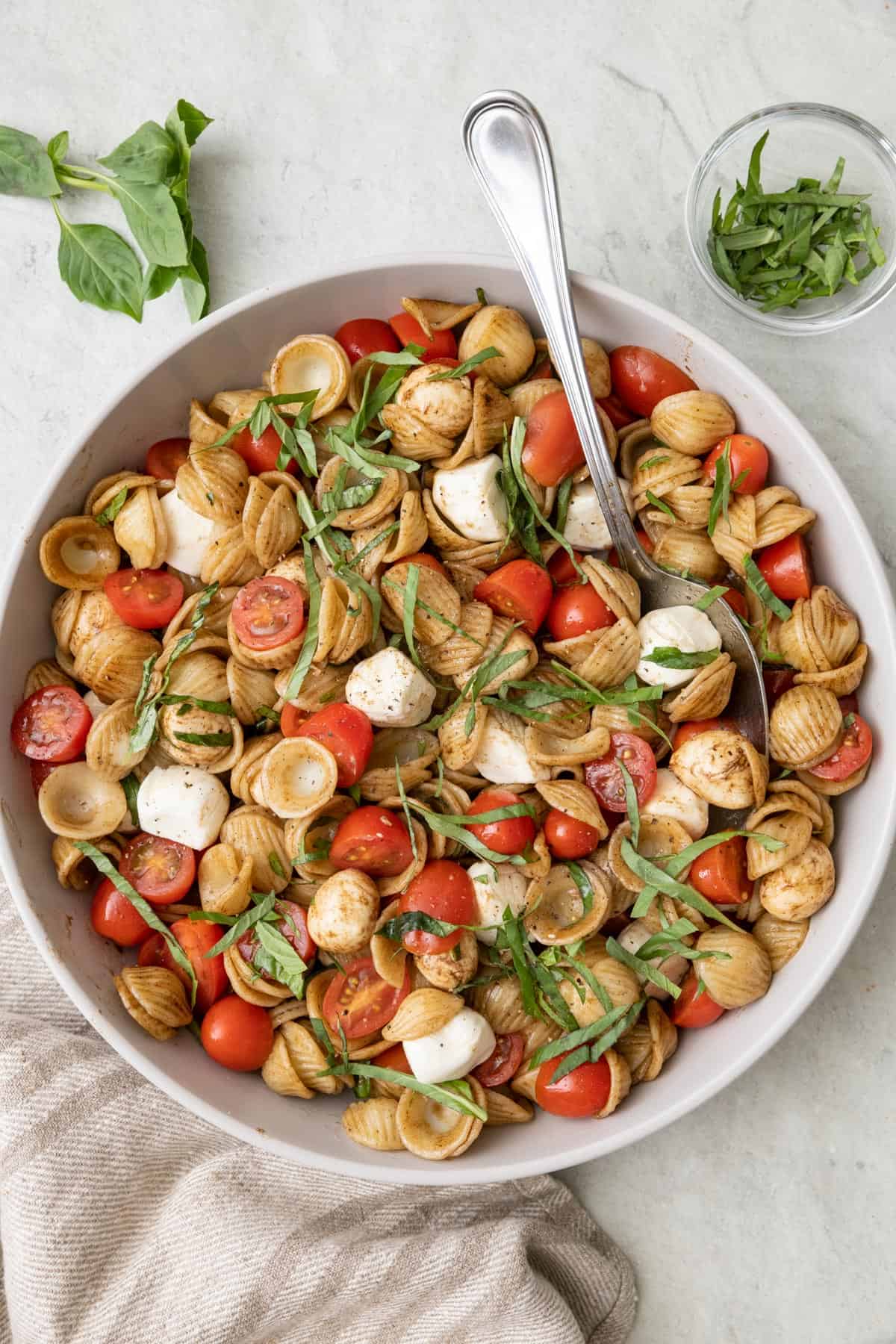 Caprese Pasta Salad
This ultimate caprese pasta salad is made with chunks of pearl mozzarella, juicy grape tomatoes and tossed in a simple balsamic vinaigrette!
Instructions
Bring a pot of heavily salted water to a boil over medium-high heat. Add the pasta to the boiling water and cook for 8-10 minutes, or until the pasta is al dente. Drain the pasta and rinse with cold water to stop the cooking.

Transfer the cooled pasta to a large bowl. Add the mozzarella, tomatoes and basil on top.

In a small bowl, whisk together the olive oil, balsamic vinegar, salt and pepper until emulsified. Drizzle the dressing over the pasta and toss gently to combine.

Enjoy immediately or refrigerate for 30 minutes before serving.
Notes
The original recipe used my walnut pesto instead of balsamic viniagrette. Here is the recipe if you'd like to sub for pesto:

½ cup fresh basil leaves, 2 garlic cloves, 2 tbsp walnuts, 2 tbsp parmesan, salt and pepper, and ¼ cup olive oil.

To make the pesto, place the basil, garlic, walnuts and Parmesan cheese in the food processor; season with salt and pepper, to taste, and blend. While the food processor is on, pour the olive oil slowly into the mixture in order to allow the olive oil to emulsify.

Mozzarella "pearls" are widely available at most grocery stores these days. If you have a hard time finding them, you can substitute with a standard mozzarella ball cut up into smaller chunks. Don't substitute with shredded mozzarella because it won't have the same effect.
This pasta salad does not

need

to be chilled before serving, but chilling it doesn't hurt.
Store any leftovers in an airtight container in the fridge for up to 5 days.
You can make this salad up to 24 hours ahead of time. Just add the fresh basil leaves immediately before serving for best taste.
Nutrition
Calories:
334
kcal
,
Carbohydrates:
32
g
,
Protein:
12
g
,
Fat:
18
g
,
Saturated Fat:
4
g
,
Polyunsaturated Fat:
1
g
,
Monounsaturated Fat:
7
g
,
Cholesterol:
14
mg
,
Sodium:
131
mg
,
Potassium:
281
mg
,
Fiber:
2
g
,
Sugar:
4
g
,
Vitamin A:
710
IU
,
Vitamin C:
11
mg
,
Calcium:
155
mg
,
Iron:
1
mg
Nutrition information provided is an estimate. It will vary based on cooking method and specific ingredients used.