This post may contain affiliate links. Please read our disclosure policy.
Learn how to grill salmon with the skin on like a pro with this simple, step-by-step guide. While it might seem obvious, the trick to grilling an amazing piece of salmon is not overcooking it. It's not a protein you can just throw on the grill and walk away from. I'll teach you how to grill salmon the right way and identify visual clues that the salmon is cooked perfectly. Go grab an instant-read thermometer, and let's get grilling!
Table of Contents
Summertime is the perfect time for grilling out with friends and family. And what's better than grilled salmon? Not much! It is my favorite fish to grill, air fry, bake, and pan fry – needless to say, salmon is a staple protein at my house. Grilling adds a delicious smokiness to salmon that you just can't beat. In this post, I will provide a step-by-step guide on how to grill salmon with the skin on (my fav way!). This is a great way to ensure that your salmon stays moist and juicy. Let's get started!
Why Learn How To Grill Salmon
Easy to mess up. Salmon is a delicate protein. If you cook the salmon too long, it will become dry and tough, and no one likes dry fish.
Basic technique that can be used for other fish. The tips and tricks I'm about to give you can be used for many types of fish.
Flavorful. Grilling salmon with the skin on adds flavor and crispiness to the outside while keeping the inside moist and delicious.
what is the best salmon for grilling
The best salmon for grilling are fillets with the skin on one side. The skin protects the fish while cooking and naturally releases fat onto the grate making the fish easier to flip.
You can choose between wild-caught varieties, with a stronger salmony taste, and farmed, often labeled "Atlantic" salmon, which has the mildest taste. Both are healthy. Keep in mind, wild-caught is less fatty and tends to cook more quickly.
Basic Ingredients You'll Need To Grill Salmon
Salmon: You can grill fresh or frozen salmon (thawed) with the skin on. For grilling, you do want a thicker fillet as it holds up better to the open flame, and if cooking multiple pieces of salmon at once, you'll want to make sure they are about the same size.
Oil: You'll want to use a high-heat oil such as canola, avocado, or grapeseed.
Salt and Pepper: The key to great flavor is seasoning the salmon before grilling. I like to use sea salt, black pepper, and sometimes some smoked paprika for extra smokiness.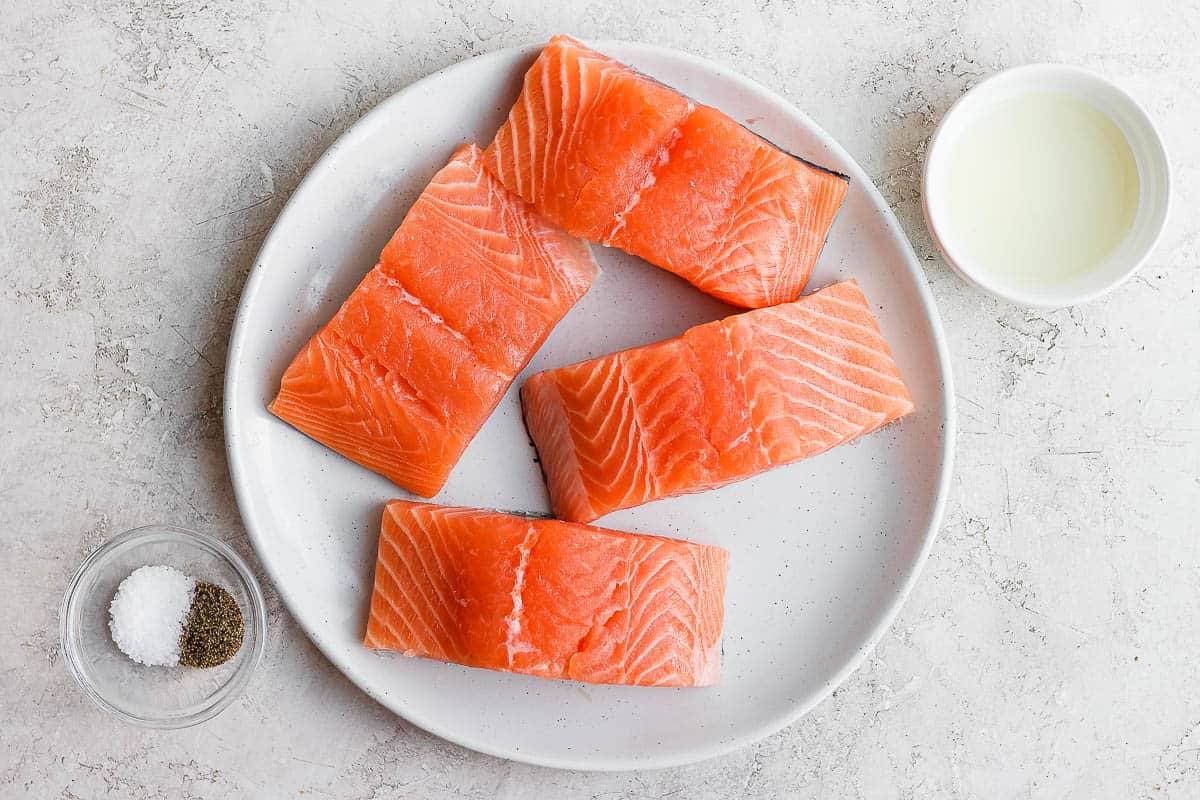 How to grill salmon
Pat salmon dry with a paper towel to remove any excess moisture, especially if was thawed from frozen.
Season with salt and pepper. You can also add any other seasoning of choice.
Rub oil over the salmon fillets using your hands or a brush.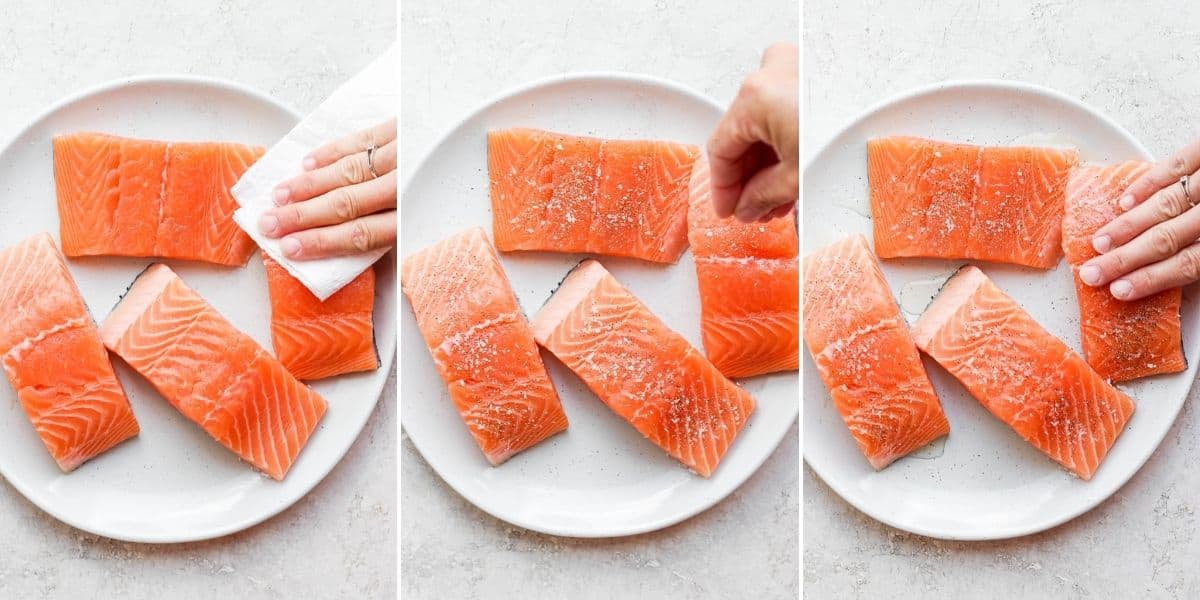 Lay the salmon, skin side down, directly on the grill and cook with the lid open until the flesh lightens in color,
Gently insert the tip of a spatula under the edge of the salmon. If it feels stuck, give it another minute. Otherwise, flip to the skinless side.
Cook with the lid closed to reach desired doneness without overcooking. When you press down on the top with a fork, the filet will gently flake apart.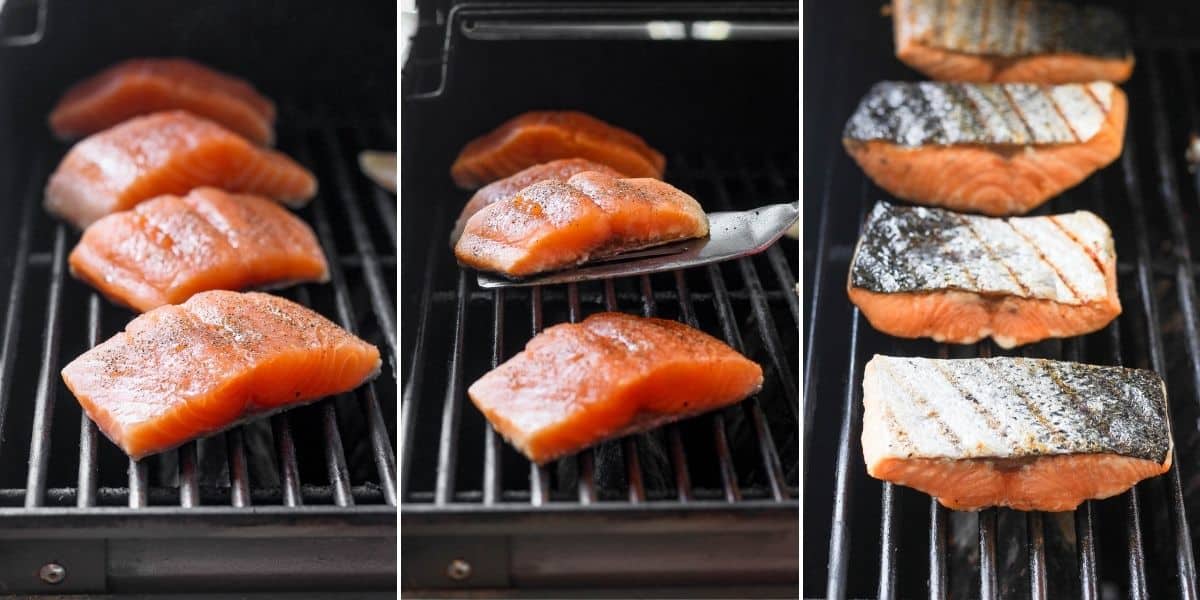 Tips for grilling salmon
Lightly oil the grill for even better stick resistance. Even though you have oil on the salmon, this extra step helps to ensure a clean flip.
Try to flip the salmon in the same spot where it was previously cooking. That's because the skin will have released some nice oil to prevent the top from sticking.
Don't overcook the salmon. Don't wait until you see that white stuff oozing out of the salmon to flip it. That stuff is albumin, a protein from the muscles, and while a little is normal towards the end of cooking, too much means your fish is already overcooked.
Use tongs and a spatula for extra security while flipping. Try steadying one end of the filet with a pair of long-handled tongs, while you wiggle the spatula underneath the fish.
Use an instant-read thermometer to cook to the perfect temperature. Salmon cooked to a safe temperature of 130°F may still appear pink in the center, which is why many people end up overcooking theirs.
How to tell your salmon is done cooking
When salmon is done cooking, it should be opaque in color and flake apart easily with a fork.
The internal temperature should also read 130°F-135°F when measured with an instant-read thermometer. It will continue to cook after it's removed from the grill.
While the USDA recommends that salmon should be cooked to 145°F, most of the internet disagrees. Some even recommend cooking salmon only to 120°F-125°F. Since everyone has different preferences, it might take a few attempts to find the perfect internal temperature for you. I find that 130°F-135°F yields the best flavor and texture. At this temperature, the outside is crispy, while the inside is moist and flavorful.
The cooking time will vary depending on how thick your fillet is, so use an instant-read thermometer to ensure that you are not overcooking it.
Remember, if you start to see "the white stuff" in abundance, your salmon is nearing or has entered the realm of overcooked, and you want to remove it from the grill immediately.
What to serve with grilled salmon
Frequently asked questions
What other flavors go well with grilled salmon?
Turn up the flavor by adding other spices like hot pepper, smoked paprika, grated lemon, or minced garlic to the fish before cooking. You can also try this citrus salsa with grilled salmon.
How long does grilled salmon stay good in the fridge?
The USDA says it can be refrigerated for 3 to 4 days.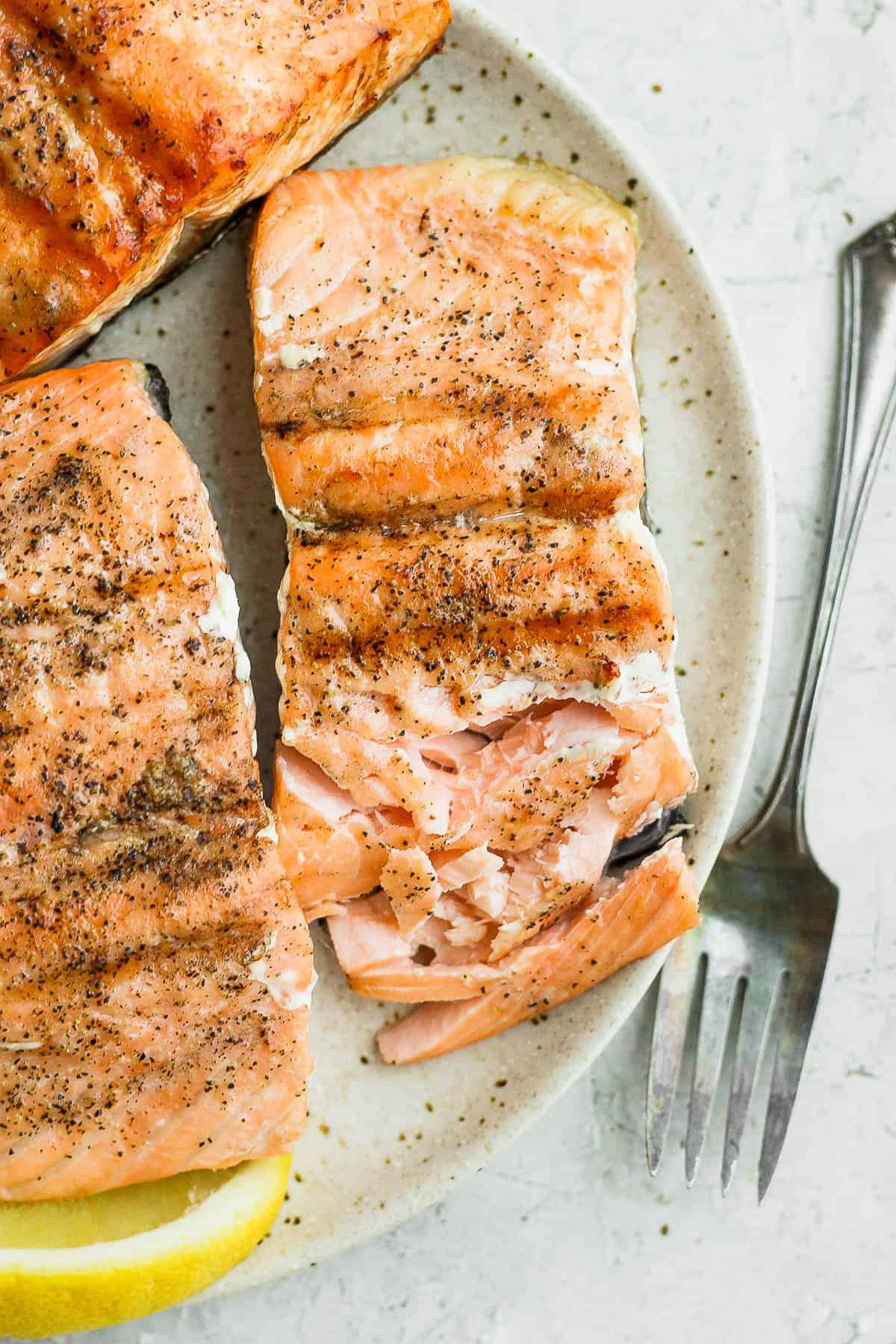 Grilling salmon with the skin on is a great way to add flavor and crispiness while keeping the inside moist. With this step-by-step guide, you'll be able to grill like a pro in no time! Remember not to overcook your salmon so that it stays juicy and tender – use an instant-read thermometer for accuracy. Make sure the internal temperature of your fish reaches 130°F-135°F before taking it off the heat. If done correctly, you will have perfectly grilled salmon with delicious smoky flavor every single time! So what are you waiting for? Head outside and fire up the grill!
More salmon recipes:
If you've found this cooking resource for How to Grill Salmon helpful or if you've tried any recipe on FeelGoodFoodie, then don't forget to rate the recipe and leave a comment below! It helps others who are thinking of trying out this tutorial and we would love to hear about your experience. And if you snapped some shots, share it on Instagram so we can repost on Stories!
How to Grill Salmon (Skin-on)
Learn how to grill salmon with skin on using this step-by-step tutorial. Grilling salmon this method creates moist fillets that won't stick!
Ingredients
4

6-8 ounces

salmon fillets

about 1-inch thick, with skin on

2

tablespoons

oil

canola, vegetable, grapeseed

1

teaspoon

salt

½

teaspoon

black pepper

Lemon wedges

for serving
Instructions
Preheat grill over medium-high heat.

Pat salmon dry with a paper towel. Season with salt and pepper and rub the oil all over the salmon.

Place the salmon, skin side down, directly on the grill and cook with the lid open until the flesh lightens in color, about 5 minutes.

Gently try to lift or flip the salmon. If it feels stuck, give it another minute.

Flip to the skinless side and cook with the lid closed for another 3-5 minutes, depending on desired doneness. It should read at least 130°F-135°F on an instant read thermometer.

Serve with lemon wedges, if desired. Allow the salmon to rest for a few minutes, which will continue to increase its internal temperature, before enjoying.
Equipment
Notes
Storage: It's best to enjoy grilled salmon immediately after cooking. However you can store any leftovers in an airtight container for up to 3 days.
Photo Credit:
Erin Jensen
Nutrition
Calories:
304
kcal
,
Carbohydrates:
1
g
,
Protein:
34
g
,
Fat:
18
g
,
Saturated Fat:
2
g
,
Polyunsaturated Fat:
6
g
,
Monounsaturated Fat:
8
g
,
Trans Fat:
1
g
,
Cholesterol:
94
mg
,
Sodium:
656
mg
,
Potassium:
837
mg
,
Fiber:
1
g
,
Sugar:
1
g
,
Vitamin A:
69
IU
,
Calcium:
22
mg
,
Iron:
1
mg
Nutrition information provided is an estimate. It will vary based on cooking method and specific ingredients used.