This post may contain affiliate links. Please read our disclosure policy.
One of the best things about mashed sweet potatoes is their versatility. This recipe creates a creamy, smooth sweet potato mash that pairs with a variety of main dishes, making it an excellent side for both casual weeknight dinners and special occasions like Thanksgiving! This recipe is so easy, and the process is straightforward: boil the sweet potato chunks until tender, then mash them with butter, milk, and seasonings to make a bowl of mashed sweet potatoes that even the pickest of eaters can't say no to!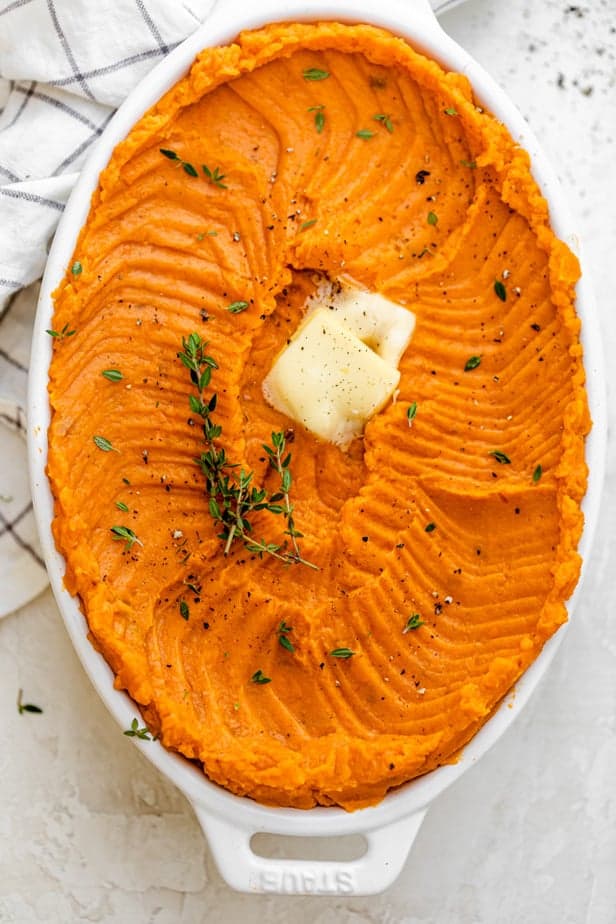 My Healthy Mashed Potatoes are a must-have side dish for Thanksgiving, but these Healthy Mashed Sweet Potatoes just may rival them. Sweet potatoes are often served as a sweet side dish with marshmallows or cinnamon sugar. But this savory mashed sweet potato recipe is a lighter option that's still full of naturally sweet flavor from the sweet potatoes and pairs really well with turkey or chicken!
When it comes to planning holiday menus, nothing gets me as excited as all of the side dishes; and sweet potatoes always have to be served! These mashed sweet potatoes are ready in 20 minutes and great for making ahead!
Table of Contents
Recipe at a glance
Cuisine Inspiration: American
Primary Cooking Method: Boiling and Mashing
Dietary Info: Vegetarian
Key Flavor: Sweet and subtly spiced
Skill Level: Easy
Summary
Quick and Easy: Ideal for busy days, this recipe is ready in just 20 minutes, making it perfect for a quick side dish.
Minimal Ingredients: Requires only 5 key ingredients (excluding salt and pepper), keeping it simple yet flavorful.
Creamy Texture: Achieved with butter and milk, resulting in a smooth, comforting consistency.
Subtle Spice: A hint of cinnamon adds a warm, aromatic quality that elevates the dish.
Versatile Pairing: Complements a wide range of main dishes, from hearty meats to light vegetarian options.
Why are these mashed sweet potatoes healthy?
These mashed sweet potatoes are deliciously creamy and still only amount to around 130 calories a serving. Low fat milk is used in the place of cream but you don't have to skip the butter! There's no added refined sugar in the dish either, so no judgement if you go for seconds!
Ingredients for Mashed Sweet Potatoes
Sweet Potatoes: You'll need a couple of medium-sized sweet potatoes peeled and cut into chunks, providing a naturally sweet and hearty base for the dish.
Butter: Adds richness and creaminess to the mashed potatoes, enhancing their flavor and texture.
Low-Fat Milk: Helps to create a smooth, creamy consistency, making the mashed potatoes luxurious yet not too heavy.
Kosher Salt: Balances the sweetness of the potatoes and elevates the overall taste of the dish.
Black Pepper: Offers a subtle heat and sharpness, complementing the sweet and creamy elements.
Cinnamon: Introduces a hint of warm spice, adding depth and a slight aromatic quality to the potatoes.
Fresh Thyme: Used as a garnish, it adds a pop of color and a fresh, herbal note that pairs beautifully with the sweet potatoes.
How to make mashed sweet potatoes
It's so easy to make this side dish!
First up, prep the potatoes, you can peel or not, depending on your preference. Cut them into similar sized chunks so that they cook quicker and are easier to mash. Don't leave them whole.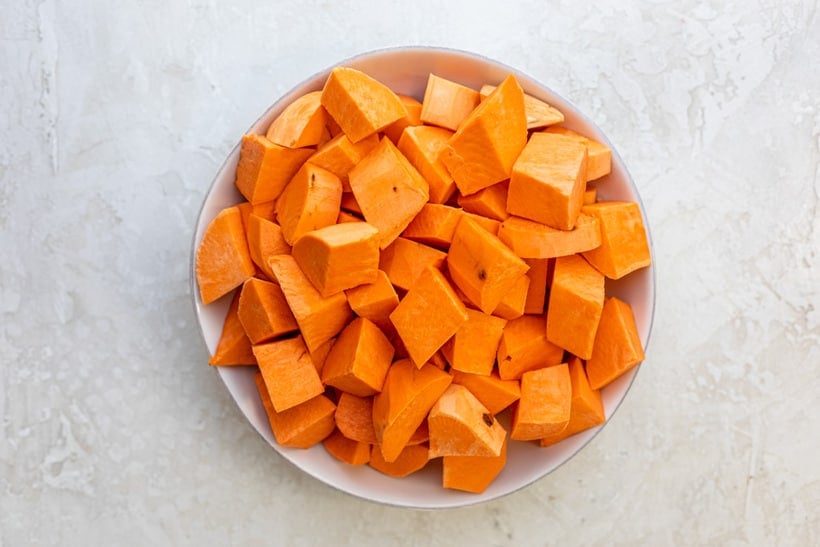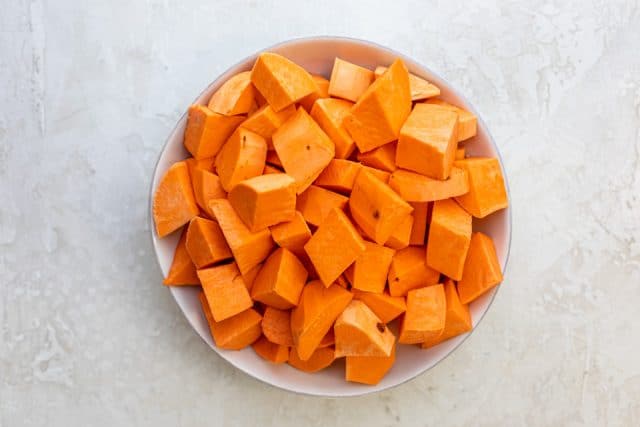 Place the chopped potatoes into a saucepan and cover them with water. Bring them to a boil and cook uncovered until they are fork tender. Drain the potatoes and add them back to the saucepan. Add the milk, butter, salt and pepper.
While they're still hot, mash until they are smooth and consistent.
Serve them warm and garnish with thyme leaves.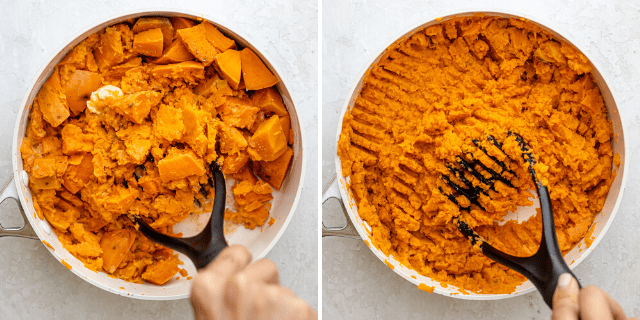 Savory toppings for sweet potatoes
I keep it simple with some freshly ground black pepper and fresh herbs. But there are so many other great topping ideas for sweet potatoes that don't include sugar, pecans, maple syrup or marshmallows. Check out some of these savory toppings:
Brown butter
Cheese: try shredded gruyere cheese or cheddar cheese, or even feta cheese
Peppers
Panko breadcrumbs
Sour cream
Popular Substitutions & Additions
Swap the Milk: If you prefer a dairy-free version, almond milk or coconut milk can be great alternatives to low-fat milk.
Different Butter Options: For a richer taste, you can use full-fat butter, or to keep it vegan, opt for a plant-based butter substitute.
Sweet Potato Varieties: Feel free to try different types of sweet potatoes or even yams for varying sweetness and textures.
Spice it Up: Experiment with spices like nutmeg or pumpkin spice for a different flavor profile.
Herb Variations: Swap out thyme for rosemary or sage for a different aromatic touch.
Add-ins for Texture: Consider folding in chopped pecans or walnuts after mashing for added crunch and nuttiness.
Cheesy Twist: Stir in some grated cheddar or Gouda cheese for a cheesy version of mashed sweet potatoes.
Savory Kick: Incorporate a bit of minced garlic or garlic powder into the mash for a savory flavor boost.
Tips for making the best mashed sweet potatoes
Gradually add the milk to the cooked sweet potatoes. There are so many different types of sweet potatoes and the amount of liquid you might need will depend on the size and type of potato you use. So add the liquid in stages. You can always add more liquid if needed.
Be careful not to over-boil the potatoes. They should be cooked until fork tender, but not falling apart. If you overcook them, they will absorb too much water, resulting in a mushy consistency.
Make them more fluffy by adding one regular potato. Russet potatoes have a lighter texture, so you can add one to the pot and boil with the sweet potatoes. Mash everything together, and you can hardly tell there's a white potato in there!
Make them vegan with quick swaps. Substitute the butter with vegan butter and use plant based milk. You will hardly tell the difference with that substitution and it makes these healthy mashed sweet potatoes vegan friendly!
How To Store Mashed Sweet Potatoes
If you have leftover potatoes, you can reheat them a couple of days later to serve again, but you can use them in so many other recipes! You can substitute them for white potatoes in this Vegetarian Shepherd's Pie recipe, or use them to make Sweet Potato Muffins or Sweet Potato Waffles.
Can you make mashed sweet potatoes ahead of time?
Mashed sweet potatoes reheat perfectly from the fridge so they are a great side to make ahead. Let them cool to room temperature, transfer to an airtight container and they will keep well for about 3 days. You can the gently reheat them on the stovetop in a pan just before serving.
How to freeze mashed sweet potatoes?
Allow the mashed sweet potatoes to cool completely. Then place the sweet potatoes in a freezer-safe container or bag. If you're using a freezer bag, it's a good idea to flatten the bag and remove any air before sealing. Place in the freezer for up to 3 months for best taste.
Frequently Asked Questions
What can I do if my mashed sweet potatoes are too runny?
If the mixture is too runny, cook it on low heat for a few minutes to evaporate some moisture, or add a bit more mashed sweet potato to thicken it up.
Is peeling the sweet potatoes necessary?
Yes, for this recipe, it's recommended to peel the sweet potatoes to achieve a smooth mash. However, the skins are edible if you prefer a more rustic texture.
How can I make my mashed sweet potatoes creamier?
For creamier mashed potatoes, add more butter or milk until you reach your desired consistency. You can also use an electric mixer for a smoother texture.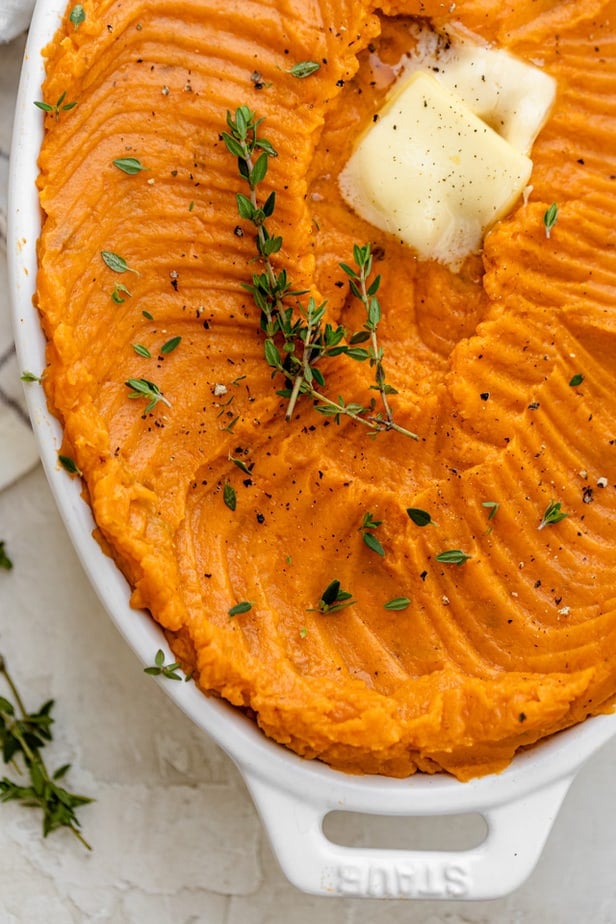 More sweet potato recipes:
I just know that these healthy mashed sweet potatoes will be a hit on your holiday table! They are so easy and quick to make and loaded with flavor.
If you make this healthy-ish feelgood Healthy Mashed Sweet Potatoes recipe, please be sure to leave a comment and/or give this recipe a rating! I would love to hear about your experience making it. And if you snapped some shots of it, share it with me on Instagram so I can repost on my stories!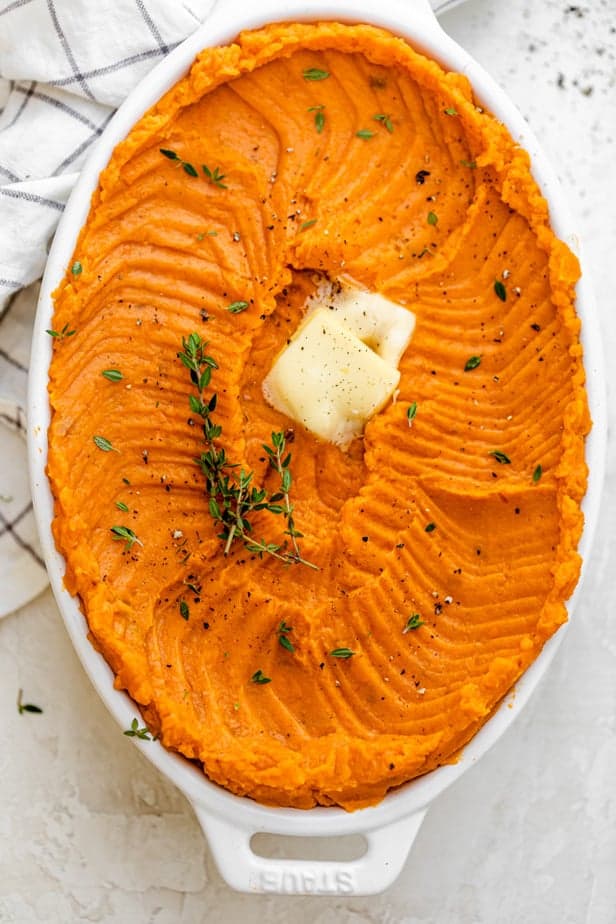 Healthy Mashed Sweet Potatoes
Healthy Mashed Sweet Potatoes are similar to a casserole but without the sugary topping. It's a lightened up savory recipe that pairs well with any protein!
Ingredients
2

pounds

4 medium sweet potatoes, peeled & cut into 2″ chunks

2

tablespoons

butter

1/2

cup

low-fat milk

1/2

teaspoon

Kosher salt

1/2

teaspoon

black pepper

1/8

teaspoon

cinnamon

1

tablespoon

sprigs fresh thyme
Instructions
Place sweet potatoes in a large saucepan over high heat and cover generously with boiling water. Bring to a boil then reduce heat to medium, and cook uncovered until the sweet potatoes are fork tender, about 15-20 minutes.

Drain the sweet potatoes, and return to saucepan. Add the milk, butter, salt, pepper and cinnamon; mash with a potato masher to desired consistency.

Serve warm and garnish with thyme leaves.
Notes
Storage: Store any leftovers in an airtight container. They will last about 3-4 days in the fridge. Freezing Instructions: Allow the mashed sweet potatoes to cool completely. Then place the sweet potatoes in a freezer-safe container or bag. If you're using a freezer bag, it's a good idea to flatten the bag and remove any air before sealing. Place in the freezer for up to 3 months for best taste. Make Ahead Tips: You can chop the potatoes up to 3 days in advance and store them in the fridge in an airtight container with water. When it's time to cook the mashed potatoes, drain the potatoes and cook as usual.
Nutrition
Calories:
130
kcal
,
Carbohydrates:
24
g
,
Protein:
2
g
,
Fat:
3
g
,
Saturated Fat:
2
g
,
Cholesterol:
8
mg
,
Sodium:
239
mg
,
Potassium:
410
mg
,
Fiber:
4
g
,
Sugar:
6
g
,
Vitamin A:
16246
IU
,
Vitamin C:
4
mg
,
Calcium:
56
mg
,
Iron:
1
mg
Nutrition information provided is an estimate. It will vary based on cooking method and specific ingredients used.