This post may contain affiliate links. Please read our disclosure policy.
Smashed sweet potatoes are a delicious and easy side dish that can be paired with any main course! These crispy sweet potato rounds are oven roasted, making them crispy on the outside and soft on the inside, and are seasoned with a delicious butter mixture of Italian seasoning, crushed red pepper, and fresh garlic and baked with parmesan cheese. If you prefer your sweet potatoes a little more savory and with all the mouthfeels, this recipe is for you!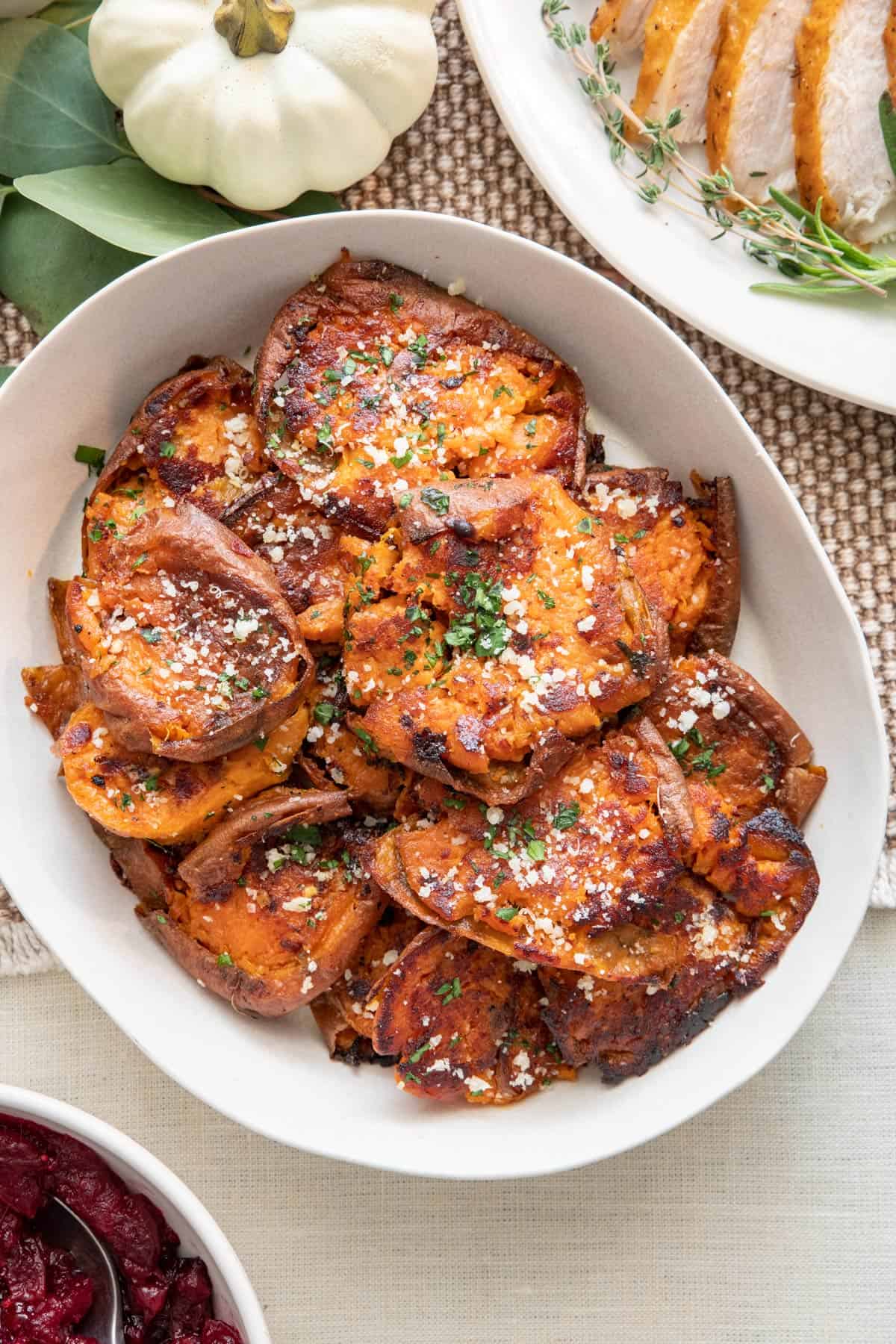 I've made smashed potatoes before, and I knew I had to try it with sweet potatoes. What's the hype with smashing potatoes? It's the thin edges that get all crispy in the oven because of the wider, thinner surface area. While you can't find baby sweet potatoes like you can with regular potatoes, you can easily slice sweet potatoes into smaller pieces before cooking and smashing them.
why you'll love these crispy smashed sweet potatoes
Crispy! Let's be honest; it's hard to make sweet potatoes crispy in the oven. Smashing them has been the best way I've found to achieve those crisp-edge results!
Flavor! The Italian seasoning, crushed red pepper, and fresh garlic bring a savory kick to balance out the natural sweetness of the sweet potatoes.
Easy! This recipe is simple and doesn't require any difficult or unusual ingredients. Plus, it's quick and easy to prepare – perfect for busy weeknights or last-minute dinner parties.
A different way to eat sweet potatoes. Smashing them adds a new texture and dimension to sweet potatoes, making for a unique and tasty side dish.
Ingredients to make savory smashed sweet potatoes
Sweet potatoes: While you can use thick sweet potatoes for this recipe, they are harder to cut into slices and smash. I recommend using smaller, thinner sweet potatoes for easier preparation and cooking. I also like to use organic sweet potatoes, but regular ones will work just fine! Here's a quick guide on how to cut sweet potatoes into rounds.
Butter: The butter helps the seasonings stick to the sweet potatoes as well as adds a delicious richness to them.
Seasoning and spices: Italian seasoning, crushed red pepper, and minced garlic add savory and spicy flavors to the potatoes. Salt and pepper also help bring out the flavors.
Parmesan cheese: Grated parmesan cheese adds another level of flavor and a nice crispy topping. Optional but recommended!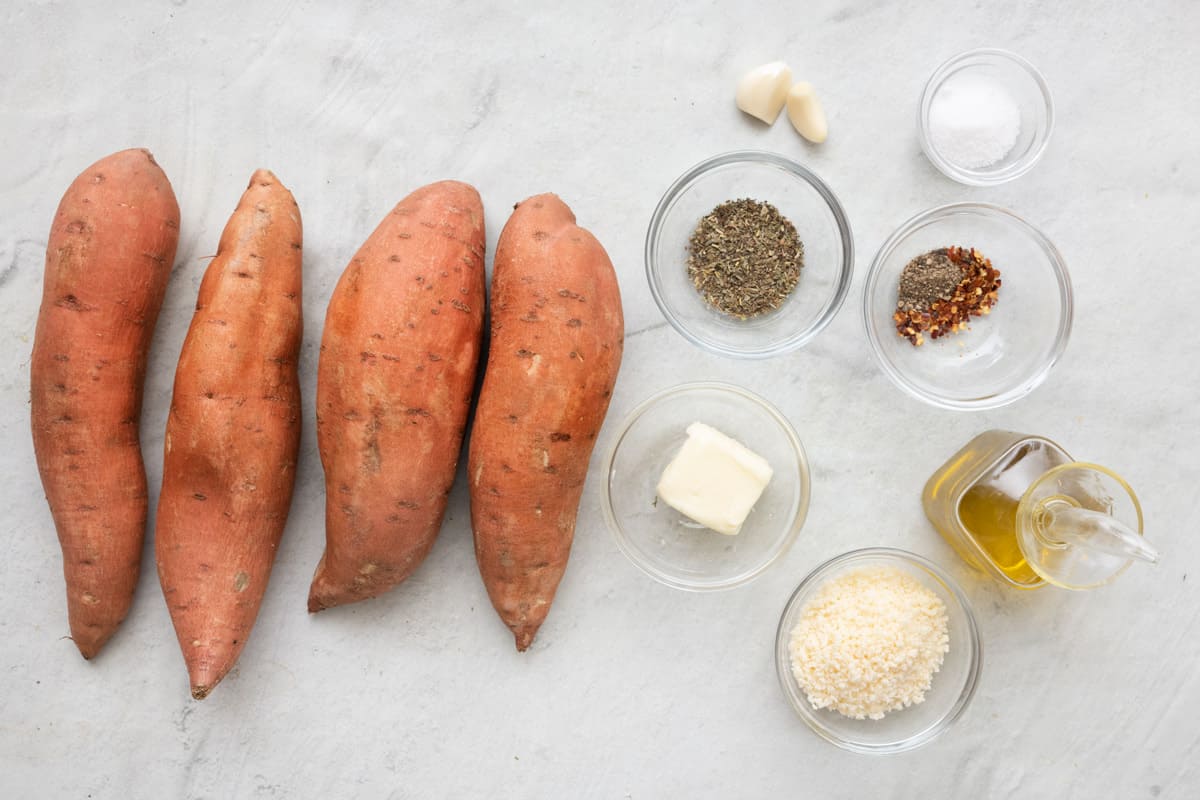 How to make smashed sweet potatoes
Smashed sweet potatoes are a little more "labor intensive" when it comes to prep work – BUT they are sooo worth it. You won't be disappointed with the results!
Prepare Sweet Potatoes
Place the par-boiled sweet potato slices

on a prepared baking sheet.

Pour your butter mixture over the potatoes and turn to evenly coat. '
Use the bottom of a cup to smash the potatoes carefully.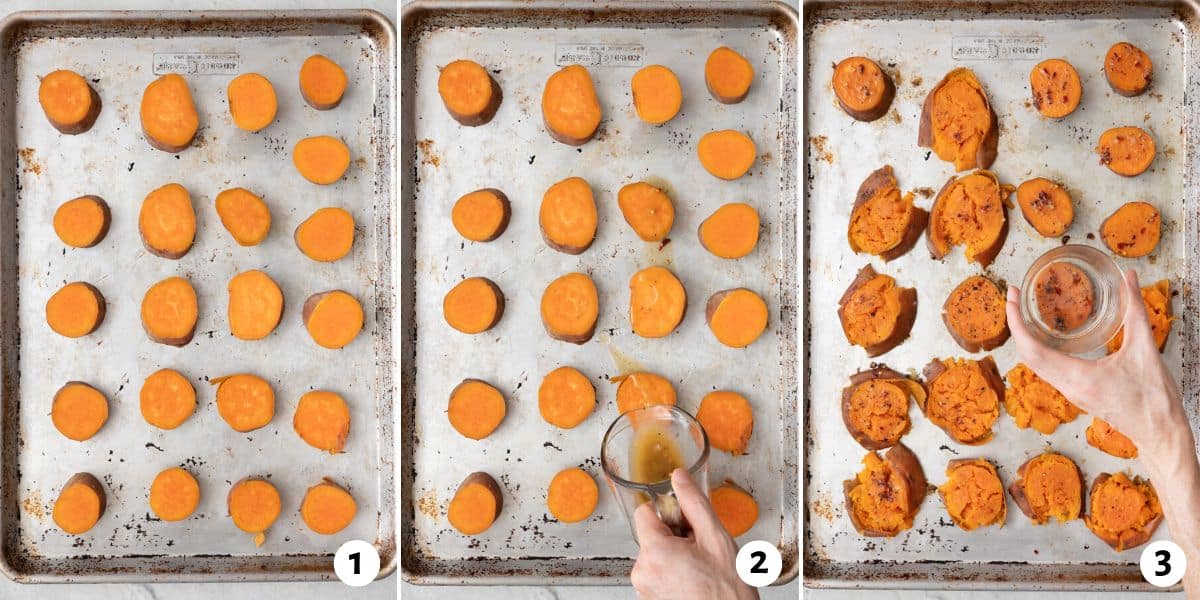 Roast Smashed Sweet Potatoes
Sprinkle the parmesan cheese on top of the potatoes and bake.
Remove from oven and let cool slightly before serving.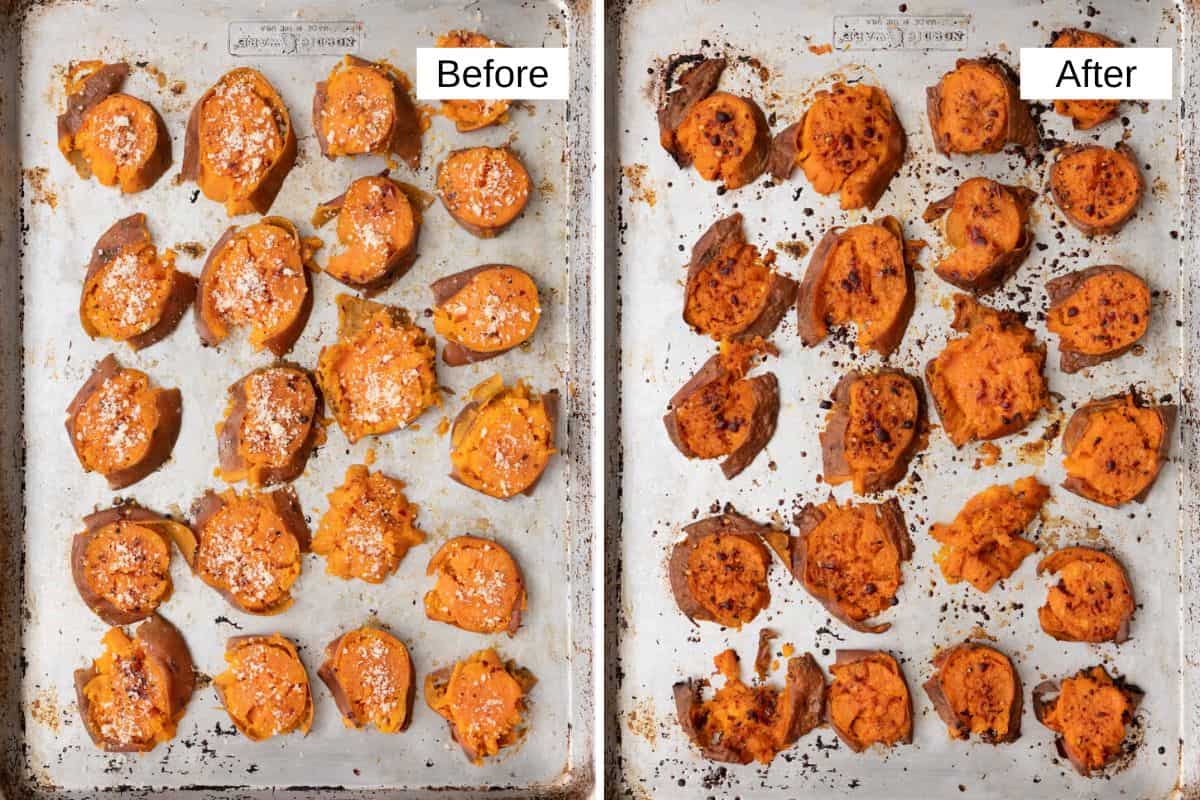 Tips for making roasted smashed sweet potatoes
Scrub, then scrub again. I'm sure it goes without saying, but since all potatoes grow in the ground, they can be quite dirty. Still, it's hard to see the dirt on sweet potato skin, so I usually let them sit in cold water for a few minutes to loosen the dirt, then scrub and rinse each potato twice before slicing them.
Chop the potatoes instead of slicing them. If it's easier to chop the potatoes into 2-inch chunks, feel free to do that instead. You can still smash the chunks of potatoes for crispy delicious edges. I just think the round slices look prettier 😉
Use a sharp knife. Sweet potatoes are often harder to slice than regular potatoes, so make sure you have a sharp knife. And be careful while slicing! The sharper the knife, the less risk of accidental injury.
Be careful not to overcook the potatoes. When boiling the potatoes, you want to keep a close eye on things. You just want to be able to press them with the back of a cup. You don't want to cook them so long that the skin comes off; the skin makes them nice and crispy! Look for knife tender, not fork tender.
popular substitutions & additions
Spice things up. I love the savory combination of Italian seasoning and red pepper flakes, but get creative with the spice mixture!
Make them sweet. If you prefer a sweet version of smashed sweet potatoes, leave out the savory spices and top with a mixture of brown sugar, cinnamon and ginger instead.
Make them vegan. Simply leave out the parmesan cheese and replace the butter with a plant-based alternative like coconut oil or vegan butter.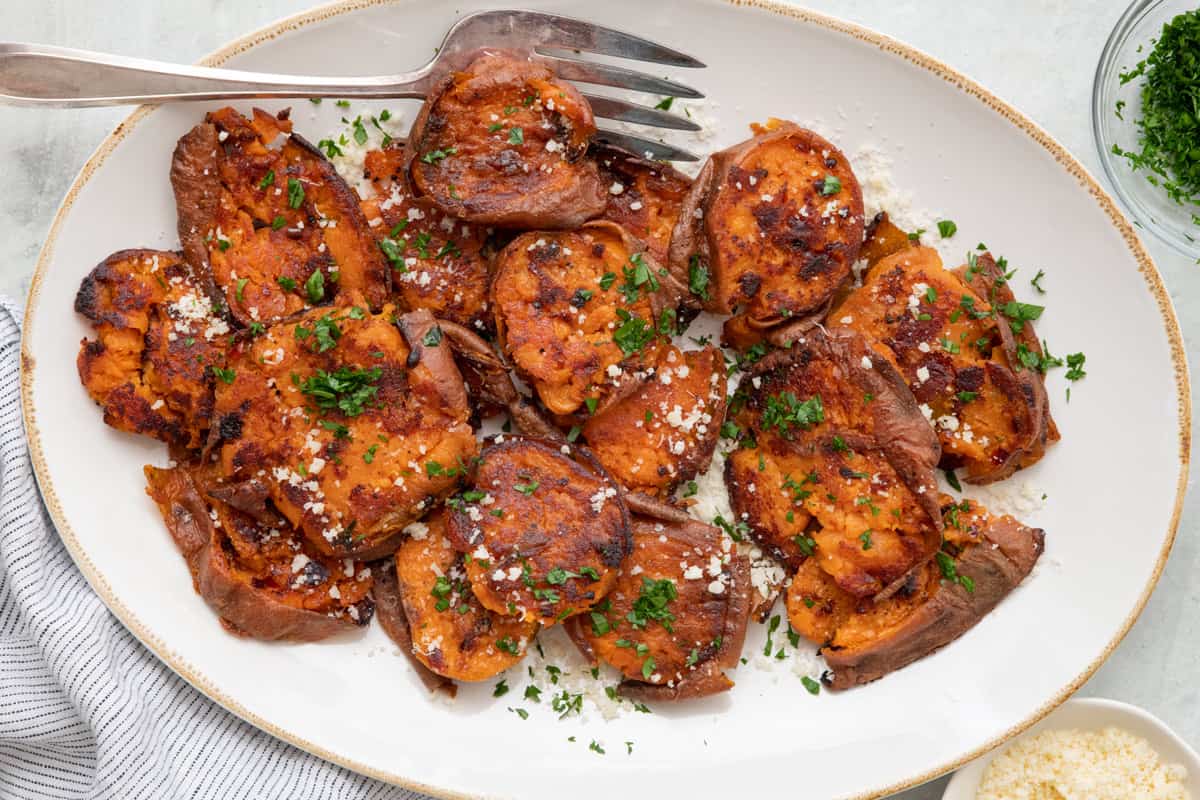 what to serve with your crispy smashed sweet potatoes
how to store & reheat smashed sweet potatoes
Store leftovers in an airtight container in the fridge. Reheat smashed sweet potatoes in a 375˚F preheated oven until warmed through, about 10-15 minutes. Or heat them up in a skillet on the stovetop with a little bit of butter or oil over medium heat until warmed through.
how long will smashed sweet potatoes last in the fridge?
Leftovers will last in the fridge for about 4-5 days. They won't be as crispy after being reheated, but they will still taste delicious! Enjoy as leftovers or make into a yummy sweet potato hash. Add some diced onions and breakfast meats like turkey sausage to the skillet before reheating. Yum!
can i freeze smashed sweet potatoes?
I don't recommend freezing smashed sweet potatoes as they will lose their texture when thawing. However, if you do choose to freeze them, make sure they are fully cooled beforehand to limit moisture content and store them in a freezer-safe container.
Frequently asked questions
Can I peel the skin before boiling?
The skin is a big part of this dish – it adds a deliciously crispy texture. I recommend leaving the skin on and scrubbing well before boiling to ensure it's clean. That being said, you can peel them beforehand but you just won't get that crispy texture smashed sweet potatoes are known for.
Can I use regular potatoes instead of sweet potatoes?
Regular potatoes will work. You can make smashed potatoes out of any type of potato. I highly recommend trying it with sweet potatoes at least once. The natural sweetness pairs so well with the savory spices and parmesan cheese.
Can I use olive oil instead of butter?
Yes, feel free to use olive oil or avocado oil instead of butter. I do prefer butter, but the type of fat you use won't alter the overall taste too much, so use what you prefer or have on hand.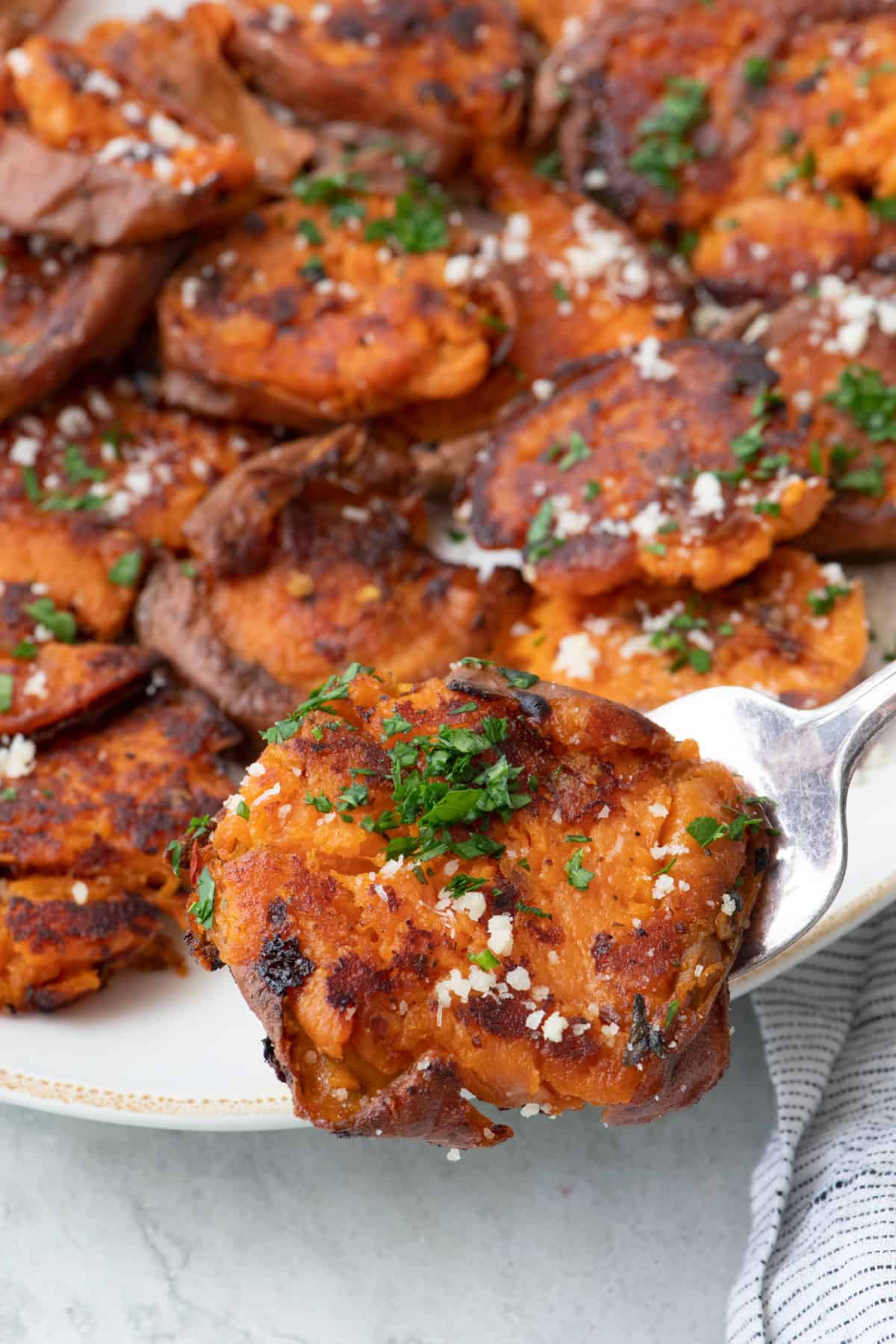 Smashed sweet potatoes are a delicious side dish that can be enjoyed all year round. You can spice them up however you like, and I encourage you to try different flavor combinations! Don't forget to come back and let me know how your smashed sweet potatoes turned out and if you experimented with seasoning! Enjoy.
More sweet potato recipes:
If you try this feel good Smashed Sweet Potatoes recipe or any other recipe on Feel Good Foodie, then don't forget to rate the recipe and leave a comment below! It helps others who are thinking of making the recipe. We would love to hear about your experience making it. And if you snapped some shots, share it on Instagram so we can repost on Stories!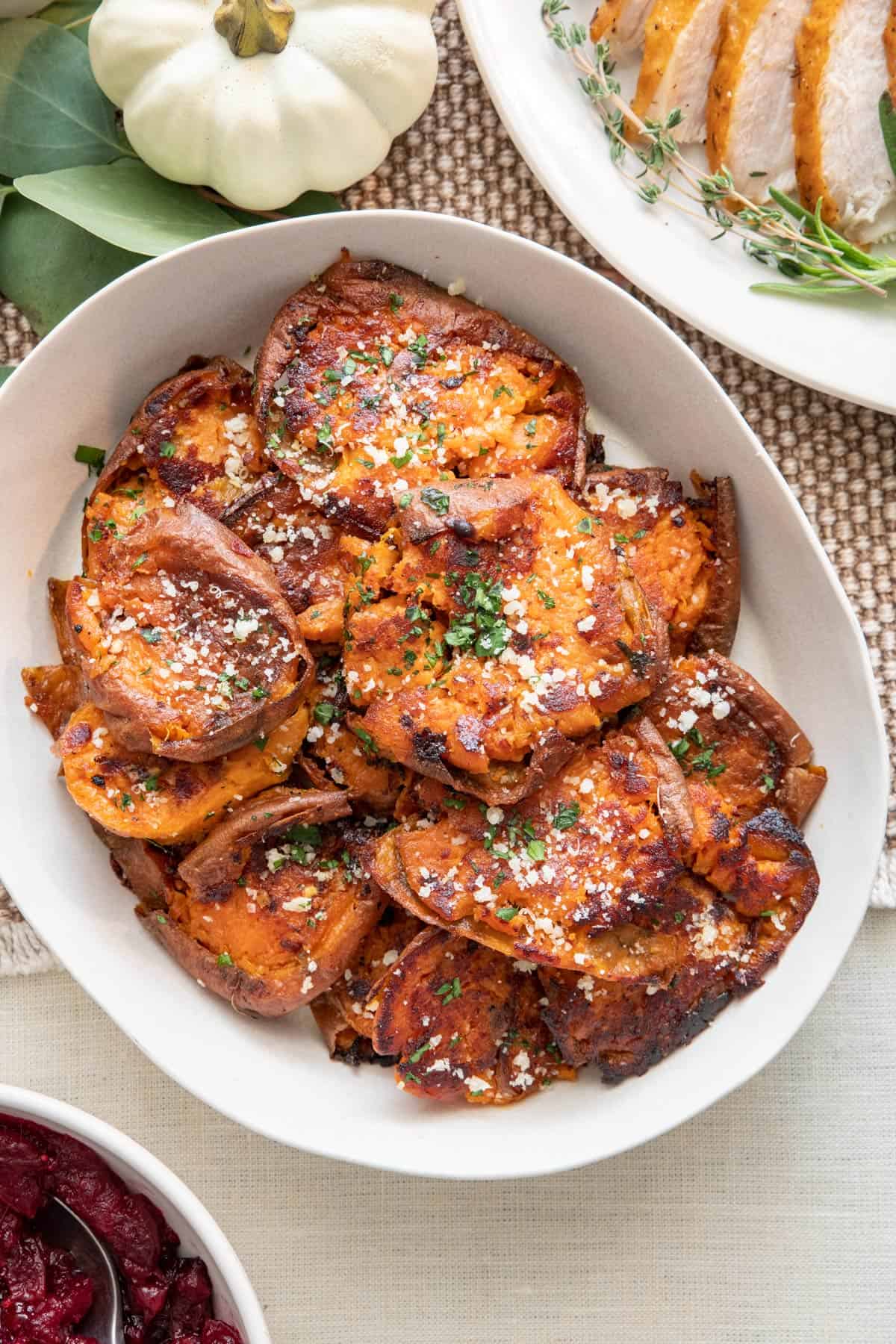 Smashed Sweet Potatoes
Crispy smashed sweet potatoes roasted in the oven with savory spices and parmesan cheese! A way to cook sweet potatoes that actually yields a crispy outside!
Instructions
Preheat oven to 450˚F. Brush 2 large rimmed baking sheets with a thin layer of olive oil. Set aside.

Add sweet potatoes to a large pot, then cover with cold water by 1 inch. Add 2 teaspoons salt and bring to a boil. Once the potatoes reach a boil, cook for 5 minutes, or until fork tender. Drain and place on the prepared baking sheet.

In a small bowl, combine butter, remaining salt, Italian seasoning, garlic, black pepper and crushed red pepper.

Pour butter mixture over the potatoes and turn to evenly coat. Use the bottom of a cup to smash the potatoes carefully.

Sprinkle cheese on top of the potatoes and bake for 30 minutes, rotating the pans from top to bottom and front to back halfway through cooking time.

Remove from oven and let cool slightly before serving.
Notes
Tip: Thinner sweet potatoes are easier to handle and cut for this recipe. 
Nutrition
Calories:
222
kcal
,
Carbohydrates:
32
g
,
Protein:
4
g
,
Fat:
9
g
,
Saturated Fat:
5
g
,
Polyunsaturated Fat:
1
g
,
Monounsaturated Fat:
3
g
,
Trans Fat:
0.2
g
,
Cholesterol:
19
mg
,
Sodium:
299
mg
,
Potassium:
533
mg
,
Fiber:
5
g
,
Sugar:
6
g
,
Vitamin A:
21623
IU
,
Vitamin C:
4
mg
,
Calcium:
97
mg
,
Iron:
1
mg
Nutrition information provided is an estimate. It will vary based on cooking method and specific ingredients used.