This post may contain affiliate links. Please read our disclosure policy.
This tutorial will guide you through how to cut sweet potatoes in 4 ways: wedges, slices, sticks, and cubes. You'll improve your knife skills and learn to prepare sweet potatoes for recipes and how best to store them after cutting.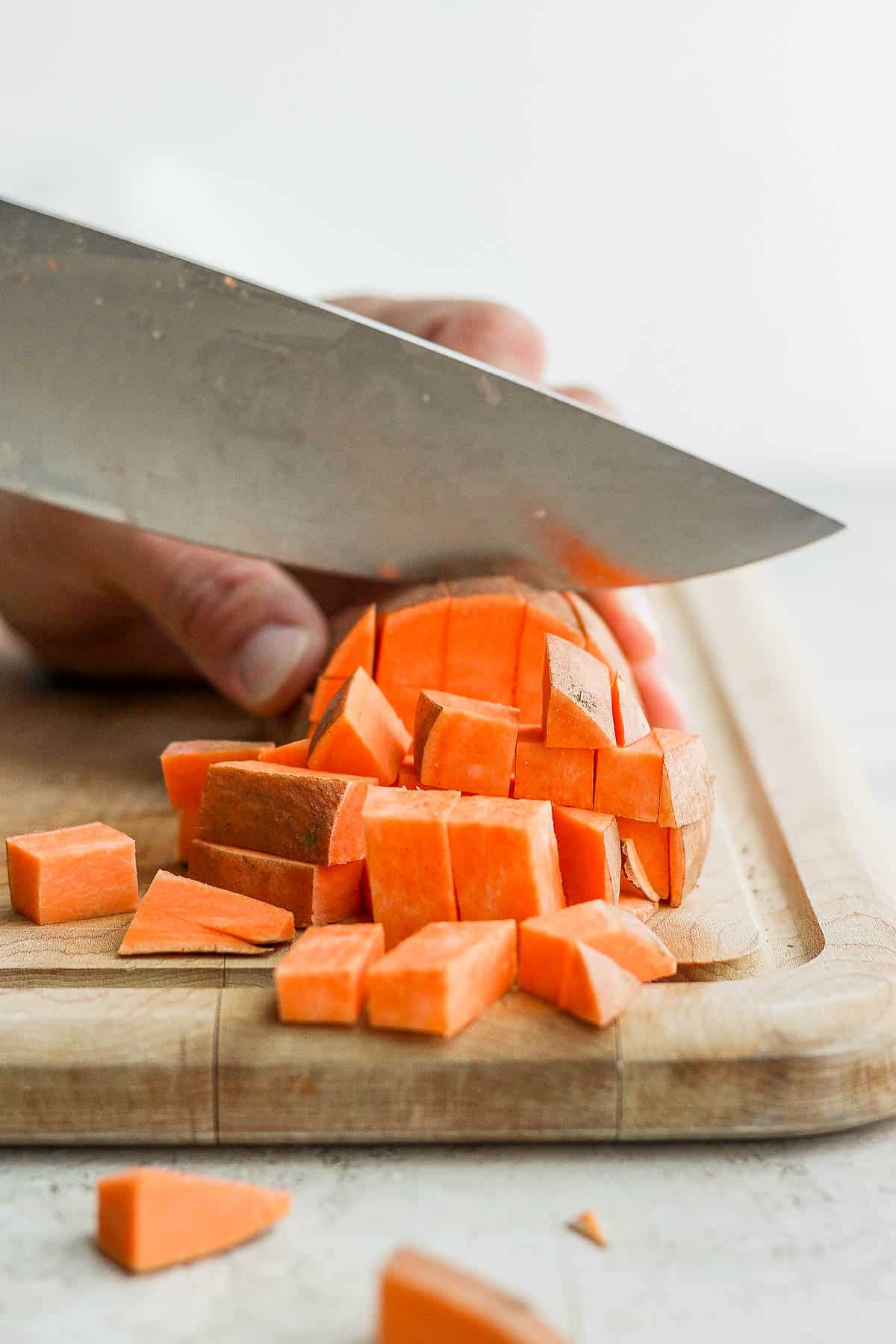 WHY learn to cut sweet potatoes
Make more recipes. Once you start to develop your knife skills, you'll be better for it, and it will be reflected in your recipes. Each cut works for different meals, such as slices for sweet potato rounds topped with marshmallows, wedges and sticks for fries, and cubes for a southwest quinoa salad or sweet potato salad. Check out this kitchen knife guide for choosing the best knife for cutting sweet potatoes.
Meal prepping. Store sweet potatoes for recipes beforehand with a newly learned knife skill. Whether you are preparing for a single recipe or planning out your weekly meal plan, learning to cut sweet potatoes will get you ahead of the game.
Even cooking. A recipe suggests a specific size for sweet potatoes because it cooks to perfection when created and finishes simultaneously with the rest of the recipe.
They're a superfood. That's right! Sweet potatoes are a superfood. From the orange skin to the soft flesh, sweet potatoes are full of beta carotene, loaded with vitamins and minerals, with tons of fiber and antioxidants.
how to soften sweet potatoes For Cutting
Sweet potatoes are much denser and sometimes difficult to cut compared to their counterpart, white potatoes. This is because they have much less water than other fruits and vegetables, much like carrots or butternut squash, which may require a little more muscle to cut.
To help with cutting, you can soften the sweet potatoes in a few different ways.
Parboil – peel and trim off both ends of the sweet potato and place in a saucepot with water. Bring to a boil, reduce the heat and simmer for about 8 minutes. Remove from the water and allow to cool before cutting into your desired shape. Note that this will shorten the cooking time of a recipe because they are partially cooked.
Microwave – use a fork to poke holes into the sweet potato and microwave for 2-3 minutes, depending on size.
Steam – use a double boiler or steamer basket of a pot of water and place the sweet potatoes in the basket with a few holes poked in them. Steam for about 10-15 minutes.
HOW TO clean/wash sweet potatoes before cutting
The first step to preparing any vegetable is to give them a good rinse before cutting.
Rinse under running water and use your fingers to gently scrub away any dirt.
Use a kitchen towel or paper towel and pat them dry before cutting for safe handling. Peel potato if desired.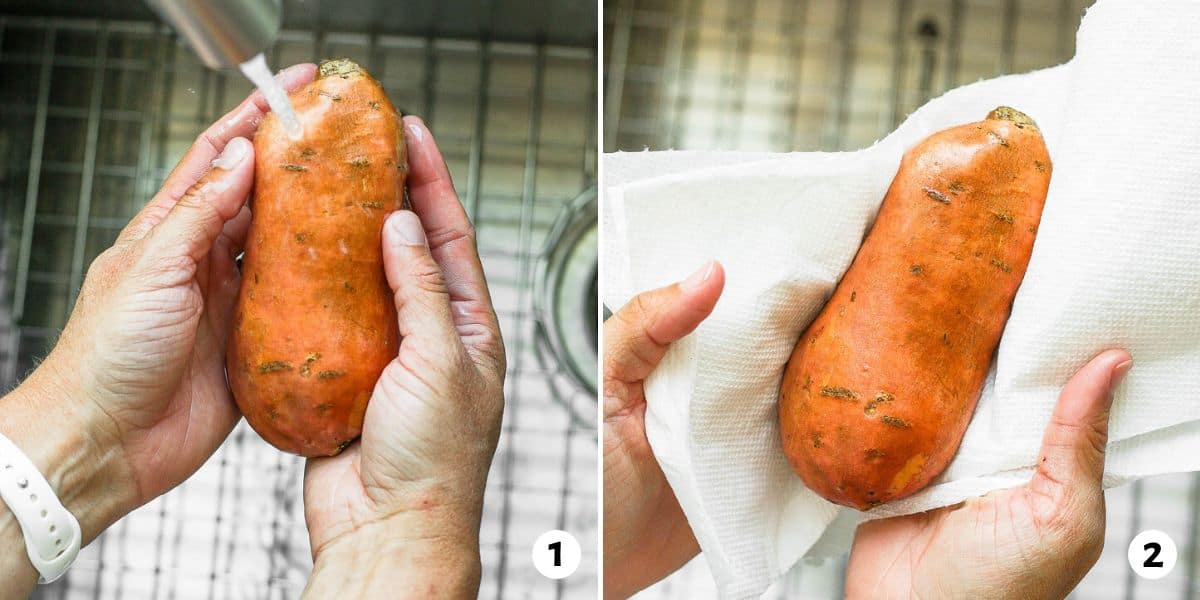 How to cut sweet potatoes 4 ways
Now that you've washed your sweet potatoes, removing dirt and debris, it's time to either soften your sweet potatoes in preparation for cutting or just dive into preparing your cubes, slices, sticks, or wedges.
How to cut sweet potatoes into wedges
Place a sweet potato on a cutting board and use a sharp knife to cut it in half lengthwise.
Place the cut side down and cut each half in half down the center.
Cut each quarter in half again at a slight angle for a total of 8 wedges from one potato.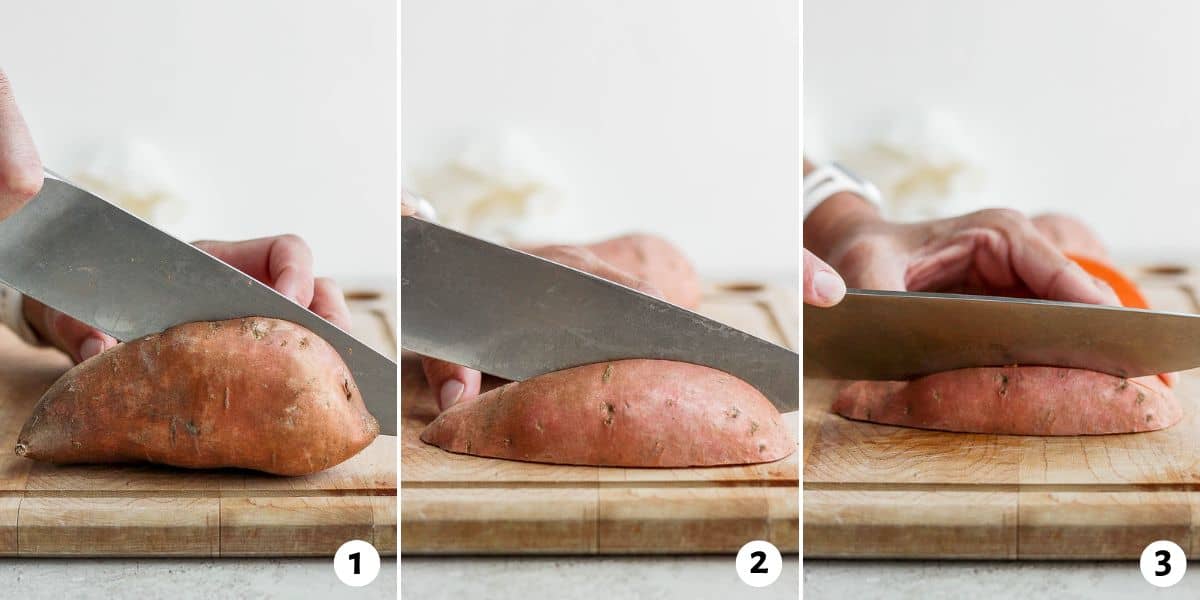 How to cut sweet potatoes into Slices
With the potato on a cutting board, use a sharp knife to trim the root of the potato carefully.
Continue to slice down the potato to your desired thickness all the way down until you reach the end of the potato. Remember to keep your fingers curled back while moving down the potato.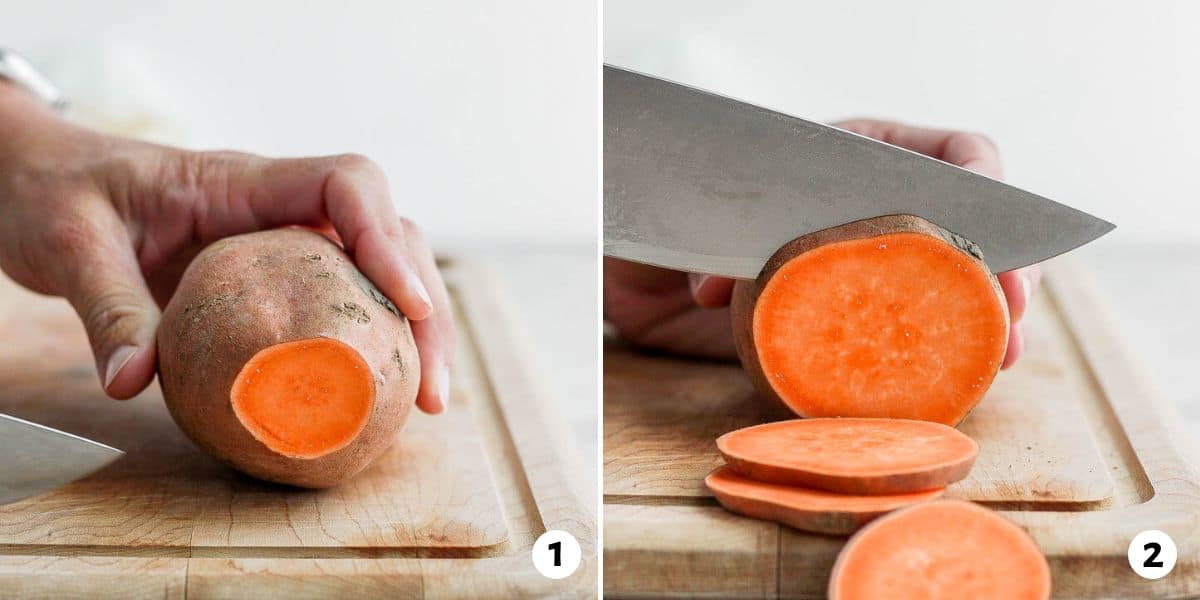 How to cut sweet potatoes into Sticks
Using a sharp knife, cut a thin slice lengthwise from one side of the potato to create a sturdy base to set on you cutting surface. Once stable, cut the sweet potato into even planks vertically.
Stack the planks, then cut again vertically into even sized sticks. You can make them shorter by cutting the sticks in half.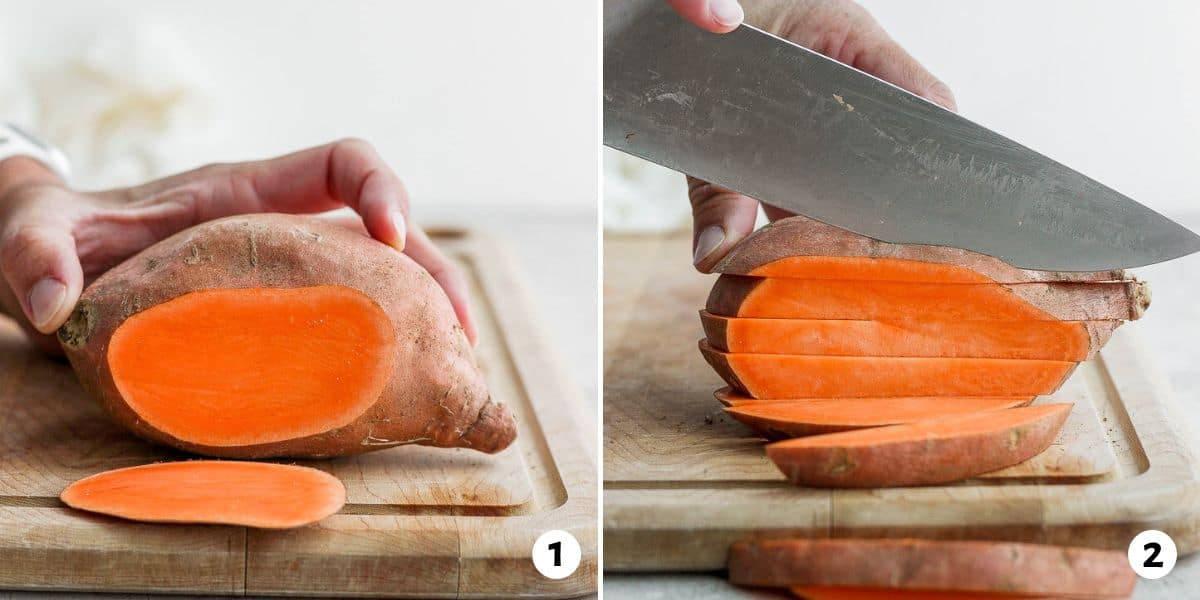 How to cut sweet potatoes into Cubes
Start by cutting the potato into sticks as instructed above.
Then, make perpendicular cuts all across to create the diced cubes.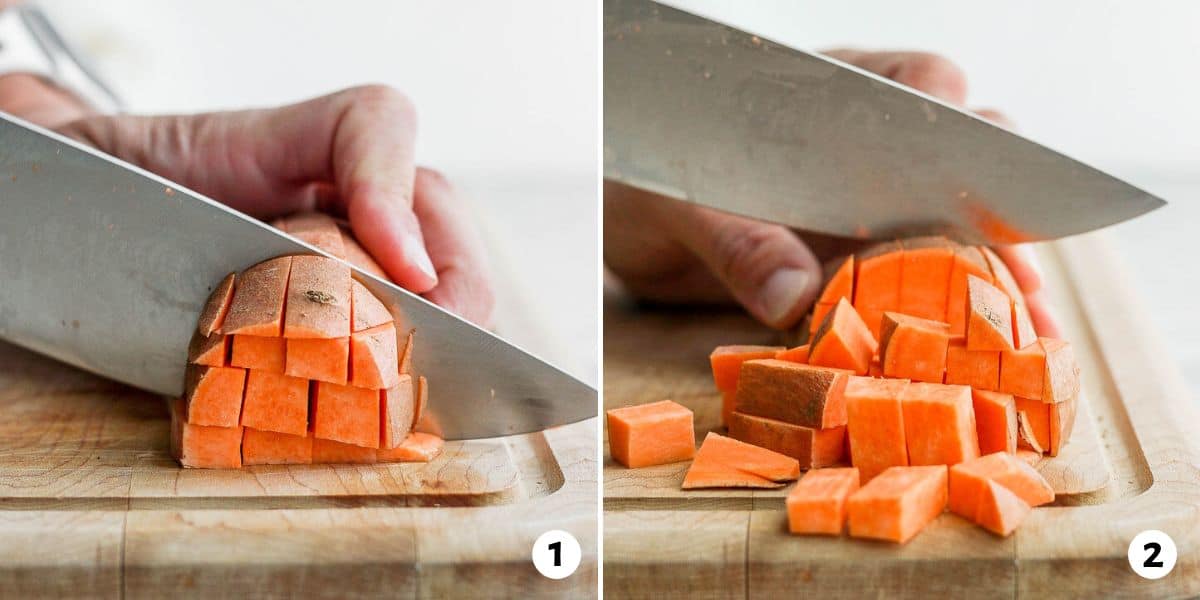 TIPS FOR Cutting Sweet Potatoes
Get a grip. Place a damp kitchen towel under the cutting board for a slip-free cutting experience. That's not the only grip you should consider. Be sure to have a firm grip on the potato while cutting.
Do not refrigerate. It's best to store uncut sweet potatoes in a cool, dry area but NOT in the fridge. Doing so will make them more difficult to cut since they are already dense.
Use a large sharp knife. For easy cutting, use a sharp chef's knife with a bit of weight to help cut through the potatoes. Use both hands with your fingers curled to safely press down on the top and handle of the knife through each cut.
Use a peeler. Sweet potatoes hold a lot of nutrition in the skin, but you can easily peel the skin before slicing them with a vegetable peeler.
Cut evenly. Try to make even pieces for the best results when cooking.
recipes to make with Sweet Potatoes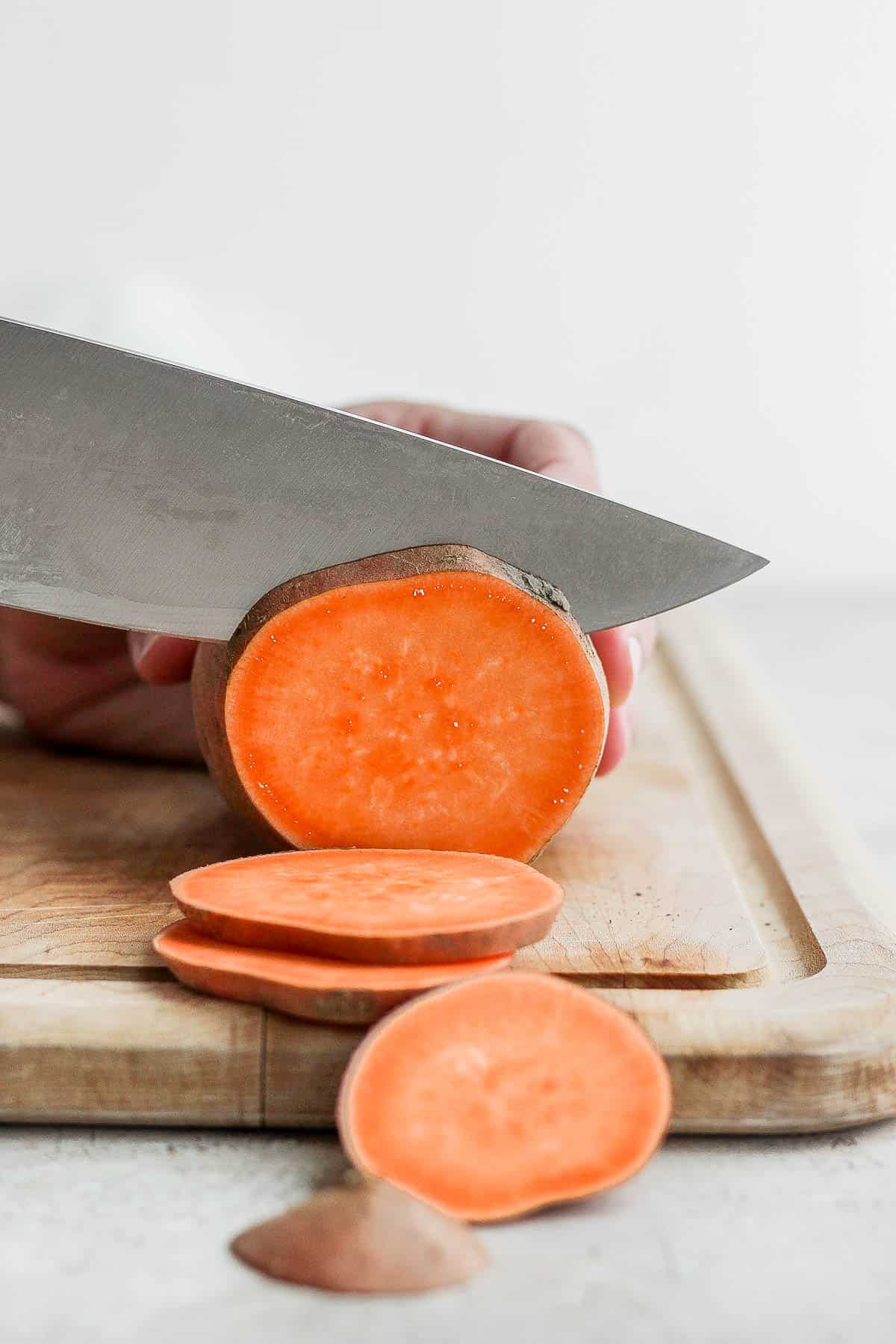 HOW TO STORE Cut Sweet Potatoes
Store prepped sweet potatoes in a sealable container or bag if planning to use them within a day or two. Submerge in water to extend their freshness.
HOW LONG WILL Sweet Potatoes LAST IN THE FRIDGE?
Cut sweet potatoes can be stored in the fridge for 2-4 days.
CAN I FREEZE Raw Sweet Potatoes?
Freezing raw-cut sweet potatoes isn't recommended, as the texture and flavor will degrade. Instead, blanch the sweet potatoes first.
FREQUENTLY ASKED QUESTIONS
How do I freeze sweet potatoes after being cut?
Because raw sweet potatoes don't hold up well to being frozen, you can remedy this by blanching the cut sweet potatoes first.

To blanch, place the cut potatoes in boiling water for 3-5 minutes, depending on size. Remove with a slotted spoon and place directly in a bowl of ice water for a few minutes and drain.

Spread the potatoes on a large baking sheet lined with parchment paper and place them in the freezer. Allow freezing until solid, about 1-2 hours. Then, transfer to a freezer-safe bag and freeze for up to 6 months.
Should I peel sweet potatoes before cutting?
This depends on the recipe and preference. It is not necessary to peel sweet potatoes, but you can.
How do you prevent sweet potatoes from browning?
After cutting sweet potatoes, the easiest way to prevent browning is to submerge them in water. You can store them in water in the fridge for 3-4 days in advance.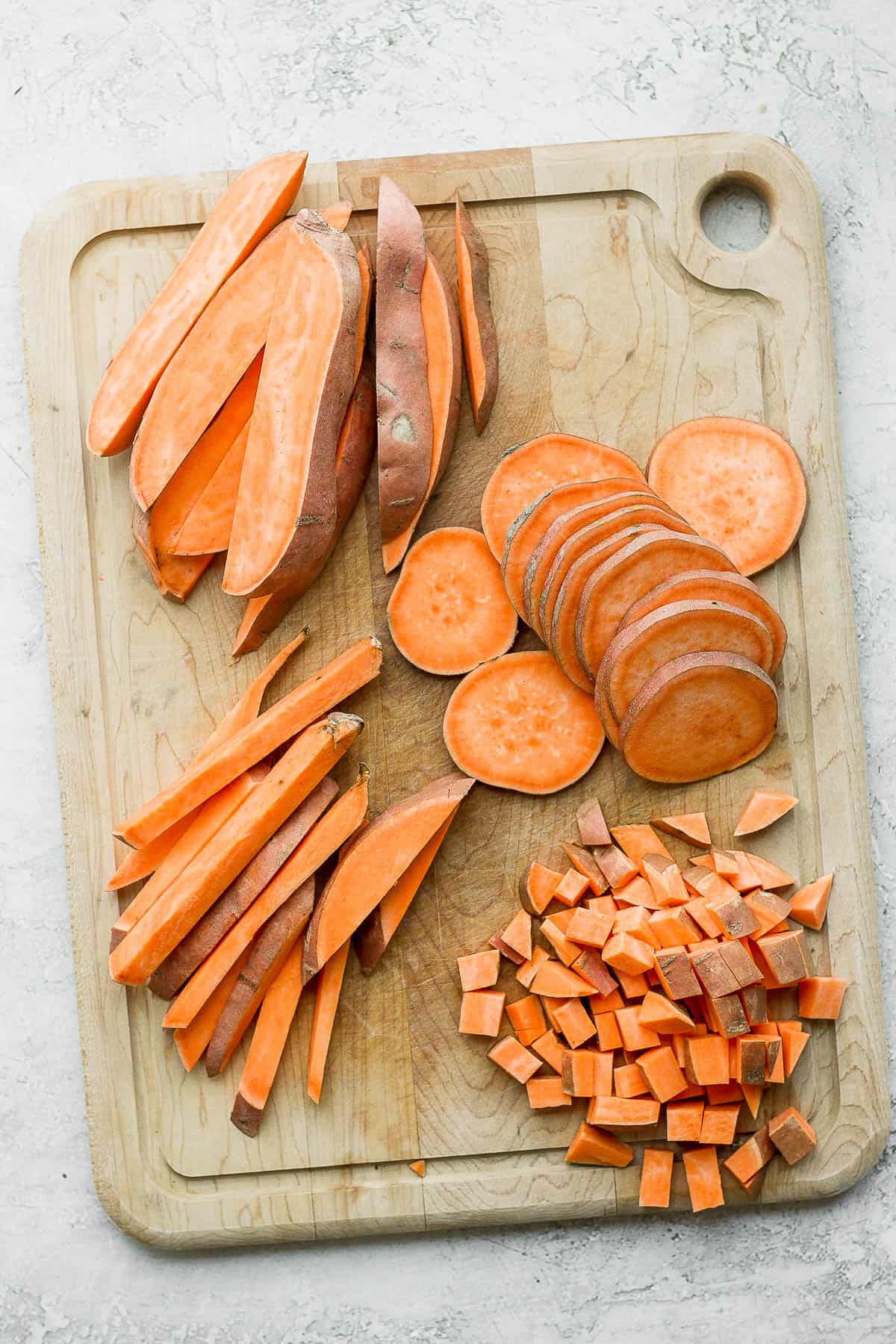 With this simple guide on how to cut sweet potatoes into wedges, slices, sticks, and cubes, there's no recipe you can't tackle prep for! Check out more of my cutting tutorials to elevate your knife skills and become a well-versed home chef.
MORE cutting tutorials:
If you found this tutorial for How to Cut Sweet Potatoes helpful or if you try any recipe on Feel Good Foodie, then don't forget to rate the recipe and leave a comment below! It helps others who are thinking of trying out this tutorial, and we would love to hear about your experience. And if you snapped some shots, share them on Instagram so we can repost them on Stories!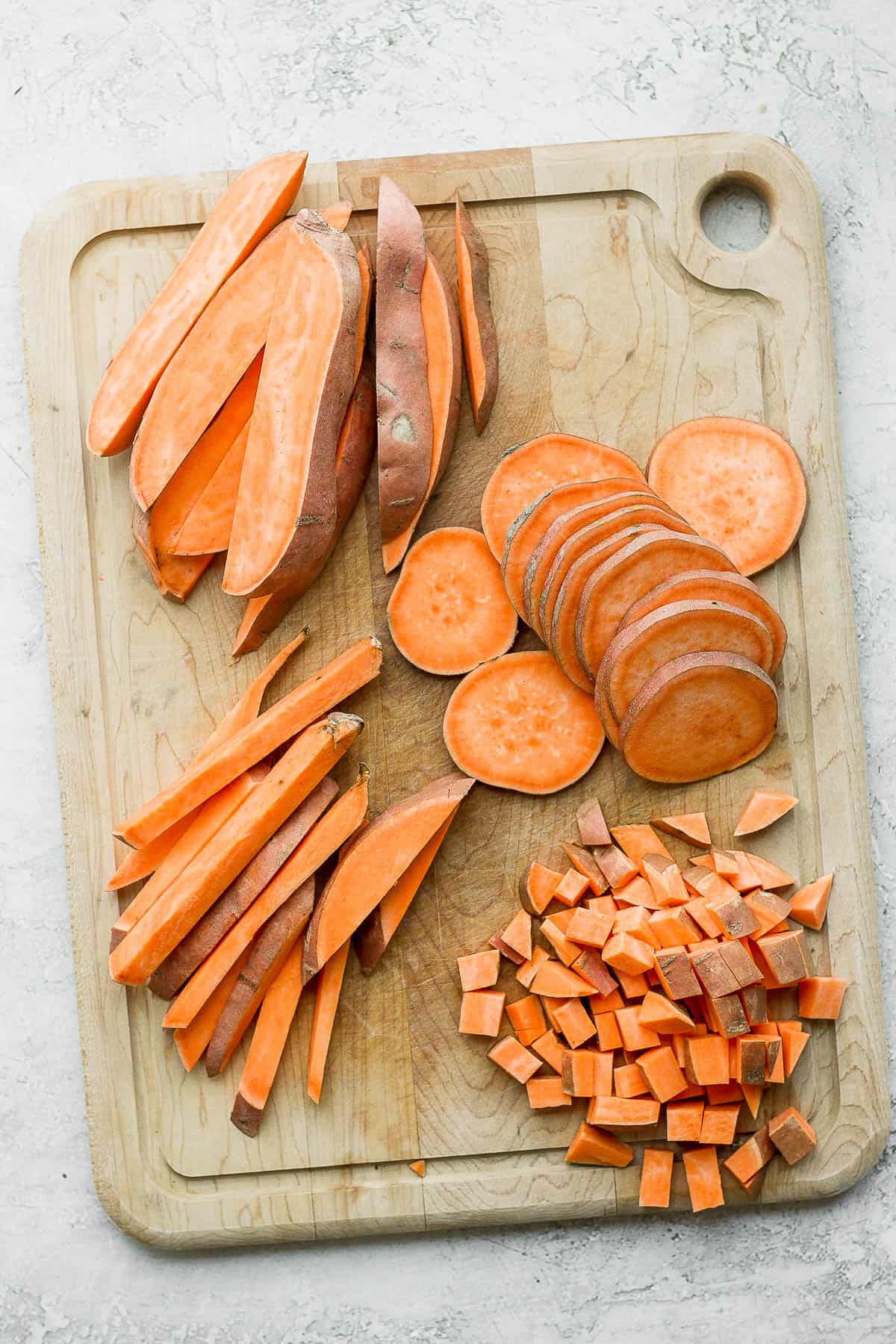 How to Cut Sweet Potates
This quick and easy tutuorial will walk you through How to Cut Sweet Potatoes 4 different ways into slices, wedges, sticks & cubes. Learning to cut sweet potatoes is a great way to improve your knife skills and make so many recipes!
Instructions
Wash and dry potatoes before starting. Peel the potatoes, if desired.

Cut the potato in desired shapes.
Wedges
Using a sharp knife, cut the potato in half lengthwise. Place the cut side down on the cutting board and cut in half lengthwise. Cut each quarter in half again, and you should have 8 wedges.
Slices
Using a sharp knife, start at the root of the potato and carefully make slice to your desired thickness. Continue until you reach the other end of the potato.
Sticks
Using a sharp knife, make a thin slice lengthwise so the potato can be flipped to sit flat on the cutting board. Once on this flat side make slices lengthwise to your desired thickness.

Stack the slices together and cut lengthwise again to make long sticks.
Cubes
Start by cutting potato sticks, then make perpendicular cuts all across to create the dices.
Notes
Tip: Use a sharp knife to cut your sweet potatoes. A dull knife not only makes it more difficult, but it increases the risk of injury. 
Nutrition
Calories:
194
kcal
,
Carbohydrates:
45
g
,
Protein:
4
g
,
Fat:
0.1
g
,
Saturated Fat:
0.04
g
,
Polyunsaturated Fat:
0.03
g
,
Sodium:
124
mg
,
Potassium:
762
mg
,
Fiber:
7
g
,
Sugar:
9
g
,
Vitamin A:
32063
IU
,
Vitamin C:
5
mg
,
Calcium:
68
mg
,
Iron:
1
mg
Nutrition information provided is an estimate. It will vary based on cooking method and specific ingredients used.