This post may contain affiliate links. Please read our disclosure policy.
Learn how to cut fennel. It's a wonderful, flavorful vegetable that adds oomph to salads, slaws, soups, and curries. It's also easy to cut! Whether you need to chop, slice or dice the bulb we've got you covered! Plus, from the bottom of the bulb to the top of its feathery fronds, every bit is edible. Fennel's soft, licorice taste is most forward when it is raw, and fades a bit when cooked.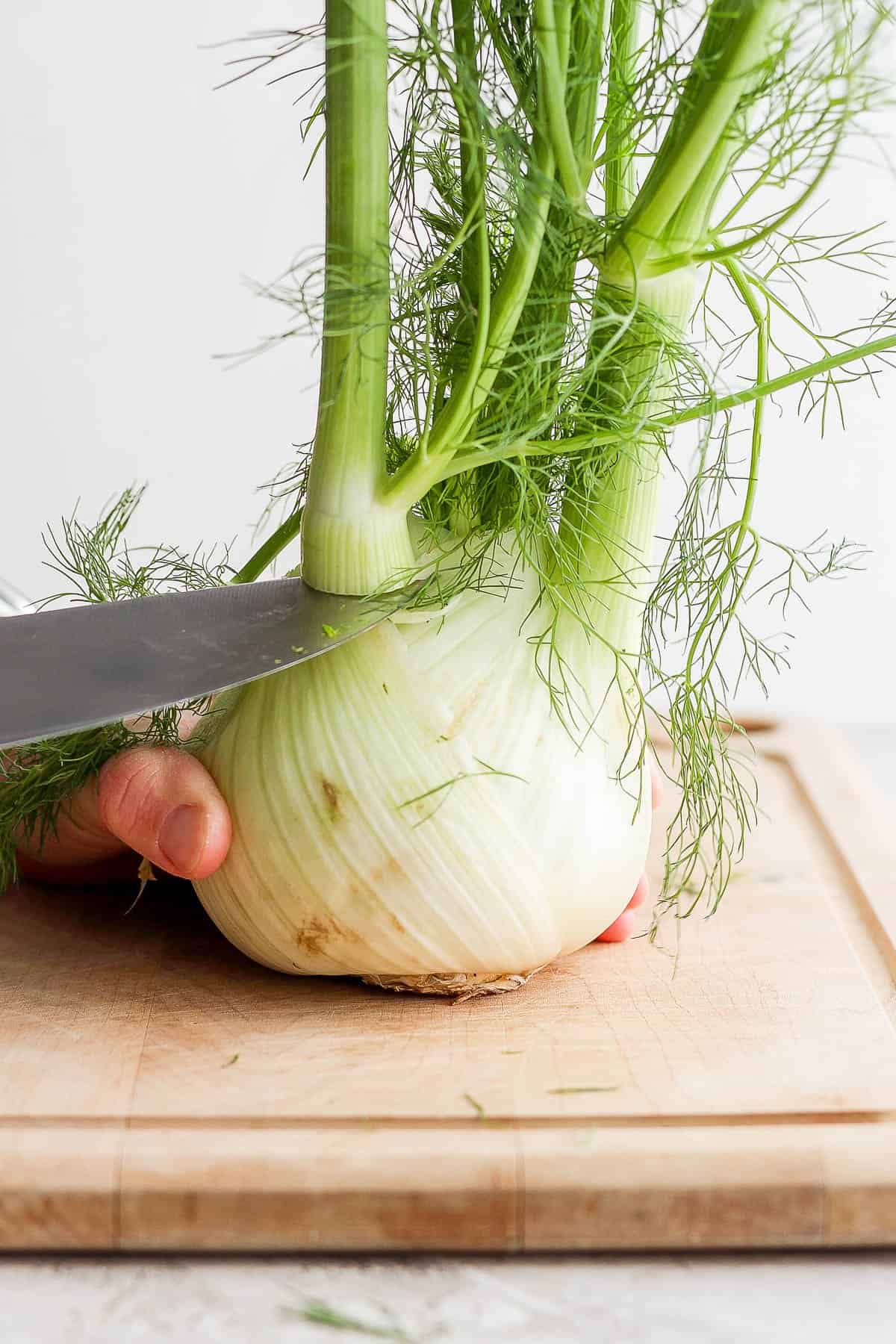 Fun fact: There are two common types of fennel and although they have a similar taste, the Florence fennel above, called finocchio in Italian, is a different variety than the one that gives up fennel seeds, which are used as a spice.
WHY learn to cut fennel
No more boring salads: Fennel's distinctive flavor and satisfyingly crisp texture (like celery!) makes it a stand out when sliced thinly in salads.
Swims well with fish: Fennel – sheet-pan roasted or sautéed – pairs very well with salmon or white fish.
Vitamin and mineral rich: Fennel boasts fiber, vitamin C, and small amounts of iron, potassium, and manganese.
Works in mirepoix or sofrito: The celery/onion/carrot minced mix that gets sautéed in butter or oil and starts sooo many recipes? Substitute fennel for celery! As a small part of a sauce or soup, fennel's licorice flavor adds a nice complexity without overwhelming it.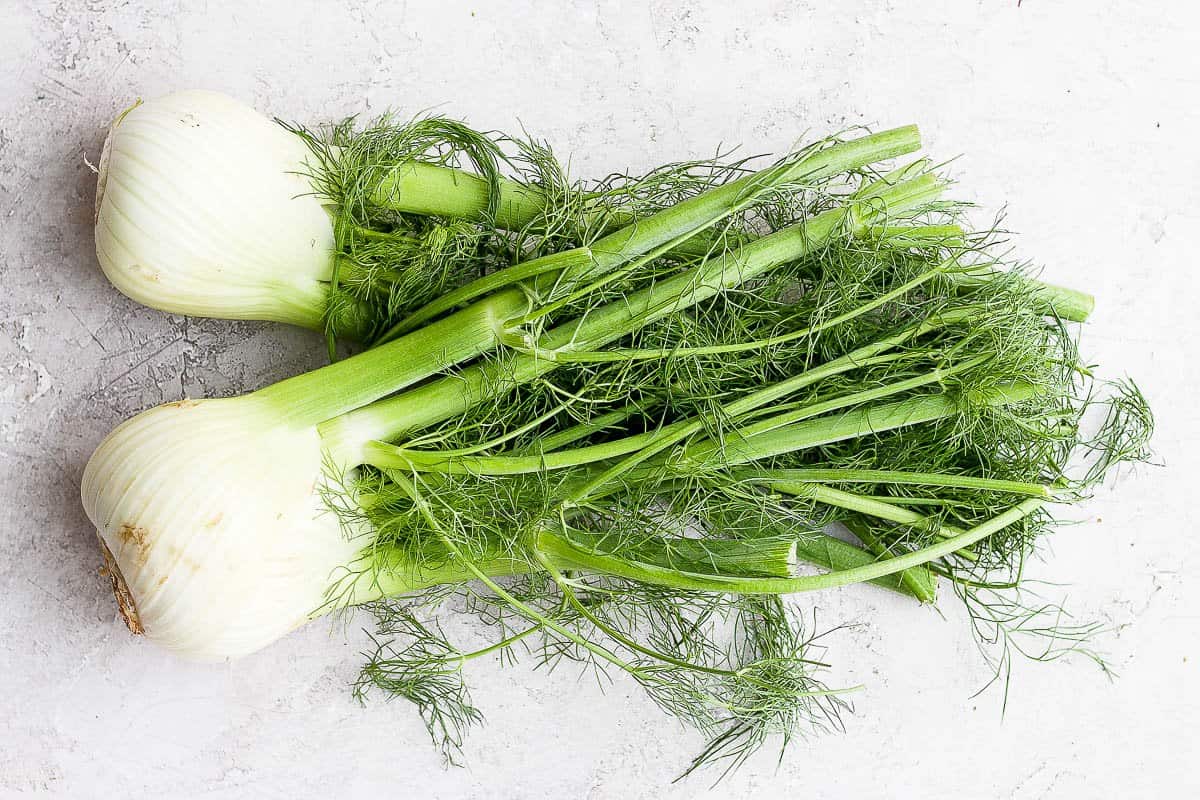 HOW TO cut fennel – step by step
Slice the stalks off just at the top of the bulb. Remove and reserve the fronds and stalks for later use.
Place the bulb on its side and cut off about 1/4″ of the root end of the fennel and discard. Give the bulb a once over and peel off any tough outer layers.
Stand the fennel bulb up on the root end and chop it in half.
Lay each half on the cutting board and carefully cut thin slices from one to the other.
Slice as thin or thick as you want.
If desired, rotate the half of the fennel and dice them.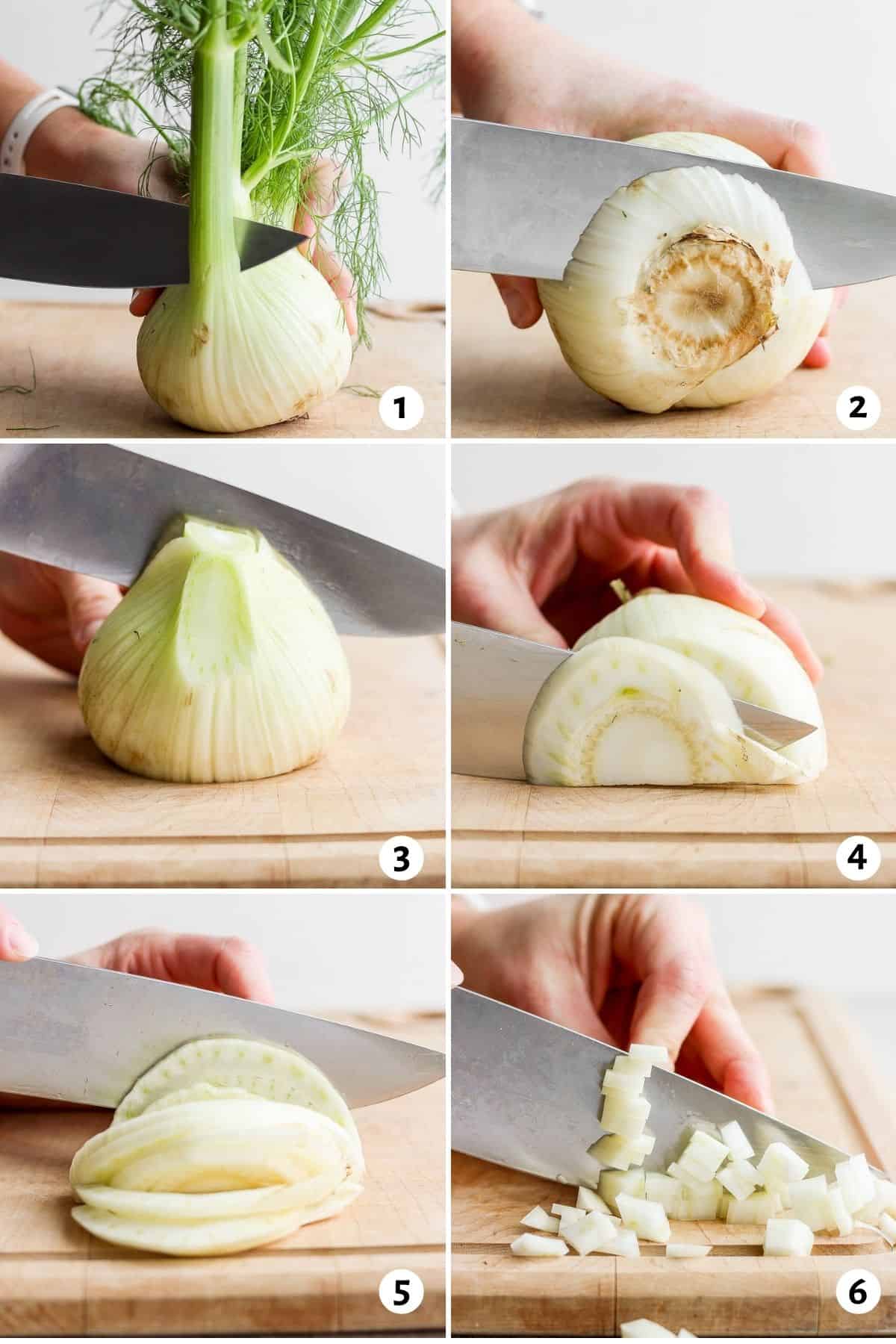 TIPS FOR cutting fennel
Remember that all parts of the fennel are edible. The fronds are great in salads. The stalks you can use in place of celery in stuffing, soups, or add to sauteed vegetables. And the heart or core of the fennel is similar to the texture of a parsnip or carrot – great for snacking!
Save what you are not using: the thin stocks can be saved in a freezer bag for vegetable stock; store the fronds like herbs.
Slice very thin for traditional Italian style: A very popular way to serve fennel in Italy is sliced very, very thin and served with slices of orange and/or onions.
Use a sharp knife: A sharpened knife does most of the work for you.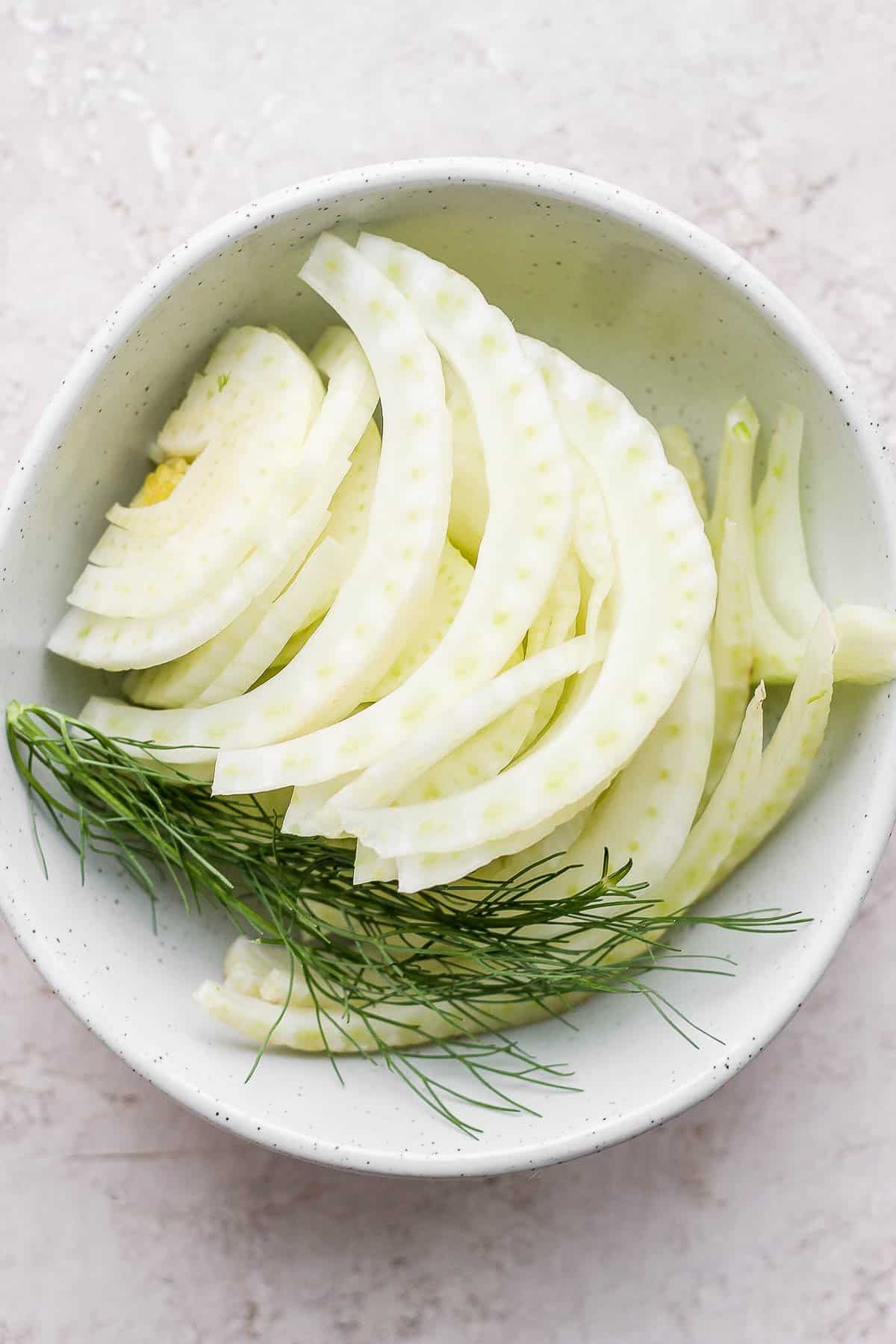 HOW TO STORE fennel
Keep it in the fridge in a produce bag in the vegetable crisper. If storing for a few days, cut the stalks and fronds off before storing. Like the tops of carrots, they draw moisture out of the bulb, drying it out faster.
HOW LONG WILL fennel LAST IN THE FRIDGE?
Fennel is best used as soon as possible because the flavor fades quickly. Five days is about its limit in the refrigerator.
CAN I FREEZE fennel?
The tougher stalks and feathery fronds are both freezable. But the bulb does not freeze well. Its high water content means the defrosted product is compromised. The stalks can be tightly wrapped or packaged. Treat the fronds like a herb – perhaps mincing and freezing in olive oil.
FREQUENTLY ASKED QUESTIONS
Is fennel good for digestion?
The seed form of fennel (or the oil derived from it) has been used for decades to aid in digestion and studies are starting to show fennel has anti-inflammatory properties that soothe the intestines and reduce gas.
Does fennel help breastfeeding mothers produce milk?
Again, the more concentrated oil in fennel seed is what people talk about when they talk about fennel as a nursing aid. Some scientific studies say yes and others say no, but all forms of fennel remain a popular ingredient in teas marketed to nursing mothers.
I've heard the stalks can be used to grill fish. How does that work?
To give fish a subtle fennel taste, lay the stalks over the grates of a gas or charcoal grill and place the fish on top. Similar to using cedar planks to flavor salmon, the grilled stalks impart flavor to fish.
Fennel may not be your go-to vegetable yet, but give it a try and you might find yourself giving it a place in your kitchen rotation.
MORE vegetable cutting tutorials:
If you found this tutorial for How to Cut Fennel helpful or if you try any recipe on Feel Good Foodie, then don't forget to rate the recipe and leave a comment below! It helps others who are thinking of trying out this tutorial and we would love to hear about your experience. And if you snapped some shots, share it on Instagram so we can repost on Stories!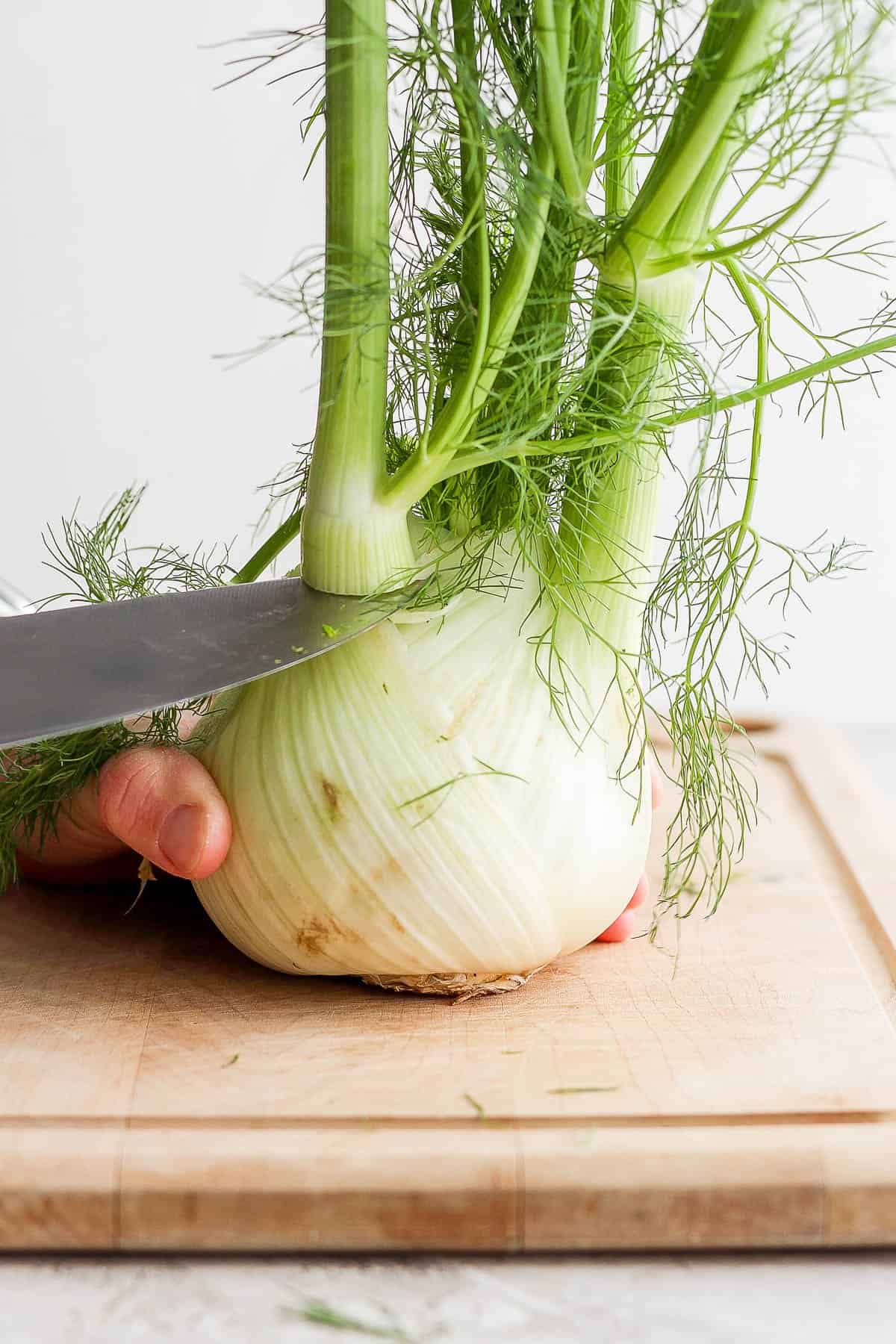 How to Cut Fennel
Learn how to cut fennel perfectly with this easy step-by-step tutorial! This easy method will give you tips for slicing fennel and using the fronds for recipes.
Ingredients
1

fennel bulb

washed and dried
Instructions
Cut the stalks off just above the top of the bulb of fennel, remove and reserve the fronds and the stalks for a later use.

Remove ¼ inch of the root end of the fennel and discard. Remove any tough outer parts of the fennel bulb.

Stand the fennel bulb up on the cut root end and cut in half.

Lay each half on the cutting board and carefully cut thin slices from one end to the other. If you'd like, you can then rotate the fennel and dice them. Use as desired in recipe.
Nutrition
Calories:
73
kcal
,
Carbohydrates:
17
g
,
Protein:
3
g
,
Fat:
1
g
,
Saturated Fat:
1
g
,
Polyunsaturated Fat:
1
g
,
Monounsaturated Fat:
1
g
,
Sodium:
122
mg
,
Potassium:
969
mg
,
Fiber:
7
g
,
Sugar:
9
g
,
Vitamin A:
314
IU
,
Vitamin C:
28
mg
,
Calcium:
115
mg
,
Iron:
2
mg
Nutrition information provided is an estimate. It will vary based on cooking method and specific ingredients used.