This post may contain affiliate links. Please read our disclosure policy.
How do you cut up Brussel sprouts? Here I demonstrate how to prep these tiny cabbages, which can be a bit tedious. I share three popular ways to cut them so you can roast them, pan fry them, air fry them, or toss them in a salad to replace greens.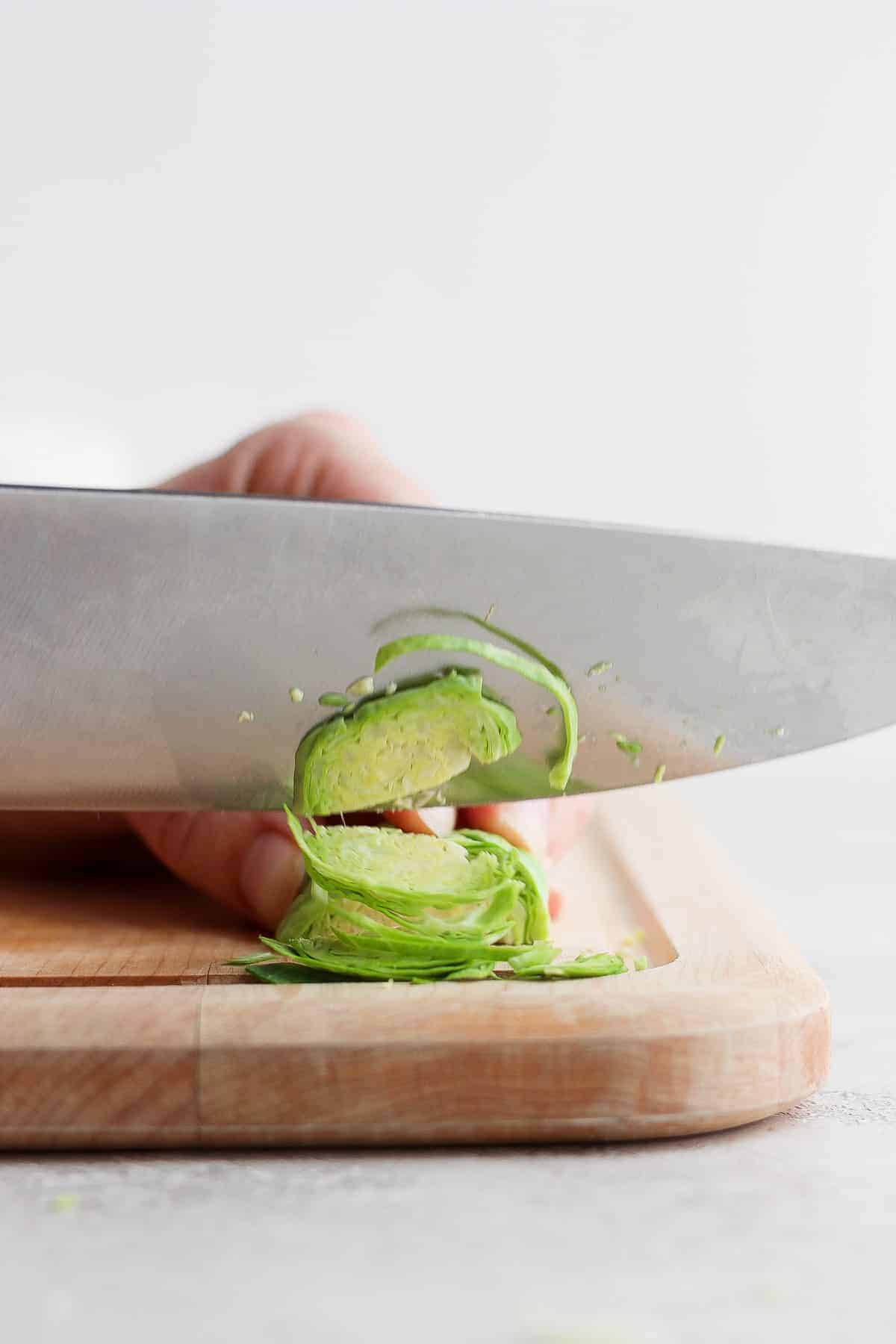 This popular brassica once routinely made the list of "most hated vegetables." But in the '90s, Dutch scientists bred out its bitterness, and eventually chefs started serving them! Trendy or not, Brussel sprouts are super healthy. One cup contains 124 % of a day's vitamin C and 13 % of a day's fiber!
Sizes and uses for different cuts
Halved: Halved Brussel sprouts are the classic cut for sheet-pan roasting or sautéing.
Sliced: Crisp these guys up in the air fryer. They are also great for sautéing and roasting – especially if you start with the larger sprouts and want to cut them into bite-sized pieces.
Finely Shredded: Shred your Brussel sprouts for all kinds of salads and slaws where they can sub for cabbage or lettuce. They are also good in quick sautés, stir-fries, or for making Brussel sprouts chips in the air fryer.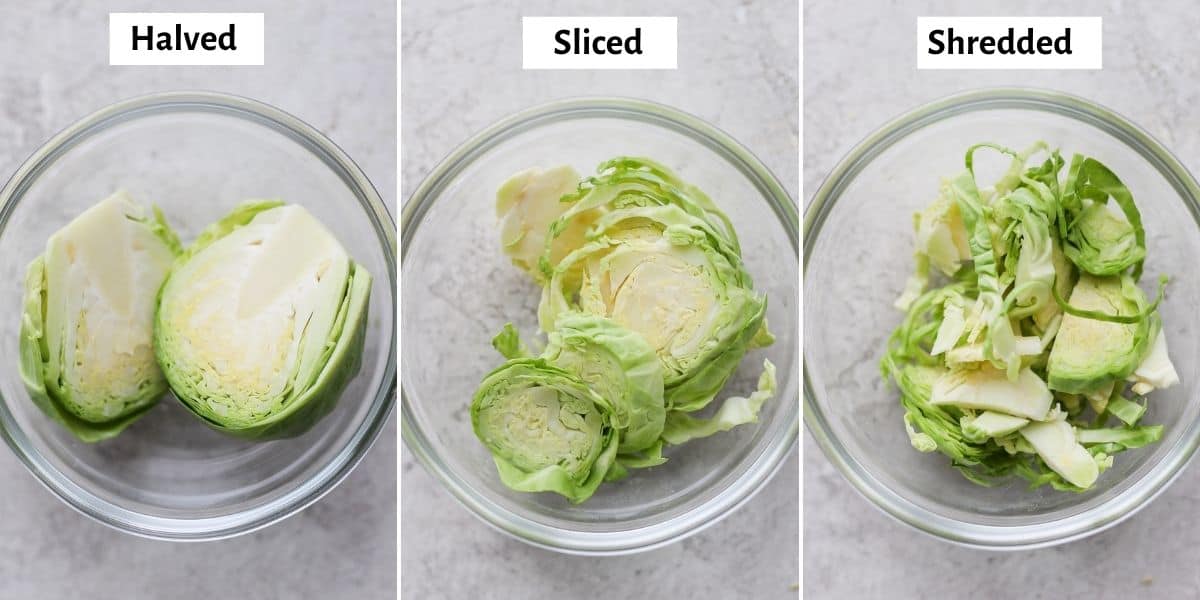 How to cut Brussel sprouts 3 ways
Before you cut sprouts any way, always slice off the stem and remove yellowish outer leaves or wilted leaves. Then check out the three most popular ways to chop them up below.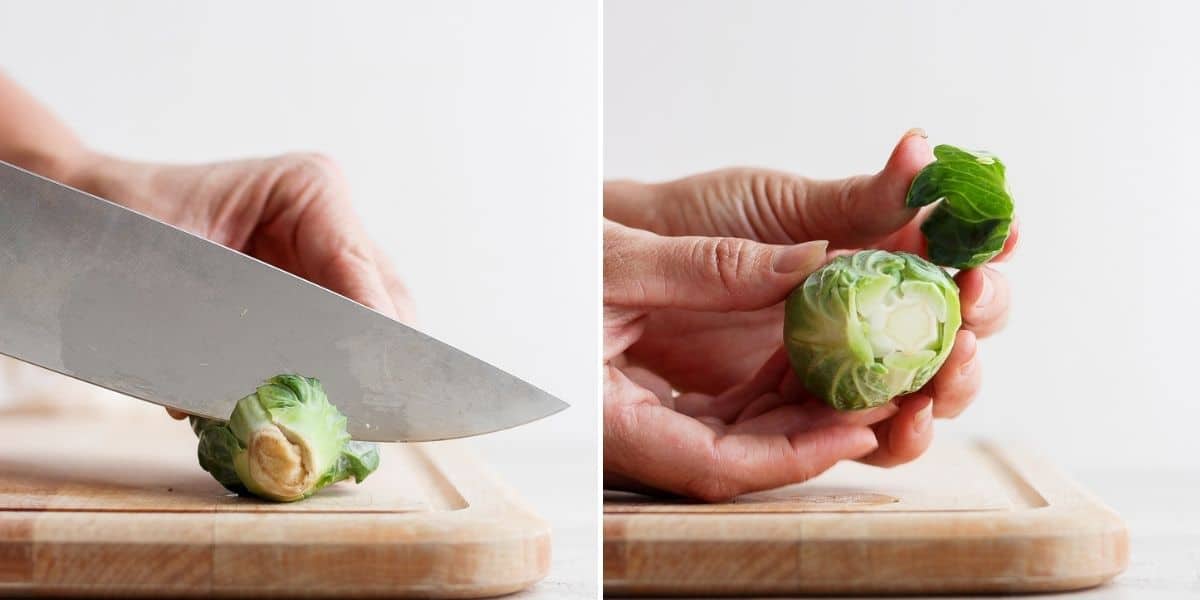 Cut in half
Place the trimmed sprout length-wise on the cutting board.
Slice in half through the stem.
Slice or cut thinly
First, trim the sprout.
Then, place lengthwise on the cutting board and slice to desired widths.
Finely shred with knife
Cut the Brussel sprout in half and place the cut side on the cutting board.
Carefully, holding the sprout toward the stem end and using your fingers as a guide for the knife, make thin slices crosswise.
Even the freshest sprouts shed some leaves while being cut. I usually throw those strays into the mix of whatever I am cooking, anyway. My son especially loves those crispy bits in the pan.
Recipes using brussel sprouts
Frequently asked questions
How do you store cut Brussel sprouts?
It is optimal to cut right before using, but you can refrigerate cut Brussel sprouts in an airtight container for two days. Uncut fresh Brussel sprouts can last for up to five days in the fridge. They go longer if they come attached to their stems. But don't let them linger. Brussel sprouts get bitter when stored long-term.
How do I choose the best Brussel sprouts?
The smaller the sweeter. Also, if you plan on roasting your sprouts, picking a batch of similar-sized sprouts means they will cook evenly. Look for tight, bright green vegetables with no yellow or brownish leaves. Buying them on the stalk? Go for the smaller stalks with smaller sprouts. They are more tender.
When are Brussel sprouts in season?
Brussel sprouts are in season from early fall through early spring, which makes them perfect to enjoy during Thanksgiving and Christmas meals!
With these slicing skills, there is no reason not to make some tasty and nutritious Brussel sprouts today!
More knife skill tutorials:
If you've found this cooking resource for How to Cut Brussel Sprouts helpful or if you've tried any recipe on FeelGoodFoodie, then don't forget to rate the recipe and leave me a comment below! I would love to hear about your experience with this technique. And if you snapped some shots of it, share it with me on Instagram so I can repost on my stories!
How to Cut Brussel Sprouts
Follow my step-by-step method for how to cut brussel sprouts three different ways for roasting and salads. Learn easy practical knife skills!
Instructions
Using a sharp knife, slice and discard ¼ inch of the stem. Remove any yellowish or wilted outer leaves that fall off.
For Halved Brussel Sprouts
Cut the Brussels in half lengthwise.
For Sliced Brussel Sprouts
Holding the Brussels firmly and using your fingers as a guide for the knife, cut ¼ inch slices lengthwise all the way across the brussel sprout.
For Finely Shredded Brussel Sprouts
Cut the Brussels in half and place the cut side on the cutting board

Carefully using your fingers as a guide for the knife, make thin slices cross-wise.
Notes
Storage: Store any cut brussel sprouts in an airtight container or plastic bag in the crisper in the fridge for up to 3 days. You can add a paper towel to absorb the moisture and help keep them fresh.
Photo Credit:
Erin Jensen
Nutrition
Calories:
49
kcal
,
Carbohydrates:
10
g
,
Protein:
4
g
,
Fat:
1
g
,
Saturated Fat:
1
g
,
Sodium:
28
mg
,
Potassium:
441
mg
,
Fiber:
4
g
,
Sugar:
2
g
,
Vitamin A:
855
IU
,
Vitamin C:
96
mg
,
Calcium:
48
mg
,
Iron:
2
mg
Nutrition information provided is an estimate. It will vary based on cooking method and specific ingredients used.