This post may contain affiliate links. Please read our disclosure policy.
Looking for an easy way to make fresh Brussels sprouts? I've got you covered These oven-roasted Brussels sprouts with garlic are simple to make and taste delicious! They only require a few ingredients and can be prepared in under 30 minutes. Plus, they're perfect for any occasion – from holiday dinners to potlucks and beyond. So if you're looking for a tasty way to enjoy roasted Brussels sprouts without all the fuss, be sure to give this recipe a try!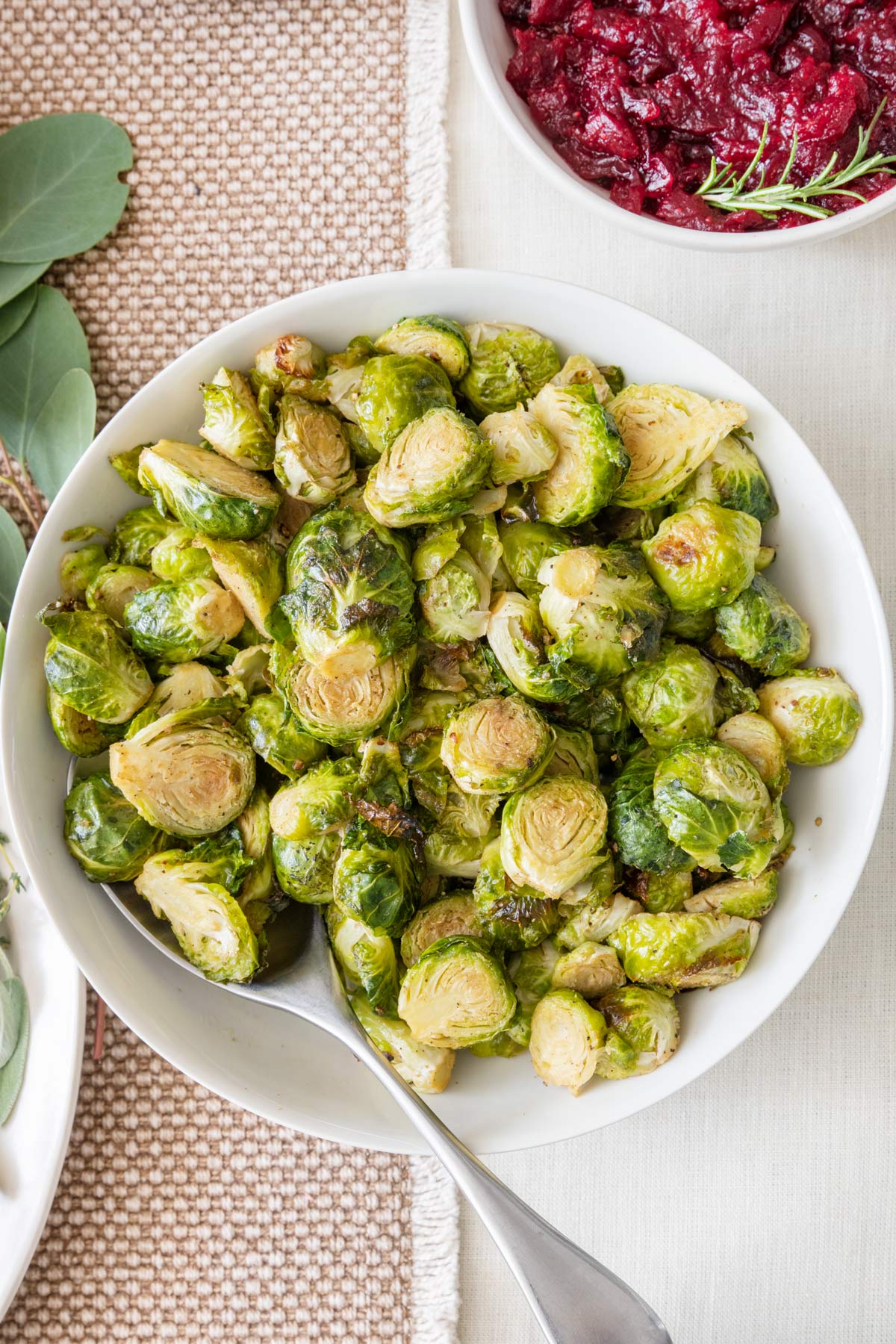 Oven Roasted Brussels Sprouts are one of my favorite side dishes to serve during the holidays! Plus, they're low-carb, vegan, and loaded with all kinds of nutrients and vitamins! I love roasting vegetables in the oven during the winter. It warms the house, warms my belly, and Brussels are fuss-free to make and clean up.
why you'll love these sheet pan roasted Brussels sprouts
Simplistic: If you're like me and like to taste your veggies rather than cover them in sauces or glazes, this is the recipe for you. A little bit of garlic, salt, and pepper are all you need to bring out the delicious flavors of these Brussels sprouts.
Quick and easy: These roasted Brussels only require a few minutes of prep time and about 20 minutes in the oven. Plus, they're easy to clean up – just one pan to wash!
Healthy: Not only are Brussels sprouts packed with important vitamins and nutrients, but roasting them in the oven allows for less added fats and oils.
Can be made ahead of time: These roasted Brussels sprouts aren't crispy. While the roasting does provide a nice char flavor, it also leaves them soft. This means they can easily be made ahead of time and reheated for easy meal prep or leftovers.
Ingredients to make simple roasted brussels sprouts
Brussels sprouts: I peel off the outer layers that are yellowish. Toss any that look brown or discolored. Then I trim the ends (toss those) and then slice them in half. You can keep them whole, but slicing them in half allows for quicker roasting. This way, the outer layers, and the core get equally roasted and cooked-though. Also, you can keep the outer layers in the pan or save them for another recipe.
Oil: A little oil goes a long way in the roasting process. I like to use olive or avocado oil. Both are neutral-tasting oil that stands up well to the oven's high heat. It helps create that brown outside while keeping the seasonings adhered to the sprouts.
Seasoning: I like to keep the seasoning basic, so I only used salt, pepper, and garlic powder. But in the past, I've also added Italian seasoning, cumin, paprika, and cayenne pepper – not all together (yikes!!), but independently…you know what I mean.
How to make oven roasted brussels sprouts
I've made pan-roasted brussels sprouts before. Today we're showing the technique for the oven-roasted kind. Both are classic, flavorful ways to cook Brussels sprouts when they're fresh and in season. For the oven-roasted batch, I use a rimmed baking sheet to start.
Place Brussels sprouts on the prepared baking sheet, drizzle olive oil on top, and sprinkle with garlic powder, salt, and pepper.Toss to coat evenly.
Then roast in the preheated oven until golden brown. How long will depend on the size of your Brussels. Shake the pan every for even roasting.
When they come out of the oven, don't worry if the outer layers are brownish. Those are basically your crunchy snack you can munch on while plating the dish!
Tips for making the best oven roasted brussels sprouts
Buy fresh Brussels sprouts. Yes, they do sell frozen Brussels sprouts, and that's pretty convenient. But in my experience, roasting those will turn the vegetable into a mushy outcome. So go for the fresh ones. And if you see them on a stalk, those are the freshest of the bunch since they still haven't been picked off.
Save the Brussels sprout leaves for a salad. I like roasting the outer thick leaves along with the halved Brussels sprouts because they're crunchy and fun to snack on. If you don't want any browned or burnt leaves on the tray, you can store those separately and use them in another recipe later.
Cut the Brussels sprouts in half before roasting. This is certainly not necessary, but I find that by doing so, the Brussels sprouts cook faster in the oven. And I also think the flavor is more delicious this way since there's more surface area that's roasted and golden.
Add some sugar to reduce the bitterness. I don't personally do this, but it's a helpful tip, especially if you're serving it to anyone who's never had Brussels sprouts before. You can sprinkle a teaspoon or two of brown sugar on top of the Brussels sprouts before cooking.
For more crispy Brussels sprouts, try heating the baking pan in the oven while you're preparing the ingredients. I learned this tip from Bon Appetit, and it's basically treating the baking sheet like a heated saute pan. When you place the Brussels sprouts cut side down on the preheated pan, it gives you that perfect crispy texture.
What to serve with these easy roasted Brussels sprouts
These sprouts are perfect as a side for your holiday table, but you can easily serve them as part of an easy weeknight meal. Try serving them alongside some of my favorite main dishes.
how to store & reheat roasted Brussels sprouts
Leftovers can be stored in an airtight container and refrigerated. You can reheat them on the stovetop, microwave them, or even throw them back in a hot oven (about 400 degrees) until warmed through.
how long will roasted brussels sprouts last in the fridge?
If stored properly in an airtight container, they should last about 4-5 days. But honestly, I always end up eating them sooner because they're just that good. Enjoy!
can i freeze roasted brussels sprouts?
Once cooked, roasted Brussels sprouts are not the best option for freezing. They can become mushy and lose their texture when thawed and reheated. It's best to enjoy them fresh.
Frequently asked questions
How do you prepare Brussels sprouts for roasting?
Sprouts are fairly straightforward and easy to prepare. Simply peel off the outer leaves, slice the bottom stalk off and cut the sprout in half. That's it. Easy peasy!
Can you use frozen Brussels sprouts for this recipe?
I highly recommend that you use fresh Brussels sprouts for this recipe and organic if you can, as frozen can tend to get a bit mushy due to the water content. If you use frozen, thaw them thoroughly before cooking and pat them as dry as possible with kitchen paper.
Can I add other seasonings or ingredients to the roasted Brussels sprouts?
Absolutely! Feel free to experiment with different seasonings and additions, such as red pepper flakes, Parmesan cheese, balsamic vinegar, sliced almonds, or bacon bits. Get creative and have fun with it!
How do you get the bitterness out of roasted Brussels sprouts?
Some people find that adding a bit of brown sugar, honey, or maple syrup helps to balance out the bitterness of roasted Brussels sprouts. Others prefer to slice and sauté them with onions before roasting them for added flavor. And some swear by actually massaging the sliced sprouts with a little olive oil before cooking. Experiment with seasonings and see what works best for you!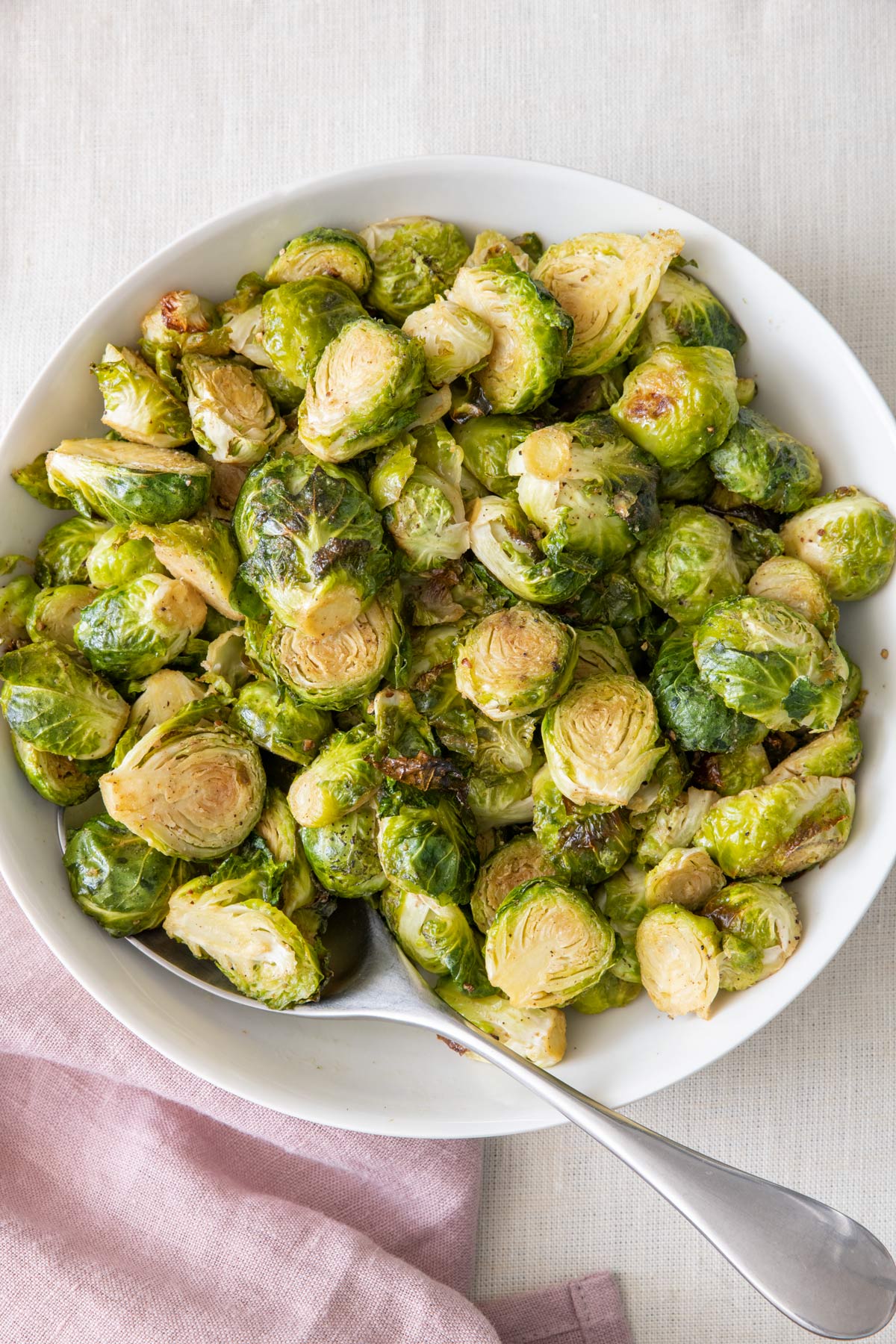 Roasted Brussels sprouts are a delicious, healthy side dish that can be prepared in a variety of ways. So get your oven ready and enjoy this tasty vegetable side dish! It's such an easy recipe to throw together quickly and roast in the oven that you won't have to think twice about making it a regular rotation in your meal prep. Happy roasting!
For more holiday side dishes, check out:
If you try this feel good Oven Roasted Brussels Sprouts recipe or any other recipe on Feel Good Foodie, then don't forget to rate the recipe and leave a comment below! It helps others who are thinking of making the recipe. We would love to hear about your experience making it. And if you snapped some shots, share it on Instagram so we can repost on Stories!
This Oven Roasted Brussels Sprouts recipe was originally published on November 20, 2017. The recipe has been slightly modified to remove the pomegranate, and pine nuts served on top. The post now includes new step-by-step photos of how to make the recipe.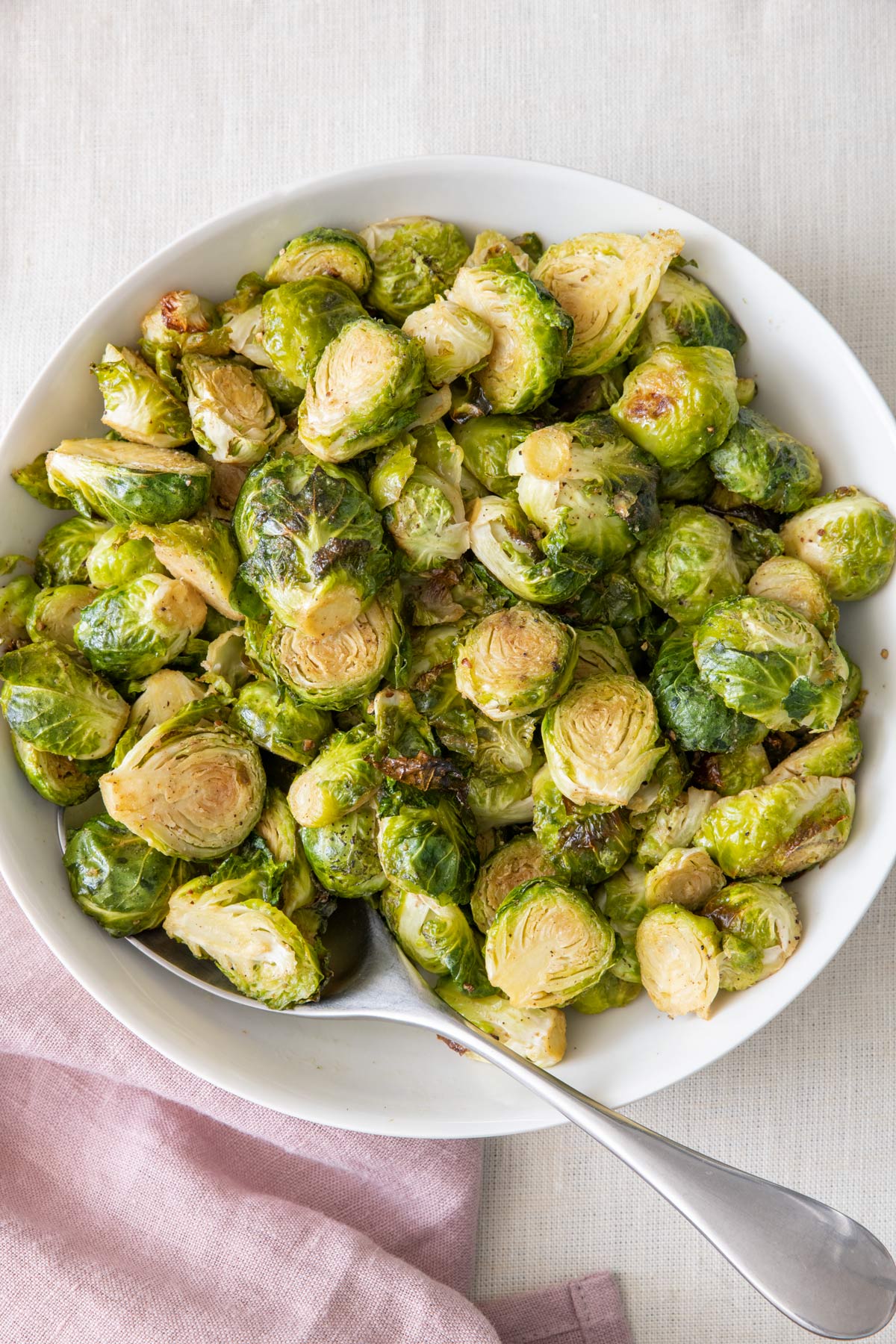 Roasted Brussels Sprouts
Oven Roasted Brussels Sprouts are an easy sheet pan side dish. They're simplistic in flavor with garlic, salt & pepper, letting the sprouts shine through!
Instructions
Preheat oven to 425°F. Line a large baking sheet with parchment paper.

Place Brussels sprouts on the prepared baking sheet, drizzle olive oil on top, and sprinkle with garlic powder, salt and pepper.

Toss to coat evenly, and then roast in the preheated oven until golden brown, about 20-25 minutes, depending on their size. Shake the pan every few minutes for even roasting.

Transfer the Brussels sprouts to a serving dish.
Notes
Storage: Store any leftovers in an airtight container. They will last about 4-5 days in the fridge. You can pop them in the oven or microwave them for 30 seconds to reheat. Substitutes: For best results, follow the recipe as is. However, feel free to play around with the seasonings you add to the Brussels sprouts.
Nutrition
Calories:
92
kcal
,
Carbohydrates:
11
g
,
Protein:
4
g
,
Fat:
5
g
,
Saturated Fat:
1
g
,
Polyunsaturated Fat:
1
g
,
Monounsaturated Fat:
3
g
,
Sodium:
223
mg
,
Potassium:
449
mg
,
Fiber:
4
g
,
Sugar:
3
g
,
Vitamin A:
856
IU
,
Vitamin C:
96
mg
,
Calcium:
49
mg
,
Iron:
2
mg
Nutrition information provided is an estimate. It will vary based on cooking method and specific ingredients used.