This post may contain affiliate links. Please read our disclosure policy.
This Kale Pear Salad with Candied Walnuts is a seasonally-inspired Autumn salad that is loaded with different colors, textures, and tastes! Kale salads may be more popular in the summer, but they can be just as delicious in the fall! It's all about what seasonal produce you use along with your kale. This kale salad is loaded with pears, and cranberries, topped with walnuts, and blue cheese with a homemade vinaigrette it's so tasty you'll forget it's actually a salad!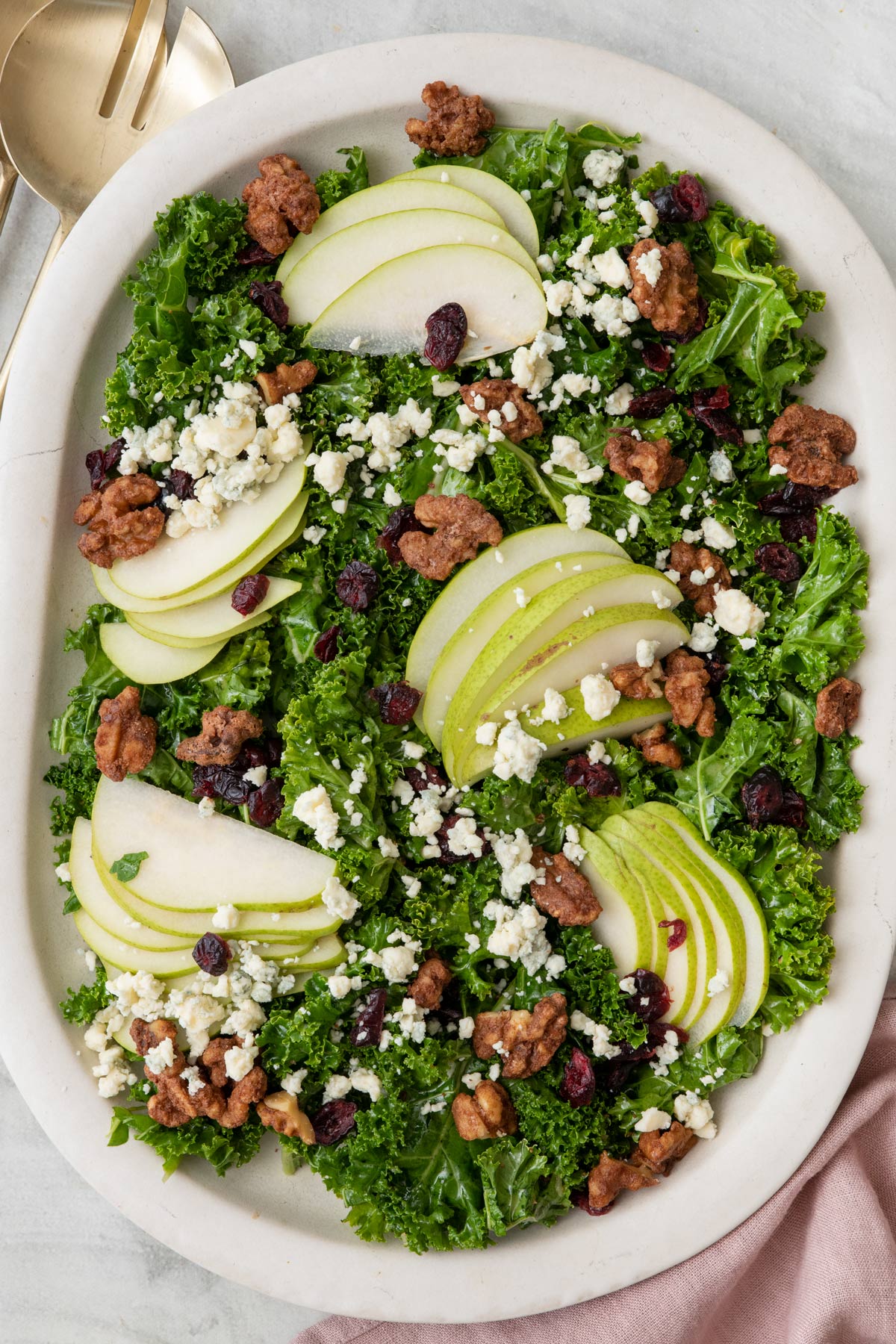 What I love about this kale salad is it has pears, which have a sweet, mild flavor, and a tender bite, and are in season in the fall. All great reasons to include it in the line-up when making a salad this time of year.
why you'll love this fall pear salad
Complex flavor from minimal ingredients. The pear and kale salad is topped with candied walnuts, which adds a touch of sweetness and crunch. The blue cheese gives the salad a savory component, while the homemade vinaigrette ties all the flavors together. You get sweet, salty, earthy, fresh, and tangy all in one bite!
Health benefits galore. Kale is known for its high levels of nutrients and antioxidants, pears are a good source of fiber, walnuts have healthy fats, and cranberries offer anti-inflammatory properties. This salad packs a nutritional punch!
Easy to customize. Don't like blue cheese? No problem, swap it out for feta or goat cheese. Want to add more protein? Toss in some grilled chicken or chickpeas. The options are endless with this kale pear salad!
Versatility. It can be enjoyed as a light lunch or dinner option, or served alongside your main dish for a healthy side salad.
Ingredients to make a kale and pear salad
Kale: I like to use organic kale or a mix of different types of kale for added texture. Make sure to wash and dry the leaves before massaging them with the dressing.
Pears: Look for pears that are ripe, but still have some firmness. You don't want mushy pears in your salad!
Cranberries: Dried or fresh cranberries work well in this salad.
Walnuts: To add a touch of sweetness and crunch, I like to candy the walnuts by tossing them with sugar and cooking them in the oven until they are lightly caramelized. You can also use store-bought candied walnuts or plain walnuts if that's all you have on hand.
Blue Cheese: This adds a savory component to the salad, but can be swapped out for feta or goat cheese if preferred.
Vinaigrette: I like to make my own vinaigrette using olive oil, apple cider vinegar, dijon mustard, honey, fresh OJ, garlic, and, of course, salt and pepper. You can also use store-bought vinaigrette if in a time crunch.
How to make a fall salad with pears, kale and wanuts
In a large serving bowl, whisk together garlic, orange juice, apple cider vinegar, Dijon, honey, and salt and pepper.
Slowly stream in the olive oil and whisk until emulsified.
Add chopped kale on top of the dressing.
Using your hands, massage the dressing into the kale to help break down the leaves.
Massage until the kale is bright green and starts to feel soft.
Top kale with sliced pears, candied walnuts, blue cheese, and cranberries, and serve.
Tips for making a kale salad with pears
Toss the sliced pears in lemon juice if making this salad ahead of time. The acid in the lemon juice will help the pears not oxidize quickly and turn brown
Don't skip massaging the kale. Kale can be quite tough and chewy, so use your hands to massage the leaves in the dressing to soften them. You'll also notice the color of the kale will get darker green when massaged. Make sure you have a big enough bowl.
Make Ahead. You can prepare the kale and massage it with the dressing up to one day before serving, and the greens will stay fresh.
Slice the ingredients thinly. This will mean that in each bite, you will get a variety of flavors and textures, and it will be much more enjoyable to eat.
What to Pair with your fall pear salad
popular substitutions & additions
Swap the Citrus. Any fresh citrus is lovely here in the dressing, so feel free to mix it up.
Use apples instead of pears. Pear and blue cheese are a favorite combination of mine, but apples work well, too.
Use mixed greens instead of kale. Arugula or spinach would be delicious substitutions.
Add some protein. Grilled chicken, chickpeas, or even slices of steak would add a nice protein boost to this salad.
Try different nuts. Pecans, almonds, or even pistachios would work well in place of the walnuts.
how to store this fall kale salad
I recommend storing the salad ingredients separately and tossing them together just before serving to keep everything as fresh as possible. The dressed kale salad can be stored in an airtight container in the fridge, but the pears will start to brown, the walnuts will lose their crunch, and the cheese may get soggy.
how long will my pear and kale salad last in the fridge?
If you do have leftovers, they should still be enjoyable for 1-2 days, even after being all tossed together.
Frequently asked questions
How do you make a good salad dressing?
It's easy to mix up this salad dressing to suit your own tastes. Use this simple formula to create your own salad dressing!

3 parts high-quality oil – extra virgin olive oil and avocado oil are great
1 part acid – vinegar, lemon, lime
Salt and fresh ground pepper, to taste
Some type of emulsifier – this could be mayonnaise, mustard or yogurt, or even maple syrup and honey, for example. This helps it bind, but it's not necessary.
Some fresh or dried herbs
What are the best pears to use?
You can use pretty much use any ripe pears that you like. Here's a great guide to what you can expect from the following popular pears:

Anjous – firm, mild-flavored pears
Asian – very crunchy and mild flavored
Bartletts – juicy and full of flavor
Bosc – more crisp and mild sweetness
Concord – crisper and the highest sweetness
Can you make it ahead of time?
Kale is a great ingredient to use in salads as it doesn't wilt like lettuce or baby spinach. The leftovers actually taste great the next day. The pear may slightly turn darker, but the extra time in the fridge helps all those flavors really settle without any wilted greens. This is why I love serving this salad when I have guests over. I can make a huge portion and not worry about throwing leftovers away.

The dressing will keep well in the fridge for around a month, so make a big batch!
This is a big beautiful kale salad that is full of fall harvest, from the pears to the candied walnuts and kale. It's healthy, flavorful, and so easy to throw together! It has a wonderful sweet and salty combination, along with crunchy and chewy textures.
More Fall Salad recipes
If you try this feel good Pear Salad with Candied Walnuts recipe or any other recipe on Feel Good Foodie, then don't forget to rate the recipe and leave a comment below! It helps others who are thinking of making the recipe. We would love to hear about your experience making it. And if you snapped some shots, share it on Instagram so we can repost on Stories!
This Pear Salad with Candied Walnuts recipe (renamed from Autumn Pear Salad) was originally published on October 19th, 2020. The post has been updated to include helpful cooking tips, frequently asked questions and step-by-step photos.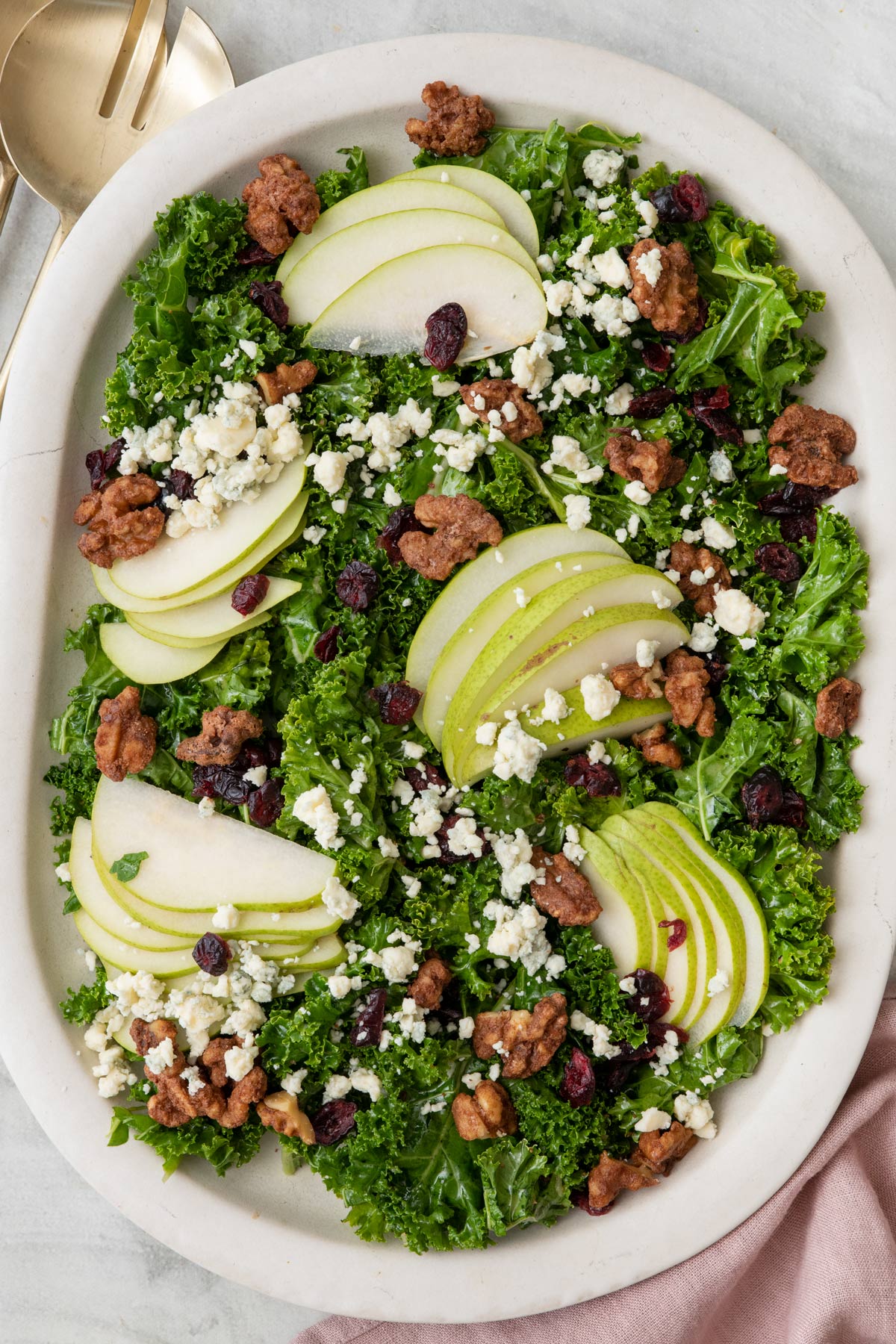 Pear Salad with Candied Walnuts
This kale and pear salad is topped with dried cranberries, candied walnuts, and tangy blue cheese. It's a great fall salad for kale and pear lovers alike!
Ingredients
For the Salad
6

cups

kale leaves

roughly chopped

2

small pears

thinly sliced

1

cup

candied walnuts

½

cup

crumbled blue cheese

¼

cup

dried cranberries
Instructions
In a large serving bowl, whisk together garlic, orange juice, apple cider vinegar, Dijon, honey and salt and pepper. Slowly stream in the olive oil and whisk until emulsified.

Add chopped kale on top of the dressing. Using your hands, massage the dressing into the kale to help break down the leaves. Massage until the kale is bright green and starts to feel soft.

Top kale with sliced pears, candied walnuts, blue cheese and cranberries, serve.
Equipment
Notes
Storage: Store any leftovers in an airtight container. It will last about 2-3 days in the fridge. To prevent the pear from oxidizing, I would recommend coating it with lemon juice before adding to the salad. Make Ahead: You can make the dressing up to one month in advance. You can make a huge batch of the dressing and use as much as needed for the salad. Substitutes: For best results, follow the recipe as is. However there is no cooking or baking here, so feel free to substitute and make it your own. You can leave out the dried cranberries, change the walnuts to another nut, or use feta or goat cheese instead of blue cheese. Original Dressing Recipe:
▢ ¼ cup olive oil
▢ 2 tablespoons apple cider vinegar
▢ 1 tablespoon maple syrup
▢ 1 clove garlic clove
▢ 1 tsp fresh thyme
▢ Salt and pepper
Nutrition
Calories:
300
kcal
,
Carbohydrates:
26
g
,
Protein:
6
g
,
Fat:
20
g
,
Saturated Fat:
3
g
,
Polyunsaturated Fat:
2
g
,
Monounsaturated Fat:
8
g
,
Cholesterol:
8
mg
,
Sodium:
356
mg
,
Potassium:
351
mg
,
Fiber:
6
g
,
Sugar:
17
g
,
Vitamin A:
6806
IU
,
Vitamin C:
68
mg
,
Calcium:
251
mg
,
Iron:
2
mg
Nutrition information provided is an estimate. It will vary based on cooking method and specific ingredients used.