This post may contain affiliate links. Please read our disclosure policy.
There's something about grilled chicken tenders that just makes them so irresistible. They're perfect for a quick and easy weeknight dinner, and with a grill pan, you can enjoy the delicious smoky grilled flavor all year round! In this recipe, I marinate the chicken with lemon, olive oil, and thyme, which gives it a bright and tangy flavor. Serve them up with some of your favorite dipping sauces, and you'll have a meal that everyone will love!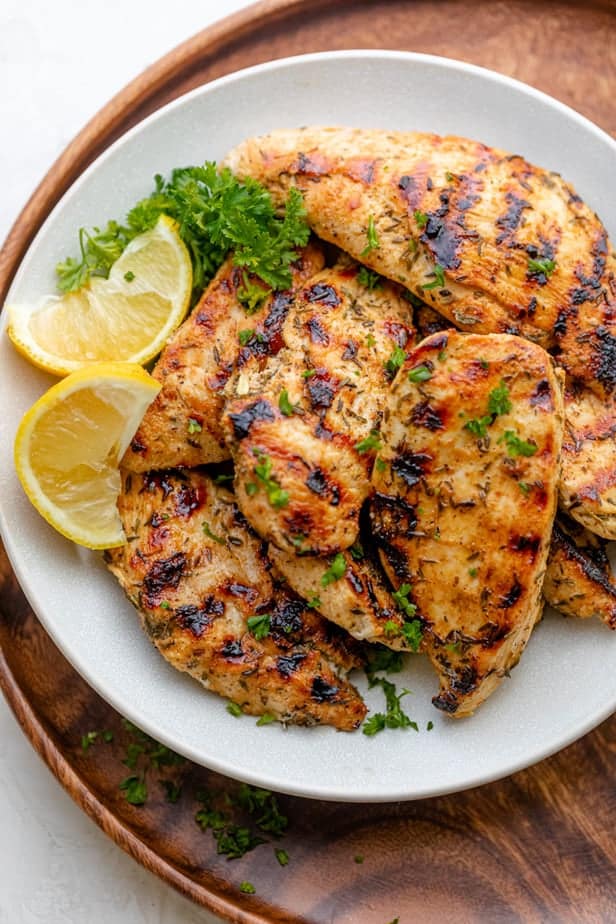 This is one of my favorite ways to prepare chicken for an easy weeknight meal, whether it's on the grill outside or using a grill pan during colder months. The marinade is pretty flexible and flavorful. It's an easy recipe to set up in the morning and have it ready for grilling at dinner time. And it pairs well with many vegetables and grains, with salads, or with pastas.
Why You'll Love This Grilled Chicken Strips Recipe
From grill to the plate in under 10 minutes. One of the great things about chicken strips is they cook in a flash, which makes them ideal for busy weeknights!
Versatile protein. Serve these grilled chicken strips as an entrée, or use them to top your favorite salads or pasta dishes.
The marinade gives it mouth-watering flavor. The marinade really makes these chicken strips stand out! You get a nice balance of acidity, sweetness, and herbs that will leave you craving more. The bonus to marinating your chicken is that it helps tenderize the chicken, so they turn out juicy and delicious. You can also try some of my other chicken marinade recipes if you'd like!
Perfect for meal prepping. Make a big batch of these grilled chicken strips, and you can easily enjoy them throughout the week. You can eat them cold or reheat them in the microwave for a minute, and they'll taste just as good as when they were first cooked.
Ingredients to make Marinated Grilled Chicken Tenders
Chicken tenderloin: The marinade for this recipe covers a pound of chicken strips, you can easily double or triple the recipe to have enough for the whole family.
Olive Oil: This helps to keep the chicken tender and adds moisture.
Lemon Juice: Use freshly squeezed juice or buy it pre-squeezed. The acidity of the lemon helps to break down the fibers in the chicken so that they are super juicy when grilled.
Thyme: This adds a nice herby flavor to the chicken. You can also use other herbs such as oregano, basil, or rosemary.
Garlic powder: Adds a subtle garlic flavor.
Paprika: This adds a smoky flavor to the chicken.
Salt and pepper: To season the chicken strips.
How to make grilled chicken tenders
Marinate the chicken first. Add all the marinade ingredients to a large bowl with the chicken, and make sure to toss to coat generously with the spices. Then place the chicken in the fridge until ready to use – I would say 30 minutes is good enough, but up to 8 hours is great!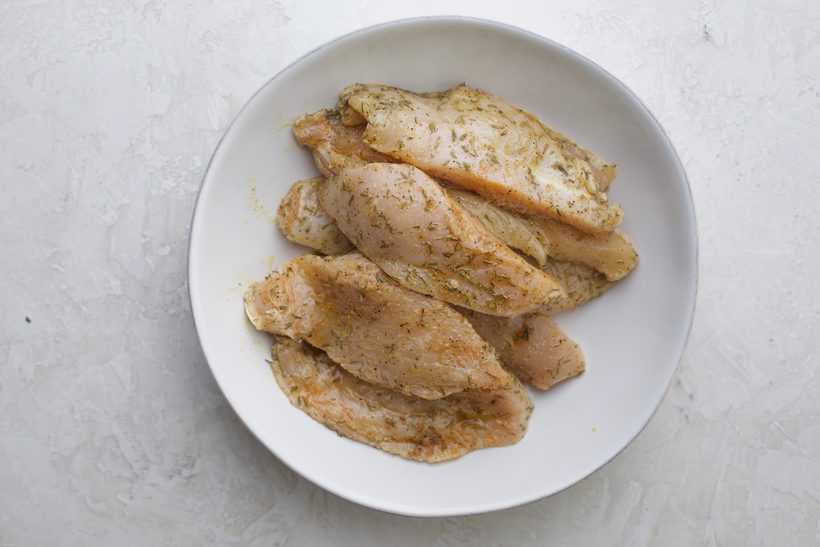 When you are ready to grill the chicken, preheat your grill. An outdoor grill is not necessary. You can use a grill pan to get that charred flavor and those grill lines.
Cook the chicken for 3 – 4 minutes on each side. But when they're done cooking, definitely give them time to rest before serving.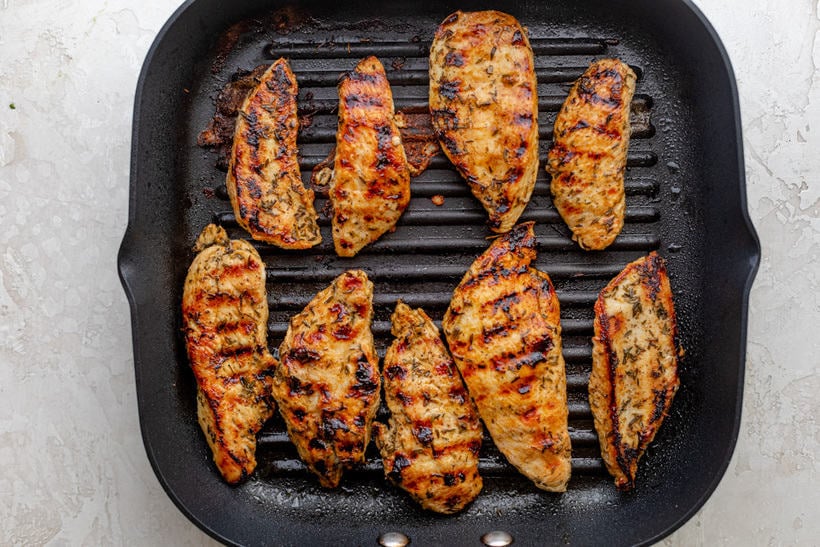 Tips for grilling chicken tenders
Allow time to marinate the chicken. You want to marinade for at least 30 minutes, but up to 8 hours even. That will help tenderize the chicken, make it juicier and absorb the maximum flavor.
Remove the tendon. While it's not necessary, you'll enjoy your chicken much more with this simple step. Begin by locating the tendon, then grip it with a paper towel. After that, run a fork around the tendon and pull it away to release the meat.
Don't overcrowd the pan or the grill. You want the chicken tenders to grill evenly and brown well. Otherwise, the juices from the nearby chicken tenders may create steam which will affect the searing process.
Don't move the chicken strips while it's cooking. If you do, you won't achieve those beautiful sear marks and the food will stick to the grill if you try and move it too early. When ready to turn the tenders, they should be easy to move. If they stick, leave them a little longer.
Allow the chicken to rest for 5 minutes before cutting. This allows the chicken a chance to absorb the juices to become juicier.
What To Serve With Your Grilled ChickEn Strips
Frequently asked questions
What does the chicken marinade taste like?
This simple marinade is a mixture of fresh lemon juice and dried herbs and spices. It has a bright and fresh zing to it without being so overpowering. This combination of spices, including thyme, paprika, garlic powder, salt, and pepper, is my favorite for chicken. It's a simple marinade, but it really packs a punch!
Should I keep the grill lid open or closed when grilling chicken?
Since these tenders are small and only need to be grilled for 3-4 minutes per side, there's no need to close the lid. You'll want to close the lid for thicker cuts of chicken which need more cooking time and need heat to penetrate through the thick cuts.
How do I know when my chicken tenderlion is done cooking?

How long you cook your chicken tenders will vary by a few minutes depending on the size and thickness of your strips. The best way to tell if they are cooked through is by using a meat thermometer and making sure it reads 165 ºF in the thickest part of the tender.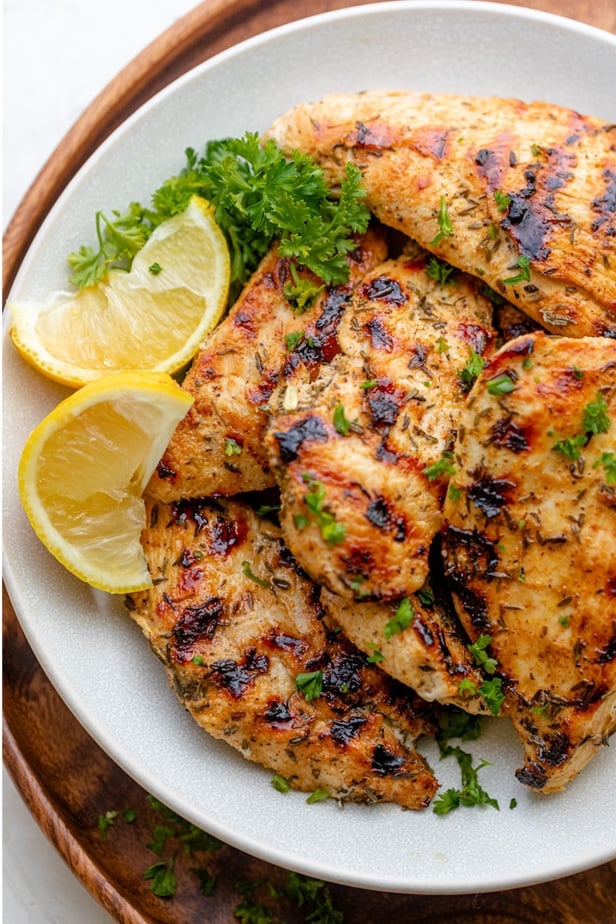 For more healthy chicken recipes:
These grilled chicken tenders are so delicious and so quick to cook, so they're perfect for an easy weeknight meal. They are also great cold, sliced up on a fresh salad. Yum!
If you've tried this healthy-ish feel good Grilled Chicken Tenders recipe or any other recipe on FeelGoodFoodie, then don't forget to rate the recipe and leave me a comment below! I would love to hear about your experience making it. And if you snapped some shots of it, share it with me on Instagram so I can repost on my stories!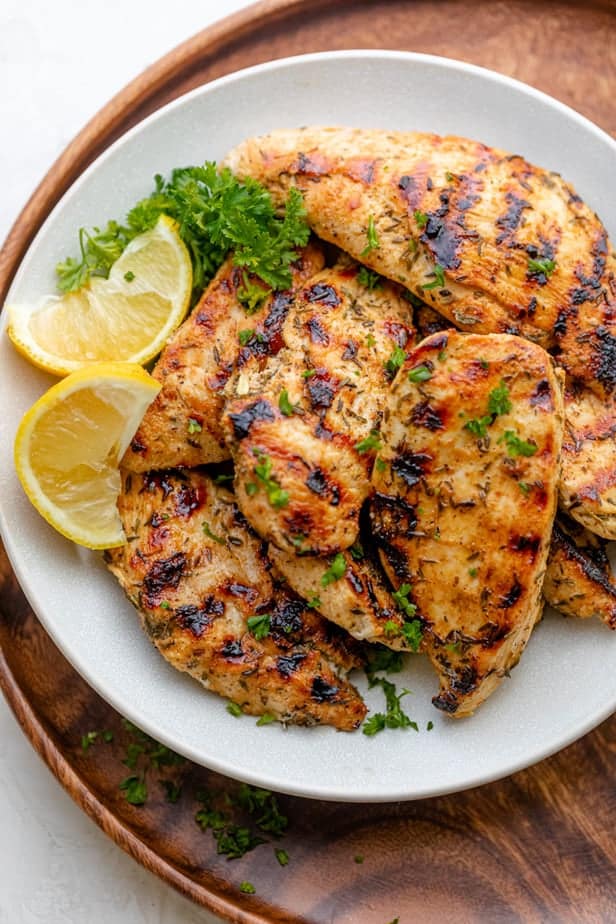 Grilled Chicken Tenders
Grilled Chicken Tenders are made with a simple lemony marinade and cooked on a grill or grill pan. They're juicy, flavorful and very easy to batch meal prep
Instructions
Pat the chicken tenders dry to remove any excess liquid and remove the tendons with a fork. Place the chicken in a large bowl. Add the olive oil, lemon juice, thyme, paprika, garlic powder, salt and pepper and stir to combine evenly. Marinate for 30 minutes or up to 8 hours.

When ready to grill, preheat the grill or grill pan to medium heat. Place the chicken tenders on the grill, being careful not to overlap them. Cook for 3-4 minutes on each side, until the juices run clear.

Remove the chicken tenders from the grill and allow the chicken to rest for a couple minutes before serving.
Notes
Storage: Store any leftovers in an airtight container. They will last up to 4 days.
Nutrition
Calories:
228
kcal
,
Carbohydrates:
1
g
,
Protein:
24
g
,
Fat:
14
g
,
Saturated Fat:
2
g
,
Cholesterol:
73
mg
,
Sodium:
423
mg
,
Potassium:
430
mg
,
Fiber:
1
g
,
Sugar:
1
g
,
Vitamin A:
288
IU
,
Vitamin C:
7
mg
,
Calcium:
17
mg
,
Iron:
1
mg
Nutrition information provided is an estimate. It will vary based on cooking method and specific ingredients used.