This post may contain affiliate links. Please read our disclosure policy.
Crunchy, sweet, and irresistible, you'll love this simple tutorial on how to make candied walnuts in the oven with just a few quick steps. It's as easy as mixing and roasting! Add candied walnuts to salads, and side dishes, or make them just as a tasty snack to munch on. If you love this recipe as much as we do, then so will your guest! Don't forget to make a small gift bag full of these sweet, carmelized walnuts to take home with them.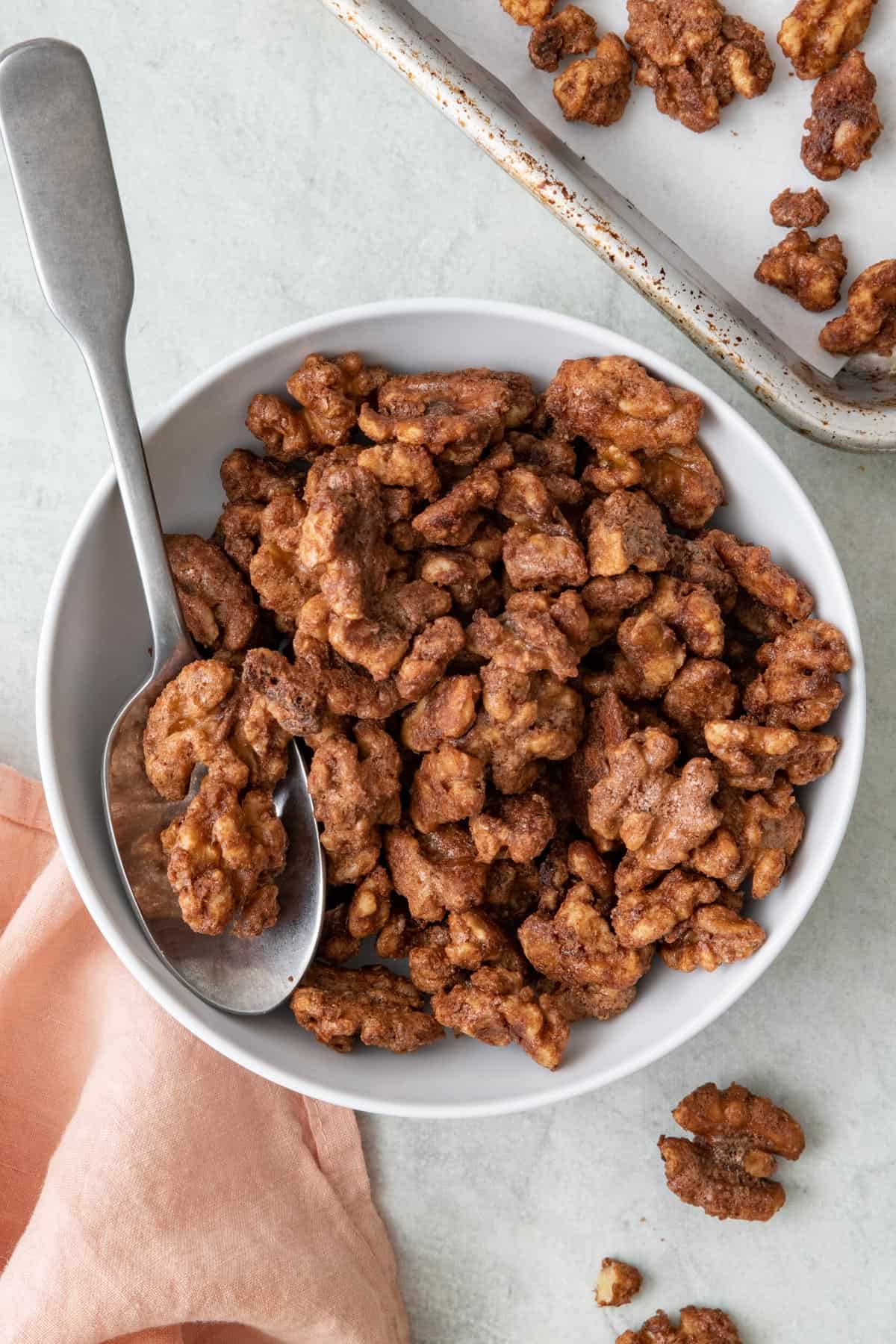 Table of Contents
These candied walnuts are ridiculously good and only take 30 minutes to make from start to finish! All you need is an egg white, a few spices and, of course, walnuts and you're set!
WHY learn to make caramelized walnuts
They're so good! – Crunchy, sweet, and with a little heat from the cayenne spice, these glazed walnuts hit the spot for snacking
A great addition to a cheese board – Create a wonderful holiday snack tray with your favorite cheeses, fresh fruits and veggies, jams and spreads, crackers, and these scrumptious candied walnuts. Your guest will love the variety of bite-sized foods to snack on.
Holiday snack – These little flavorful nuts are perfect to have around the holidays. Enjoy them throughout the season, or gift them to friends and family, creating a new holiday tradition of roasting sweet walnuts.
Save a trip to the store and save money – Skip the store and learn how to make sugared walnuts at home. When you make them yourself, you get more bang for your buck! A small bag of candied walnuts is priced similarly to a large bag of plain walnuts.
You'll learn how to make candied nuts! – Once you see how easy it is to make this candied walnut recipe, there's nothing holding you back from roasting up more varieties with customizable spices.
Ingredients to Make Candied Walnuts with egg white
Walnuts: For the perfect balance of nut and candy crust, I use whole walnut halves. You can also use a different nut variety, such as pecans, or cashews.
Egg white: Sugar-coated nuts for roasting require a binder that helps the flavorings cling to the walnuts. Egg whites are thick and sticky and perfect for sugar and spices to adhere to them.
Sugar: Granulated sugar works fantastic for this recipe and creates a crispy, caramelized shell around the walnuts that are infused with spices.
Spices: cinnamon, ground ginger, nutmeg, cayenne, and salt. This combination of warm fall spices is aromatic, and the cayenne gives the sweet candied nuts a little heat. The salt is perfect for balancing the earthy, nutty flavors with the sweet candy coating.
Butter: I like to use unsalted butter and add salt to the spice mix. This will give you better control of balancing the sweet and salty aspects of this recipe.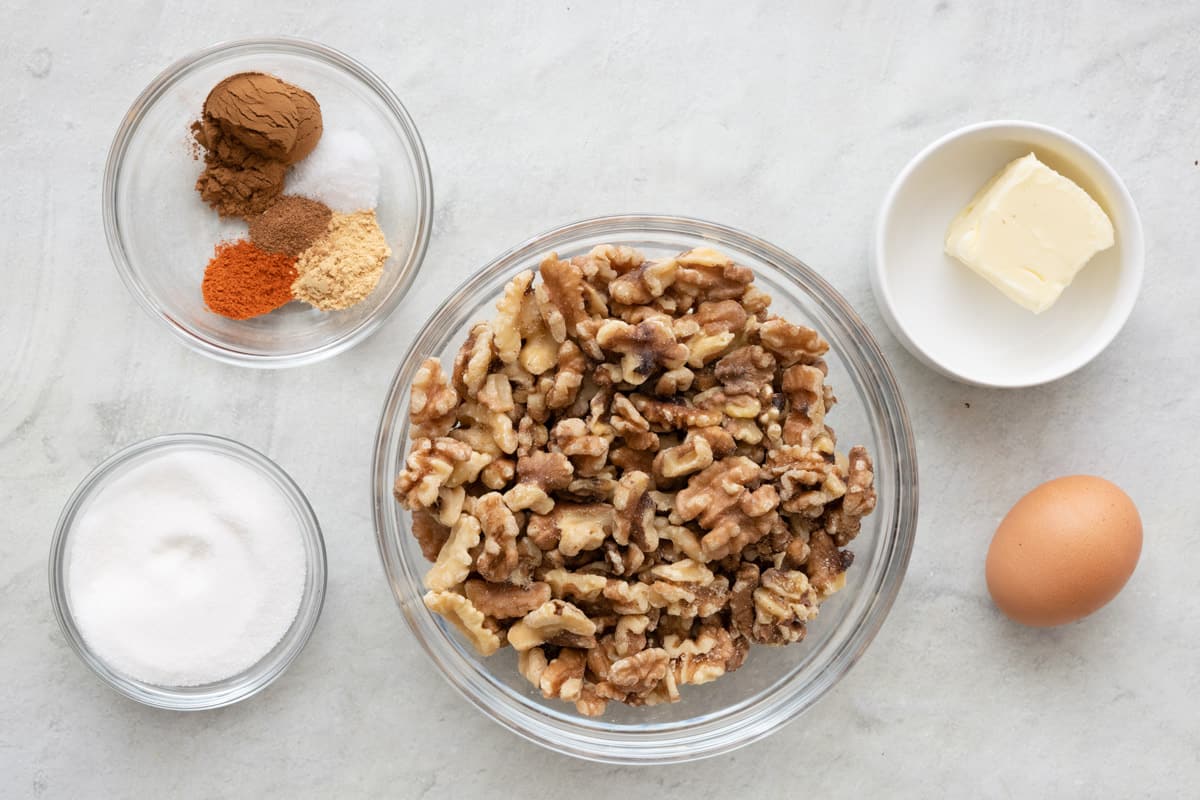 HOW TO MAKE candied Walnuts
Learn how to make caramelized walnuts with just a few steps. Preheat the oven and grab an egg, walnuts, and warm Fall spices to mix up an irresistible snack.
How to Make sweet Walnuts
Beat the egg white until light and frothy, and add in spices.
Mix the egg white and spice blend together and add in walnuts.
Fold walnuts until fully coated.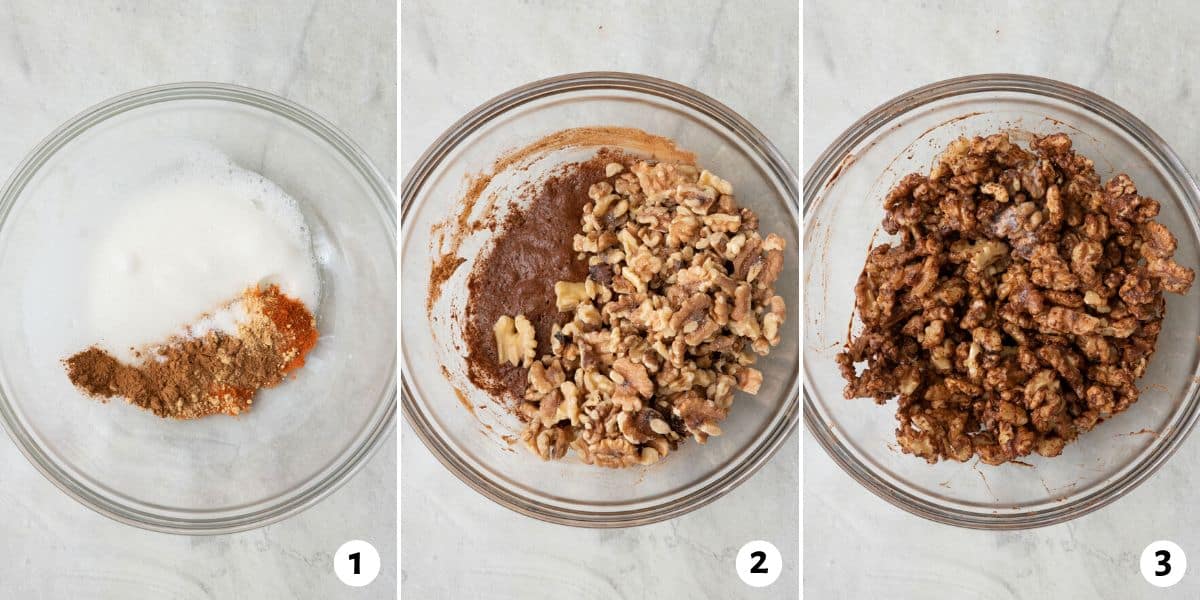 How To Roast Candied Walnuts in the Oven
Spread coated walnuts on a parchment-lined baking sheet, tossing halfway through roasting.
Remove from the oven and allow to completely cool until nuts are no longer sticky.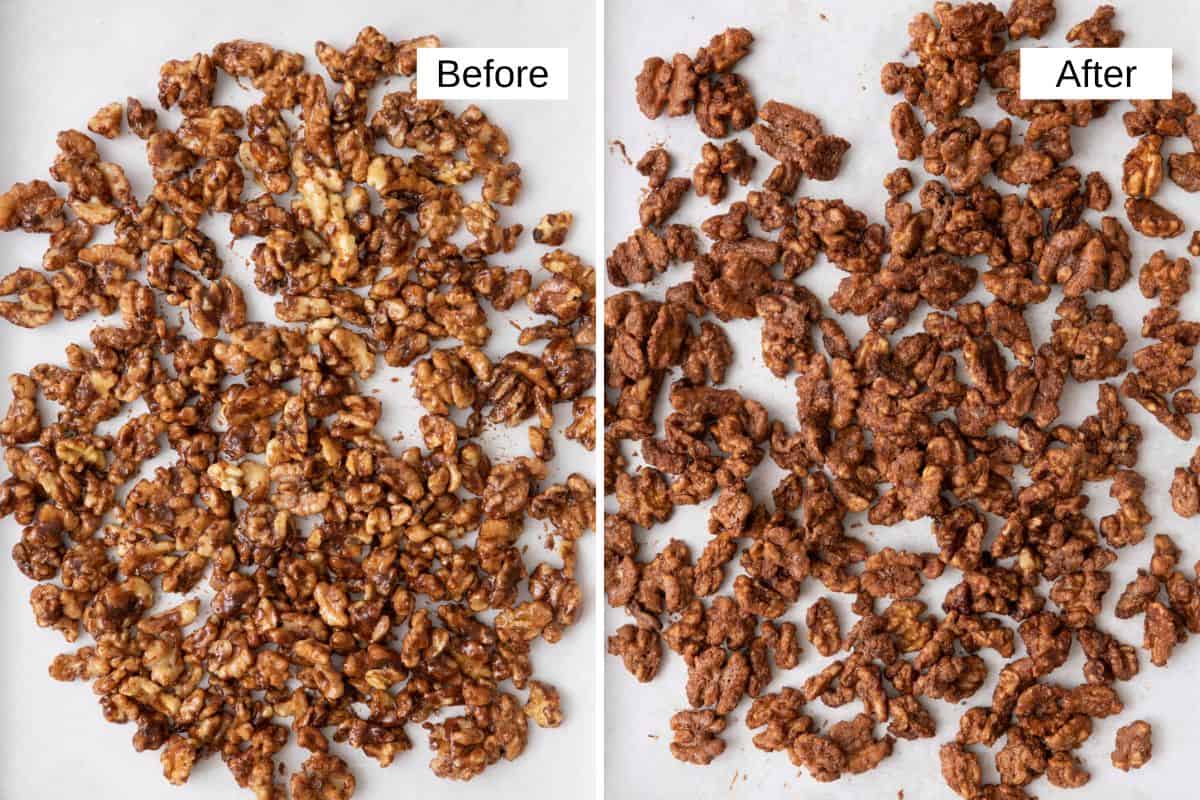 TIPS FOR making homemade candied walnuts
Vary the spice. This variation of sugared walnuts uses a blend of warm spices such as cinnamon, ginger, nutmeg, and cayenne. Substitute for pumpkin pie spice or a sweet and savory blend of fresh rosemary, fresh thyme, cracked black pepper, and sugar.
Get nutty. If you love candied walnuts, then you won't shy away from adding in or replacing them with pecans! They roast up the same and add another earthy, nutty flavor to the mix.
Adjust the sweetness. This recipe calls for white cane sugar, but you could use brown sugar instead. If you like them sweeter, increase the sugar by 2 tablespoons.
Don't skip the cooling part. It's important to cool the walnuts after they bake and on a wire rack if possible because it helps them crisp all around. Cooling the walnuts completely will allow them to lose any stickiness.
how do you use candied walnuts
Delicious addition to salads – Walnuts with a sweet candied glaze are perfect for adding to salads. Try them on this textural Autumn salad with fresh pears, blue cheese crumbles, and kale.
A sweet crunchy snack – Roast a large batch of caramelized walnuts for a snack to munch on when you're craving something sweet. You can store them on the counter for easy snacking, add them to lunch boxes, or serve them on top of a delicious peach galette.
Add to sweet potatoes – Whether they're baked, air-fried, mashed, or baked rounds, oven-roasted caramelized walnuts are an irresistibly delicious topping to these sweet potato recipes.
Mix into trail mix – Toss them in with roasted pumpkin seeds, sunflower seeds, dried fruits, chocolate granola, homemade granola, and more of your favorite trail mix additions.
Package them as gifts. When you make candied walnuts, you may use some in salads, but if you end up with a lot of leftovers, they make great gifts. Package them up as a parting gift for guests during special occasions; I promise they will ask for the recipe!
HOW TO STORE Candied Walnuts
Once completely cool, store candied walnuts in a glass jar in the pantry or in the fridge.
HOW LONG WILL candied Walnuts LAST IN THE pantry?
You can store them for up to a week in the pantry in an airtight container.
CAN I FREEZE Candied Walnuts?
Yes! Candied walnuts are perfect for freezing. Place in a sealed airtight bag or container and freeze for up to 2 months. When ready to enjoy, remove them from the freezer and container to thaw at room temperature. Thawing them this way will prevent the sugar-coated walnuts from becoming sticky and soft.
FREQUENTLY ASKED QUESTIONS
Why are my candied walnuts sticky?
If you have sticky candied walnuts after roasting and air drying, it's possible they didn't cook long enough.
What do I need to make candied walnuts?
Just a few simple ingredients to make candied walnuts: walnuts, egg white, sugar, butter, and spices (cinnamon, nutmeg, cayenne, ginger, and salt).
What's the difference between candied and glazed walnuts?
Candied nuts use egg whites as a binder and have a crispy, crunchy sugary coating, whereas a glazed walnut recipe doesn't use egg whites, and has a sticky thick candy coating.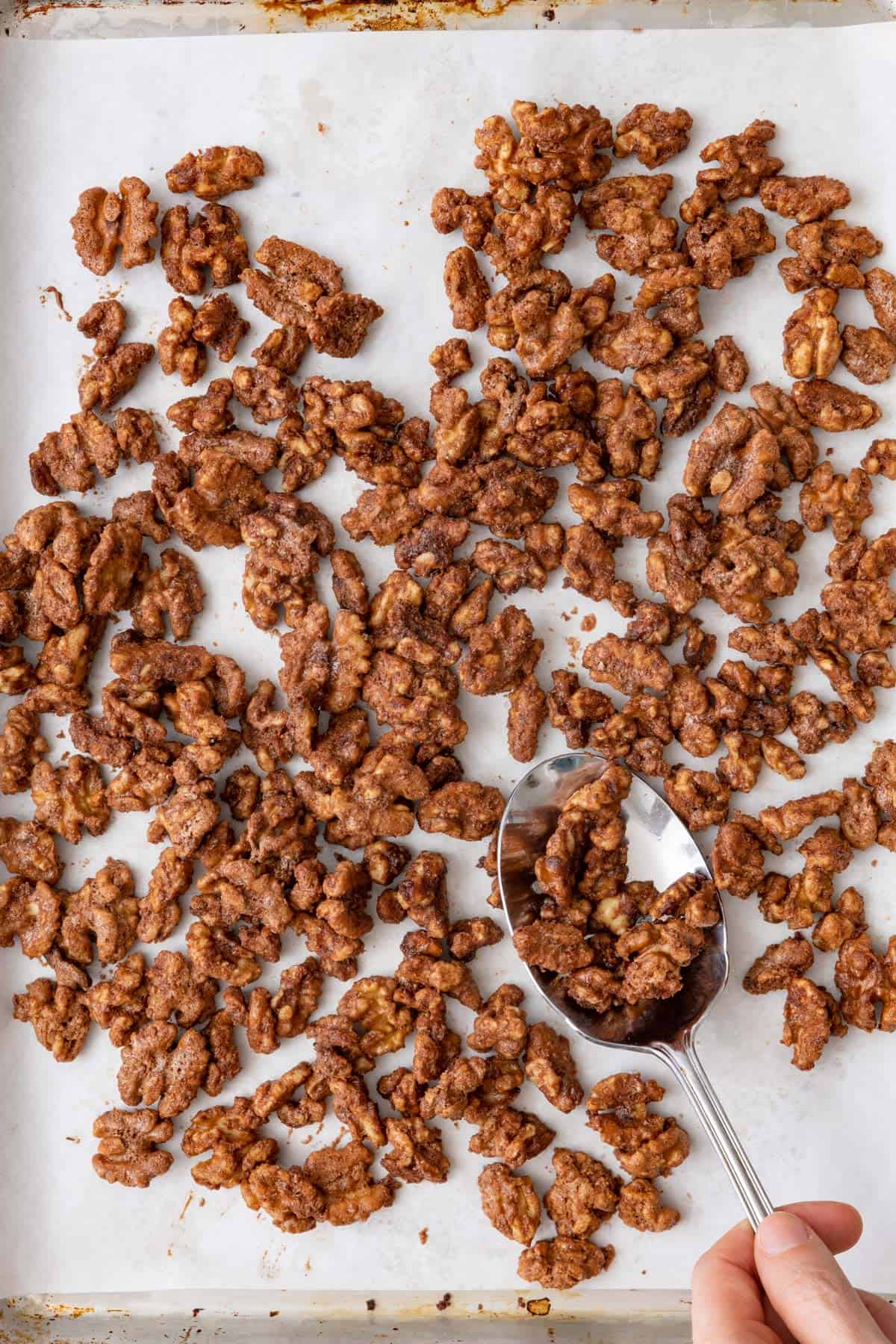 Whether roasting nuts for holiday gifting, for snacking, or using in recipes, learning how to make candied walnuts is an incredibly delicious snack recipe to have on hand.
MORE cooking tutorials:
If you found this tutorial for How to Make Candied Walnuts helpful or if you try any recipe on Feel Good Foodie, then don't forget to rate the recipe and leave a comment below! It helps others who are thinking of trying out this tutorial and we would love to hear about your experience. And if you snapped some shots, share it on Instagram so we can repost on Stories!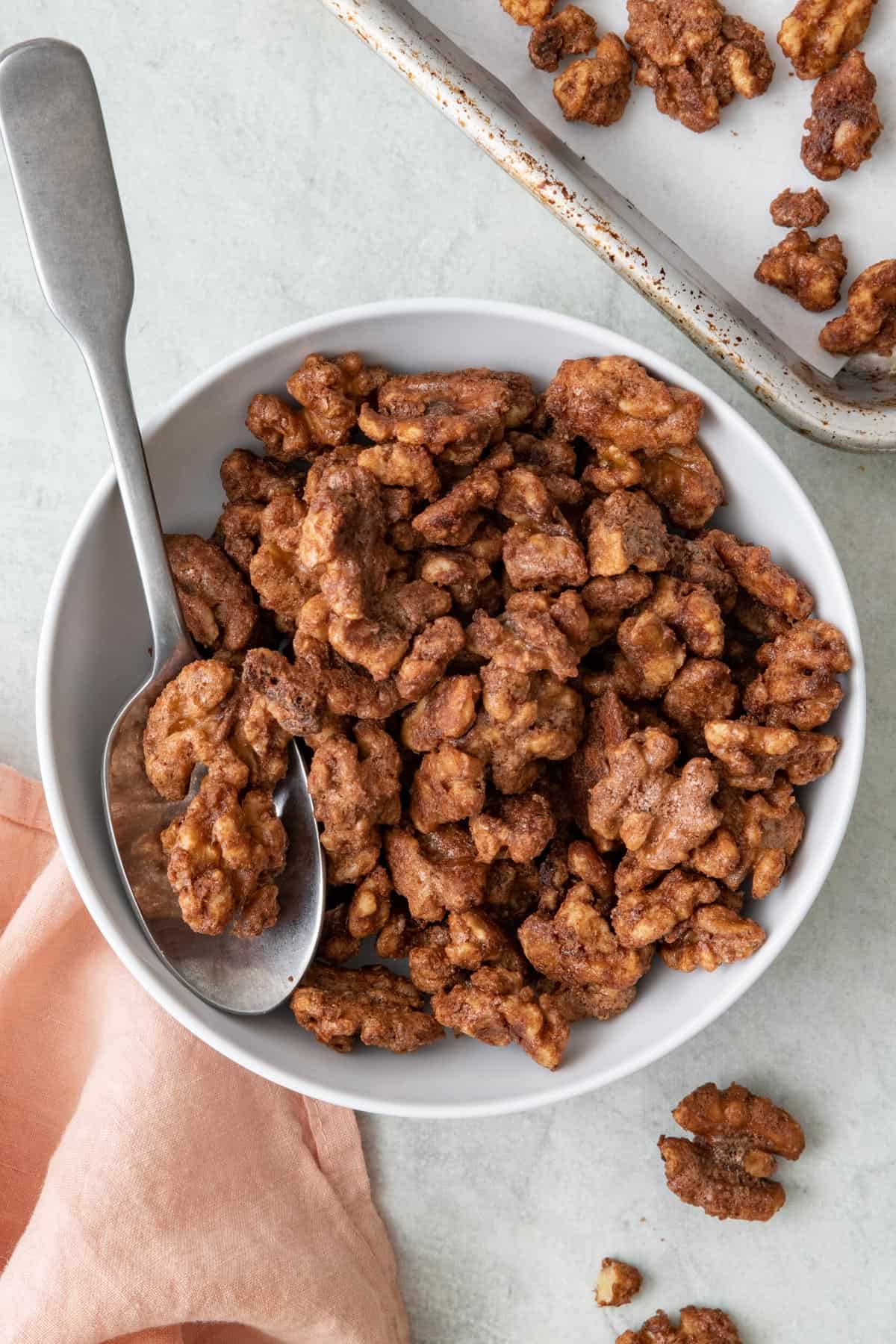 How to Make Candied Walnuts
Learn how to make candied walnuts from scratch with egg white, spices and of course sugar. Baked in the oven for a crunchy, caramelized coating!
Instructions
Preheat the oven to 300˚F and line a baking sheet with parchment paper.

In a large bowl, beat the egg white until foamy. Add sugar, cinnamon, salt, ginger, nutmeg and cayenne and stir until well combined. Add the walnuts and fold into the egg mixture until they are evenly coated, then add the melted butter and toss to coat.

Spread the nuts into an even layer on the prepared baking sheet and bake for 20-25 minutes, stirring halfway through. Remove from the oven and let cool until crisp.
Notes
Tip: Cool your candied walnuts on a cooling rack and let them dry completely to avoid a sticky mess.
Nutrition
Calories:
231
kcal
,
Carbohydrates:
9
g
,
Protein:
5
g
,
Fat:
21
g
,
Saturated Fat:
3
g
,
Polyunsaturated Fat:
14
g
,
Monounsaturated Fat:
3
g
,
Trans Fat:
0.1
g
,
Cholesterol:
19
mg
,
Sodium:
118
mg
,
Potassium:
138
mg
,
Fiber:
2
g
,
Sugar:
5
g
,
Vitamin A:
102
IU
,
Vitamin C:
0.4
mg
,
Calcium:
35
mg
,
Iron:
1
mg
Nutrition information provided is an estimate. It will vary based on cooking method and specific ingredients used.