This post may contain affiliate links. Please read our disclosure policy.
Enjoy the nutty flavor of roasted sunflower seeds with this quick and easy guide. I'll walk you through step-by-step and teach you how to roast raw sunflower seeds in the oven and as well as toast them on the stovetop.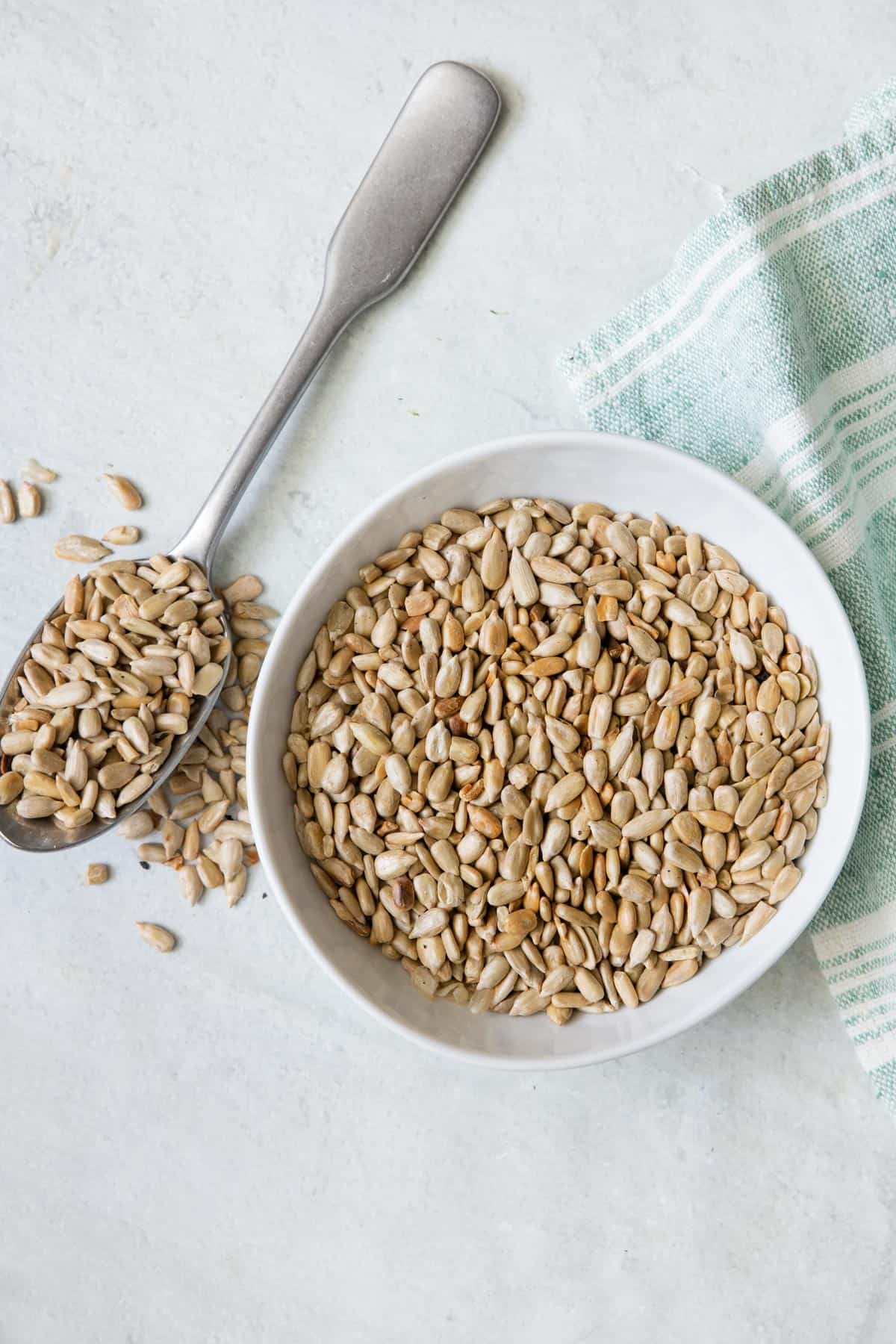 Roasted sunflower seeds are delicious and nutritious! It's an underutilized seed, in my opinion! There are so many tasty ways to enjoy them, such as on top of fresh salads, warm creamy soups, in trail mix cookies and granola, or even as a crunchy addition to smoothies. The best part is we keep it lower in calories by roasting the seeds without oil!
WHY learn to roast sunflower seeds
Roasting enhances the flavor. Sunflower kernels release their natural oils while dry roasting and have the best nutty flavor.
Add to fresh salads. Once you've learned how to toast sunflower seeds, it's time to load up with recipes to add them to. Fresh salads are perfect for toppings, and this is such a tasty addition to them.
Change up the seasoning. Get creative and try different flavors such as Cajun, taco, salt & black pepper, or ranch.
It's more economical and versatile. Of course, you can easily purchase roasted sunflower seeds from the market, but roasting your own is an economical option. Purchasing raw seeds for roasting costs less and offers more control over how you use them.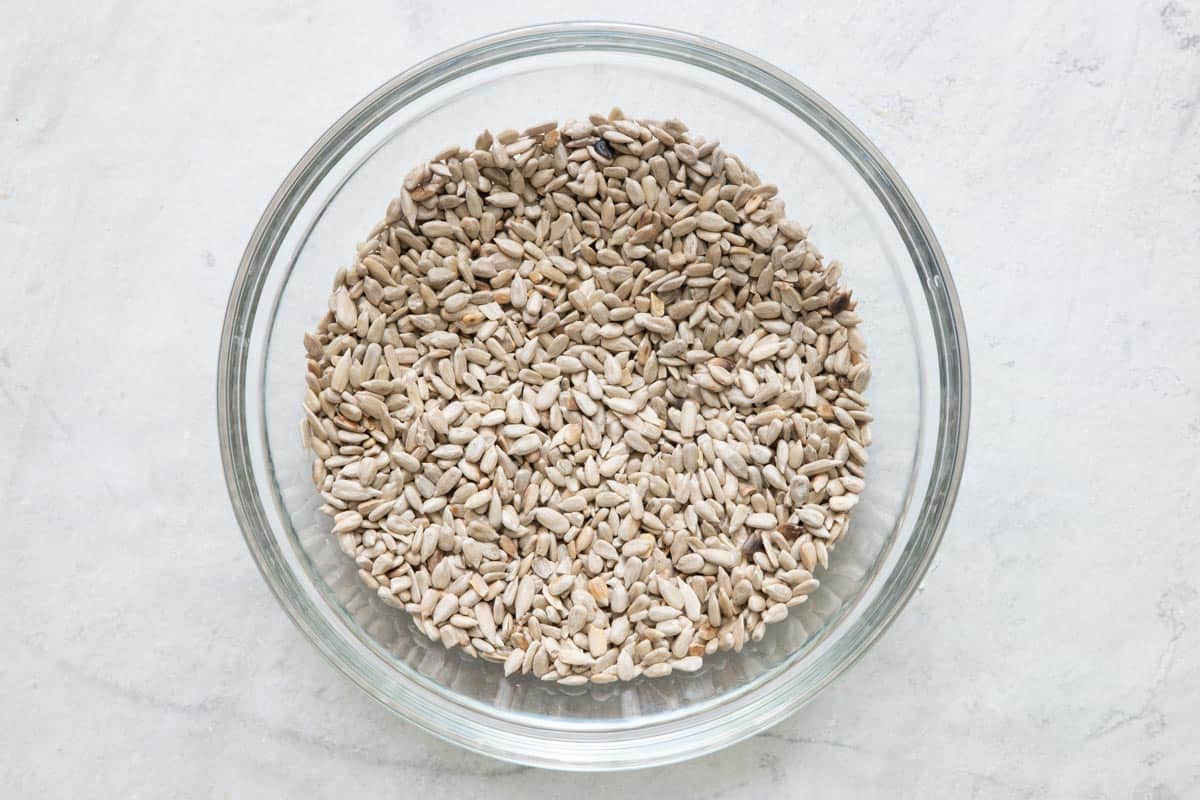 HOW TO roast Raw sunflower seeds in the oven
Line a baking sheet with parchment paper and evenly spread the sunflower seeds across the pan.
Roast in the oven and toss occasionally for even cooking.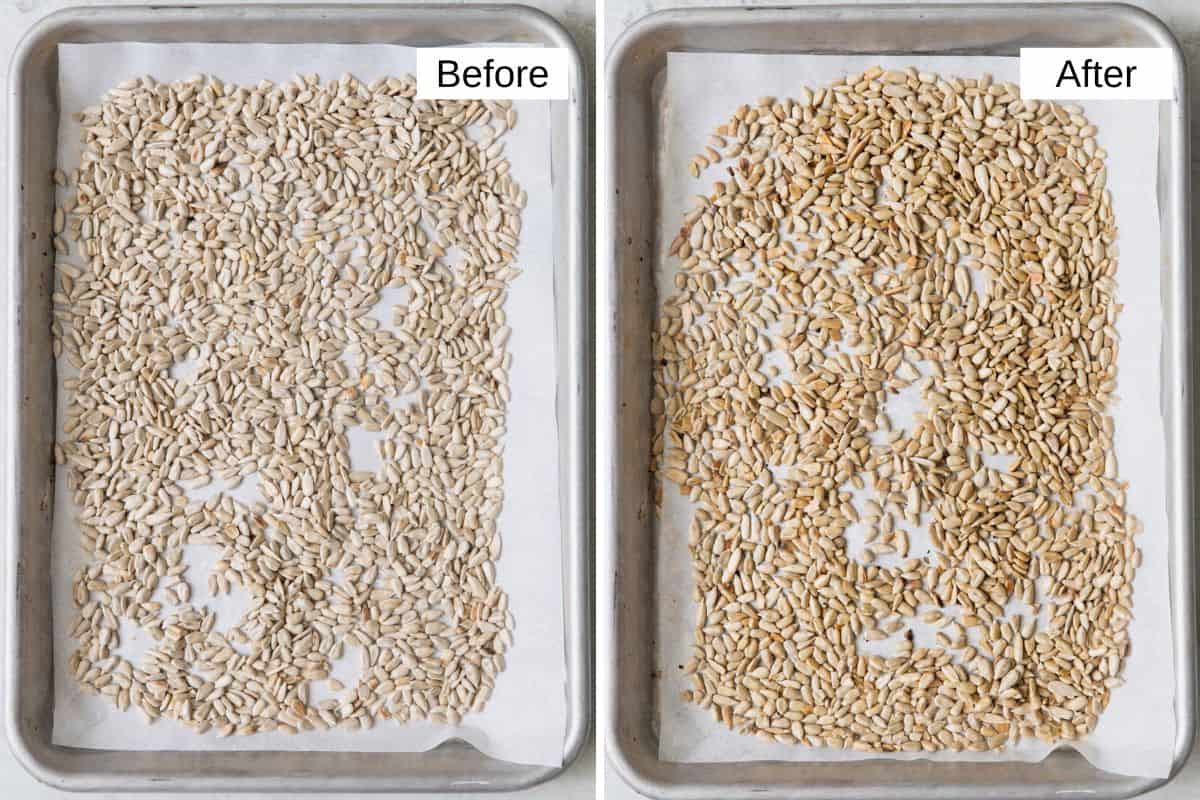 HOW TO Toast sunflower seeds on the stovetop
To a large skillet, add the sunflower seeds without oil.
Stir occasionally until the seeds are brown and toasted through.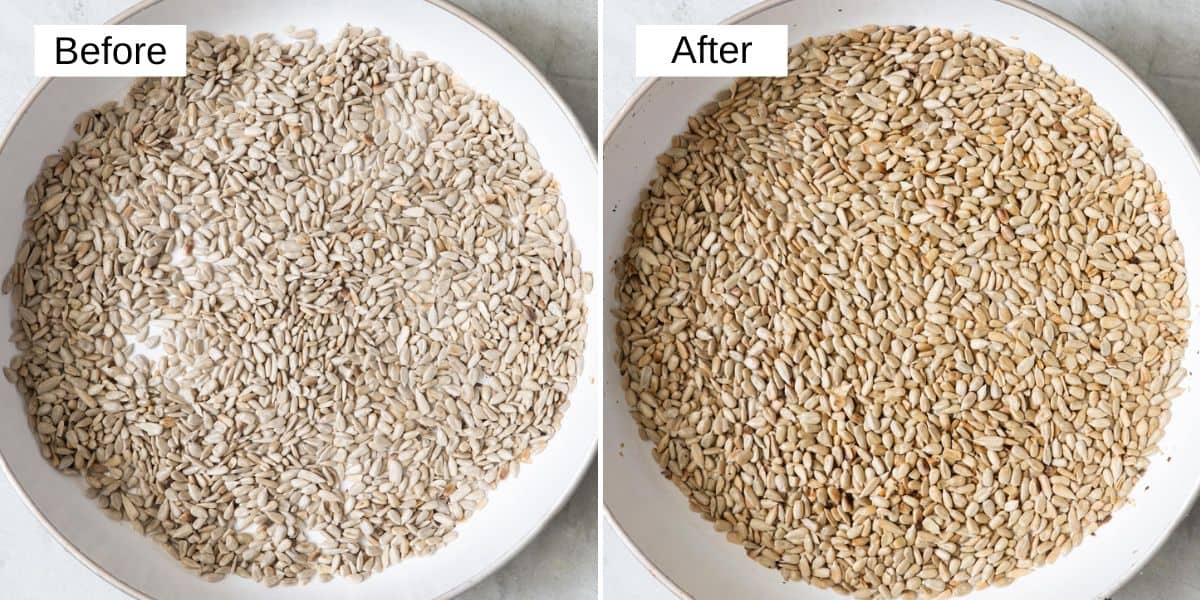 TIPS FOR roasting sunflower seeds
Don't overcrowd the pan. While some overlap is completely fine, keeping the sunflower seeds in a single layer, whether on the baking dish or skillet, will help them roast more evenly and quickly. If you've roasted pumpkin seeds before, you're familiar with this approach.
Don't use any oil. Raw sunflower seeds are dull looking but surprisingly release their natural oils while roasting, eliminating the need for using any oil.
Use your nose to detect doneness. While the color of the sunflower seeds is a strong indicator that they are roasted, the nutty scent they release might be an even stronger indicator.
Stir and toss while cooking. For an even roast, occasionally stir the seeds while roasting in the oven or toasting in a pan.
Use parchment paper for easy cleanup. What's better than a recipe with minimal cleanup? Line your baking sheets with parchment paper for a quick and easy seed roasting recipe.
Make a large batch for storing. After you roast the sunflower seeds, they store pretty well. You can keep them in a glass jar on the counter or another storage method for up to 3 months. They're great for snacking and adding to salads, soups, trail mix, and so much more.
best recipes with sunflower seeds
Roasted sunflower seeds can be used and added to an assortment of recipes, from snacks to salads, smoothie bowls, and oatmeal. Try one of these tasty recipes, and feel free to substitute other seeds for sunflower seeds! This is the best part when learning how to prepare sunflower seeds for snacking.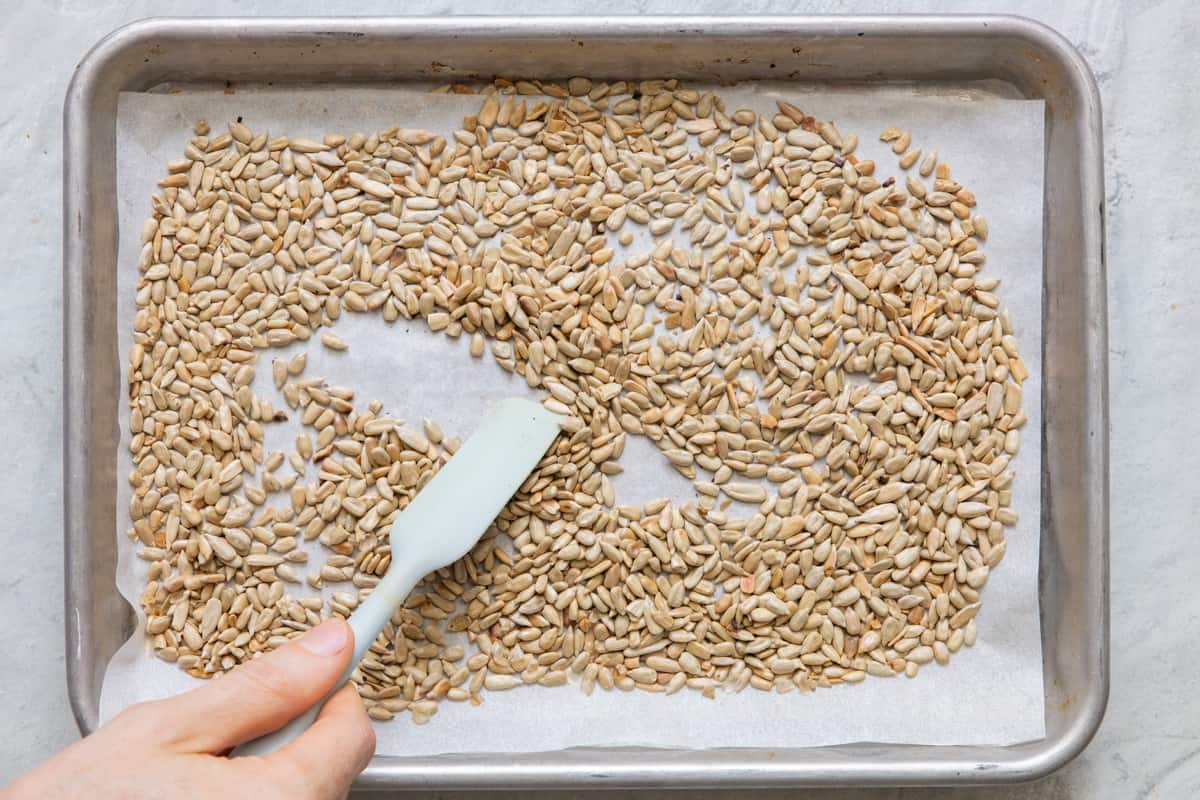 HOW TO STORE Homemade Roasted Sunflower Seeds
After roasting sunflower seeds using either the oven method or stovetop method, you can store them for up to 3 months on the counter and even longer when stored in the fridge and freezer.
HOW LONG WILL Roasted sunflower seeds LAST IN THE FRIDGE?
If stored in the fridge, they can last over 6 months after being roasted.
CAN I FREEZE Roasted Sunflower Seeds?
Yes! Extend the shelf life of roasted sunflower seeds by freezing them for up to 1 year!
FREQUENTLY ASKED QUESTIONS
Do I need to use oil to toast sunflower seeds?
Nope! These little gems generate their own oils that help to roast the seeds and give off the best nutty flavor all without the addition of oil.
How many sunflower seeds can I eat a day?
They are so delicious that it's easy to just devour them by the handful, but be mindful of the amount you consume, as too many sunflower seeds can upset your stomach. One small cup, or 30 grams, is okay to eat daily.
Does roasting sunflower seeds destroy nutrients?
No, it actually enhances the crude fiber content and maintains its nutrients, unlike boiling seeds which decreases these health benefits significantly.
It really couldn't be more simple to cook and prepare sunflower seeds in the oven and on the stovetop. It only takes a few steps to have a tasty snack or topping to add to some of your favorite recipes. Load up for the whole year by cooking in larger batches and storing in the freezer. This quick and easy guide for roasting sunflower seeds walks you through simple steps to enjoy toasty, nutty seeds whenever you're craving them.
MORE cooking tutorials:
If you found this tutorial for How to Roast Sunflower Seeds helpful or if you try any recipe on Feel Good Foodie, then don't forget to rate the recipe and leave a comment below! It helps others who are thinking of trying out this tutorial and we would love to hear about your experience. And if you snapped some shots, share it on Instagram so we can repost on Stories!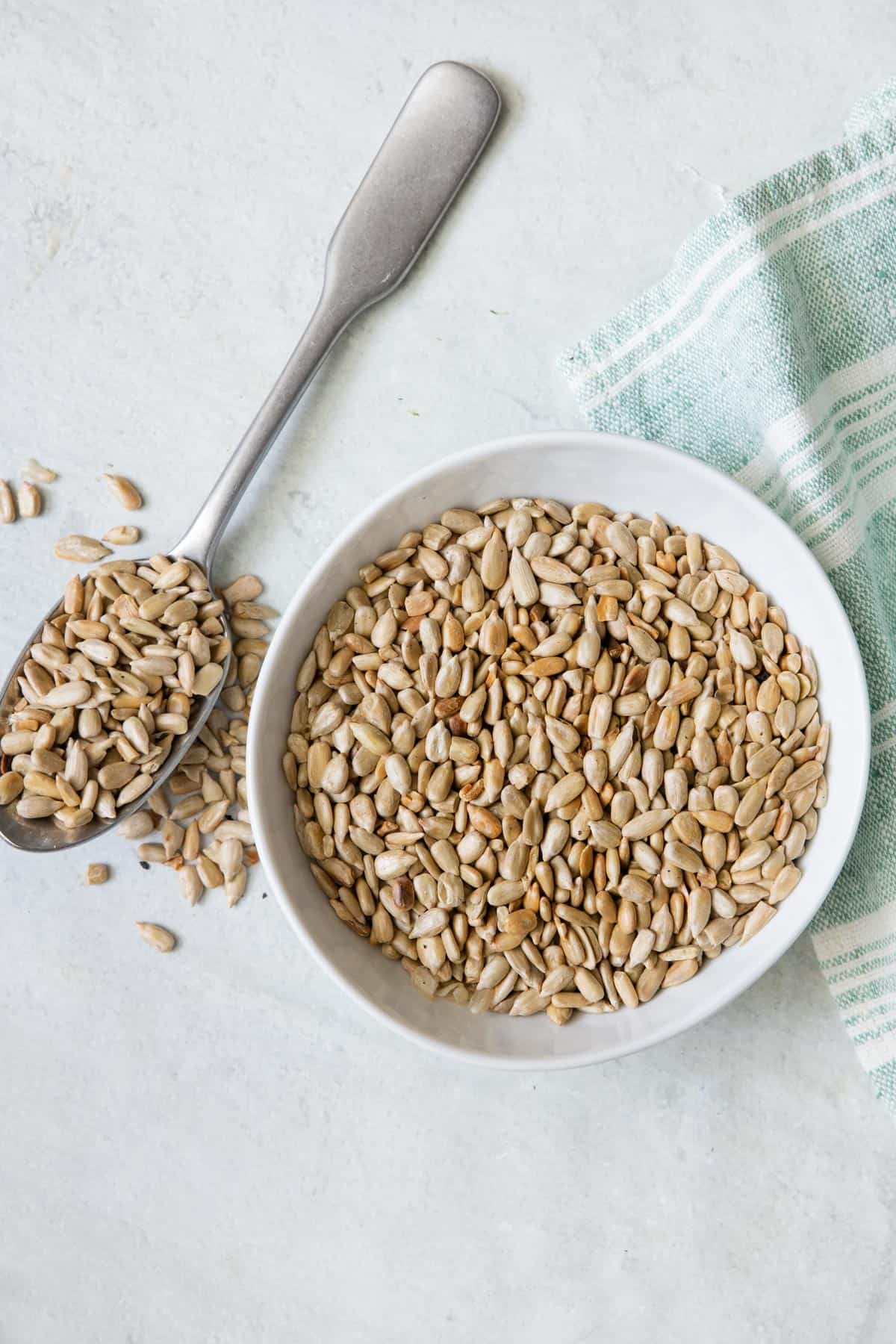 How to Roast Sunflower Seeds
Learn how to roast and toast raw sunflower seeds in the oven or via the stovetop! Raw seeds are easy to prepare and take no time to "cook"!
Ingredients
1

pound

raw sunflower seeds
Instructions
In the Oven
Preheat the oven to 350˚F and line a quarter rimmed baking sheet with parchment paper.

Place the sunflower seeds on the prepared baking sheet and shake it around to evenly distribute the sunflower seeds in a single layer.

Roast for 10 to 15 minutes, stirring occasionally until they become fragrant and golden brown. Enjoy warm or store for later use for up to 3 months.
On the Stovetop
Heat a large skillet over medium heat. Add the sunflower seeds to the pan by themselves and roast for 5 to 10 minutes, stirring occasionally until they become fragrant and golden brown. Enjoy warm or store for later use for up to 3 months.
Notes
Tip: Slow roasting is better than fast when it comes to seeds. So, while it might be tempting to crank up the oven or burner on your sunflower seeds, resist the urge and keep on stirring! 
Nutrition
Calories:
106
kcal
,
Carbohydrates:
4
g
,
Protein:
4
g
,
Fat:
9
g
,
Saturated Fat:
1
g
,
Polyunsaturated Fat:
4
g
,
Monounsaturated Fat:
3
g
,
Sodium:
2
mg
,
Potassium:
117
mg
,
Fiber:
2
g
,
Sugar:
0.5
g
,
Vitamin A:
9
IU
,
Vitamin C:
0.3
mg
,
Calcium:
14
mg
,
Iron:
1
mg
Nutrition information provided is an estimate. It will vary based on cooking method and specific ingredients used.