This post may contain affiliate links. Please read our disclosure policy.
Learn how to cook basmati rice and you'll be using it to serve with so many recipes. Cooking rice is one of those fundamental cooking skills that's so useful to learn! Do you think that nice rice – the kind where every grain glistens separately – is unattainable? Or a rice cooker is mandatory? Not true! People have been cooking rice in pots for centuries. My easy method will show you exactly how to cook fluffy, fragrant basmati rice of your dreams.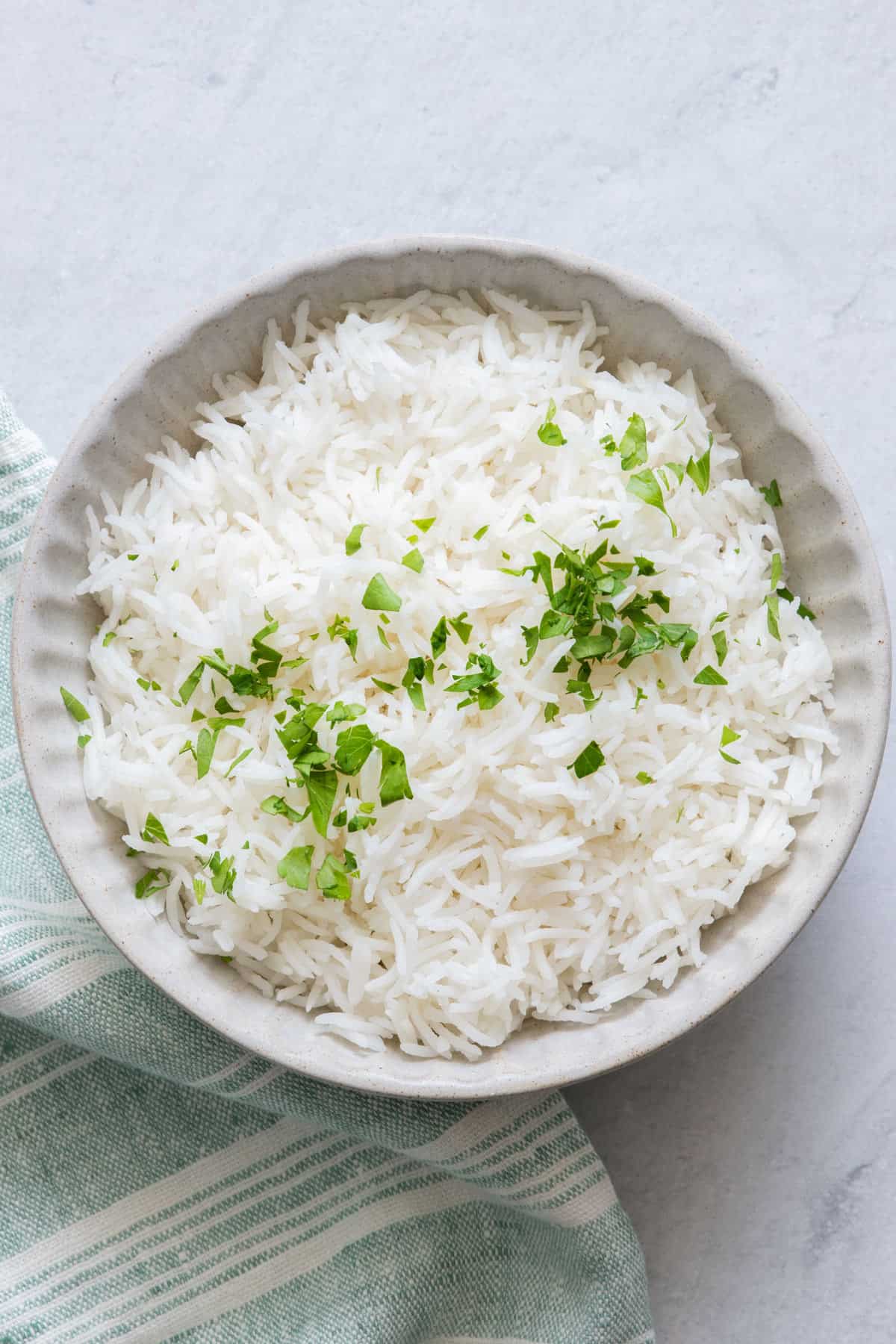 Making stove-top rice really is simple. There are just a few crucial details to tune into. Rice making is a mindful experience but once you get it down – perfect rice is yours for life. Rinsing, rice-to-water ratios, and not opening the pot too soon are all key. Let's go!
what is basmati rice?
Basmati rice is the go-to in Lebanese kitchens and in many Indian recipes as well. Grown mostly in the Himalayan, basmati is known for its skinny grains, nutty taste, and popcorn-like fragrance, all of which differentiate it from jasmine rice, a plumper, moister long-grain with a floral fragrance.
WHY learn to cook basmati rice
It's nutritious. Some might dismiss rice as an empty carb but depending on the brand, (check the label) basmati rice often contains more fiber than typical white rice as well as small amounts of protein, iron, potassium, and calcium.
Stands out among rice. Basmati's unique nutritional profile gives it a lower glycemic index than other types of white rice, making small amounts more doable for diabetics.
Opens up a world of flavor. Basmati is the rice for many Indian, Persian, and Middle-Eastern dishes. So, for recipes like Crispy Persian Rice or Butter Chicken, cooking with basmati or serving it on the side will yield the most authentic results.
Pantry MVP. Kept in an airtight container, uncooked basmati rice is super shelf-stable. It can last for years, making it the perfect pantry item to have on hand for quick meals like Lebanese Mujadara. And meal preppers love its fridge life after cooking, too.
basmati rice water ratio
1 cup rice : 1 ¾ cup water
While you don't need anything else to cook rice, I do recommend adding ½ teaspoon of salt for every cup of rice to flavor the rice from the beginning.
HOW TO cook basmati rice
Measure the rice in a cup and level the top.
Pour the measured rice into a fine-mesh sieve and rinse under cold water until the water runs clear. Toss the rice lightly in the sieve for very thorough rinsing.
Put the rinsed and drained rice in a saucepan over medium-high heat. Add salt.
Next, add the water and bring to a boil uncovered. Then quickly stir with a wooden spoon to break up any clumps. Do not over stir.
Immediately, turn down the heat to low and cover the pot with a well-fitting lid. Cook for the suggested time without opening the lid. Then remove from heat and allow to rest without opening the lid.
Fluff the rice with a fork. This separates the grains. Serve!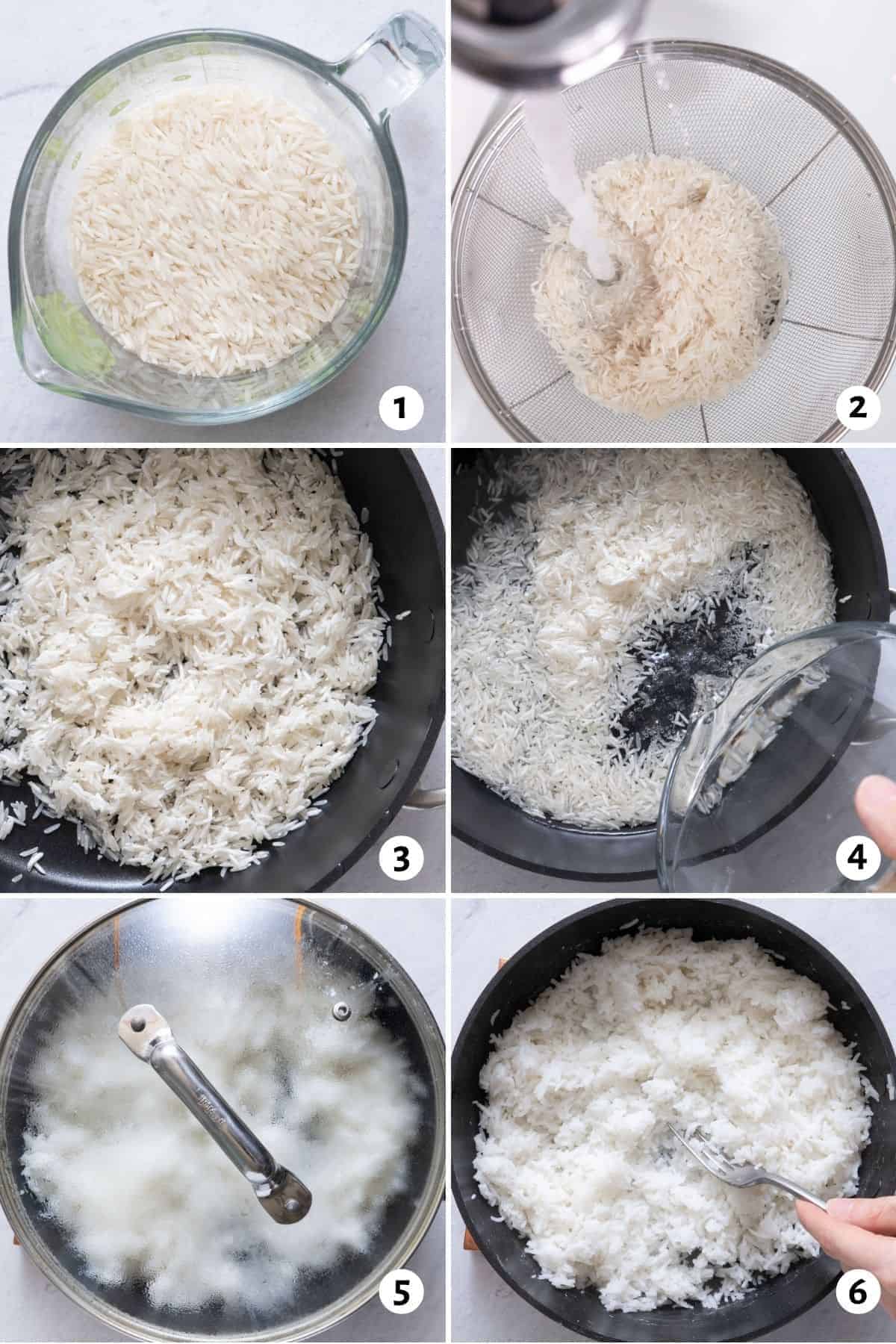 TIPS FOR cooking rice
Always rinse. Rice has made a long trip to your kitchen. Give it a bath to rinse off the road dust plus any pests picked up along the way. Also, if not washed away, rice dust generated by the grains rubbing against one another in transit can make cooked rice gummy and sticky.
Measure well. One of the tricks to perfect rice is getting the ratios right. Use too much water and the rice is soggy; use too little and it is underdone. Especially when learning, measure carefully. And, if your brand of basmati specifies a different ratio, use it.
No peeking. To preserve the water-rice ratio, try to never lift the lid because even a little escaping steam can screw things up. The quickest peek at the end of cooking to check water absorption is sometimes unavoidable (and very human.) If you must, be super fast.
Let it chill. While it is tempting to rush the rice to the table, always let it sit off heat. This allows the moisture to evenly distribute throughout the pot and completes the cooking process.
recipes to serve with basmati rice
Simple basmati rice is such a staple in my house that I buy it in large 5-pound bags, and I use it for making my Lebanese Rice Pilaf and Turmeric Rice. I also often cook it alone to serve with different proteins that pair well with rice including:
HOW TO REHEAT & STORE basmati rice
When reheating rice – either in the microwave or on the stovetop – first stir in a little bit of water to help rehydrate it. Start with about a tablespoon per cup and add more as needed. Then simply cook until it reaches the desired temperature.
HOW LONG WILL rice LAST IN THE FRIDGE?
Cooked basmati rice is good for up to five days in the refrigerator. This makes it perfect for meal prepping. Store in an airtight container. Remember, too, that cooked and cooled rice is the basis for fried rice and many rice puddings.
CAN I FREEZE rice?
Yes, packed into an airtight container, frozen rice is best used within six months. Right from the freezer, it's easy to cook in the microwave. Cover and zap at 30-second intervals until done. Or allow it to defrost in the fridge and then reheat on the stove.
FREQUENTLY ASKED QUESTIONS
How do you cook basmati rice in the Instant Pot?
The Instant Pot makes brilliant rice, and most multicookers have a specific rice/grain button. Start with the directions provided with your machine. Usually, a quick release is recommended to avoid overcooking. Likewise, limit the use of the keep-warm function.
I followed the recipe, but my rice is still gummy. What can I do?
Try tossing the rice in some oil or butter to help separate the grains. Start with a scant teaspoon or so.
Why do so many rice recipes tell me to use a heavy-bottomed pan?
Once the rice has reached the initial boil, it needs a low even temperature. Heavier pots distribute heat evenly. If cooking on electric coils that are slow to cool down, boil on one burner and then switch to a second burner set to low for the longer simmer.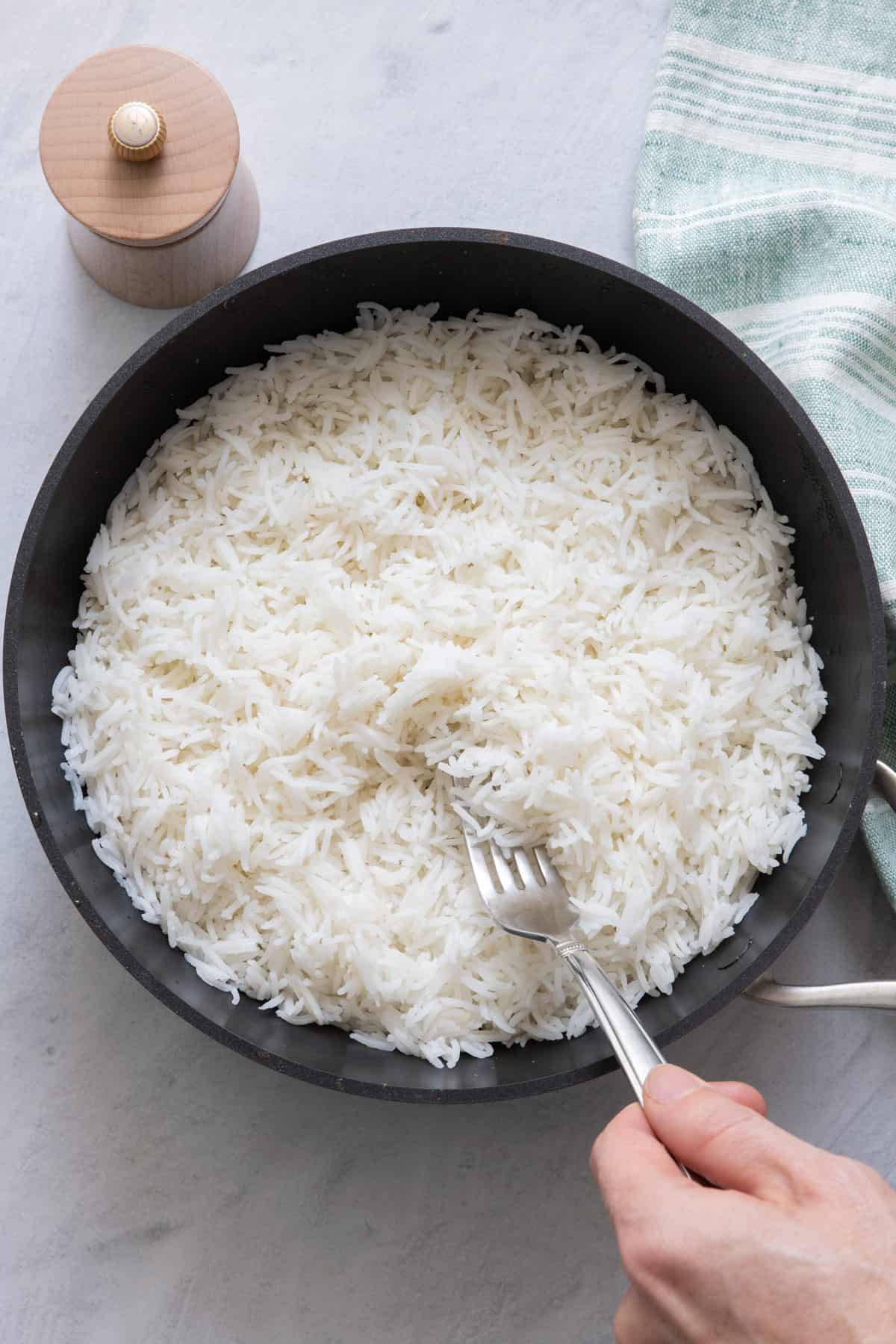 Whether meal prepping or making a quick weeknight side, basmati rice is a versatile ingredient that makes a fantastic addition to your pantry and cooking repertoire.
MORE grain cooking tutorials:
If you found this tutorial for How to Cook Basmati Rice helpful or if you try any recipe on Feel Good Foodie, then don't forget to rate the recipe and leave a comment below! It helps others who are thinking of trying out this tutorial and we would love to hear about your experience. And if you snapped some shots, share it on Instagram so we can repost on Stories!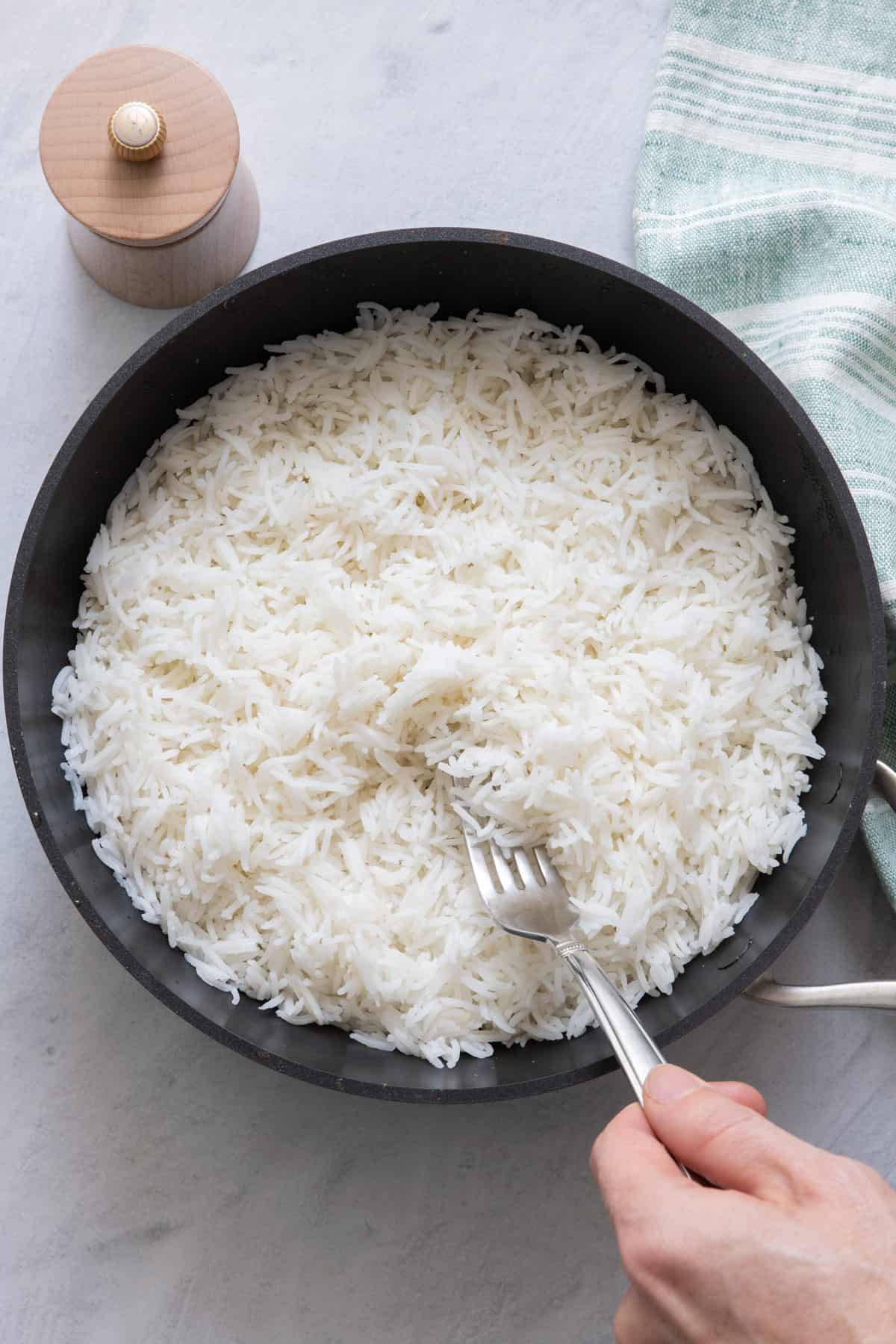 How to Cook Basmati Rice
Follow this simple guide for how to cook basmati rice with step-by-step instructions, best rice to water ratio, and perfect timing for fluffy long grain white rice!
Instructions
Measure the rice into a cup and level the top.

Rinse the rice in a fine mesh sieve thoroughly in cold water until the water runs clear.

Transfer the rice into a saucepan over medium-high heat. Sprinkle with salt, then add the water and bring to a simmer uncovered, about 5 minutes.

Using a wooden spoon, stir the rice in the pan to evenly distribute it, but don't over stir.

Lower the heat to low, cover with a tight fitting lid and cook for 18 minutes without opening the lid. Then turn the heat off.

Remove the saucepan from the heat. Allow the rice to rest for 5 minutes, without opening the lid, to absorb all the liquid and steam.

Fluff the rice with a fork to separate the grains, and serve.
Notes
Storage: Store cooked basmati rice in an airtight container and it is good for up to five days in the refrigerator. 
Nutrition
Calories:
169
kcal
,
Carbohydrates:
37
g
,
Protein:
3
g
,
Fat:
1
g
,
Saturated Fat:
1
g
,
Polyunsaturated Fat:
1
g
,
Monounsaturated Fat:
1
g
,
Sodium:
298
mg
,
Potassium:
53
mg
,
Fiber:
1
g
,
Sugar:
1
g
,
Calcium:
16
mg
,
Iron:
1
mg
Nutrition information provided is an estimate. It will vary based on cooking method and specific ingredients used.