This post may contain affiliate links. Please read our disclosure policy.
Learn how to cook lentils of all types. These protein-rich legumes are the basis of the Lebanese classic mujadara recipe, Indian dal, and about a million soups and stews of all kinds. They're also great in salads, pasta sauces, and veggie burgers. With this easy tutorial, you can learn how to cook lentils properly for any recipe!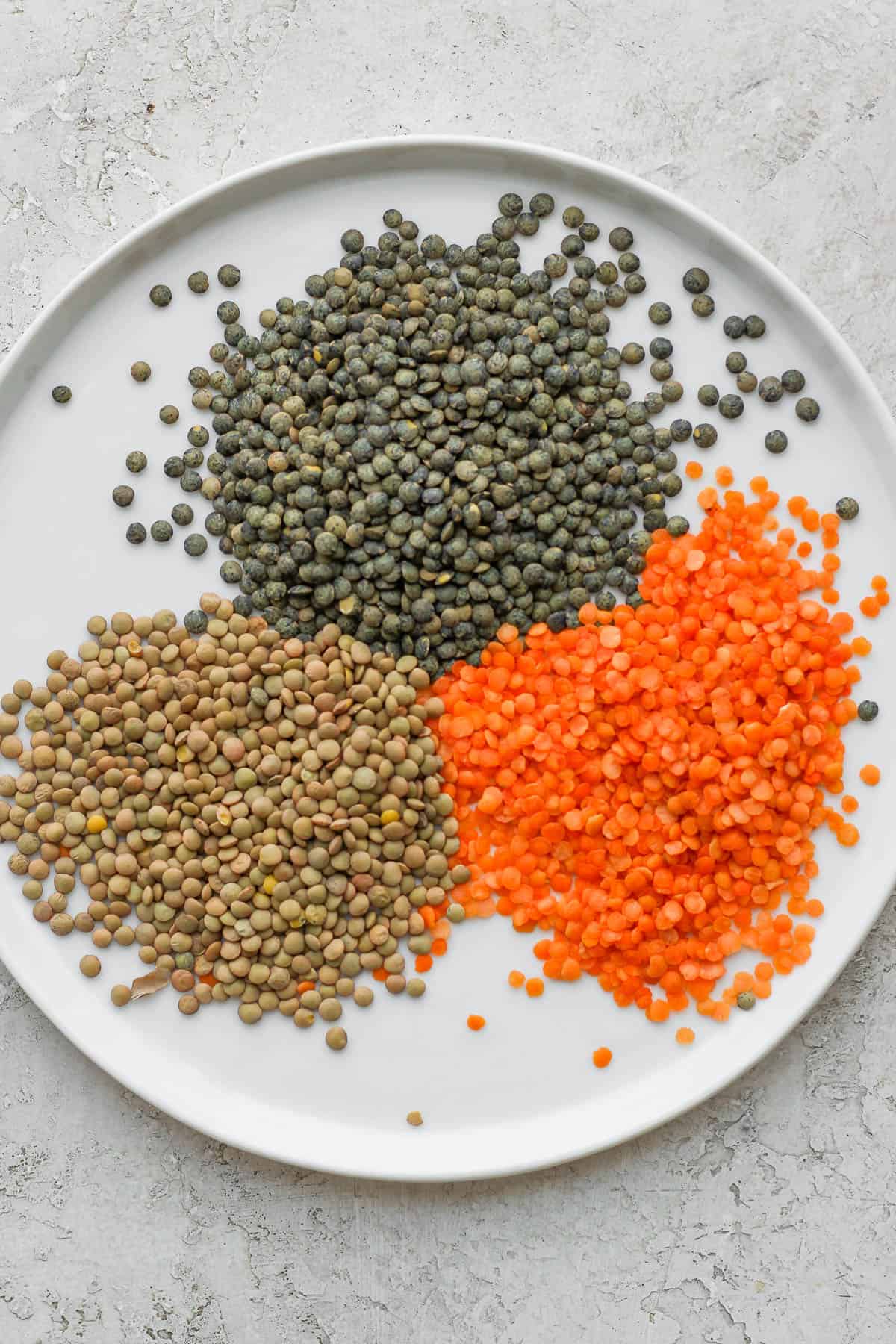 These tiny legumes are bursting with good things. Although nutrition varies slightly among types, a half-cup serving offers up roughly 30 percent of a day's fiber and 30 percent of a day's protein. That makes them an important part of a meat-free diet for one of the best plant-based proteins.
what are the different types?
Brown Lentils – This is the most common type found in grocery stores and the type most U.S. recipes call for in "lentil" in soup. They hold their shape well but can also be cooked longer and mashed for veggie burgers. Brown to khaki colored, these are standard for mujadara.
Green Lentils – Known as French lentils or Puy lentils, these might be harder to find and tend to be more expensive. They are a bit more flavorful and hold their shape very well for salads or as a stand-alone side. Another variety, the black beluga, is used similarly.
Red Lentils – The red (and yellow) types are the speediest cookers and break down rapidly because their outer skin has been removed and they are split. Considered the sweetest lentils, put them creamy dals or my crushed lentil soup.
how long to cook lentils
Lentils are the quickest cooking legumes, usually in 20-40 minutes, depending on the kind. If purchased in a package, follow those directions. Generally, you can follow these cook times:
Green lentils: 30-45 minutes
Brown lentils: 20 minutes
Red lentils: 15 minutes
How to cook brown lentils
Rinse the lentils and pick out any tiny stones, debris or funky bits.
Bring a pot of salted water to boil and add lentils.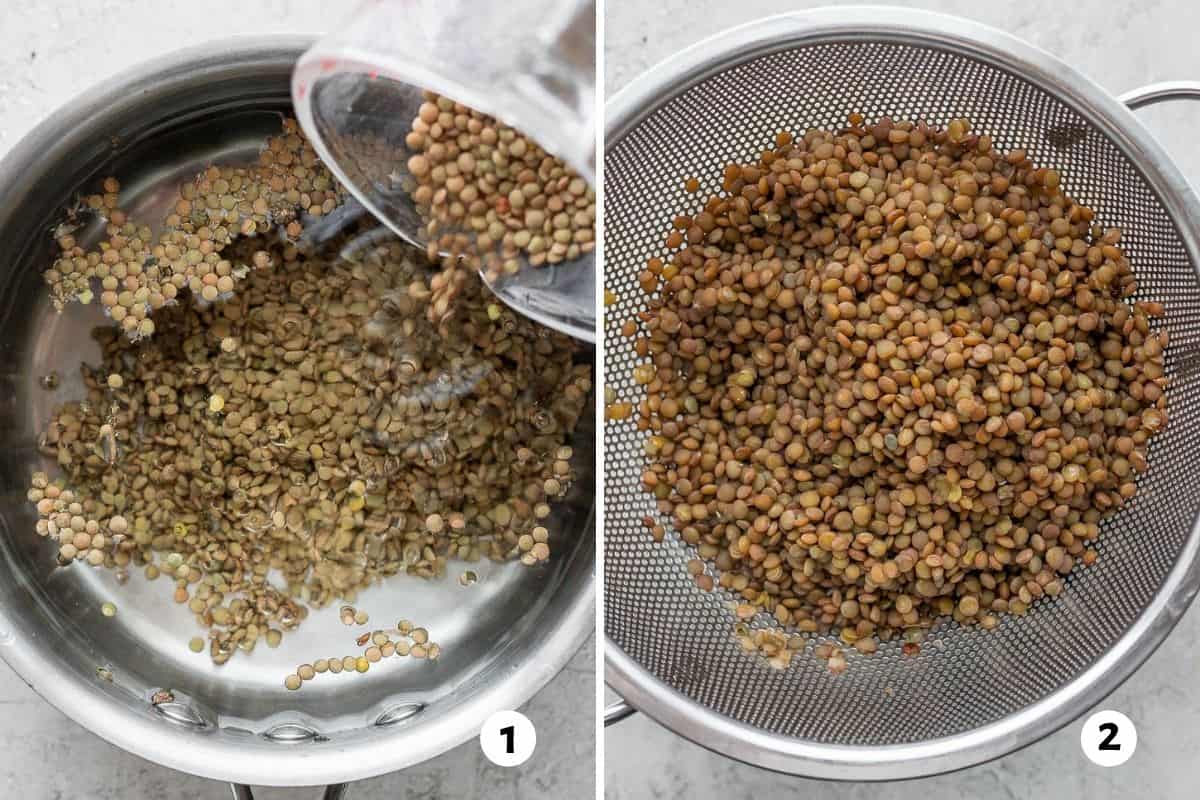 Cover and reduce heat to a low simmer until tender and fluffy on the inside. You can then drain and serve or cool and use in a cold salad.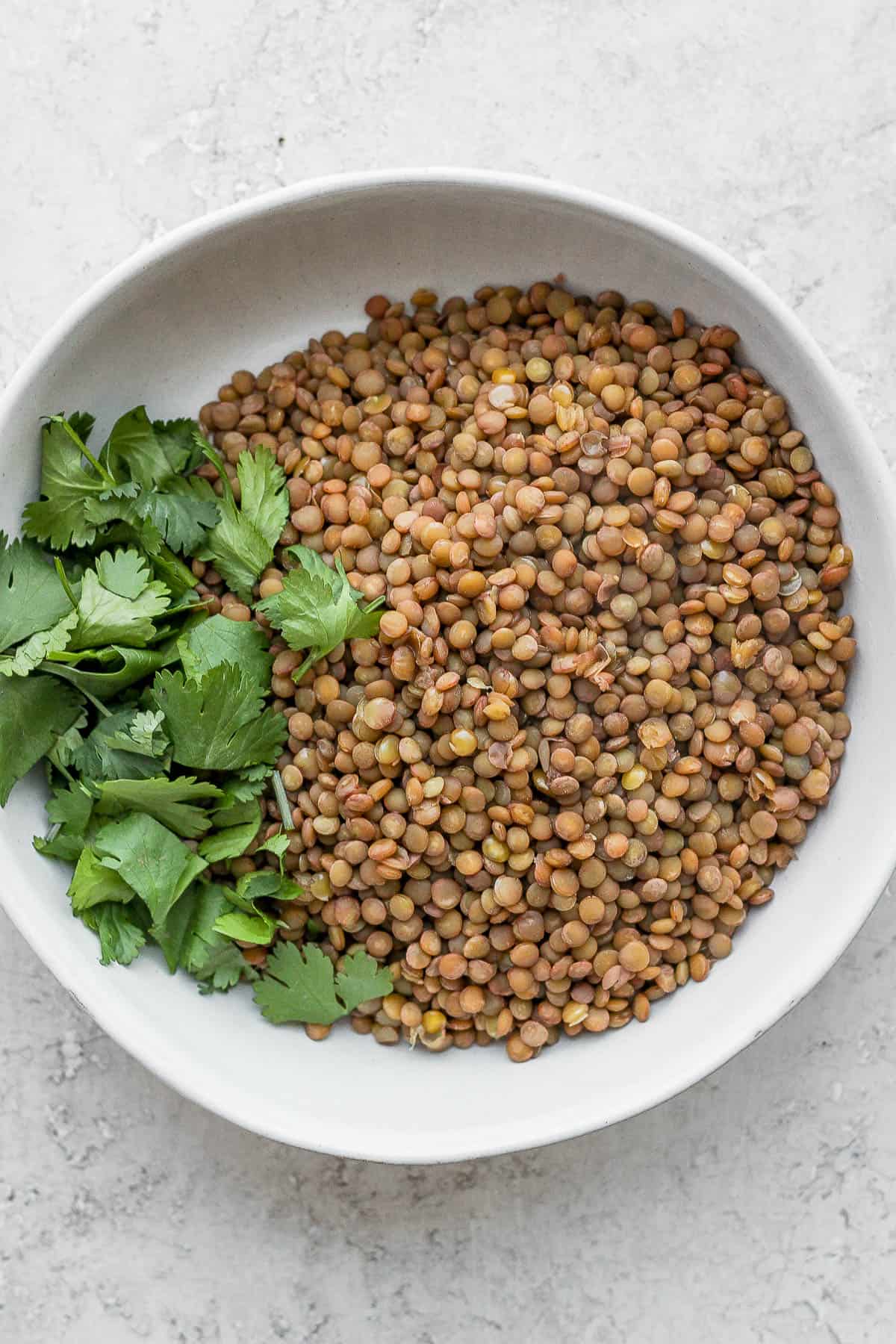 How to cook red lentils
Rinse the red lentils, picking out any tiny stones, and set the lentils aside. Bring a pot of salted water to boil and add the lentils.
Cover, reduce the heat and simmer stirring occasionally until done. Don't go too far because red and yellow lentils cook quickly.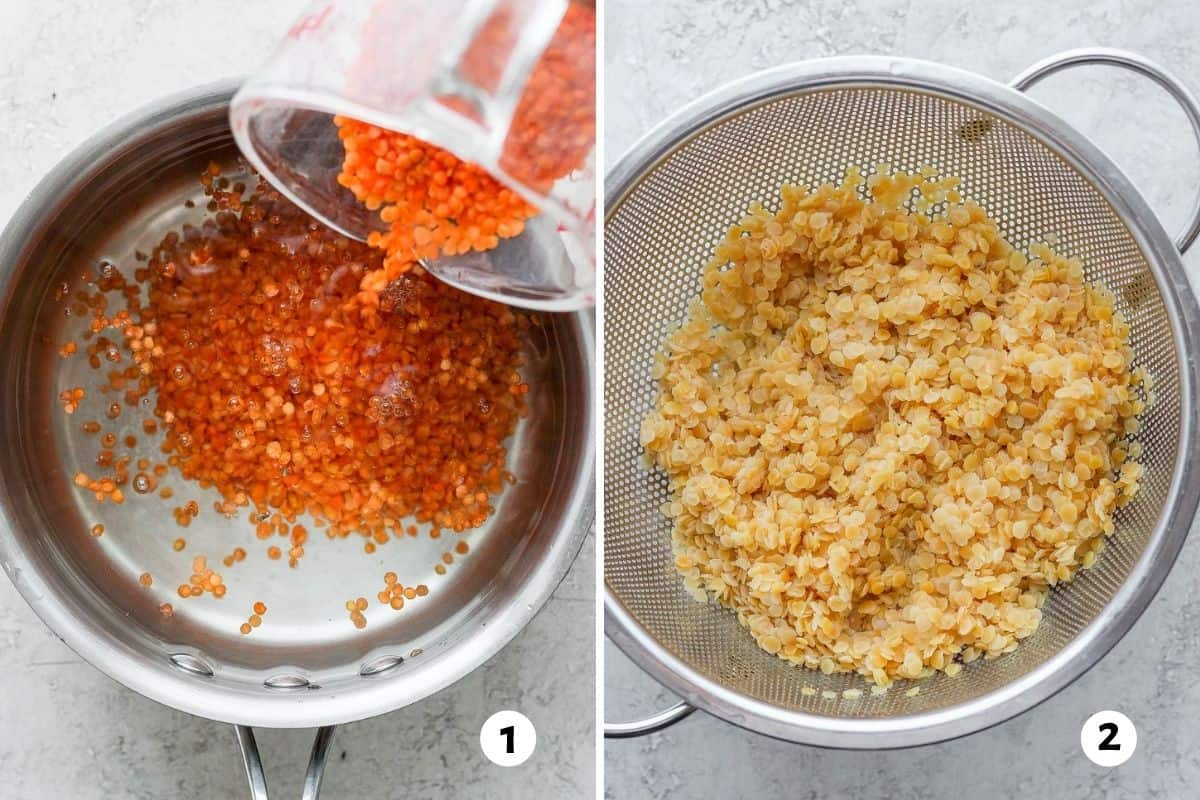 You'll know they're done with their color lightens up and they start to fall apart. You can add additional time if needed if you have a recipe that calls for mashing them.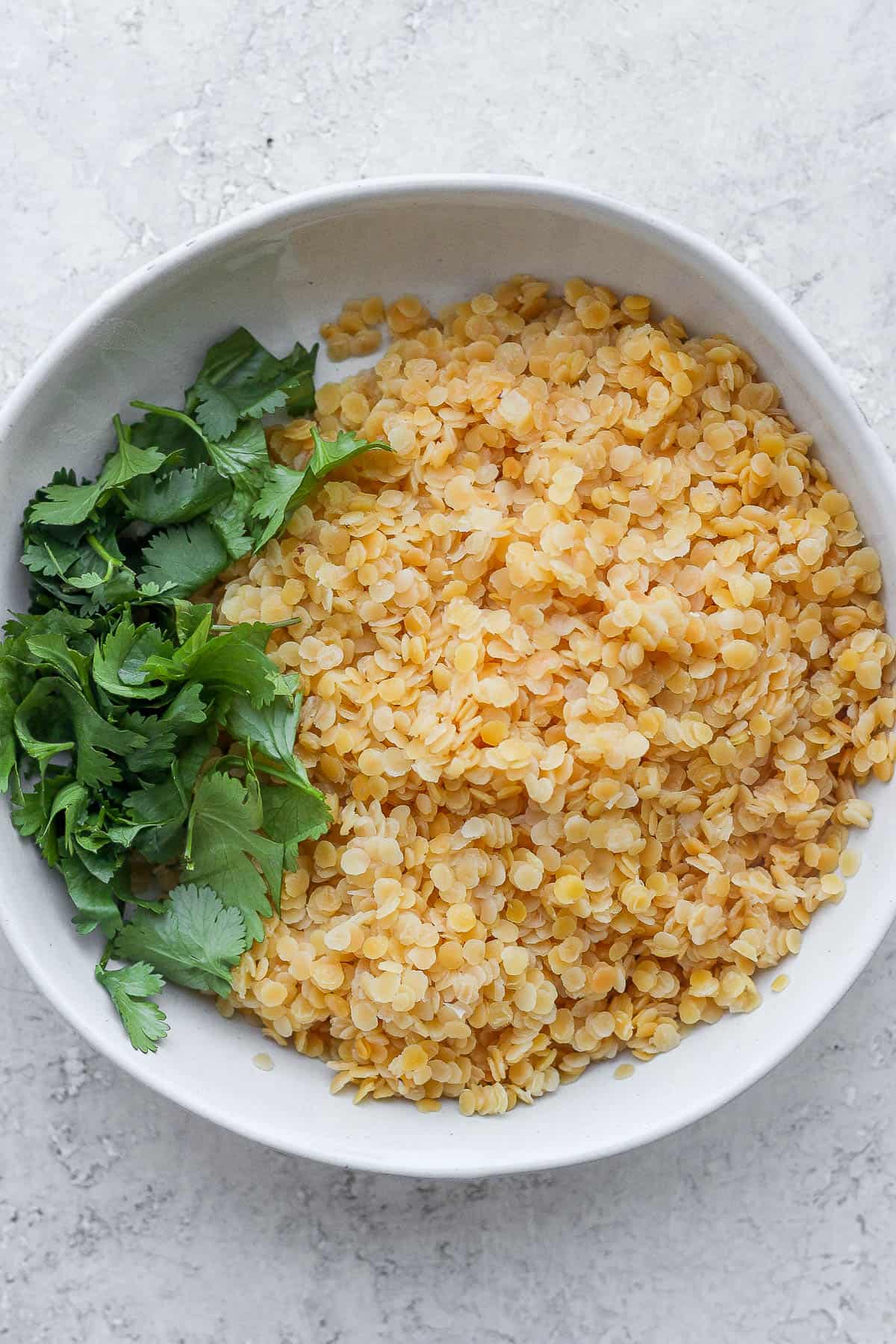 How to cook green lentils
Rinse lentils, and add them to a pot of boiling salted water. Cover and reduce heat and simmer, stirring once in a while until tender. This variety will take the longest to cook.
Drain the green lentils using a mesh sieve strainer to avoid losing any of the cooked lentils.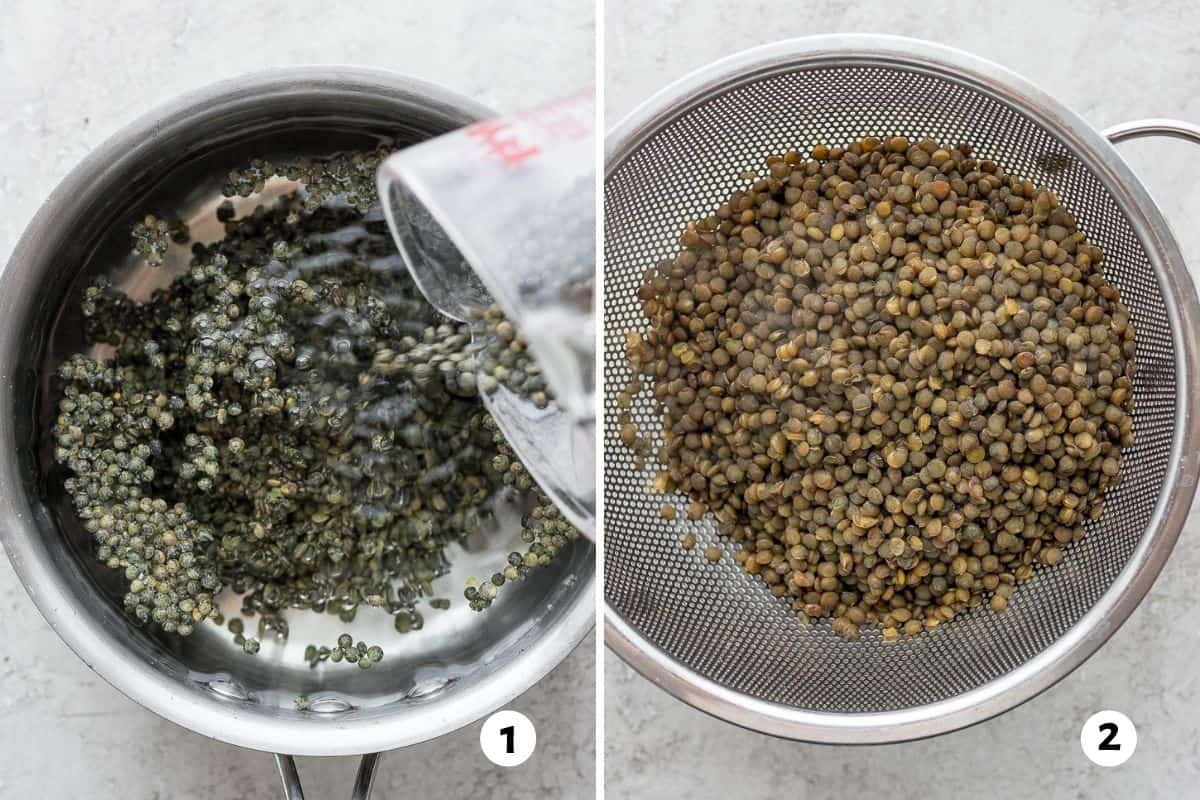 You will notice that the green ones hold their shape best out of all varieties even though they have the longest cooking time. It makes them great for rice pilafs and salads.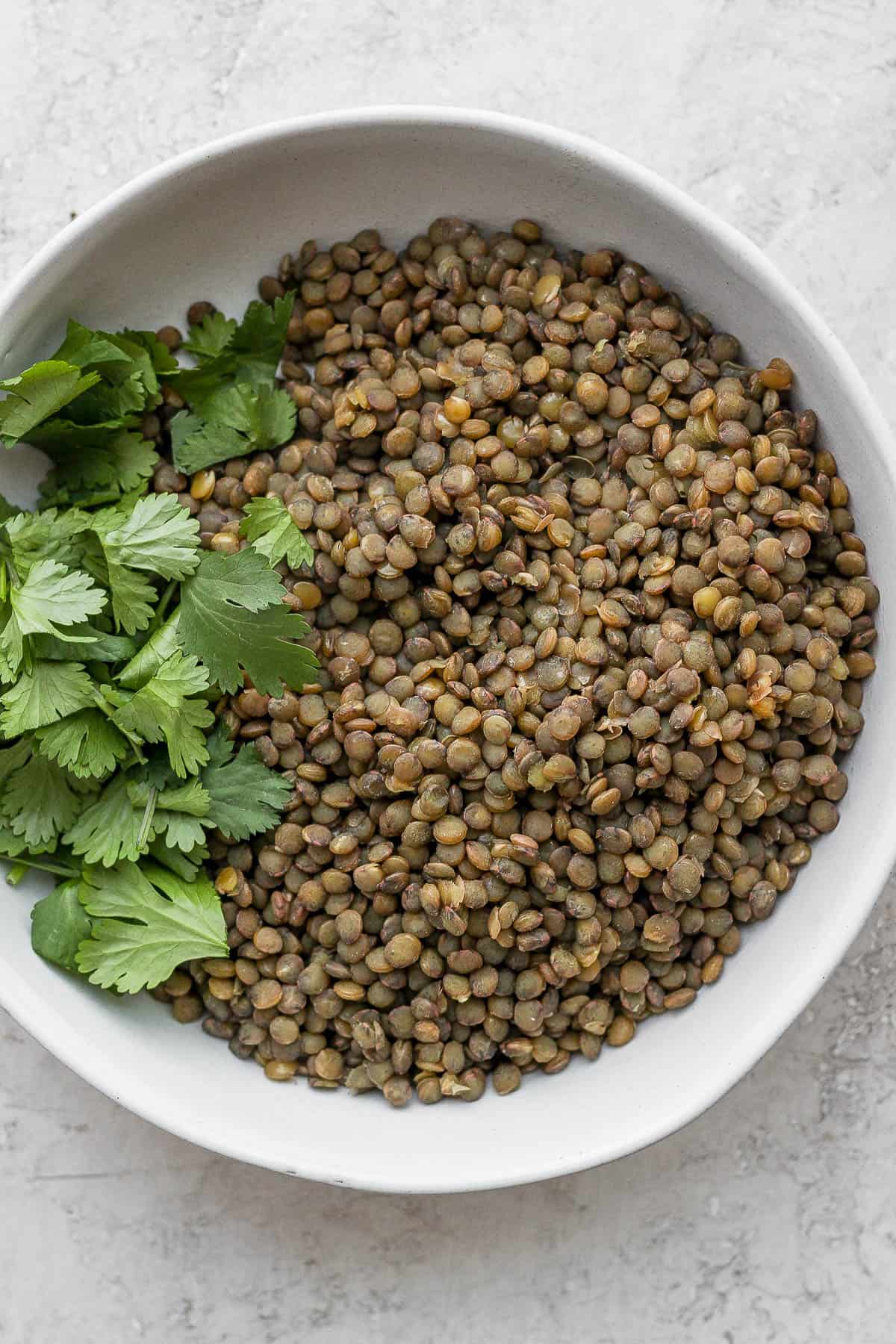 Tips for cooking dried lentils
Add enough water to cover the lentils when cooking. You will need three to four cups for each one cup of legume. They won't absorb it all but it helps them cook evenly.
Salt the water for best flavor. Just like you cook pasta in a pot of salted water, you want to cook lentils the same way to ensure they are well seasoned from the beginning.
Cook them slow and steady. Boiling will blast them apart without evenly cooking so don't rush the process.
Buy the freshest ones you can find. While they keep up to a year, like any legume the older they are the tougher they will be. You might find that the bulk bin sections of your local grocery store might have the freshest options.
Amp up the flavor. Instead of cooking with water, try cooking the lentils in a vegetable or chicken stock. You can also consider or adding some herbs like parsley and cilantro or aromatics like bay leaves.
lentil recipes
HOW TO REHEAT & STORE lentils
After cooking the lentils, make sure to allow them to cool completely to room temperature, then store in a sealed container in the fridge for up to one week.
HOW LONG WILL FLATBREAD LAST IN THE FRIDGE?
Tightly wrapped or sealed in a ziplock bag, it will last for a week to 10 days in the refrigerator.
CAN I FREEZE FLATBREAD?
If you are not going to eat the lentils within seven days, freezing is a good option. Place in a freezer-grade ziplock bag with the air sucked out or in a freezer grade tupperware and and it should be good for two to three months. Thaw overnight in the fridge or reheat in the microwave for 1-2 minutes.
Frequently asked questions
Do you have to soak lentils before cooking?


No soaking is needed. Lentils will soften and cook quickly without requiring an overnight soak like some legumes do.
What goes well with lentils?
In Middle Eastern recipes, lentils pair really well with rice in many dishes. You'll see it in rice pilafs, soups with rice and even lentil cakes. They are also a great plant-based substitute for recipes that contain ground beef like tacos or bolognese.
How do you know when lentils are fully cooked?
The best way to tell if lentils are cooked is to try to mash one with a fork. If it's easy to mash it, it's fully cooked. If it doesn't give or just breakfast, you may need to simmer if for a few extra minutes.
Lentils are an economical and speedy way to add iron and heart-healthy vegan protein to your diet. With this tutorial, you can now cook three different types of lentils to add the soups, stews, salads and more.
More cooking tutorials:
If you find this tutorial for How to Cook Lentils helpful or if you try any recipe on Feel Good Foodie, then don't forget to rate the recipe and leave a comment below! It helps others who are thinking of trying out this tutorial and we would love to hear about your experience. And if you snapped some shots, share it on Instagram so we can repost on Stories!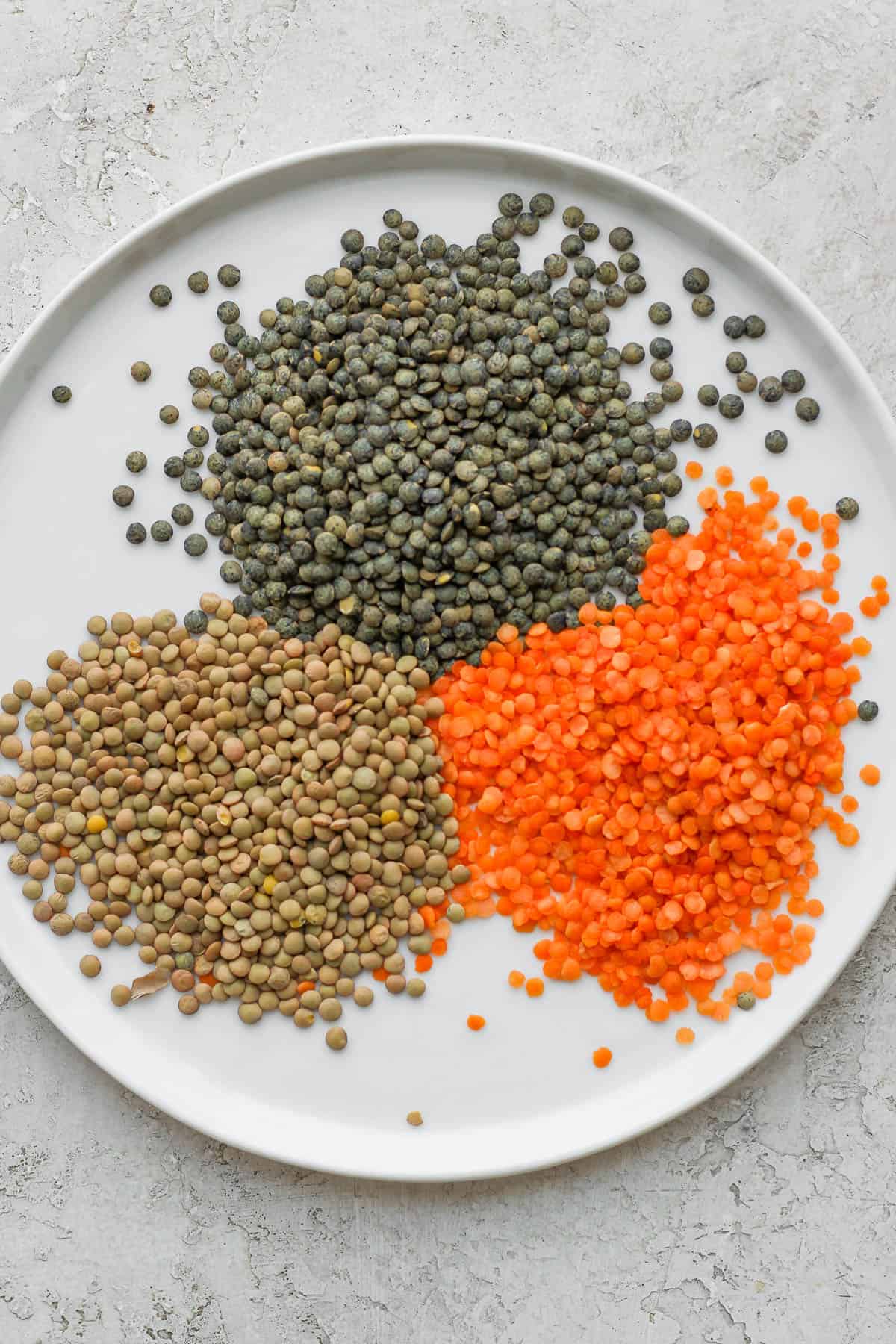 How to Cook Lentils
Learn how to cook lentils for any recipe type. This tutorial will teach you how to cook brown lentils, red lentils and green lentils perfectly for soups, stews and salads!
Instructions
Rinse lentils well and set aside.

Bring a pot of lightly salted water to a boil, add lentils.

Cover, reduce heat and simmer the lentils, stirring occasionally for 15-40 minutes or until tender and fluffy textured on the inside. In general, red lentils will take 15 minutes, while brown will take 20 minutes and green lentils will take up to 40 minutes.

Drain any extra water and serve, or cool to use in a salad
Notes
Storage: After cooking the lentils, make sure to allow them to cool completely to room temperature, then store in a sealed container in the fridge for up to one week.
Nutrition
Calories:
169
kcal
,
Carbohydrates:
29
g
,
Protein:
12
g
,
Fat:
1
g
,
Saturated Fat:
1
g
,
Polyunsaturated Fat:
1
g
,
Monounsaturated Fat:
1
g
,
Sodium:
3
mg
,
Potassium:
458
mg
,
Fiber:
15
g
,
Sugar:
1
g
,
Vitamin A:
19
IU
,
Vitamin C:
2
mg
,
Calcium:
27
mg
,
Iron:
4
mg
Nutrition information provided is an estimate. It will vary based on cooking method and specific ingredients used.
Photo Credit: Erin Jensen