This post may contain affiliate links. Please read our disclosure policy.
This Lebanese crushed lentil soup is one of my favorite childhood recipes. It's vegan, easy to make, and is the perfect comfort food. Made with a handful of ingredients, this healthy and hearty lentil soup is the perfect dinner! Plus, it's ready in just 30 minutes.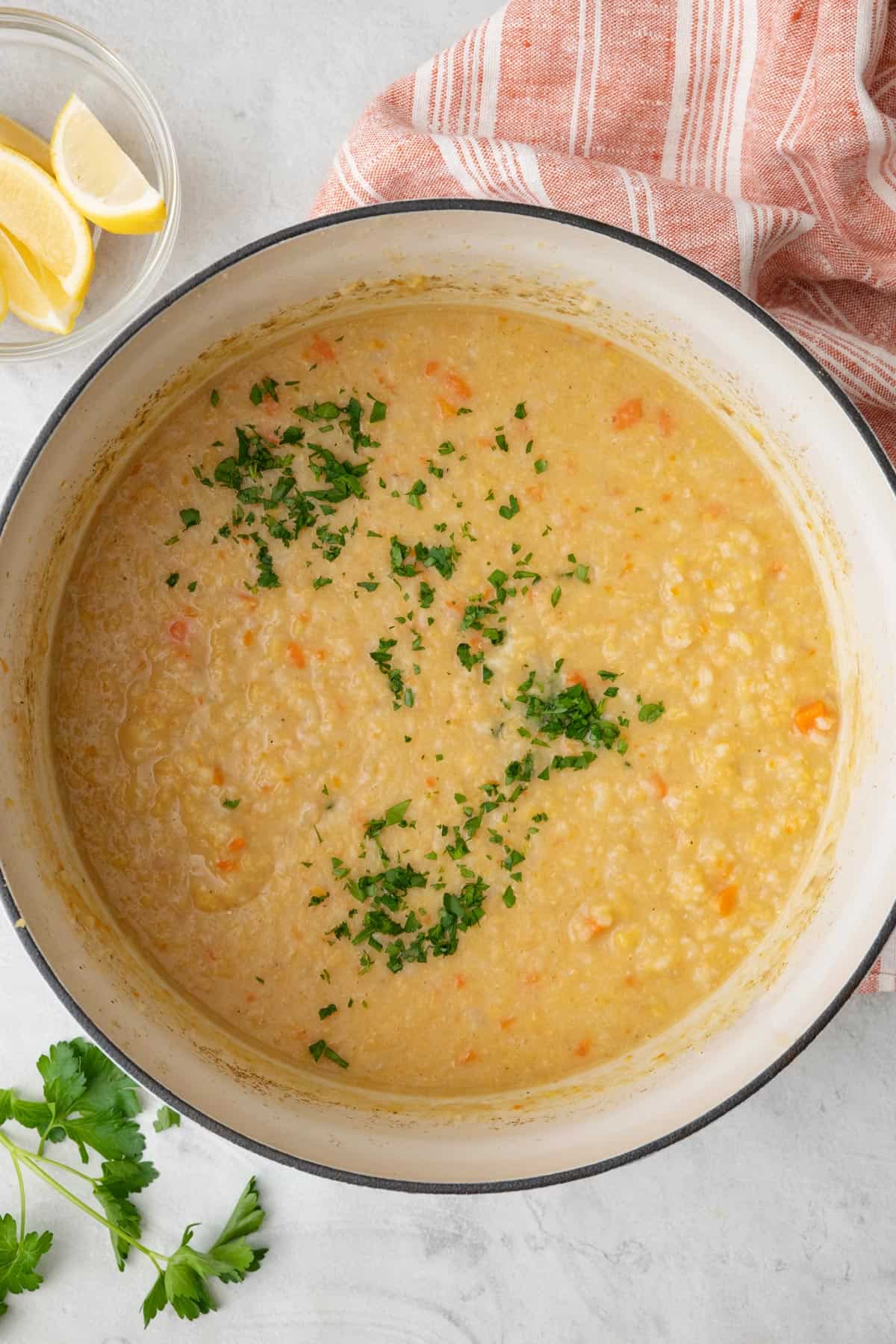 Table of Contents
Crushed Lentil Soup, called Shorbat Adas in Arabic, is a staple Lebanese recipe that I couldn't live without! It's traditionally made with red lentils, onions, cumin, and lemon juice. But my mom always added short-grain rice and carrots to her lentil soup recipe to make it hearty and colorful, so that's what I started doing. This is one of the most iconic soup recipes in Lebanon, and it's especially popular during the month of Ramadan, when many Muslims break their fast with this heartwarming soup.
Why you'll love this Lebanese lentil soup recipe
Vegan: This delicious and hearty lentil soup is completely plant-based, making it a fantastic choice for vegans, vegetarians, or anyone looking to incorporate more meat-free meals into their diet.
Made with a handful of ingredients: With just a few simple ingredients, you can create a flavorful and comforting meal that will impress your family and friends. No need for a long list of spices or expensive ingredients to achieve incredible taste.
Filling: Lentils are a powerhouse of nutrients, including protein, fiber, and essential minerals. This soup will keep you feeling satisfied and energized for hours, making it perfect for a satisfying lunch or a cozy dinner.
Ingredients to make Lebanese crushed lentil soup
Olive Oil: The perfect base for any soup, olive oil adds a lovely richness and depth of flavor. Just heat it up and let the magic begin!
Onion: A soup essential! Chopped onion provides a delightful sweetness and aroma that adds dimension to the lentil soup.
Salt and freshly ground black pepper: Seasoning is key to bringing out the best flavors in your ingredients. A pinch of salt and a crack of pepper go a long way in enhancing the overall taste of the soup.
Carrots: Chopped carrots add a touch of natural sweetness and vibrant color to the lentil soup.
Red Lentils: I like to use red lentils in my lentil soup, but you can use yellow if you prefer. Just make sure you rinse them before you add them to the pot to get rid of any debris. They're high in protein and cook relatively quickly, making them a great choice for a speedy meal.
Short-grain white rice: Rinsed short-grain white rice adds a lovely texture to the soup, making it even more satisfying. Plus, it's a great source of energy and helps thicken the soup as it cooks.
Cumin: This warm and earthy spice is a staple in Lebanese cuisine, giving a delightful depth of flavor to the lentil soup.
Water: The base of the soup, water, brings all the ingredients together and allows the flavors to meld perfectly. Feel free to adjust the amount to achieve your desired consistency.
Lemon juice: A squeeze of fresh lemon juice after the soup is done cooking adds a zesty brightness, balancing out the flavors and taking the dish to a whole new level.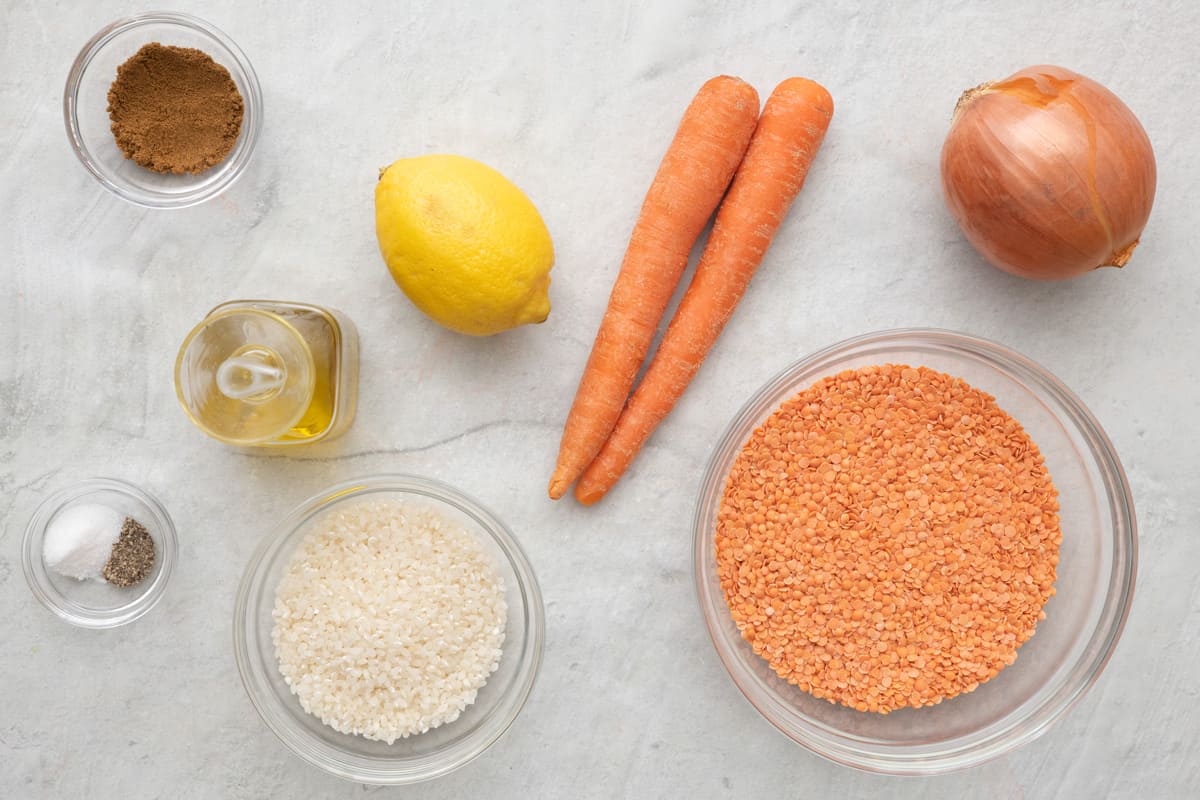 How to make crushed lentil soup
Heat the olive oil in a large, heavy-bottomed pot. Add the onions, salt, and pepper. Cook, stirring occasionally, until softened.
Add the carrots, lentils, rice, and cumin. Season again with salt and pepper. Cook, stirring frequently, until the cumin is fragrant.
Add water and bring the soup to a boil.
Reduce the heat and cook, until the rice and lentils are fluffy and fully cooked.
The soup is ready to serve as is. But I like to use an immersion blender to give it a smooth texture.
Stir in some lemon juice to finish it up with a fresh zing!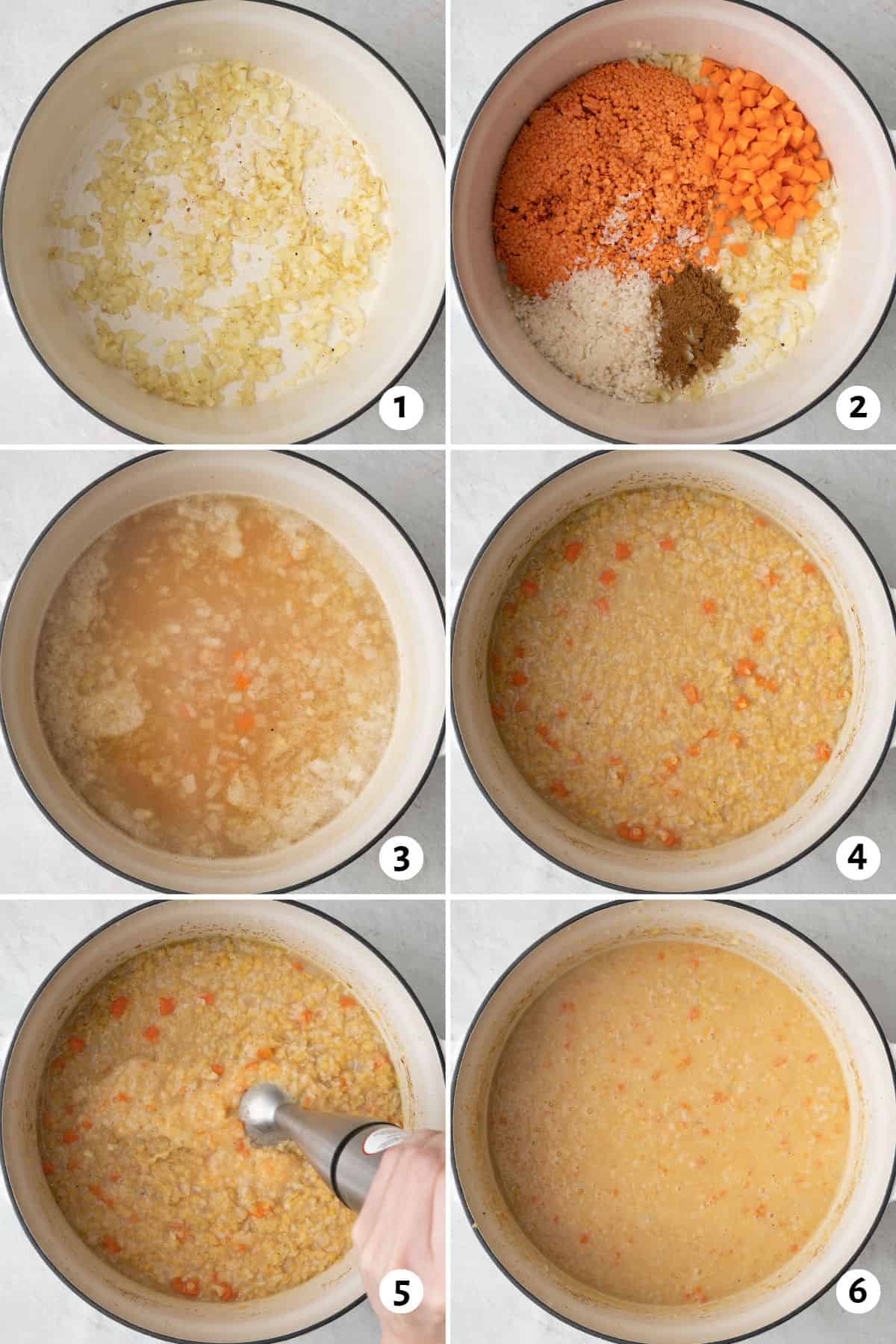 RECIPE VIDEO TUTORIAL
Tips for making the best lentil soup
Use red lentils (they technically look orange) or yellow lentils for this recipe. Both kinds are small split lentils, as the crushed lentil soup name suggests, and have a very soft texture when cooked. So that makes them ideal for this soup recipe.
Stir a few times while the lentil soup is cooking to avoid the lentils burning or sticking to the pot, which can happen sometimes. You can also gradually add more water as you're stirring for a thinner consistency if you'd like. Keep in mind that the soup will thicken as it simmers and especially the next day.
Sauté the onions before adding the lentils. I always prefer to saute my onions when I start any soup recipe because it enhances the flavor. But if you're in a rush, you can absolutely just toss everything together in a pot at the same time and bring it all to a boil together.
Add lemon juice before serving. The lemony taste of the soup adds brightness to the warm hearty crushed lentils. Adding them after the soup is fully cooked ensures the freshest flavor without making the soup sour.
Popular substitutions & additions
Use brown rice instead of white rice. If you're using brown rice, make sure to allow for extra cooking time so that the rice fluffs up. And it's best to use short grain if possible for the best consistency.
Add more vegetables. The beauty of the recipe is in its simplicity. But because of the consistency of lentils that become crushed as they cook and because of the blending, you can add other vegetables without impacting the way the recipe looks. I don't usually alter my recipe too much, but if you'd like, you can try adding celery, jalapeno peppers, or even zucchini.
Add more spices. The only seasoning included in traditional crushed lentil soup is cumin, salt, and pepper. However, you can also add paprika, cinnamon, and turmeric, which would work really well with the flavors of the soup.
Use vegetable broth instead of water. This will enhance the flavor of the soup if you'd like to make the swap.
How to store & reheat Lentil Soup
Let the soup cool to room temperature before transferring it to a container and storing it in the fridge. To reheat, transfer the soup to a pot, add a splash of water and heat on medium until just warm and serve.
How long will lentil soup last in the fridge?
Let the soup cool to room temperature and store in an airtight container, it will last about 5 days in the fridge and you simply reheat it on the stovetop.
Can I freeze crushed lentil soup?
Yes, this soup is very freezer friendly and works great. Make sure to cool the soup completely before freezing it. It helps to freeze the soup in smaller serving sizes instead of freezing the entire quantity, so it's easier to reheat as needed. Reheat the soup on the stovetop or in the microwave, and be sure to add some water as it will thicken.
Frequently asked questions
Can I use green lentils to make crushed lentil soup?
I would not recommend using green lentils have a more firm consistency as compared to red lentils. The essence of the crushed lentil soup is how crushed the red lentils become when cooked. So you would lose that aspect if you use green lentils. Instead, try my Green Lentil Soup, which is very similar but uses kale instead of rice.
Do you have to soak lentils before making soup?


Nope! You do not need to worry about soaking the lentils beforehand.
What if I don't have an immersion blender to blend the soup?

You can actually leave the soup as is without blending it, which is every common especially if you leave out the carrots. You can also blend the soup in portion in a blender.
This Crushed Lentil Soup is my go-to soup when it's cold outside, and I want something filling, something nutritious, and something that my kids will eat without complaining. In fact, they do a little soup dance when I make this. And if you've eaten at Lebanese restaurants, you'll see this as a staple soup on all menus. Some make it without carrots, and others leave out the rice. I say throw in the carrots and the rice and go crazy with the lemon juice in the end!
For more soup recipes:
If you try this feel good Crushed Lentil Soup recipe or any other recipe on Feel Good Foodie, then don't forget to rate the recipe and leave a comment below! It helps others who are thinking of making the recipe. We would love to hear about your experience making it. And if you snapped some shots, share it on Instagram so we can repost on Stories!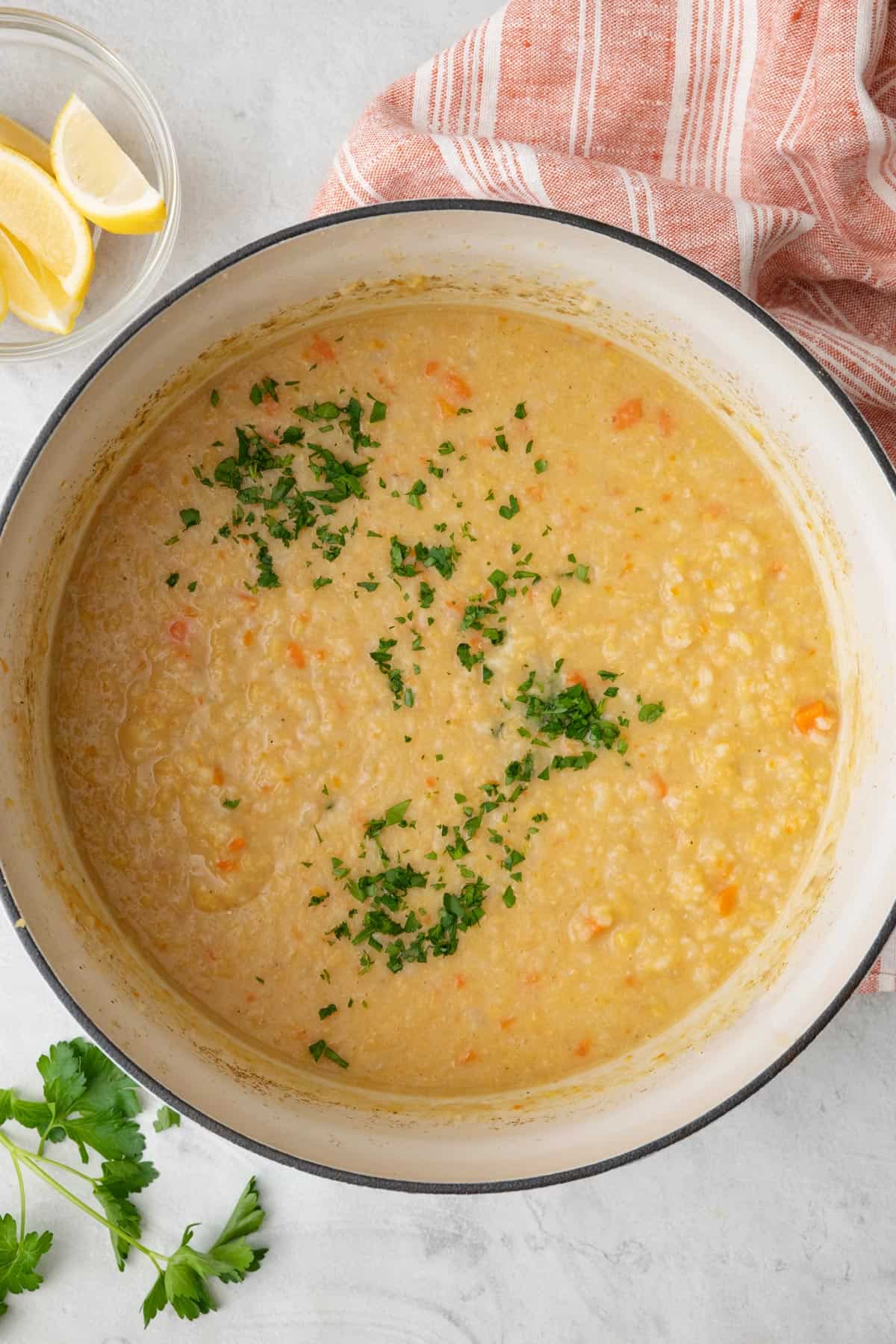 Lebanese Crushed Lentil Soup
Learn how to make this authentic healthy Lebanese Crushed Lentil Soup in 30 minutes! Made with simple pantry ingredients, it's vegan, hearty and so filling!
Ingredients
1

tablespoon

olive oil

1

onion

chopped

1

teaspoon

salt

divided

½

teaspoon

black pepper

divided

2

carrots

chopped

1 ½

cups

red lentils

rinsed

½

cup

short grain white rice

rinsed

2

teaspoons

cumin

8

cups

water

1

lemon

juiced

Chopped fresh parsley

for garnish
Instructions
Heat the olive oil in a large, heavy bottomed pot over medium heat. Add the onions, ½ teaspoon salt, and ¼ teaspoon pepper. Cook, stirring occasionally, until softened, 5 to 8 minutes.

Add the carrots, lentils, rice, and cumin. Season again with the remaining salt and pepper. Cook, stirring frequently, until the cumin is fragrant, 2 to 3 minutes.

Add 8 cups of water and bring the soup to a boil. Reduce the heat to low and cook, covered, but stirring once or twice throughout, until the rice and lentils are fluffy and fully cooked, 25 to 30 minutes.

Using an immersion blender, pulse the soup a few times to achieve a coarse yet creamy consistency. The soup will continue to thicken as it sits. Stir in the lemon juice and chopped fresh parsley to serve.
Notes
Storage: Store any leftovers in an airtight container. The soup will last about 5 days in the fridge. Sourcing: You can find red lentils at Middle Eastern markets, natural-foods stores or even in large supermarkets, often located with other Middle Eastern ingredients.
Nutrition
Calories:
259
kcal
,
Carbohydrates:
45
g
,
Protein:
13
g
,
Fat:
3
g
,
Saturated Fat:
0.5
g
,
Polyunsaturated Fat:
1
g
,
Monounsaturated Fat:
2
g
,
Sodium:
36
mg
,
Potassium:
576
mg
,
Fiber:
15
g
,
Sugar:
3
g
,
Vitamin A:
3427
IU
,
Vitamin C:
14
mg
,
Calcium:
61
mg
,
Iron:
4
mg
Nutrition information provided is an estimate. It will vary based on cooking method and specific ingredients used.