This post may contain affiliate links. Please read our disclosure policy.
This Vegetarian Lemon Rice Soup is one of those comforting soup recipes that's so easy to make, loaded with vegetables, and keeps you feeling full and satiated. You can easily make this vegan lemon soup with very simple ingredients that you probably already have in your fridge!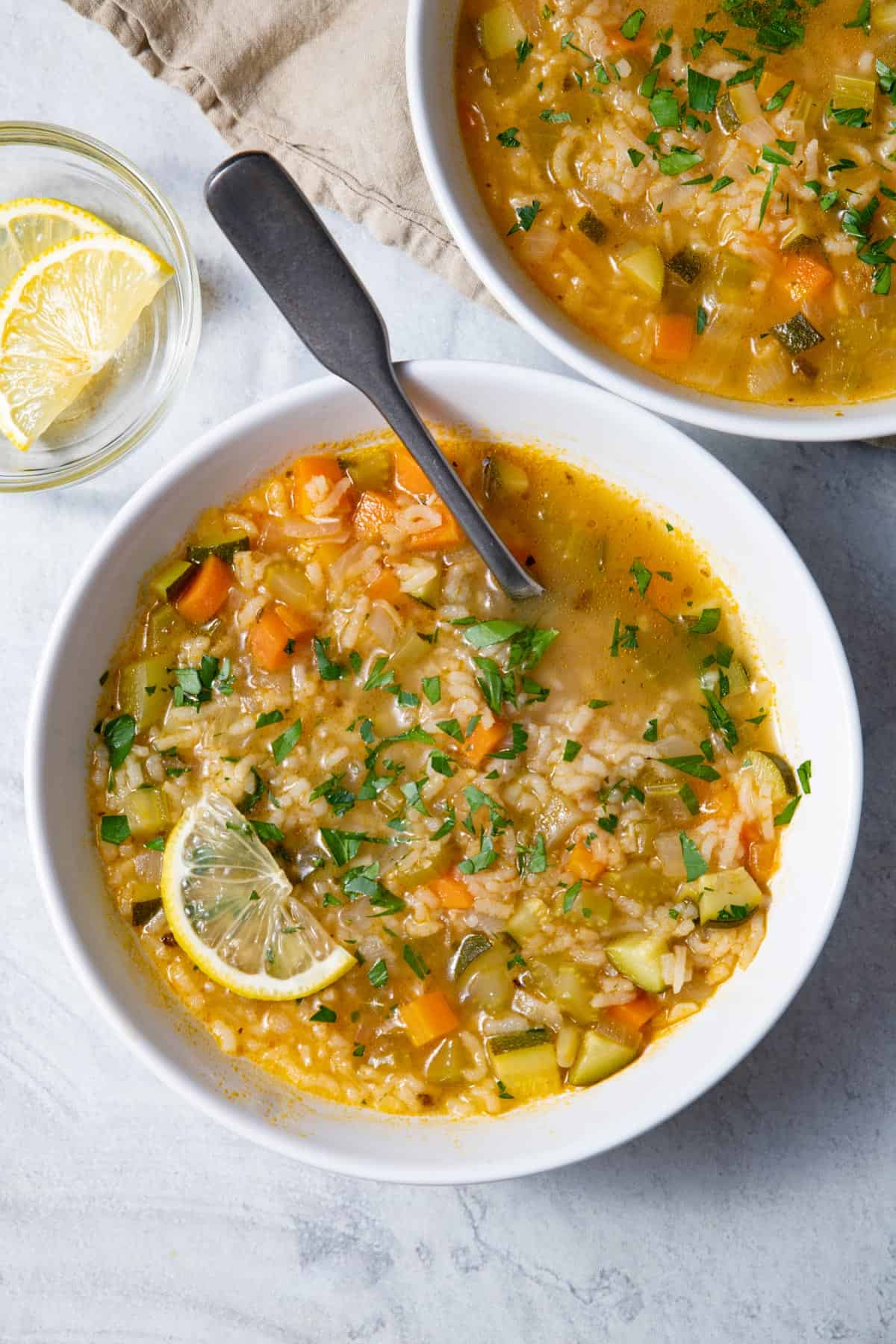 What I love about this vegetarian lemon rice soup is that it's loaded up with vegetables with an added zing of flavor from the lemon.
Lemons are actually is very refreshing and an appetite stimulant, so they can make that zucchini, carrots, and celery taste even better so you truly enjoy this soup!
What does adding lemon to soup do?
Not only does the addition of lemon create great flavors but it also adds a brightness overall to the soup. The acidity of the lemon can pair with veggies (and meats if you have soups with meat in them) to create a brighter overall look.
It's a great way to cut down on sodium while giving your recipes a flavorful boost. There are some people that will actually add lemon juice to their recipes and soups over adding salt.
It does a great job of breaking down the grease in recipes to make it have an overall lighter texture.
It acts as an appetite stimulant, so it will make all the other vegetables in this soup even more enjoyable!
Ingredients to make lemon rice soup
Olive oil – You'll use these to saute up the vegetables in the skillet prior to adding in the rest of the soup ingredients.
Onion – Chop the fresh onion into bite-sized pieces.
Carrot – You can peel carrots and cut them up or chop up baby carrots and use them as well.
Celery Stalks – Wash and clean them well and them chop them into bite-sized bits.
Garlic Cloves – Fresh garlic cloves add so much flavor to this soup!
Zucchini – For a bit of added texture and fiber, leave the outer layer of the zucchini on and chop up.
Short-grain rice – Short-grain rice adds a good texture that won't overtake the soup.
Fresh lemon juice – Such a great way to add another level of flavor!
Seasonings: Adding in the oregano, Salt, Black Pepper, Bay leaves, Fresh parsley help to enhance and complete the taste.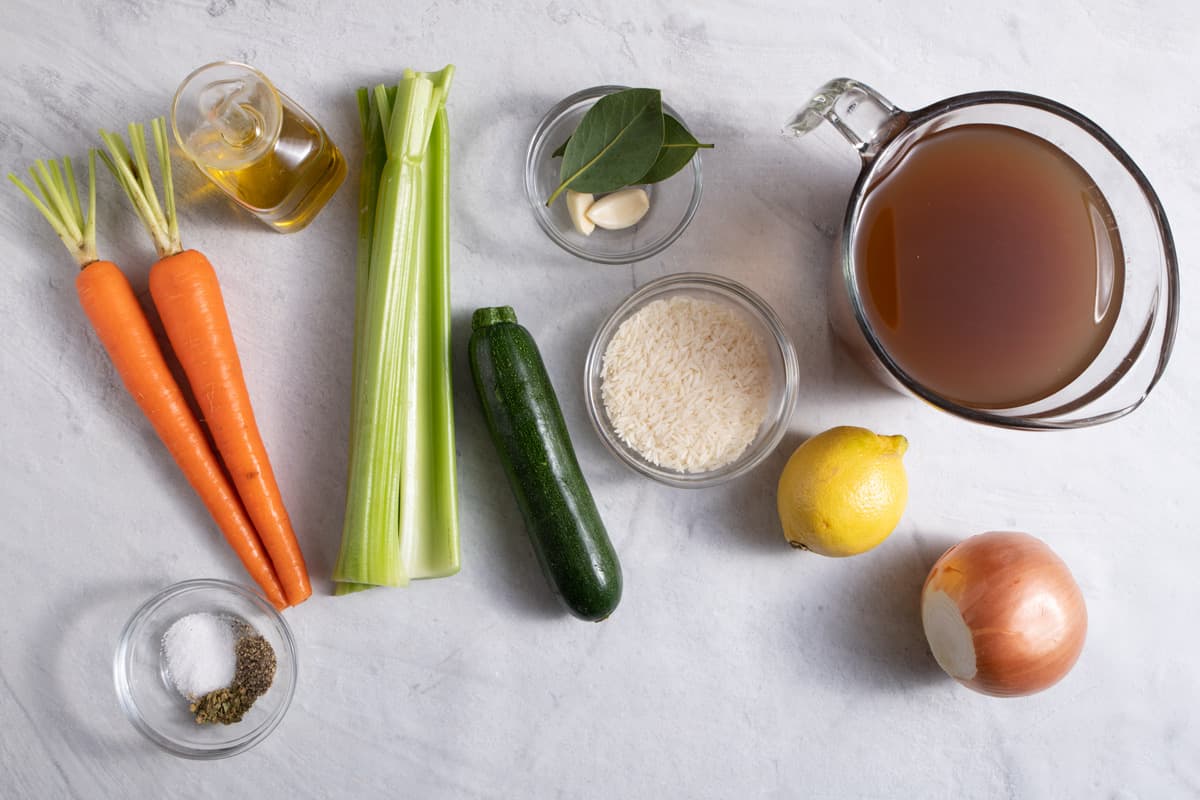 RECIPE VIDEO TUTORIAL
How to make vegan lemon soup
Start with 4 simple everyday ingredients: onions, carrots, celery and fresh or frozen garlic. Then, cook the vegetables with olive oil, salt and pepper until they slightly soften.
Next, add the seasoning, the zucchini and short grain rice along with a couple bay leaves. Give them a good toss to add more flavor to the rice.
Now add the vegetable broth and cook covered.
You'll know it's done cooking when the rice fluffs and the broth reduces. Squeeze fresh lemon juice on top at this point and you're ready to serve it!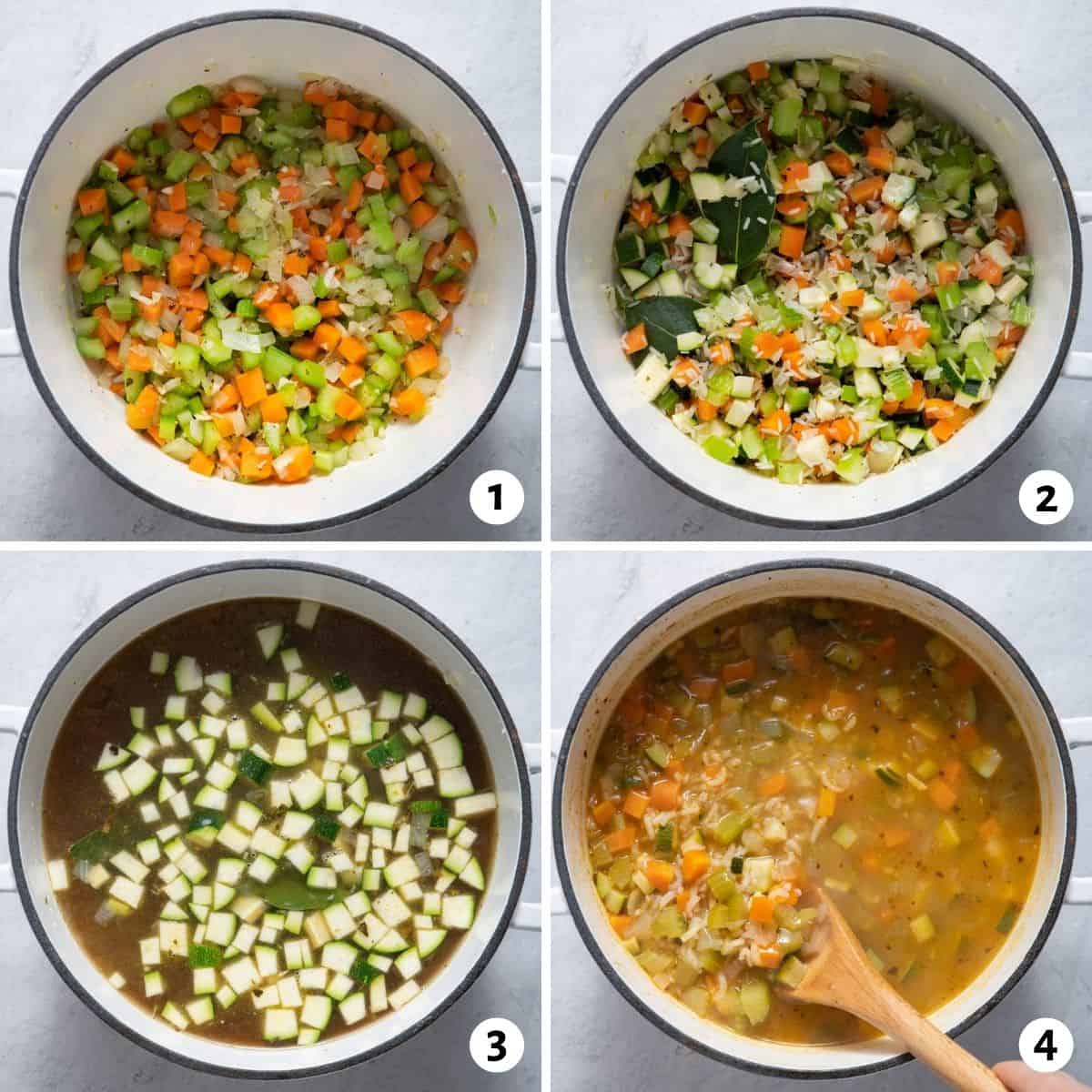 soup Variations to try
Change up the vegetables – You can easily add in more or fewer vegetables depending on your preference. I also think that adding mushrooms would be a good idea.
Use avocado oil – Olive oil is great but adding avocado oil can create a nice flavoring, too.
Add toppings – Adding some fresh cilantro and chives would be a great topping for this simple vegetarian lemon rice soup soup.
Instead of short grain rice – Use long-grain rice or brown rice. If you're using brown rice, be sure to add an extra 25 minutes to the cooking time though. You can also use potatoes, riced cauliflower, celery root or chopped zucchini for some grain free and/or low carb options.
If you don't have oregano – Feel free to use thyme, parsley, cilantro or other herbs.
Tips for making lemon rice soup recipe
Cook it quicker by using leftover rice and reduce the simmer time to only 10 minutes. You will also need to reduce the vegetable broth then to 2 cups instead of 4 cups since the uncooked rice in the original recipe soaks up a lot of that liquid.
Use your own vegetable broth. Making homemade vegetable broth is easier than you might think and can really come in handy for making soup recipes like this vegan rice soup.
Make the lemon rice soup grain-free by using chopped potatoes instead of rice. This is such a versatile base for soup, so there are many variations you can try. If you're looking for something more low-carb in general, try adding chopped yellow squash and/or riced cauliflower.
Don't add the lemon juice until you're done cooking. You might be tempted to just throw everything in a pot at once. But definitely wait on the lemon juice until the soup is cooked to avoid any bitter taste of the lemon juice simmering for too long.
HOW TO STORE
Now that you know how to make lemon rice soup, the storage part is a breeze! Just add to a container with a lid and keep it nice and cool in the fridge. It should be safe to enjoy for up to 4-5 days after storage.
How to Reheat
Reheating this lemon rice soup with no chicken is fast and simple. You can reheat low and slow on the stove or add your serving to a bowl and pop it into the microwave.
Frequently asked questions
What is the best rice to use in soup?
White short-grain rice, often called calrose rice in Middle Eastern countries, or sushi rice, works best in this recipe because it's quick to cook and creates great texture in the soup. If you use a whole grain or wild rice you will need to increase the cooking time or cook it before adding it to the pot.
How long does this lemon rice soup keep?
Once you have made the soup, let it cool to room temperature and place in an airtight container in the fridge. It will keep well for around 4-5 days and you just need to reheat it on the stovetop. The soup also freezes really well.
Does lemon make dishes saltier?
It actually doesn't. The fresh lemon juice balances out the flavors and just enhances the taste. Many people omit salt and add lemon juice instead.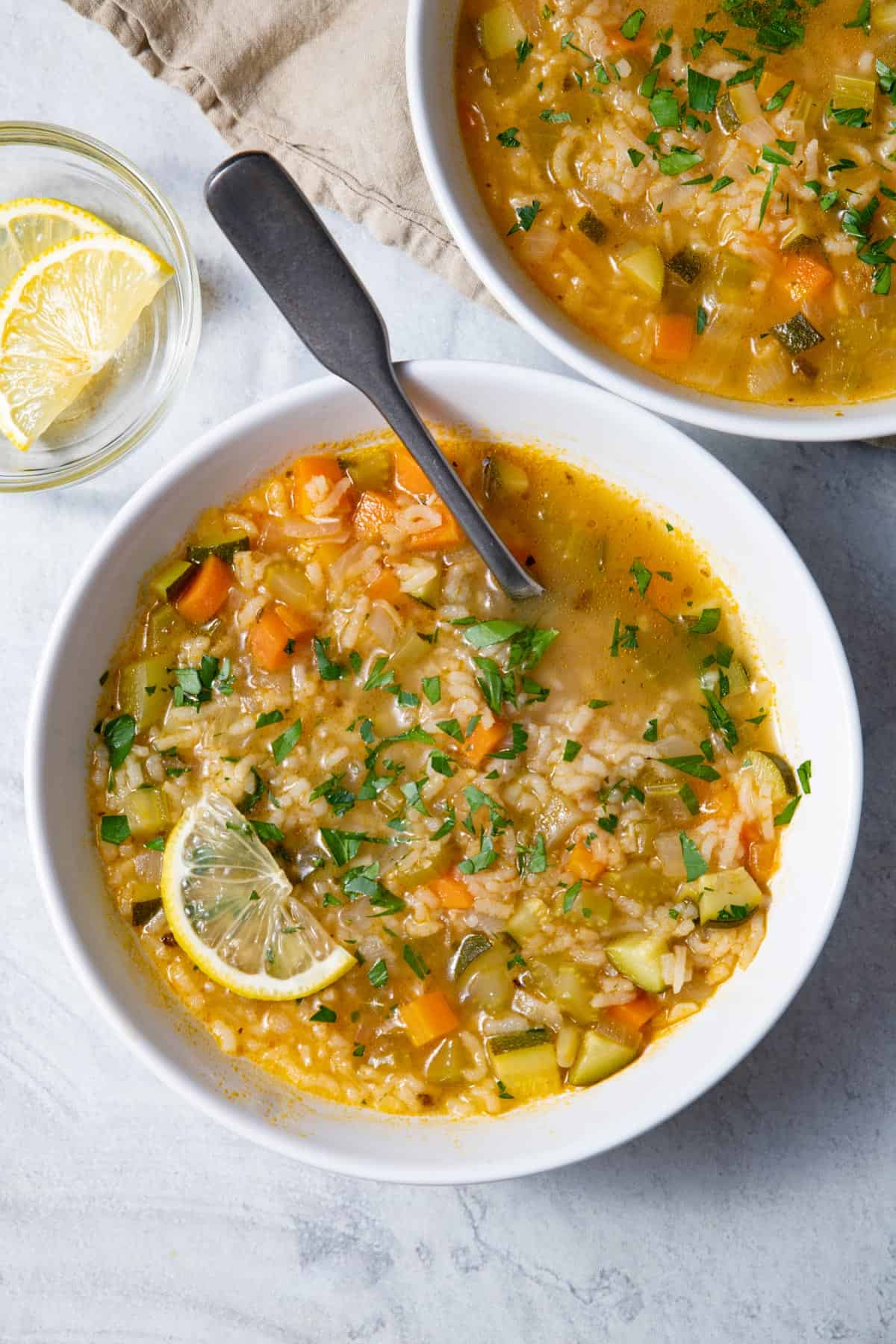 This easy rice soup with lemon is the perfect way to balance out a hearty soup recipe with amazingly fresh flavors. Fill your bowl, and get ready to come back for seconds. Your first bowl of this vegetable rice soup isn't going to be enough!
For more soup recipes, check out:
If you try this healthy-ish feel good Lemon Rice Soup recipe or any other recipe on Feel Good Foodie, then don't forget to rate the recipe and leave a comment below! It helps others who are thinking of making the recipe. We would love to hear about your experience making it. And if you snapped some shots, share it on Instagram so we can repost on Stories!
This Lemon Rice Soup recipe was originally published on January 25, 2018. It has been updated slightly and now includes step-by-step photos.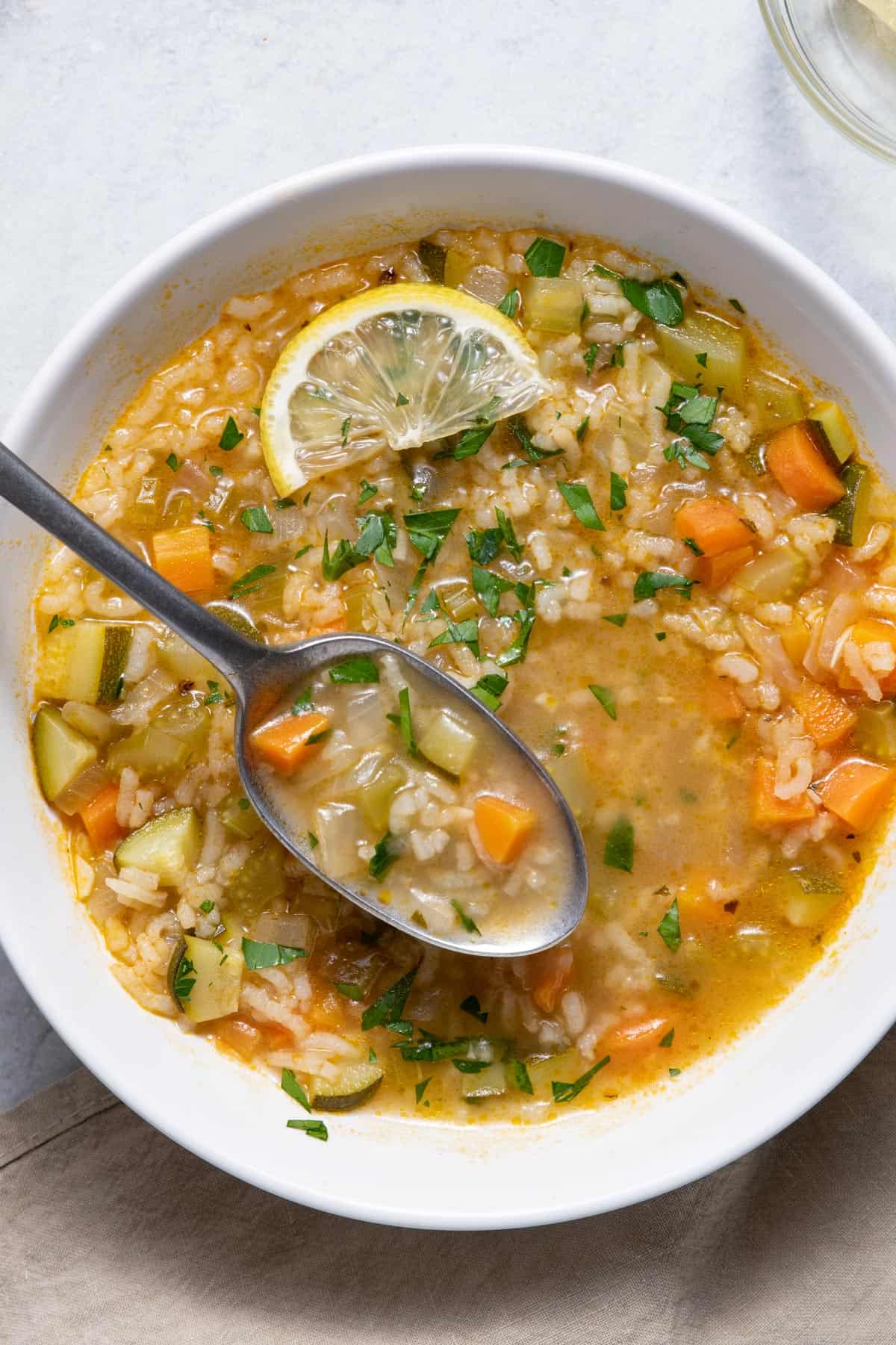 Lemon Rice Soup
This Vegan Lemon Rice Soup recipe is the best soup! Easy to make with basic kitchen staples, it's comforting, quick and loaded with nutrients!
Instructions
Heat the olive oil in a large heavy bottomed pot over medium heat. Add the onions, carrots and celery and cook until soft and translucent, 5 minutes. Add garlic, oregano, salt and pepper, cook until fragrant, 1-2 minutes..

Stir in the zucchini, rice and bay leaves until well incorporated, about 1 more minute. Add the vegetable broth and water and bring mixture to a boil.

Reduce heat to a low simmer and cook covered until rice is fluffy and vegetables are soft, 30 minutes

Remove from heat, and stir in as much of the lemon juice as you'd like and garnish with chopped parsley and lemon slices, if desired. Serve immediately.
Notes
Storage: Store any leftovers in an airtight container. They will last about 4-5 days in the fridge.
Substitutes: For best results, follow the recipe as is. However here are some common substitutes that would work well in this recipe.
Instead of short grain rice, you can use long-grain rice or brown rice. If you're using brown rice, be sure to add an extra 25 minutes to the cooking time though. You can also use potatoes, riced cauliflower, celery root or chopped zucchini for some grain free and/or low carb options.
If you don't have oregano, feel free to use thyme, parsley, cilantro or other herbs.
Nutrition
Calories:
120
kcal
,
Carbohydrates:
22
g
,
Protein:
3
g
,
Fat:
3
g
,
Saturated Fat:
1
g
,
Polyunsaturated Fat:
1
g
,
Monounsaturated Fat:
2
g
,
Sodium:
426
mg
,
Potassium:
263
mg
,
Fiber:
3
g
,
Sugar:
4
g
,
Vitamin A:
3559
IU
,
Vitamin C:
13
mg
,
Calcium:
34
mg
,
Iron:
1
mg
Nutrition information provided is an estimate. It will vary based on cooking method and specific ingredients used.