This post may contain affiliate links. Please read our disclosure policy.
This Vegetarian Chickpea Noodle Soup is inspired by my Chicken Noodle Soup recipe, so it has essentially similar ingredients but I swap out the chicken for plant-based protein powerhouse chickpeas to make it more filling. The soup is hearty, healthy and has amazing flavor!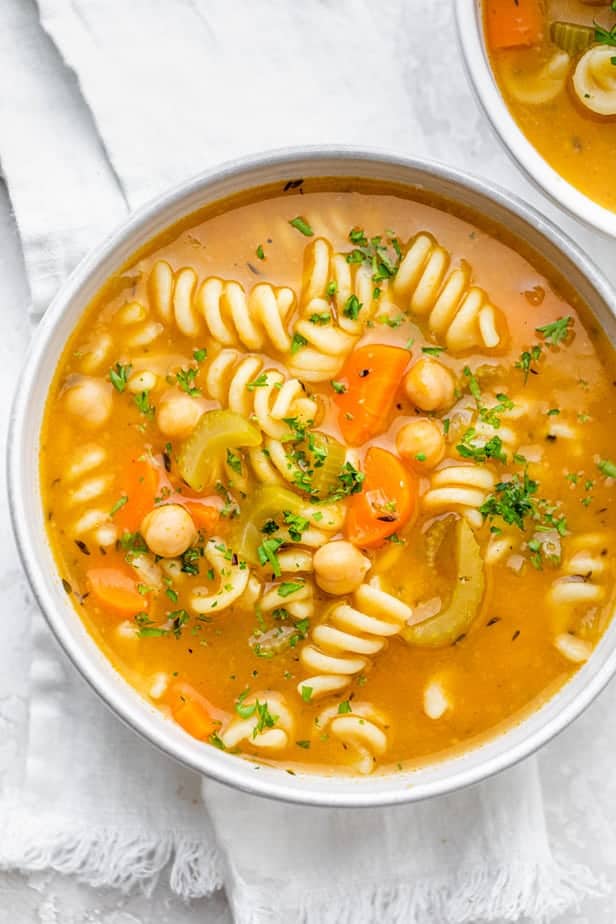 This chickpea noodle soup seamlessly blends the chewiness of pasta with the robustness of legumes, presenting a wholesome dish that's perfect for both weeknight dinners and special occasions. Packed with essential nutrients, this Chickpea Noodle Soup is not just about comfort; it's about elevating soup standards. Drawing inspiration from the traditional recipe, it replaces the main protein with chickpeas. Whether you're a vegetarian looking for variety or someone seeking a fresh take on classic soups, this dish promises to be a delightful addition to your meal repertoire.
"This soup was just what I needed! I wasn't feeling well and made this and it's perfect. I juiced 3 lemons into this and it was a great addition! Thanks for a great recipe!" – Bella
Table of Contents
Recipe at a glance
Cuisine Inspiration: American
Primary Cooking Method: Stovetop
Dietary Info: Vegetarian, Vegan (if you use vegan pasta)
Key Flavor: Earthy and Herbaceous
Skill Level: Easy
Summary
Budget Friendly: This soup comes together with simple and affordable ingredients. Perfect for those garden staples.
Quick and Easy: Ready in under 30 minutes, chickpea noodle soup is a great busy weeknight dinner option.
Hearty and Filling: Packed with veggies, chickpea protein, and pasta. Chickpeas bring a wealth of protein and fiber, ensuring a filling, nutritious meal.
Vegan Options: Easily adapt this recipe to a vegan noodle soup by using your favorite vegan pasta varieties
Ingredients To Make Chickpea Noodle Soup
Olive Oil: Sets the stage for the flavors, making for a fragrant base.
Base Vegetables: The trio of onion, carrots, and celery melds to form the soup's aromatic backbone.
Garlic & Dried Thyme: Together, they amplify the savory undertones of the soup.
Seasonings: Essential staples, salt and black pepper, adjust to suit your palate.
Vegetable Broth: Lends depth and richness, ensuring the soup is flavorful and hearty.
Chickpeas: These legumes bring a nutty taste and a protein-packed punch to the mix.
Rotini Pasta: Introduces a delightful chewiness, elevating the soup's texture.
Fresh Parsley: A burst of color and freshness to garnish and enhance the final taste.
How to make chickpea noodle soup
Start by cooking the onions, carrot and celery with olive oil. You want to cook them until they slightly soften.
Next add some fresh or dried thyme along with garlic. I'm using my frozen garlic paste for convenience.
Now you'll add the vegetable broth and bring the mixture to a boil.
Add the pasta and the chickpeas together and simmer until the pasta is cooked al dente and this chickpea noodle soup is near completion!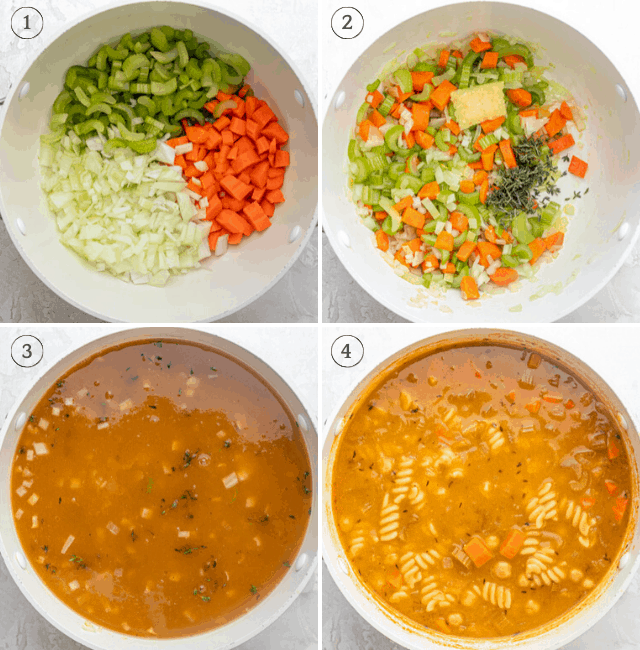 When it's done, the broth of the chickpea noodle soup will be reduced, the pasta will be tender and all the vegetables will be softened. You can now add some fresh parsley on top and serve it while it's nice and warm!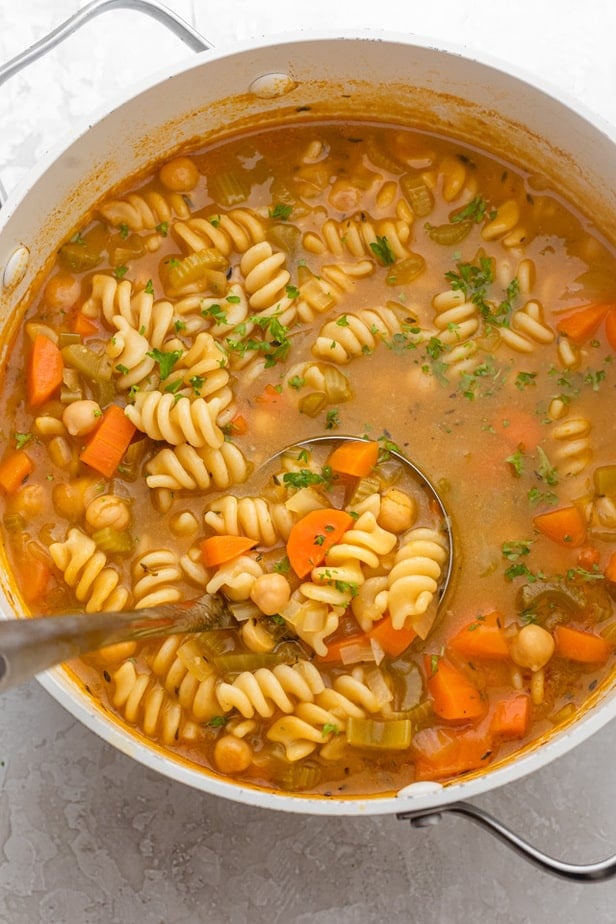 "I've been using this recipe for nearly a year now since I discovered it! It's so easy and so tasty, I definitely recommend." – Chloe
Tips for making the best chickpea noodle soup
Use short cut pasta. While long noodle shapes like spaghetti or angel hair would work, they are really difficult to eat with the chickpeas and vegetables in the recipe. Go for rotini, elbow macaroni, egg noodles or even orzo.
Add the pasta towards the end of cooking. This will ensure that they don't get too soggy in the broth while you're cooking the vegetables. I recommend keeping it al dente since it will continue to soften in the broth.
Keep the pasta on the side. The pasta will grow in size, absorb a lot of liquid and may become softer the next day depending on the exact kind you use. To avoid that, you can keep the noodles on the side and ladle into the chickpea soup when serving.
Saute the vegetables. Cooking the onions, carrots, celery, and garlic first adds depth of flavor to the soup. Don't rush this step; let the veggies soften and release their flavors.
Popular Substitutions & Additions:
Pasta Choice: While rotini offers a delightful twist to hold onto the broth, other pastas like penne, fusilli, or even spaghetti broken into smaller pieces will work well.
Beans: If chickpeas aren't your favorite, try cannellini beans or navy beans as an alternative.
Herbs: Fresh rosemary or basil can be used in place of thyme for a different aromatic profile.
Protein Boost: For non-vegetarians, shredded chicken or turkey can be incorporated for an added layer of flavor and protein.
Vegetables: Incorporate green peas, spinach, or even zucchini to enhance the nutritional value and flavor of the soup.
WHAT TO SERVE WITH CHICKPEA NOODLE SOUP
How to Store & Reheat Chickpea Noodle Soup:
After allowing the soup to cool to room temperature, transfer it into an airtight container. This ensures the soup maintains its freshness and prevents any pasta from absorbing too much broth and becoming overly soft.
To reheat, simply pour the desired amount into a pot and warm over medium heat until it reaches your preferred temperature. If the soup has thickened in the fridge, you can add a splash of water or broth to bring it back to the desired consistency.
How Long Will Chickpea Noodle Soup Last in the Fridge?
When stored properly in an airtight container, chickpea noodle soup will keep its freshness and flavor for up to 3-4 days in the refrigerator.
Can I Freeze Chickpea Noodle Soup?
Yes, this soup can be frozen! However, it's advisable to hold off adding pasta if you plan to freeze a portion of the soup. Pasta can become mushy once frozen and reheated. To freeze, let the soup cool completely, transfer to freezer-safe containers leaving some headspace for expansion, and store. When ready to serve, thaw in the refrigerator, reheat on the stove, and add freshly cooked pasta.
Frequently asked questions
Is there a way to make this soup creamier?
Absolutely. Add a splash of coconut milk or a dollop of Greek yogurt when serving. Start with a small amount, taste, and adjust until you achieve your desired level of creaminess.
Can you make this chickpea noodle soup recipe gluten-free?
Yes, it's easy to swap out the rotini pasta I use for a gluten-free version that you like. Keep in mind that gluten-free pasta may have a slightly different cooking time, so be sure to check the instructions. If using chickpea pasta, keep an eye on it as it foams up easily and needs to be consistently stirred and watched.
Can I make this in a slow cooker?
Yes, combine all ingredients except for the pasta in a slow cooker and cook on low for 6-7 hours or high for 4 hours. Add the pasta about 15-20 minutes before serving. Utilizing a slow cooker also makes meal prep a breeze, especially during a busy week.
For more soup recipes: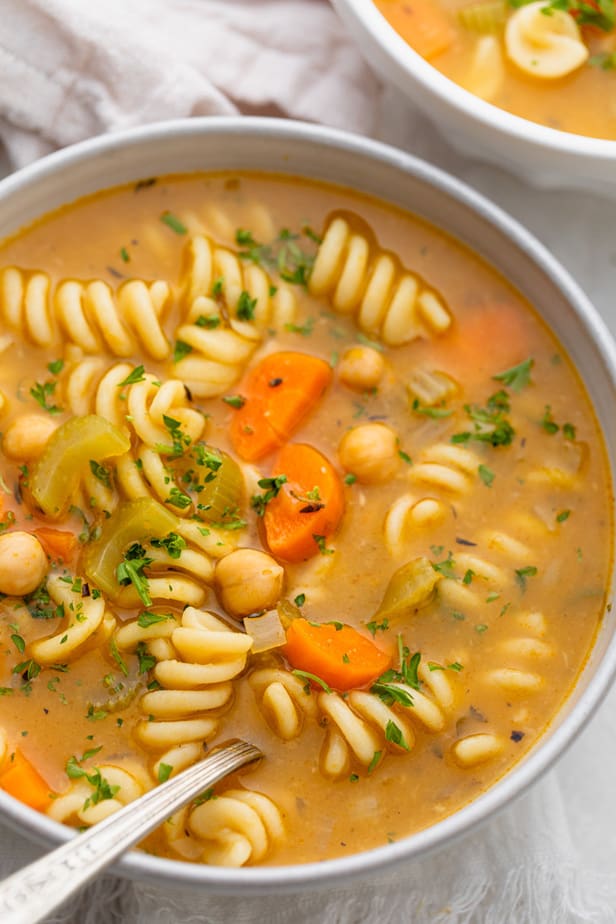 This vegetarian Chickpea Soup is perfect if you're on a diet because it's full of vegetables, low fat and will keep you feeling full for hours! Whether you're following a vegan diet or not, I think you'll really enjoy this meatless recipe!
If you've tried this healthy-ish feel good Chickpea Noodle Soup recipe or any other recipe on FeelGoodFoodie, then don't forget to rate the recipe and leave me a comment below! I would love to hear about your experience making it. And if you snapped some shots of it, share it with me on Instagram so I can repost on my stories!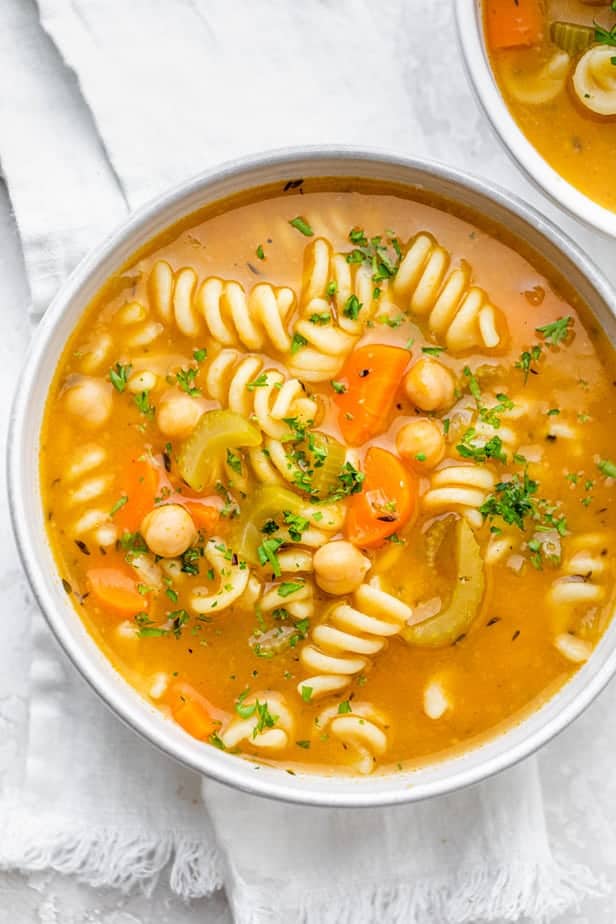 Chickpea Noodle Soup
This Vegetarian Chickpea Noodle Soup is made with a few items and full of plant-based protein to keep you feeling full for hours – perfect even as a meal!
Instructions
In a large pot or saucepan, heat olive over medium high heat. Add onions, carrots and celery and cook until slightly softened, about 5-7 minutes. Add the garlic and thyme, and season with salt and pepper; and cook for an additional 2-3 minutes.

Add vegetable broth and bring mixture to a boil. Then add the chickpeas and pasta, reduce heat and simmer covered for 15 minutes.

Remove from heat, sprinkle fresh parsley, if desired, and serve immediately.
Notes
Storage: Store any leftovers in an airtight container. The soup will stay fresh for about 4-5 days.
Substitutes: For best results, follow the recipe as is. However here are some common substitutes that would work well in this recipe.
Instead of rotini pasta, you can use white rice or brown rice. If you're using brown rice, be sure to add an extra 25 minutes to the cooking time though. You can also use potatoes, riced cauliflower, or chopped zucchini for some grain free and/or low carb options.
Instead of chickpeas, you can use other beans while Great Northern white beans.
Nutrition
Calories:
270
kcal
,
Carbohydrates:
49
g
,
Protein:
9
g
,
Fat:
5
g
,
Saturated Fat:
1
g
,
Sodium:
1884
mg
,
Potassium:
350
mg
,
Fiber:
6
g
,
Sugar:
6
g
,
Vitamin A:
7481
IU
,
Vitamin C:
4
mg
,
Calcium:
57
mg
,
Iron:
2
mg
Nutrition information provided is an estimate. It will vary based on cooking method and specific ingredients used.